Brief Facts:
Russian army has launched 2,275 missile strikes at Ukraine – Zelensky
Denmark to provide Ukraine with Harpoon anti-ship missiles: one of the results of today's Ukraine Defense Contact Group meeting
New Zealand to send 30 army personnel to train Ukrainian soldiers in the UK.
UK Ministry of Defense states that russian losses in Ukraine similar to Soviet Union losses in Afghanistan.
Russian invaders threatened to use weapons against the Britta K, a foreign civilian vessel that transited Ukraine's territorial waters near Zmiinyi (Snake) Island.
Side note: news are marked in accordance with the Kyiv time zone: Eastern European Time (EET), GMT/UTC+2
Read more: The 88th Day of the War: Russian Casualties in Ukraine
Latest news
Thank you for your attention! This feed is closed. But Defense Express has already started a new one: Day 90 th of War Between Ukraine and Russian Federation (Live Updates)
23:59 Ukrainian forces have repelled 17 russian in Donbas over May 23
The Joint Task Force operating in the Ukrainian Eastern Operational Zone, the so-called Donbas, has published a regular report on the situation in its area of responsibility. On May 23, the Ukrainian forces of this unit repelled 16 russian attacks. One more attack was carried out in the area of responsibility of the operational-tactical task force "East".
More details and statistics on russian losses:
23:43 Russian army has launched 2,275 missile strikes at Ukraine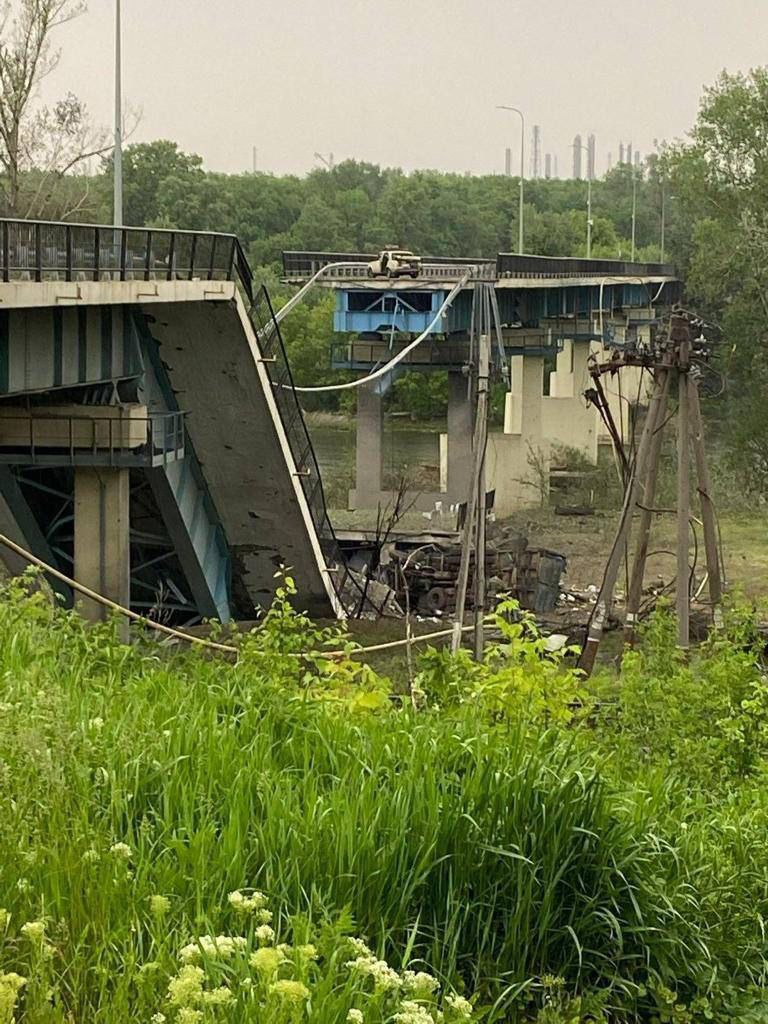 In total, since February 24, the Russian army has launched 1,474 missile strikes at Ukraine, using 2,275 different missiles. The data was provided by the President of Ukraine Volodymyr Zelensky in hid daily address to the nation.
The vast majority of the attacks were aimed at civilian objects. More than 3,000 airstrikes were carried out by russian aircraft and helicopters in less than three months.
"What other country has withstood such a scale of strikes?" Zelensky noted.
He said, the most difficult fighting situation today is in Donbas, Eastern Ukraine. According to the Head of State, russian forces "organized a massacre there and are trying to destroy everything living there. Literally. Nobody destroyed Donbas as much as the Russian army does now."
23:24 Ukrainian defenders show how they destroyed an ammunition carrier
Servicemen of the 30 Motorized Brigade of the Armed Forces of Ukraine published a video showing a vehicle hit by an artillery strike. This is a "Ural-375" truck or its modification, which was loaded with ammunition. The attack made the cargo explode.
22:48 Satellite imagery shows the scale of fighting in Lyman
The image below was taken by a satellite during combat in the city of Lyman, Donetsk region, Eastern Ukraine. Stratcom Centre informs, that russian artillery shelled Ukrainian defensive positions and civilian objects in the city the entire day on May 23. Also, five airstrikes were recorded.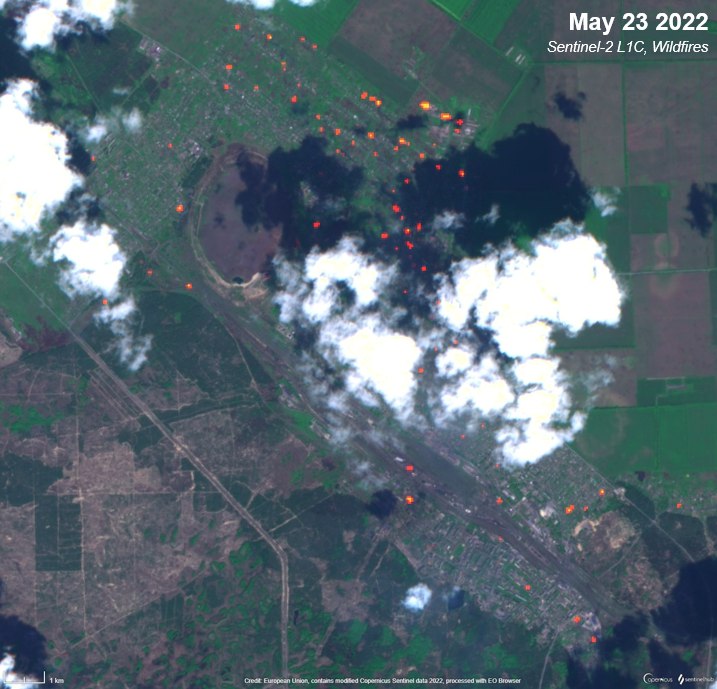 22:07 Denmark to provide Ukraine with Harpoon anti-ship missiles
Denmark would provide a harpoon launcher and missiles to defend Ukraine's coast, US Secretary of Defense Lloyd Austin said following the meeting of the Ukraine Defense Contact Group on Monday, May 23. Reuters reports that at the conference of defense ministers from 44 countries, Austin said some 20 of them announced new security assistance packages for Ukraine.
The supply of the advanced anti-ship missiles was considered for quite a while now, as Defense Express reported. Harpoons or Naval Strike Missiles will allow Ukraine to create a "closed access zone" around its ports, which russian Black Sea Fleet won't be able to enter.
Read more: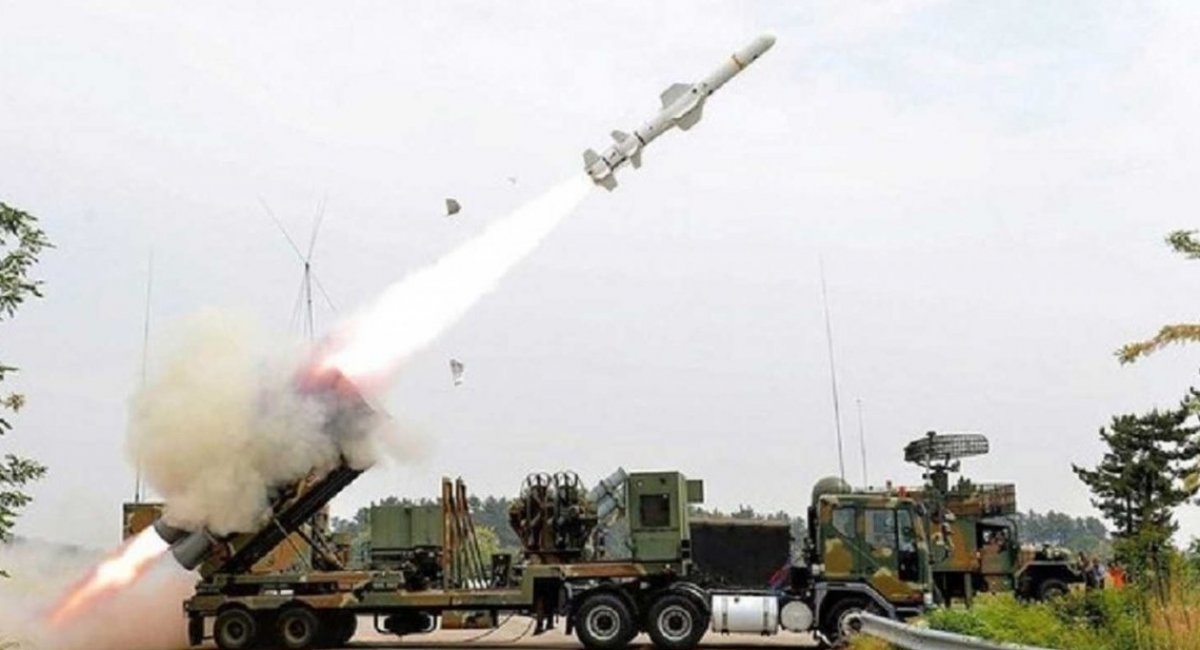 21:37 Ukrainian court convicts russian soldier who killed a civilian to life imprisonment
Russian occupier who shot an unarmed civilian in the Sumy region was recognized guilty and convicted to life imprisonment. The decision follows the investigation of the Security Service of Ukraine and is reported by the SSU press center. The citizen of the rusian federation violated the laws and customs of war under the Criminal Code of Ukraine.
Based on the evidence gathered by the SSU investigators, including witness statements, the court established that Vadim Shishimarin, squad commander of the 4th Tank Kantemirovskaya Division of the Moscow Region, killed a civilian in the Sumy region in February this year. The invader noticed a civilian and fired a burst from a machine gun at him. According to Suspilne, 21-year-old Shishimarin has earlier admitted his guilt.
The sentence was announced by the Solomianskyi District Court of Kyiv on May 23, 2022.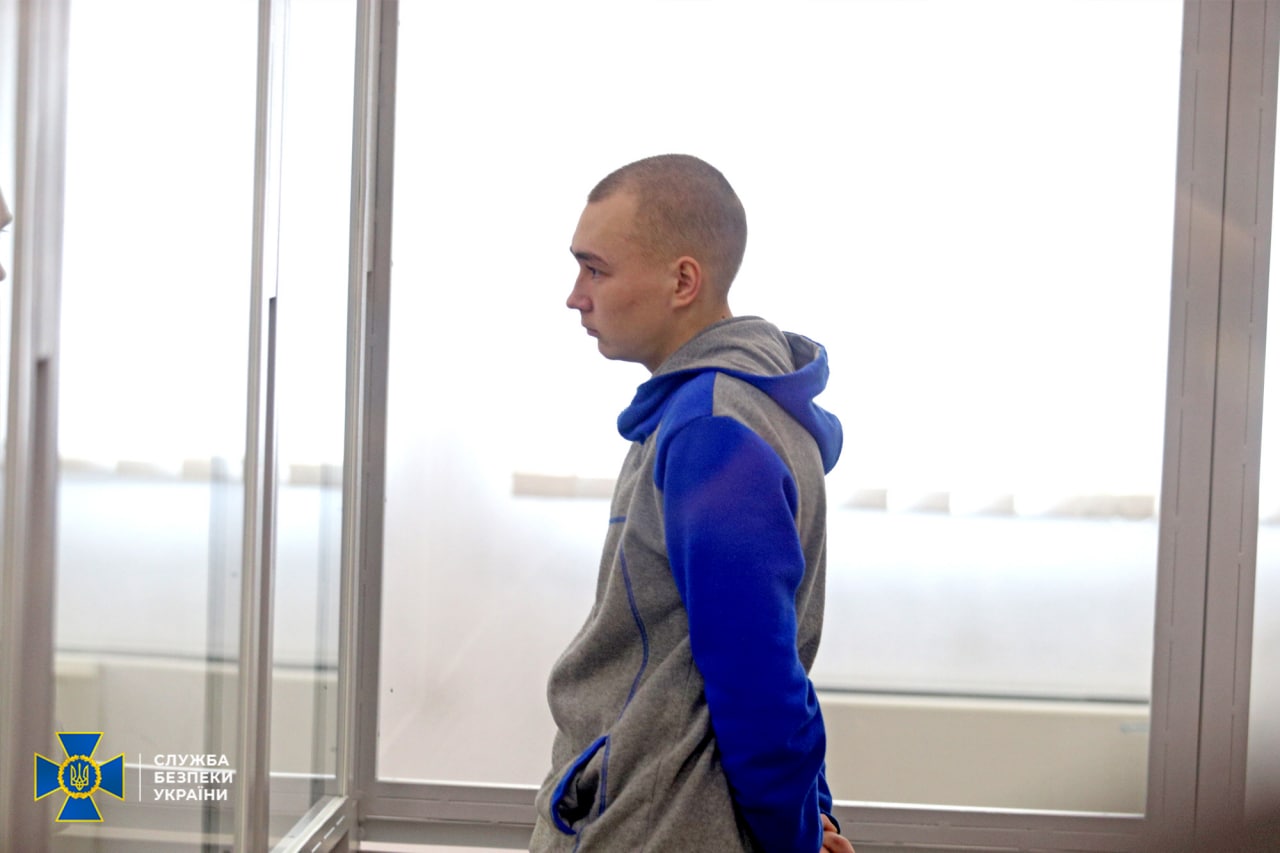 21:03 Poland cuts off russian gas import right now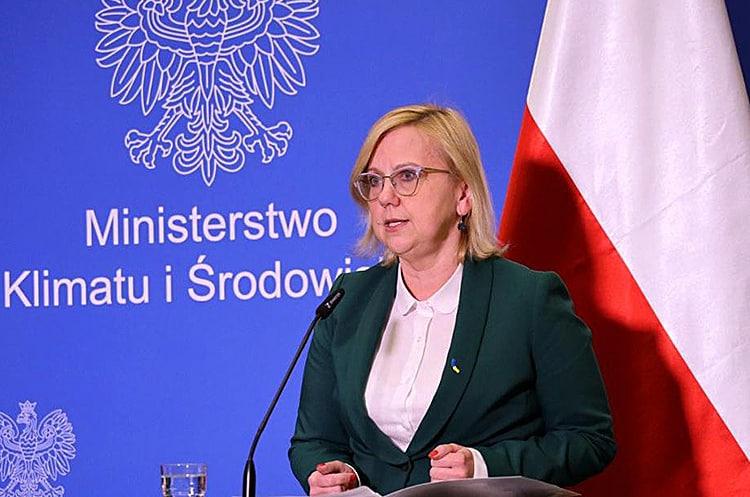 Poland has terminated the agreement on the supply of russian gas into the country ahead of schedule, Ukraine NOW reports citing Anna Moskva, the Minister of Climate and Environment of Poland.
"Poland denounces intergovernmental gas agreement of 1993 on Yamal. Russia's aggression against Ukraine confirmed the determination of the Polish government to become completely independent of Russian gas. We have always known that "Gazprom" is not a reliable partner", the minister wrote on Twitter.
20:08 Defense ministers of 44 countries had a conference on military support for Ukraine
Ukraine Contact Group meeting has started Monday evening, CNN reports. This is the second regular conference of the representatives of defense ministries from more than 40 countries, initiated last month by the USA. This time, 44 countries joined the meeting which is held online, including the Minister of Defense of Ukraine Oleksii Reznikov, US Secretary of Defense Lloyd Austin and others. This time around, four more countries joined the Contact Group since the first meeting at Ramstein Air Base in Germany on April 26.
Since then, Australia and Canada "committed to providing M777 Howitzers, and in just four weeks, all those systems have been delivered to the Ukrainians," US representative Lloyd Austin highlighted. The UK also "delivered brimstone missiles and a new short-range defense system," and "many countries have pushed hard to stand up important new training missions, and we've watched these efforts make a real difference in real time," he added, according to CNN.
Today's contact group's meeting will consist of three parts, said Laura Cooper, Deputy Assistant Secretary of Defense for Russia, Ukraine, Eurasia. Session one will "begin with a battlefield update on the current fight" and Ukraine's immediate needs. During sessions two and three the ministers "will announce progress made on donations" and discuss the work done so far.
Read more on the results of the previous meeting:
Pentagon Establishes Control Center for Ukraine Military Aid in Germany
Germany Changed its Position: Ukraine Will Receive Gepard Anti-Aircraft Tanks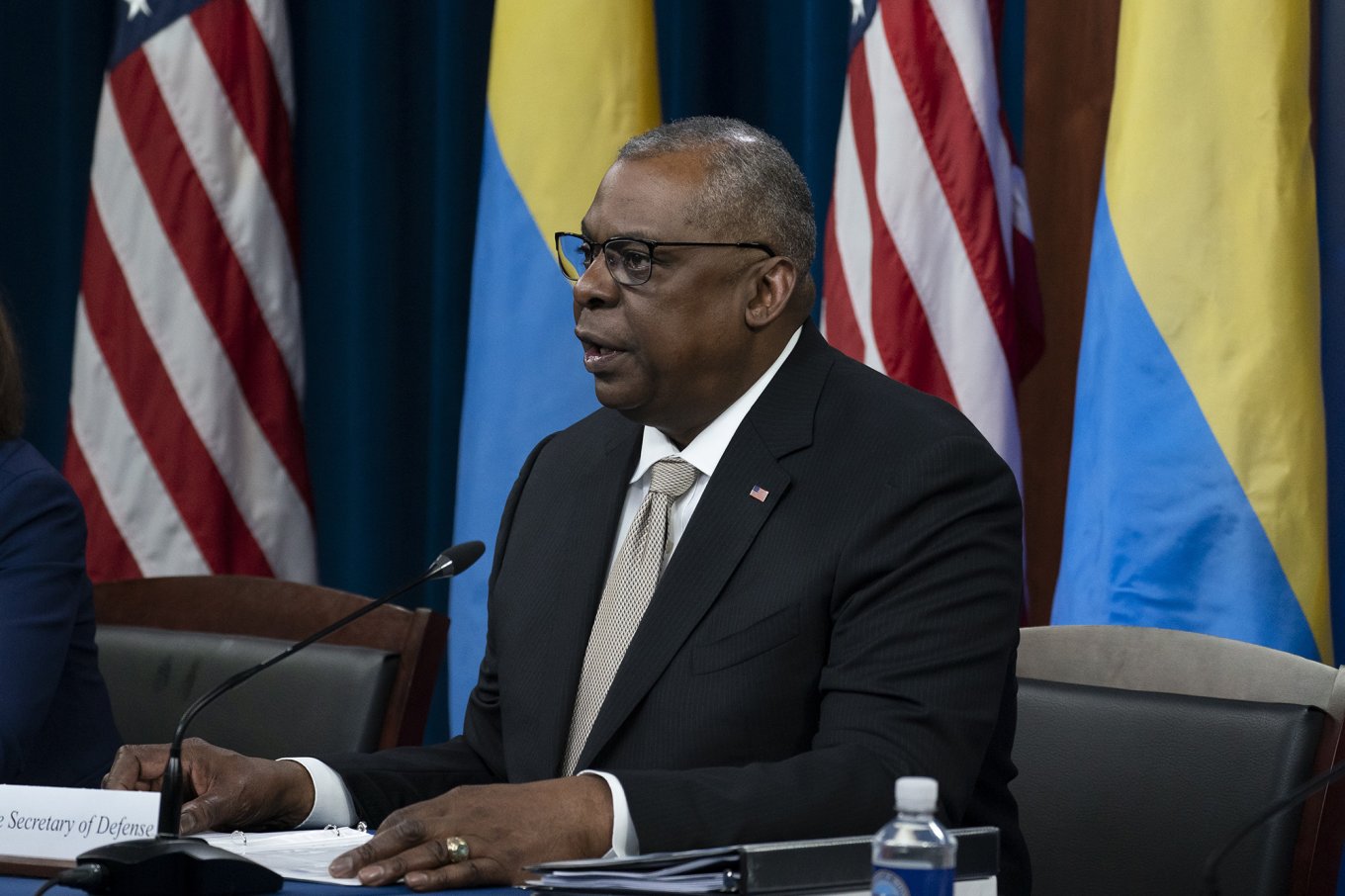 19:19 The real author of the famous phrase about russian warship is free now
Today, new details on the story about the defenders of Zmiinyi (Snake) Island, who refused to surrender to the russians in the first days of the war. You can find the details here. Back then a state border guardsman said the phrase that became world-famous. Then, Ukrainian media claimed Roman Hrybov to be the author and the guy whose bravery inspired people all across the world. But actually it was an information campaign to protect Ukrainian soldiers in captivity.
Correction: the information on Hrybov being behind the famous words was claimed by Ukrainian media, not the officials who, actually, kept quiet, neither refuting nor confirming that
More details: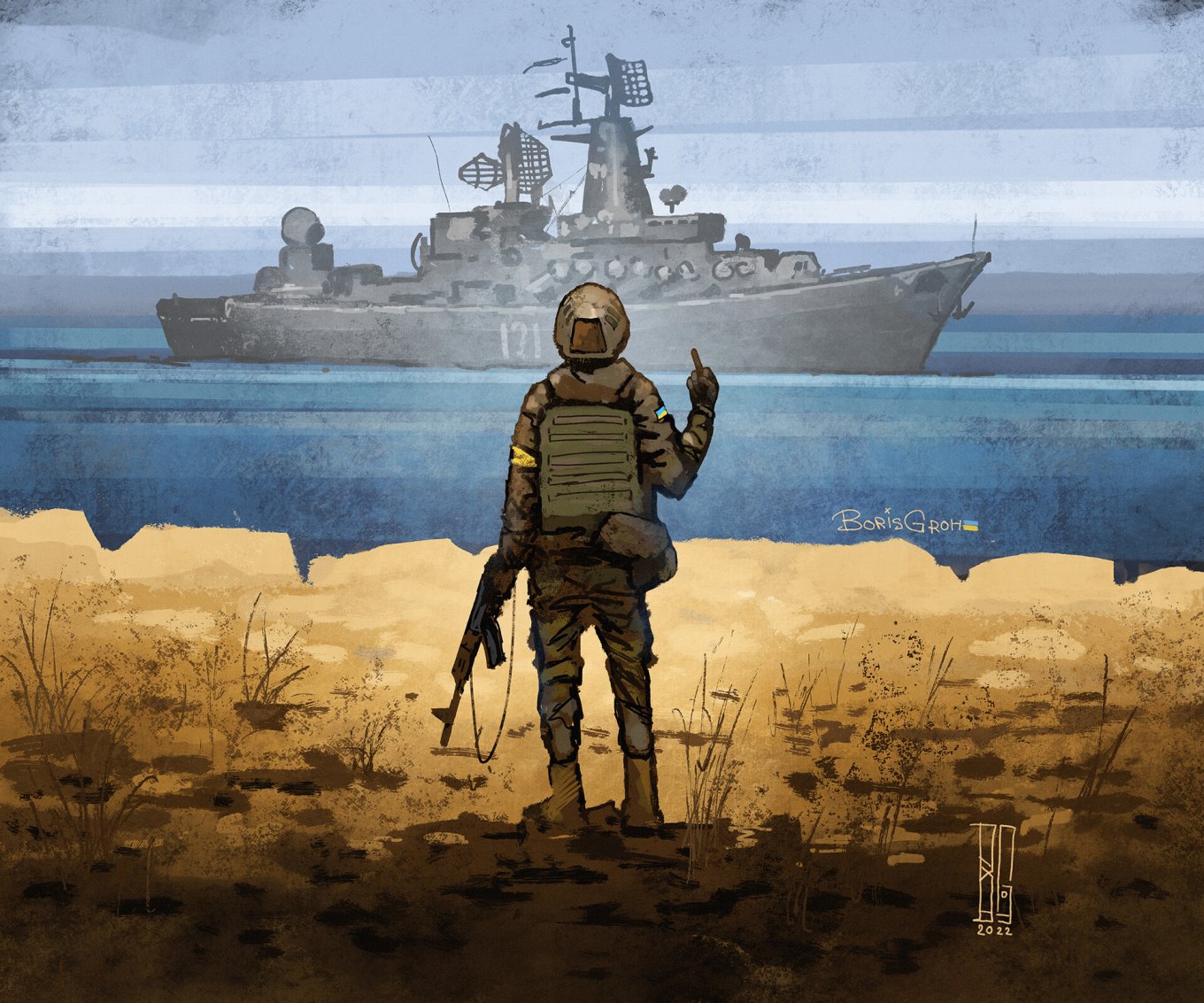 18:50 UK Ministry of Defense spread on Twitter a map of present situation in Russian-Ukraine war.
Find more details on the theme in a publication by Defense Express:
18:35 The occupiers continue to shell the Kryvyi Rih district with prohibited cluster munitions. According to the investigation of the Office of the Prosecutor General, on 23 May, the occupiers once again fired artillery with prohibited cluster munitions in the village Mala Kostromka, Kryvyi Rih district, Dnipropetrovsk Oblast.
In addition, on 22 May, Russian forces shelled the outskirts of the village of Zelenodolsk, Kryvyi Rih district. Fragments of an unexploded ordnance with prohibited cluster munitions were found at the scene.
The Dnipropetrovsk Regional Prosecutor's Office is investigating violations of the laws and customs of war.
As a result of the shelling of Mala Kostromka, a residential building, power lines and gas supply were damaged.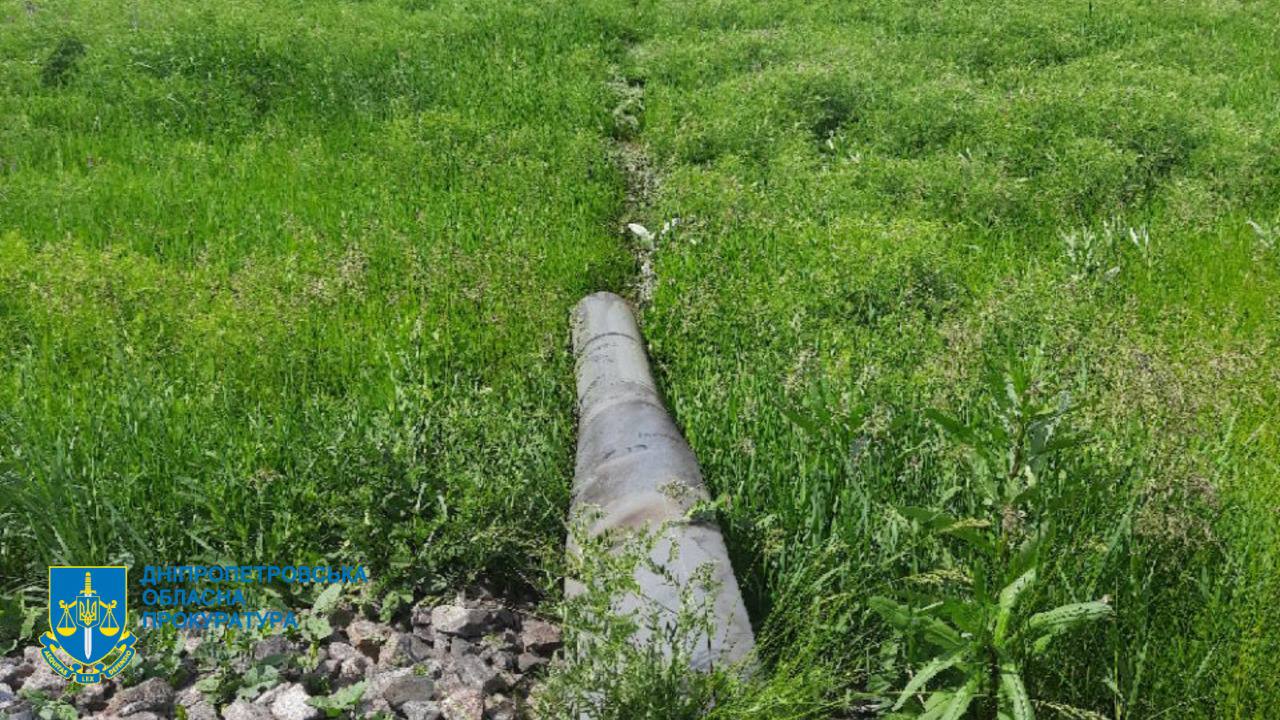 18:05 Russia is using a scorched-earth policy in eastern Ukraine, destroying the areas with aviation and artillery before Russian troops are entering them, but the Armed Forces of Ukraine are successfully repulsing enemy attacks.
The relevant statement was made by Ukrainian Defense Ministry Spokesperson Oleksandr Motuzianyk during a briefing at Ukraine Media Center.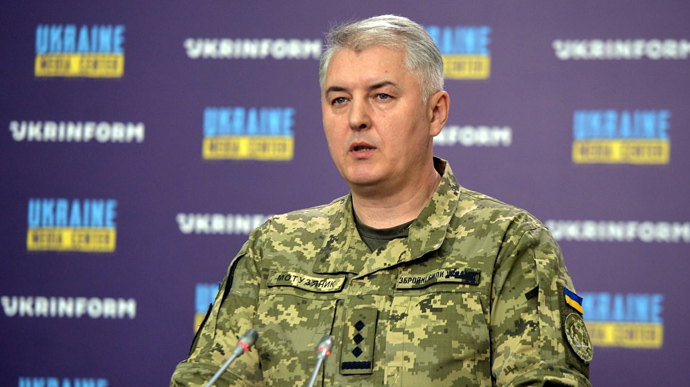 "The aggressor is extensively launching fire with tactical missile systems and aviation all over the contact line, namely in the Donetsk operational district and Sloviansk direction. The enemy is using a scorched-earth policy practically everywhere, in Sievierosonetsk, in Bakhmut, same as they did in Popasna, Mariupol – they are simply destroying the area with aviation and artillery before Russian troops are entering it. Meanwhile, it is unclear what they will do with this area afterwards. But, the Armed Forces of Ukraine are successfully repulsing offensive actions, and we are absolutely confident that our actions will remain successful in the future," Motuzianyk told.
17:24 The Russian Federation forcibly deported almost 1.5 million Ukrainian citizens, including more than 240,000 children. This was stated by the Verkhovna Rada Commissioner for Human Rights Ludmyla Denisova in Davos during the World Economic Forum.
She said that there was convincing evidence that Russia was preparing for forced deportation in advance and expected to deport more than two million Ukrainian citizens.
"I have directives that were given by the top leadership of the Russian Federation to the relevant authorities to create temporary accommodation for our citizens. And we know where they are located, how many are placed and under what conditions they are placed," Denisova said.
The ombudsman also stated the need to resolve at the interstate level the issue of the return of Ukrainian citizens forcibly deported by the Russian Federation.
Find more details on the theme in a publication by Defense Express:
16:50 The aggressor continues attempts to maintain a land corridor between temporarily occupied Crimea and the Russian Federation.
The relevant statement was made by Member of the Verkhovna Rada Committee on National Security, Defense and Intelligence Fedir Venislavskyi during a briefing at Ukraine Media Center.
"They still have a short-term strategic objective, which has been declared since the early days of the war and which was reported to us by the Main Intelligence Directorate a few months before the invasion started. It is to maintain a land corridor between temporarily occupied Crimea and Russia via Luhansk Region, Donetsk Region, Zaporizhzhia Region and Kherson Region," Venislavskyi told.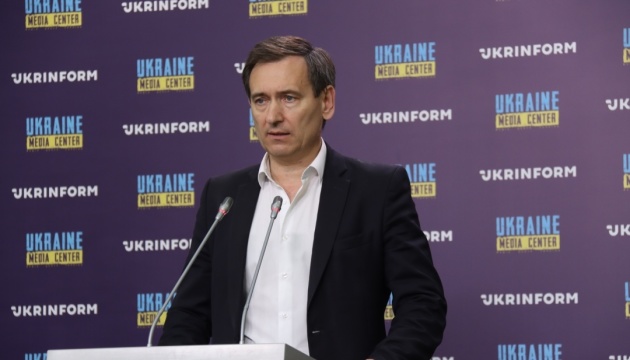 In his words, according to the data from the Main Intelligence Directorate of the Ukrainian Defense Ministry, Russian troops minimized fire attacks on Ukrainian defense positions in Zaporizhzhia Region and Kherson Region and focused efforts to build fortification structures, which would significantly complicate Ukraine's counterattack and the liberation of Ukrainian territories.
According to Venislavskyi, Ukraine needs heavy weapons to undermine the enemy's efforts, namely long-range artillery and multiple launch rocket systems.
Venislavskyi stressed that Ukraine's military and political leadership are working to receive such weapons from international partners.
Find more details on the theme in a publication by Defense Express:
16:30 128th Mountain Assault Brigade showed on the video that was spread on Facebook, how artillerymen the destruction of the dislocation point of one of the russian Federation Armed Forces unit's command staff. The target was located at a distance of 20 km, the shot was fired from a 155-mm howitzer, which came to Ukraine as part of assistance from NATO countries.
As Defense Express reported earlier artillerymen of 45th Separate Artillery Brigade destroyed enemy mortars positions in seven shots.
15:40 US Department of defense showed how airmen guide pallets of 155mm howitzer rounds onto a C-17 Globemaster III aircraft for shipment to Ukraine from Travis Air Force Base, Calif., in April 2022.
15:12 The bodies of 87 people were found under the rubble following a Russian airstrike on the village of Desna in Chernihiv region on May 17.
"Today we have finished works in Desna. Unfortunately, the statistics are as follows: 87 victims under the rubble in Desna. 87 corpses, victims killed. The future of Ukraine will lack these people," President of Ukraine Volodymyr Zelensky said, while delivering a speech at the World Economic Forum in Davos, an Ukrinform correspondent reports.
Zelensky revealed the information about Desna, answering a question about how he sees the future of Ukraine.
"As the president of the country at war, I think about the present of Ukraine and about how many people die every day," he said.
Find more details on the theme in a publication by Defense Express:
14:48 Major General Kyrylo Budanov, the Chief of the Defense Intelligence of the Ministry of Defense of Ukraine, said that there was an attempt to assassinate Russian President Vladimir Putin after the start of the war against Ukraine.
"There were attempts [of assassination] on Putin. He was even attacked by, as they say, representatives of the Caucasus not so long ago. This is non-public information. The attempt was absolutely unsuccessful, but it really took place… It was about 2 months ago," Budanov said in an interview with Ukrainian Pravda.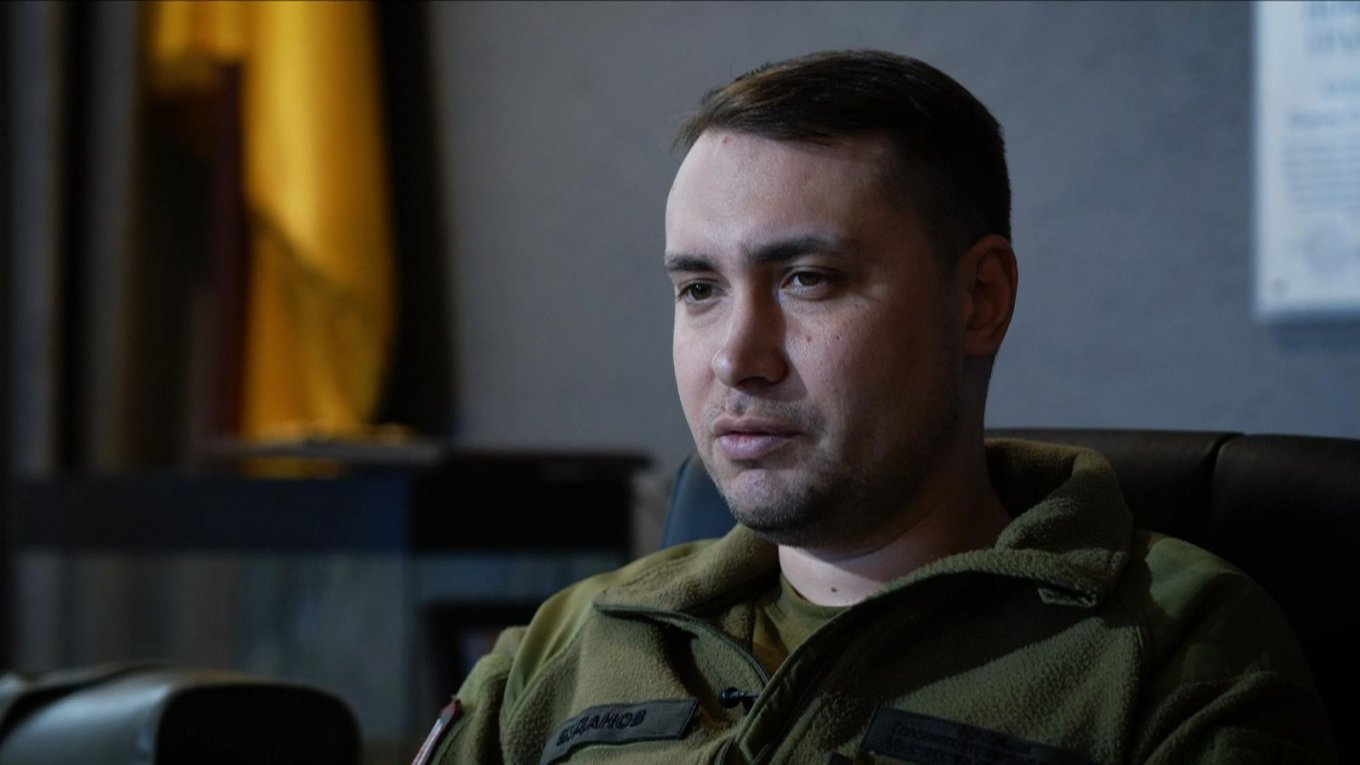 Find more details on the theme in a publication by Defense Express:
14:20 The world has not yet imposed sanctions against the Russian Federation that would make it pay for its aggressive actions.
"So that Russia and every other potential aggressor who wants to wage a brutal war against their neighbor know exactly what this leads to. I think that such sanctions have not been imposed against Russia yet. And they must be imposed. The embargo on Russian oil, the complete blockade of all banks without exception, the complete abandonment of the Russian IT sector, the complete cessation of trade with the aggressor. It must be a precedent of sanction pressure which will work convincingly to preserve peace for decades ahead," President of Ukraine Volodymyr Zelenskyy said, while delivering a speech at the World Economic Forum in Davos.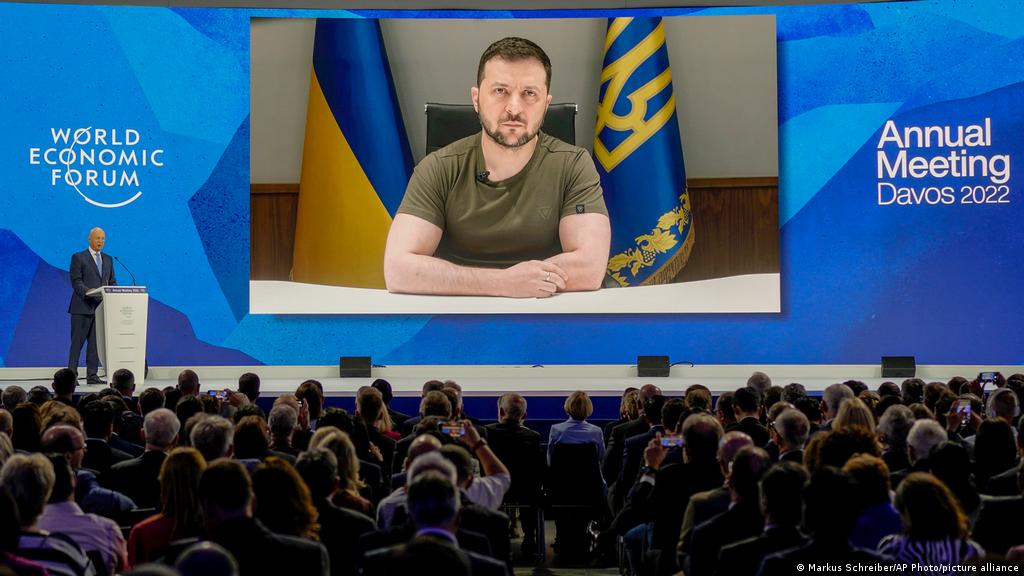 According to him, it is necessary to set a precedent for the complete withdrawal of all businesses from the Russian market, so that brands of the world countries are not associated with war crimes, so that their offices, accounts, goods are not used by criminals in their bloody interests. "Values must matter. Especially when a full-scale war breaks out and global markets are destabilized because someone neglects values. Everyone bears the losses," Zelenskyy said.
13:22 The Russian army fired on 49 localities in Donetsk and Luhansk regions over the past day, killing nine people.
"On May 22, Russian troops fired on 49 localities, killing nine people and wounding at least 11 civilians in Avdiivka, Velyka Novosilka, Lyman, Klynove, Krasnopillia, and Novomykhailivka," the press service of the Joint Forces Operation (JFO) posted on Facebook.
Due to the intense fighting and transportation problems, it is impossible to obtain information about the casualties in Lysychansk, Sievierodonetsk, and the surrounding localities.
Rescuers evacuated 1,092 people from the combat zone in Luhansk and Donetsk regions over the past day.
Over 24 hours, the enemy completely destroyed and damaged 138 high-rise and private buildings and at least 17 other facilities, including a school, a dormitory, a health resort, a food enterprise building, two farm warehouses, agricultural machinery, a shop, market pavilions, court premises, gas pipelines, garages, private cars, and rescue equipment.
13:00 Due to high losses Kremlin is forced to replenish reserves with obsolete equipment including T-62M tanks.
Huge losses in military equipment, coming close to 1,300 units of tanks alone, forced the russian army to switch to reserve battalion tactical groups with T-62M tanks, which are being removed from storage.
Russia's battalion tactical groups with such rare equipment are currently only being formed in the territory of the russian federation, according to the General Staff of the Armed Forces of Ukraine in the morning report as of May 23. They add that to replenish own losses, russia usesevacuated units from the battlefield which have been repaired.
Find more details on the theme in a publication by Defense Express: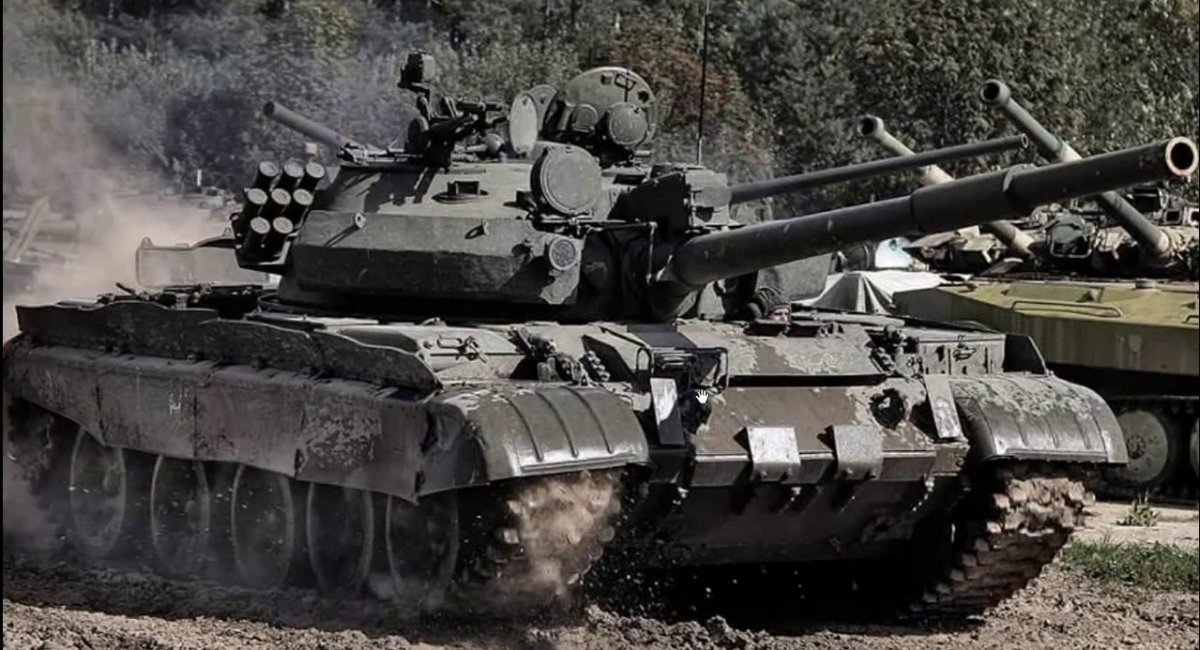 12:35 The President of Ukraine Volodymyr Zelenskiy signs law to confiscate assets of those who support Russian aggression. The law aims to help finance the Ukrainian budget, President Volodymyr Zelensky said on May 23, The Kyiv Independent reports citing rbc.ua.
12:15 The head of the Luhansk military administration, Serhiy Haidai: Situation difficult in Luhansk region as invaders deploy massive forces to gain ground.
The situation in the Luhansk region remains difficult at the moment as the Russian army has made every effort to seize the entire region.
This was announced by the head of the Luhansk military administration, Serhiy Haidai, via Telegram, Ukrinform reports.
"We're having a difficult situation as the Russian army is doing its utmost to capture Luhansk region. They have a huge goal and a big strategic plan – to advance to the administrative borders of Luhansk region. But, even if they captured Sievierodonetsk or cut the Lysychansk-Bakhmut route, they would have already passed it off as their great victory," the head of the region said.
He reminded that tomorrow, May 24, will mark three months since Russia launched a full-scale invasion of Ukraine, and over these three months, Russian invaders have failed to gain a small enough territory of Luhansk region.
They have now switched to their favorite tactics – they are simply destroying everything, now Sievierodonetsk is being totally pummeled. The situation has been just as difficult for three months in other areas. Haidai stated that the enemy is constantly trying to penetrate Ukraine's defense lines.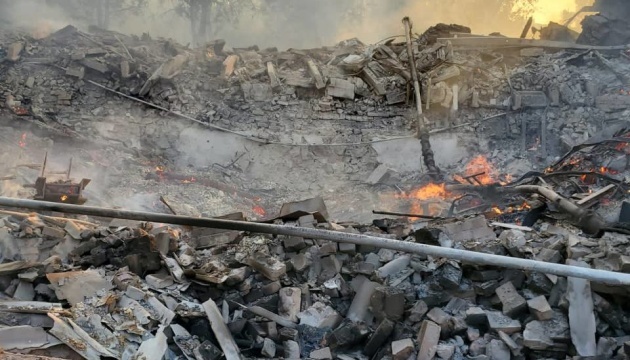 He also noted that a number of traitors are fighting against the Ukrainian forces in Luhansk region – "orcs from the 'LPR,' who know the area well, which greatly complicates the situation. They know all the roads and bridges, they understand that there is only one path left leading to Sievierodonetsk. This road is already under constant fire, which complicates evacuation and delivery of humanitarian goods.
"Liberating a single village or city, while having the whole army killed there is not an option," the official said, adding that while Luhansk region is holding back an enemy invasion, the Ukrainian army is preparing for a large-scale counteroffensive this summer.
11:50 Defenders of Ukrainian skies set new record on downed russia's Caliber missiles.
The Air Forces of the Armed Forces of Ukraine shot down four russia's cruise missiles at once.
The Air Command Center of Ukraine's Air Forces announced that on Sunday, May 22, the aggressor fired several Caliber naval-based missiles at infrastructure facilities in the Zhytomyr region in the North of Ukraine.
But during this strike, Ukraine's air defense forces shot down four rashists' cruise missiles at once. Of these, three enemy cruise missiles - on account of the fighter-jets, the fourth cruise missiles was shot down by anti-aircraft missiles.
The Air Forces of the Armed Forces of Ukraine shot down four russia's cruise missiles at once during one enemy raid, and this is a new record for the effectiveness of Ukraine's air defense.
Find more details on the theme in a publication by Defense Express:
The Air Forces of the Armed Forces of Ukraine Set New Record Over Zhytomyr Region on Downed russia's Caliber Missiles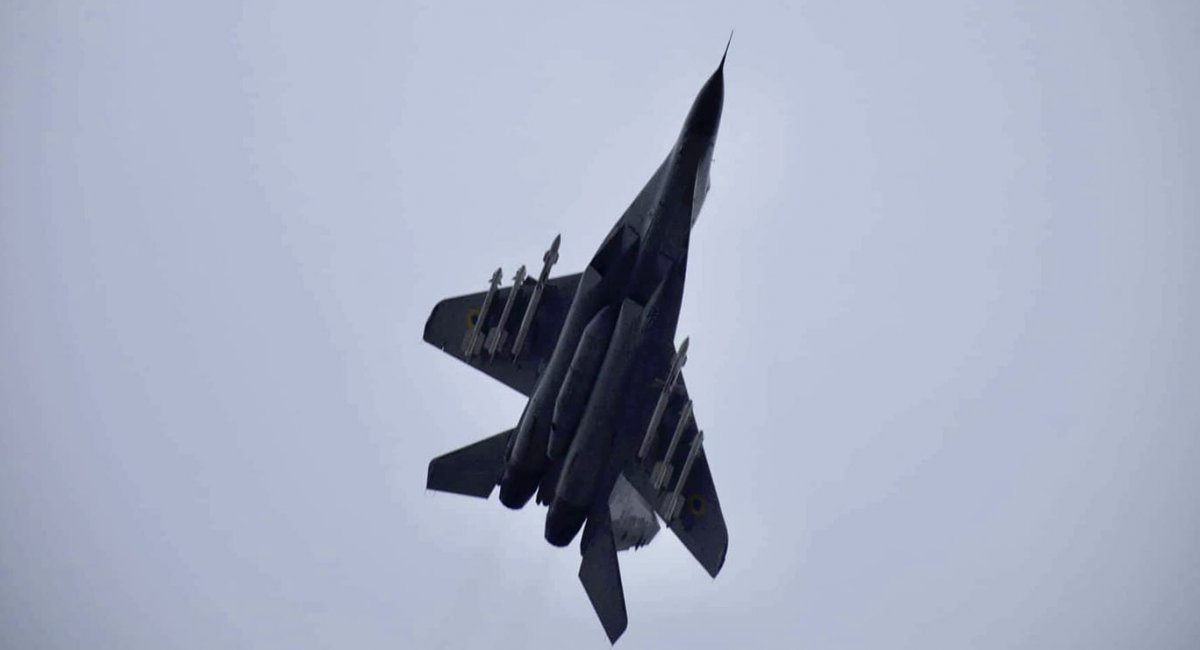 11:30 Regrouping Black Sea fleet, Russia deploys Admiral Makarov cruiser.
Russia's Admiral Makarov cruiser has joined the Black Sea Fleet that is being regrouped in the Black Sea waters.
Odesa Regional Military Administration spokesperson Serhii Bratchuk shared the news on Telegram, Ukrinform report.
"Although air-raid sirens went off all through the night in Odesa and Odesa region, no shelling was recorded. The enemy is trying to gain a foothold on Zmiinyi Island in the Black Sea by relocating the corresponding equipment, which primarily includes air defense systems. In addition, the relevant forces of the Black Sea Fleet of the Russian Federation are regrouping and carrying out maneuvers. The Admiral Makarov cruiser also joined their grouping there," Bratchuk said.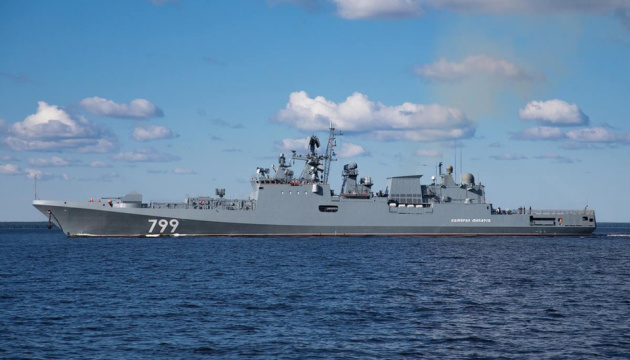 He expressed hope that the Admiral Makarov would also "join a flash mob, already joined by the Moskva cruiser."
Bratchuk also congratulated the Ukrainian Marines on their professional holiday.
11:15 New Zealand to send 30 army personnel to train Ukrainian soldiers in UK. New Zealand Prime Minister Jacinda Ardern announced that her country will send 30 defense force personnel to the U.K. to help train Ukrainian soldiers in operating L119 light field guns, The Guardian reports.
The deployment was another way New Zealand could support Ukraine defend itself against Russia's invasion, Ardern said.
"We have been clear throughout Russia's assault on Ukraine, that such a blatant attack on innocent lives and the sovereignty of another country is wrong, and our response has not only included the condemnation of Russia, but practical support for Ukraine," New Zealand Prime Minister stated.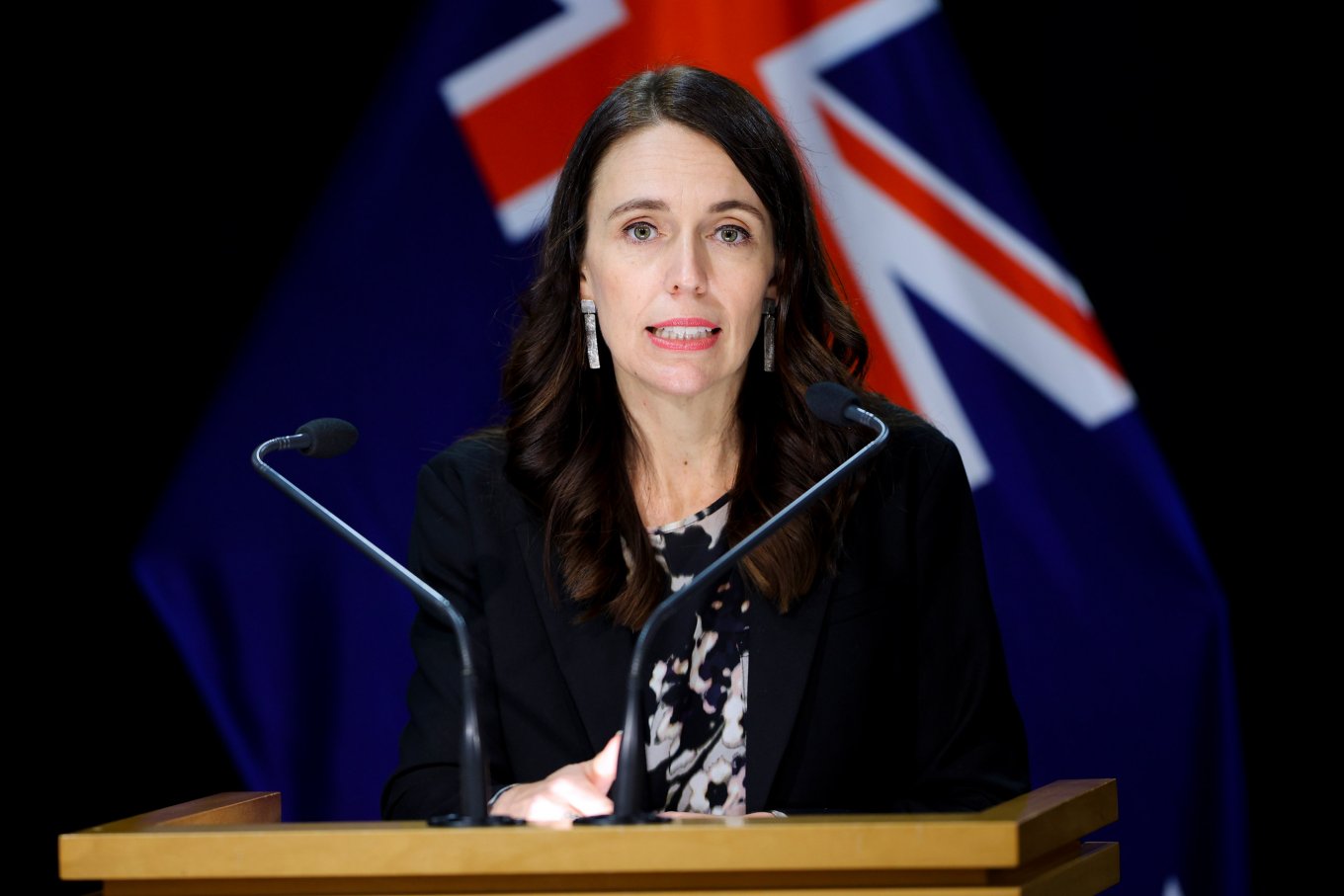 10:40 The General Staff of the Armed Forces of Ukraine has published the new summary of total combat losses of the enemy from 24.02 to 23.05.
According to the report, russians are facing non-stop military losses on Ukrainian soil. About 28500 agressor's troops eliminated, 928 air targets (excluding cruise missiles) of invaders were shot down, thousands of tanks, armored vehicles and tracks were destroyed by defenders of Ukraine.
Find more details on the current russias combat losses in Ukraine-russia war in a publication by Defense Express: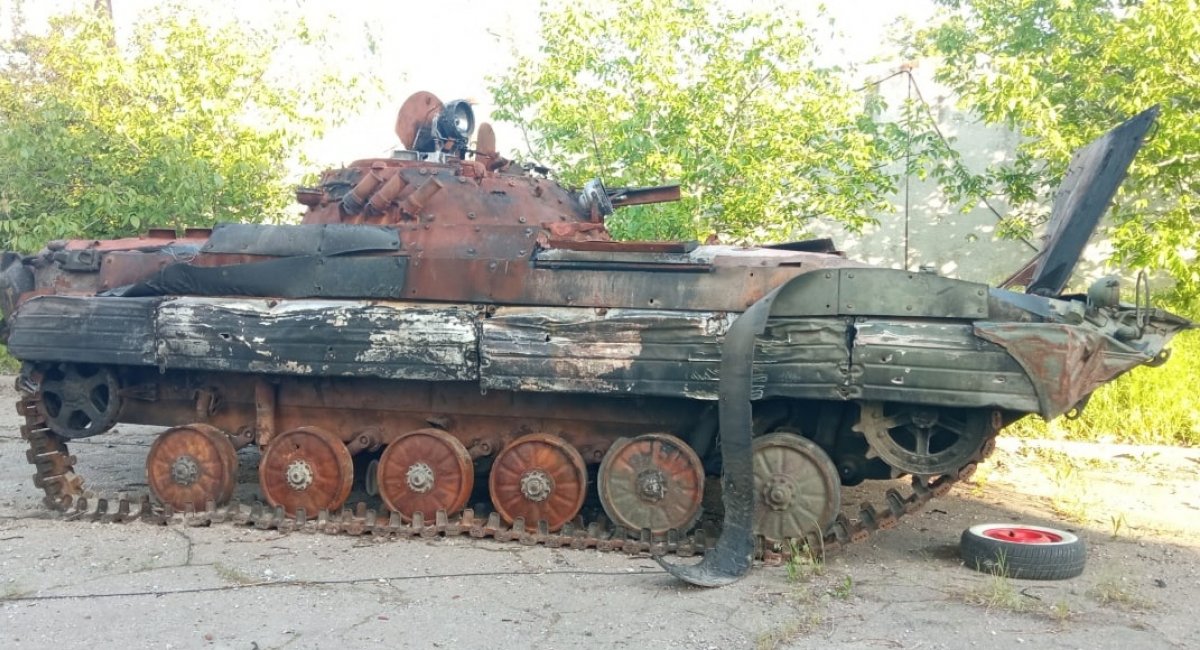 10:10 Ukraine's Prosecutor General's Office: Some 232 children die in Ukraine due to armed aggression of Russia, 431 children injured.
Ukraine as a result of the full-scale armed aggression of the Russian Federation 663 children were injured in, as of the morning of May 23. The official number of dead children was 232 people, the number of injured was 431, the Prosecutor General's Office reports.
These figures are not final, as work is underway to establish them in areas of active hostilities, in temporarily occupied and liberated territories, the message released on Monday morning says.
Children suffered the most in in Donetsk region – 145, Kyiv region – 116, Kharkiv region – 102, Chernihiv region – 68, Kherson region – 49, Luhansk region – 48, Mykolaiv region – 45, Zaporizhzhia region – 28, Sumy region – 17, Kyiv city – 16, Zhytomyr region – 15.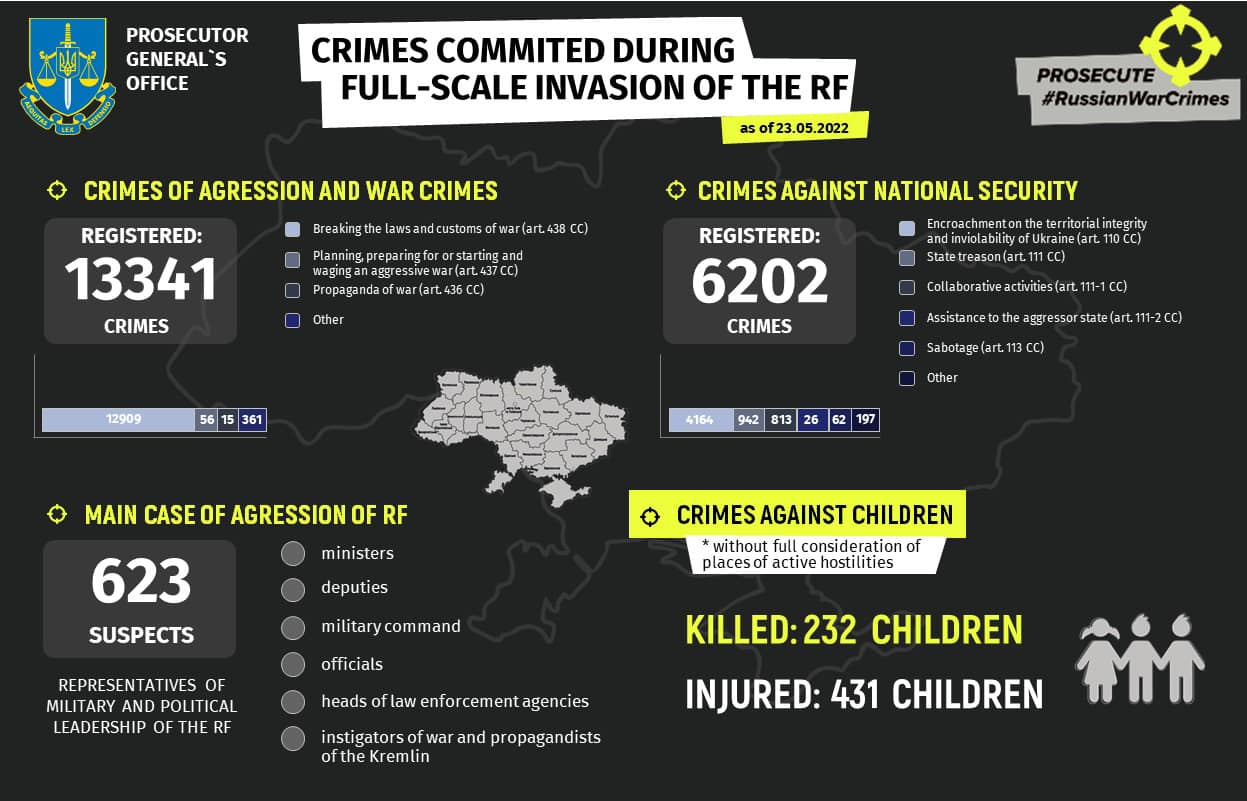 On May 21, a 7-year-old girl was injured in an attack by the occupiers of the village of Molodetske, Belozersky District, Kherson Oblast.
A total of 1,837 educational institutions have been damaged in bombing and shelling of Ukrainian cities, towns, and villages by the armed forces of the Russian Federation. Of them, 172 are completely destroyed.
09:45 UK Ministry of Defense: Russia's death toll akin to war in Afghanistan.
In the first three months since Russia invaded Ukraine, it has likely suffered a similar death toll to that experienced by the Soviet Union during its nine year war in Afghanistan, the UK ministry of defense has claimed, The Guardian reports.
A combination of "poor low-level tactics, limited air cover, a lack of flexibility" and a command approach which is "prepared to reinforce failure and repeat mistakes" has led to the high casualty rate, British intelligence said in its latest report released this morning.
Casualties are continuing to rise in the Donbas offensive, the report added.
"The Russian public has, in the past, proven sensitive to casualties suffered during wars of choice. As casualties suffered in Ukraine continue to rise they will become more apparent, and public dissatisfaction with the war and a willingness to voice it may grow."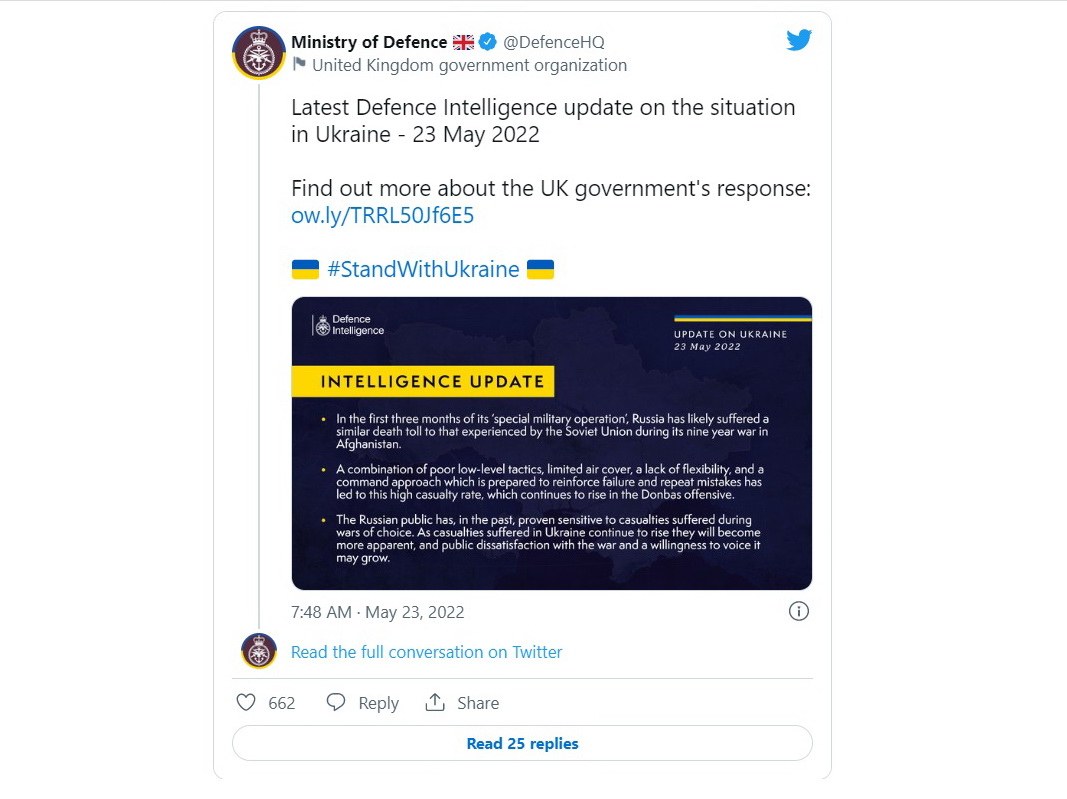 09:20 The General Staff of the Armed Forces of Ukraine has released an operational update on the state of warfare as of 06.00 on May 23, 2022.
According to Ukraine's General Staff operational report, the enemy continues to launch missile and air strikes on the territory of Ukraine. Invaiders intensify airstrices to destroy the critical infrastructure of settlements in the area of active combat actions
Eleven russian enemy attacks have been repulsed in the Donetsk and Luhansk directions, six tanks, ten units of armoured combat vehicles and six units of enemy vehicles have been destroyed over the past 24hrs.
Air defense units c one Orlan-10 UAV and an enemy Su-25 aircraft in these areas. Air and anti-aircraft missile units of the Air Force destroyed four enemy cruise missiles.
As a result of losses during combat actions, the enemy was forced to withdraw from storage T-62 tanks to recruit reserve battalion tactical groups that are being formed to be sent to Ukraine. In addition, equipment that was damaged and restored at repair and renovation plants is used to replenish the loss of weapons and military equipment.
Find more details on the theme and key points of the report in a publication by Defense Express: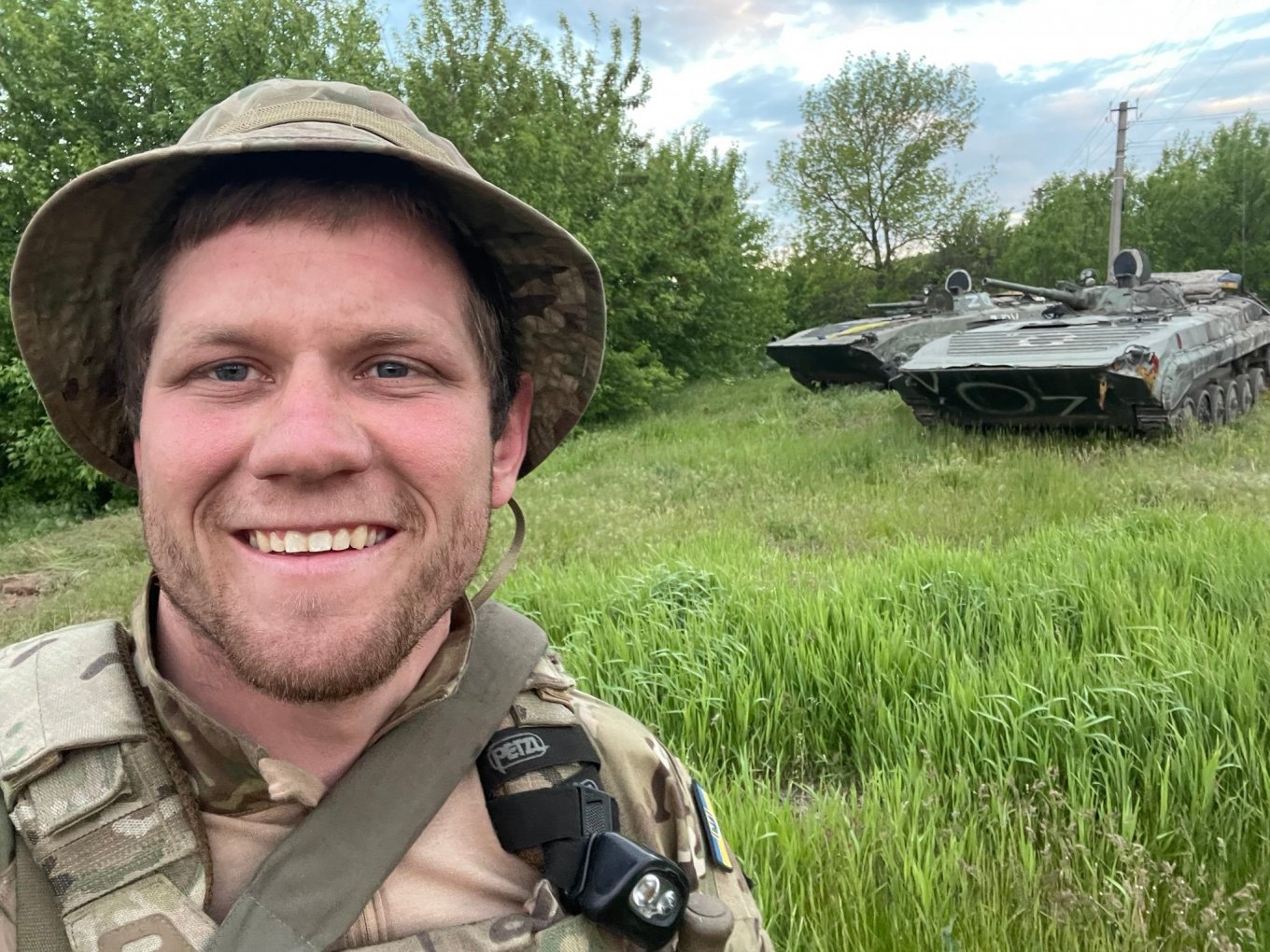 08:30 US Oficial: Russia will not be able to disrupt arms supplies to Ukraine.
Russia's attempts to disrupt arms supplies to Ukraine will not have a significant impact on the United States' military assistance process.
National Security Advisor Jake Sullivan said this at a press conference on Sunday, according to the White House's press service.
Asked to comment on allegations by the Russian Defense Ministry that Russian troops had destroyed a large batch of Western weapons, Sullivan said he had nothing to validate it and hadn't had the opportunity to consult with the Ukrainians on it.
According to him, a diverse and resilient supply chain for these weapons into Ukraine has been established.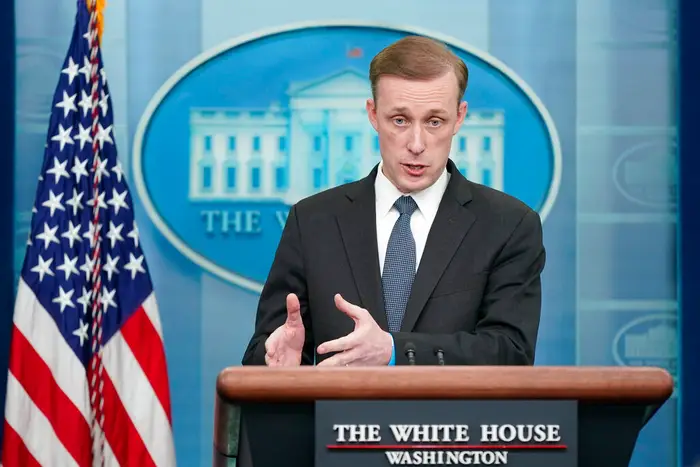 "So even if there is a circumstance where the Russians are able to target and hit some shipment on the ground in Ukraine, that's not going to fundamentally, from a strategic perspective, disrupt the military assistance we're providing," Sullivan said.
He recalled that President Joe Biden had been very straightforward that if the United States did do not work with likeminded allies to stand up to Russian aggression, it will pay a greater cost tomorrow.
According to Sullivan, Biden is convinced that the allocation of $ 40 billion to Ukraine by the United States is an "investment in the Ukrainian people's fight to defend their country and in support of our allies who live under the shadow of Russian aggression." These funds are "a worthy investment in terms of the long-term contribution […] to peace, security, and stability," he added.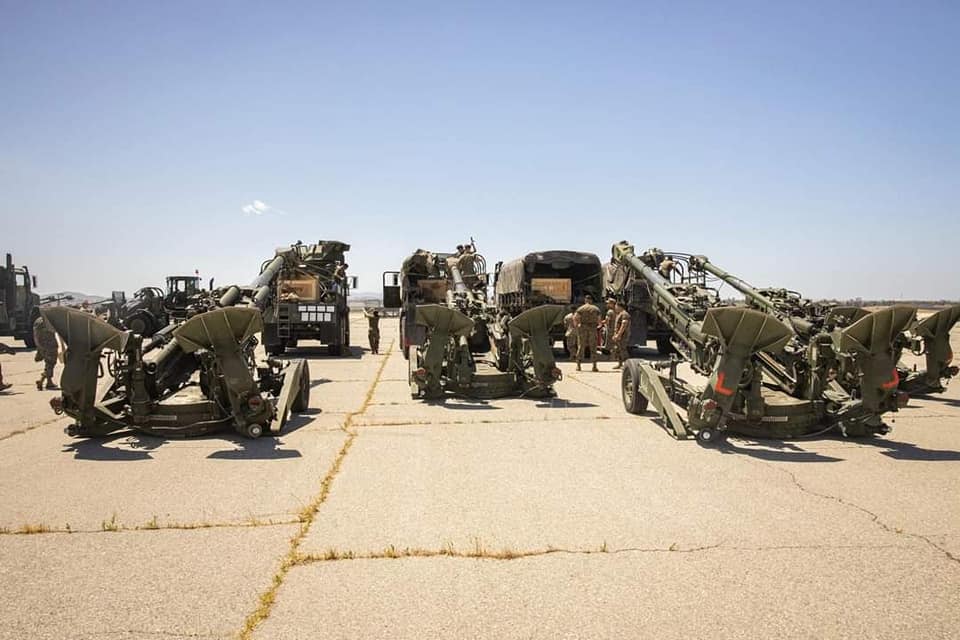 07:50 The President of Ukraine Volodymyr Zelenskiy to address World Economic Forum in Davos.
The war in Ukraine is making its mark at the World Economic Forum in Davos.
Kyiv will continues its diplomatic counteroffensive by targeting the world's business and political elite gathering in the Swiss mountain resort of Davos during a four-day meeting of global business leaders, The Guardian reports.
Talks will begin on Monday, May 23, with a video address by Ukrainian president Volodymyr Zelenskiy.
This is the world's most influential economic platform where Ukraine has something to say," the Ukrainian president said in an earlier address.
Zelenskiy will also mark the opening of Ukraine House Davos, a forum for Kyiv and its international backers.
"Ukraine House Davos will host dialogue on security, sanctions, humanitarian aid, rebuilding and revitalising Ukraine, and more," an official statement reads.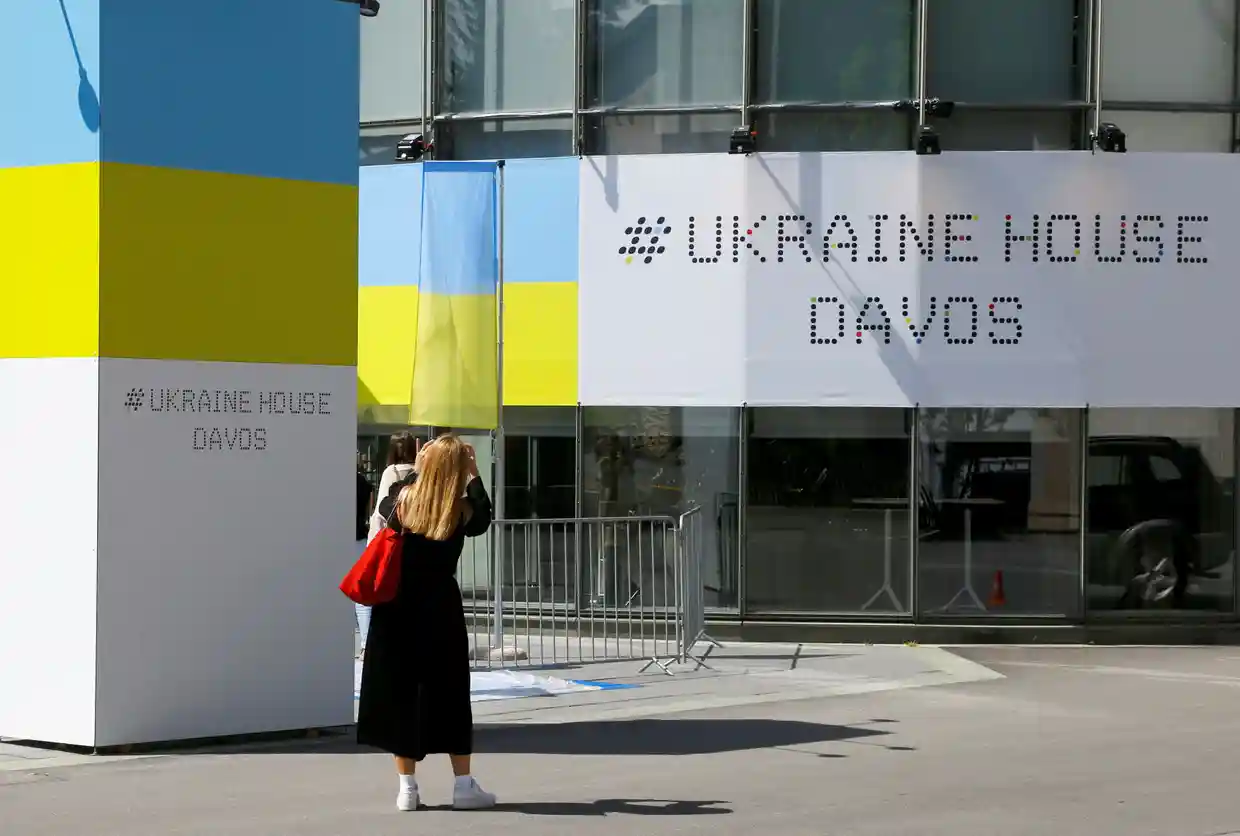 European Commission President Ursula von der Leyen, German Chancellor Olaf Scholz and Nato Secretary-General Jens Stoltenberg are among the leaders due to address the meeting.
In March, Davos organisers cut ties with Russian firms and officials, and announced that anyone under international sanctions would not be welcome at the event.
The main street in the town in Switzerland has been turned into a Russian War Crimes House by Ukrainian artists hoping to get their message across to world leaders, Reuters reports.
Visitors are confronted by images such as a badly burned man in Kharkiv after Russian shelling and a film made up of thousands of pictures of dead civilians and bombed houses.
"The annual meeting of the World Economic Forum in Davos this year will be the most timely and consequential annual meeting since the creation of the forum over 50 years ago,'' WEF founder Klaus Schwab told reporters ahead of the meeting.
"The return of war, epidemics and the climate crisis, all those disruptive forces have derailed the global recovery," Schwab said. "Those issues must be confronted in Davos; the global food crisis, in particular, needs our immediate attention."
07:30 Up to 100 Ukrainians dying every day in east, Zelenskiy says
The President of Ukraine Volodymyr Zelenskiy has said 50 to 100 Ukrainians are dying every day on the war's eastern front in what appeared to be a reference to military casualties, The Guardian reports.
The heaviest fighting is focused around the twin cities of Sievierodonetsk and Lysychansk in Luhansk, one of the two regions that make up the Donbas.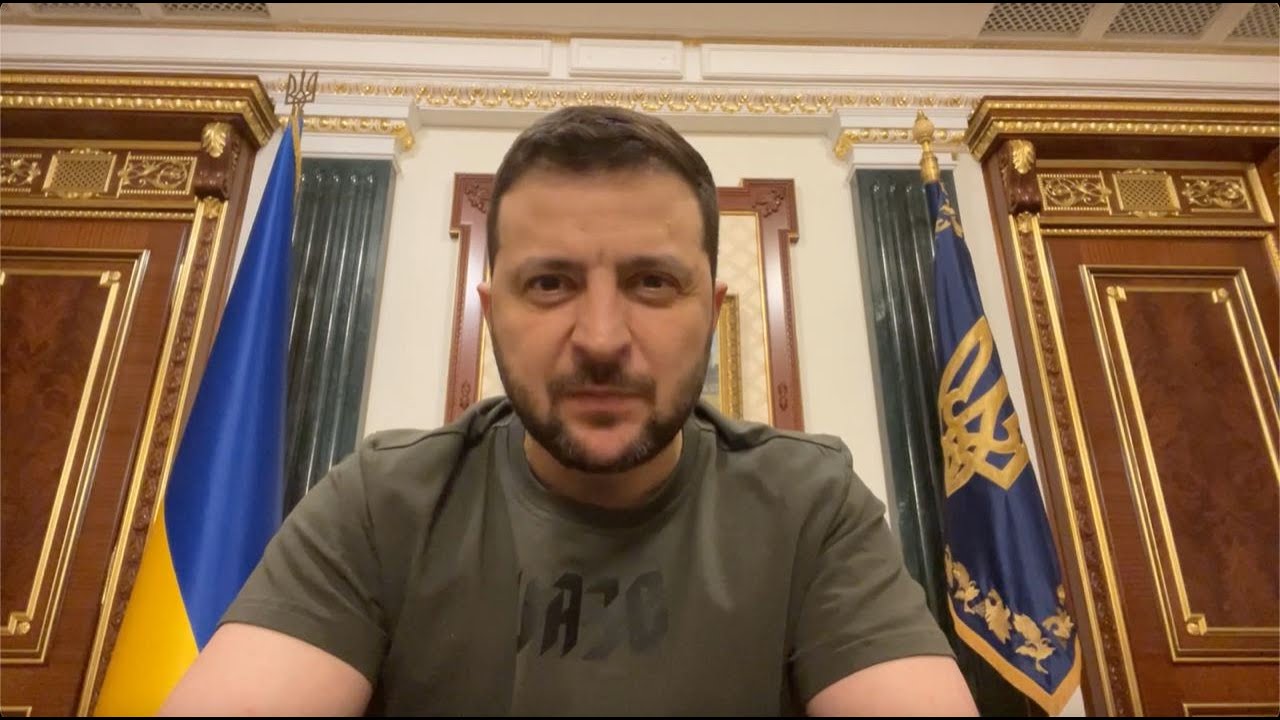 Serhiy Gaidai, the governor of Luhansk, said in a local television interview that Russia was using "scorched-earth" tactics in the region and that Sievierodonetsk had been attacked from "four separate directions" though Russian forces had not succeeded in breaking into the city.
07:00 Ukraine's Armed Forces eliminated over 55 invaders in Kherson, Mykolaiv regions.
The Ukrainian military destroyed more than 55 invaders on the line of contact in the Mykolaiv and Kherson regions on May 22.
The Operational Command South of the Ukrainian Armed Forces said this on Facebook, Ukrinform reports.
The enemy has not significantly changed its tactics on the line of contact in the Mykolaiv and Kherson regions, the statement said. As before, being deprived of any opportunity to move forward, Russian forces are fortifying their positions and trying to conduct air reconnaissance.
"As a result of the actions of our missile and artillery units, together with the aircraft, the enemy lost more than 55 Rushists and several armored vehicles. The final number is being determined," the Operational Command South said.
Ukrainian units shot down an Orlan-10 reconnaissance drone over the Kherson region.
The situation in the Odesa region is stable and under control. However, the Admiral Makarov, one of the newest ships of the Russian Black Sea Fleet, left Sevastopol to join a group of seven large landing ships and two missile destroyers in the Black Sea. In this regard, the Operational Command South stressed that the probability of missile strikes is growing.
05:00 Ukraine's artillerymen keep showing their proficiency on the battlefield. This time in a tandem with a Ukrainian UAV SPECTATOR.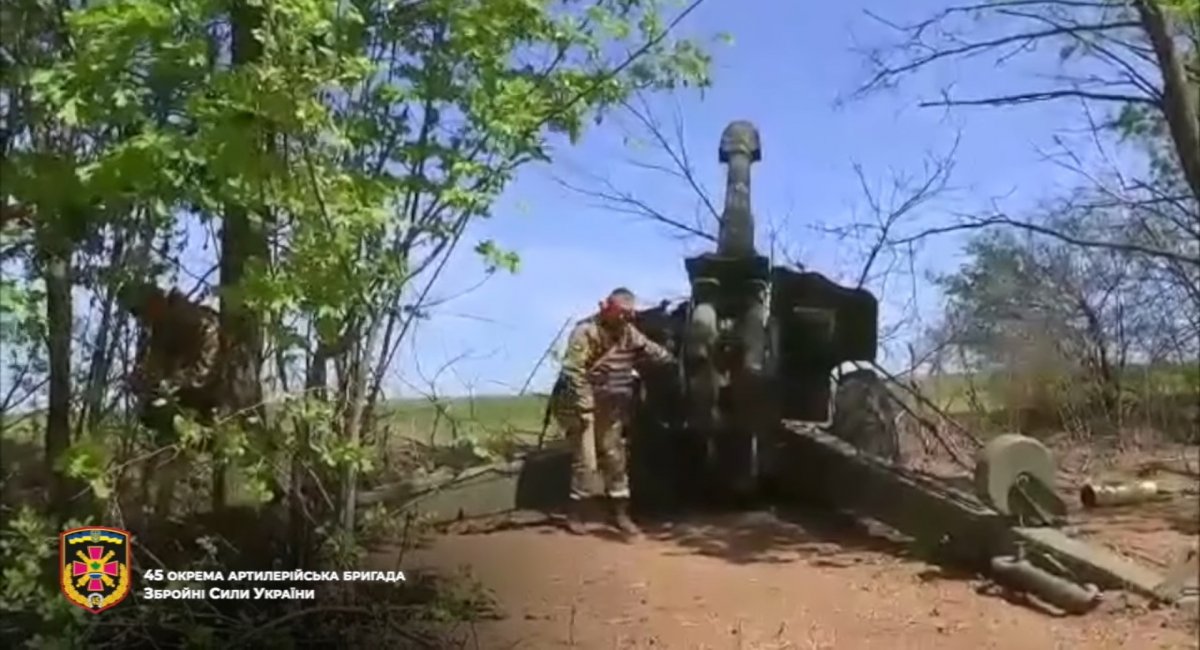 02:20 Unblocking the Black Sea water area has been a key objective to let cargo ships with grain go out in the open sea and deliver it to the countries in need.
The United States is in a position to do so, sending certain weaponry to Ukraine.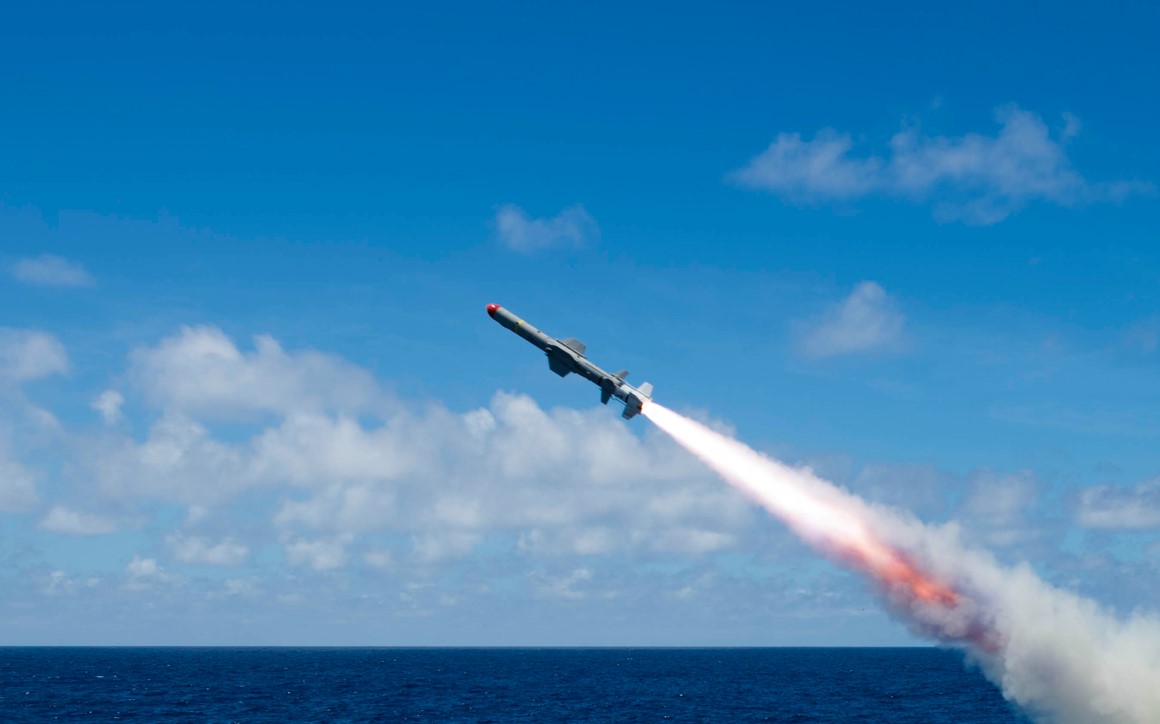 01:20 Ukraine's troops repel 11 russia's attacks in the Joint Forces Operation Area, destroying dozens on enemy armored vehicles over the day.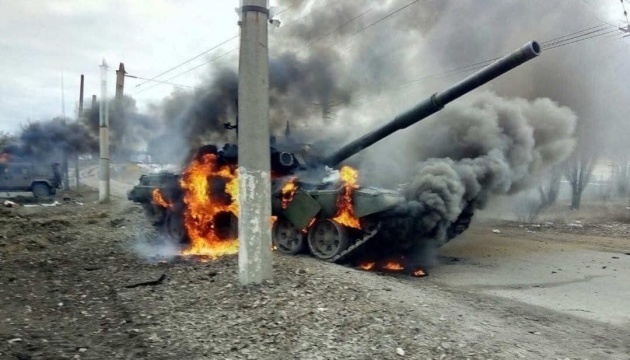 Read more: ​Day 88th of War Between Ukraine and Russian Federation (Live Updates)
---
---