This was reported by the German Defense Ministry in its official Twitter account.
German Defense Minister Christine Lambrecht announced the transfer of Gepard anti-aircraft tanks to Ukraine at an international meeting of defense ministers currently underway at the US Ramstein airbase in Germany.
Read more: The Czech Republic to Send 2S1 Gvozdika Self-Propelled Guns to Ukraine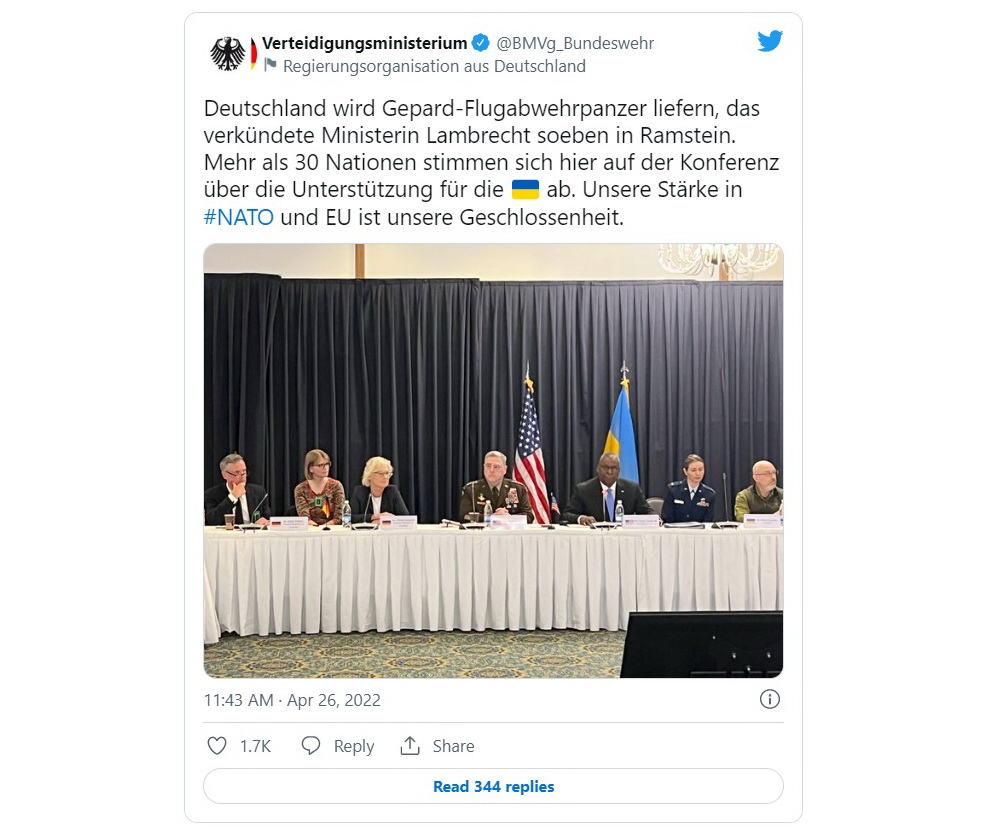 Christine Lambrecht also said Germany would double military support to Ukraine to 2 billion euros ($2.1 billion).
At the meeting, the defense ministers of the United States, Ukraine and a number of EU countries (Forty countries at all) discuss Ukraine's weapons needs to bolster the defense capabilities of Ukraine tocounter the Russian occupation forces.
It is not reported exactly how much Gepard anti-aircraft tanks Germany plans to transfer to Ukraine. However, as previously reported by Defense Express, currently in the warehouses of German defense concerns are about 50 units of disarmed the Gepards.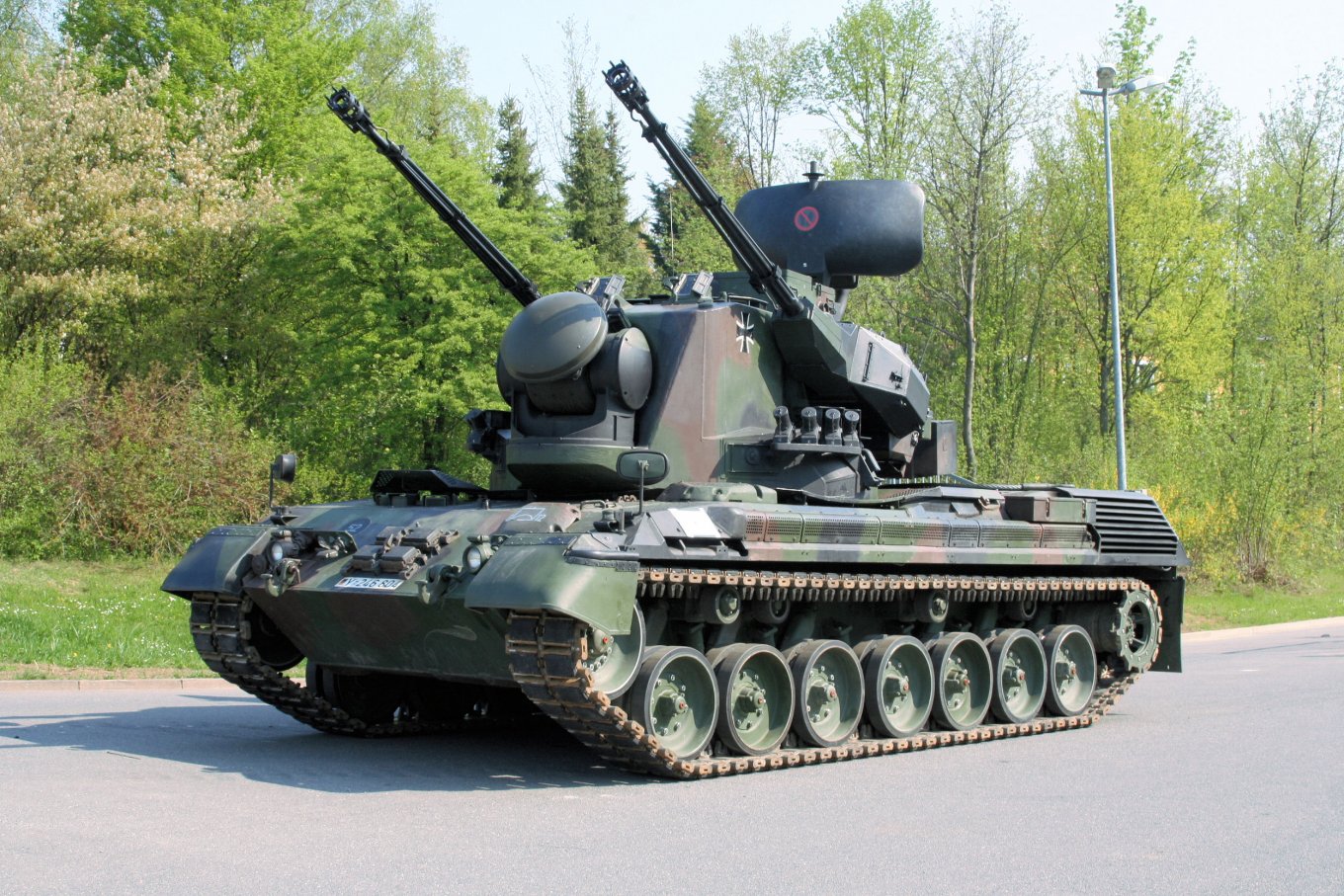 It will be recalled that Gepard anti-aircraft tank is based on the hull of the Leopard 1 tank with a large fully rotating turret carrying the armament – a pair of 35 mm Oerlikon KDA autocannons and two radar dishes – a general search radar at the rear of the turret and a tracking radar, and laser rangefinder, at the front between the guns. Each gun has a firing rate of 550 rounds/min, which gives a continuous fire time of 37 seconds before running out of ammo (with 680 rounds for both guns).
The guns are 90 calibres (3.15 m (10 ft 4 in)) long, with a muzzle velocity of 1,440 m/s (4,700 ft/s) (FAPDS - Frangible Armour Piercing Discarding Sabot rounds), giving an effective range of 5,500 m. The KDA autocannon can take two different ammunition types; the usual loading is a mix of 320 AA and 20 AP rounds per gun. Combined rate of fire is 1,100 rounds/min.

The electrically driven turret is powered by a 40 kW generator driven by a 4-cylinder, 3.8 litre Mercedes-Benz OM 314 multi-fuel engine.
Gepard anti-aircraft tank was developed in the 1960s and fielded in the 1970s, and has been upgraded several times with the latest electronics. It constituted a cornerstone of the air defence of the German Army (Bundeswehr) and a number of other NATO countries. In Germany, the Gepard was phased out in late 2010 and replaced by Wiesel 2 Ozelot Leichtes Flugabwehrsystem (LeFlaSys) with four FIM-92 Stinger or LFK NG missile launchers. A variant with the MANTIS gun system and LFK NG missiles, based on the GTK Boxer, was also considered.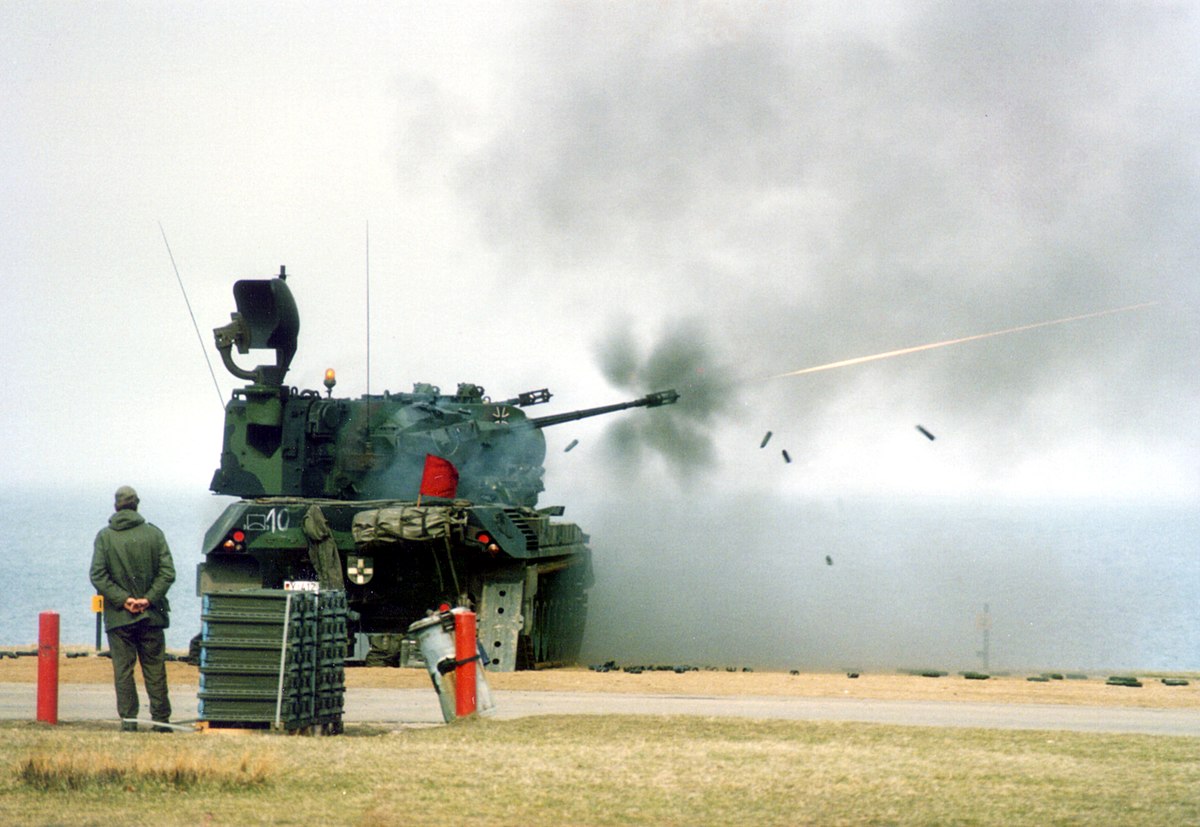 Defense Express reported that Germany agreed to sell infantry fighting vehicles to Ukraine and our country wants Germany to sell it Marder IFV's, PzH 2000 self-propelled howitzers.
Read more: German-Delivered Matador Grenade Launcher Already Serving Mariupol Defenders. Russian Tanks Gonna Have Troubles
---
---