Brief facts:
in the evening, russian aircraft launched at least 18 missiles on the Ukrainian infrastructure of multiple regions
UK Will Provide a New Package of Military Support for Ukraine.
Civilians evacuated from Mariupol's Azovstal arrive in Zaporizhia.
The UK Ministry of Defense states that russia's military now 'significantly weaker' as a result of its invasion of Ukraine.
Chief of the Defense Intelligence of the Ministry of Defence of Ukraine Kyrylo Budanov: Russia prepares to announce mass mobilisation on 9 May.
Side note: news are marked in accordance with the Kyiv time zone: Eastern European Time (EET), GMT/UTC+2
Read more: The 68th Day of the War: Russian Casualties in Ukraine
Latest news
Thank you for your attention! This feed is closed. But Defense Express has already started a new one: Day 70th of War Between Ukraine and Russian Federation (Live Updates)
00:06 Ukrainian air defense fights against russian missile attack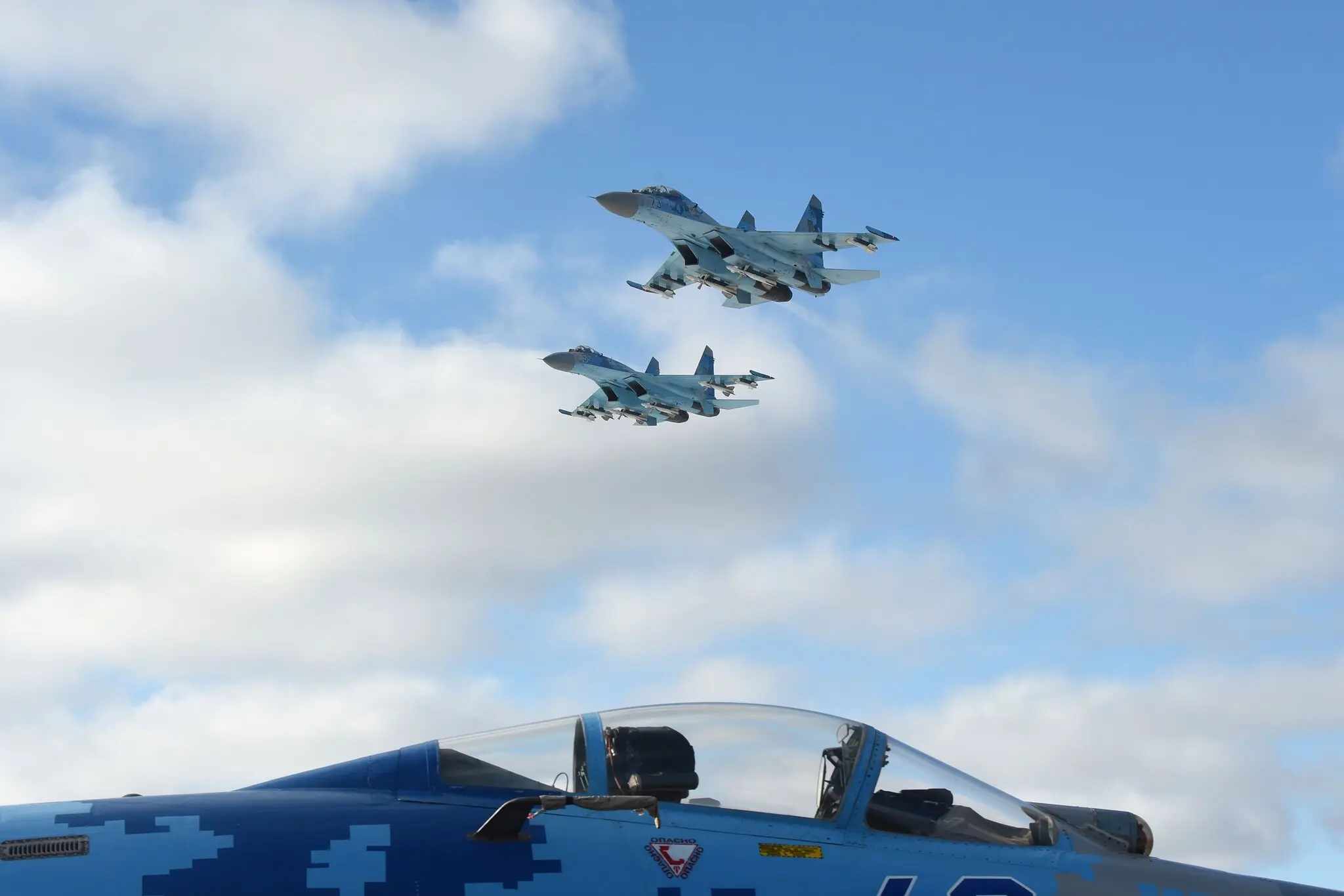 On May 3 evening russian strategic bombers of either Tu-95 or Tu-160 carried out a massive rocket attack from the Caspian region, reads the daily report from the Air Force of the Ukrainian Armed Forces. According to the preliminary data, 18 missiles were launched on the Ukrainian infrastructure of multiple regions. The aircraft didn't dive into airspace controlled by Ukrainian air defense but fired the missiles from afar.
Throughout May 3, air defense units of Ukraine have shot down at least 8 cruise missiles. There is also data of 7 russian UAVs down, and one aircraft rocket.
Ukrainian aircraft carried out "dozens of air raids" on russian positions, about ten attacks on clusters of enemy manpower, warehouses and equipment.
23:35 Ukraine's anti-corruption center answered allegations of the threat of Ukrainian corruption to NATO weaponry supplies
Daria Kaleniuk, Executive director at the Anti-Corruption Action Centre explained why this concern is dangerous to Ukraine's capability to defend itself:
"To start full reconstruction Ukraine needs to win the war. To win the war UA needs to get heavy modern NATO weapons asap. We can't win the war with Soviet junk," Daria wrote on Twitter. She said thousands of "very young officers" with combat experience and will to win the war won't let the modern weapons be used not as intended:
"These are the people, who will form very soon new generations of military leadership in Ukraine. Their future is with NATO and modern NATO equipment. They will guarantee this equipment will be well preserved, maintained and controlled."
23:02 Situation is Getting Tense in Transnistria – Defense Express
There are several indicators that the situation around unrecognized Transnistria is getting tenser, Defense Express reports. For example, some sources claim that Ukrainian border guards allegedly have started to build concrete blocks in front of border crossings, which are under the control of the proxy forces of the puppet Transnistrian region. In their turn, Transnistrian propagandists said that today "unknown persons" allegedly tried to attack by means of UAVs the main TV center called Mayak.
At first sight, this report suggests that the Kremlin is systematically preparing for war in the region. But it seems that everything is the other way around: the occupiers are imitating "tumultuous activity" for the Kremlin in order to hide their unpreparedness for hostilities against Ukraine or even Moldova.
More details: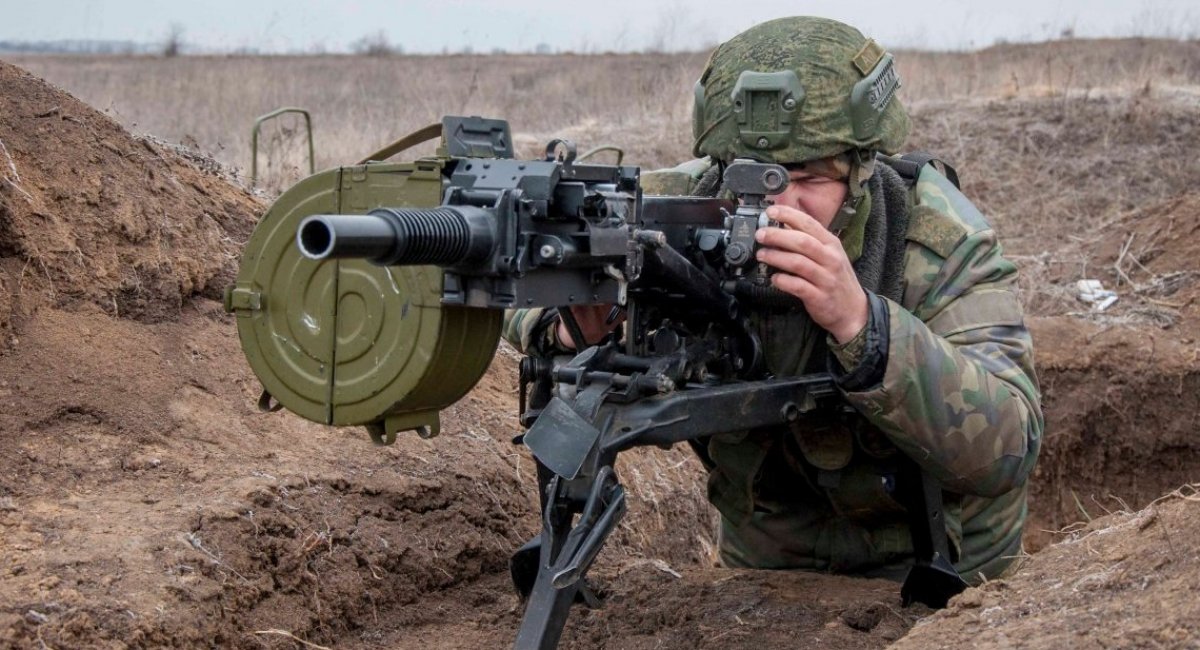 22:37 Twelve russian attacks were repelled in Donbas on May 3
Over the past 24 hours, Ukrainian defenders have repelled 12 attacks in the Donetsk and Luhansk regions.
6 Tanks;
5 Artillery systems, incl. 3 MLRS;
15 Armored; and
9 Non-armored vehicles.
Air defense units have shot down one cruise missile and three "Orlan-10" reconnaissance UAVs. The data is being updated.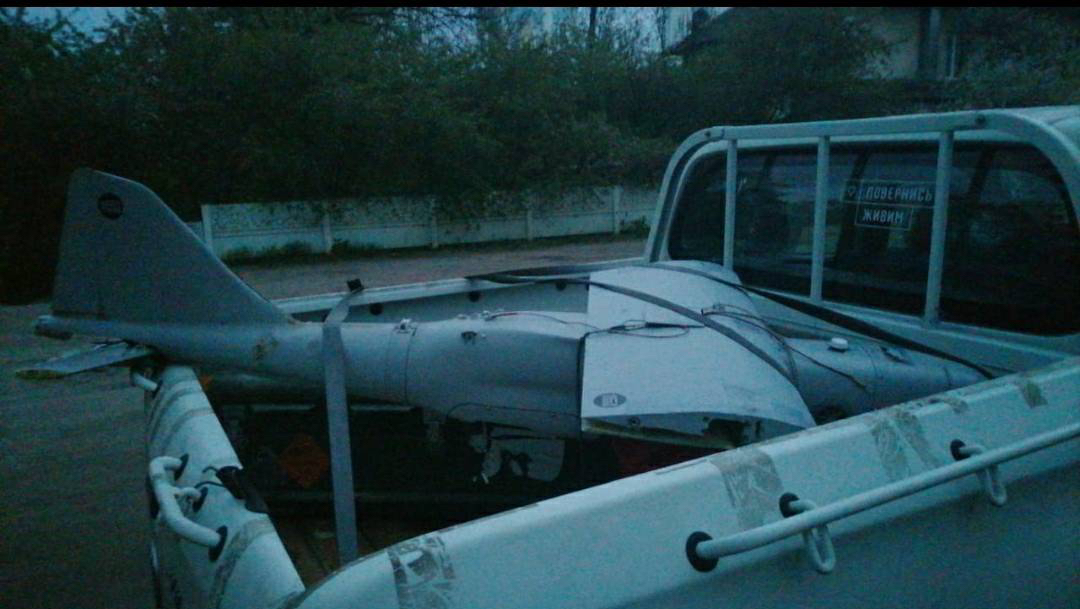 22:19 Russians shelled multiple regions of Ukraine on May 3 evening
Stratcom Centre reports on the currently available information:
Two rockets were launched from the Caspian direction. They hit the railway infrastructure of the Kirovohrad region, there are dead and wounded. Three more missiles aimed at the Odesa region were shot down by air defense forces. Two more missiles were also shot down in the Vinnytsia region.
Explosions in Lviv resulted in at least one person injured. A power substation was hit, firefighters are working in the place.
22:00 Deminers are working at the Chornobyl NPP
The territory of the Chornobyl nuclear power plant is being defined by the National Guard and the State Emergency Service of Ukraine. This was mentioned in the report from Ukraine's internal ministry.
"Taking into account the specifics of the facility, it was decided to involve specialists in NBC (Nuclear, Biological, Chemical) protection in demining, who together with sappers are exploring the territory of the Chornobyl NPP," said Valery, head of the National Guard's engineering service.
Ministry's statement recalls that the Chornobyl NPP was occupied by russian troops from February 24 to March 31.
21:28 General Staff of the Armed Forces of Ukraine has published an operational report
This one is regarding the situation on Ukrainian frontlines as of 18:00, May 3rd. It says russians moved a battery of 240-mm "Tulip" heavy self-propelled mortars and a unit armed with "Tornado" multiple rocket launchers from the Belgorod region to support the offensive in the Izium direction.
The occupiers improve the system of logistics and are currently equipping the second line of defense. on the temporarily seized territories.
More details from the report: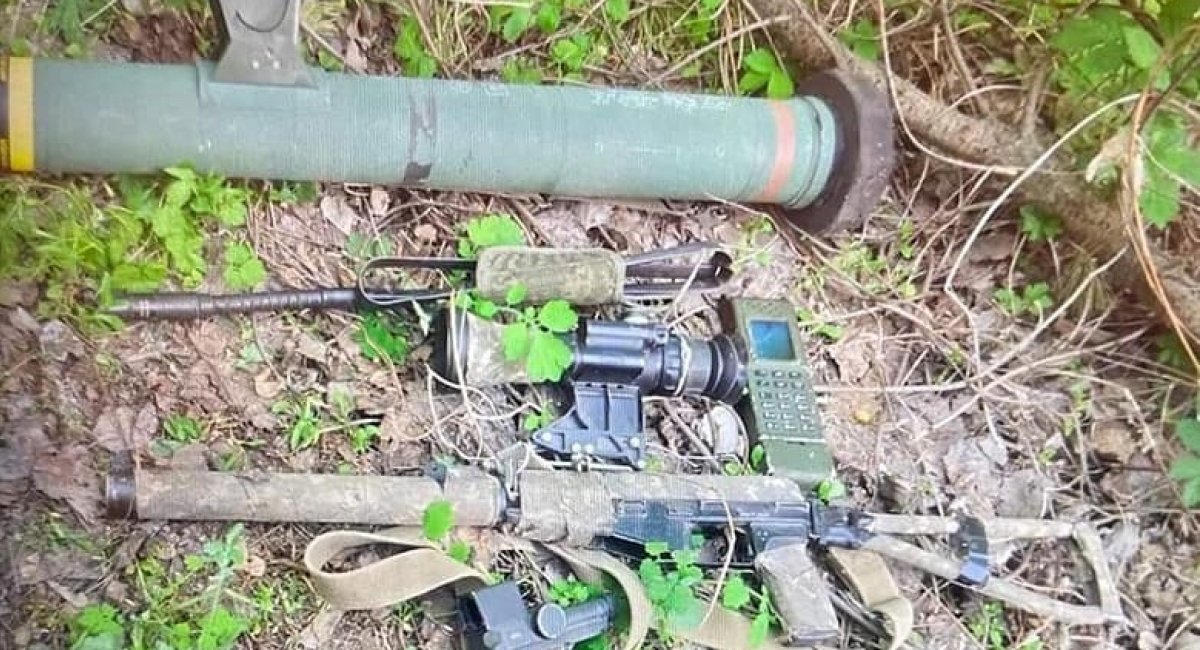 21:15 Ukrainians are effective in using weapons provided by Western partners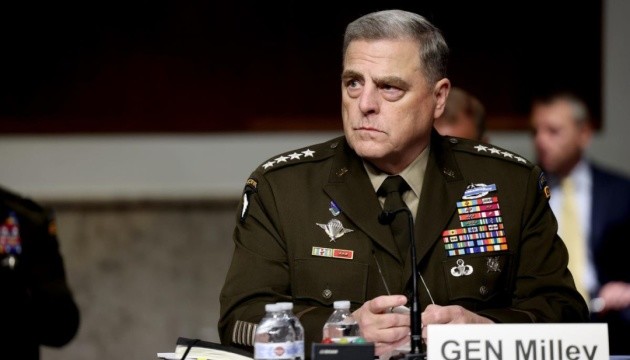 As US Army's Chief of Staff General Mark Milley said, the Ukrainian army is highly effective in using western weaponry provided by international partners. He told that to reporters during a Senate hearing on Tuesday, May 3, Ukrinform reports.
According to him, the most effective use of donated weaponry was made by the anti-tank and air defense units:
"You're seeing the ubiquitous use of precision munitions, you're seeing the use of drones, for example, unmanned aerial vehicles, you're seeing the very effective use of air defense systems," Gen Mark Milley said. "And of course, Javelin is what we have, but, many of the countries are providing all kinds of NLAWs and kind of Gustafs and RPGs, a wide variety of anti-tank weapons."
Read more on the topic: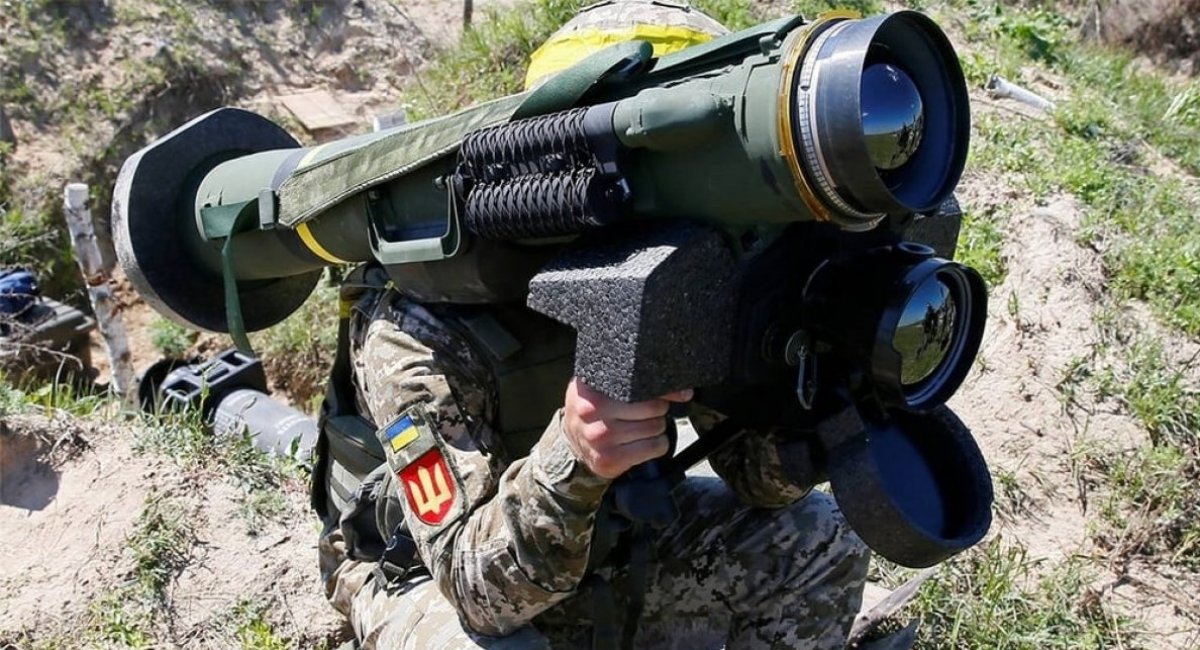 20:56 Russian army has lost more than 90 BMDs since the invasion start
In more than two months of the full-scale invasion, at least 90 BMD-4 amphibious infantry fighting vehicles for airborne units were either destroyed or seized in Ukraine. That was reported by the Military TV of the Ukrainian defense ministry.
"The enemy called the russian BMD-4 better than any other world analog. But russia's war against Ukraine has shown that words are very different from reality," the Ministry of Defense said on Facebook. "This is how the 'power' of the russian federation is now shattered by the realities of life… And becomes another exhibit in Ukrainian museums."
20:38 Not a single medical facility in the Luhansk region remained intact by russians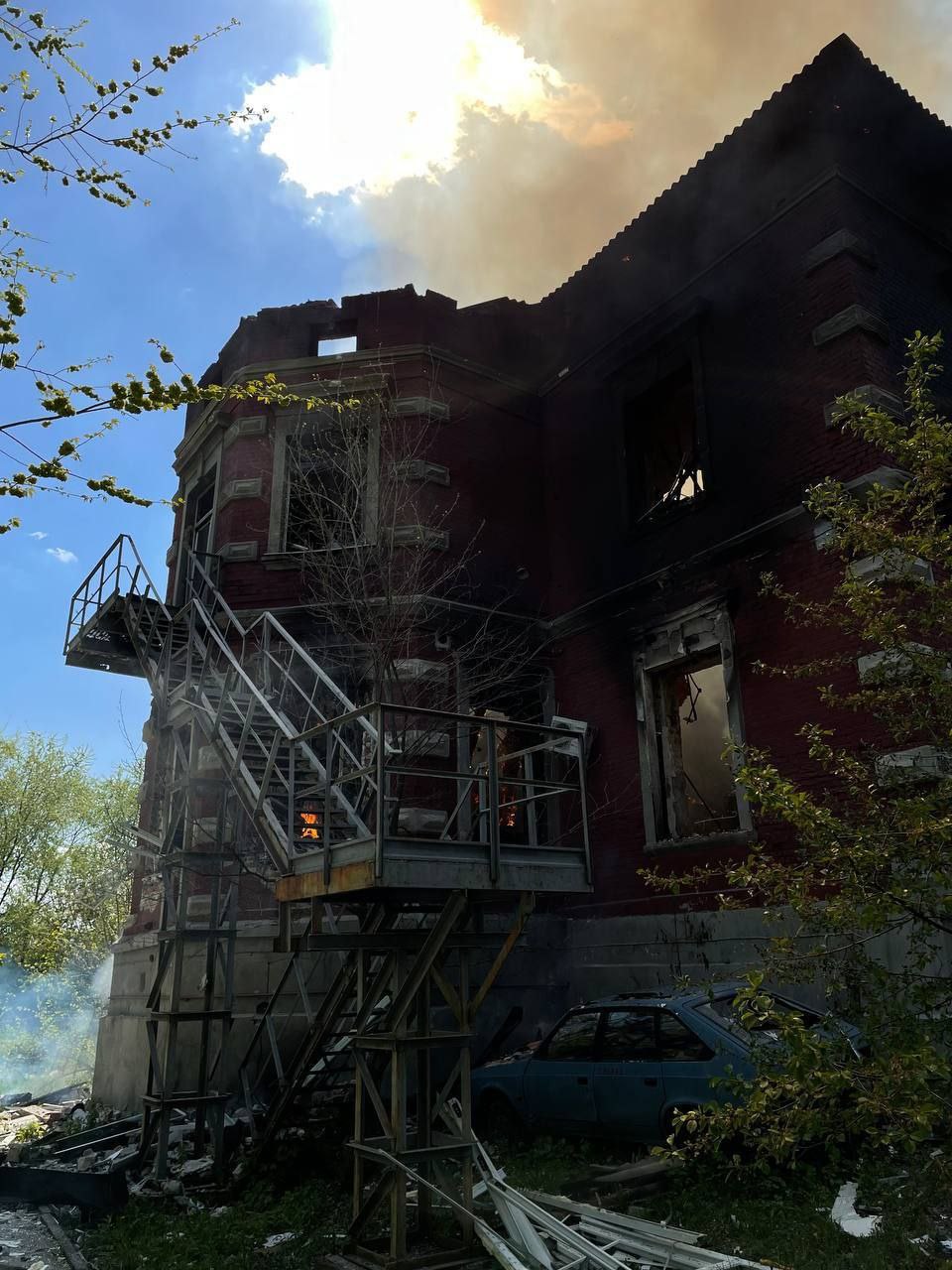 This is what Serhii Haidai, Head of the Luhansk region administration, said after the news of russians shelling an anti-tuberculosis dispensary in Lysychansk.
"In more than two months of the war – not a single medical facility remained intact," he said.
Historical "Belgium hospital" in Lysychansk with more than a hundred-years history caught fire as a result of today's shelling, the official stressed.
19:52 President Zelensky spoke to the Albanian parliament, urged to impose an oil embargo
President of Ukraine Volodymyr Zelensky addressed the Parliament and the people of Albania on May 3rd. He thanked Albania for defense assistance, support of sanctions against Russia, and hosting of the Ukrainian people. But also the President stressed that an embargo on russian oil should be introduced, and russian banks should be completely disconnected from the global financial system, with a request to close ports for russian ships and restrict the arrival of Russians.
"We must all insist that it [the sixth package of EU sanctions] includes an oil embargo and a real blockade of any schemes that Russia uses to deceive the free world and ignore sanctions," the Ukrainian President said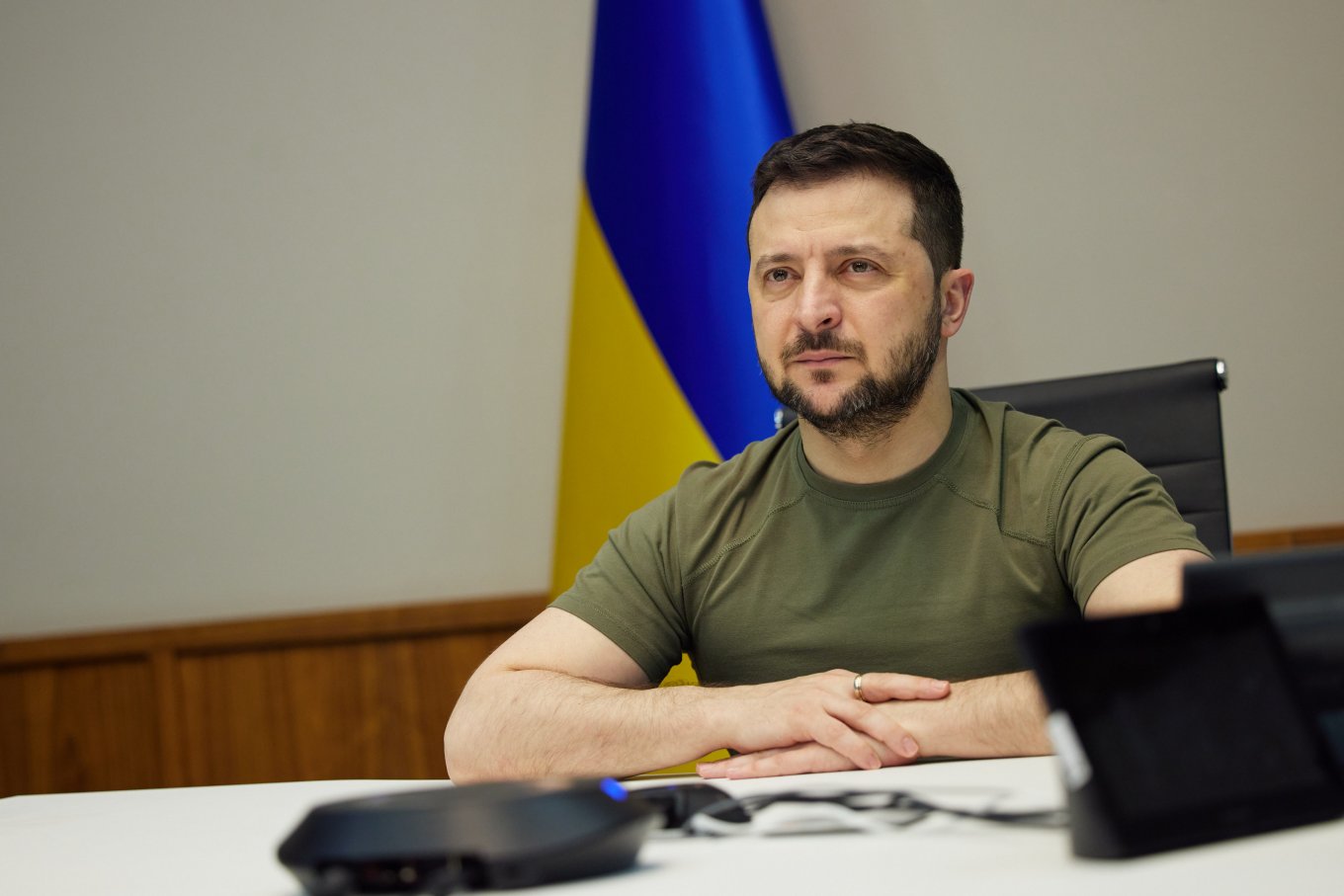 19:26 War criminals who committed atrocities in Bucha identified
Open Source Intelligence (OSINT) team InformNapalm has identified scouts of the Russian 64th Motorized Rifle Brigade that occupied the Kyiv region from late February to early April. Photo materials handed over the intelligence community by the security forces of Ukraine became the starting point for this OSINT investigation, reads the statement by InformNapalm.
In mid-April, the intelligence team received data from the smartphone of a Russian serviceman. Group photos of his fellow soldiers, as well as some official documents, became evidence and helped to identify his colleagues, who "in March 2022 were operating in the Kyiv Oblast of Ukraine and apparently are directly implicated in the war crimes committed in Bucha, Hostomel and Irpin".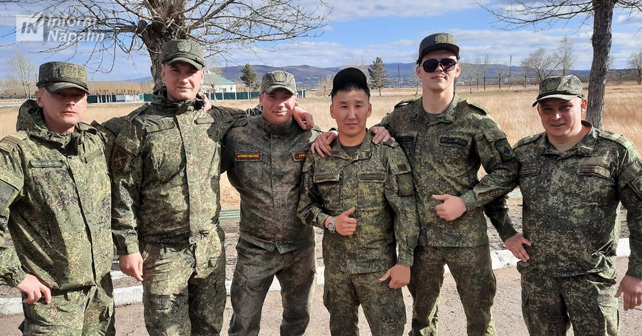 18:50 According to a report in Haaretz, Israeli officials have said that the country can send "plenty of items" to Kyiv that are more defensive, but that air defense systems, advanced weaponry and attack systems would not be sent.
While the increase in aid would be a "substantial step" in what the Jewish state has already provided, the report said it would be more symbolic as it would "not include substantial quantities of supplies" because of the aid already provided by the United States and European countries.
More details: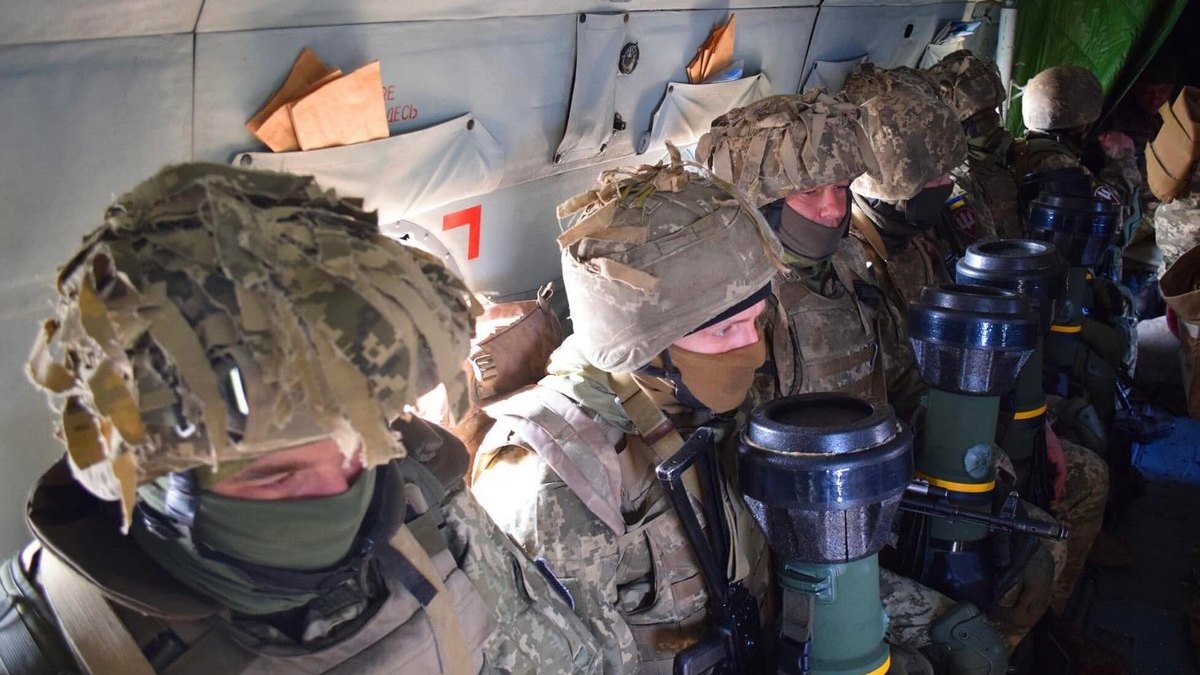 17:40 According to the Deputy Prime Minister - Minister for Reintegration of the Temporarily Occupied Territories of Ukraine Iryna Vereshchuk, 156 people were evacuated from "Azovstal". Several hundred more people remain on the territory of the plant.
17:10 United Kingdom Prime Minister Boris Johnson believes Ukraine will win in the war unleashed by Russia, as the brute force of an aggressor counts for nothing against the moral force of a people determined to be free.
The relevant statement was made by UK Prime Minister Boris Johnson during his online speech in the Verkhovna Rada of Ukraine.
According to Johnson, Putin's troops are committing war crimes, and their atrocities emerge wherever they are forced to retreat – at Bucha, at Irpin, at Hostomel and many other places. The UK will do whatever they can to hold Russian invaders to account for these war crimes.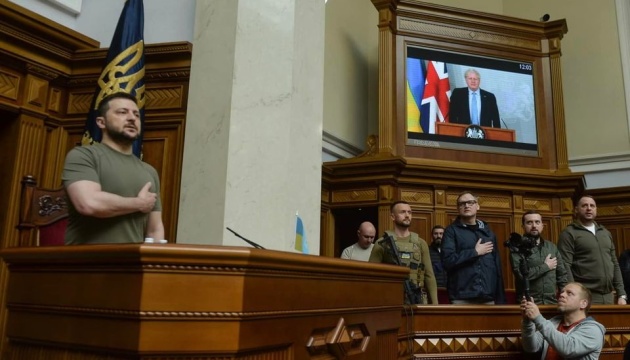 "In this moment of uncertainty, of continuing fear and doubt, I have one message for you today: Ukraine will win, Ukraine will be free," Johnson told.
In his words, he believes in Ukraine's victory, as he had been to Kyiv on previous visits, stood in the Maidan and seen the tributes to those who had given their lives to protect Ukraine against Russian aggression. Johnson had seen enough about Ukrainian freedom to know that the Kremlin was making a fundamental miscalculation, a terrible mistake, and that Ukraine would fight.
"And today you have proved them completely wrong, every one of those military experts who said Ukraine would fall. Your farmers kidnapped Russian tanks with their tractors. Your pensioners told Russian soldiers to hop as we say, although they may have used more colourful language. Even in the parts of Ukraine that were temporarily captured, your populations, your indomitable populations turned out to protest, day after day. And though your soldiers were always outnumbered – three to one it is now – they fought with the energy and courage of lions," Johnson said.
In this regard, Johnson noted that Ukrainians had exploded the myth of Putin's invincibility and had written one of the most glorious chapters in military history and in the life of Ukraine.
"The so-called irresistible force of Putin's war machine has broken on the immoveable object of Ukrainian patriotism and love of country. This is Ukraine's finest hour that will be remembered and recounted for generations to come. Your children and grandchildren will say that Ukrainians taught the world that the brute force of an aggressor counts for nothing against the moral force of a people determined to be free. They will say that Ukrainians proved by their tenacity and sacrifice that tanks and guns cannot suppress a nation fighting for its independence, and that is why I believe that Ukraine will win," Johnson stressed.
16:44 Russian invaders are attempting to break into the territory of Mariupol-based Azovstal plant in several places.
The relevant statement was made during a nationwide telethon, referring to Mariupol Patrol Police Department Head Mykhailo Vershynin, an Ukrinform correspondent reports.
"Artillery and aviation preparations have lasted for almost a day. As the buses left, they made a pause. They started to launch strikes night and day. Now they are storming the plant in several places. We are keeping the defense, fighting back," Vershynin told.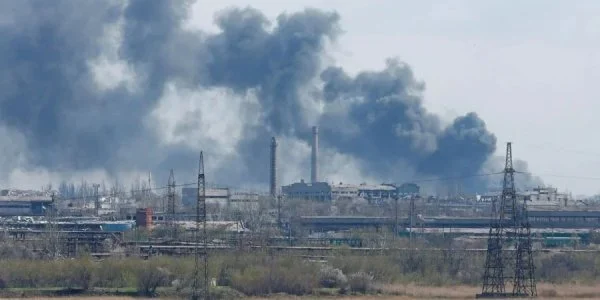 A reminder that, on May 2, 2022, after civilians were partially evacuated from the Azovstal plant, Russians continued to fire on the plant with all kinds of weapons. Mariupol defenders were repulsing enemy attacks.
16:10 The Federal Government of Germany has decided to hand over to the Armed Forces of Ukraine seven 155 mm Panzerhaubitze 2000 self-propelled howitzers, which are available in the Bundeswehr. Welt reports about this.
It is noted that in order to make such a decision, the German government had to literally break the resistance of its military. The military command of the German armed forces in "internal" discussions insisted that they themselves "did not have enough" weapons - from the 119 PzH 2000 units available, only 41 capable for combat.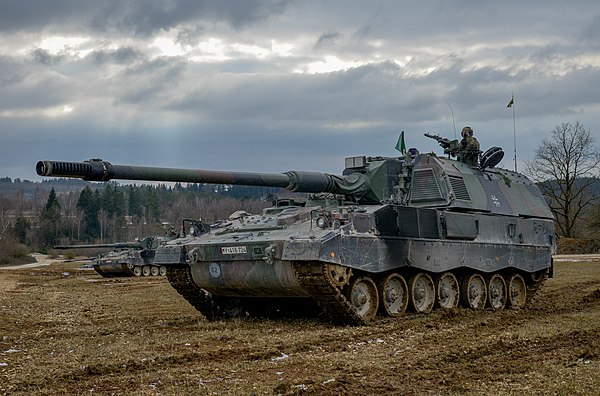 15:23 In his address to the Verkhovna Rada, the Prime Minister of the United Kingdom Boris Johnson said that Brimstone anti-ship missile systems and armored vehicles would be sent to Ukraine in the coming weeks to evacuate people from the occupied territories. "We have a new support package of £ 300 million," Johnson said. According to him, the package will also include radars and drones.
14:45 An enemy drone was shot down in the sky over Dnipropetrovsk oblast by the Armed Forces of Ukraine, the head of the oblast state administration Valentyn Reznichenko said.
14:10 Businessman Dmytro Dubilet has published a list of companies whose products were highlighted in tenders held by the Almaz-Antey concern before the war. "In total, our team has already found 116 such companies," said Dubilet.
Almaz-Antey is a key Russian military enterprise that manufactures Buk, S-300, S-400, S-500 and other weapons anti-aircraft missile systems. It has been under sanctions since 2014, but many Western companies have been supplying it to the latter.
13:26 Mykhailo Podoliak, an adviser to the head of the President's Office, said that two more civilians had been buried in the village of Kalynivka, Kyiv Oblast. People have been denailed and their hands were tied.
Find more details on the theme in a publications by Defense Express:
13:10 The Ukrainian Armed Forces have destroyed almost 20 Russian UAVs worth about $2 million over the past two days.
Commander-in-Chief of the Ukrainian Armed Forces Valeriy Zaluzhny announced this on his official page on Facebook.
CinC of Armed Forces of Ukraine also posted photos of captured russia's Orlan, Takhion, ZALA UAV's.
Find the photos and more details on the theme in a publication by Defense Express: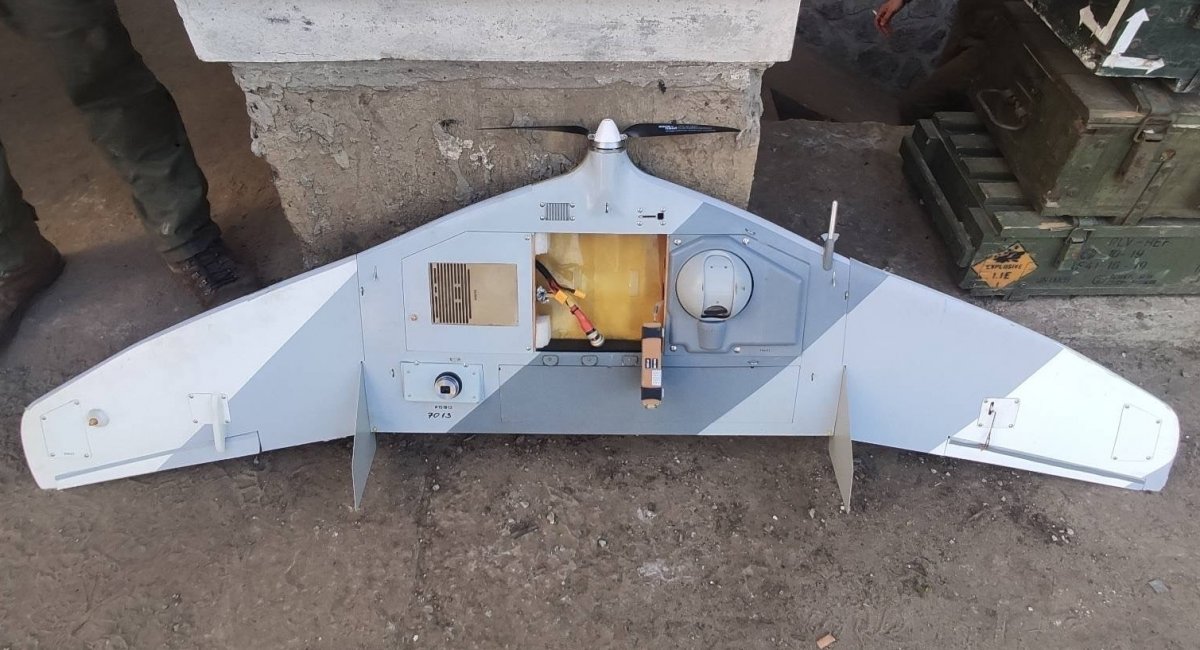 12:30 The Armed Forces of Ukraine continue to destroy russian occupiers' positions, this time an enemy ammunition depot came under fire from our fighters.
Press-service of the 30th Separate Mechanized Brigade published video showing the work of the brigade's newcomers on enemy positions.
Watch the video and find more details on the theme in a publication by Defense Express: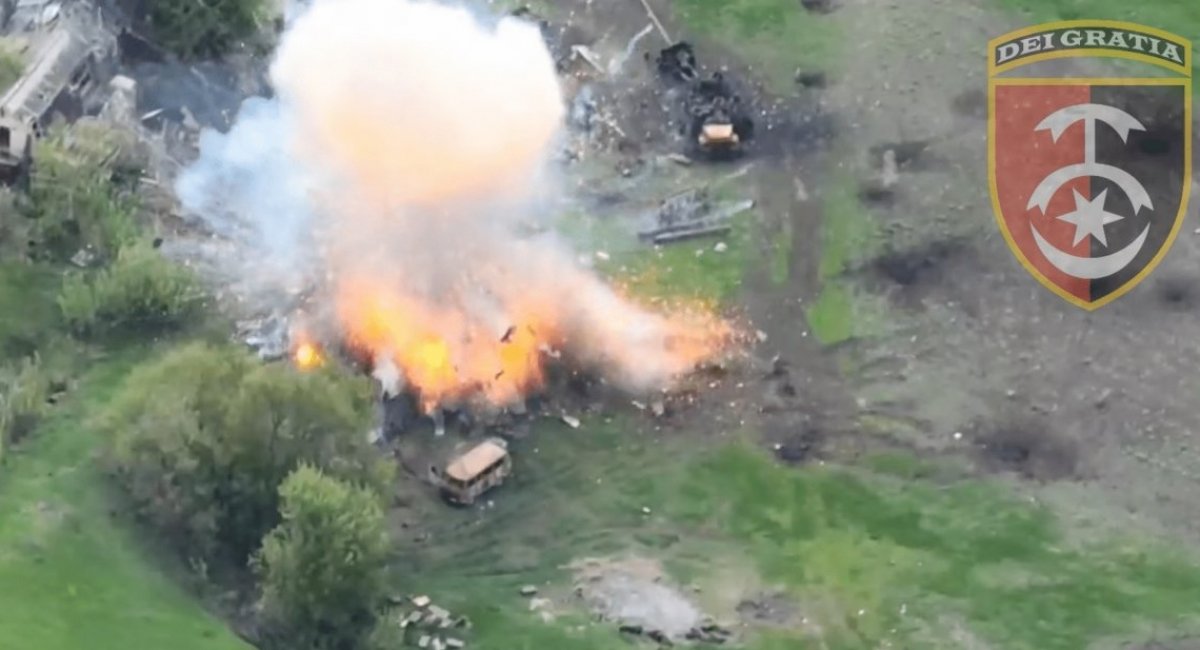 11:55 The General Staff of the Armed Forces of Ukraine has posted the new summary of total combat losses of the enemy from 24.02 to 03.05.
According to the report, russians are facing non-stop military losses on Ukrainian soil. About 24200 agressor's troops eliminated, 640 air targets of invaders were shot down thousands of tanks, armored vehicles and tracks were destroyed by defenders of Ukraine.
Find more details on the current russias combat losses in Ukraine-russia war in a publication by Defense Express: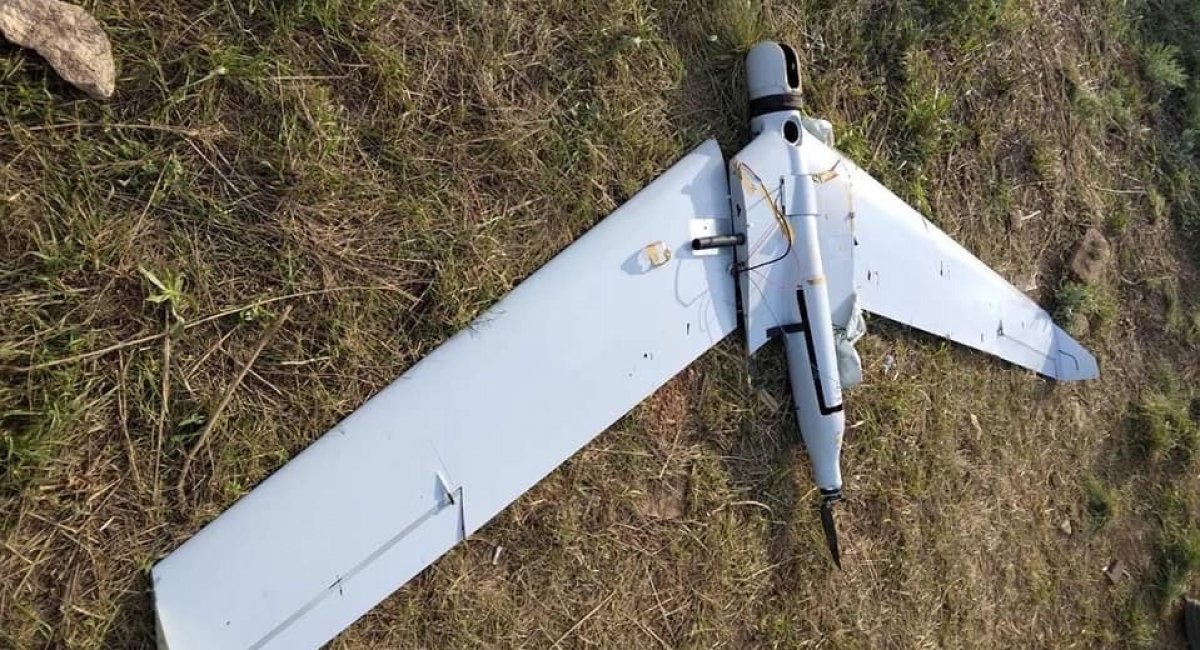 11:30 Odesa regional military administration speaker: Russian drone shot down in Odesa.
In Odesa, air defense forces shot down a Russian unmanned aerial vehicle, spokesman for the head of Odesa Regional Military Administration Sergiy Bratchuk said.
"Odesa. Another enemy Forpost-type UAV followed the Russian ship. Thank you, air defense!" Sergiy Bratchuk posted on Facebook Tuesday morning.
As Defense Express reported, during the previous day, the Air Defense and Land Forces air defence units hit seven Orlan-10 UAVs and one Forpost UAV.
Find more details on the theme in a publications by Defense Express: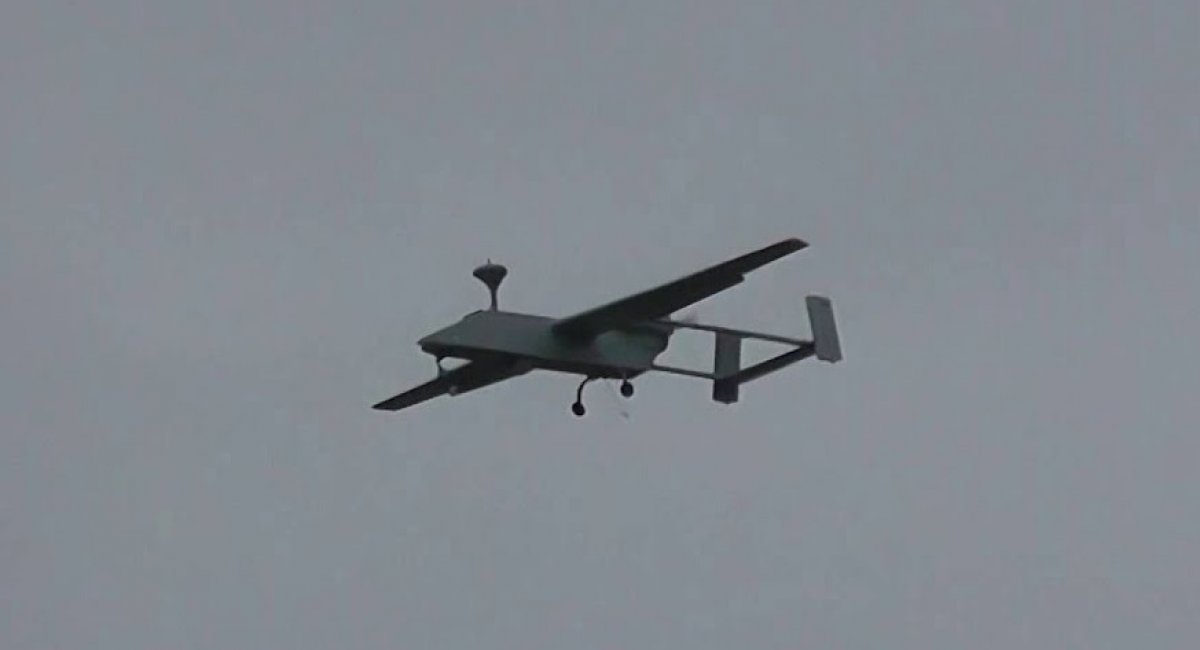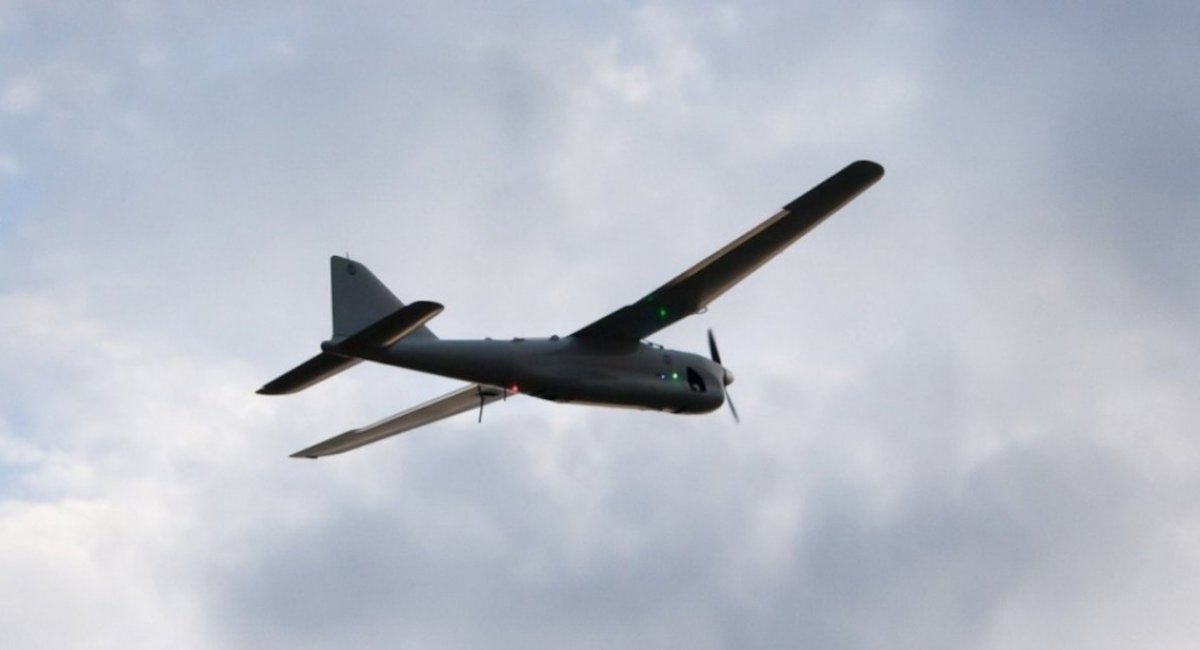 10:55 A joint report on the situation in the regions of Ukraine: Russian troops shell Vuhledar in Donetsk region, killing three people.
Russian troops have been shelling the town of Vuhledar in the Donetsk region from artillery since 05:00 on Tuesday, with three civilians reported to have been killed in the shelling.
The regional civil-military administrations said this in a joint report on the situation in the regions of Ukraine as of 08:00 on May 3, according to Ukrinform.
In the Donetsk region, Lyman and Avdiivka are under nonstop enemy fire. The evacuation of the population from front-line settlements continues. The evacuation of people is also underway in Mariupol.
In the Luhansk region, the main efforts of the Russian army are concentrated on establishing control over Rubizhne and Popasna. Last night there was a heavy shelling of Rubizhne and this morning there was a shelling of Novodruzhesk. The details about casualties and the consequences of the shelling are being clarified. Some 20 people were evacuated.
Last night, the enemy fired at Kharkiv. According to preliminary reports, no one was injured. In the Kharkiv district, as a result of the shelling this morning, a fire broke out at one of the enterprises. Data on the injured are being clarified. Rescuers are working at the scene. In the Kharkiv region, the Russians fired on Zolochiv, Barvinkove, and Derhachi. No casualties were reported.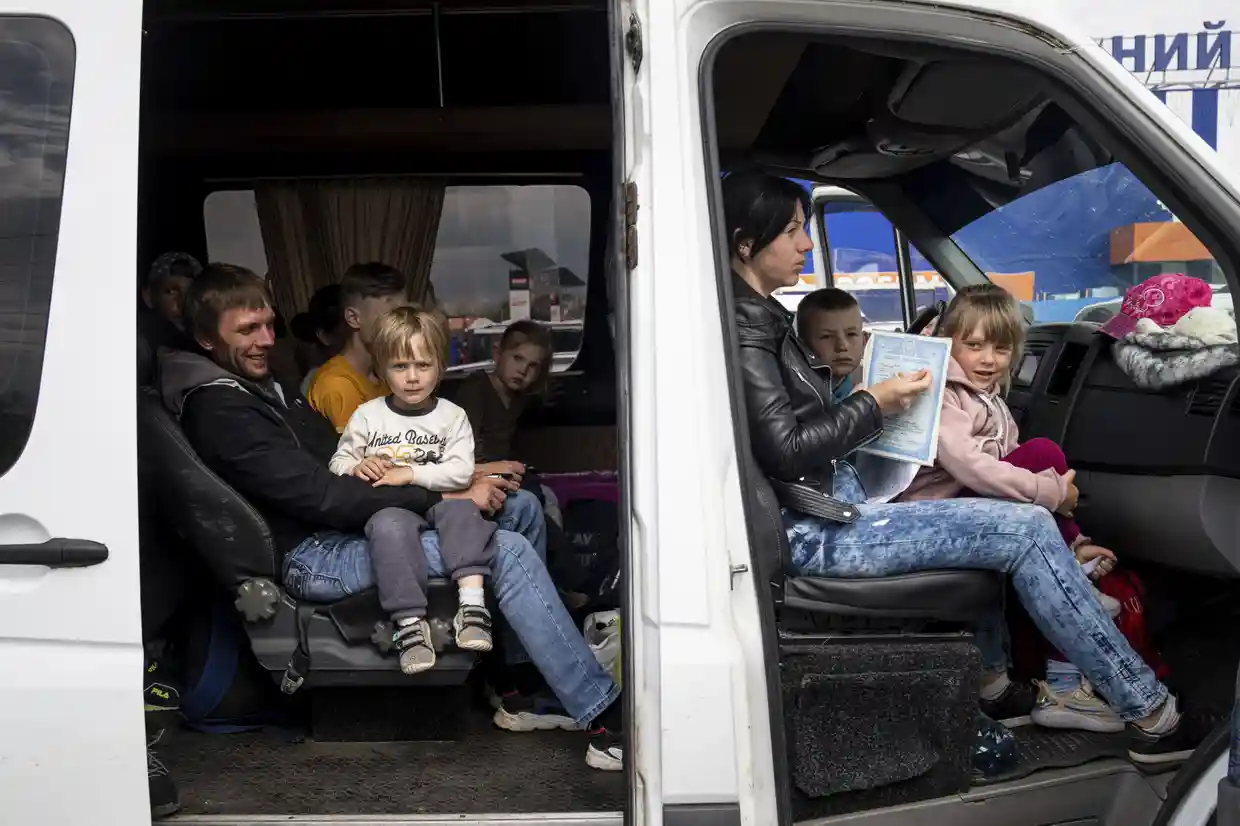 The situation in the Kherson region remains difficult, with explosions and shelling recorded throughout the territory. The invaders continue to loot. The situation is critical in temporarily occupied villages.
In the Mykolaiv region, on the evening of May 2, Russians conducted attacks and struck the area of the sea in Ochakiv. Russian troops also fired at Mykolaiv. As of this morning, there are no casualties. The details are being clarified.
Last night passed peacefully in Odesa. In the evening, the enemy launched a missile strike, damaging a religious building and hitting a city infrastructure facility and a residential building in Odesa. A 15-year-old boy was killed and a girl was injured in the attack.
10:35 Ukraine's Prosecutor General's Office: Some 220 children die in Ukraine due to armed aggression of Russia, 406 children injured.
More than 626 children suffered in Ukraine as a result of the armed aggression of the russian federation, as of the morning of May 3. The official number of dead children was 220 people, the number of injured was 406, the Prosecutor General's Office reports.
These figures are not final, as work is underway to establish them in areas of active hostilities, in temporarily occupied and liberated territories, the message released on Tuesday morning says.
Children suffered the most in Donetsk region - 139, Kyiv region - 115, Kharkiv region - 95, Chernihiv region - 68, Kherson region - 45, Mykolaiv region - 43, Luhansk region - 37, Zaporizhia region - 27, Sumy region - 17, in Kyiv - 16, Zhytomyr region - 15.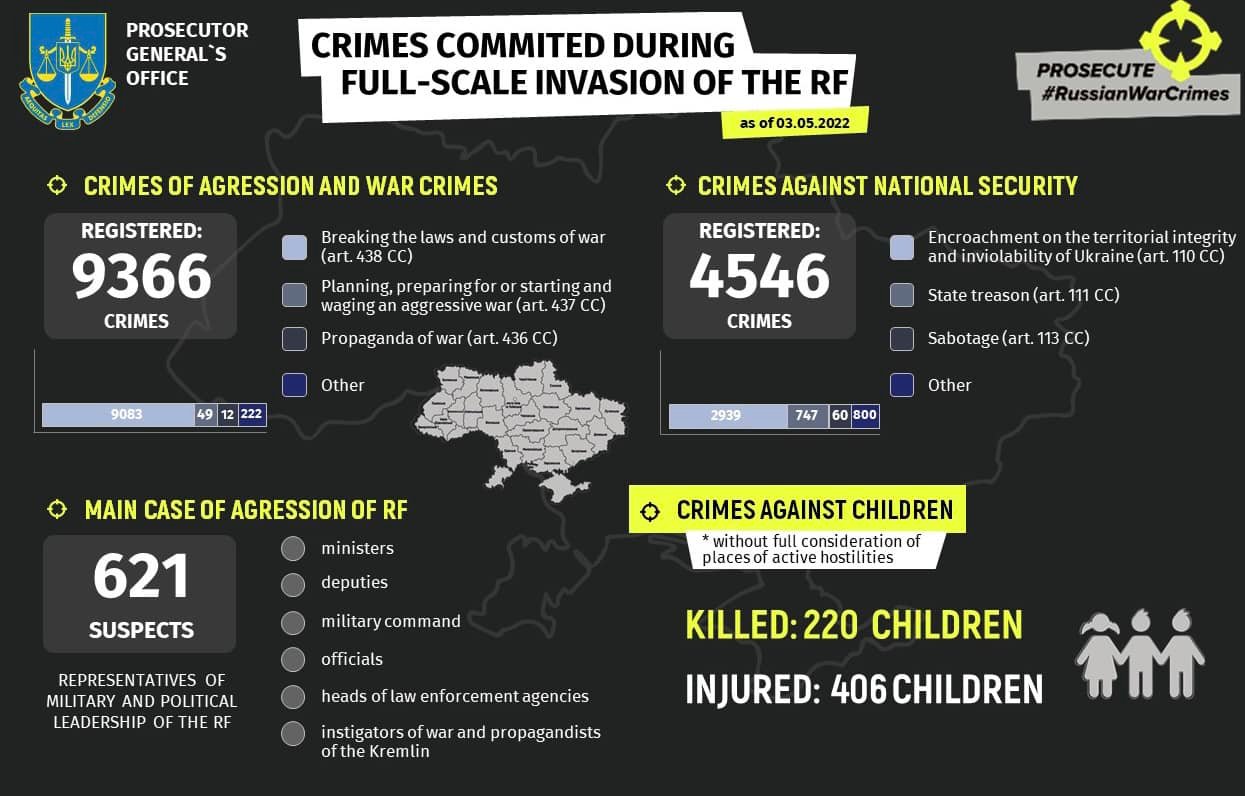 On the evening of May 2, the enemy launched a missile strike on the city infrastructure in Odesa. A 15-year-old boy was killed in the strike and another minor was hospitalized after a rocket hit a building where five people were staying.
As a result of daily bombings and shelling by the russian armed forces, 1,584 educational institutions were damaged. At the same time, 118 of them were completely destroyed.
10:00 The UK Ministry of Defense: russia's military now 'significantly weaker'
Russia's military is now significantly weaker as a result of its invasion of Ukraine, the UK Ministry of Defense has said in its latest military intelligence update, The Guardian reports.
The report, reads:
Russia's defence budget approximately doubled between 2005 and 2018, with investment in several high-end air, land and sea capabilities. From 2008 this underpinned the expansive military modernisation programme New Look.
However, the modernisation of its physical equipment has not enabled Russia to dominate Ukraine. Failures both in strategic planning and operational execution have left it unable to translate numerical strength into decisive advantage.
Russia's military is now significantly weaker, both materially and conceptually, as a result of its invasion of Ukraine. Recovery from this will be exacerbated by sanctions. This will have a lasting impact on Russia's ability to deploy conventional military force."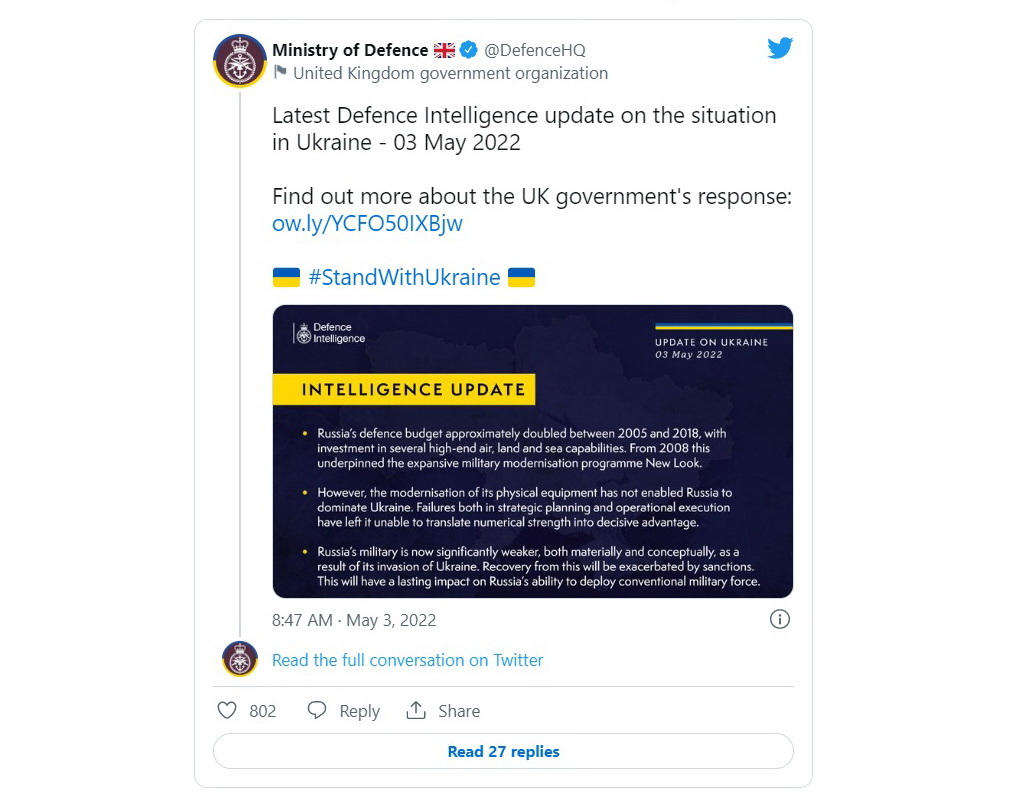 09:30 Secretary of the National Security and Defense Council of Ukraine Oleksiy Danilov: General mobilization may be announced in Russia on May 9.
On May 9, a general mobilization may be announced in Russia, Secretary of the National Security and Defense Council (NSDC) of Ukraine Oleksiy Danilov said during a telethon on Monday evening.
"As for May 9, there is information from our military intelligence that they will announce general mobilization on May 9. How much this will help them and how it will eventually turn into problems for Putin is hard to say," he said.
According to Danilov, "what is going to fight in our country today, our army copes with it. There is almost no motivation there."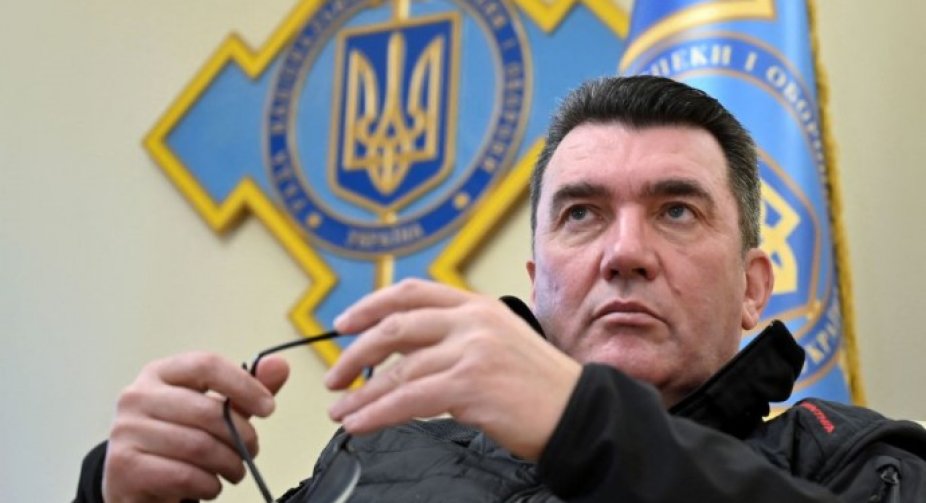 The NSDC secretary said Ukraine does not plan the next wave of mobilization. "Today we have enough servicemen who came to the military enlistment offices. There is training, there is training. What we did in the first place is enough for us to be able to defend our country," Security and Defense Council of Ukraine said.
08:55 The air defense units of the Air Force and Land Force of Ukraine shot down eight air targets – a Forpost UAV and seven Orlan-10 drones on Monday, May 2
This was announced on Facebook by the Air Force Command, Ukrinform reports.
"Throughout the day on May 2, the occupiers' manned aircraft did not actually get within the range of the Ukrainian air defense. Instead, the enemy continues to launch missile strikes, increasing the presence of unmanned aerial vehicles in Ukraine's airspace, spotting artillery fire and doing aerial recon. Over the past day, on May 2, the air defense of the Air Force and the Land Force shot down eight air targets – a Forpost and seven Orlan-10 UAVs," the statement reads.
Find more details on the theme in a publications by Defense Express:
08:30 The Head of the Defense Intelligence of the Ministry of Defense of Ukraine: Transnistria no big threat to Ukraine.
Kyrylo Budanov, the head of The Defense Intelligence of the Ministry of Defense of Ukraine, believes that Transnistria poses no major threat to Ukraine, while remaining a destabilization factor for the entire region, Ukrinform reports citing Budanov's interview with NV.
Answering questions about Transnistria, Budanov said: "This is no major threat. But it is a factor of destabilization for the whole region: Romania, Moldova, and us."
In his opinion, Transnistria is a huge military problem for Russia. After all, this is a territory that Russia fully controls, but has no approach to as it borders with Moldova and Ukraine. "And no matter what they say there, they can't accomplish anything serious there. The units based in Transnistria are all they have there, which is about 1,300 people. These are Russian official troops in the whole region. Most of them guard the warehouses in the village of Kolbasna. Also, they guard a radio center in the village of Maiac, and they are also based in Tiraspol," Budanov said.
Commenting on the moods prevailing in the Russian army, the head of Ukrainian defense intelligence noted that the forces are completely demotivated. "However, there is a military vertical – they have their commanders, and they will be forced to carry out the orders. Whether they like it or not, there is an order, and you will have to follow it. There are different options. Therefore, their morale isn't important. They will carry out the order," he said.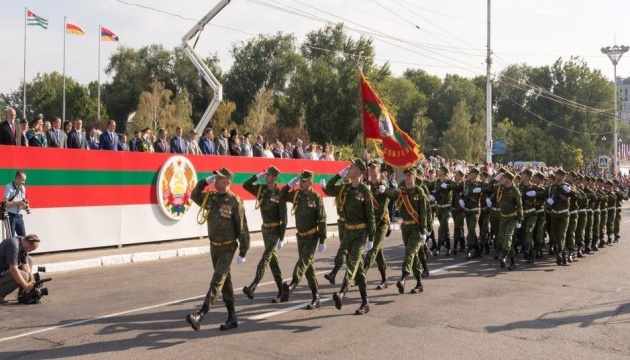 In addition, according to Budanov, there is manpower shortage in the Russian army. In particular, a huge number of Russian generals, senior command staff "went down to commanding battalions, and in some cases companies – manually."
In this context, Budanov noted that if the Chief of the General Staff of the Armed Forces of Russia Valery Gerasimov was forced to go to the front line, "apparently something happened there."
There is only one reason – failure to implement plans to advance. The occupation is failing, they are behind schedule. They had their main deadline – to complete the 'special operation' by April 24 – but they failed with that. Another date was to wrap up the operation, at least in relation to Donbas, until May 9. If they fail here, too, this will further complicate the political coloring of the whole process," he said.
According to the intelligence chief, Putin cannot allow himself to lose to Ukraine. And to this end, he needs to claim Russia is facing a serious adversary, conditionally suggesting: "Maybe we will lose a little bit, but we will not lose to Ukraine."
08:00 The General Staff of the Armed Forces of Ukraine has released an operational update on the state of warfare as of 06.00 on May 3, 2022.
According to Ukraine's General Staff operational report, in the city of Boguchar, Voronezh region, between April 27 and May 2, 2022, seventeen tanks and sixty BMP-1 were taken out of storage. They were sent to the Ukrainian territories temporarily occupied by russian troops.
Find more details on the theme and key points of the report a publication by Defense Express: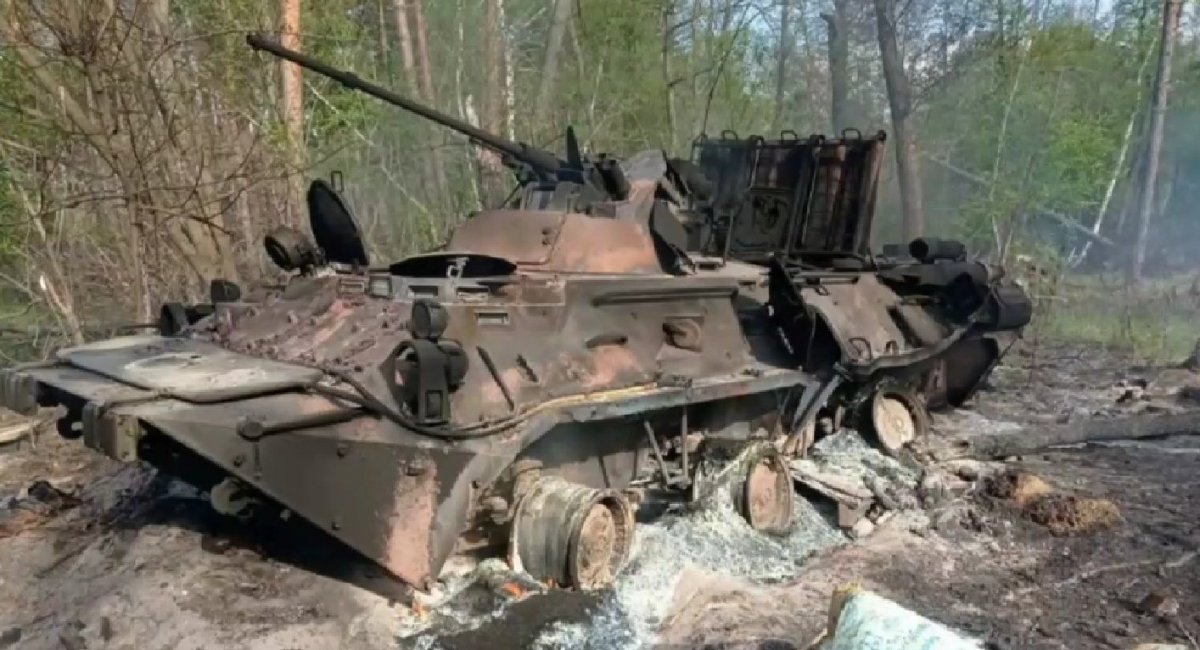 07:00 The Head of the Defense Intelligence of the Ministry of Defense of Ukraine suggests two scenarios for ending war with Russia
Kyrylo Budanov, head of The Defense Intelligence of the Ministry of Defense of Ukraine, sees two scenarios for ending the war with Russia – the disintegration of the Russian Federation and a change of its leadership.
The top Ukrainian spy spoke in an interview with NV, Ukrinform reports.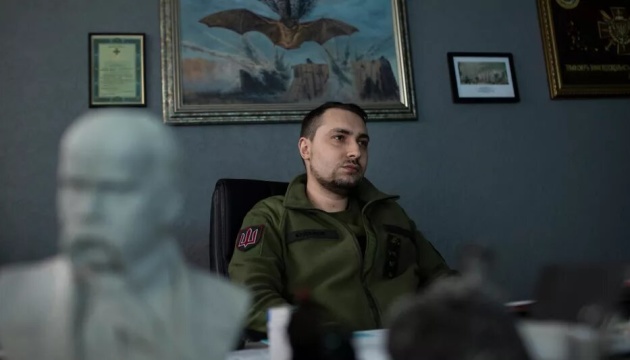 The first is the disintegration of Russia into three or more parts. And the second option is the relative preservation of the territorial integrity of Russia with a change in the country's leadership.
According to Budanov, in the latter case, the new leader will have to state that Russia has nothing to do with the war and that it was designed by a "sick dictator." Then Russia will withdraw from all the territories it has once occupied – from the islands of Japan to Königsberg, which belongs to Germany.
"These are the two ways. Most of Russia's military-political leadership is aware of this. And that's why there are so many attempts at dialogue with the Western world, despite the official rhetoric they all apply. But the unofficial one is completely different: they are afraid of losing their wealth. And they understand how it will all end very quickly for them," Budanov said.
The head of the Defense Intelligence of Ukraine, the agency referred to as the GUR, expressed confidence that Ukraine will win the war, noting that "leaving Putin a way to retreat is one of the strategies, but it is almost unrealistic. He is a war criminal in the eyes of the whole world. This is his end, he has driven himself into a dead end."
05:30 It seems that Ukrainian fighters got used to shooting down russia's "birds". This time so-called one-of-a-kind Orlan-10 UAV was beautifully downed by Martlet MANPADS.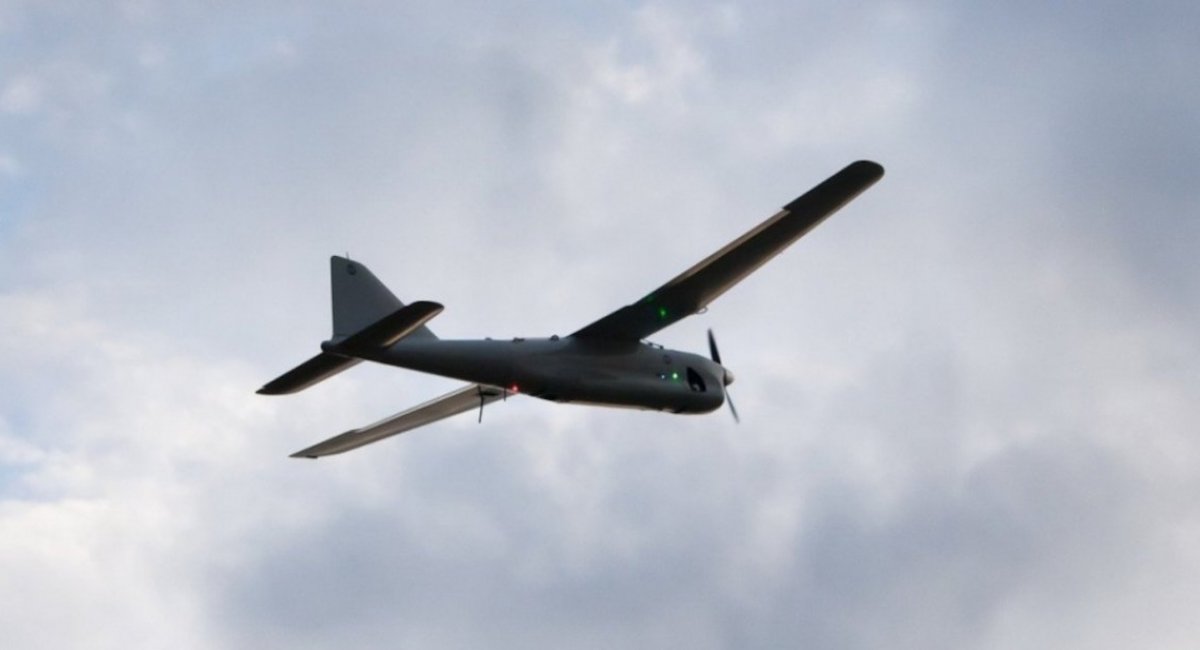 01:20 The Mariupol City Council: Evacuation from Mariupol to resume on May 3.
With the support of the UN and the Red Cross, the Ukrainian government will continue to evacuate civilians from Mariupol on May 3 starting at 7 a.m. local time, the Mariupol City Council said, Kyiv Independent reports. The meeting point is Lunacharske Circle, close to Berdyansk.
00:35 Sweden to re-open embassy in Kyiv on May 4.
Swedish Foreign Minister Ann Linde wrote that the embassy's "diplomatic presence will be back where it belongs.", Kyiv Independent reports.
00:10 The President of Ukraine Volodymyr Zelenskyy assures operation to evacuate people from Mariupol continues.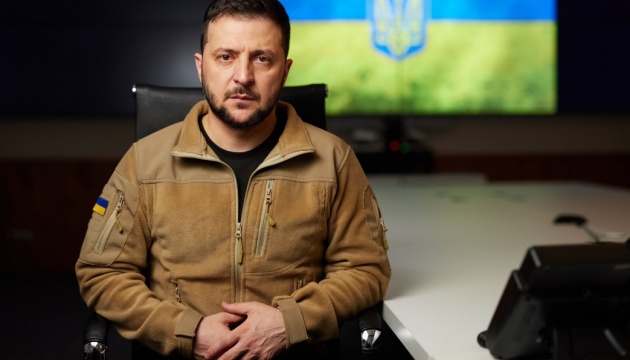 President Zelensly said this in his video address, Ukrinform reports.
"We continue to do everything to rescue our people from Mariupol. The evacuation operation continues. Tomorrow we also expect movement through humanitarian corridors from Berdiansk, Tokmak, Vasylivka," the Head of State stressed.
At the same time, according to him, the Armed Forces heroically restrain the enemy's attempts to advance.
Read more: ​Day 68th of War Between Ukraine and Russian Federation (Live Updates)
---
---