Brief facts:
President of Ukraine Volodymyr Zelensky states that Russia gathers almost all combat-ready forces of its army in Ukraine and near its borders
The leaders of the US, European nations, Canada and Japan reiterated their commitment to continue to provide security, economic and humanitarian assistance to Ukraine
russians dropped a 3-tonne bomb on Azovstal Plant in Mariupol
Britain and Netherlands along with Romania are about to conduct additional military aid for Ukraine
Russian troops begin offensive operations in eastern Ukraine
Side note: news are marked in accordance with the Kyiv time zone: Eastern European Time (EET), GMT/UTC+2
Read more: The 54nd Day of the War: Russia Has Lost 20 600 Personnel, 790 Tanks and 167 Aircraft
Last news
Thank you for your attention! This feed is closed. But Defense Express has already started a new one. Find the latest news on Day 56 of the Russian invasion of Ukraine here
02:00 President of Ukraine Volodymyr Zelensky: Situation in Mariupol 'as severe as possible'.
The intensity of fire by Russian troops towards Kharkiv, the Donbas and in Dnipro has "increased significantly" and while the situation in Mariupol "remains unchanged" and "as severe as possible", Zelenskiy also said, The Guardian reports.
"The situation in Mariupol remains unchanged - as severe as possible. The Russian army is blocking any efforts to organise humanitarian corridors and save our people. The occupiers are trying to carry out deportation or even mobilisation of the local residents who have fallen into their hands.The fate of at least tens of thousands of Mariupol residents who were previously relocated to Russian-controlled territory is unknown."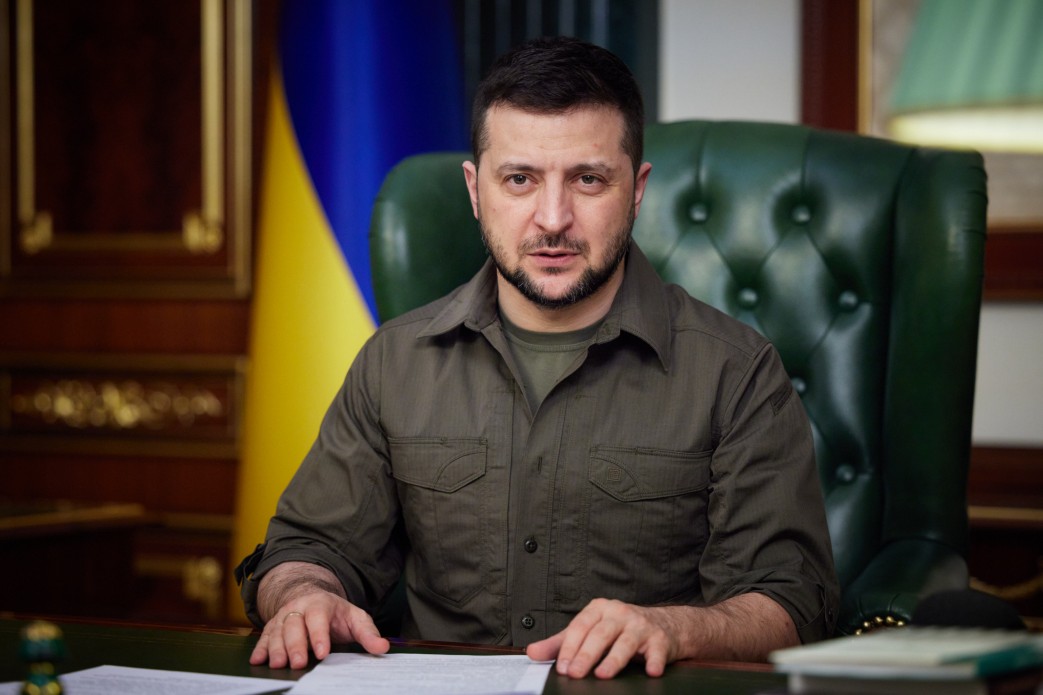 Zelenskiy continued to say Ukraine has not heard a response from Russia to an exchange offer, which he claimed could save the civilians and defenders of Mariupol.
"In the south of our country, the occupiers are trying to demonstrate at least something that can be presented in Russia as the alleged readiness of Ukrainians to cooperate with Russian structures. It looks pathetic."
01:15 Mariupol defenders: Azovstal steelworks destroyed, many people under rubble.
The Azov Regiment has stated that the Azovstal steelworks in Mariupol was destroyed by heavy bombs and many people were trapped under its rubble.
"On today's statement [by MP Serhiy Taruta on the bombed hospital near Azovstal]. It was our makeshift hospital ... Heavy bombs are dropped on the Azovstal steelworks, and now a lot of people are under the rubble ... Azovstal was bombed and destroyed almost completely. We are pulling people from the rubble," Deputy Commander of the Azov Regiment Sviatoslav Palamar told Radio Liberty, Ukrinform reports.
He stressed that the defenders of Mariupol would fight till the last remaining cartridge but called on the homeland to save civilians, wounded, and take the bodies of the dead.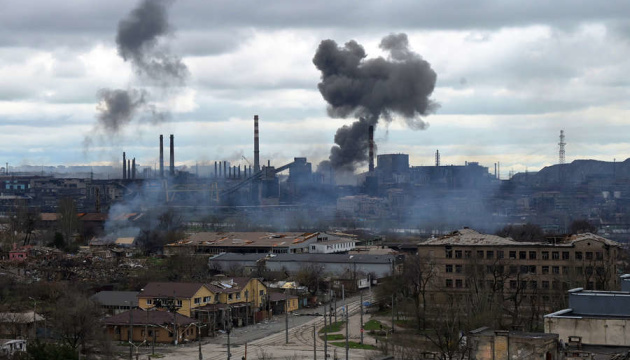 00:45 US President Joe Biden will announce another military aid package for Ukraine roughly the same size as the$800m one the US president announced last week, multiple sources told Reuters, The Guardian reports.
Last week, the White House said it would send Ukraine $800m in aid, including artillery systems, artillery rounds, armored personnel carriers and unmanned coastal defense boats. The details of the latest package, first reported by NBC News, are still being worked out, a US official said.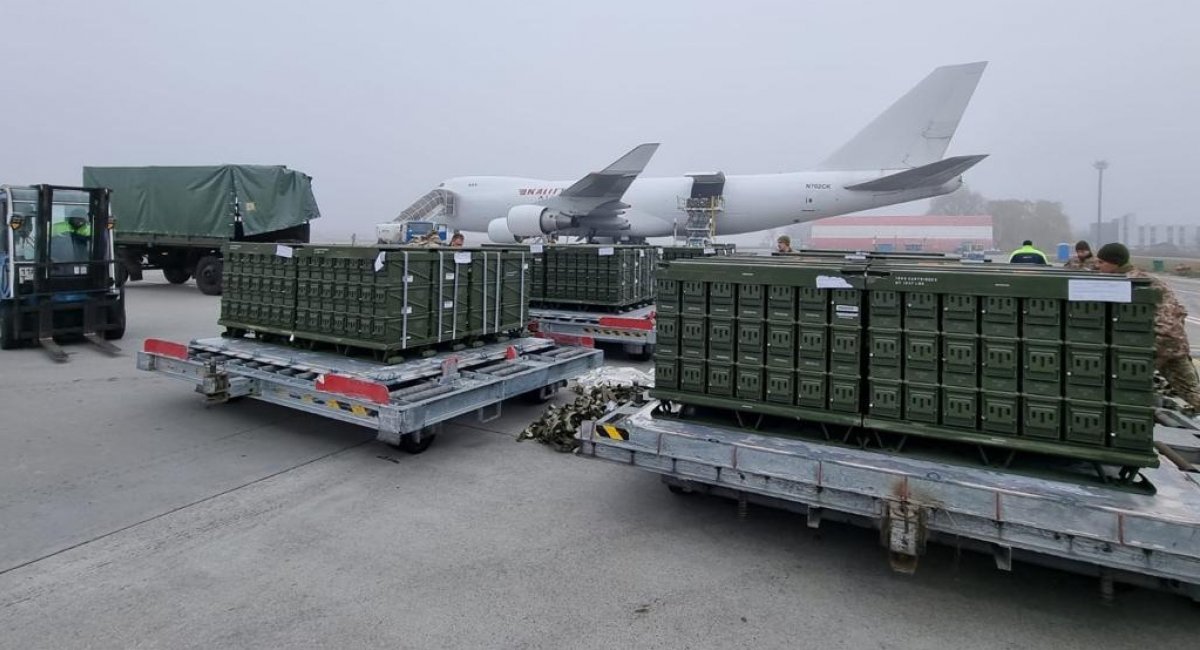 This week's aid package would bring the total US military aid to Ukraine since Russia's invasion to more than $3bn.
Defense Express reported that US also would train Ukrainian troops use howitzer artillery. We also published the list of British armored vehicles to be sent to Ukraine.
00:25 Canada will send heavy artillery to Ukraine.
"Canada will send heavy artillery to Ukraine," Prime Minister of Canada Justin Trudeau said at a press conference, promising to disclose more details in the days to come, Ukrinform reports.
According to Prime Minister of Canada, this is how Canada responds to the specific needs of the Ukrainian side.
"We have been in close contact with Ukrainian President Volodymyr Zelensky from the very beginning and we're very responsive to what it is that they need most specifically," Canada's PM said.
Trudeau noted that the latest request was to help with heavy artillery.
He added that "They [Ukrainians] are fighting for the values that underpin so many of our free, democratic societies. Which is why the world needs to continue to step up, why Canada is continuing to stand with Ukraine."
00:10 President of Ukraine Volodymyr Zelensky: Russia gathers almost all combat-ready forces of its army in Ukraine and near its borders.
The Russian Federation has accumulated almost all its combat-ready forces on the territory of Ukraine and near its borders.
President of Ukraine Volodymyr Zelensky said this in a video address, Ukrinform reports.
"Almost all combat-ready forces of the occupying army are currently on the territory of our state and in the border areas of Russia. They gathered almost everyone against Ukraine and almost everything that is capable of fighting us," the head of state said.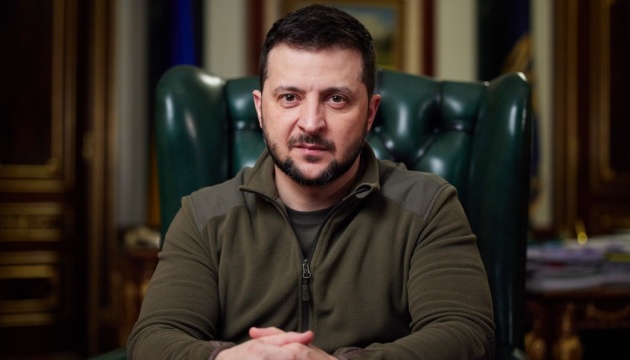 Therefore, according to Zelensky, in this confrontation and defense, the whole world sees how Ukrainians oppose the Russian army, which was considered the second- or third-most powerful in the world.
"And the fact that the Ukrainian Armed Forces resist, and how bravely all our people defend themselves, shows that the Ukrainian army has long deserved to be higher than the Russian one in global rankings," the President stressed.
23:50 White House: US, allies to continue to assist Ukraine against Russia.
According to the White House, the leaders of the US, European nations, Canada and Japan reiterated their commitment to continue to provide security, economic and humanitarian assistance to Ukraine during a video call Tuesday, Anadolu Agency reports.
In a news conference ahead of President Joe Biden's trip to the state of New Hampshire, spokeswoman Jen Psaki said Biden convened the call to discuss ongoing efforts to support Ukraine in the face of Russian aggression.
"The leaders affirm their solidarity with Ukrainian people and condemn the humanitarian suffering caused by Russia's unprovoked and unjustified invasion," said Psaki.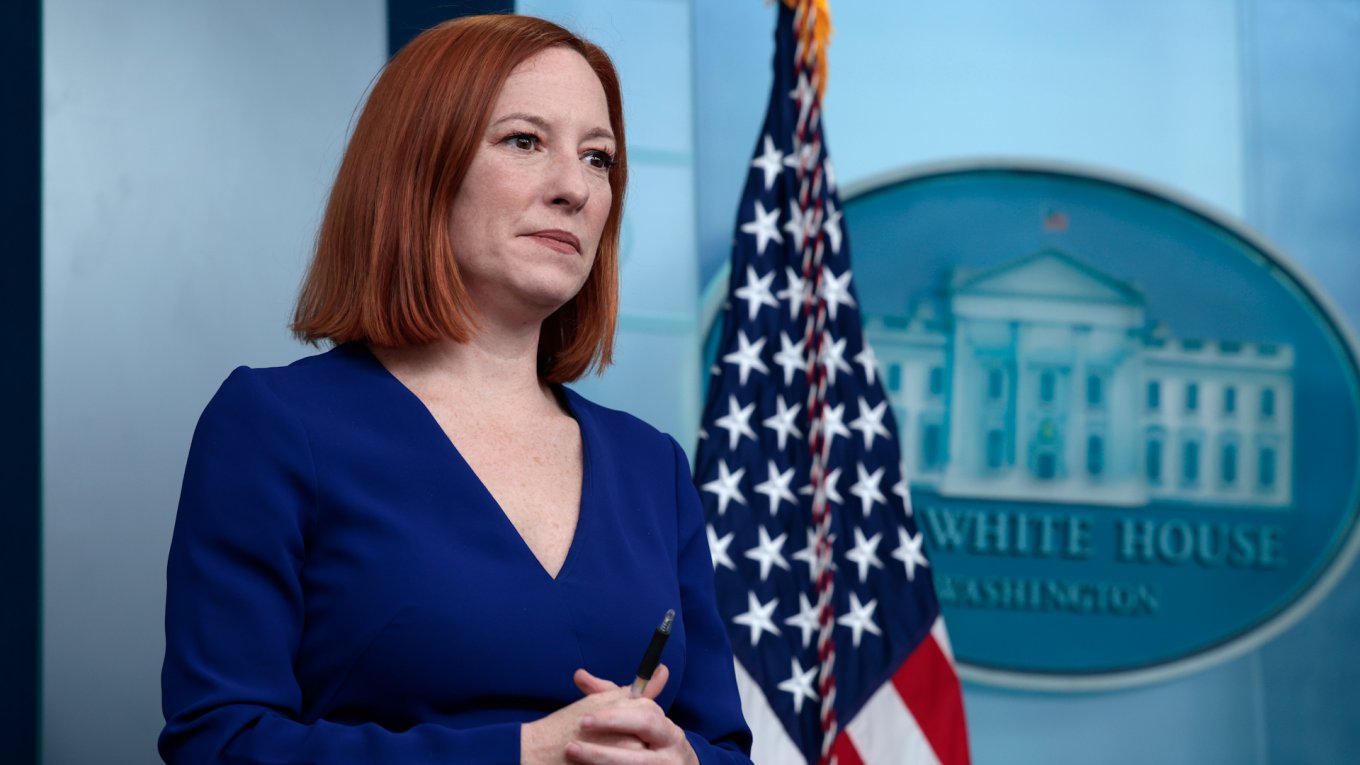 They also discussed diplomatic engagements and efforts to continue to impose severe economic costs to hold Russia accountable as well as continuing close coordination to work with the G7, EU and NATO.
The leaders include French President Emmanuel Macron, German Chancellor Olaf Scholz, British Prime Minister Boris Johnson, Canadian Prime Minister Justin Trudeau, Japanese Prime Minister Fumio Kishida, Polish President Andrzej Duda, Romanian President Klaus Iohannis, President of the European Council Charles Michel, EU Commission President Ursula von der Leyen and NATO Secretary General Jens Stoltenberg.
23:10 UK Prime Minister Boris Johnson pledges more artillery systems for Ukraine.
UK Prime Minister Boris Johnson has said the UK will increase aid to Ukraine and provide artillery systems.
Ukrinform reports this with reference to BBC.
Speaking in the House of Commons after a video call with Western allies, Johnson said that it is "vital that we don't allow Putin to gain momentum" in Donbas.
"That's why we are stepping up our supply of military hardware of the kind that the Ukrainians particularly need now," he said, adding that the war has become "an artillery conflict".
"That is what we are giving them, in addition to many other forms of support," Johnson said.
22:45 Ukrainian defenders repulse ten enemy attacks in JFO area.
Ukrainian defenders successfully repulsed 10 attacks by Russian invaders in the Joint Forces Operation (JFO) area in Donetsk and Luhansk regions.
The JFO press service said in a post on Facebook, Ukrinform reports.
In particular, JFO units destroyed 12 tanks, 1 artillery systems, 28 units of armored vehicles and 2 units of enemy vehicles in Donetsk and Luhansk directions on April 19.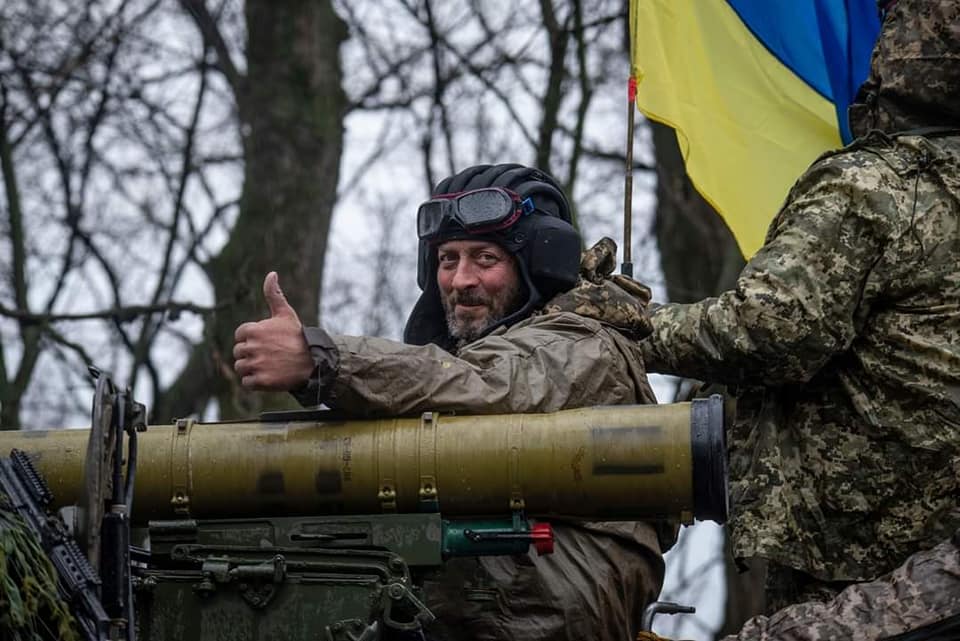 In addition, Ukrainian air defense units shot down one Su-34 enemy aircraft, one Ka-52 helicopter, four unmanned aerial vehicles and one cruise missile.
22:30 Czech companies to repair Ukrainian tanks.
Czech armaments companies are to repair Ukrainian heavy military vehicles, the Czech Ministry of Defence said on Tuesday, April 19, Radio Prague International reports.
The first contract will be for the repair of T-64 tanks by Czechoslovak Group companies. In future this could be extended to also include repairs on BRD (DE - it is unclear what could be the tipe) and BRDM armoured scout cars and further Czech firms may take part, the ministry said, without saying how many vehicles could be fixed.
Find more details in a publication by Defense Express.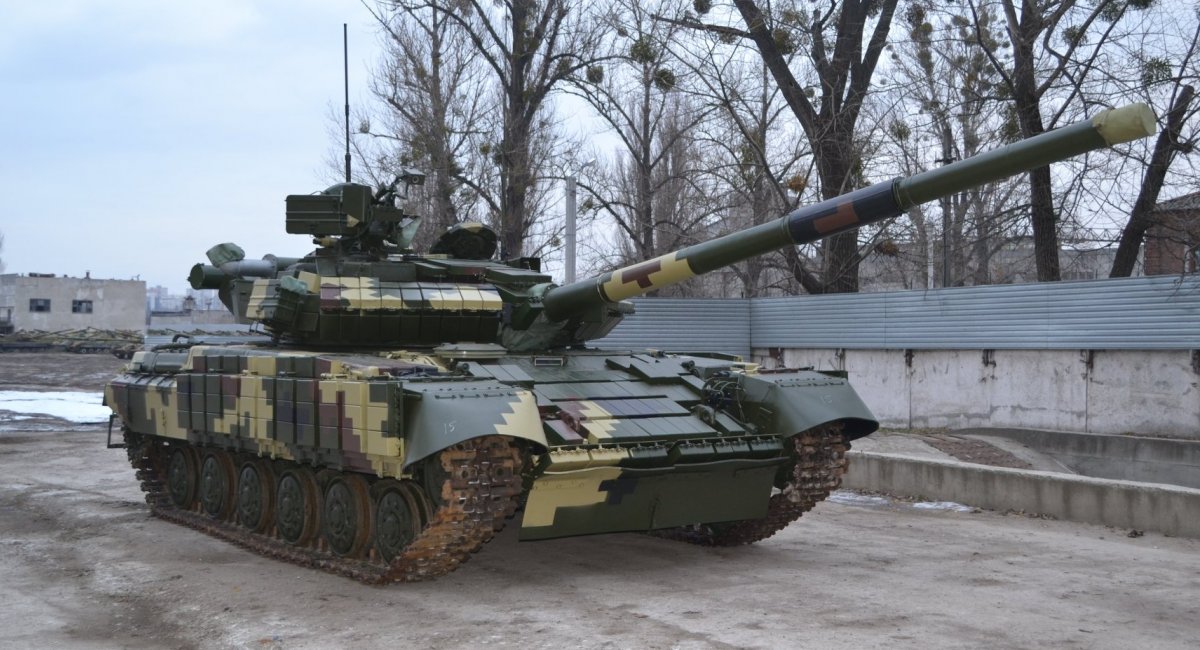 22:10 Zelensky, European Commission President discuss increase of security aid to Ukraine.
President of Ukraine Volodymyr Zelensky and President of the European Commission Ursula von der Leyen discussed the increase of security assistance to Ukraine in the fight against Russian invaders and the issue of post-war reconstruction.
President Zelensky wrote this on his Twitter account, Ukrinform reports.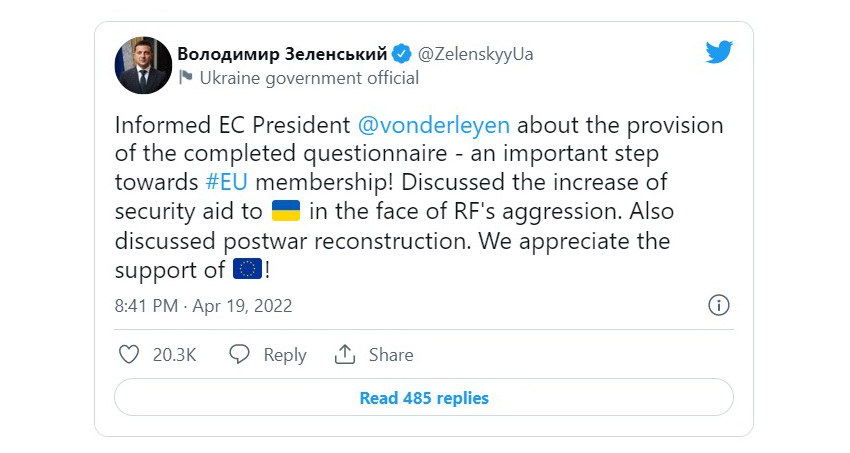 21:30 The Armed Forces of Ukraine repulse three attacks, kill 30 invaders in eastern Ukraine.
The Armed Forces of Ukraine repulsed three attacks by Russian invaders in eastern Ukraine.
The operation and tactical group East reported this on Facebook, Ukrinform reports.
"In the area of responsibility of the operational and tactical group East, the Russian fascist troops continued to carry out offensive operations. On April 19, the Ukrainian soldiers repulsed three attacks of the enemy," the report says.
In particular, Ukrainian forces destroyed: 30 enemy personnel, 2 tanks, 8 armored personnel carriers, 2 anti-aircraft guns, and 1 helicopter.
20:50 The Defense Intelligence of Ukraine: Russia mines roads, fields in occupied territories of Kherson Oblast.
The russians have densely mined the area along the Kherson – Snihurivka highway overnight on April 18. It is according the Defense Intelligence of Defense Ministry of Ukraine intelligence, The Kyiv Independent reports, citing Ukrayinska Pravda Ukrainian online newspaper. The highway is one of the two main routes from Mykolaiv Oblast to Kherson.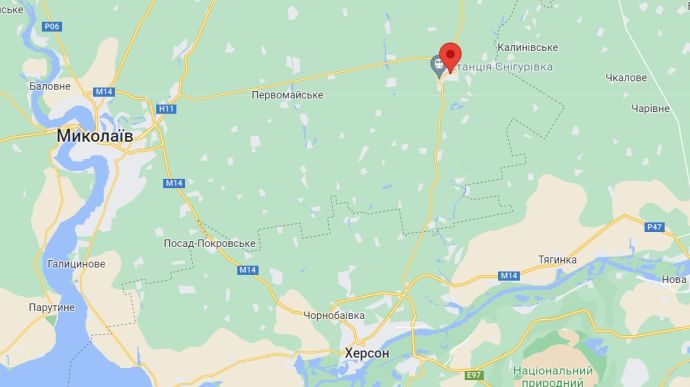 20:00 A European official: Russia has deployed up to 20,000 mercenaries from Syria, Libya and elsewhere in Ukraine's Donbas region, sent into battle with no heavy equipment or armoured vehicles.
The official said the estimates of mercenary involvement on the ground in eastern Ukraine range from 10,000 to 20,000 and that it was hard to break down that figure between Syrians, Libyans and other fighters recruited by the Russian mercenary company, the Wagner Group, The Guardian reports.
"What I can tell you is that we did see some transfer from these areas, Syria and Libya, to the eastern Donbas region, and these guys are mainly used as a mass against the Ukrainian resistance," the official told reporters. "It's infantry. They don't have any heavy equipment or vehicles."
The mercenaries are being thrown to the Russian focus on capturing as much as possible of eastern Ukraine, in what western defence officials have described as a rush to have some sort of victory that Vladimir Putin can announce at the 9 May military parade in Moscow commemorating World War Two.
The Kremlin is seen as having four objectives in this second phase of its war in Ukraine, the European official said: capturing the Donbas, securing a land bridge to Crimea in which the besieged city of Mariupol is key, seizing Kherson oblast to secure the supply of fresh water to Crimea, and to capture additional territory that could be used as a buffer or a bargaining chip in negotiations.
19:35 UN Secretary-General Antonio Guterres on Tuesday, April 19, called for a four-day humanitarian pause in Ukraine to observe Orthodox Easter.
"Today I am calling for a 4-day Holy Week humanitarian pause beginning on Holy Thursday and running through Easter Sunday, April 24th, to allow for the opening of a series of humanitarian corridors," Guterres told reporters, Anadolu Agency reports.
The UN chief said the pause would allow safe passage of all civilians and the safe delivery of life-saving humanitarian aid to people in the hardest-hit areas such as Mariupol, Kherson, Donetsk and Luhansk.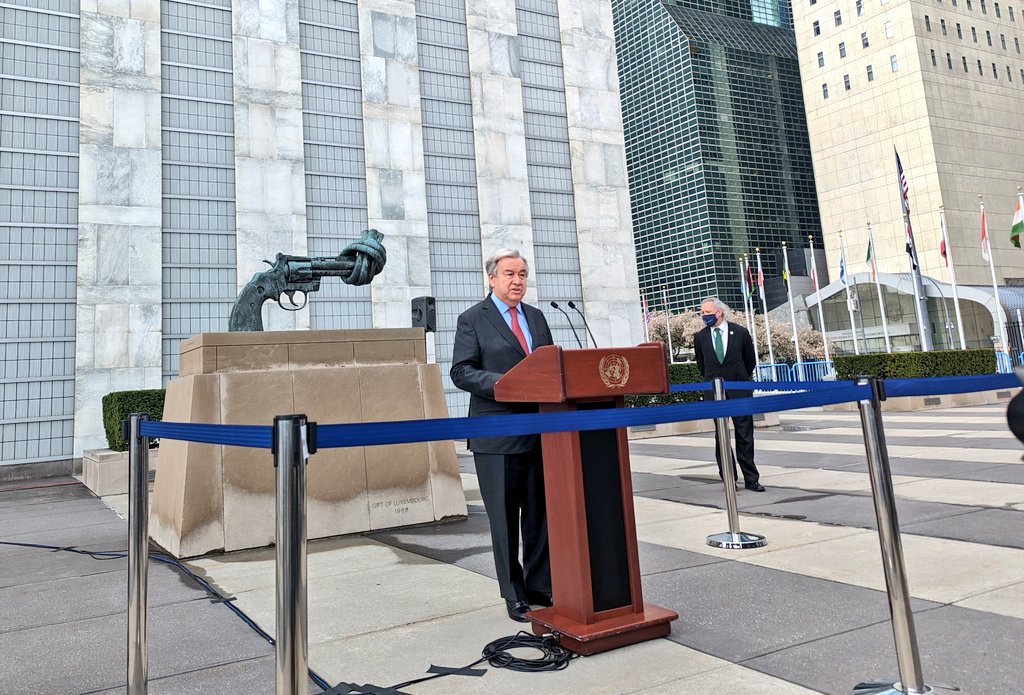 "The United Nations is ready to send humanitarian aid convoys during this period to these locations. We are submitting detailed plans to the parties," he added.
19:10 Invaders goes on offensive in Kharkiv, Luhansk, Donetsk regions of Ukraine.
The Russian armed forces intensified offensive operations in eastern Ukraine.
This was announced by the spokesman of the Ministry of Defense of Ukraine, Oleksandr Motuzianyk, who spoke at a briefing at the Media Center Ukraine, Ukrinform reports.
"The Russian armed forces have intensified offensive operations in eastern Ukraine. The main goal is to establish full control over the territory of Donetsk and Luhansk regions and maintain the land corridor toward the temporarily occupied territory of the Autonomous Republic of Crimea," Motuzianyk said.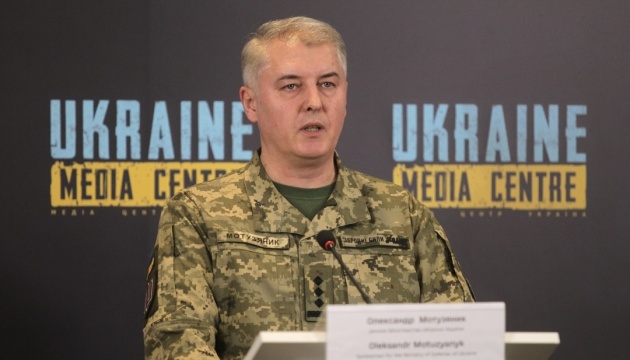 According to the official, air and missile strikes on civilian targets throughout Ukraine, in particular in the western regions, have not stopped. Over the past 24 hours, Russia's tactical and long-range aircraft have made at least 49 sorties.
18:45 A member of the parliamentary Committee on National Security, Defense and Intelligence Fedir Venislavsky: Russian occupiers drop three-tonne bomb on Azovstal.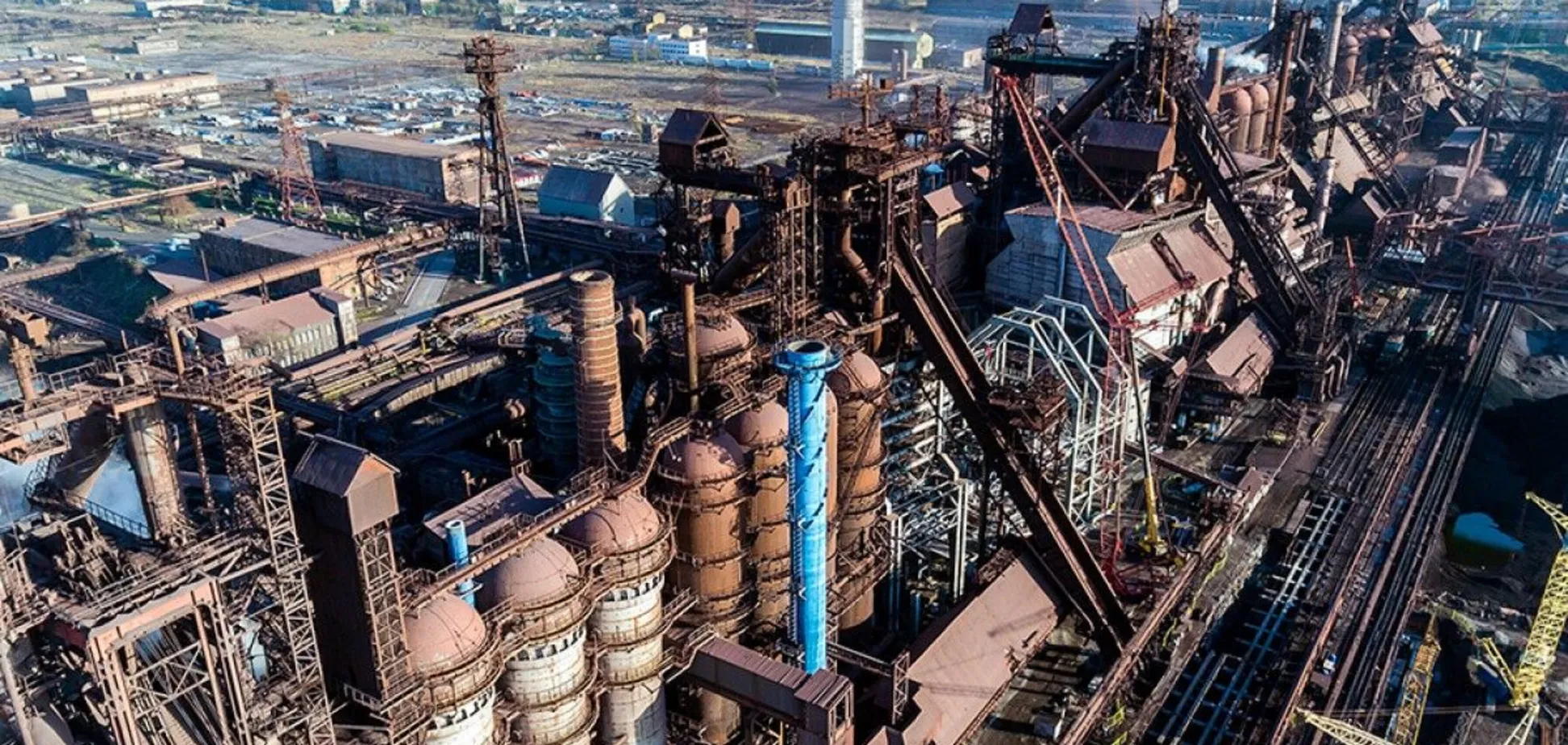 "According to the information of the Intelligence Agency, yesterday for the first time such a super-powerful bomb was actually used in order to maximally destroy the premises and communications of Azovstal," Venislavsky said on the air of the national telethon, answering a question about the use of three-tonne bombs by Russian aviation, Ukrinform reports.
18:35 Romania to hand over weapons to Ukraine.
"This decision will be possible thanks to an amendment to the Romanian legislation. In this regard, the Ministry of Defense has developed an emergency decree," Romania Libera said in an article on Tuesday.
Most likely, Ukraine will be offered weapons produced by the former USSR, which the Ukrainian military is perfectly able to use.
18:10 Minister for Reintegration of the Temporarily Occupied Territories Iryna Vereshchuk: Another POW swap completed as 76 Ukrainians returning home.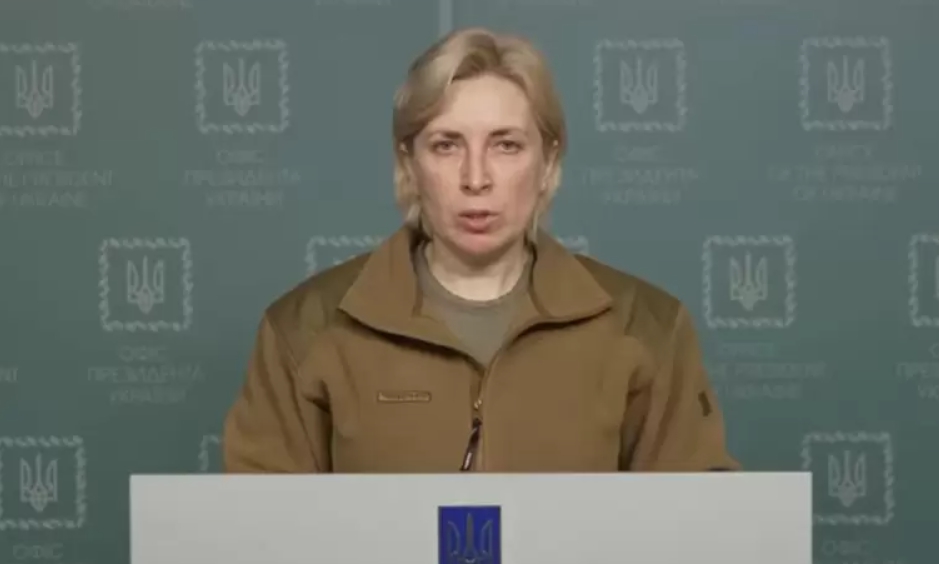 "Today we exchanged 60 servicemen, 10 of them officers. Sixteen civilians are also returning home," the statement said.
Vereshchuk added that this was the fifth POW exchange, and a total of 76 people have now been released in the latest effort, Ukrinform reports.
17:10 Russia is going to use civilian airplanes and helicopters.
Considering Azerbaijan's experience in Nagorno-Karabakh war against Armenia, russian occupiers have decided to copy this approach in the war against Ukraine.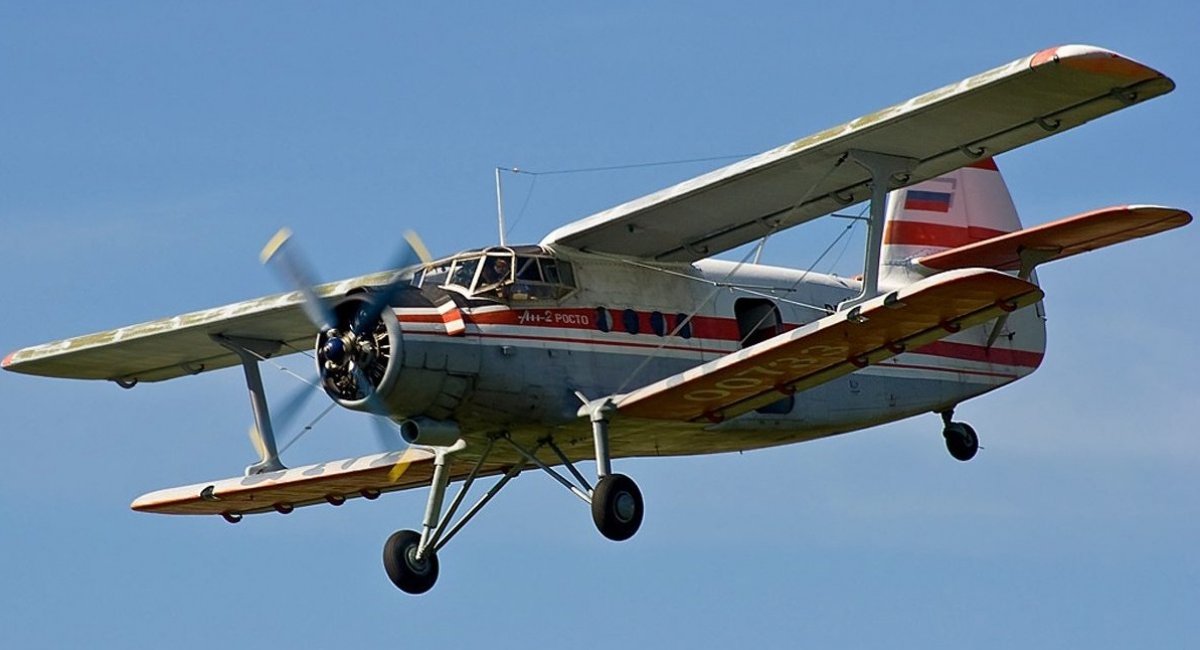 17:00 The Prime Minister of Netherlands Mark Rutte: Netherlands will send "heavier material" to Ukraine.
It will include armored vehicles, he said on Tuesday, Bol News reports.
He tweeted that he along with the Dutch Defense Minister, Kajsa Ollongren, expressed their support to Ukraine's President Zelensky.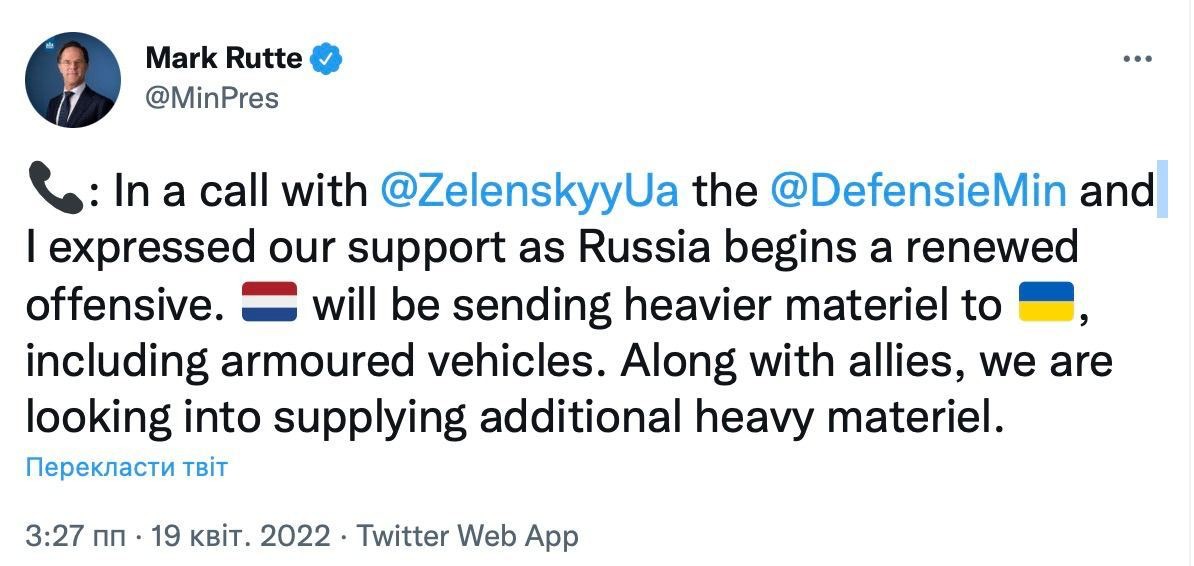 "Together with allies, we are looking at the delivery of additional heavier equipment," Rutte said on Twitter.
More information soon.
Defense Express reminds about the upcoming US-made heavy armaments which will help Ukraine on the battlefield.
16:40 Bloomberg: Stormer combat vehicles are expected to be sent to Ukraine.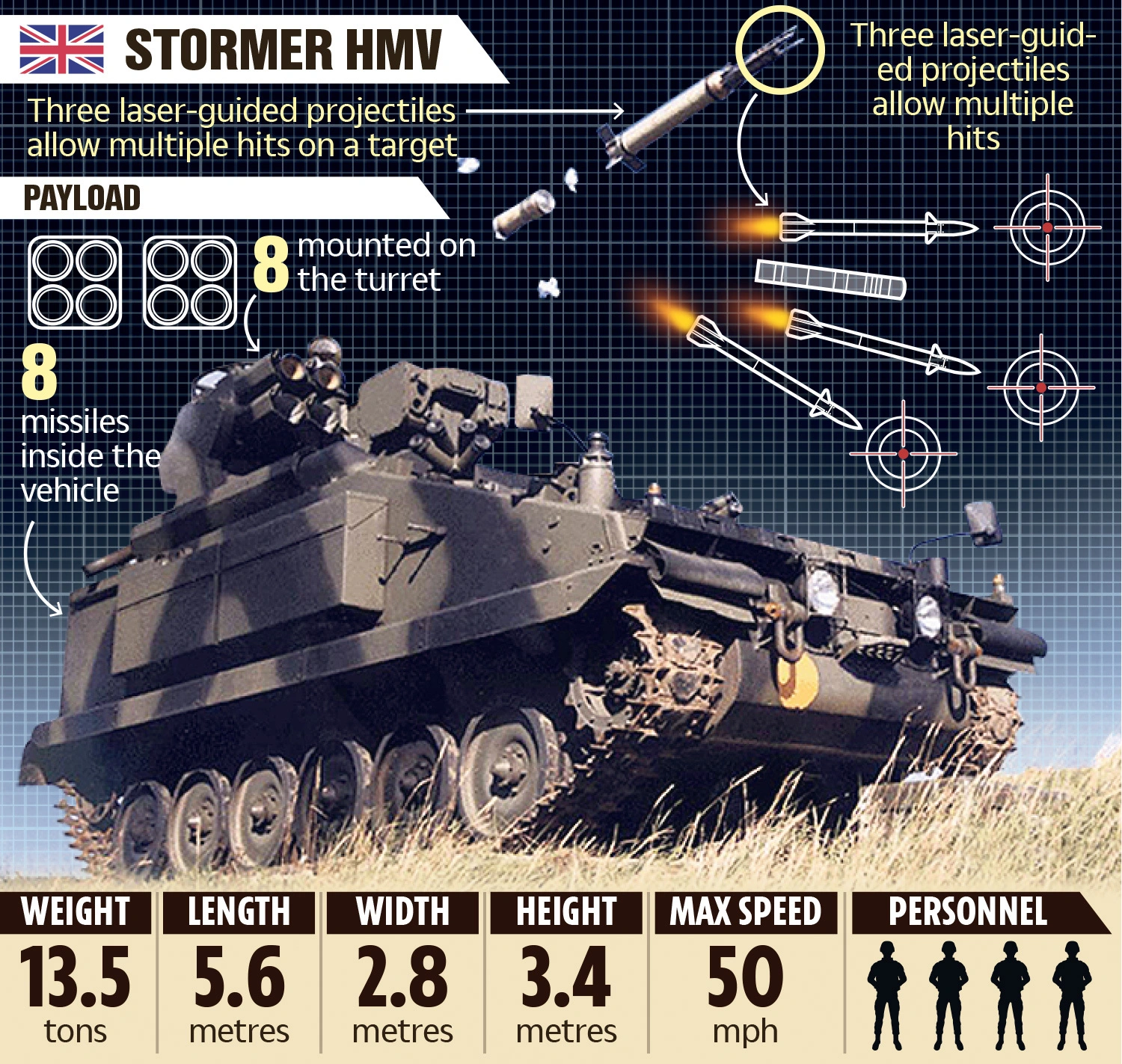 Britain is giving Ukraine armored anti-aircraft vehicles armed with launchers that destroy jets and helicopters with high-precision missiles, according to reports.
Sources say the MoD showed off the Stormers' punch to Ukrainians at a display on Salisbury Plain two weeks ago.
The deployment of "a handful of Stormers" alongside 120 personnel carriers already pledged marks a significant increase in heavy weaponry from Britain.
Find more details in a publication by Defense Express.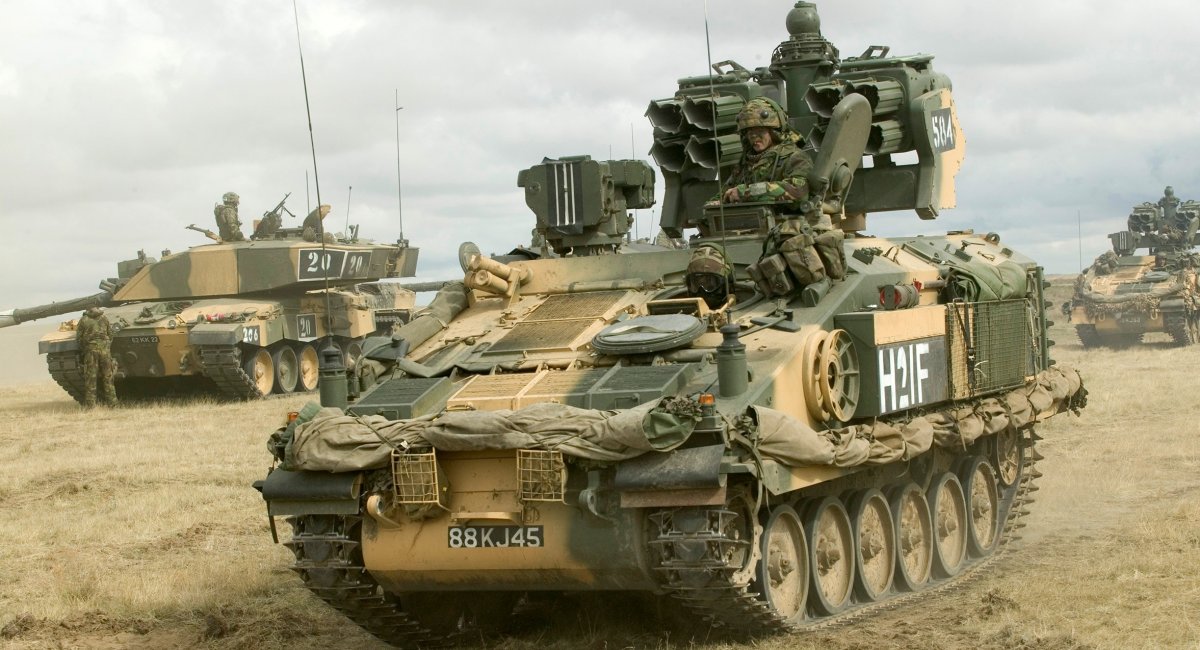 16:00 CNN, siting Wladimir Klitschko: If Russians succeed in eastern Ukraine, they could "come back" to Kyiv.
Russia will "of course" try to go further west if it takes control of the eastern territory of Ukraine, Wladimir Klitschko, the brother of Kyiv Mayor Vitali Klitschko, claimed Tuesday. However, he added that he doesn't know how much further the forces would go, but that he expects the attack to return to Kyiv.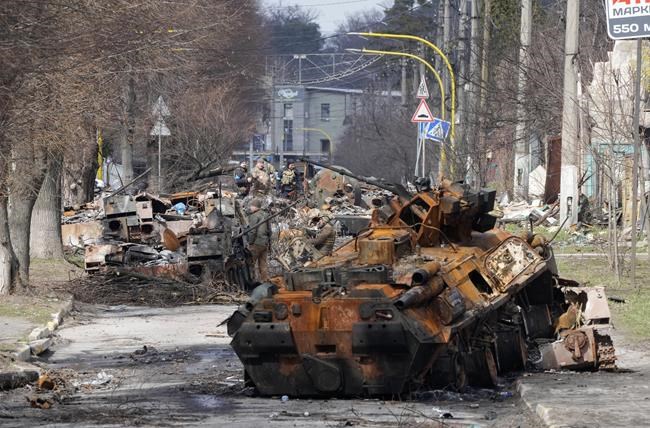 "We expect everything and anything, especially in regards to the capital. Of course, we're waiting for them to come back. We're expecting that," Klitschko told CNN. "If you invade the country, obviously you're aiming at the capital of the country."
Also: Defense Express offers to see the total number list of destroyed russia's military personnel and vehicles
15:30 Head of the Luhansk Regional Military Administration Serhiy Haidai: Positional battles ongoing in Rubizhne and Popasna, enemy suffering losses.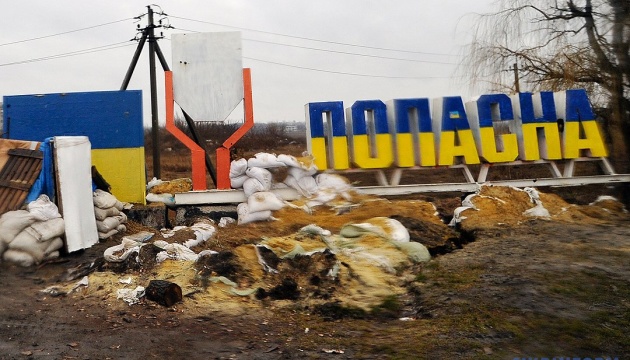 "They [russian invaders] are coming from all sides, there have been more massive shelling, and many times stronger aircraft launch strikes on our towns, along the entire line of defense. Indeed, it can be stated that the offensive we have been talking about and waiting for a long time has begun. We have ongoing positional battles in the towns of Rubizhne and Popasna, the enemy is unable to do anything," Head of the Luhansk Regional Military Administration Serhiy Haidai said at a press briefing through video conferencing at Ukraine Media Center Kyiv, Ukrinform reports.
15:10 Russia is going to apply advanced S-400 air-defense system.
Apart from conducting offensive, russian invaders are also preparing to cover the main checkpoints, as well as the rear areas of the invading group, which blocks Kharkiv from the north by means of S-400 complex, which is being deployed near russian city Belgorod.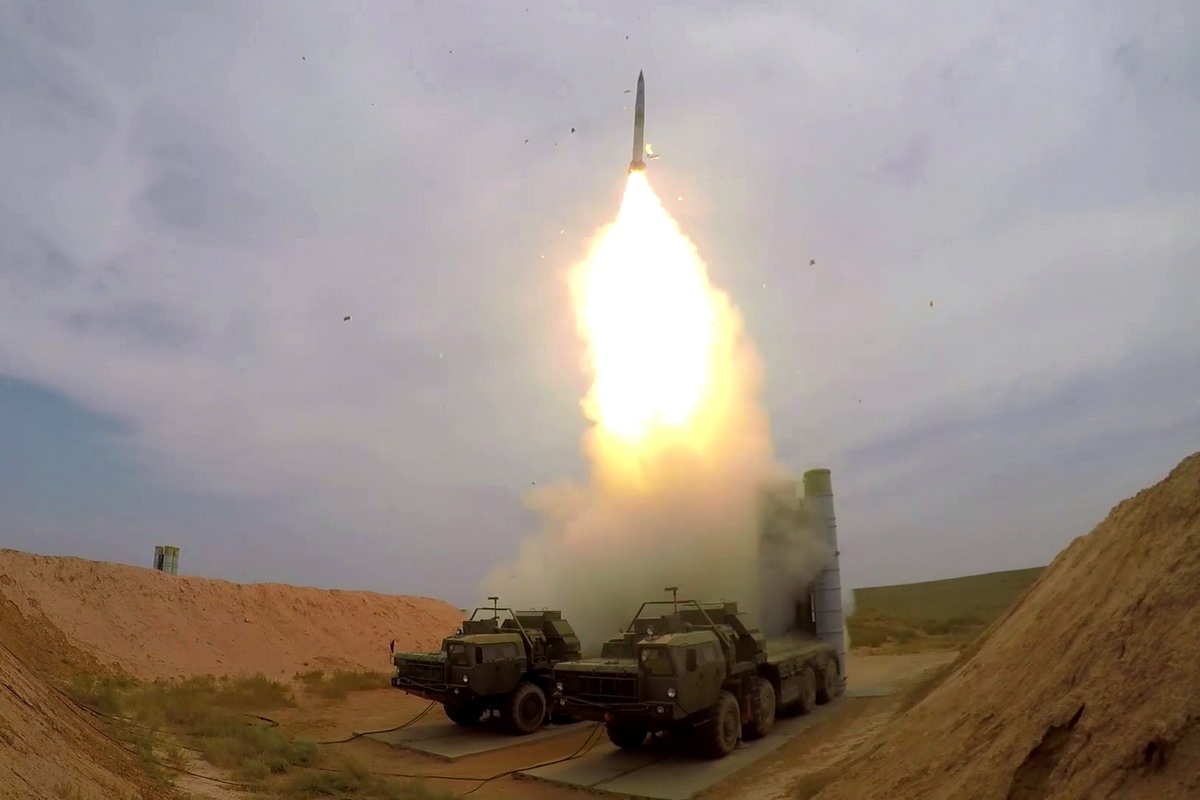 14:55 The Security Service of Ukraine: russia's leadership orders to raze Azovstal steelworks to the ground.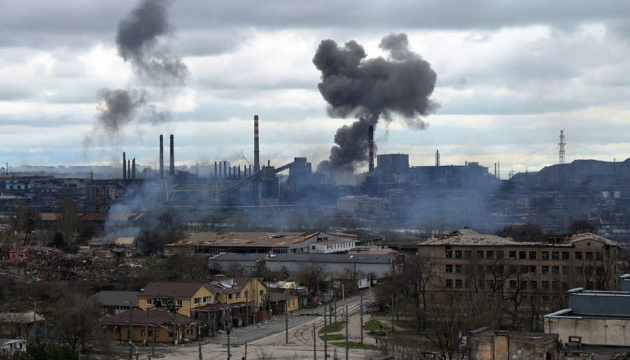 "Despite the superior number of troops, the Russian occupiers cannot seize the Ukrainian Mariupol. Therefore, they want to raze the Azovstal steelwork, where our fighters hold the defense, to the ground. The occupiers neglect the fact that civilians are hiding at the plant. So the Russcists are preparing three-tonne 'surprises' from the sky," the Security Service of Ukraine posted on Telegram, Ukrinform reports.
14:20 Deputy Head of the President's Office Kyrylo Tymoshenko: 919 settlements liberated from occupation in eight regions of Ukraine.
"More than 11,000 settlements are located in the de-occupied territories of Zhytomyr, Zaporizhzhia, Kyiv, Mykolayiv, Sumy, Kharkiv, Kherson, and Chernihiv regions. More than three thousand settlements were or are still under occupation. Currently, 919 towns and villages have been liberated from occupation," Deputy Head of the President's Office Kyrylo Tymoshenko said at a briefing, Ukrinform reports.
Defense Express reminds , that recently russian invaders have started a big offensive for Donbas region.
13:30 The 10th Mountain Assault Brigade destroyed an ammunition depot of Russian troops and released a relevant video.
"Here is the current appearance of the destroyed Russian ammunition depot in our territory. Artillery worked. The Easter holiday picnic is perfect! The most delicious is already roasted and ... destroyed! … The operation 'disguise' from uninvited guests failed without starting," the Brigade posted on Facebook, Ukrinform reports.
12:51 Defense Intelligence of Ukraine: Russian army was planning the occupation of Belarus
Ukrainian intelligence has obtained documentary evidence that Russia had plans for the military occupation of the Republic of Belarus. The reason for that was the falsification of the presidential elections in 2020 by Alexander Lukashenka.
1st guards tank army of Russian armed forces was being prepared for the operation. According to the published document, the army had to enter the country under the guise of joint military drills "Kavkaz-2020" and wait for the signal to start actual military operation.
12:33 General Staff has published footage of co-ordinated work of UAV operators and artillery
Tanks, "Urals" and other Russian equipment demolished
12:06 Hromadske media: Russians are shelling Mariupol, once more offer the defenders to surrender
The invading forces carry out chaotic shelling of residential areas with tanks and artillery, said city mayor's adviser Petro Andryushchenko, Hromadske reports. He states that Russian forces use civilians as "bait" for Ukrainian snipers. This is because civilians are forced to wear white bandages as marks, the same as Russian military wear.
The adviser said the Russian army is rotating with illegal military from the so-called "DNR". He assumes the rotation is meant to strengthen the offensive in this area. It resulted in another wave of looting. Apartments that managed to avoid complete ruination from the shelling are plundered.
Defense Express memo: the presidential adviser Oleksii Arestovych believes that combatants of the illegal formations in the so-called "Donetsk People's Republic" are more potent in terms of military activities than the Russian regular army because the former have battle experience of over eight years of fighting in Donbas.
10:29 Land Forces of Ukraine: servicemen of the 10th Mountain Assault Brigade "Edelweiss" have released footage of destroyed Russian ammo storage.
Looks like the invaders tried to hide the ammunition storage in a forest. But artillery of the 10th Brigade found them. Watch it on Facebook.
10:11 General Staff has released an update on the total combat losses of the Russian army from 24.02 to 19.04 (approx.):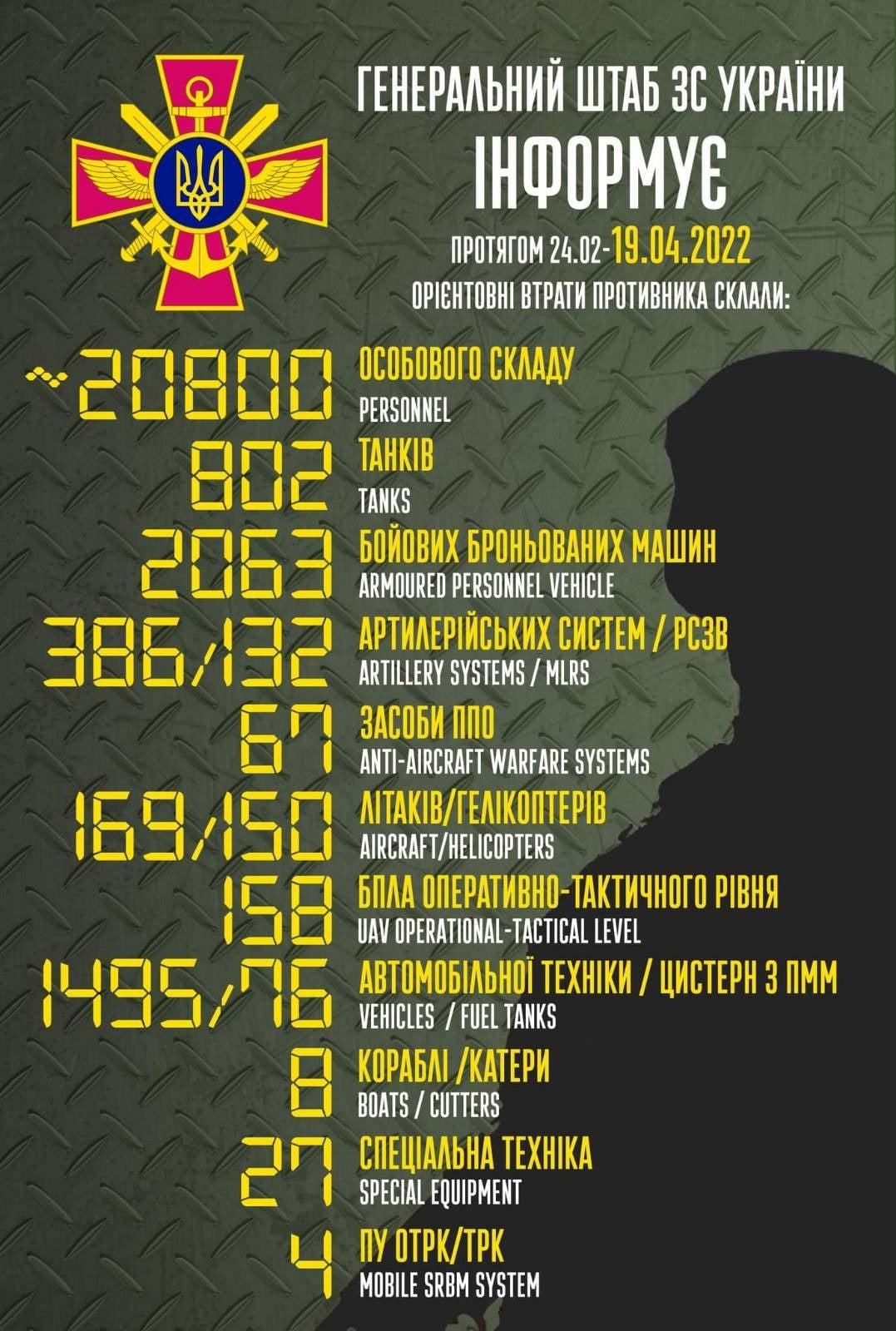 Personnel - близько/ about 20800 people;
Tanks ‒ 802 units;
APVs ‒ 2063 units;
Artillery systems – 386 units;
Multiple Launch Rocket Systems - 132 units;
Anti-aircraft warfare systems - 67 units;
Aircraft – 169 units;
Helicopters – 150 units;
Boats / cutters – 8 units;
Fuel tanks – 76 units;
UAV operational-tactical level – 158 units;
Special equipment – 27 units;
Mobile SRBM system – 4 units.
Follow our daily update on Defense Express:
09:34 Key points of Ukrainian President Volodymyr Zelenskyy's speech on today's night, provided by the Center for Countering Disinformation at the NSDC: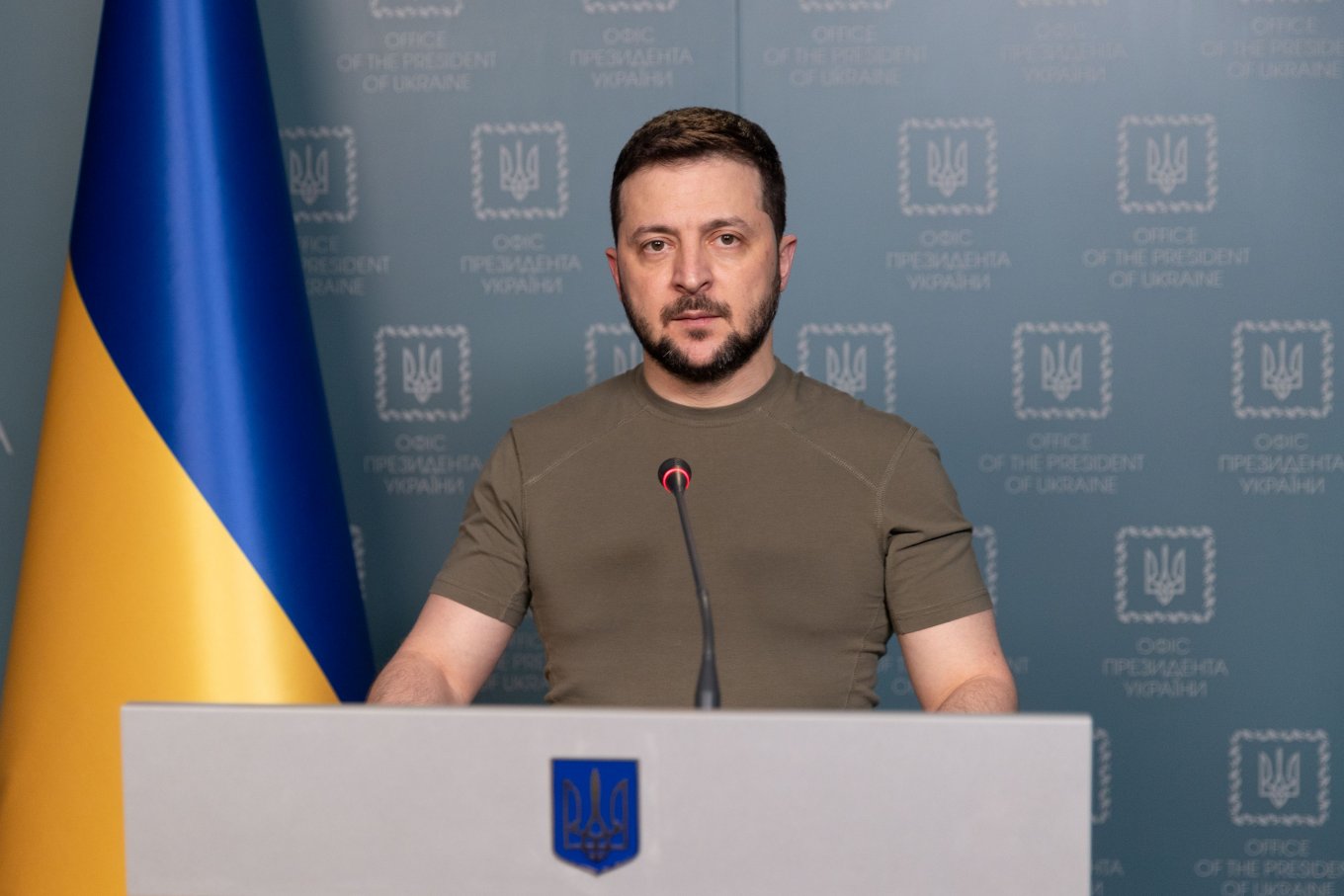 The enemy continues to use missiles against Ukraine, thus carrying out self-demilitarization. Russia cannot produce missiles, artillery and other weapons even under the existing sanctions
Now it can be stated that the russian troops have started the battle for Donbas, for which they have been preparing for so long
We coordinate our actions with the leadership of Lithuania to strengthen russia's responsibility for the war
We are thinking about which sectors of the economy could become key for Ukraine after the war
Defense potential must be at a new level, judicial and anti-corruption reforms must also be brought to fruition and all this must work towards a strategic vision of what Ukraine will be like in 1–5–10 years after the war
Ukraine is going through one of the stages before joining the EU, we have provided answers to the questionnaire. We hope that the EU will make a decision soon
08:50 EU External Action: Ukraine suffers the most intensive missile attacks by the Russian Federation in weeks
Particularly heavy attacks took place in recent days in the east and south of Ukraine, notably in Ukraine's Luhansk region, in Severodonetsk, Lysychansk and Popasna, noted Josep Borrell, High Representative of the European Union in his statement. In addition to the cities mentioned above, Russians shell the whole territory of Ukraine:
"Major cities, including Kharkiv, continue to be attacked indiscriminately, causing further destruction of civilian lives and infrastructure. Attacks on Lviv and other cities in western Ukraine show that no part of the country is spared from the Kremlin's senseless onslaught," goes the statement.
Josep Borrell condemned the indiscriminate attacks and illegal shelling of civilians and civilian infrastructure by Russian armed forces and added no one will be held unaccountable for the war crimes.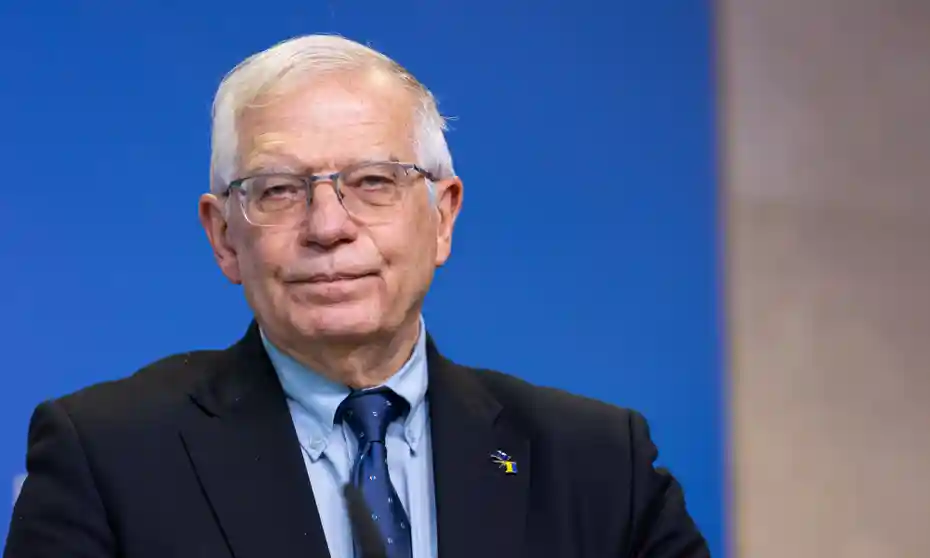 08:07 General Staff: operational information regarding the Russian invasion as of 06:00, 19.04.2022. Key points of the report:
Russian air raids continue all over the country. The enemy has intensified the bombing of facilities in western regions of Ukraine.
The invaders are conducting offensive and assault activities in the eastern operational regions. Set up their main and reserve firing positions for barrel and self-propelled artillery in the Izium direction to support the offensive.
The enemy is focusing on breaking through the defenses on the frontline and gaining full control of the besieged Mariupol city.
Russians are strengthening their air defense: "Tor" systems are being relocated to the Kharkiv region; S-400 and S-300 systems were deployed to the bordering Belgorod region of Russia in order to cover rear areas and command centers.
According to an updated information, the losses of the 126th coastal defense brigade of the Black Sea Fleet of the russian federation are 75% of personnel. 810th marines brigade has lost 158 servicemen dead, about 500 injured and 70 gone missing. Many of the remaining soldiers of these two brigades refused to further participate in military operations in Ukraine.
In Donetsk and Luhansk regions (so-called Donbas) seven Russian attacks were repelled over the past day. Ten tanks, 18 units of armored and eight soft-skinned vehicles, an artillery system and a mortar calculation of the russian army were destroyed by the Ukrainian military.
07:54 Ukrinform: the US may designate Russia as a state sponsor of terrorism
The US Department of State does not rule out the possibility of labeling Russia a state sponsor of terrorism, which leads to additional sanctions and restrictions, said Spokesman Ned Price at a briefing in Washington, Ukrainian news agency Ukrinform reports.
This status is given by the Department of State to countries that have "repeatedly provided support for acts of international terrorism." There are only four countries that are currently labeled state sponsors of terrorism by the US: North Korea, Iran, Cuba and Syria.
According to CNN, Ukrainian President Volodymyr Zelenskyy asked US President Joe Biden to designate Russia as a state sponsor of terrorism. If initiated, the process of labeling Russia this status could take weeks before a determination is made.
07:37 The Hill: US instructors will teach Ukrainian soldiers how to use howitzers
The Pentagon will train Ukrainian troops on how to use howitzer artillery systems sent to Ukraine to help in its war with Russia, a senior U.S. defense official said Monday, according to The Hill newspaper. The training will start "in the coming days" outside Ukraine. Though the Pentagon official didn't specify, the exercises are likely to take place in Poland or Romania, where some NATO troops are currently stationed, the media assumes.
After the training, Ukrainian troops will go back to their homeland country and disperse the knowledge among fellow soldiers.
Defense Express memo: the US approved a new military aid package including 18 units of 155mm Howitzers on April 13th. More details:
07:10 Air Force Command: Ukrainian air defense destroyed seven Russian air targets on April 18:
one Su-30 fighter aircraft;
four UAVs; and
two cruise missiles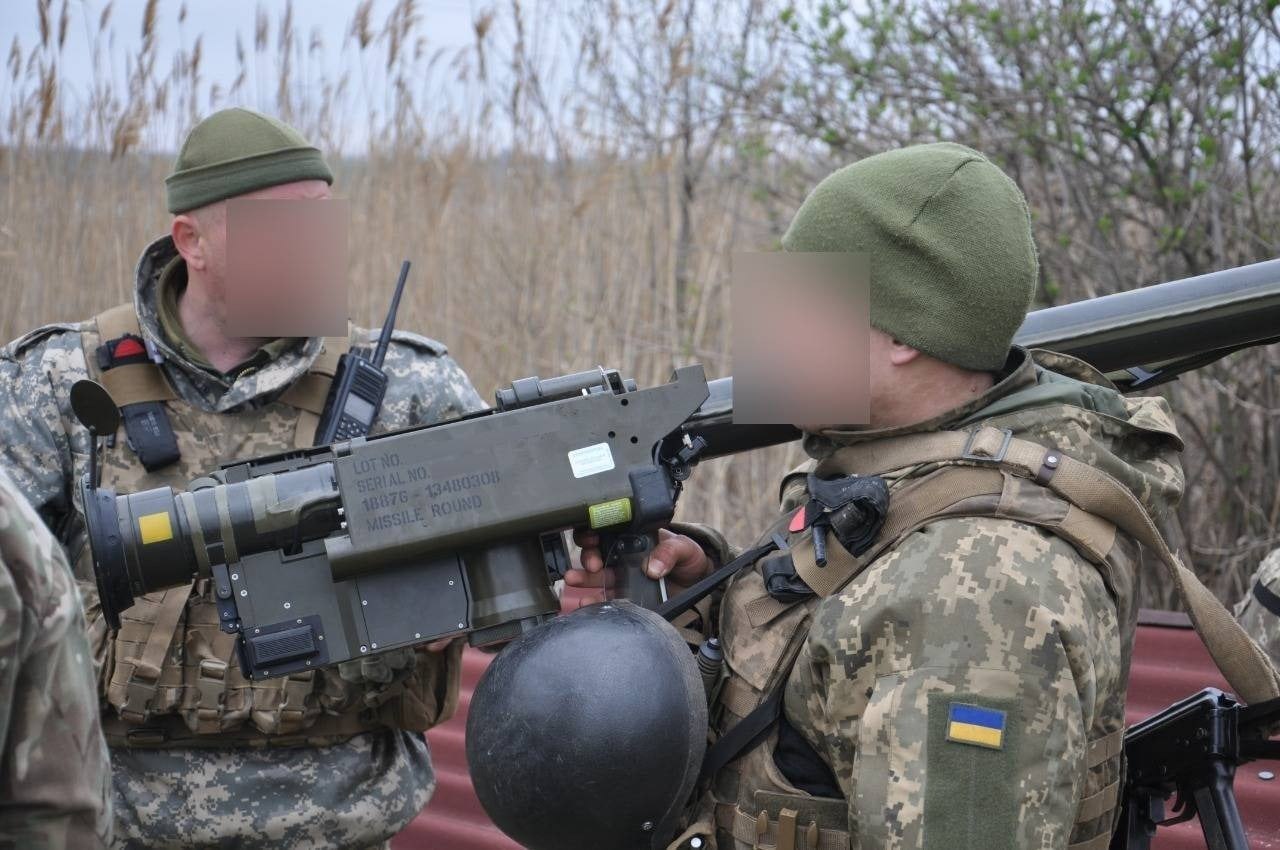 Find more information in Defense Express publication:Super Trophy: Newest Russian Military Command & Control Vehicle R-149МА1 Captured in Mykolaiv Region
00:40 Ukrainian President Volodymyr Zelenskyy in his video address made a statement, that Russian invaders have started the battle for Donbas they have long been preparing for, but Ukraine will be defending itself.
"Now we can say that Russian troops have started the battle for Donbas they have long been preparing for. A large part of the Russian army is now focused on this offensive. No matter how many Russian soldiers are driven there, we will fight. We will defend ourselves. We will do this every day. We will not give anything Ukrainian, and we do not need something that does not belong to us," the President of Ukraine told.
According to Zelensky, Russian invaders have been attacking slightly more thoughtfully in eastern and southern Ukraine lately than what they did before. They are putting pressure, seeking a weak spot in the country's defense to direct their main forces there.
"Apparently, the Russian generals accustomed to not counting any losses have already killed so many Russian servicemen that even they have to be more careful. Otherwise, no one will be left to attack. But, let them not hope that this will help them. It is just a matter of time, when we liberate the entire territory of our state," Zelensky stressed.
Find more information in Defense Express publication: President Zelenskyy Named Weapons That Ukraine Needs
00:25 US State Department officials are looking at every tool available to them to hold Russia accountable for the war in Ukraine, including the possibility of labeling Russia a state sponsor of terrorism, according to a senior administration official. The process could take weeks before a determination is made, the official said.
"We're taking a close look at the facts. We're taking a close look at the law," said State Department spokesperson Ned Price on CNN Monday when asked about the possibility of designating Russia as a state sponsor of terrorism on Monday. "Whether it is this authority, whether it's any other authority available to us under the law, we will apply it if it's effective and appropriate."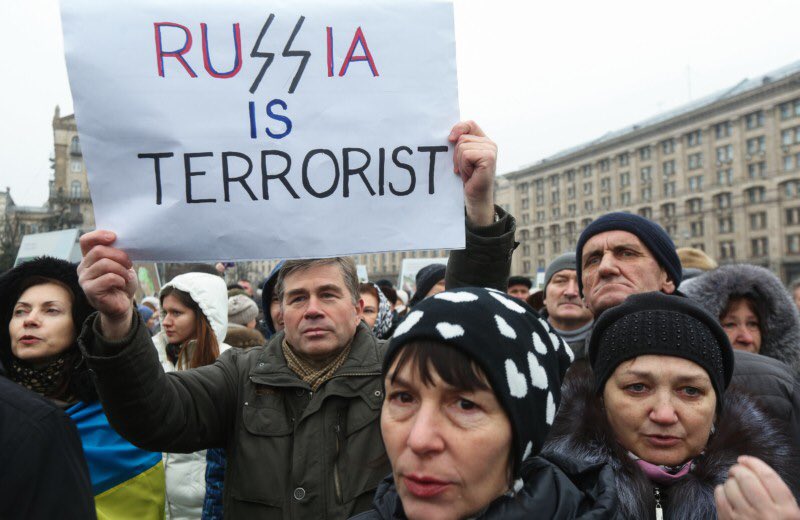 The definition of a state sponsor of terrorism is a country that has "repeatedly provided support for acts of international terrorism," according to the State Department. There are only four countries that are currently labeled state sponsors of terrorism by the US: North Korea, Iran, Cuba and Syria.
00:15 The escalation of hostilities in eastern Ukraine may affect the negotiation process between Ukraine and the Russian Federation. The relevant statement was made by Advisor to the Head of the Office of the President of Ukraine Mykhailo Podoliak during a telethon, an Ukrinform correspondent reports.
"Today everything that is happening in Ukraine is absolutely strategically moderated by the President. We understand that there will be attempts to attack in eastern Ukraine, which will also affect the negotiation process as well," Podoliak told. In his words, Ukraine is ready for any scenario of events.
00:02 The head of the President's Office, Andriy Yermak, announced the spread of fakes about the Russian offensive.
"The second phase of the war has begun, but I will tell you that everything is reliable in the Armed Forces. Believe in our army, it is very strong," Yermak wrote.
Read more: Day 54th of War Between Ukraine and Russian Federation (Live Updates)
---
---