Brief facts:
The U.S. Senate adopted the resolution and passed the Lend-Lease legislation for Ukraine
Enemy missiles strike Kyiv, Fastiv, Odesa
Ukraine began a transition process from obsolete Soviet-era materiel to modern western weapons 30 years ago – defense minister Reznikov
Canadian lawmakers vote unanimously to recognize "acts of genocide" committed by Russia
Russian invaders destroy over 18,000 infrastructure facilities across Ukraine
Armed Forces of Ukraine repeled repels six enemy attacks, destroyed five Russian tanks in JFO area
The Advisor to the Head of the Office of the President of Ukraine Mykhailo Podoliak stated that no agreement reached with Russia so far to evacuate people from Mariupol
Side note: news are marked in accordance with the Kyiv time zone: Eastern European Time (EET), GMT/UTC+2
Read more: ​Armed Forces of Ukraine Repeled 6 Enemy Attacks, Destroyed 5 Tanks, Dozens of Vechicles in JFO Area
Last News
Thank you for your attention! This feed is closed. But Defense Express has already started a new one:Day 65th of War Between Ukraine and Russian Federation (Live Updates)
00:55 The President of Ukraine Volodymyr Zelenskyy: Recent missile strikes on Kyiv say a lot about Russia's attitude to global institutions.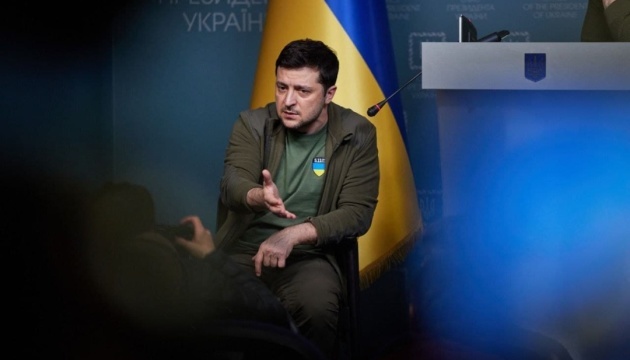 "Russian missile strikes at Ukraine – Kyiv, Fastiv, Odesa, and other cities – once again prove that we cannot let our guard down. We cannot think that the war is over. We still have to fight. We still have to drive the occupiers out," Zelensky told in his video address, Ukrinform reports.
00:00 State Emergency Service of Ukraine: Ten people injured in Russian missile attack on Kyiv.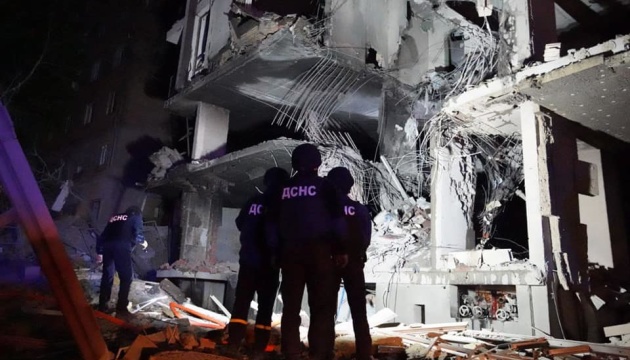 "On April 28, at 20:13, the State Emergency Service in Kyiv received a report of a fire in the Shevchenkivsky district of the capital. As a result of enemy shelling, a fire broke out in a 25-storey residential building. The 1st and 2nd floors were partially destroyed," the statement said, Ukrinform states.
23:45 Russia suffers heavy losses at each unit, having lots of armor destroyed by Ukrainian fighters.
In this case russia has started to take different armament from warehouses, located very far away. This time the enemy is going to take heavy armor in the middle of nowhere of Siberia.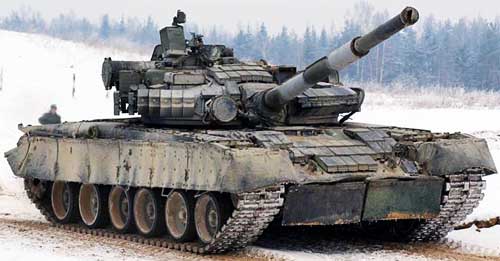 23:30 UN Secretary-General António Guterres: Intense discussions continue on implementation of proposal to involve UN, ICRC in evacuation of civilians from Azovstal.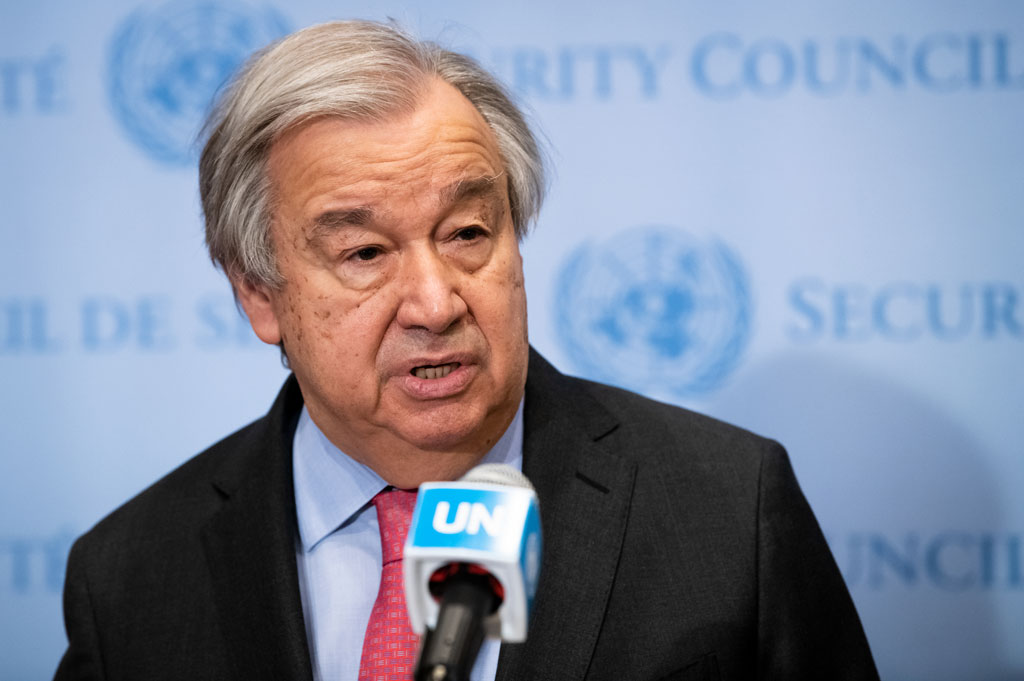 "During my visit to Moscow, President Putin agreed in principle to the involvement of the UN and the International Committee of the Red Cross in the evacuation of civilians from the plant in Azovstal. Today, President Zelensky and I have an opportunity to address this issue. As we speak, there are intense discussions that would forward with this proposal to make it a reality," Guterres said at a press conference with Ukrainian President Volodymyr Zelenskyy in Kyiv on Thursday, Interfax reports.
23:10 Tactical Group East: Ukraine Army destroys over 40 invaders, three tanks in eastern Ukraine.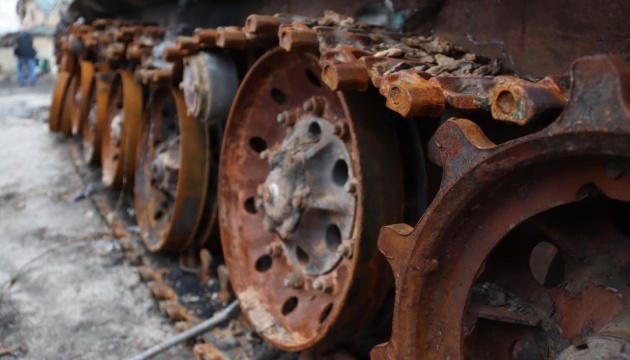 "Ukrainian defenders continue to deter the aggressor in the area of responsibility of the Operational and Tactical Group East. In particular, on April 28, Russian fascist troops carried out two attacks. The fighting continues. The enemy lost 42 troops, three tanks, two IFVs, an APC, an armored combat vehicle, an artillery tractor, and two UAVs," the statement said, Ukrinform reports.
22:50 Odesa Oblast Governor Maksym Marchenko: 3 Russian missiles intercepted over Odesa Oblast.
The air defense systems intercepted the missiles and "have the sky under their control." Two series of explosions were reportedly heard in Odesa on the evening of April 28, Kyiv Post reports.
22:20 Officially: the U.S. Senate adopted the resolution and passed the Lend-Lease legislation for Ukraine.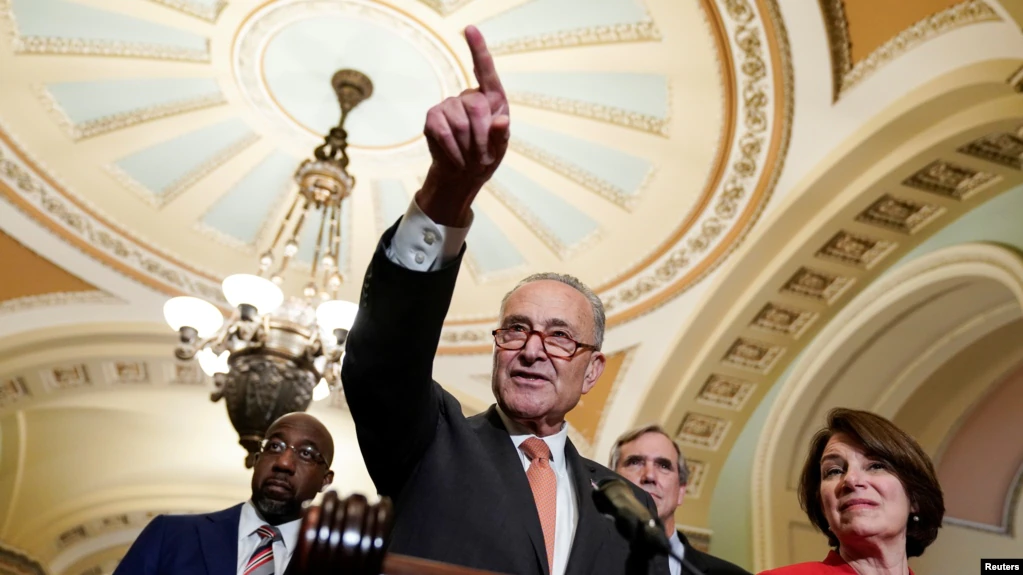 The Senate unanimously passed major legislation late Wednesday to revive a World War II-era program allowing President Joe Biden to more efficiently send weapons and other supplies to Ukraine amid Russia's bloody invasion.
The lend-lease program was last used during World War II, when the United States provided assistance to allied countries that fought against Nazi Germany, mostly to the Soviet Union and Great Britain. Many historians say it helped tip the balance of the war in favor of the allies.
Politico reports, that senators quickly rallied behind the proposal, known as Lend-Lease, as Ukraine's military proved it could fend off Russian troops who have been shelling Ukrainian cities and towns since late February.
The Lend-Lease program created during World War II was seen as a game-changer in the conflict, as it allowed the U.S. to quickly resupply the Allies without time-consuming procedural hurdles.
21:40 The President of Ukraine Volodymyr Zelenskyy: Ukraine is ready for immediate talks to evacuate people from Azovstal plant.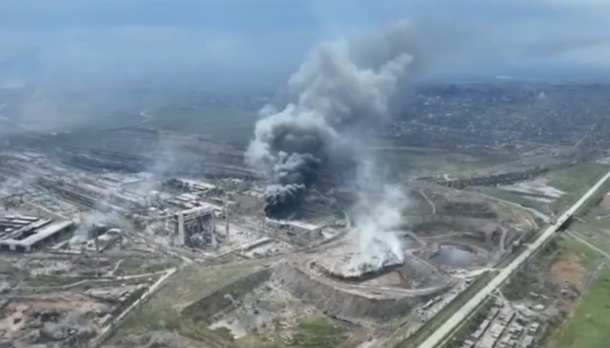 "It is very important that Mr. Guterres raised in Moscow the issue of evacuating our people from the city of Mariupol, in particular from the Azovstal plant, because despite the Russian president's words about the alleged cessation of hostilities in Mariupol, the Azovstal plant is under barbaric bombardment by the Russian army," Zelensky said, Ukrinform reports.
21:05 The KyivMayor Vitaliy Klitschko: The enemy shelled Kyiv.
Rescuers of the State Emergency Service left for the site, spokeswoman Svitlana Vodolaha told Suspilne.
"Friends! In the evening, the enemy fired on Kyiv. There were two hits on Shevchenkivskyi district. All services are at the scene. Information about the victims is being clarified," he wrote on Telegram, Ukrinform reports.
20:00 Ukraine is fighting against a much bigger and stronger enemy and to help to win this uphill battle our western allies are doing their best, by sending more and more armament and other aid.
But this time we witness a record sum of money to be sent to Ukraine's military and security segment.
The President of the US Joe Biden / Open source photo
19:35 General Staff of the Armed Forces of Ukraine posted an operational update regarding the russian invasion as of 18.00 on April 28, 2022. Key points:
The greatest activity of the enemy is observed in Slobozhansky and Donetsk directions.
Enemy aircrafts continue to launch missile and air strikes on targets in Ukraine from the territory of the republic of belarus.
A battalion tactical group from the 29th Combined Arms Army of the Eastern Military District was moved from the territory of the Belgorod region of the russian federation to the Kharkiv region.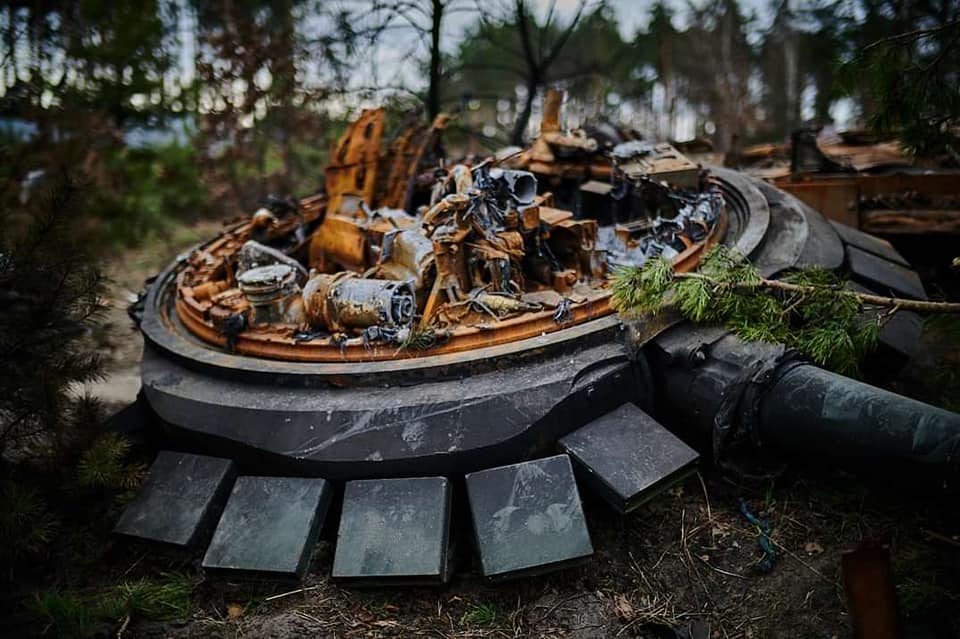 The Defence Forces of Ukraine have restored control over the settlement of Kutuzivka in the Kharkiv region.
In the Donetsk and Tavriya directions russian occupiers fired on the positions of Ukrainian defense units using multiple rocket launcher systems and artillery almost along the entire line of contact.
the enemy tried to completely capture Rubizhne, but was unsuccessful, suffered losses and retreated to previously occupied positions.
russian occupiers continued to launch air strikes on Mariupol. The main efforts were focused on blocking our units in the area of the Azovstal plant in order to prevent their breakthrough.
Ships of the occupying fleet in the Black and Azov Seas continue to launch missile strikes on the territory of Ukraine, perform objectives to isolate the area of hostilities and conduct reconnaissance.
19:20 Russia's T-90M and T-14 Armata are said to be the cutting edge tanks having no analogues in the world, but there weren't any facts which would prove their combat use in Ukraine.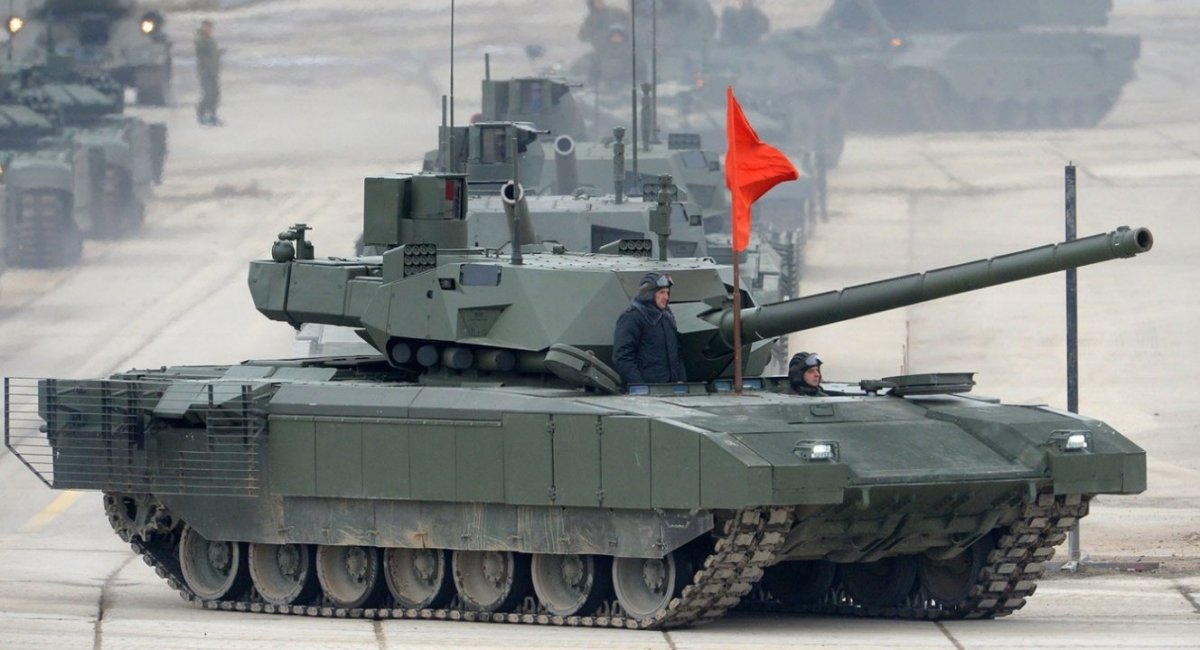 18:37 Russians shelled Ukrainian cities synchronically with cyberattacks
Microsoft has published a comprehensive report on hackers' activity in Ukraine before and after the start of russian invasion, Radio Liberty informs. The research showed that Russia's use of cyberattacks "appears to be strongly correlated and sometimes directly timed" with military operations targeting services and institutions, said Tom Burt, vice president of Microsoft for customer security and trust.
"The attacks have not only degraded the systems of institutions in Ukraine but have also sought to disrupt people's access to reliable information and critical life services on which civilians depend, and have attempted to shake confidence in the country's leadership," Tom Burt said.
The hackers use a variety of techniques to later collect "strategic and battlefield intelligence or to facilitate future destructive attacks," among other aims.
According to Microsoft, "Russian nation-state threat actors" started preparations as early as March 2021.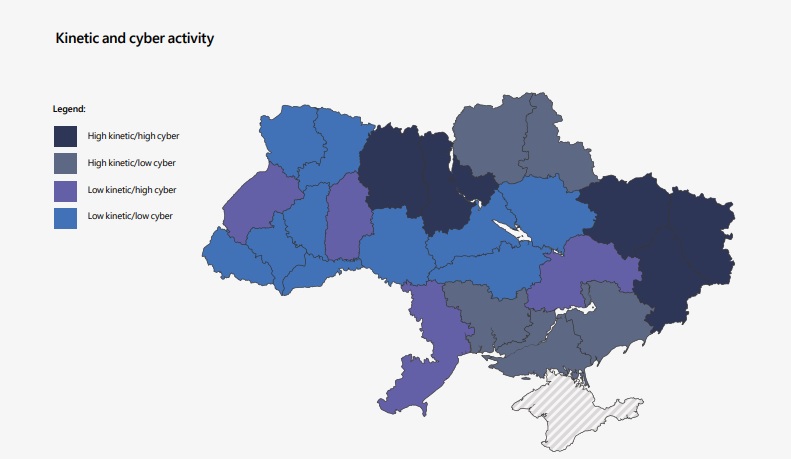 18:15
Residents of Demydiv village have flooded their own village to prevent russian advance on Kyiv
Demydiv village was flooded on February 26, after Russian occupiers blew up the dam that was built on the joint of two rivers – Irpin and Dnipro. According to the recent report by The New York Times, the dam was opened even earlier in a tactical move that prevented russian advance: "The Ukrainians flooded the village intentionally, along with a vast expanse of fields and bogs around it, creating a quagmire that thwarted a Russian tank assault on Kyiv and bought the army precious time to prepare defenses."
More details on how the tactics of "scorched earth" have helped to create troubles for russian army and save Ukraine's capital Kyiv.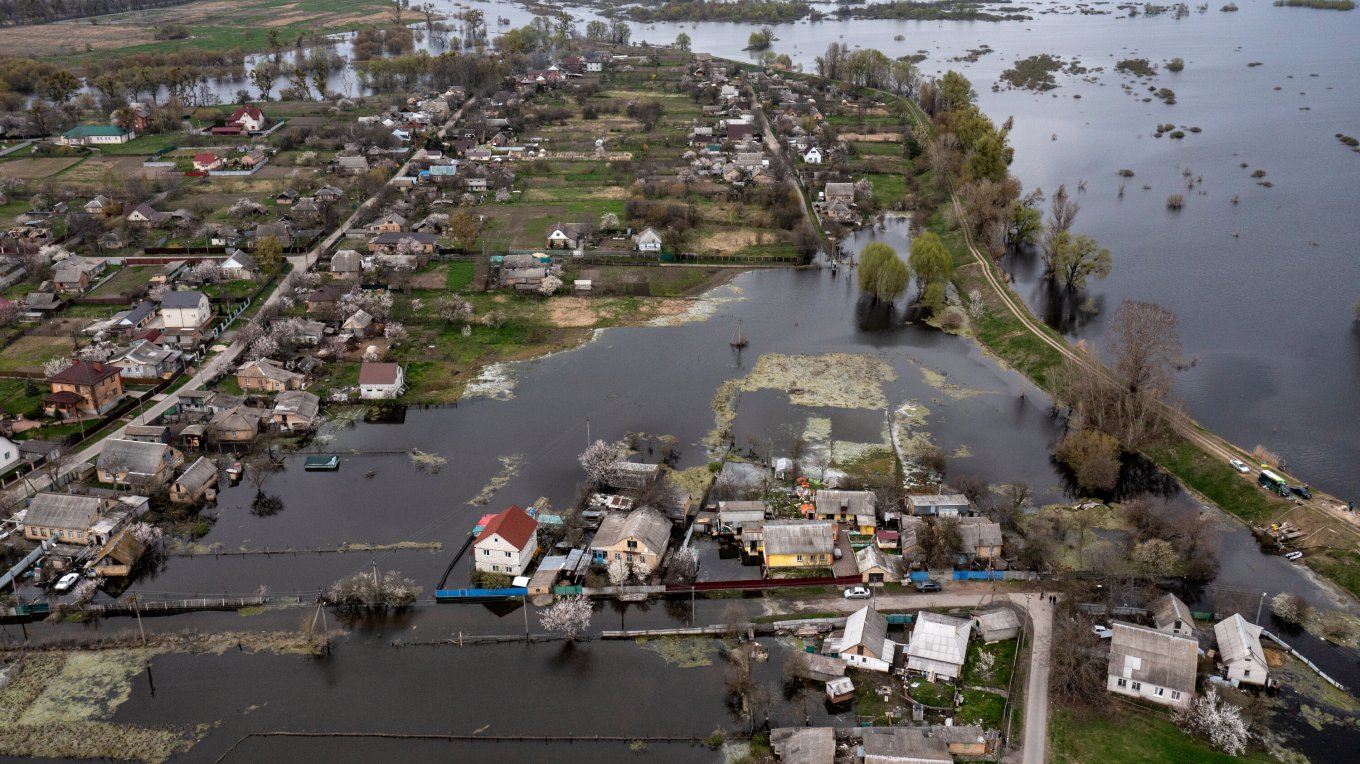 18:12 Another prisoner exchange took place today, said Iryna Vereshchuk, Deputy Prime Minister of Ukraine. 13 Officers and 20 soldiers (including 5 wounded) returned to Ukrainian-controlled territory, as well as 12 civilians. 45 people in total.
17:51 Ukrainian military blew up a railway bridge near Melitopol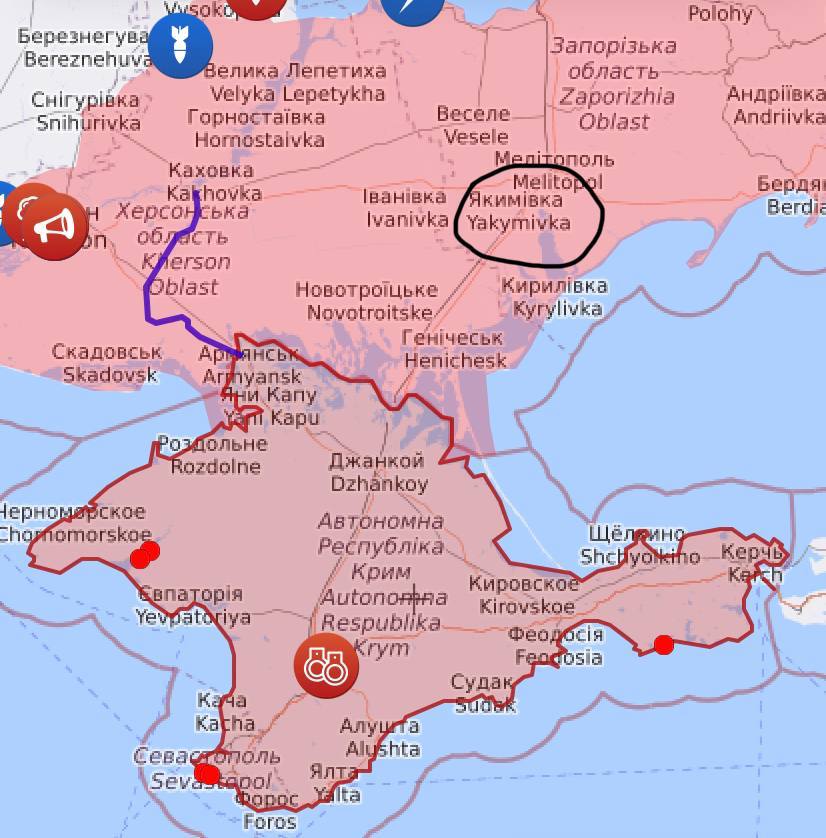 Russian occupiers provided fuel and arms supplies from Crimea via this bridge, said Serhiy Bratchuk, spokesperson for Odesa regional administration. The incident described by him as "self-destruction" happened on Thursday morning, at 8 AM.
"After the self-destruction [of the bridge], the muskovites started to panic, since they understood – we will get them anywhere," he wrote on his Telegram channel.
17:18 Ukrainian military has been mastering Western weapons for a while
Oleksii Reznikov, Minister of Defense of Ukraine, said Ukrainian troops have been learning how to handle modern NATO weapons for some time, Interfax-Ukraine reports. It had not been disclosed until now to "provide comfort to our partners", as he mentioned. According to him, Ukraine began a transition process from obsolete Soviet-era materiel to modern western weapons 30 years ago. Now this process reaches its final phase, as was proved by the recent meeting of defense ministers from 40 countries in Ramstein.
The minister said, the training now will be scaled further in order to meet requirements for operating complex western arms, so that political question whether it is effective to give Ukraine some sort of a modern weapon would be off the table.
"By the way, there is already a fascinating experience. Our artillerymen, who were training on a 155-mm SAU at a training range in one country, hit the target with the first shot. And then they helped their foreign colleagues to improve the computer program controlling this SAU. Which made an appropriate impression. After all, our soldiers have experience of war and real combat, where the price of a mistake is life," Oleksii Reznikov said.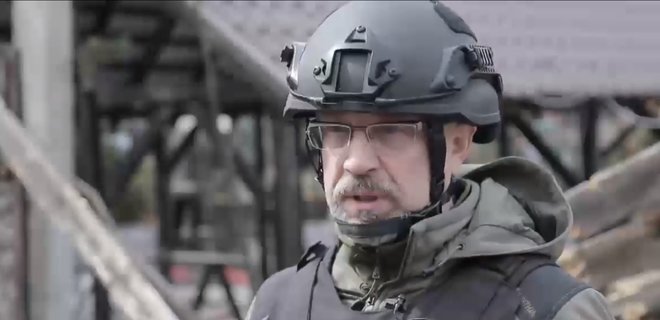 16:45 Russia has returned two submarines with Kalibr missiles to the Black Sea – Defense Express
There are 4 cruise missile carriers in the Black Sea right now with a total volley of up to 28 missiles. The information was announced by spokesman for Ukraine's defense ministry Oleksandr Motuzyanyk during a briefing at Ukraine Media Center.
Based on this information, Defense Express found out where the two of those missile carriers were from April 19 until now. More details: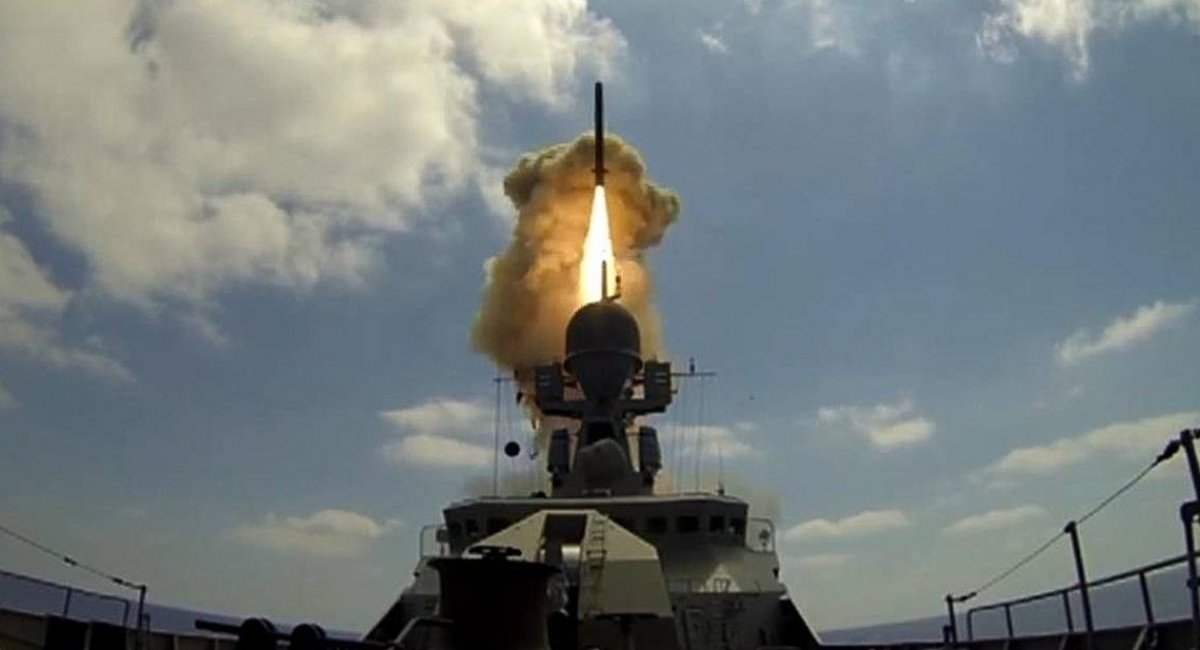 15:57 Russia is changing tactics on Mariupol – Azov Regiment
Captain Sviatoslav Palamar, deputy commander of Azov Regiment of National Guard of Ukraine, said this in an interview with Reuters. He said heavy fighting is still continuing in Mariupol despite russian president Putin's command to stop the assault. Azovstal steel plant where the Azov Regiment is holding up defense along with other brigades, marines, sea security forces, border guards and police, is being bombed.
According to him, at one point Russian forces sent in a column of tanks and armored vehicles and infantry, but the defenders destroyed it. He said russian tactics were constantly changing.
"The tactic [now] is like a medieval siege. We're encircled, they are no longer throwing lots of forces to break our defensive line. They're conducting air strikes," Sviatoslav Palamar told Reuters.
Read more on the defense in Mariupol:
15:08 The threat of another offensive on Kyiv hasn't gone yet – regional administration
"Kyiv defense operation aimed to prevent the enemy from advancing towards the capital," said Mykola Zhyrnov, head of the local military administration. "The operation was conducted from February 24 to April 2. The aim has been accomplished."
Still, the official warned that Russians have not abandoned the idea of capturing Kyiv, so the threat remains: "Thus we have to be ready to further protect the capital."
14:31 Russians shelled 47 settlements in the Donetsk and Luhansk regions
Ministry of Internal Affairs has published data on Russian shelling of residential areas in eastern regions of Ukraine, the so-called Donbas.
In the Luhansk region, 25 residential buildings were damaged. One of the hospitals in Severodonetsk, where local residents were receiving treatment, was severely damaged by shelling. Communications of life support systems of the region's settlements have been practically destroyed. 36 settlements remain without electricity, 46 settlements without gas supply.
In the Donetsk region, 22 settlements suffered from Russian strikes over the last 24 hours. At least 30 civilian facilities were destroyed: homes, a school, a sanatorium, factories, a grain warehouse, a garden society, and communal and railway infrastructure. There are dead and wounded locals. The invaders fired on civilians from aircraft, missile systems, including Point-U, Hail multiple rocket launchers, tanks, and heavy artillery.
The data is being updated.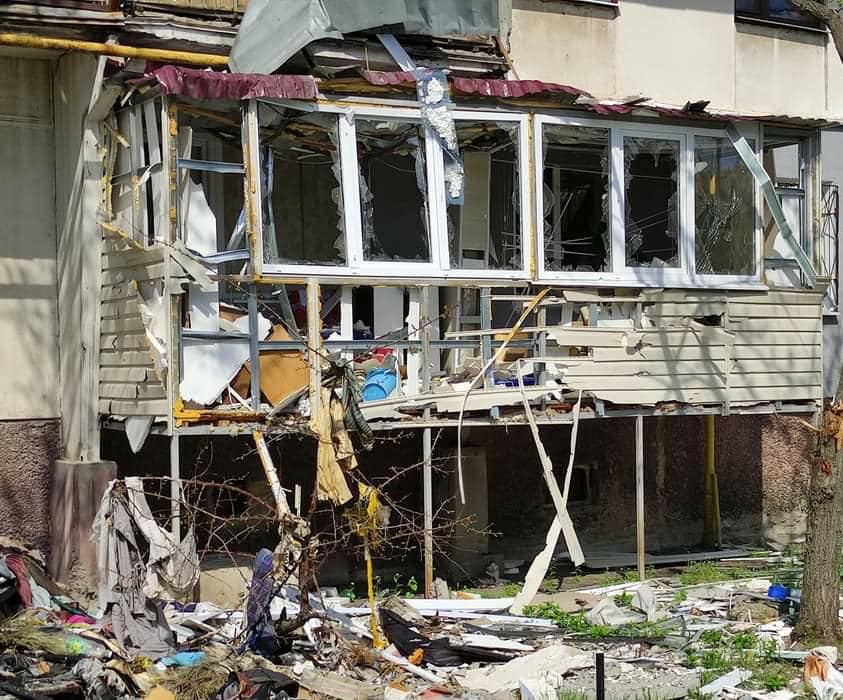 13:50 Canadian lawmakers vote unanimously to recognize "acts of genocide" committed by Russia
House of Commons of Canada, the lower house of the Canadian parliament, has unanimously voted for the recognition of "acts of genocide" being committed by Russia in Ukraine, CNN reports.
"By unanimous consent, it was resolved that, given that there is clear and ample evidence of systematic and massive war crimes and crimes against humanity being committed against the people of Ukraine by the armed forces of the Russian Federation, directed by President Vladimir Putin and others within the Russian parliament…the House recognizes that the Russian Federation is committing acts of genocide against the Ukrainian people," the statement from the House of Commons said.
Willful killings of Ukrainian civilians, the forcible transfer of Ukrainian citizens to Russian territory, and "widespread instances of physical harm, mental harm and rape" are mentioned as done by Russia to the Ukrainians.
The Ukrainian parliament officially recognized Russia committing genocide of its people on April 14, and called for other countries to do so. A day prior, Canadian Prime Minister Justin Trudeau said the indiscriminate violence being committed by Russian occupation forces against the local population in Ukraine can be called genocide.
Canada has become the third country to recognize russia's actions in Ukraine as genocide, according to Vesti.ua. Previously, Estonia and Latvia adopted relevant statements.
More details on russian war crimes in Ukraine: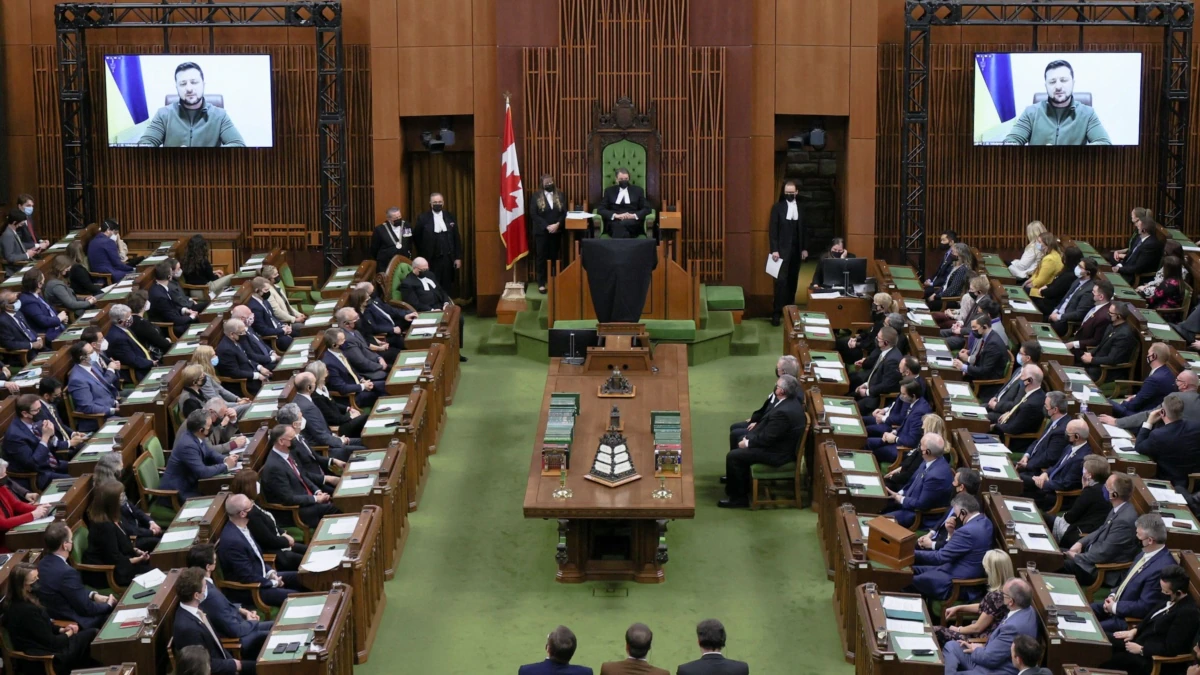 13:22 Russian forces used tear gas and stun grenades against a rally in Kherson
"During a peaceful pro-Ukrainian rally on Freedom Square in the city of Kherson, servicemen of the Russian armed forces used tear gas and stun grenades against the civilian population," the office of Ukraine's Prosecutor General Iryna Venediktova said in a statement, reported by Reuters.
Some residents of the occupied Kherson city staged occasional anti-occupation rallies and crowds gathered in the center on Wednesday. As Defense Express reported earlier, Russia was planning to hold a referendum for the creation of a new entity called the "Kherson People's Republic" and make it a breakaway region, which would mirror similar entities in Ukraine's far east, around Donetsk and Luhansk.
More details on preparations for such a vote in a report from Ukranian military:
13:03 The Minister of Defense of the United Kingdom Ben Wallace stated that Ukraine has the right to strike at military facilities in the territory of the aggressor country. "If Ukraine really decided to attack the logistics structure of the Russian army, it would be legal in terms of international law," he said.
But Mr Wallace adds that any strikes on Russian infrastructure are unlikely to have been targeted with UK-supplied weapons. "They currently don't have British weapons that could do that, so it is unlikely that it is our weapons. We don't really have many long range weapons that are delivered in the way their army does."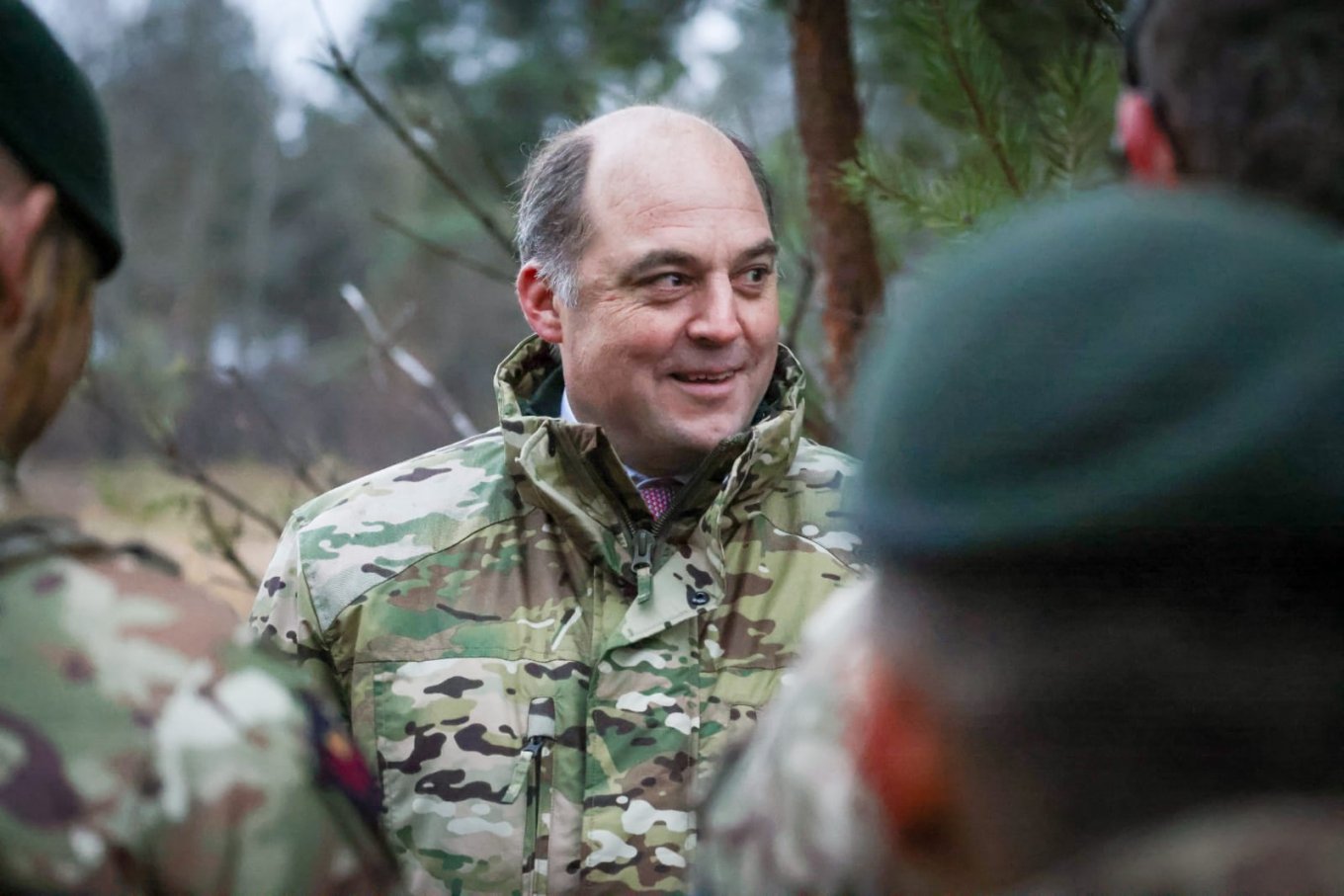 12:52 The head of the President's Office, Andriy Yermak, said on Telegram, that Ukraine is approaching the goal of including Russia in the list of state sponsors of terrorism.
He noted that the sanctions plan of the McFaul-Yermak international expert group provides for Russia's inclusion in the list of state sponsors of terrorism. Yermak said he had had many talks with Ukraine's allies. According to him, the whole team of experts has always stressed the importance of such a step for Ukraine. In addition, the curator of international experts in the group, Ambassador Michael McFaul, had many personal contacts.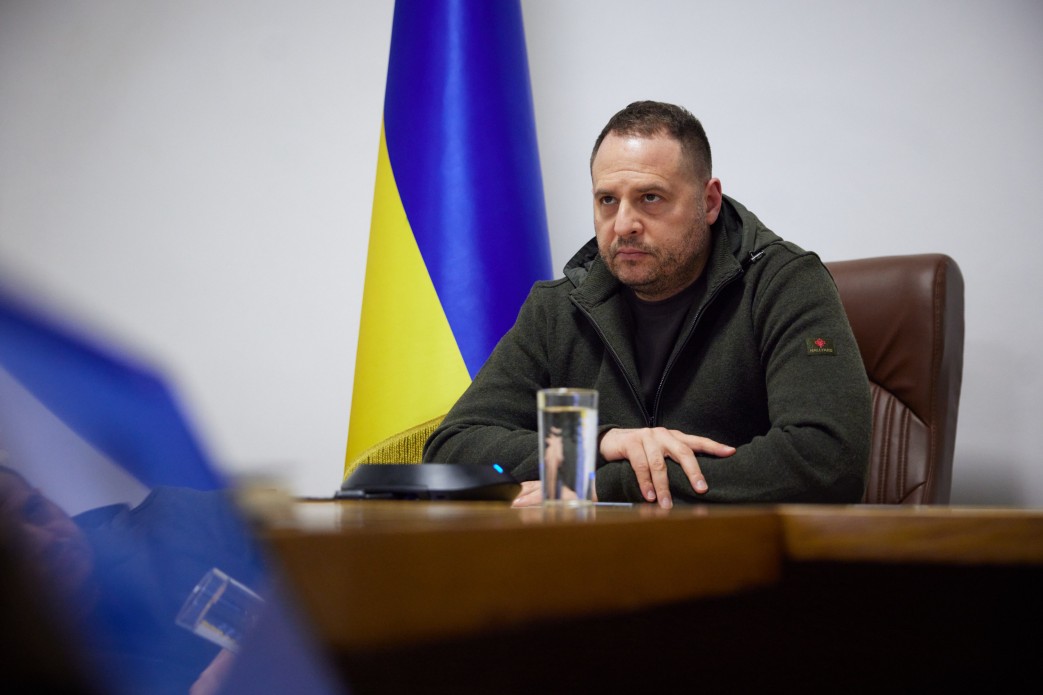 "We are approaching our goal. U.S. Secretary of State Antony Blinken said that the White House is considering including Russia in the list of state sponsors of terrorism," Yermak said. According to him, such a decision will create additional fines, restrictions on foreign aid, a ban on the export of defense goods, which will further weaken Russia. Blinken said earlier that the administration of President Joe Biden was considering declaring Russia a state sponsor of terrorism.
Find more details on the theme in a publication by Defense Express:
12:30 The Ukrainian Air Force needs modern medium-range and long-range anti-aircraft missile systems and fighter aircraft. "We are grateful to the whole world for humanitarian, political and financial support, sanctions pressure on the terrorist state, military-technical assistance - weapons that are already destroying the equipment of the occupiers. But the weapons that were given to us are not enough to win! We have been beating and will continue to beat the enemy using the equipment we have in our arsenal. But for the Air Force to cover the skies over Ukraine, the Stinger and Starstreak MANPADS alone that were provided by our partners are not enough. These are portable short-range systems primarily designed to destroy low-altitude targets, such as helicopters," said Lieutenant General Mykola Oleshchuk, the commander of the Ukrainian Air Force.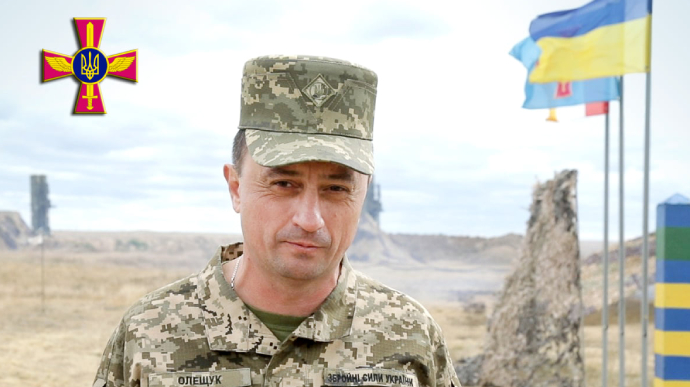 According to him, now Ukraine needs modern medium and long range anti-aircraft missile systems and modern fighter jets for the effective protection of Ukrainian airspace.
"We would very much like to receive (on any terms) Western-made equipment that is technological and effective. The war will not end soon, we need weapons today," Oleschuk added.
Find out more in the videographics by the General Staff of the Armed Forces of Ukraine
12:00 UN Secretary-General Antonio Guterres visited Borodianka, liberated from the occupiers, in the Kyiv region.
"I imagine my family in one of those homes, now destroyed and black. I see my granddaughters running away in panic. There is no way the war can be acceptable in the 21st century", Guterres said.
11:37 The Bulgarian delegation, led by Prime Minister Kiril Petkov, is heading to Kyiv to meet with Ukrainian President Volodymyr Zelensky.
11:10 The General Staff of the Armed Forces of Ukraine has posted the new summary of total combat losses of the enemy from 24.02 to 28.04. Find them in an infographic by Defense Express:
So far, the list of enemy's combat losses is the following:
Personnel - more 22 800 (+400),
Tanks ‒ 970 (+31) units,
APV ‒ 2389 (+47) units,
Artillery systems – 431 (+10) units,
MLRS – 151 (+2) units,
Anti-aircraft warfare systems – 72 (+1) units,
Aircraft – 187 (+2) units,
Helicopters – 155 (+1) units,
Vehicles – 1688 (+22) units,
Boats / cutters – 8 (+0) units,
Fuel tanks – 76 (+0),
UAV operational-tactical level – 215 (+8) units,
Special equipment – 31 (+0),
Mobile SRBM system – 4 (+0).
Data are being updated. The calculation is complicated by the intensity of hostilities.
10:20 Defence Intelligence of the Ministry of Defense Of Ukraine reports that a military training assemblies has been announced in Transnistria. The goal is to "ensure 100% staffing of the Peacekeeping Contingent of the Pridnestrovian Moldavian Republic, as well as employment of the able-bodied population of the republic". Men under the age of 55, who are guaranteed "financial and material security, accommodation and food", can take part in the meeting. Unemployed citizens are promised the amount from 2,800 "Transnistria rubles". The military training assemblies will last 90 days.
09:30 In Luhansk region, four civilians were killed in Russian shelling on April 27. Serhiy Haidai, the head of the Luhansk Regional Military Administration, reported on Telegram, according to Ukrinform.
The governor stressed that Lysychansk was under enemy fire throughout the whole day on April 27. As a result of heavy shelling, 13 houses were destroyed in the city. In the morning of April 27, a 58-year-old local man did not manage to escape from the Russian fire and died in the yard near his house. Moreover, Russian forces killed an 85-year-old woman in Severodonetsk, and two men in Novodruzhesk and Lysychansk. Four more civilians received injuries of varying severity, Haidai added.
Find more details on the theme in a publication by Defense Express:
09:04 According to the Latest UK Defense Intelligence update on the situation in Ukraine, that was released on Twitter, approximately 20 Russian Navy vessels are currently in the Black Sea operational zone, including submarines. The Bosporus Strait remains closed to all non-Turkish warships, rendering Russia unable to replace its lost cruiser Moskva in the Black Sea. Despite the embarrassing losses of the landing ship Saratov and cruiser Moskva, Russia's Black Sea Fleet retains the ability to strike Ukrainian and coastal targets.
08:10 General Staff has released an operational update on the state of warfare. Key points of the report:
The main efforts of the Russians are now focused on the Izium direction. They are trying to launch an offensive in the directions of Sulyhivka — Nova Dmytrivka and Andriyivka — Velyka Komyshuvakha. In order to strengthen the advancing group, the occupiers additionally moved landing units and up to 500 units of equipment to Izium.
In the South Buh direction, the main efforts of the Russians are focused on the directions Kherson — Mykolaiv and Kherson — Kryvyi Rih.
In the Donetsk direction, the Russians focused on encircling Ukrainian troops.
In the Kurakhiv direction, the Russians are conducting an offensive in the directions of Staromayorske — Velyka Novosilka and Lyubimivka — Zelene Pole.
The occupiers are trying to develop an offensive on the city of Lyman and are preparing to force the Siversky Donets river.
On Sievierodonetsk, there is an attack on the settlement of Orikhove. In the Avdiyivka direction, in order to capture Maryinka and Ocheretyne, Russia is firing intensely.
In Kherson Oblast, the Russian army has set in the area of the village of Tavriyske, trying to beat the positions of the Ukrainian military in the areas of Oleksandrivka and Nova Zoria. In the areas of the villages of Stanislav and Molodetske, Russia is increasing the units of jet and barrel artillery.
The Russians continue to use Melitopol airfield to base and fly Su-25 attack aircraft, Ka-52 attack helicopters, and Mi-8 transport and combat aircraft.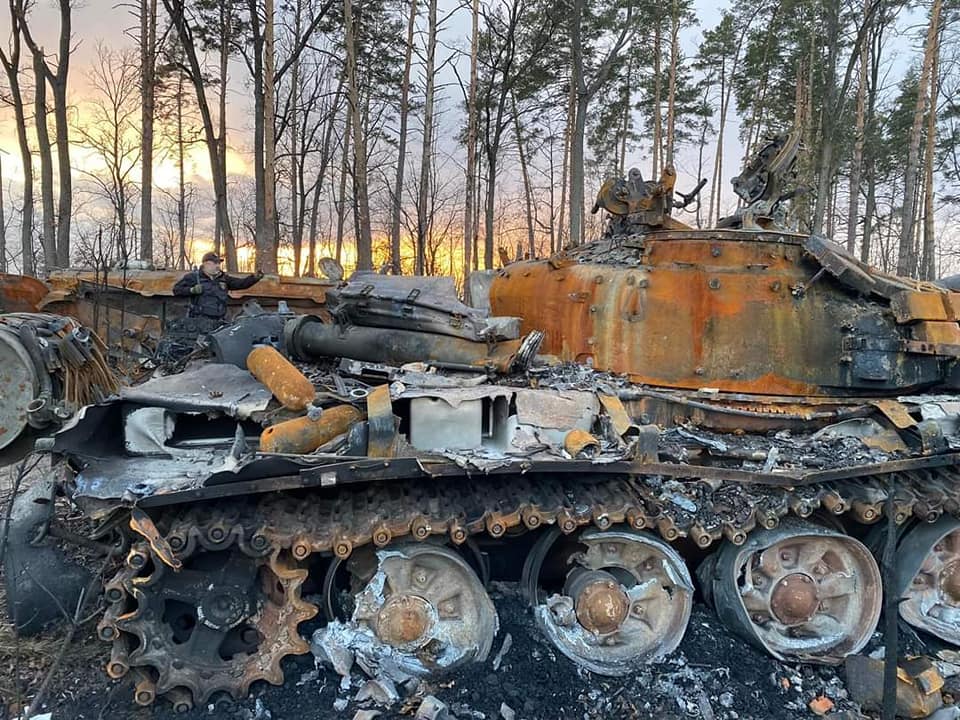 Find more details on the theme in a publication by Defense Express:
07:52 Maksym Kozytskyi, the head of the Lviv Regional Military Administration, said this at a briefing, that since the start of Russia's full-scale war against Ukraine, the Air Defense Forces have shot down more than 20 cruise missiles and about 10 enemy UAVs over Lviv region.
"Since the war began, the air defense units shot down more than 20 missiles and about 10 enemy drones over Lviv region. A special chatbot, "Shos letyt" [Something is flying], was created to help the military. Please register there, as this is an additional source of information for the air defense forces. They are actively using it. There are already first positive results of its use," Kozytskyi said.
Find more details on the theme in a publication by Defense Express:
07:36 On Wednesday, April 27, the Air Defense Forces of the Armed Forces of Ukraine eliminated 8 enemy air targets: 1 aircraft, 1 cruise-missile and 6 drones
It was stated by the Air Force Command of the Armed Forces of Ukraine in its official account on Facebook. Ukraine's Air Force Command state affirmed that russia's one fighter (possibly Su-34), one cruise-missile and 6 drones operational-tactical level were among the targets.
Defense Express reminds, that as of early April 27 the enemy has already lost 155 helicopters,185 combat jets and 207 UAV operational-tactical level.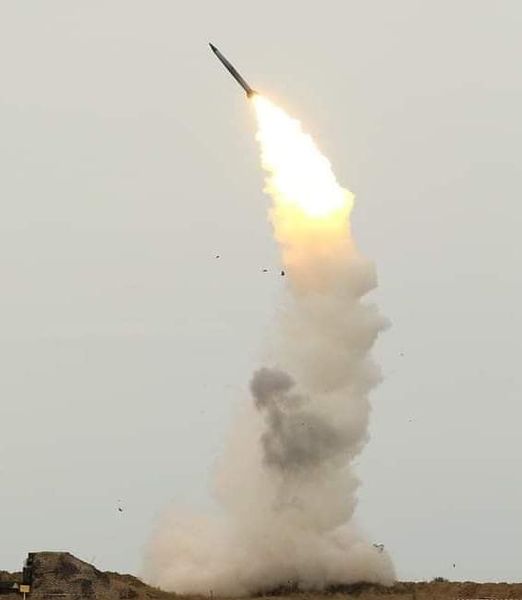 Find more details on the theme in a publication by Defense Express:
07:10 The South operational command reported on Facebook, that the Armed Forces of Ukraine eliminated 49 Russian invaders and 14 units of enemy equipment in southern Ukraine on April 27.
In Kherson and Mykolaiv regions, the Russian troops tried to improve tactical position towards Mykolaiv, but had no success.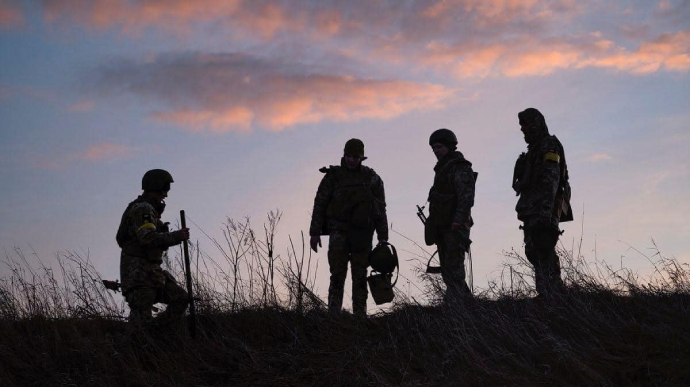 Ukrainian defenders used artillery to repulse an enemy attack near Novohryhorivka and two attacks near Oleksandrivka. Effective conduct of combat actions prevented enemy preparations for an attack in the direction of Mykolaivka.
In Novovorontsovka area, Ukrainian air defense units shot down another Russian Orlan-10 drone.
The total enemy's losses in southern Ukraine over the past day amounted to 49 personnel and 14 units of military equipment, including six armored vehicles, three motor vehicles, three units of missile and artillery and anti-aircraft weapons and rear equipment.
In Molodetske and Velyka Oleksandrivka areas, the Armed Forces of Ukraine destroyed enemy ammunition depots.
Find more details on the theme in a publication by Defense Express:
03:20 The United States has already delivered to Ukraine most of the promised 90 155 mm howitzers, which will strengthen the Ukrainian Army's defense capabilities. This was stated by Pentagon Spokesman John Kirby at a briefing on Wednesday.
The spokesman also noted that 50 Ukrainian military specialists trained to work on these howitzers have already completed their training routine and are returning to Ukraine as instructors to teach their comrades-in-arms to operate these artillery systems. It is expected that the training will continue.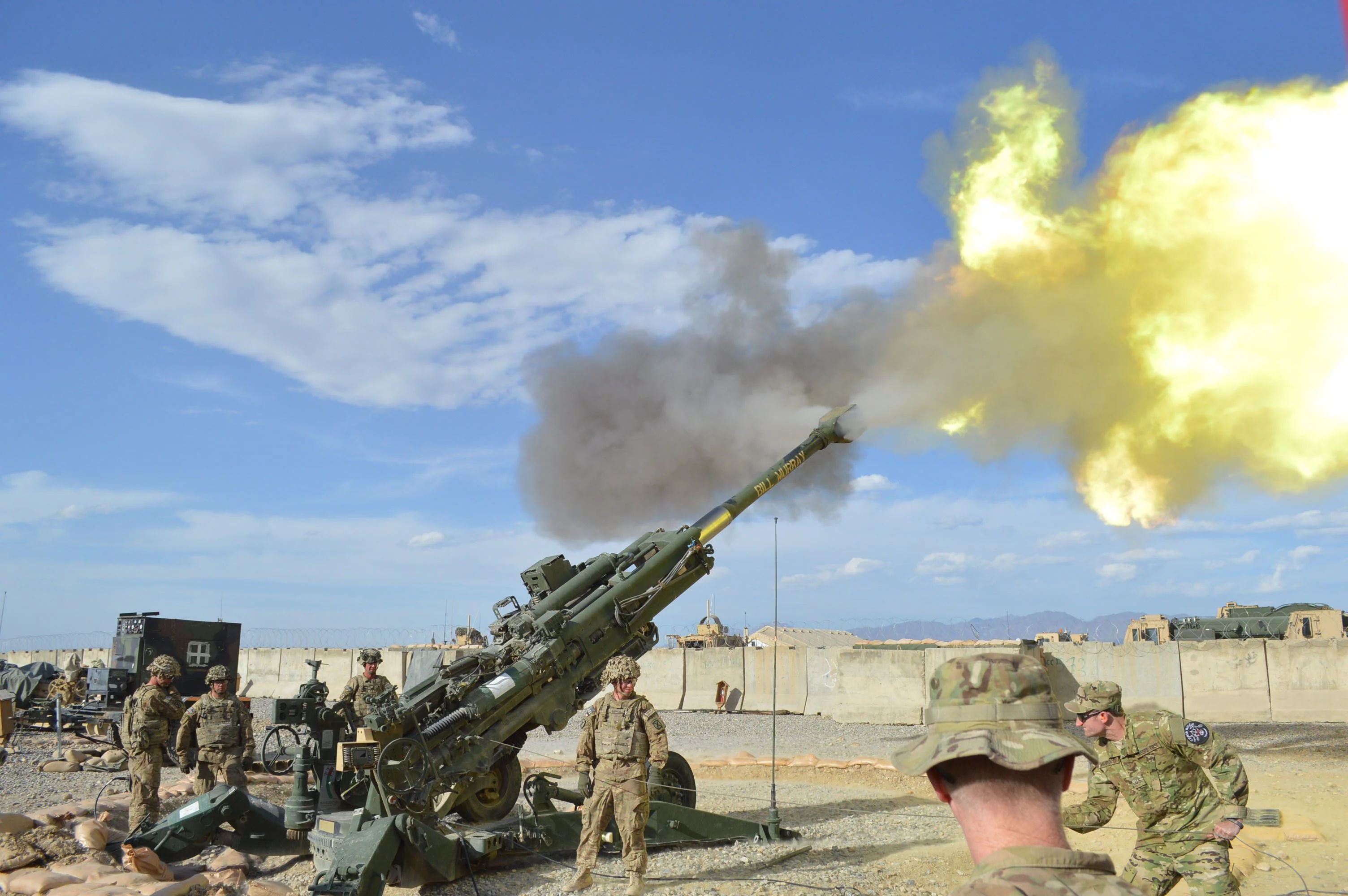 Ukraine with a large tranche of defense assistance, which included 18 M777 155mm howitzers. In April, the U.S. administration approved another large-scale aid package, which includes 72 American howitzers of the same type and hundreds of thousands of shells to them.
01:00 Deputy Head of the Ukraine's President Office Kyrylo Tymoshenko: Russian invaders destroy over 18,000 infrastructure facilities across Ukraine.
Deputy Head of the President's Office Kyrylo Tymoshenko said it at a meeting of the Congress of Local and Regional Authorities dedicated to the country's reconstruction and modernization, an Ukrinform correspondent reports.
"To date, more than 18,000 infrastructure facilities have been destroyed," the senior official said.
Tymoshenko stressed that the priority of the Ukrainian authorities is to create a database where all needs of all settlements across the country would be filed and to develop a concept for their restoration.
According to the official, 14 infrastructure clusters have been formed that need to be restored or modernized. These include residential, educational, medical, sports, motorway, and railway infrastructure, as well as office buildings, landscaping, utilities (water, heat, gas, electricity), public transport, airports, security of each community, and memorials.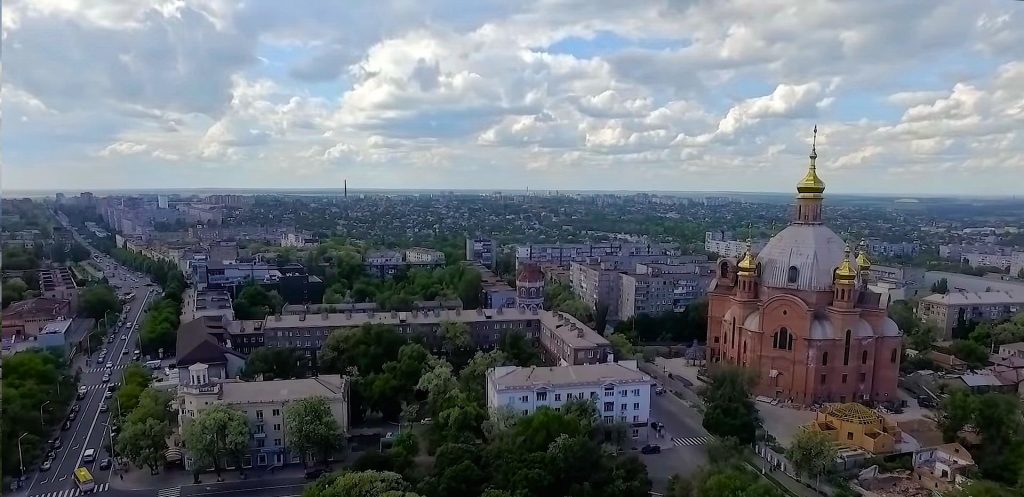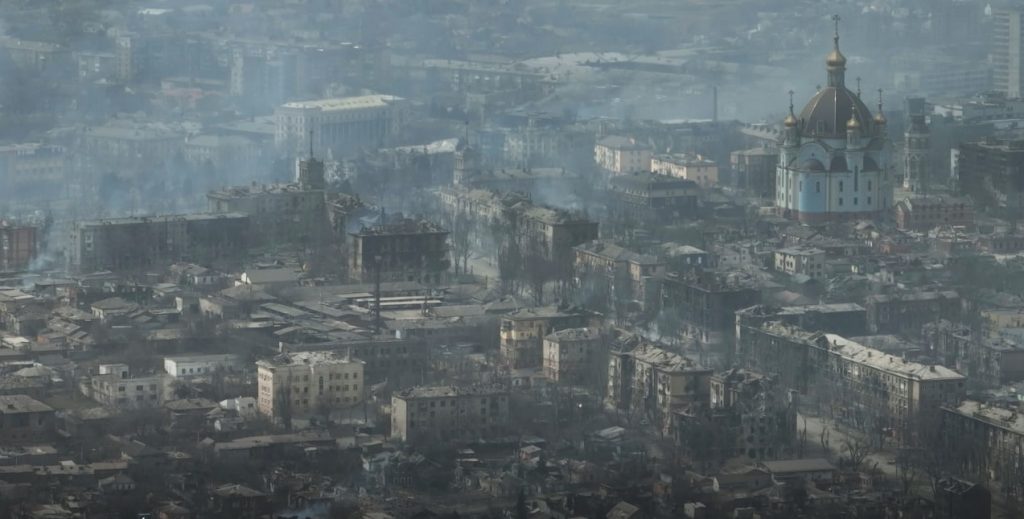 The deputy head of the President's Office clarified that data is now being collected from each affected settlement. Tymoshenko has assured that the authorities will be able to offer the first options for recovery by May 5 at the latest.
00:35 The Head of Donetsk Regional Military Administration Pavlo Kyrylenko: One civilian killed, eight injured in Russia's shelling of Donetsk Region on Wednesday, April 27.
One civilian has been killed and eight injured in Russia's shelling of Donetsk Region over the past day.
The relevant statement was made by the Head of Donetsk Regional Military Administration Pavlo Kyrylenko on Telegram, Ukrinform reports.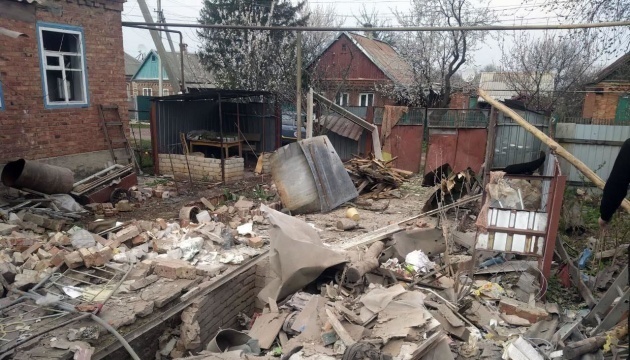 "Russia kills civilians! On April 27, 2022, Russians killed one civilian in Marinka, Donetsk Region. Eight more civilians were injured in shelling," Kyrylenko wrote.
In addition, two persons injured in shelling of Luhansk Region received medical aid in Bakhmut.
According to the infographics posted by Kyrylenko, a total of 275 civilians have been killed and 868 injured in Donetsk Region since the Russian invasion started. This statistics does not include casualties in Mariupol and Volnovakha.
00:25 Armed Forces of Ukraine repeled repels six enemy attacks, destroyed five Russian tanks in JFO area
Ukrainian defenders have repelled six enemy attacks and destroyed five Russian tanks within the Joint Forces Operation (JFO) area over the past day
The relevant statement was made by the JFO's press service on official page on Facebook.
"On April 27, 2022, the Ukrainian military from the JFO Group successfully repelled six enemy attacks. Thanks to the skilful actions and competence of the Ukrainian military, Russian occupiers suffered losses," the report states.
Find more details on the theme in a publication by Defense Express: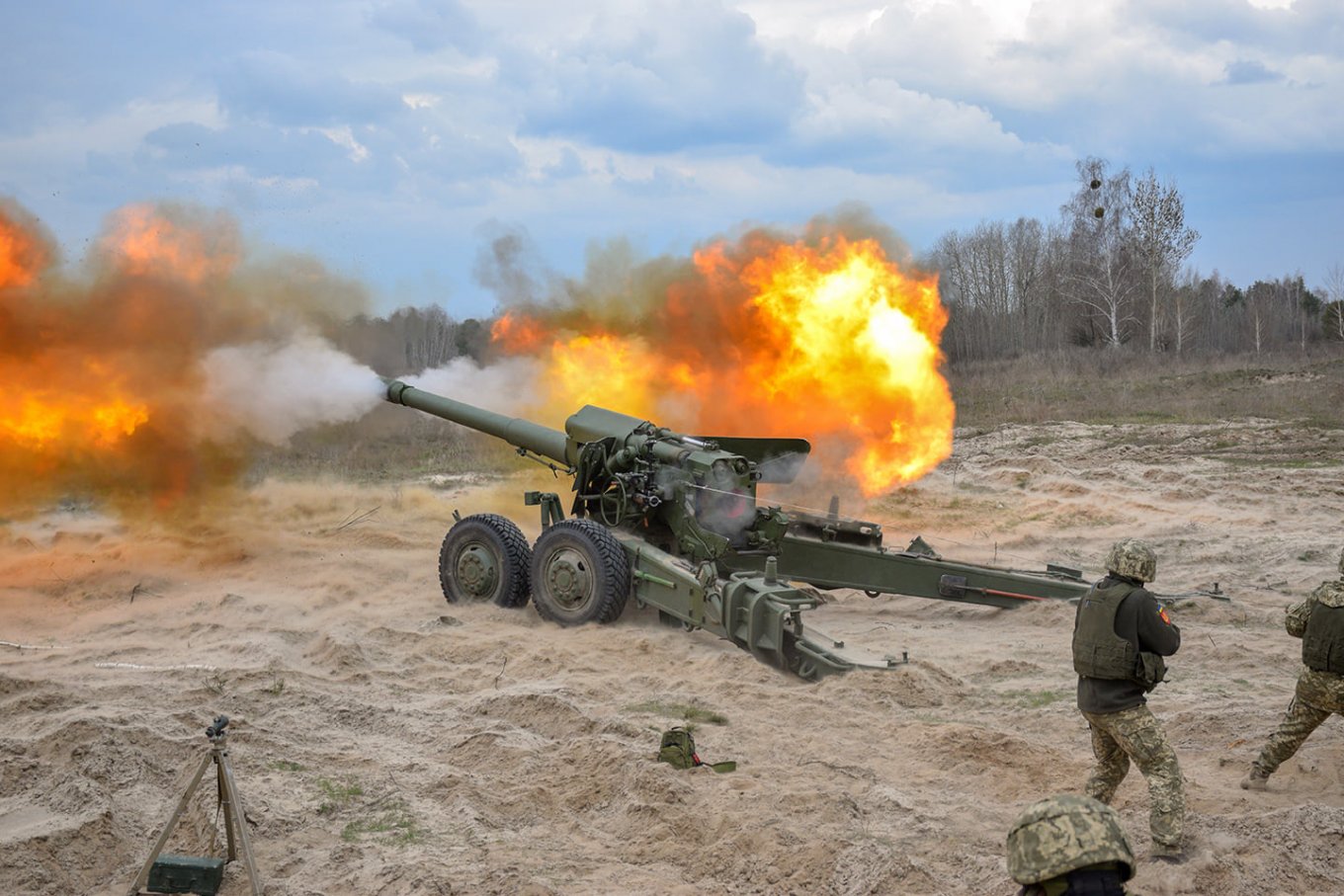 00:05 Mykhailo Podoliak: No agreement reached with Russia so far to evacuate people from Mariupol.
No agreement has been reached with Russia so far to evacuate people from the besieged city of Mariupol.
The relevant statement was made by Advisor to the Head of the Office of the President of Ukraine Mykhailo Podoliak during a telethon, Ukrinform reports.
According to Podoliak, hostilities are raging in Mariupol, and Russia's statements about the seizure of the city by Russian troops are not true. Russian invaders continue to launch air and rocket artillery strikes on the Azovstal plant.
"Unfortunately, as of today, we have been unable either to implement a program of talks with the Russian delegation in Mariupol or to open a humanitarian corridor towards Zaporizhzhia to evacuate our people. The efforts of the President of Turkey to organize a humanitarian corridor and evacuate people via the Sea of Azov were also unsuccessful," Podoliak told.
According to Podoliak, the complete destruction of Mariupol, the Azovstal plant and those staying there seems to be Russia's principled position.
Read more: Day 63rd of War Between Ukraine and Russian Federation (Live Updates)
---
---