Brief facts:
The Advisor to the Head of the Office of the President of Ukraine Mykhailo Podoliak stated that no agreement reached with Russia so far to evacuate people from Mariupol
The United Nations secretary general, António Guterres, has arrived in Ukraine after his visit to Moscow yesterday
UN: 2,787 civilians killed in russia's invasion of Ukraine
Putin agrees "in principle" to UN, Red Cross involvement in evacuations from Mariupol – UN chief's spox
Russia starts gas blackmail of Europe over rouble payment spat
Ukrainian forces down 9 aerial targets Apr 26
President of Ukraine Volodymyr Zelenskyi met with the Prime Minister of Romania Nicolae Ciucă, who was on a Kyiv
Side note: news are marked in accordance with the Kyiv time zone: Eastern European Time (EET), GMT/UTC+2
Read more: The 62th Day of the War: Russian Casualties in Ukraine
Last News
Thank you for your attention! This feed is closed. But Defense Express has already started a new one: Day 64th of War Between Ukraine and Russian Federation (Live Updates)
01:00 Deputy Head of the Ukraine's President Office Kyrylo Tymoshenko: Russian invaders destroy over 18,000 infrastructure facilities across Ukraine.
Deputy Head of the President's Office Kyrylo Tymoshenko said it at a meeting of the Congress of Local and Regional Authorities dedicated to the country's reconstruction and modernization, an Ukrinform correspondent reports.
"To date, more than 18,000 infrastructure facilities have been destroyed," the senior official said.
Tymoshenko stressed that the priority of the Ukrainian authorities is to create a database where all needs of all settlements across the country would be filed and to develop a concept for their restoration.
According to the official, 14 infrastructure clusters have been formed that need to be restored or modernized. These include residential, educational, medical, sports, motorway, and railway infrastructure, as well as office buildings, landscaping, utilities (water, heat, gas, electricity), public transport, airports, security of each community, and memorials.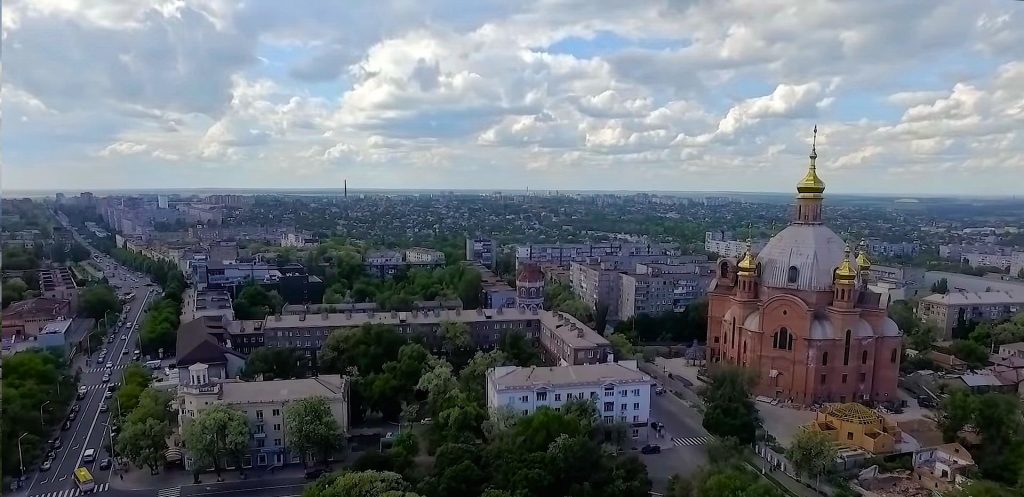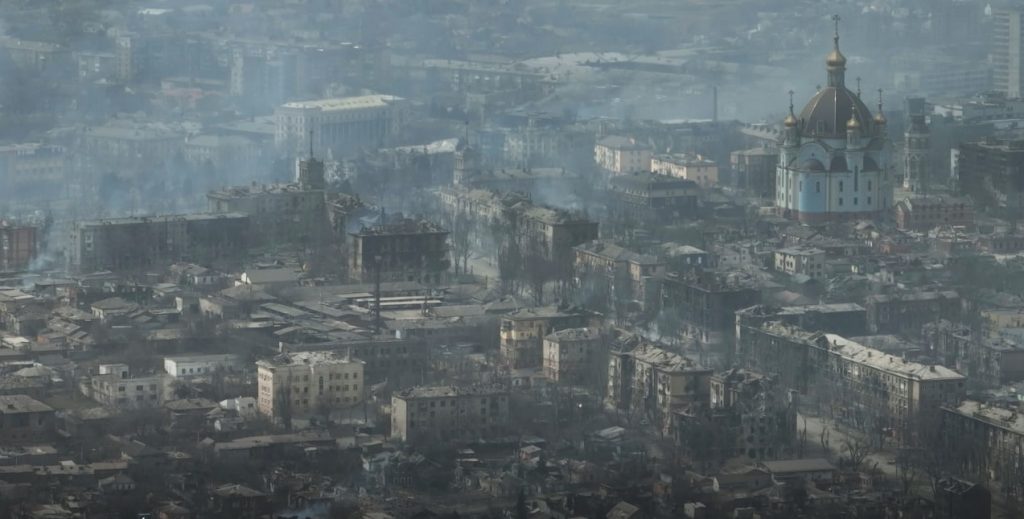 The deputy head of the President's Office clarified that data is now being collected from each affected settlement. Tymoshenko has assured that the authorities will be able to offer the first options for recovery by May 5 at the latest.
00:35 The Head of Donetsk Regional Military Administration Pavlo Kyrylenko: One civilian killed, eight injured in Russia's shelling of Donetsk Region on Wednesday, April 27.
One civilian has been killed and eight injured in Russia's shelling of Donetsk Region over the past day.
The relevant statement was made by the Head of Donetsk Regional Military Administration Pavlo Kyrylenko on Telegram, Ukrinform reports.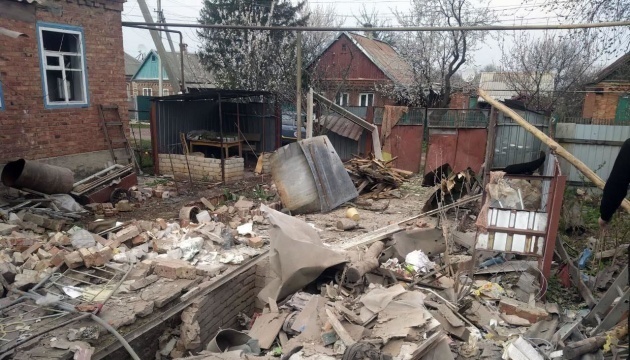 "Russia kills civilians! On April 27, 2022, Russians killed one civilian in Marinka, Donetsk Region. Eight more civilians were injured in shelling," Kyrylenko wrote.
In addition, two persons injured in shelling of Luhansk Region received medical aid in Bakhmut.
According to the infographics posted by Kyrylenko, a total of 275 civilians have been killed and 868 injured in Donetsk Region since the Russian invasion started. This statistics does not include casualties in Mariupol and Volnovakha.
00:15 Armed Forces of Ukraine repeled repels six enemy attacks, destroyed five Russian tanks in JFO area
Ukrainian defenders have repelled six enemy attacks and destroyed five Russian tanks within the Joint Forces Operation (JFO) area over the past day
The relevant statement was made by the JFO's press service on official page on Facebook.
"On April 27, 2022, the Ukrainian military from the JFO Group successfully repelled six enemy attacks. Thanks to the skilful actions and competence of the Ukrainian military, Russian occupiers suffered losses," the report states.
Find more details on the theme in a publication by Defense Express: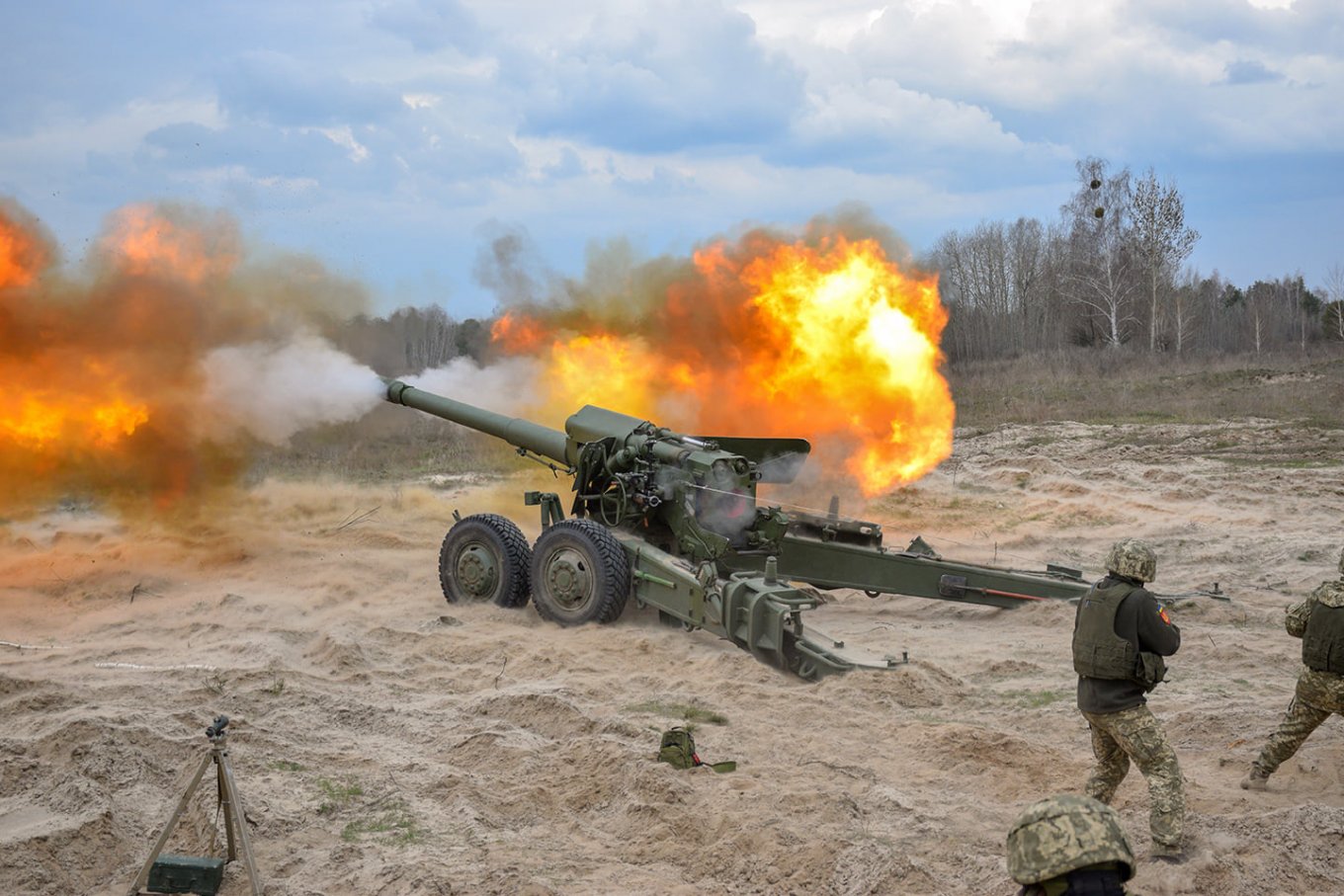 23:40 Mykhailo Podoliak: No agreement reached with Russia so far to evacuate people from Mariupol.
No agreement has been reached with Russia so far to evacuate people from the besieged city of Mariupol.
The relevant statement was made by Advisor to the Head of the Office of the President of Ukraine Mykhailo Podoliak during a telethon, Ukrinform reports.
According to Podoliak, hostilities are raging in Mariupol, and Russia's statements about the seizure of the city by Russian troops are not true. Russian invaders continue to launch air and rocket artillery strikes on the Azovstal plant.
"Unfortunately, as of today, we have been unable either to implement a program of talks with the Russian delegation in Mariupol or to open a humanitarian corridor towards Zaporizhzhia to evacuate our people. The efforts of the President of Turkey to organize a humanitarian corridor and evacuate people via the Sea of Azov were also unsuccessful," Podoliak told.
According to Podoliak, the complete destruction of Mariupol, the Azovstal plant and those staying there seems to be Russia's principled position.
23:25 US secretary of state Antony Blinken told Congress today that the US is working on reopening its embassy in Ukraine. "I think this will play out over the next few weeks," he said.
Blinken also added there there are "very credible reports" that Russians have been "bobby trapping things like peoples' washing machines and toys so that when people are able to return home and go about their lives, they're killed or injured," The Guardian reports.
Blinken in his and defense secretary Lloyd Austin's meeting with Volodymyr Zelenskiy Sunday told the Ukrainian president that the US is working on getting their diplomats back into the country. On Wednesday, the state department said that diplomats have traveled from Poland to Lviv in western Ukraine.
22:50 Ukrainian military destroy 75 enemy troops, one IFV in eastern Ukraine
On April 27, 2022, within the control area of the East Operational Tactical Group, Russian troops launched three attacks and suffered losses.
The relevant statement was made by the East Operational Tactical Group on Facebook, Ukrinform reports.
Find more details on the theme in a publication by Defense Express: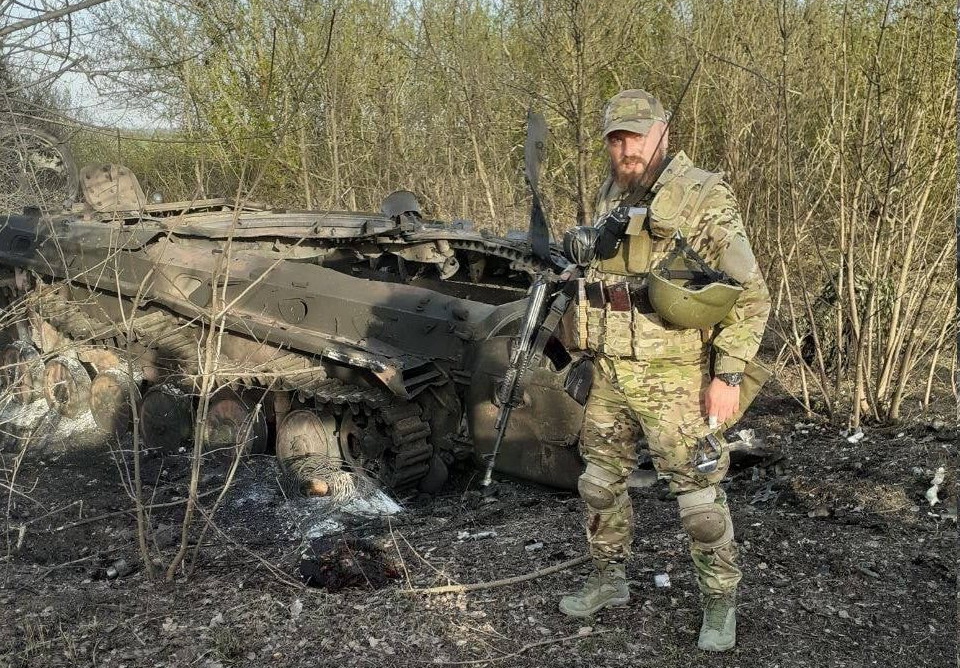 22:10 Oleksiy Arestovych: Russian troops significantly slow down advance towards Zaporizhzhia.
Russian troops have significantly slowed down their advance towards the city of Zaporizhzhia.
The relevant statement was made by Advisor to the Head of the Ukrainian President's Office Oleksiy Arestovych at a briefing, Ukrinform reports.
"In the direction of Huliaipole and Zaporizhzhia, the enemy has significantly slowed down their advance. In some areas, they have not advanced at all," Arestovych told.
Russian invaders are mainly focusing efforts on the Joint Forces Operation (JFO) area and the city of Mariupol, Donetsk Region.
"Over the past day, the military and political situation around Ukraine has not changed significantly. Ukrainian forces are conducting a strategic defensive operation. Russian troops are mainly focusing efforts on the JFO area in the direction of Sloviansk-Kramatorsk and Mariupol," Arestovych noted.
In his words, the enemy continues to make attempts to defeat the Ukrainian forces within the Mariupol-based Azovstal plant but has no success.
21:30 President of Ukraine Volodymyr Zelenskiy: EU 'must include' oil embargo in Russia sanctions, says Zelenskiy.
Ukraine's President, Volodymyr Zelenskiy, has thanked the European Commission for its proposed suspension of import duties on all Ukrainian products to help the country's economy, The Guardian reports.
Zelenskiy tweeted that he had spoken with the Commission's president, Ursula von der Leyen, about further support for Ukraine as well as a sixth package of sanctions against Russia, which he said "must include oil embargo".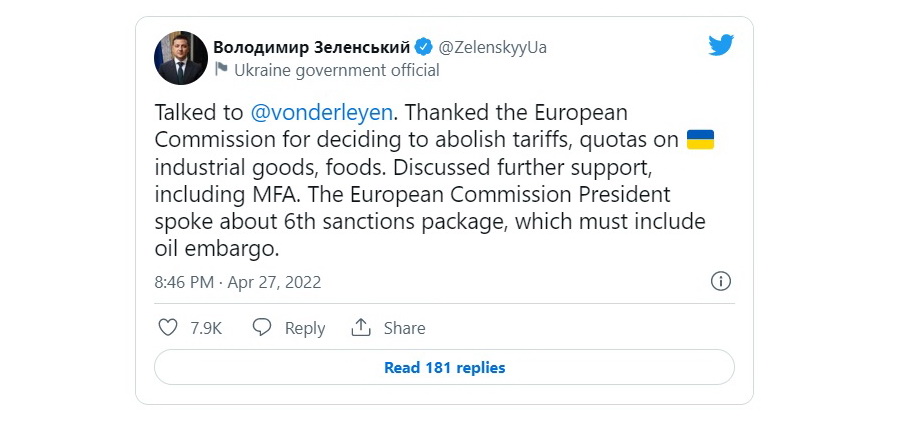 20:55 The General Staff of the Arme
d Forces of Ukraine published operational information as of 18.00 on April 27, 2022regarding the russian invasion.
According to the General Staff of the Armed Forces of Ukraine reports A russian federation continues its full-scale armed aggression against Ukraine. But russian forces fail at breaking Ukrainian defense lines in the east despite heavy shelling. Ukraine's military reported on April 27 that russian troops are replenishing their stocks in the occupied parts of the southern Ukrainian regions.
Find more details on the theme in a publication by Defense Express: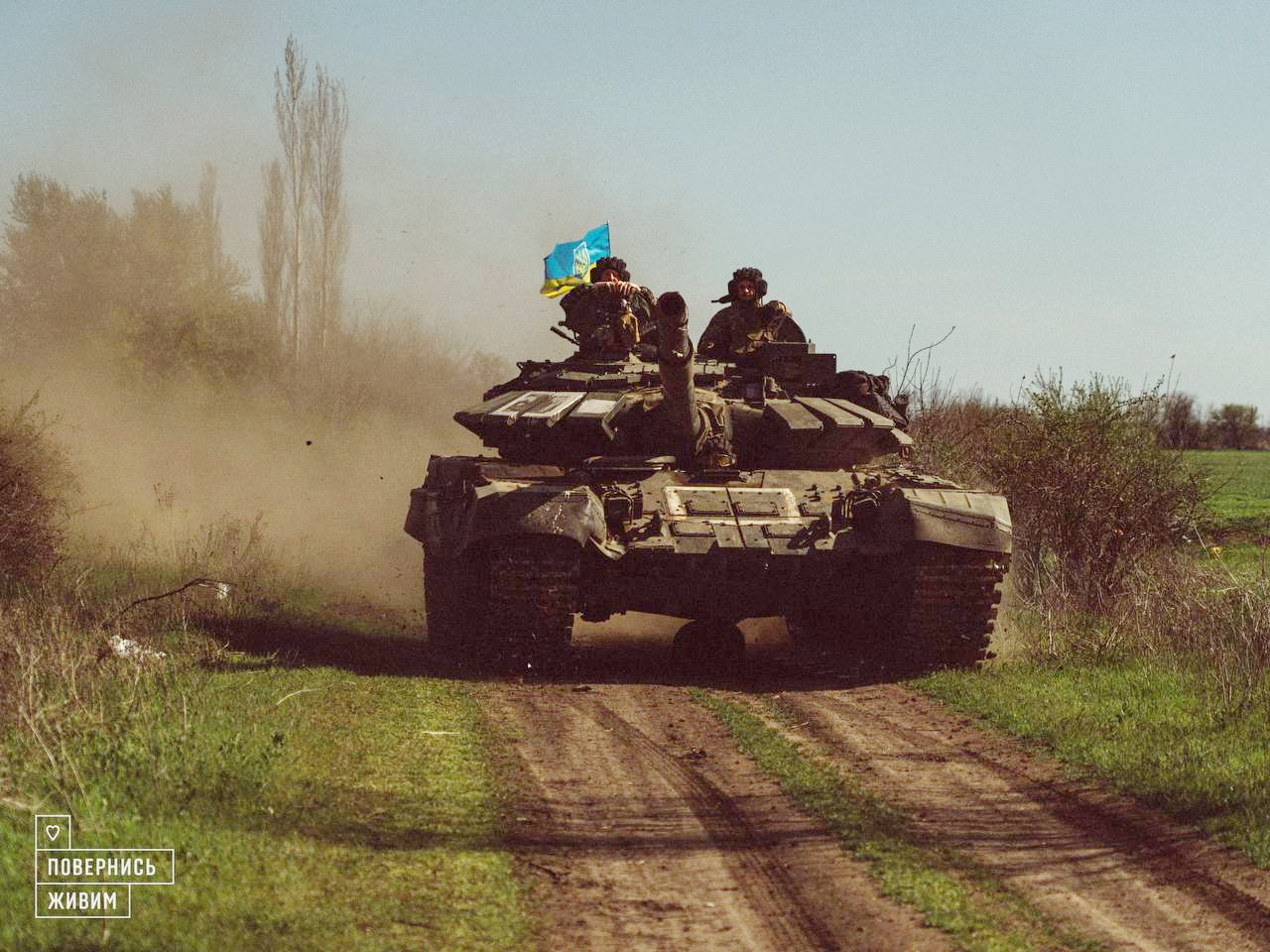 20:00 A top executive at one of Russia's largest private banks said he has quit his post and fled to Kyiv to fight for Ukraine.
Ukrainian-born Igor Volobuev, vice president of Gazprombank, said he "could no longer be in Russia" and that he wants to "wash off" his Russian past, The Guardian reports.
In an interview with the independent Russian news outlet The Insider, Volobuev said he wanted to join the Ukrainian territorial defence after Russia invaded on 14 February.
Volobuev said: "I could no longer be in Russia. I am Ukrainian by nationality, I was born in Akhtyrka, I could no longer observe from the outside what Russia is doing to my homeland."
Volobuev said he worked for six years at Gazprombank, a subsidiary of the Russian energy giant, as well as Gazprom for over 16 years. He said he now wanted "to stay in Ukraine until the victory".
He said: "My homeland is in danger now, and I cannot live a well-fed, contented life while my father, who lives in Akhtyrka, is being killed, when my relatives, acquaintances, friends are being killed."
His father spent a month in a cold basement but is now safe, he said. He described his visit to Kyiv as "like repentance", adding: "I want to wash off my Russian past. I want to stay in Ukraine until the victory."
19:30 The United Nations secretary general, António Guterres, has arrived in Ukraine after his visit to Moscow yesterday.
Guterres tweeted that "the sooner this war ends, the better – for the sake of Ukraine, Russia, and the world," – The Guardian reports.
18:50 UN: 2,787 civilians killed in russia's invasion of Ukraine.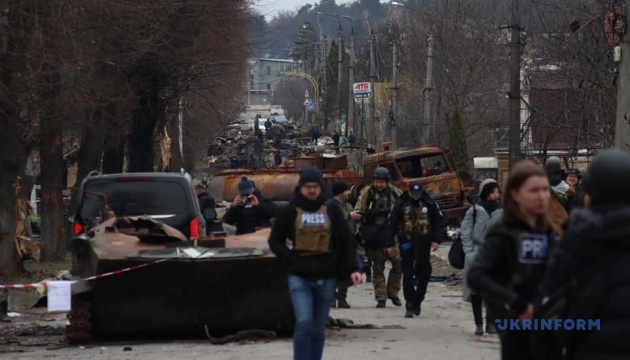 As the Office of the United Nations High Commissioner for Human Rights report reads, a total of 2,787 civilians were killed (912 men, 611 women, 61 girls, and 74 boys, as well as 67 children and 1,062 adults whose sex is yet unknown) from 4 a.m. on 24 February 2022 to 24:00 midnight on 26 April 2022. Moreover, a total of 3,152 people were injured (365 men, 296 women, 66 girls, and 73 boys, as well as 163 children and 2,189 adults whose sex is yet unknown) over the mentioned period, Ukrinform reports.
OHCHR believes that the actual figures are considerably higher, as the receipt of information from some locations where intense hostilities have been going on has been delayed and many reports are still pending corroboration.
18:30 The Head of Luhansk Military Administration Serhiy Haidai: Russians shell hospital in Sievierodonetsk, kill one woman.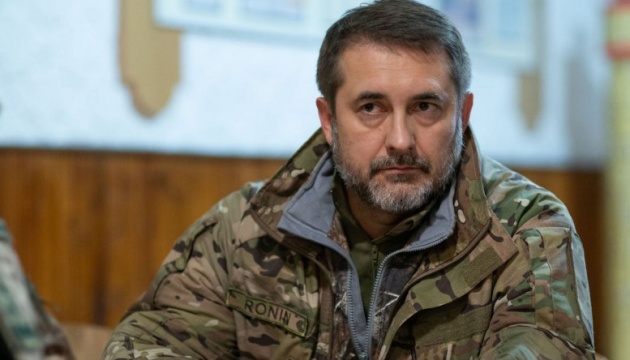 Two hospitals in the towns of Sievierodonetsk and Lysychansk are the only ones that are currently working in Luhansk Oblast. The attack on one of them on April 27 "was Russia's attempt to kill the injured and those who help the locals survive," Haidai said, Kyiv Independent reports.
17:45 Supplying Ukraine with US-manufactured M270 or HIMARS is covered with mystery. There was not much information about having them on the battlefield, up until recently.
The Main Directorate of Intelligence of the Ministry of Defense of Ukraine published a very curious post regarding US-made MLRS.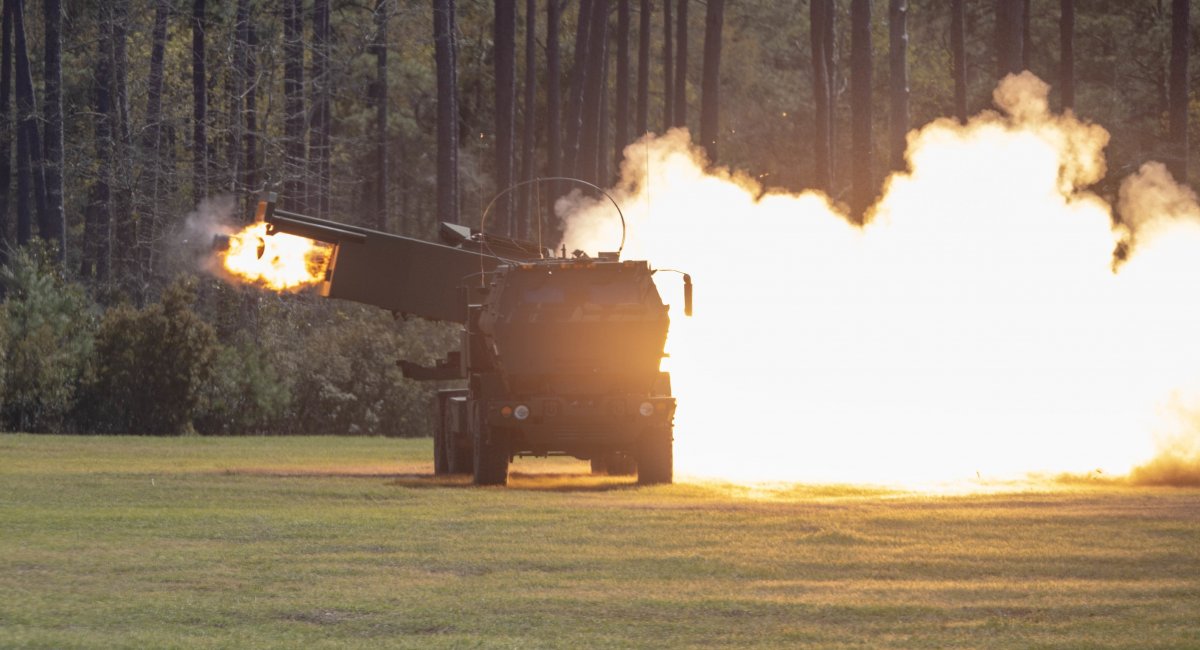 16:55 A spokesman for the Ministry of Defense of Ukraine Oleksandr Motuzianyk: Russians increasing pace of offensive in Slobozhanskyi and Donetsk directions.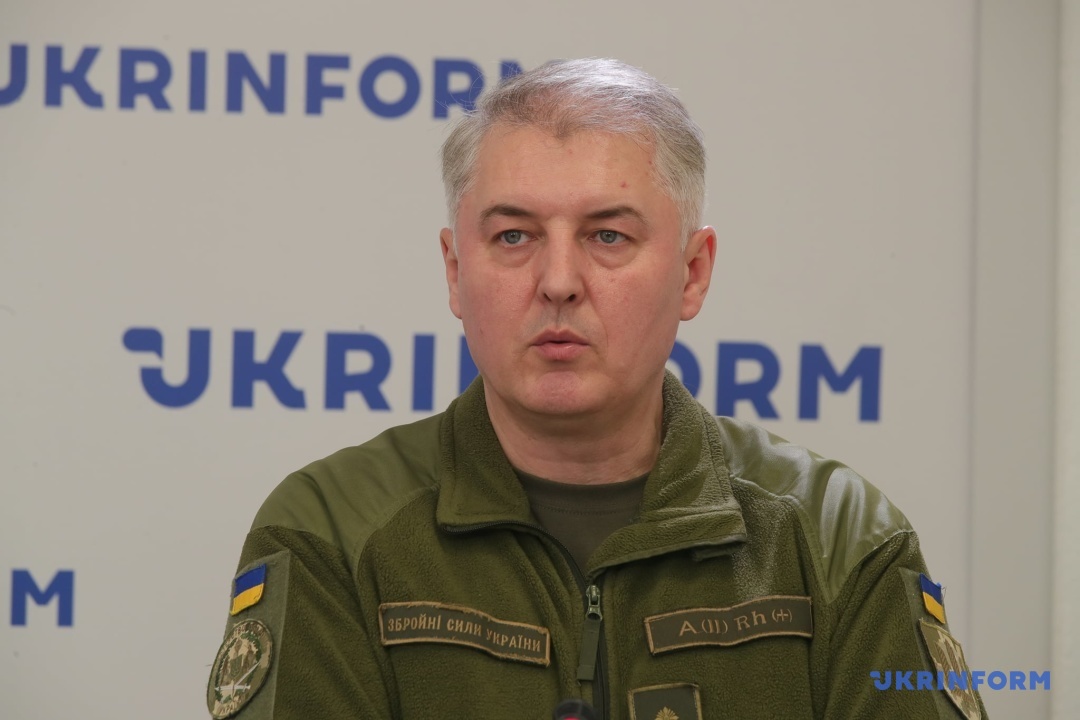 "The enemy is conducting an offensive operation in the Eastern Operational Zone. The main goal of the enemy remains to establish full control over the territories of Donetsk and Luhansk regions and to provide a land corridor to occupied Crimea with the occupied territory of the Autonomous Republic of Crimea. The enemy increases the pace of the offensive operation," Motuzianyk said at briefing, Ukrinform reports.
16:20 The press service of the Operational Command South reported: the Armed Forces of Ukraine conduct 13 strikes on enemy's positions.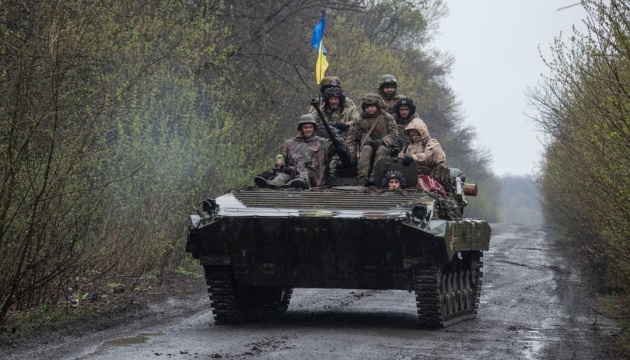 "Last night the enemy continued fighting on the occupied frontiers in Kherson and Mykolaiv regions. Their main tactic remains artillery and mortar shelling of both our positions and civilians in those settlements that the enemy has retreated, but is trying to keep under control. It uses them to cover itself from defeats from our divisions. Due to the effective actions of our units, 13 accurate strikes were carried out on the enemy's positions," the press service says, Ukrinform reports.
Defense Express also offers to look at russia's casualties in figures
16:00 Economical sanctions applied against russia and foreign companies that would trade with russia gradually show the result. This time it's very popular in russia major manufacturer of UAVs for civilian use DJI which isn't going to sell the product both in enemy's market and Ukraine's as well.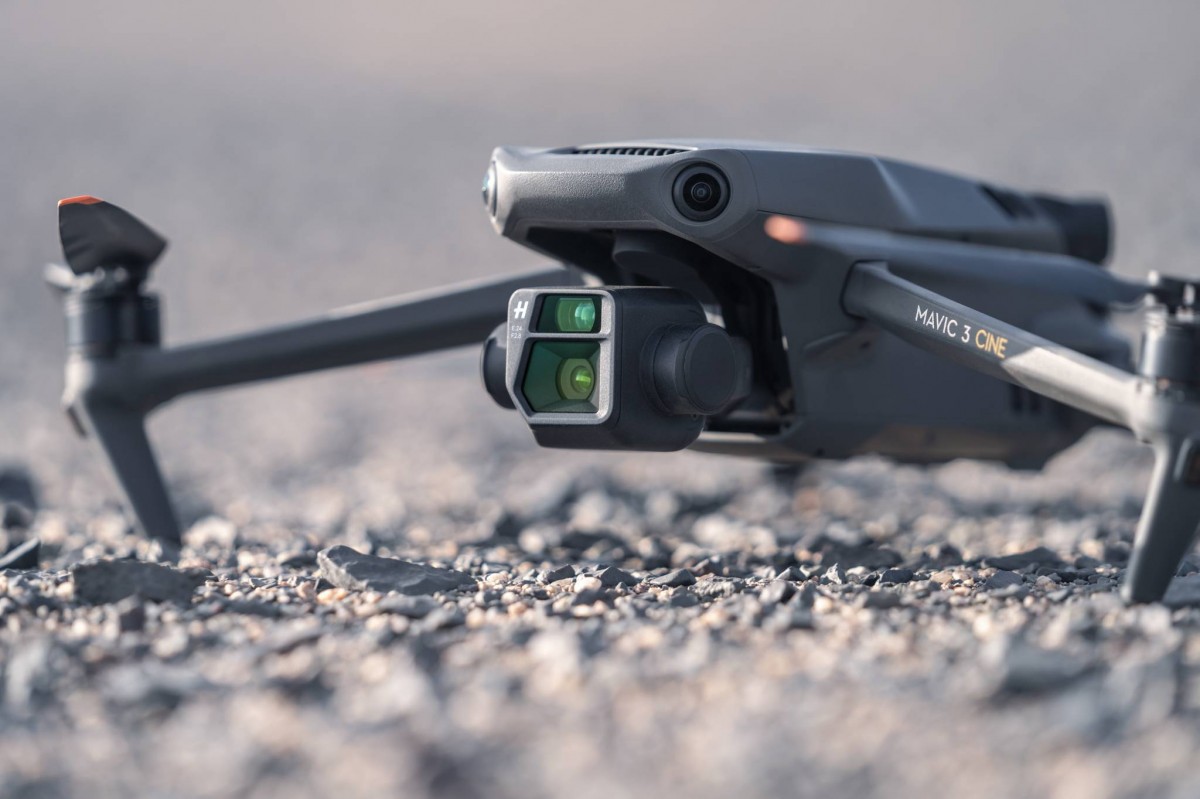 15:20 The governor of Donetsk Oblast Pavlo Kyrylenko: Russia uses white phosphorus bombs in Avdiivka.
"Russian forces attacked Avdiivka with white phosphorus bombs, hitting the area near the local coke-chemical plant on April 26, as well as the town's center on the morning of April 27", Pavlo Kyrylenko says, Kyiv Independent reports.
14:50 Dnipropetrovsk Regional Military Administration head Valentyn Reznichenko: Russian missile shot down over Dnipropetrovsk region.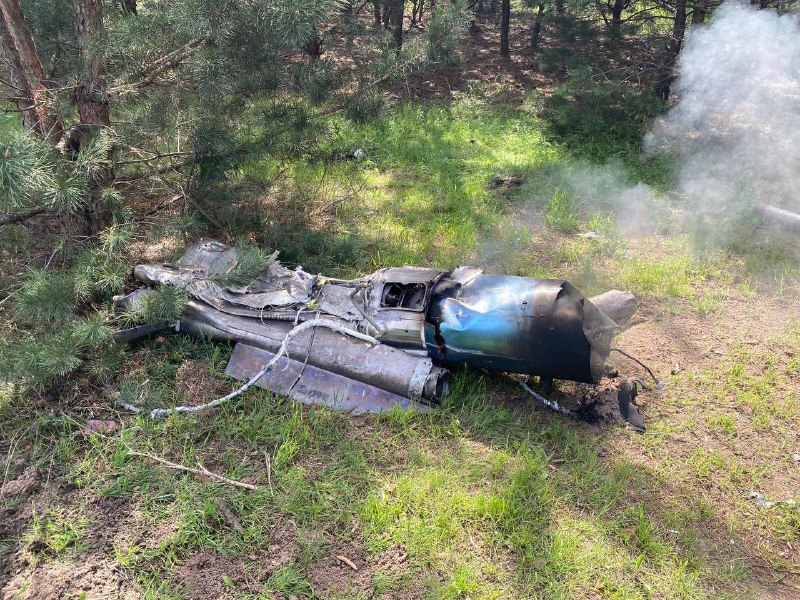 "It was a good morning for us, not a good one for the orcs. Our military shot down an enemy missile over Dnipropetrovsk Region," Reznichenko said, Ukrinform reports.
The official added that the wreckage fell on a clearing and nobody was hurt on the ground.
14: 40 Kremlin spokesman Dmitry Peskov: No talks on Medvedchuk's exchange for Mariupol servicemen.
"No, this is not being discussed," Peskov said in response to journalists' questions about talks on the exchange of Medvedchuk on the terms set by Ukraine, Interfax reports.
14:15 Australian media: Australia to send Ukraine howitzers, ammo.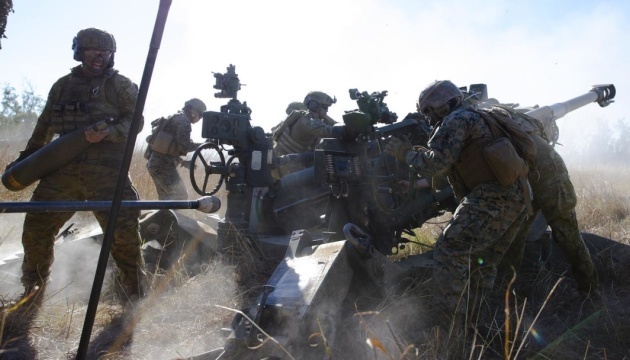 The $26.7 million package of military assistance will see Ukraine provided with six M777 lightweight towed howitzers along with ammunition as Russia steps up its offensive in the Donbas region.
That's according to Australian Associated Press, Ukrinform reports.
13:50 Artillery is surely considered to be the God of war, that's why Ukraine is getting different kinds of howitzers and self-propelled guns as a part of military aid first of all. But which artillery is better? And what are their specs? How many of them are coming to Ukraine and where from?

13:15 An adviser to the Mayor of Mariupol, Petro Andriushchenko: Airstrikes on Azovstal continue in Mariupol.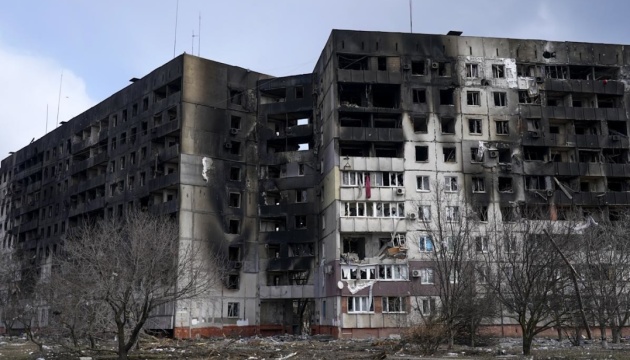 "Airstrikes on Azovstal do not subside. No silence, but attempts at the assault (of the premises - ed.) repeat again and again, despite all declarations. The only thing is that reports of the firefights have disappeared from the media space abruptly. At the same time, urban fighting is once again ongoing in the area away from Azovstal's management HQ – up to Ukrainskoho Kozatstva Street (Veselka Park)," wrote Andriushchenko, Ukrinform reports.
12:35 Over the past day Russian invaders have intensively shelled a number of settlements in the Luhansk region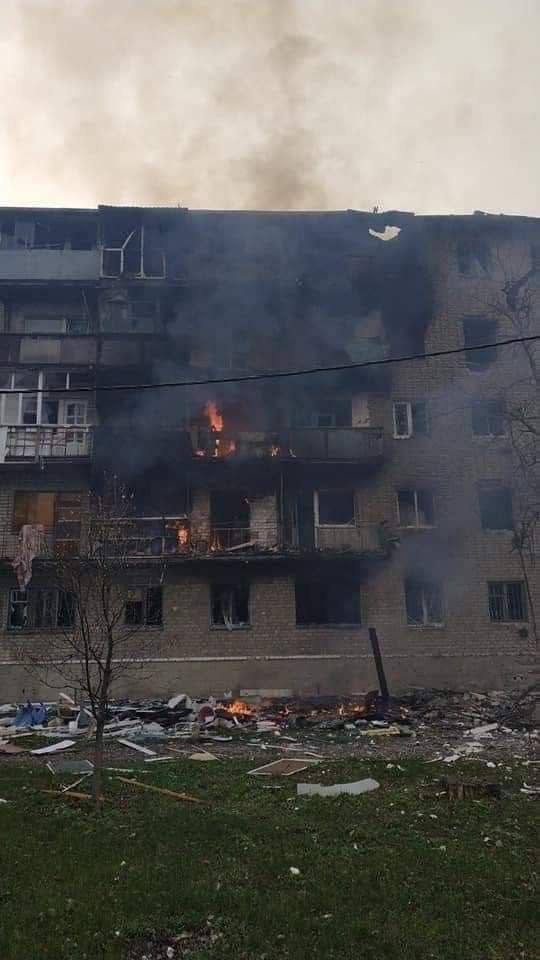 Yesterday, russian forces shelled a school in Lysychansk, where 23 people were hiding, Ministry of Internal Affairs of Ukraine informs. Everyone is safe. Residential buildings were shelled in Bilohorivka, many caught fires, which caused ruination.
On the evening of April 26, Russians twice shelled Avdiivka of the Donetsk region with phosphorus projectiles. One of them fell on the central part of the city, a few fires broke out. An air raid followed after the strikes, said Pavlo Kyrylenko, Head of Donetsk region administration.
11:49 Russian invaders have raped at least 400 children and adults in Ukraine
These are only officially reported cases of sexual violence from Russians gathered by the Ukrainian human rights commissioner's office. To date, there have been about 400 applications from citizens, Ombudsperson Lyudmyla Denisova told Suspilne TV channel, reported by internal affairs adviser Anton Gerashchenko.
Calls to the Ombudsman's hotline about the need to receive psychological assistance began to arrive at the end of March, when the Ukrainian military began to liberate the cities of the Kyiv region and local residents were able to leave the basements.
11:32 An update on russian losses in Ukraine was published by General Staff of the Armed Forces of Ukraine.
+ 300 personnel and more than 30 armor destroyed
Find out more in the infographic by Defense Express:
10:45 Russian special services try to aggravate the situation in Transnistria, but Ukrainian Armed Forces are ready for everything – Zelensky
President of Ukraine Volodymyr Zelensky said he consulted with his Moldovan counterpart Maia Sandu and the Prime Minister of Romania Nicolae Ciuca. Zelensky said, the officials agreed on the point that russian special services are working in the region, trying to destabilize the situation.
"As for the Russian military, permanently present in the temporarily occupied territory of Moldova in Transnistria, we know that they are in constant readiness, waiting for this or that order, but we understand their capabilities and the Ukrainian armed forces are ready for them," the President said.
Read more on the topic:

10:30 UK Ministry of Defense released an intelligence update on the situation In Ukraine. This one is focused on the air supremacy
According to the British intelligence, Ukraine controls the majority of its airspace which limits russia's capabilities of deep strikes and use of their "standoff" weaponry, using indiscriminate free-fall bombs on Mariupol instead and providing limited air support to the ground forces.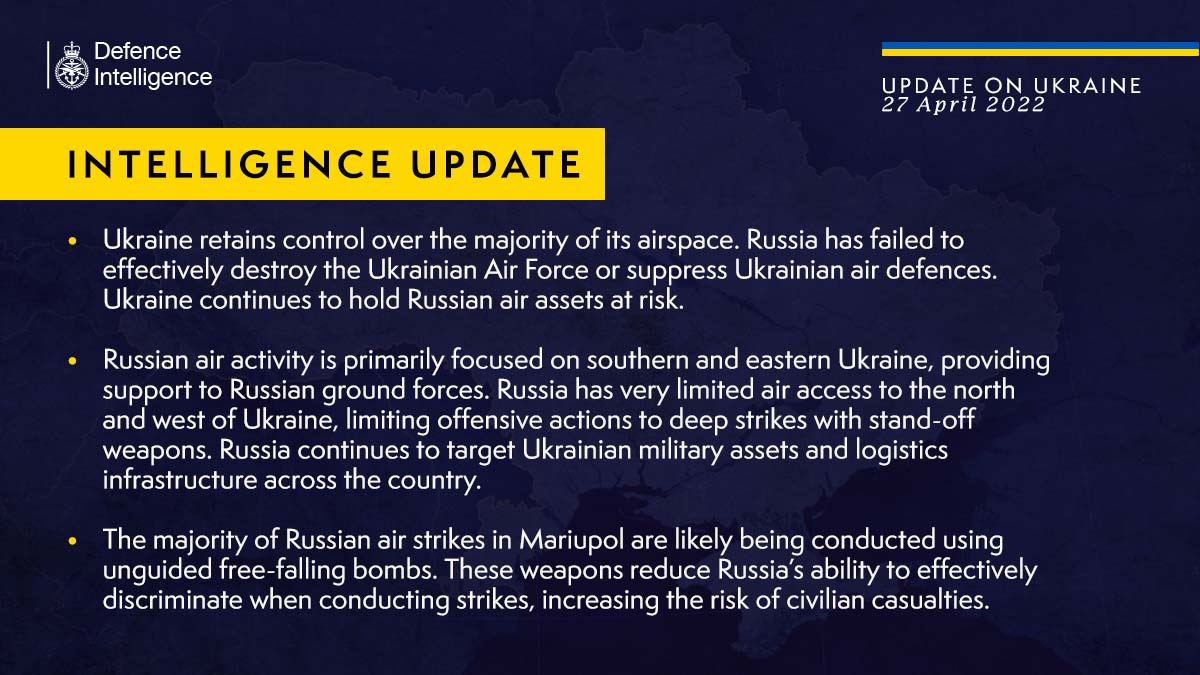 10:05 US Department of Defense establishes control center for Ukraine military aid in Germany
The Department of Defense has established a control center to coordinate shipments and "streamline the delivery" of military assistance to Ukraine provided by Ukraine's partners, a senior US defense official told CNN.
The EUCOM Control Center of Ukraine, or ECCU, is based at US European Command headquarters in Stuttgart, Germany. The control center, along with US personnel, includes staff from 15 other supporting nations in Stuttgart, the official said. The control center will also manage the network of more than 40 partner and allied nations that met in Germany earlier on April 26 and are providing assistance to Ukraine.
This new group of allies will meet once a month, US Secretary of Defense Lloyd Austin said at the first meeting on Ramstein air base earlier this Tuesday.
More details on the issue: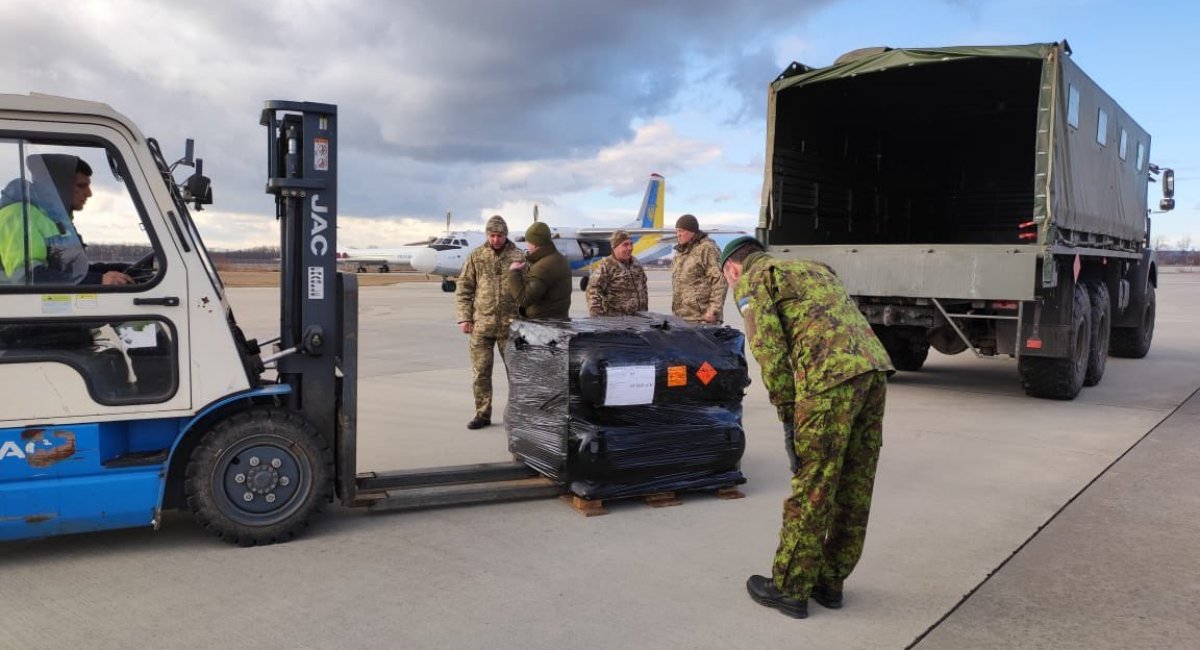 09:37
Russian FSB is spreading panic in Transnistria
Security Service of Ukraine (SSU) informs, that russian special services have intensified their efforts to intimidate the population of Moldova. In particular, the Federal Security Service of russian federation (FSB) started spreading fake "appeals" by SSU to the people living on the territory of the unrecognized "Pridnestrovian Moldavian Republic". Those appeals mention an alleged call for evacuation, as there will be artillery strikes from Ukrainian territory.
Ukrainian security service warns of a possible provocation from russia to further escalate the situation.
09:27 Territorial Defence of the Armed Forces of Ukraine struck russian positions in the Zaporizhzhia direction. The footage features the results achieved by Ukrainian artillery:
08:54 Three cruise missiles were launched on the Odesa region on the night of April 27
One of the rockets hit a bridge over Dniester Estuary in Bilhorod-Dnistrovskyi, another one fell nearby and the remaining one fell into the water, said Maksym Marchenko, the Head of the Odesa region administration. According to him, russians want to cut off a part of the Odesa region and create tension in the background of the issues in Transnistria.
Operational Command "South" of the Ukrainian Armed Forces reports no casualties in the aftermath of the strike, repair works are underway.
08:32 Ukrainian forces attacked the occupied Zmiinyi island in the south
"A hit on the management point recorded, and destruction of a 'Strela-10' air defense system, the enemy casualties are being clarified," reads the report by Operational Command "South" of the Ukrainian Armed Forces.
Also, an identified number of russian fleet is eliminated, according to the report, as well as 16 personnel, a tank, two armored and two special vehicles in the southern operational zone.
08:02 General Staff has released an operational update on the state of warfare. Key points of the report:
The greatest activity of russian occupying forces is observed in the Slobozhansky and Donetsk directions.
Russians try to replenish losses by opening storage in warehouses and bases of military districts, the equipment is being transported by rail.
The invaders managed to take control of a few settlements: Zavody in Izium direction, Zarichne in the Lyman direction, Novotoshkivske in Severodonetsk direction
Russians reinforced their offensive in Izium direction with two battalion tactical groops of paratroopers, two missile divisions of "Iskander-M" (SS-26 Stone) mobile short-range ballistic missile system were deployed in the adjacent Belgorod region, Russia.
The enemy continues heavy shelling and blocking of Azovstal steel plant in Mariupol.
In the South, Russians' main efforts focus on maintaining the previously occupied frontiers
Over the past 24 hours Ukrainian warriors have hit seven air targets: a Su-25 plane, a Ka-52 helicopter, three operational-tactical UAVs and two cruise missiles.
In the Donetsk and Luhansk regions alone, nine enemy attacks were repulsed, destroyed:
nine tanks,
eleven artillery systems,
four units of special and seventeen units of armoured vehicles,
three units of special engineering and sixteen units of motor vehicles,
four units of motor vehicles,
four anti-aircraft systems.
Ukrainian air raids caused significant losses to the occupiers.
A more detailed report is available in regular coverage by Defense Express:
07:31 Norway will provide $ 44 million for Ukraine to buy weapons
Prime Minister of Norway Jonas Gahr Stoere said 400 million Norwegian crowns worth of aid will be handed over to Ukraine under the initiative by Great Britain, Reuters report.
Norway may also make additional direct shipments of weapons to Ukraine on top of those it has already made, namely the Mistral air defense systems, announced in late April.
07:12 Russia has used more than 1,300 missiles in Ukraine since February 24
"According to our data, their reserves have already more than halved since they have been actively using them since February 24. Μore than 1,000 rockets have already been used. To be more precise, more than 1,300 missiles," Hanna Maliar, Deputy Defense Minister of Ukraine, told journalists on TV air, Ukrinform reports.
These include sea-, air-, and ground-launched missiles. However, according to the deputy minister, there are still enough missiles in Russia to cause serious damage to Ukrainian infrastructure.
More details: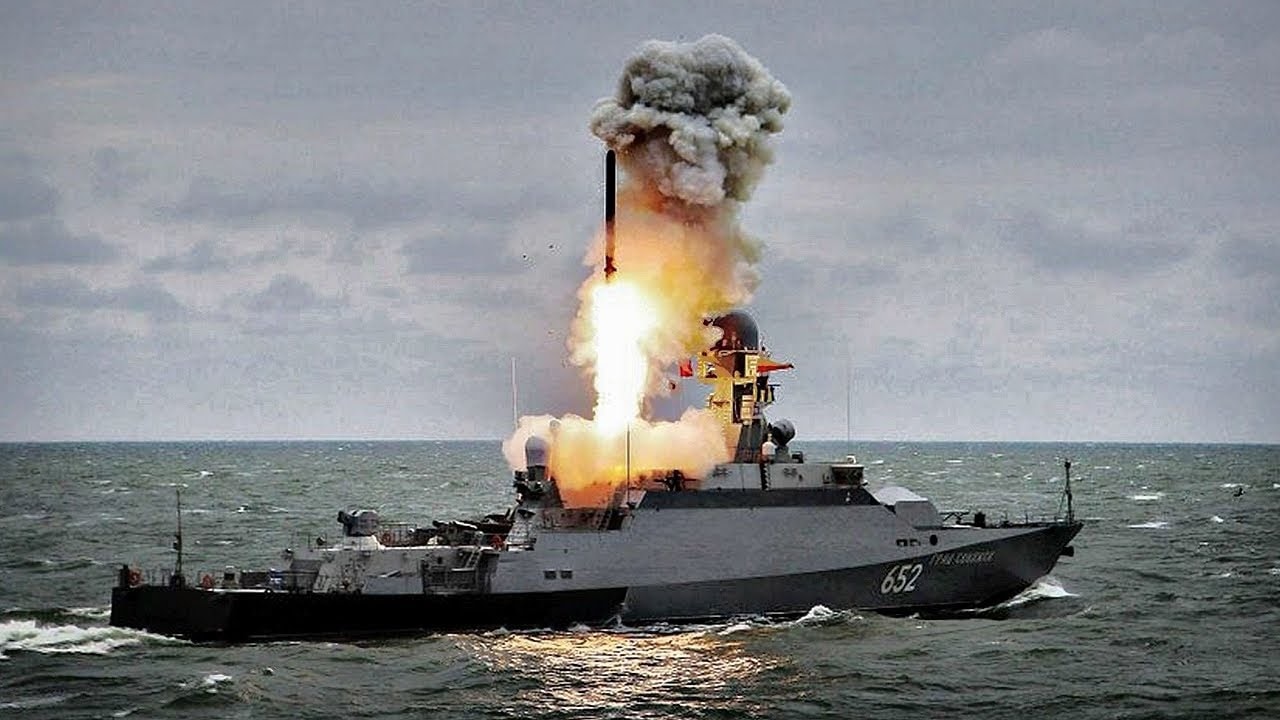 05:20
On Tuesday, April 26, the Air Defense Forces of the Armed Forces of Ukraine eliminated 9 enemy air targets: 1 helicopters, 1 aircraft, 2 cruise-missile and 3 drones
It was stated by the Air Force Command of the Armed Forces of Ukraine in its official account on Facebook. Ukraine's Air Force Command state affirmed that russia's one Su-25 fighter, one Ka-52, 2 cruise-missile and 3 drones Orlan-10 UAV were among the targets.
Defense Express reminds, that as of early April 26 the enemy has already lost 154 helicopters and 184 combat jets.