Brief facts:
Canada will provide Ukraine with NLAW anti-tank weapons
The United States has announced new sanctions against Russia.
In Odesa oblast today at 16:20, Russia fired 3 missiles from aircraft from the Black Sea
Ukrainian defenders withdrew from Popasna city.
The first stage of evacuation mission from Azovstal in Mariupol finished successfully – women, children, elderly people rescued.
Russians dropped a bomb on a school with 90 civilians in Bilohorivka, Luhansk region.
Russian air strike on Odesa: six missiles; airfield runway, residential areas and infrastructure damaged, no casualties.
US officials: Biden to sign new $100 million weapons package for Ukraine.
Side note: news are marked in accordance with the Kyiv time zone: Eastern European Time (EET), GMT/UTC+2
Read more: Two Bayraktar TB2 UAVs Hunt and Destroy russia's Tor Air-Defense Missile System on Ukraine's Island (Video)
Latest news
00:57 The U.S. Department of the Treasury has published a list of Russian companies and individuals, on which new sanctions were imposed on May 8, 2022. The relevant statement was made on the website of the U.S. Department of the Treasury.
"Today, the U.S. Department of the Treasury's Office of Foreign Assets Control (OFAC) designated individuals and entities critical to Russia's ability to wage war against Ukraine. These include the board members of two of Russia's most important banks, a Russian state-owned bank and 10 of its subsidiaries, a state-supported weapons manufacturer, and three of Russia's state-controlled television stations that generate revenue for the state," the report states.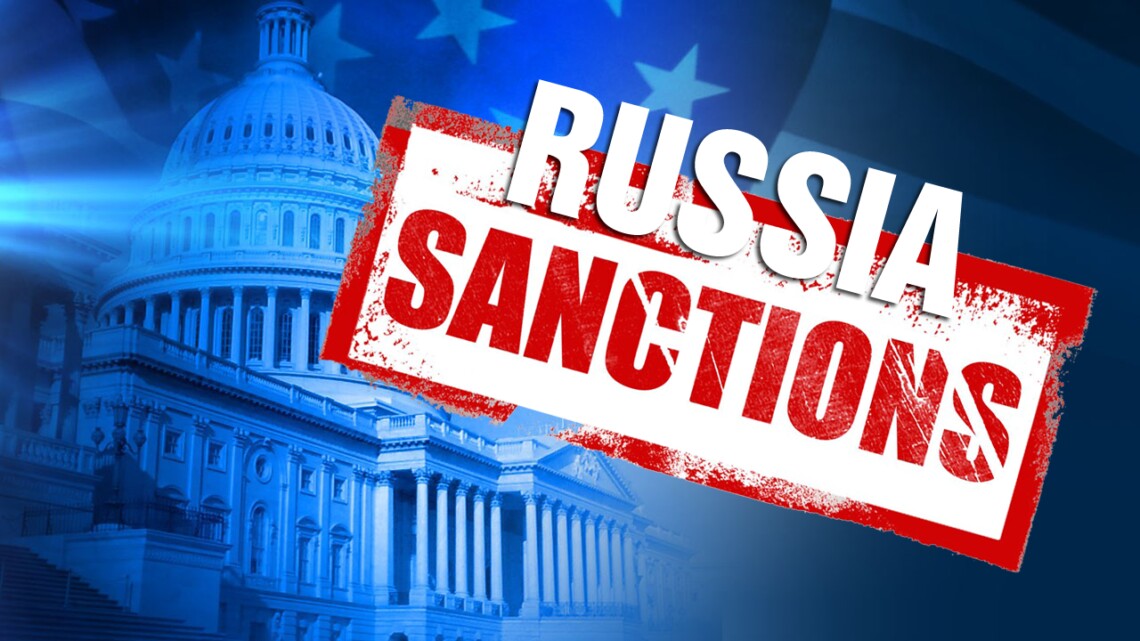 On February 24, OFAC designated the First Deputy Chairman of the Executive Board of Public Joint Stock Company Sberbank of Russia (Sberbank). Today, OFAC has designated eight other current and recent members of the Executive Board of Sberbank. In addition, OFAC designated 27 members of Gazprombank's Board of Directors.
The sanctions list also included Moscow Industrial Bank (MIB), which is a state-owned bank actively involved in Russia's financial services sector, and 10 of its subsidiaries, namely Agropromyshlenny Kompleks Voronezhski OOO, Anninskii Elevator OOO, Auditkonsalt OOO, Belinveststroi OOO, Dve Stolitsy OOO, Kontrakt OOO, Ladoga OOO, Nekommercheskaya Organizatsiya Fond Khimicheskoe Razoruzhenie I Konversiya, Azovskaya Zernovaya Kompaniya OOO, Ekspluatiruyushchaya Kompaniya Tsentr OOO.
Sanctions were also introduced against Promtekhnologiya LLC, which produces rifles under the ORSIS brand and supplies Russia's military and intelligence services with its products. Promtekhnologiya has long been associated with the Russian government.
OFAC also designated three of Russia's most highly viewed state-owned television stations, namely Channel One Russia, Russia-1 and NTV.
In addition, the U.S. Department of the Treasury took action to "cut off Russia's access to certain key services from U.S. companies, which Russian Federation companies and Russian elites use to build wealth, generating revenue for Putin's war machine, and evade sanctions".
00:10 G7 countries pledge to ban importing Russian oil. In a statement released by the White House, G7 leaders committed to gradually reducing dependence on Russian energy, including "by phasing out or banning the import of Russian oil." President Volodymyr Zelensky took part in the G7 meeting.
Find figures and an infographic of enemy total combat losses from 24.02 to 08.05 in a publication by Defense Express:
23:40 Another 173 people were rescued from "Azovstal" and Mariupol. 10 buses with Mariupol residents are already on the territory of free Ukraine, the Mariupol City Council reported.
"Thank you to all the heroic defenders of "Azovstal" for this. At the cost of three lives of our soldiers and six wounded soldiers it became possible to get and take the civilians out of the plant," — the statement says.
23:21 Canada will provide Ukraine with NLAW anti-tank weapons, said Canadian Prime Minister Justin Trudeau.
"We have already said that we will provide NLAW and other military equipment. We will provide everything necessary, as well as finance demining efforts," he said at a press conference following talks with Zelenskyy, Interfax-Ukraine reports.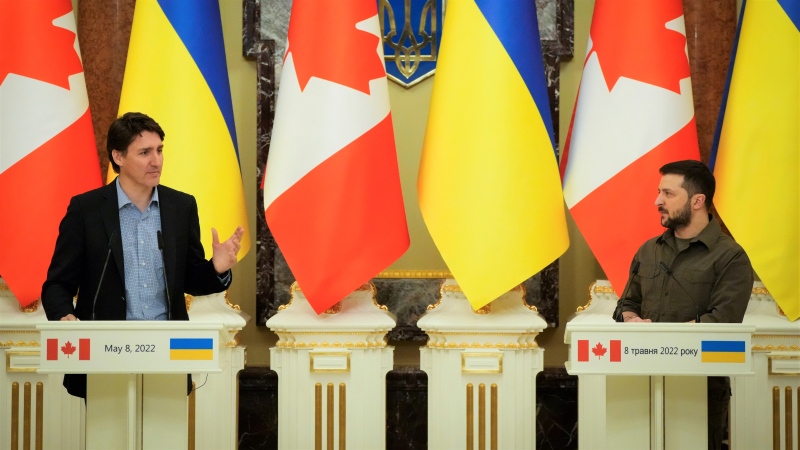 Find more photos and details on the theme in a publication by Defense Express:
22:45 According to the post on Facebook, in the area of responsibility of Operational Tactical Group "East" Ukrainian troops have resisted 4 attacks today. The Russians lost up to 190 people, 15 tanks, 26 armored vehicles, and two drones.
As a result of the shelling of the occupiers in Kalinovo, two men were killed. Ten residential buildings were damaged, and a dozen more were destroyed.
Also, Russian servicemen opened fire on the town of Bohodukhiv and the village of Lozova of Bohodukhiv district.
In Bohodukhiv, three civilians were injured. A 48-year-old woman died. A number of residential buildings were damaged. A 41-year-old woman died in Lozova.
Find more photos and details on the theme in a publication by Defense Express:
21:21 The head of the Kharkiv Oblast Military Administration Oleh Syniehubov showed the first photos of the released Tsyrkuny. "Today, locals with tears in their eyes greeted the defenders who won the liberation of the village. We thank every resident for his resilience and patriotism, for having the courage to resist despite the terror of the Russians, "he wrote.
20:35 President of Ukraine Volodymyr Zelensky discussed strengthening security support for Ukraine with President of Norwegian Storting Masud Gharahkhani who paid a visit to Ukraine.
"I am glad to meet you. I am grateful for the support for Ukraine's sovereignty and territorial integrity, as well as for the opportunity to speak in your parliament," Zelensky noted, the press service of the Head of State informs.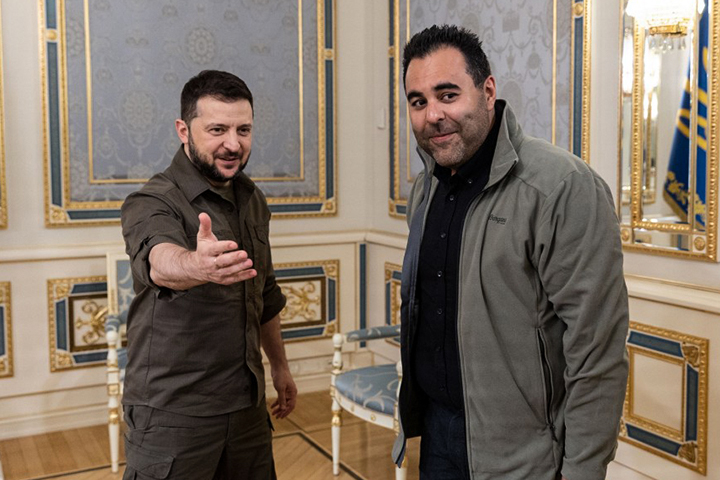 He also thanked Norwegian society for supporting the people of Ukraine.
20:20 The United States has announced new sanctions against Russia. They included Russia-1, Channel One, the heads of Sberbank and Gazprombank, and a number of Russian and Belarusian servicemen. In addition, the United States has banned the sale of audit and marketing services in the Russian market.
US Secretary of State Anthony Blinken also told Ukrainian Foreign Minister Dmytro Kuleba that "new tough US sanctions against Russia are imminent."
19:45 "Suspilne" showed a photo of the consequences of today's shelling of the coast in the Kyivskyi raion of Odessa.
Russian shells hit the building.
Find more photos and details on the theme in a publication by Defense Express:
19:30 The General Staff of the Armed Forces of Ukraine has published the operational update regarding the russian invasion on 18.00 on May 8, 2022.
The main focus of russian enemy's efforts was to destroy the airfield infrastructure in order to prevent the actions of Ukrainian aircraft, including the Bayraktar UAV, to support the actions of air units in the area of responsibility of the Joint Forces and the Black Sea Operational Zone.
In the Volyn and Polissya directions, russian enemy did not take active action. Until May 27 this year, a training meeting of territorial defense units will be held in the Minsk district with the involvement of conscripts who are in reserve.
There is a possibility that the units of the armed forces of the russian federation will launch missile and bomb attacks on the infrastructure of Ukraine from the territory and airspace of the republic of belarus.
russian enemy did not take active action in the northern direction. Intensified units of the Border Guard Service, as well as units of the Armed Forces of the russian federation, continue to be detained at checkpoints and in the border areas of the Bryansk and Kursk oblasts.
In the Slobozhansky direction, russian enemy is concentrating reserves in the Belgorod region for hostilities near the state border of Ukraine. The deployment of separate units from the 1st Tank Army of the Western Military District has been confirmed in these areas.
russian occupiers did not carry out active offensive operations in the Kharkiv direction. The main efforts were focused on preventing the advance of Ukrainian troops. The group of russian enemies was strengthened by relocating units from the Western Military District from the area of recovery. Military and civilian infrastructure continues to be shelled.
In the Izyum direction, russian enemy regrouped its units, replenished its reserves in order to increase its offensive capabilities, and conducted air reconnaissance with the use of the Orlan-10 UAV in order to clarify the positions of Ukrainian troops.
In the Donetsk and Tavriya directions, russian enemy is fighting to restrain the actions of units of the Defense Forces of Ukraine.
During the last day, russian enemy intensified hostilities. It is trying to reach the administrative borders of Luhansk and Donetsk oblasts. Carried out regrouping, replenishment of losses, increased air defense systems and logistics, presumably in order to intensify hostilities in the settlements of Severodonetsk and Lysychansk.
In the Lyman direction, separate units of the 90th Tank Division tried to take full control of the settlement of Oleksandrivka, as well as, with the support of artillery, to gain a foothold in the northern outskirts of the settlement of Shandryholovo. It was not successful.
In the Severodonetsk direction, russian enemy is trying to seize the settlement of Rubizhne, but without success.
In the Popasna direction, russian enemy is trying to take up positions in the settlement of Popasna and take control of the section of the Popasna-Bakhmut highway.
russian enemy is advancing in the direction of the settlement of Novoselivka, it has no success, the fighting continues.
In the Kurakhiv direction, russian enemy is trying to improve the tactical situation in the direction of the settlement of Novomykhailivka, but has no success.
In the Mariupol direction, the intensity of hostilities has been reduced.
In the Novopavlovsk and Zaporizhzhya directions, russian enemy intensified air reconnaissance in the areas of the settlements of Orikhiv, Huliaipole, Komyshuvakha, and Yasna Polyana.
In the South Buh area, russian enemy is trying to hold positions with forces of up to 15 battalion tactical groups. It does not carry out active hostilities.
Measures of the administrative-police regime in the temporarily occupied territories are underway. Thus, there is an intensification of filtering measures by rosguard units in the areas of Heroyske, Hola Prystan, and Kherson settlements.
The moral and psychological condition of russian occupiers remains low, there is a systematic use of alcohol and desertion.
Find more photos and details on the theme in a publication by Defense Express:
19:00 President of Ukraine Volodymyr Zelenskiy meets with G7 leaders ahead of Russia's Victory Day
Volodymyr Zelenskiy met with G7 leaders today to discuss the war in Ukraine and new measures to punish Moscow, The Guardian reports.
The US president, Joe Biden, was due to meet leaders at 11am ET (3pm GMT) from his home in Delaware. A White House official said the meeting was underway, reports Reuters.
The White House said leaders planned to discuss further sanctions on Russia.
It said in a statement: "They will discuss the latest developments in Russia's war against Ukraine; the global impact of Putin's war; showing support for Ukraine and Ukraine's future; and demonstrating continued G7 unity in our collective response, including building on our unprecedented sanctions to impose severe costs for Putin's war."
The meeting comes ahead of Russia's Victory Day celebrations tomorrow.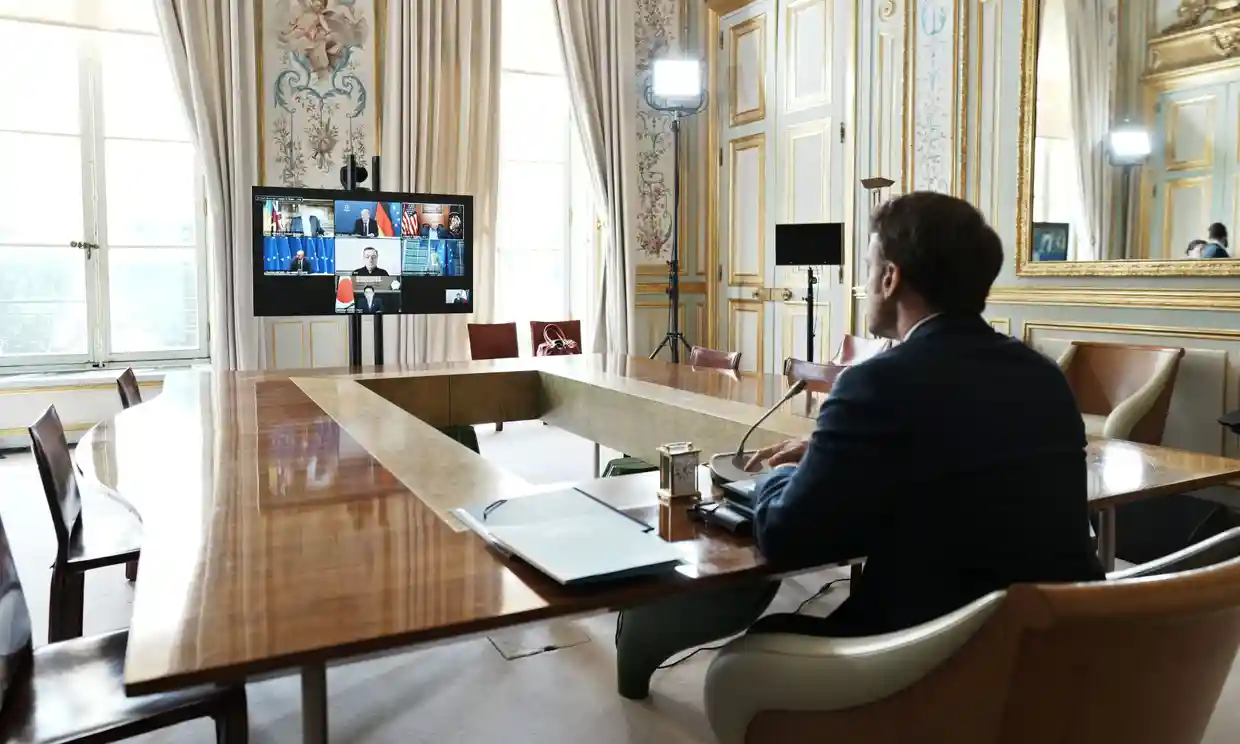 As Defense Express reported President of Ukraine Volodymyr Zelenskyy has released a black and white video in front of destroyed residential buildings addressing the horrors being seen in Ukraine likening them to Nazi "atrocities". On the eve of Russia's 'Victory Day' celebrations on May 9, he states that "everyone hears the language of evil" and "no evil will avoid responsibility" and Ukraine "will overcome everything".
Volodymyr Zelenskyy believes the world is now "experiencing a terrible deja vu".
Find more photos and details on the theme in a publication by Defense Express: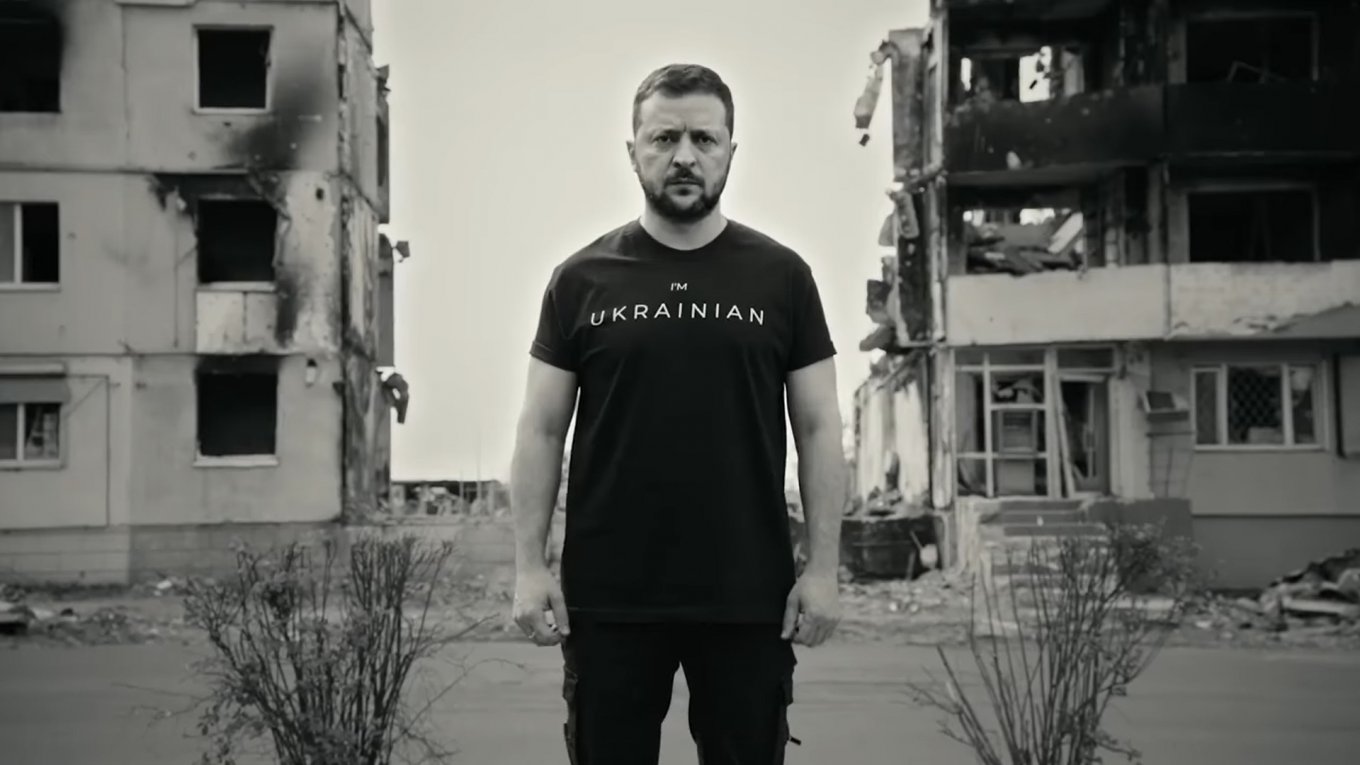 18:30 Ukraine's foreign minister, Dmytro Kuleba, has said that he has discussed the unblocking of Ukraine's food exports with the US secretary of state, Antony Blinken, in a bid to ensure global food security, The Guardian reports
Before the war Ukraine, one of the world's major sources of grain and oilseeds, used to export most of its cereals through its Black Sea ports. But they have been blocked since Russia's invasion on 24 February.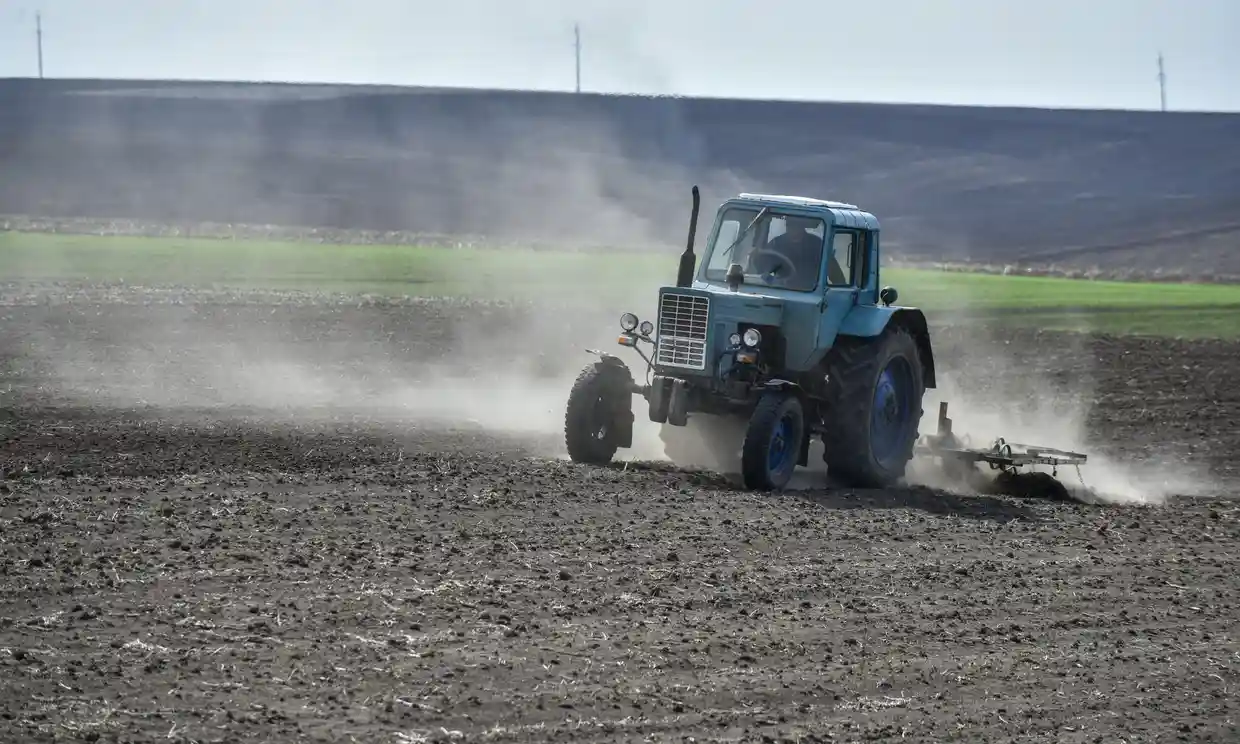 18:00 U.S. First Lady visits Uzhgorod, meets with displaced persons.
U.S. First Lady Jill Biden has paid a visit to the western Ukrainian city of Uzhgorod.
That's according to the Telegram channel of the Zakarpattia Regional Council, Ukrinform reports.
"First Lady of the United States Jill Biden paid a visit to Uzhgorod today, May 8. In particular, Ms. Biden met with Ukraine's First Lady Olena Zelenska in Uzhgorod. It is noteworthy that this happened on Mother's Day," the statement said.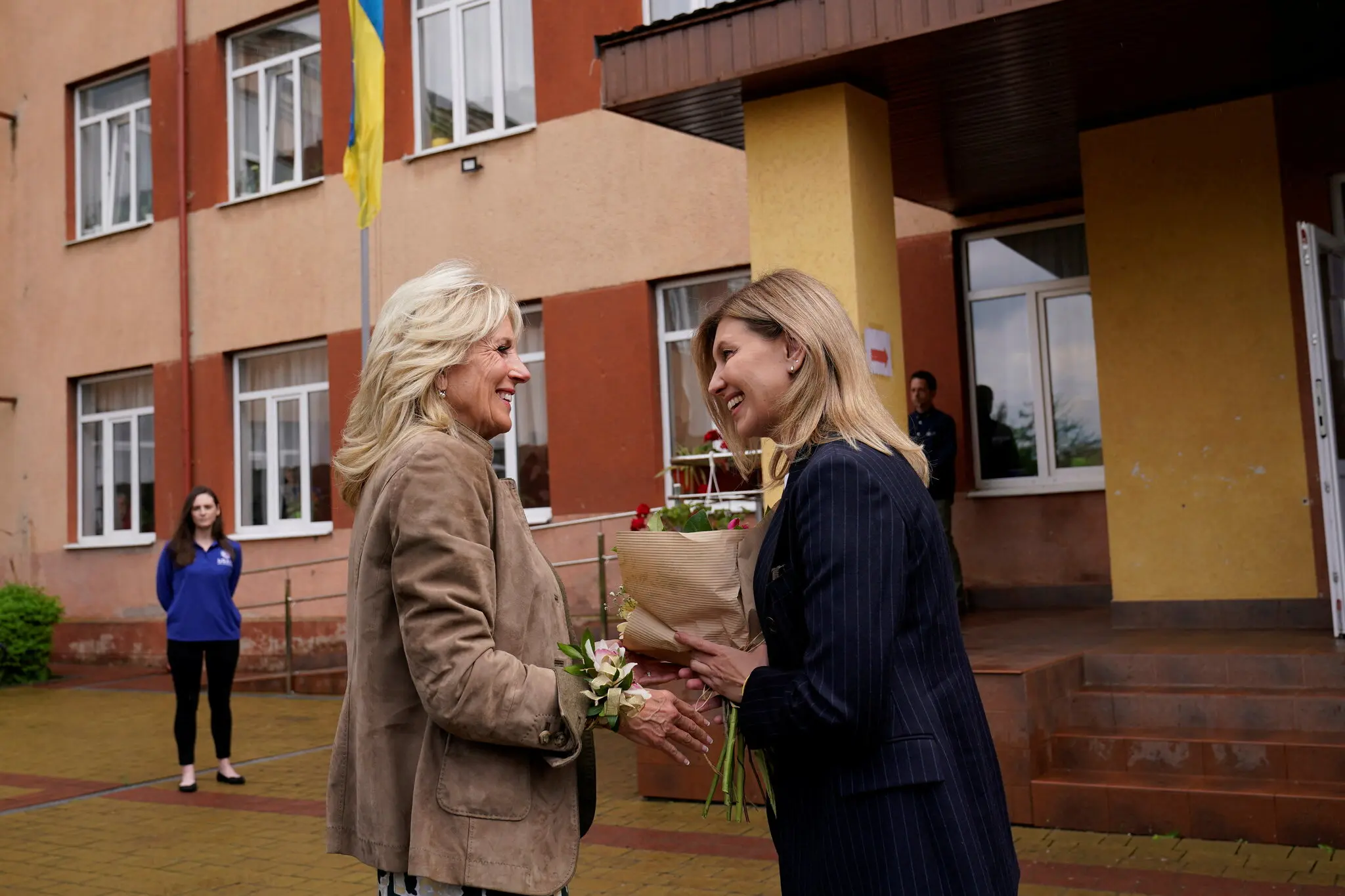 Biden and Zelenska visited a school in Uzhgorod, which now serves as a shelter for internally displaced persons who arrived from Ukraine's regions where hostilities continue.
The visit by First Lady Biden is a demonstration of support for Ukraine by high-ranking U.S. officials.
In addition to visiting Uzhgorod, Jill Biden also plans to travel to the Slovak cities of Bratislava, Kosice and Vysne Nemecke.
According to the statement, Jill Biden has already left Ukraine.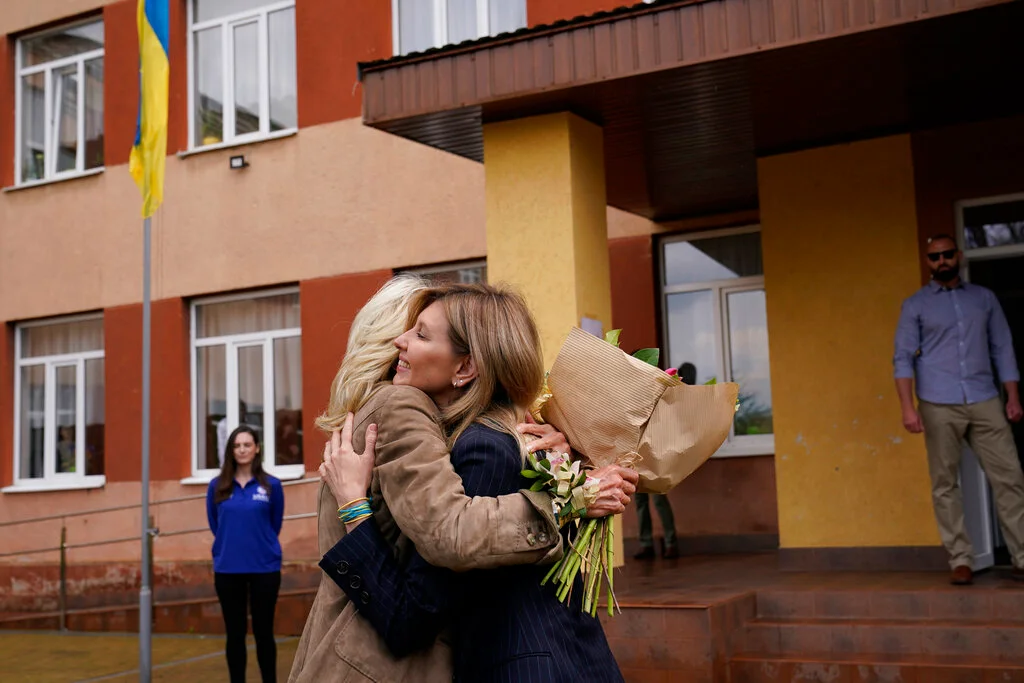 17:30 The Armed Forces of Ukraine have successfully destroyed another latest model of armament of the Russian army - BMP-1AM Basurmanin infantry fighting vehicle. Approved in 2018, it is the most recent Russian BMP-1 upgrade.
It is noted that this car was destroyed during the attack on the crossing, which the occupiers tried to organize across the river in Luhansk region, Defense Express reports.
Also on the crossing, other enemy equipment was destroyed: pontoon vehicles, engineering fencing machine, as well as a PTS-2 amphibious vehicle, created on the basis of the chassis of the T-64 tank. Another enemy's amphibious engineering vehicle was also destroyed.
Find more photos and details on the theme in a publication by Defense Express:
17:00 Canadian prime minister visits Irpin.
Canadian Prime Minister Justin Trudeau has visited Irpin, Kyiv region.
According to Ukrinform, Irpin Mayor Oleksandr Markushyn announced this on Facebook.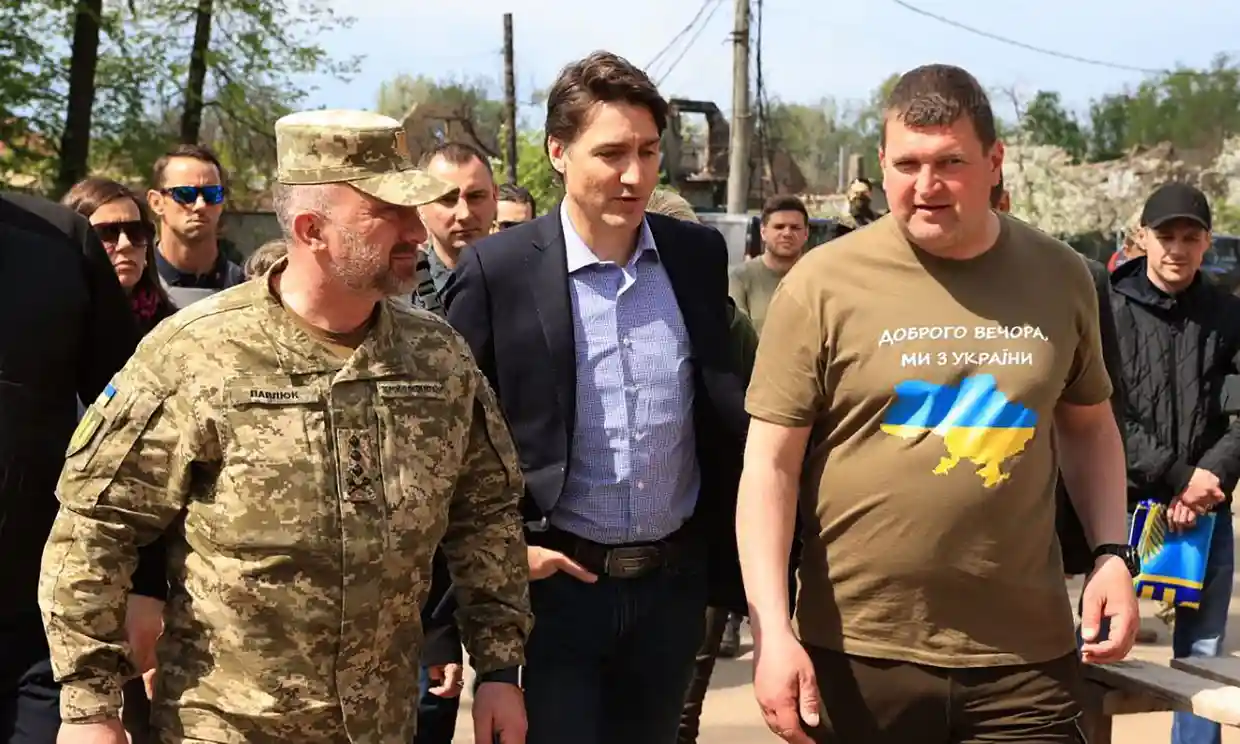 "I just had the honor of speaking with the Prime Minister of Canada, Justin Trudeau. He came to Irpin to see with his own eyes all the horror that the Russian occupiers have done to our city. And, of course, he was shocked. He saw that those burnt and completely destroyed were not military facilities, but the homes of Irpin's residents, who until recently enjoyed life and had their own plans for the future," Markushyn said.
He thanked Trudeau for Canada's support for Ukraine. Markushyn also noted that he believes in further cooperation between the two countries in rebuilding Ukrainian cities after the victory.
"I hope for the support of Mr. Justin Trudeau in organizing the efforts of the Ukrainian diaspora in Canada to rebuild infrastructure facilities in Irpin. Irpin will send respective official letters in the near future," Markushyn added.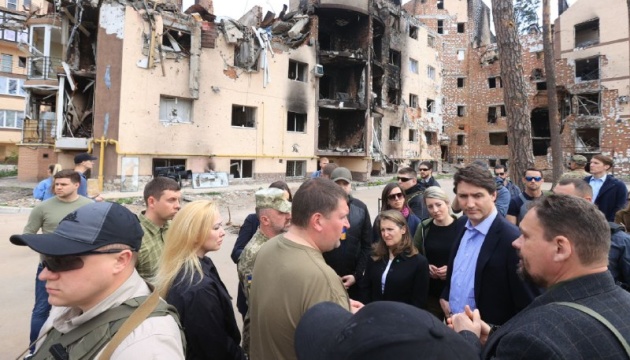 16:20 Ukrainian air defense forces destroy Russian missile, drone over Odesa region.
The air defense units of the Armed Forces of Ukraine destroyed an enemy missile and a drone over the Odesa region on May 8.
Serhii Bratchuk, spokesman for the Odesa State Military Administration, said this on Telegram, Ukrinform reports.
"Odesa. A Russian cruise missile and a Forpost drone were destroyed at noon today. We thank our air defense forces!" Bratchuk said.
15:50 Ukrainian forces at besieged Mariupol steel plant vow to fight 'as long as we are alive'.
Ukrainian forces at the besieged Azovstal steel plant in Mariupol have vowed to continue fighting for "as long as we are alive", The Guardian reports.
Captain Sviatoslav Palamar, a deputy commandor of Ukraine's Azov Regiment, also pleaded with the international community to help evacuate wounded soldiers.
He told an online conference: "We will continue to fight as long as we are alive to repel the Russian occupiers."
Calling for urgency to evacuate wounded soldiers, he said: "We don't have much time, we are coming under intense shelling."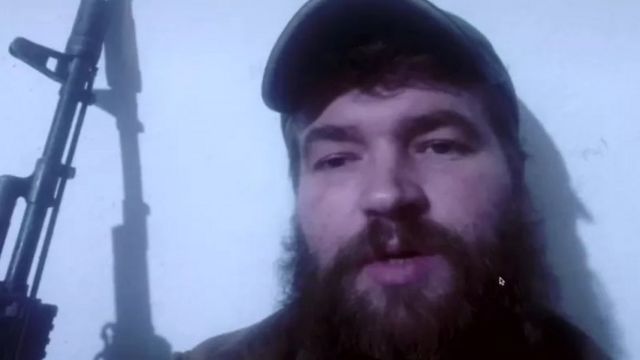 15:15 Two more russian Raptor-class boats were sunk by Ukrainian Bayraktar TB2 UAV in the Black Sea.
The Navy of the Armed Forces of Ukraine showed in a new video how two more Russian Raptor landing craft were destroyed.
The message to the video from the Navy states: "Snake Island. The point of no return of a ruzzist", and also states that the impact on the boats was inflicted by a Bayraktar TB2 UAV.
Watch the video and find more details and analysis on the theme in a publication by Defense Express: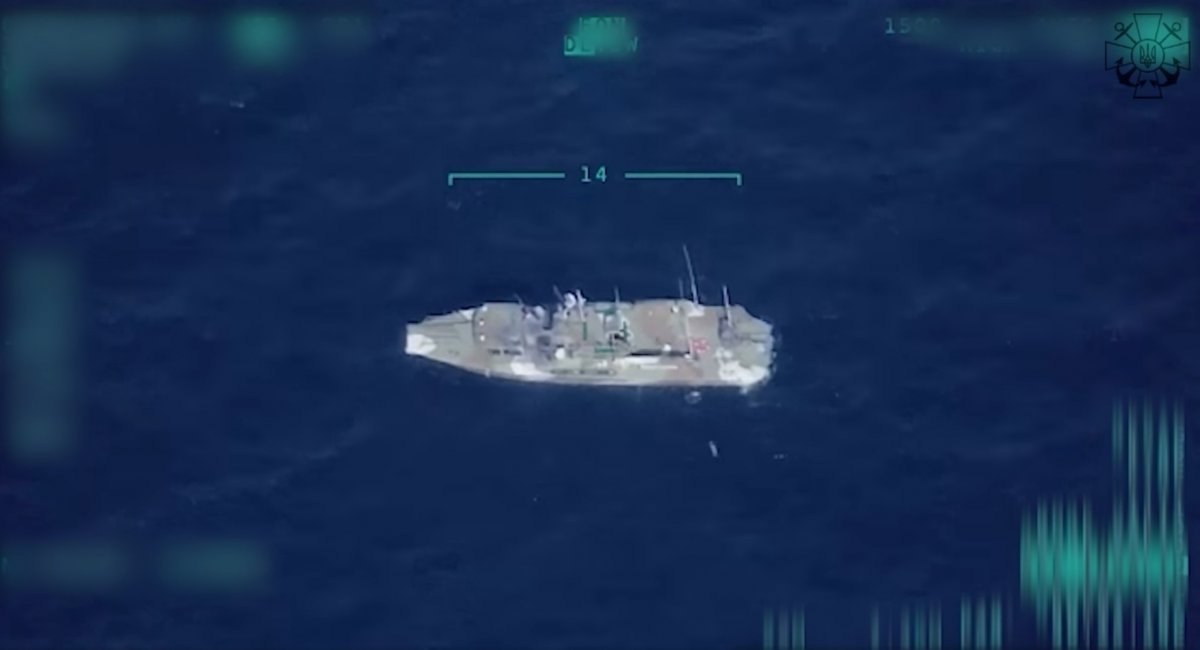 14:35 Nineteen settlements in Donetsk Region come under enemy fire over past day.
Nineteen settlements have come under enemy fire in Donetsk Region over the past day.
The relevant statement was made by the Ukrainian Internal Affairs Ministry, Ukrinform reports.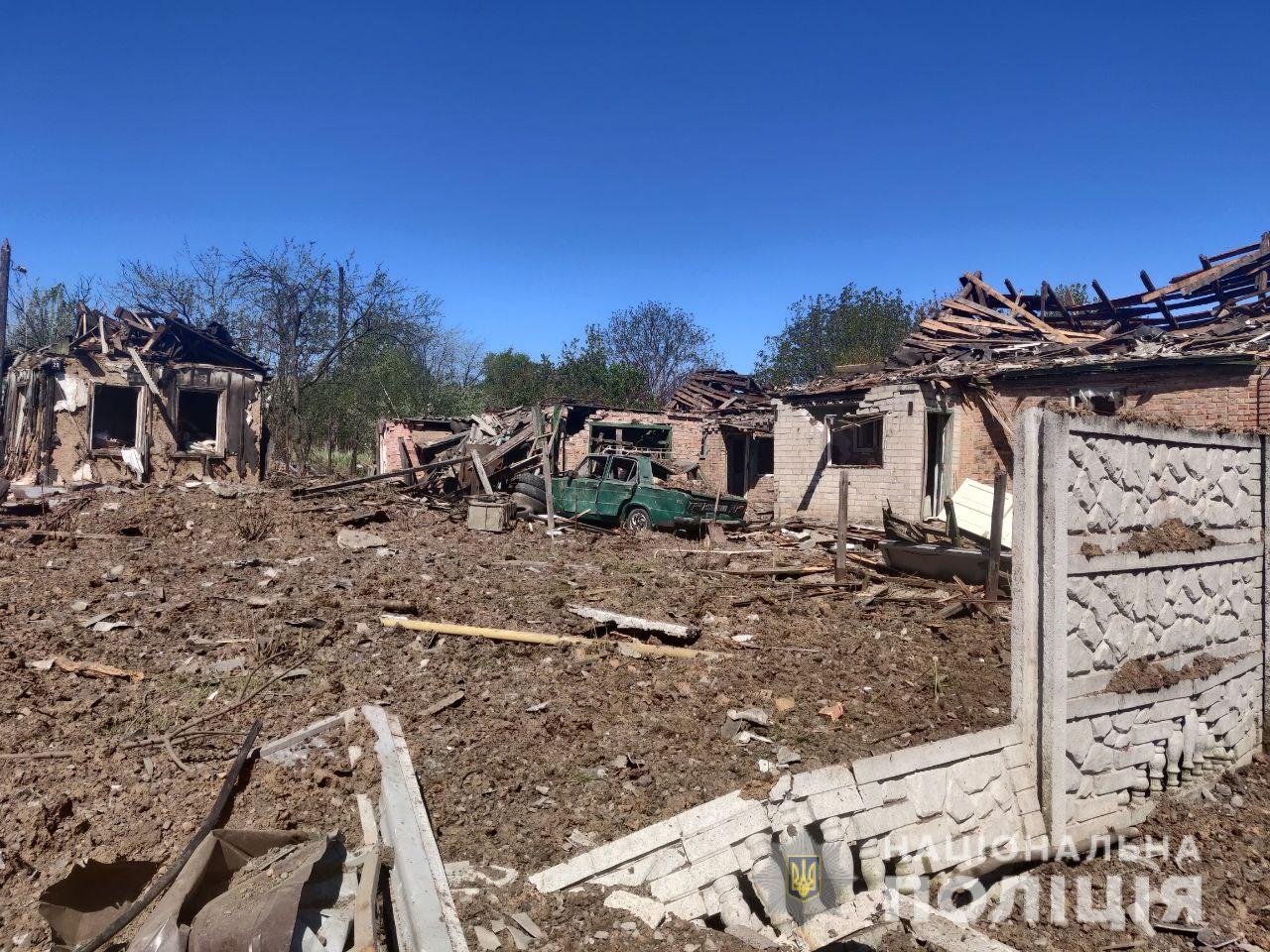 In particular, the Russian military opened fire with aircrafts, missile systems, Smerch multiple rocket launcher systems, tanks and heavy artillery on such settlements as Mariupol, Bakhmut, Avdiivka, Kostiantynivka, Druzhkivka, Marinka, Zalizne, Vuhledar, Siversk, Sviatohirsk, Malotaranivka, Drobysheve, Ocheretyne, Novokalynove, Zvanivka, New York, Kostiantynivka (Marinka District), Sydorove and Dronivka.
"There are casualties among civilians. At least 85 civilian objects were damaged, namely residential houses, production enterprises, two schools and a lyceum, vital infrastructure facilities," the ministry stressed.
Pre-trial investigation was launched according to Article 438 of the Criminal Code of Ukraine (violation of the laws and customs of war).
13:45 One person killed and 27 injured in Russia's missile strikes on Mykolaiv Region.
One person has been killed and 27 injured in Russia's missile strikes on Mykolaiv Region over the past day.
The relevant statement was made by Mykolaiv Regional Council Head Hanna Zamazieieva on Telegram, Ukrinform reports.
According to Zamazieieva, Russian invaders were continuously shelling Mykolaiv Region last night.
"In particular, [Russian] missiles hit Mykolaiv, Voznesensk, Ochakiv. Residential areas. Sadly, some civilians were seriously injured and one person was killed. The one reported killed was an elderly woman, who had worked as a teacher of the Russian language and literature at a local school," Zamazieieva wrote.
In general, a total of 27 civilians have been injured in Mykolaiv Region over the past day. Fortunately, there are no children among them.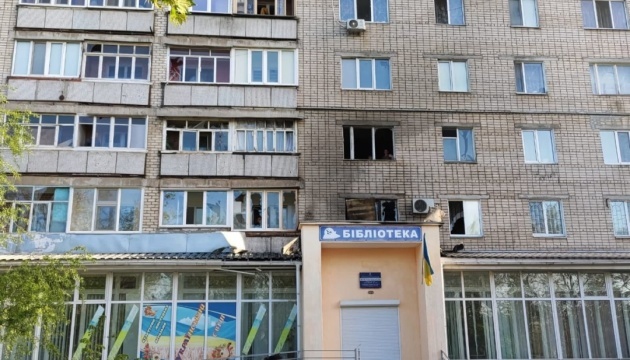 According to Zamazieieva, as of May 8, 2022, a total of 159 people affected by the Russian armed aggression were undergoing treatment at Mykolaiv-based hospitals.
13:20 The Institute for the Study of War (The United States of America) has predicted that Ukrainian forces in Kharkiv region are likely to advance to the Russian border in the coming days or weeks.
According to a recent report by the US thinktank, the Ukrainian counter-offensive north-east of Kharkiv is making significant progress, The Guardian reports.
The report, written by Mason Clark, Karolina Hird and Kateryna Stepanenko, states its "key takeaways":
Russian forces destroyed several bridges to slow Ukrainian forces and may be conducting a limited withdrawal north-east of Kharkiv city in the face of the successful Ukrainian counter-offensive.
Ukrainian forces are making significant progress around Kharkiv and will likely advance to the Russian border in the coming days.
Ukrainian forces continued to repel Russian advances toward Barvinvoke and Russian forces have likely abandoned efforts to drive directly south-east toward Slovyansk. ISW cannot confirm claims of a Ukrainian counter-offensive toward Izyum at this time.
Russian forces claimed to capture Popasna on May 7 but remain largely stalled in eastern Ukraine.
The Ukrainian government confirmed the last remaining civilians trapped in the Azovstal plant evacuated on May 7, though the remaining Ukrainian defenders appear unlikely to surrender. ISW will likely be unable to report any discrete changes in control of terrain until Russian forces capture the plant as a whole due to the poor information environment in Mariupol.
By all indications, Russian forces will announce the creation of a Kherson people's republic or possibly forcibly annex Kherson Oblast in the coming weeks to cement its occupation administration and attempt to permanently strip these territories from Ukraine.
• Russian forces continued to target Odesa with cruise missile strikes and conduct false-flag attacks in Transnistria over the past several days.
12:40 ThePresident of Ukraine Volodymyr Zelenskyy: russia fanatically imitates Nazi regime.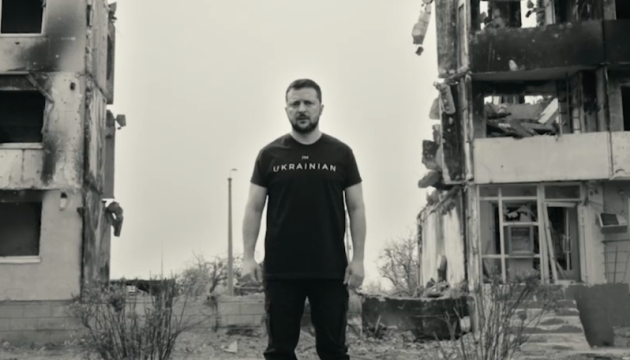 "A fanatical repetition of this regime. Its ideas, actions, words and symbols. Maniacal detailed reproduction of its atrocities and 'alibi', which allegedly give an evil sacred purpose. Repetition of its crimes and even attempts to surpass the 'teacher' and move him from the pedestal of the greatest evil in human history. Set a new world record for xenophobia, hatred, racism and the number of victims they can cause," President of Ukraine Volodymyr Zelensky said in his video address on the occasion of the Day of Remembrance and Reconciliation, Ukrinform reports.
12:10 The General Staff of the Armed Forces of Ukraine has published the new summary of total combat losses of the enemy from 24.02 to 08.05.
According to the report, about 25500 agressor's troops eliminated, 715 air targets of invaders were shot down thousands of tanks, armored vehicles and tracks were destroyed by defenders of Ukraine.
Find more details on the current russia's combat losses in Ukraine-russia war in a publication by Defense Express: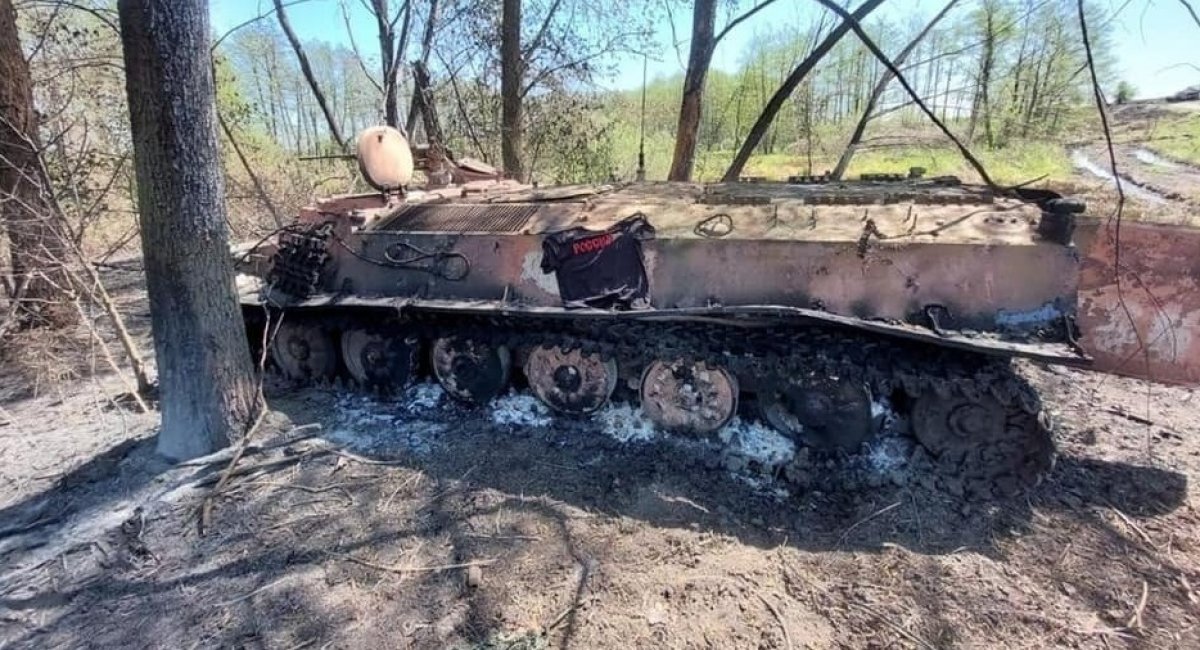 11:51 Ukrainian defenders withdrew from Popasna city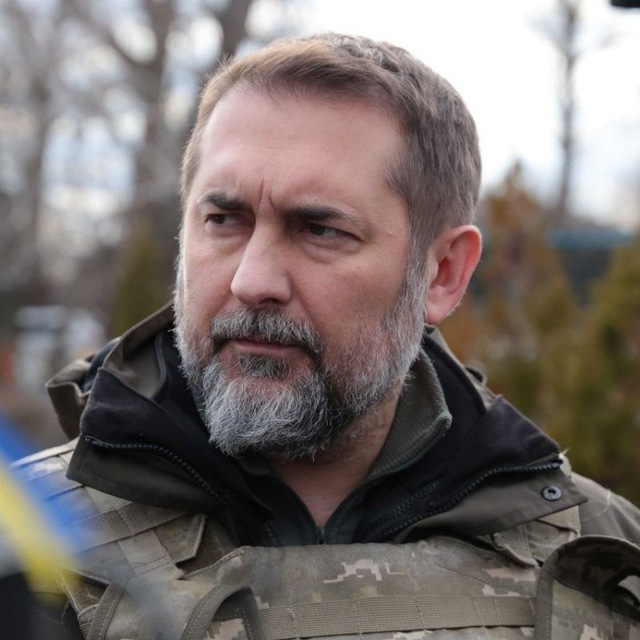 In the Donetsk operational direction, Ukrainian troops retreated from the city of Popasna, Serhii Haidai, Head of the Luhansk region administration, said on Ukrainian TV. The defending forces took a step back to the previously equipped stronger defensive positions, he noted.
"Unfortunately, our military did actually withdraw a bit from Popasna because the city has been shelled for more than two months. Bombs, missiles, artillery were there. Everything is in ruins. That's why our [troops] withdrew to better positions, that had been prepared beforehand," Serhii Haidai said. Still, he stressed, russians won't be able to capture the entire Luhansk region, as they planned.
Popasna has been contested since at least late March, the shelling of the city began even earlier.
11:38 russian helicopter down
Operational Command "South" shared a video of another russian aircraft destroyed. Considering the interface of the screen, the strike was likely been carried out with an attack drone, such as Bayraktar TB2. According to the Ukraine Weapons Tracker, the depicted aircraft is the Mi-8 transport helicopter that was destroyed just as troops were disembarking.
11:21 Bilohorivka airstrike: about 60 civilians killed
Russian airstrike on a school in Bilohorivka village resulted in numerous casualties among civilians hiding there at the moment. Serhiy Haidai, head of the Luhansk region administration, said 27 people were taken out of the rubble, and about another 60 who assumably were there, are most probably dead. The rescue operation continues. Seven people of the evacuees were injured as well.
"These are real atrocities of the 'Russian world': the cynical shelling of a school with a bomb shelter, the murder of children in Pryvillya. The Russians don't care who they kill. Can't kill a soldier, they will kill a defenseless child", the official said, according to Ukraine NOW.
10:49 Russia spends 900 million USD per day to continue war
Sean Spoonts, Editor-in-chief of US media company SOFREP, told this Newsweek. In his words, sustaining the military offensive in Ukraine requires from the russian federation approximately $900 million a day.
Several factors play into that heavy price: paying the Russian soldiers who are fighting in Ukraine; providing them with munitions, bullets and rockets; and the cost to repair lost or damaged military equipment. Russia also must pay for the thousands of critical weapons and cruise missiles that have been fired during the war, which run about $1.5 million apiece.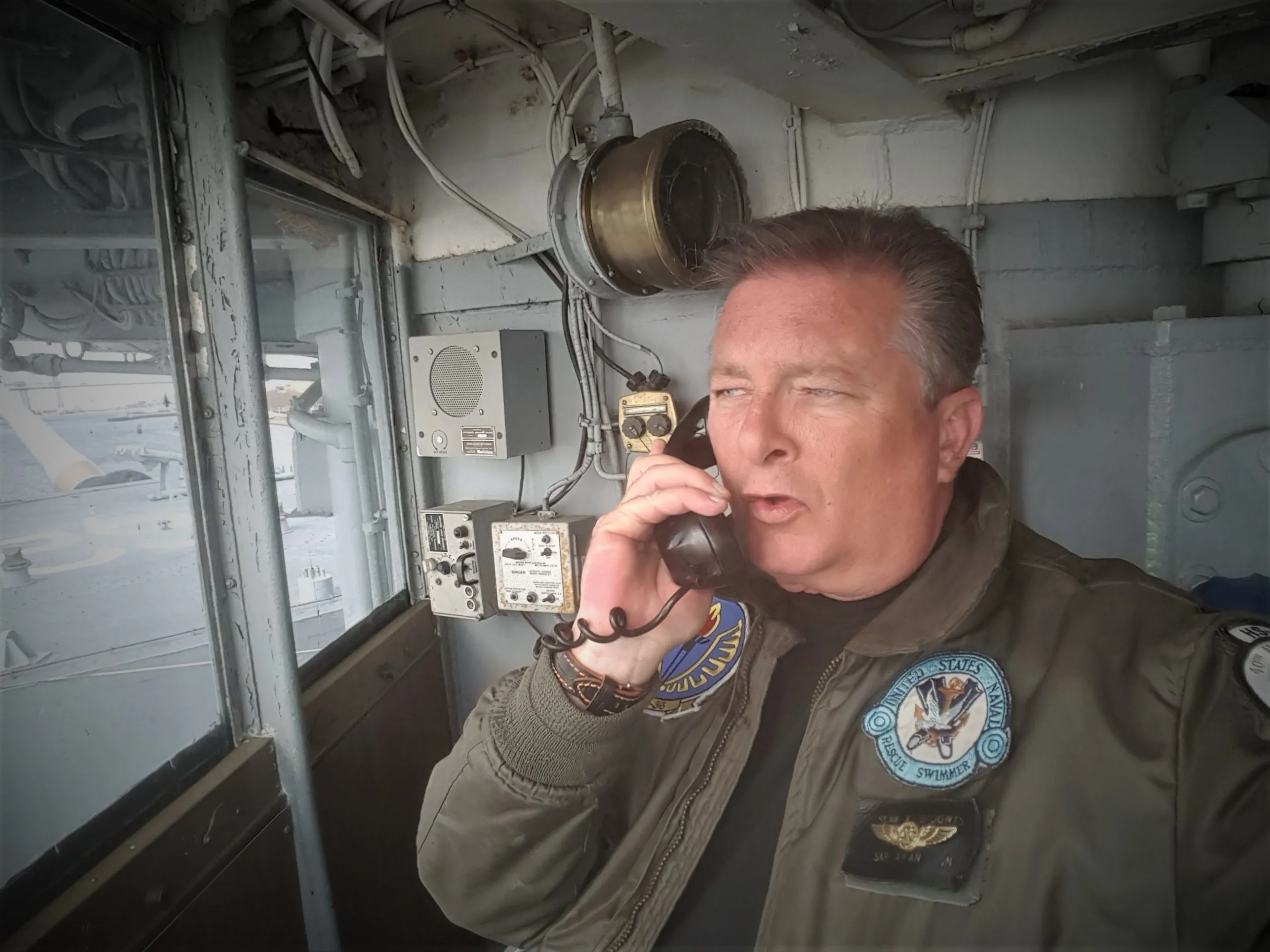 10:22 Russian senior commanders come to frontlines
According to the British Intelligence, this way invaders try to improve the situation, but it has no desired effect, only increases losses among officers. Those who come to replace commanders killed in the vanguard have no experience, unable to analyze mistakes and change the approach.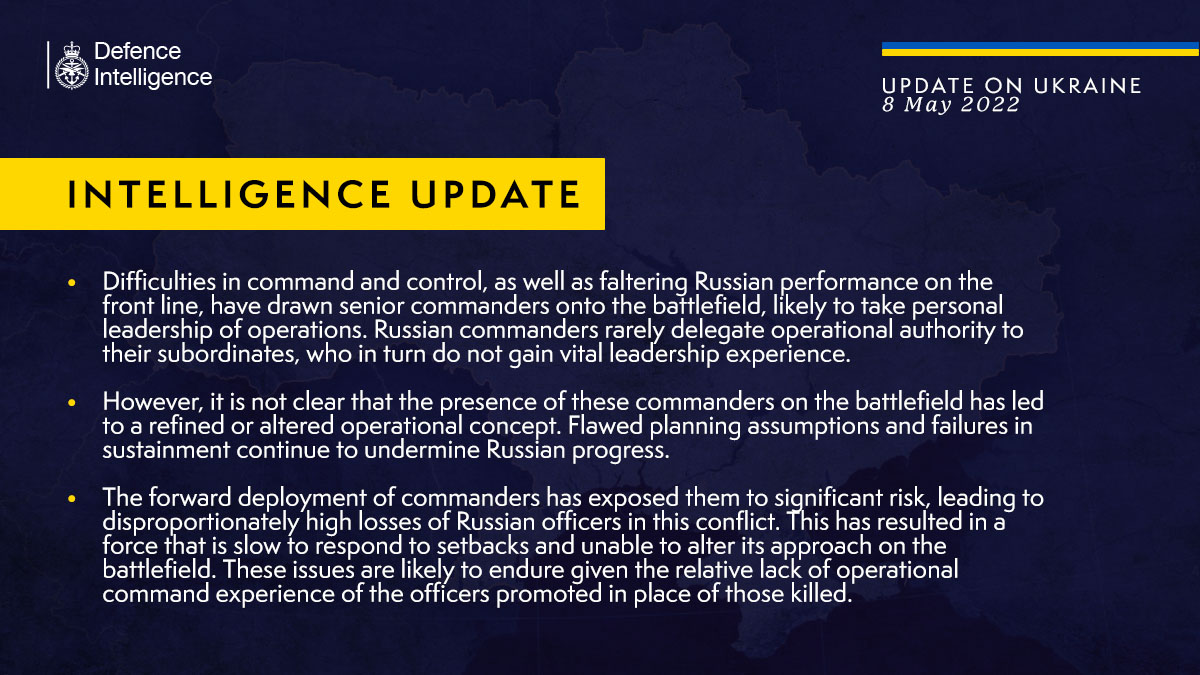 10:08 14 russian targets destroyed by air defense on May 7
Air Force Command reports on the occupiers' air casualties throughout the past day:
one helicopter (according to previous reports, it was Mi-28N);
11 UAVs;
two cruise missiles.
09:30 The Prosecutor General's Office: Russian troops have killed 225 children in Ukraine.
"As of the morning of May 8, the full-scale Russian armed invasion of Ukraine affected more than 638 children: 225 children were killed and more than 413 children were wounded," the Prosecutor General's Office posted on Telegram, Ukrinform reports.
08:40 Нead of the Luhansk Regional Military Administration Serhii Haidai: About 60 people killed in air strike on school in Luhansk region.
According to him, at 16:37 on May 7, in Bilohirivka, the Russian air strike caused fires in the school building on an area of about 300 square meters and in the House of Culture, Ukrinform reports.
07:30 General Staff of the Armed Forces of Ukraine posted an operational update regarding the russian invasion as of 06.00 on May 8, 2022.
According to the report, defenders of Ukraine repulsed nine enemy attacks, destroyed nineteen tanks, twenty units of armoured combat vehicles, four special armoured vehicles, six vehicles and one unit of enemy special engineering equipment.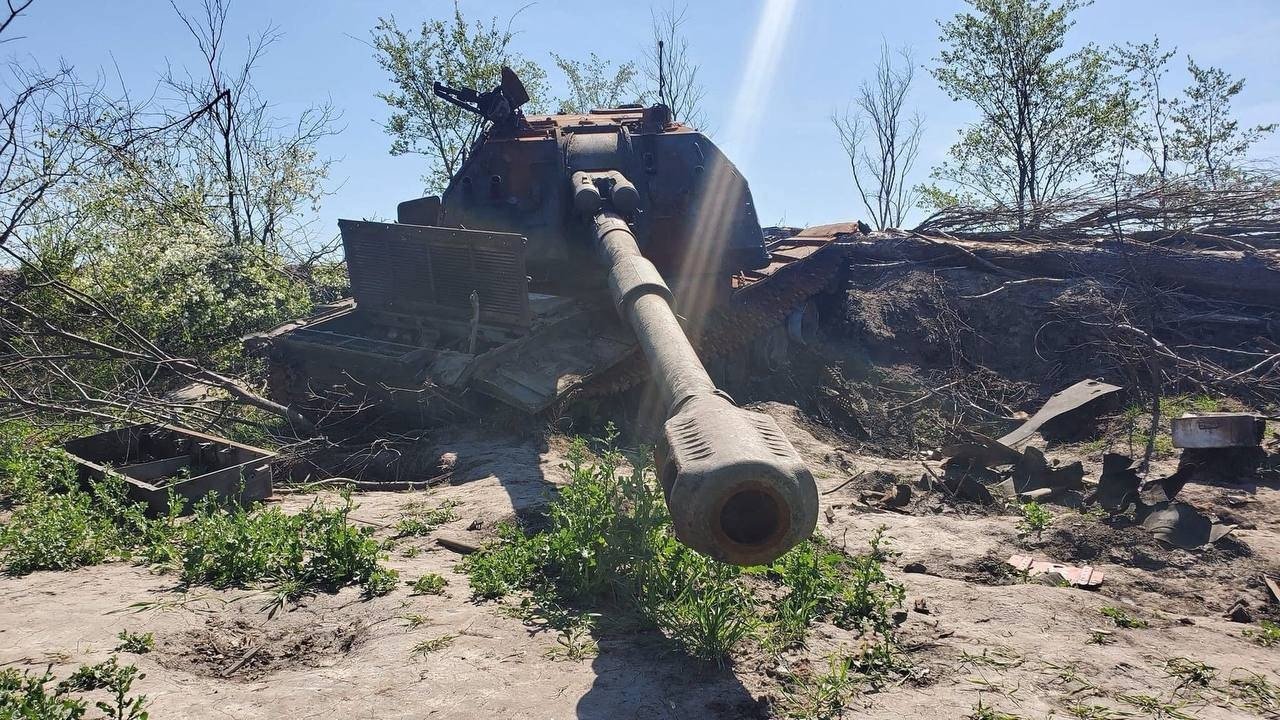 07:10 The Operational Command South: Ukrainian Bayraktar drones destroy two Russian assault boats near Snake Island.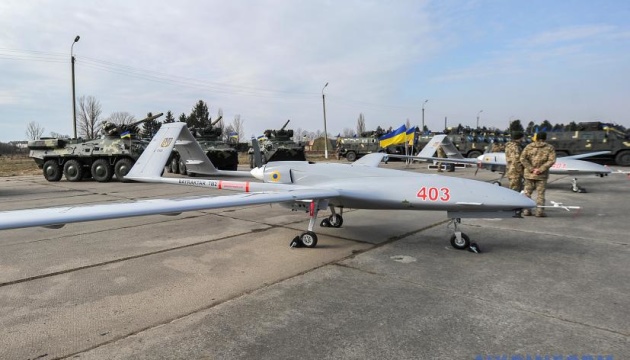 "Near Snake Island, which is already becoming a legendary bridgehead for the enchanting reduction of forces and capacities of the ruscists, precision attacks by the Bayraktars destroyed the a Serna-class landing craft with a Tor missile system, two Raptor assault boats, and another Raptor was badly damaged. 46 ruscists from the crew and paratroopers were eliminated from the enemy's manpower," the statement said, Ukrinform reports.
Video from Bayraktar TB2 UAVs provided by the Ukrainian Navy:
Also, read in the article by Defense Express: Two Bayraktar TB2 UAVs Hunt and Destroy russia's Tor Air-Defense Missile System on Ukraine's Island (Video)
05:32 Operators of R18 strike drones showed footage of russian armored vehicles getting destroyed
Another video from Ukrainian Ground Forces unit "Aerorozvidka" that deals with tactical & surveillance unmanned aircraft systems shows how the drone operators skillfully find targets and destroy them with small free-falling bombs.
More details: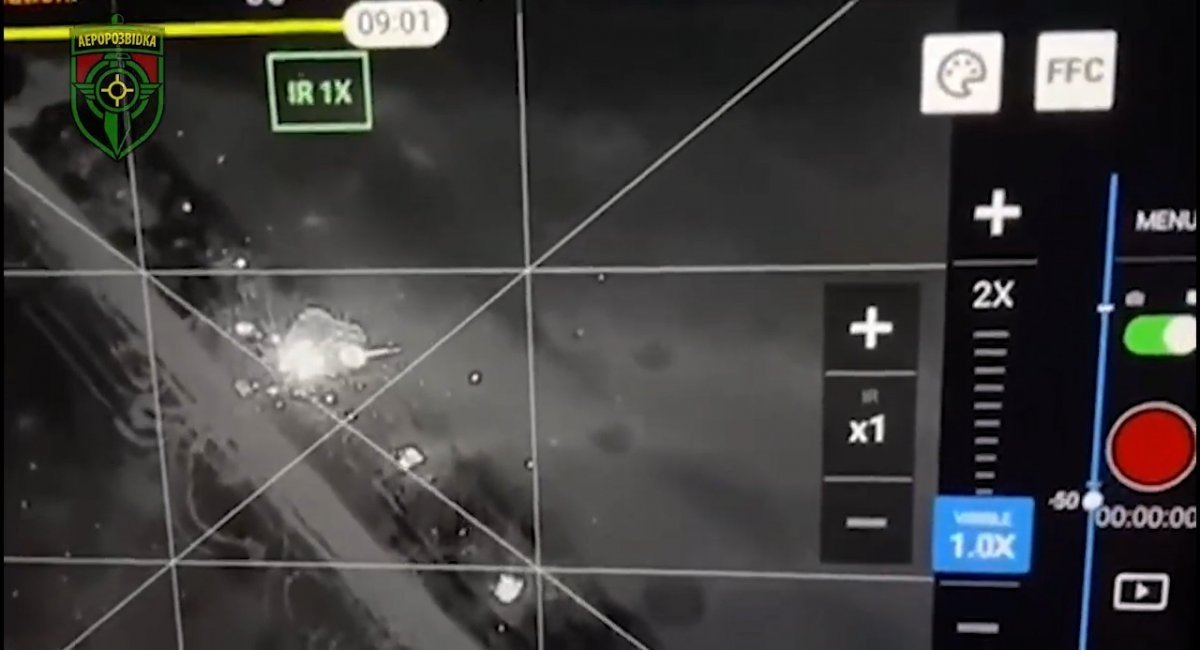 04:00 Prime Minister of the U.K. Boris Johnson: UK to provide 1.3 billion pounds of further military support to Ukraine.
Johnson will also hold a separate meeting to discuss ramping up production to meet demands for the ongoing war in Ukraine, Kyiv Independent reports, citing Reuters.
The British government said the extra spending on Ukraine will come from a reserve used by the government for emergencies. Also, PM Boris Johnson will host a meeting of leading defence companies later this month to discuss increasing production in response to increased demand created by the war in Ukraine.
03:00 The Joint Forces Operation press service: Ukrainian troops repel 9 Russian attacks.
Ukraine's defenders destroyed 19 tanks, 20 armored combat vehicles, four special armored vehicles and six other vehicles. The enemy suffered losses and retreated.
01:12 Germany might need to give half of their reserved Leopard 2 tanks to help Ukraine
Defense Express analyzed the actual capabilities of Germany in provision of military aid to Ukraine via "ringtausch" program – sort of an analog to the US Lend-Lease program. It works in the following way: Slovakia gives its T-72 tanks to Ukraine and receives "compensative" Leopard 2 tanks from Bundeswehr. But will it really work out?
Find the answer here: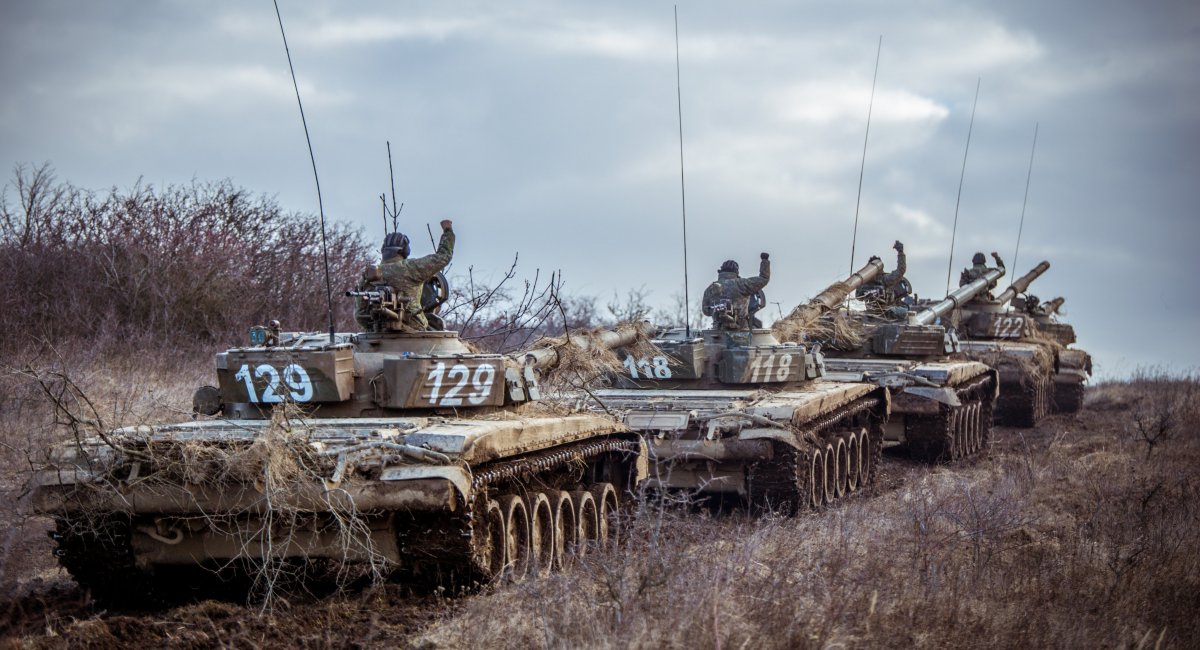 00:58 A network of 66 camps for forcibly relocated Ukrainians revealed in russia
An OSINT investigation by British The i newspaper has identified 66 camps for Ukrainians in a network of former Soviet sanatoriums located in multiple scattered locations all across the russian federation. The newspaper claims, the kremlin ordered to disperse Ukrainian citizens across Russia.
The sites identified by The i by cross-checking local news reports with russian mapping websites are known in russia as Temporary Accommodation Points. They include dozens of sanatoriums and former children's wilderness camps, at least one "patriotic education" center and even a former chemical weapons dump.
The newspaper has also spoken to human rights activists in russia who developed an "underground grassroots network" to help Ukrainians who want to leave the camps.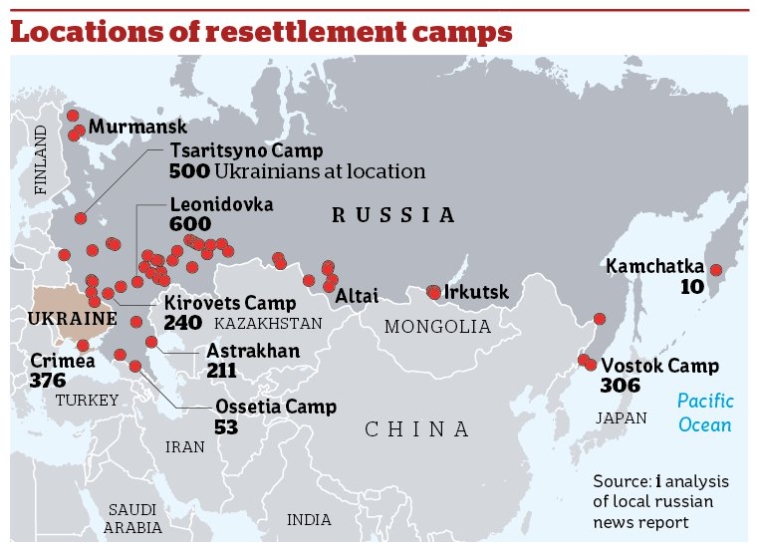 00:47 Russia transfers troops from Syria to Ukraine
Israeli media say that russia has begun withdrawing its armed forces from Syria and is concentrating them at three airports, Ukrain NOW reports. Part of the military will be transferred to Ukraine
Military air bases left by the russian federation are handed over to the elite Iranian military-political formation of the Islamic Revolutionary Guard Corps (IRGC) and the Lebanese terrorist organization Hezbollah.
The same information was stated by the adviser to the presidential office Mykhailo Podoliak. On his Twitter, referring to, once again, Israeli media, he said russia is withdrawing forces from Syria by handing over ISIS military bases:
"Moscow surrenders its position or throws a few (trifling) firewood into the pit of war in Ukraine. Everything is according to the plan, right?"
00:00 More than 300 civilians were evacuated from Azovstal on May 7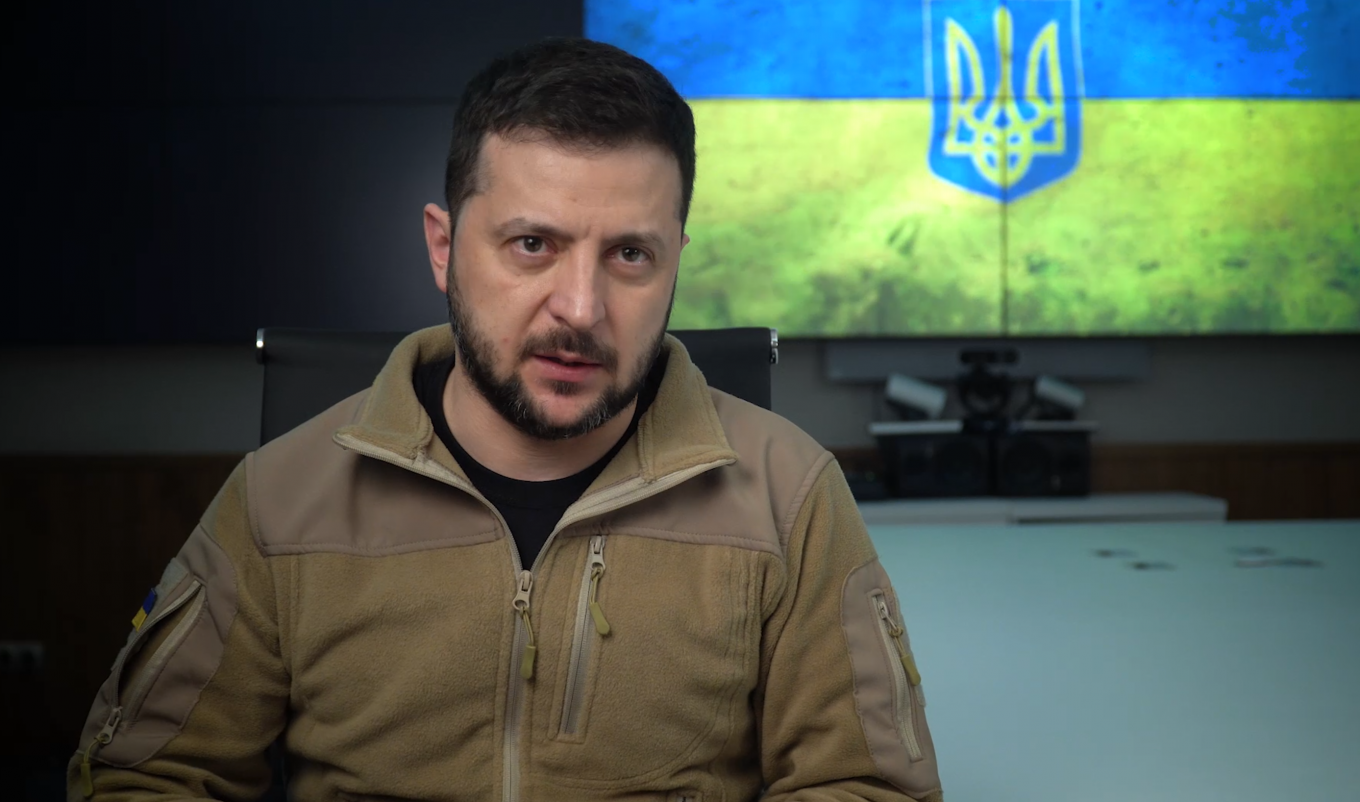 President of Ukraine Volodymyr Zelensky said in his daily speech Saturday, that on May 7 over 300 civilian people were evacuated from the besieged Azovstal steel plant in Mariupol. This concludes the first stage of the evacuation operation, Suspilne news media reports.
"More than 300 people were saved - women and children. Virtually, we evacuated civilians from Azovstal. And we are now preparing the second stage of the evacuation mission – the wounded and medics. Of course, if everyone fulfills the agreements. Of course, if there are no lies. Of course, we are also working to evacuate our military. All heroes who defend Mariupol." the President said.
Earlier that day Deputy Prime minister Iryna Vereshchuk reported that the evacuation of all children, women and people of senior age had been completed successfully, which was the first stage of the rescue operation.
Ukrainian internal minister Denys Monastyrsky said there are still civilians and about 2,000 Ukrainian soldiers left on the territory of Azovstal.
Read more: ​Day 73rd of War Between Ukraine and Russian Federation (Live Updates)
---
---