A very peculiar photo has been recently uploaded in open sources, which shows that russians put a caption on one of their TOS-1 Solntsepyok, indicating that they deliberately struck residential areas of Kharkiv and aimed to cause maximum destruction of the city and casualties among the civilians.
Read more: Ukrainian Military Destroyed Rare russian Flamethrower Operators' Heavy Armored Vehicle (Photo)
The inscription says: "Weather forecast for today: Kharkiv will face sun heat today". The word combination "Blazing Sun" is translated into russian as "solntsepyok", which is basically the name of the flamethrower. So, it's their "game of words".
According to the watermark, it was russians who uploaded this photo on the Internet, in order to have an appropriate impact on all possible audiences.
TOS-1 firing range is 4-10 km, according to open sources, so the risk of getting the strike back from the Armed Forces of Ukraine was the highest.
Therefore, the inscription on the launcher could serve "to maintain the morale" of the russian occupiers, respectively, their barbaric and criminal ideas.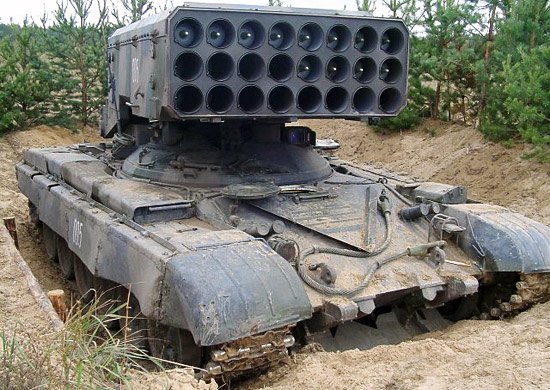 There have been no examples in world history when an invader left direct evidence of own war crimes with his own hands. So, Defense Express hopes that the above-mentioned photo will be needed in the future to bring to justice specific servicemen of the russian army who fired from this self-propelled flamethrower.
Read more: Russians Use Obsolete Missiles to Launch Strikes on Ukraine
---
---