Photos from space show a steady build-up of Russian military equipment and deployments near Ukraine. Russia continues to expand its military presence in multiple locations, including western Russia, Crimea and Belarus, CNN reports.
The imagery was collected and analyzed by US space technology company Maxar. In an accompanying note, Maxar said the deployments "reflect an increased level of activity and readiness." Maxar claimed to have noticed the expansion of existing Russian military training grounds and garrisons within some 150 miles of the Ukrainian border over the last few months. They compared images from September and late January of the various military camps and detected an increase in activity in those areas.
Read more: ​Ukrainian and US Intelligence Indicates Russia Preparing Operation to Justify Invasion of Ukraine
"Troop tents/shelters for personnel have been seen at virtually every deployment location in Belarus, Crimea and western Russia, which suggests that the units are now accompanied with troops and have increased their overall readiness level," Maxar said.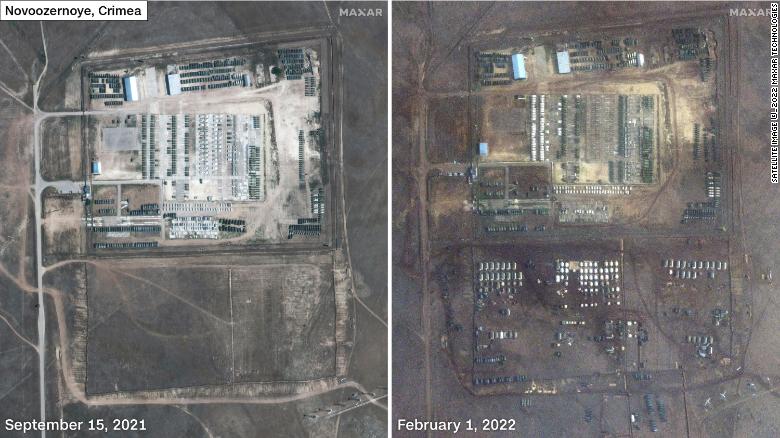 The satellite images show build-up of Russian military forces in Novoozerne, Crimea, with an area of tents being erected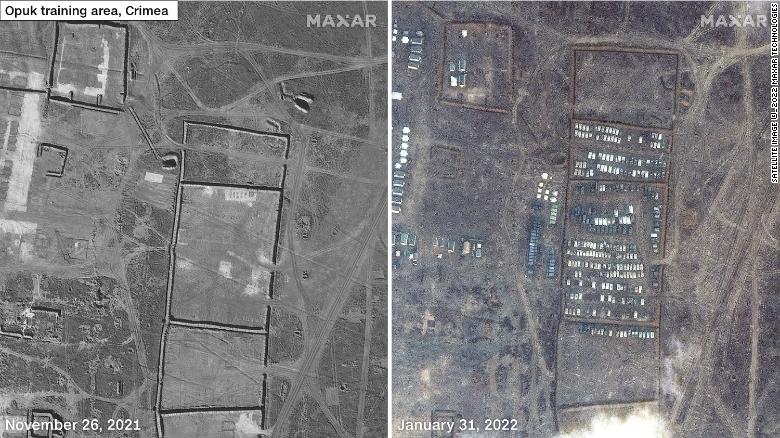 A satellite detected a growing number of Russian military equipment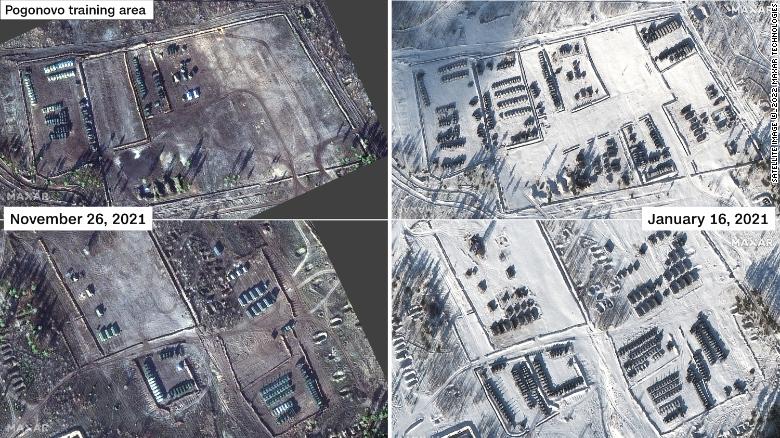 Two battle groups, tanks, artillery and tents are seen at the Pogonovo training area in Voronezh, Russia.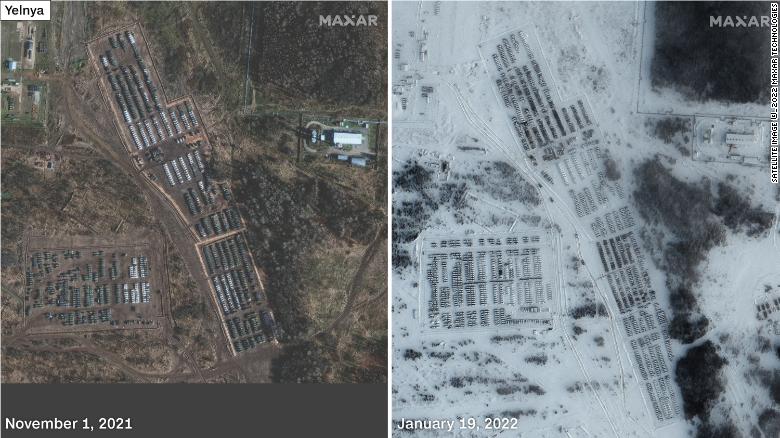 Armored units and support equipment are seen in Yelnya, Russia. It is stated in a note by Maxar that the camp is ready to house troops, although there is no evidence of troops arriving as of now. Also, "local military training activity (including live-fire artillery and maneuver training) has been observed in progress at numerous training areas."
The imagery shows impact craters at two training areas in Russia: Pogonovo and Persianovsky. Persianovsky is some 30 miles (50 kilometers) from the Ukrainian border. Pogonovo is some 150 miles (220 kilometers) from the border.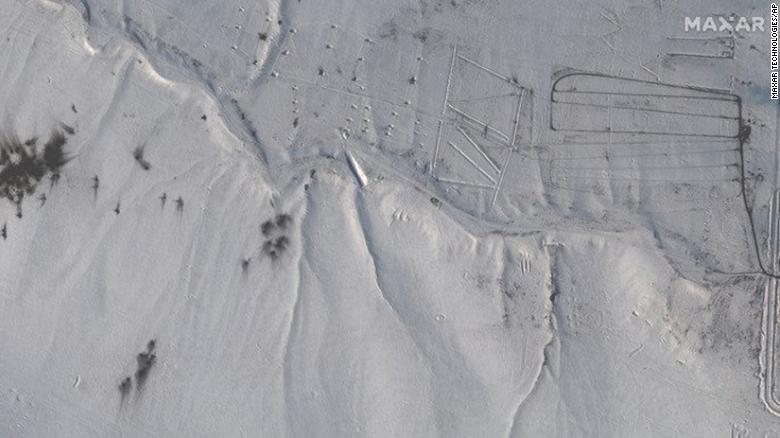 This image from January 28, 2022 shows impact craters at the Persianovsky training ground in Russia.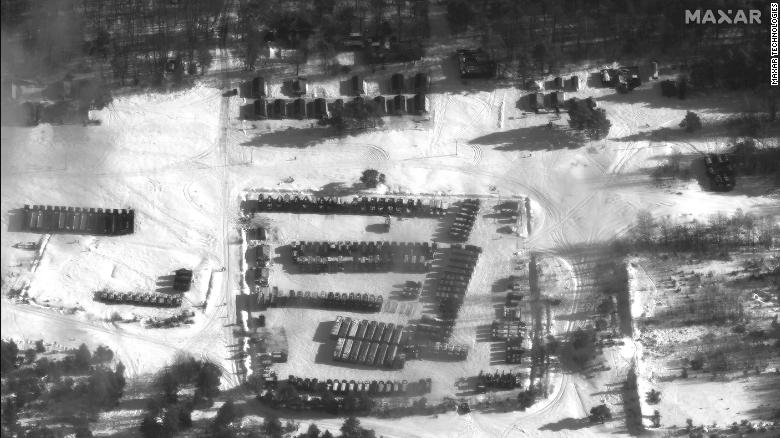 This image of the Osipovichi training area in central Belarus shows the deployment of Iskander short-range ballistic missiles.
As Defense Express reported earlier, Russian theater ballistic missile systems Iskander have been spotted deployed to a Ukraine-bordering area outside of the city of Voronezh.
Russia also has been spotted deploying military equipment and armored combat vehicles to Belarus in late January, 2022. The Russian and Belarus defense ministries say the deployments are ahead of a major training exercise this month.
Over the past few years Russia escalated the situation around Ukraine, threatening possible invasion
Over the past few years Russia escalated the situation around Ukraine, threatening possible invasion. Russian military vehicles with 'invasion stripes' and 100,000 troops were spotted in April, 2021. Similar activities followed in November 2021 and sparked international concern. The United States already warned Russia against invading Ukraine and stressed that in case it happens "there will be significant costs and consequences" for Russia. In response to the growing threat to its NATO allies, the US is to deploy troops to Eastern Europe and approved an additional $200 mln in security aid to Ukraine.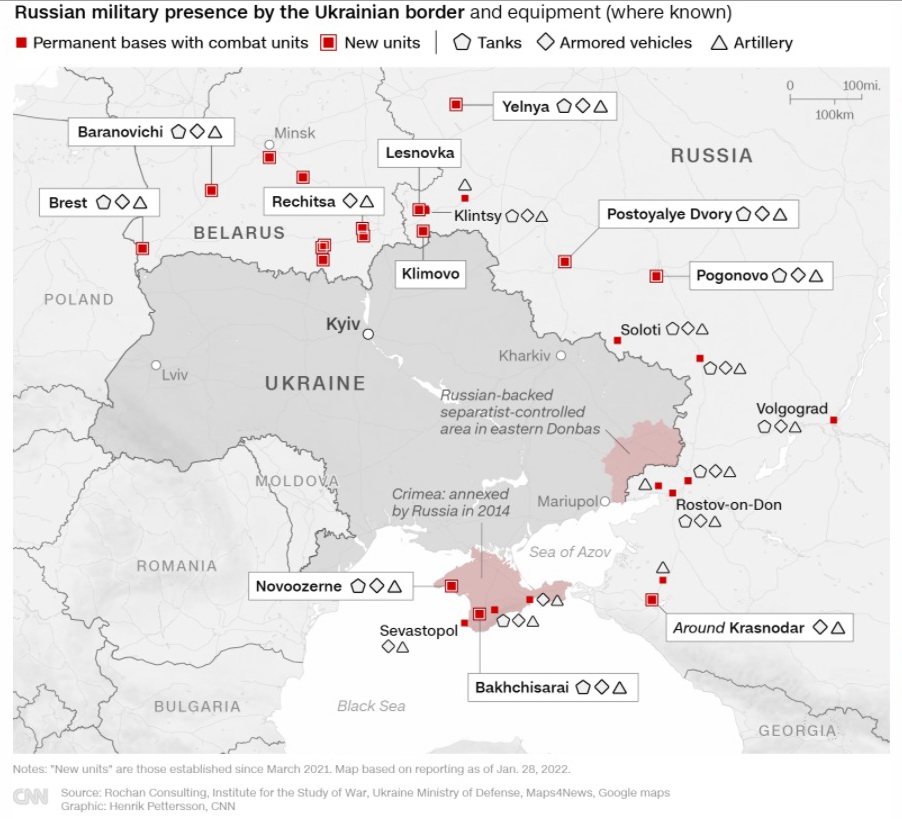 Along with the US, more countries started to support Ukraine diplomatically or with supplies. UK Prime Minister Boris Johnson stated, "A further Russian invasion of Ukraine would be a political disaster" for Russia. Canada is to expand its military presence in Eastern Europe by sending new troops and non-lethal equipment to Ukraine. Poland agreed on the delivery of Piorun man-portable anti-aircraft missile systems to Ukraine.
Russia's intentions are yet unclear. Along with deploying more of its troops and machinery towards Ukraine's border, Russia began setting out a series of demands to Washington and NATO. Moscow demands from Washington a commitment to cease supplies of lethal assistance to Ukraine and "not to expand NATO to the east", while NATO disagreed to meet these conditions.
Read more: Moscow unhappy over Turkey's selling Bayraktar TB2 combat drones to Ukraine
---
---