The identified systems are operational with the Russian Army 119th Artillery Brigade that is permanently stationed in Sverdlovsk Region, 1,600 km from Voronezh. Those same machines were later spotted in Novaya Usman outside Voronezh, according to Thomas Bullock, an OSINT specialist with Janes.
The Iskanders were first spotted being redeployed from their permanent stations on March 25.
Read more: Russian Nuclear Capable Mortars Spotted on their Way to Ukraine's Border
DE memo: The Russian Army 119th artillery brigade officially fields a few units of the Iskander theater ballistic missile system. Iskander can fire ballistic missiles to up to 500 km and cruise missile to up to 1,500-2,500 km.
The published images show a vehicle carrying typical winter-camouflage and fleet number 111. Russian Defense Ministry on this February 7 released images of this same vehicle being loaded with a cruise missile.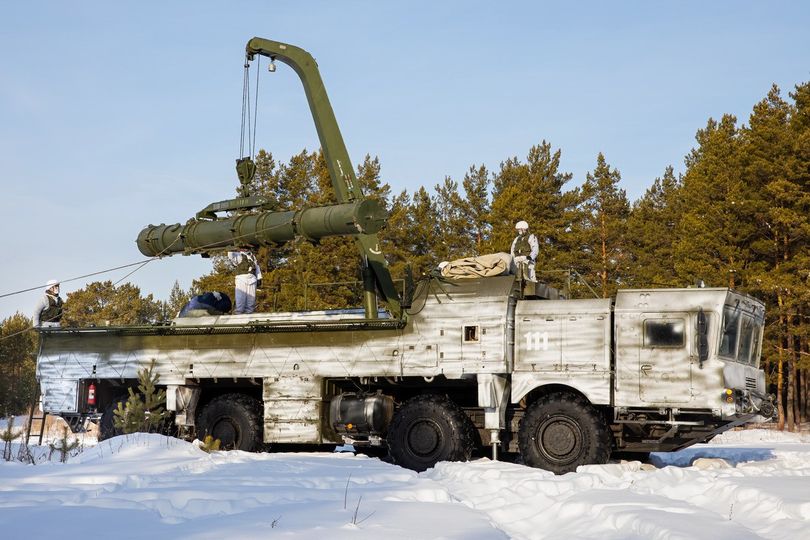 The mentioned Iskander systems were redeployed closer to Ukraine's border as part of a massive redeployment of forces of Russia's Central Military District, which reportedly also involved units of the 120th Artillery Brigade, 74th and 35th Motorized Infantry Brigades, and 6th Tank Regiment.
As at this date, those forces have been concentrated at Pogonovo testing range, south of Voronezh, where there have been spotted a massive buildup of military hardware, including Uragan MLRS, TOS-1A "Solntsepek", Msta self-propelled artillery systems, as well as tanks and infantry fighting vehicles.
There have also been deployed a field hospital and an R-260T Redut/Redoubt-2US long-range communication system, which is employed at army command (rather than brigade command) echelon.
Meanwhile, it has been reported that Russia's military command had announced massive paratroop exercises that involve 30,000 personnel, and the Kremlin has doubled the strength of its battalion tactical teams it deployed to the Ukrainian border, purportedly as part of "readiness check" of the Southern Military District.
Read more: Russia's Current Escalation is Largest in Recent Years -- Ukraine's Foreign Minister
---
---