The foreign military attaches were introduced to the company's brand new radar products:
The 80K6KS1E is intended for use within air defense missile divisions; a prototype of the system has recently successfully completed its official qualification trials program, meaning it is ready to go into full-rate series production and enter military service.

The 80K6KS1E is an export-market version of the brand new 80K6KS1 "Phoenix" system that is already in Ukrainian military service
The 90K6E – a vehicle-based three-dimensional, 360-degree air defense search, transistorized radar system – is designed to search and track aerial targets flying at low to high altitudes and is especially efficacious against low- RCS UAV threats.

90K6E – an export-market variant of Iskra's most recent radar technology
36D6M – a Ukrainian upgrade to the proven, Soviet-legacy 35D6 technology -- is a vehicle-carried 3D airspace surveillance radar system. It is meant to be used as a part of modern automated Air Defense systems and S-300 SAM batteries, and to search low-flying aerial targets in various active and passive jamming scenarios. The 36D6M meets all the requirements of the modern warfare and is being fielded to Ukrainian military units.

Iskra's 36D6M radar system that was fielded to the Ukrainian Army in May 2020
MR-1 – a highly mobile, meter-wave band, Anti-Stealth radar – is specifically designed to search and track stealth aerial targets; it has been selected along with the 90K6 radar system to provide the target search and track capability for Ukraine's future-in-service, medium-range surface-to-air missile system.

Iskra offers its highly mobile, meter-wave band, Anti-Stealth radar system MR-1
The visiting team of foreign military attaches in Ukraine were also introduced to the projects being pursued by Iskra in its other fields of competence such as electronic countermeasure equipment, counter-battery and multi-role radars.
Read more: Ukraine's NVK Iskra has Developed a Multifunctional, 'Three-In-One' Radar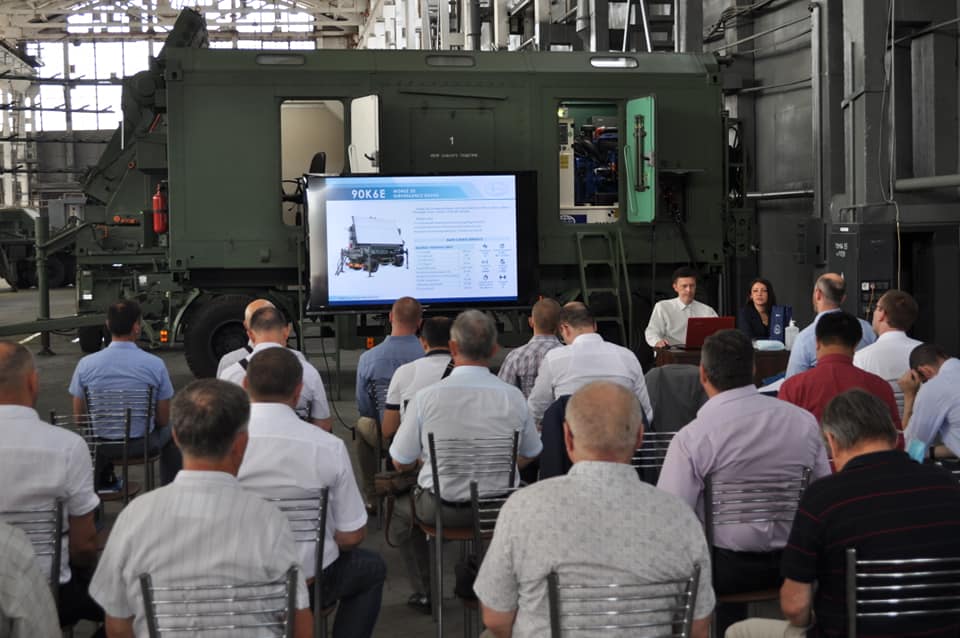 Read more: Initial Two BLOS Radars for Neptune ASCM System to be Delivered by Year's End
---
---