The Minister of Defense of Ukraine, Oleksiy Reznikov, announced that Spain will strengthen Ukraine's air defense with Hawk surface-to-air missile system. To be precise, these are four units of Improved Hawk Phase III, which were agreed to be donated after the Ramstein-6 meeting.
Defense Express notes that the produced in 60s MIM-23 Hawk, has undergone a number of global modernizations. According to Military Balance 2021, there are 38 units in a single version in Spain, namely Improved Hawk Phase III, which is the penultimate version of this air defense system. At the same time, the program to modernize their Hawk XXI with full digitalization and the introduction of the modern AN/MPQ-64 Sentinel radar started only in 2021 and is unlikely to be completed.
The Improved Hawk Phase III includes the AN/MPQ-50 surveillance radar with a target detection range of up to 100 km, which is responsible for medium and higher altitudes, the AN/MPQ-62 low-altitude target detection radar, and the AN/MPQ-61 target illumination radar. The complex also includes a command post and support vehicles.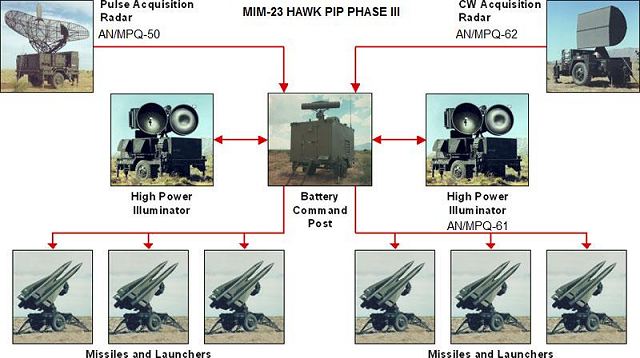 There is no information regarding the number of target illumination radars, but two AN/MPQ-61's can be considered as standard, each of them is "attached" to three M192 launchers with three anti-aircraft missiles on each. But there are also configurations with three and nine launchers.
The operational range is 45–50km, the missile speed is Mach 2.4 (823.2m/s), guidance is provided by a semi-active radar head. The missile has a 74-kg high-explosive warhead.
At the same time, Hawk's main disadvantage is its low mobility. According to the standard, its deployment time is 45 minutes, and the transfer to the derivative mode takes 30 minutes.
Improved Hawk Phase III specs
Target detection range: up to 100 km
Target destruction range: up to 50 km
Maximum target height: up to 20 km
Number of launchers: 3/6/9
Defense Express reminds that this is not the first air defense system that Spain is transferring to Ukraine, before that it was reported about the transfer of Aspide system.
The first group of the Ukrainian military began training on them in September, which allows us to make a forecast regarding the timing of receiving these air defense systems. The first group of Ukraine's servicemen began training on them in September, which allows Defense Express to make a forecast regarding the terms of obtaining these SAMs.
Read more: Portugal to Donate Ka-32 Helicopters to Ukraine
---
---