The Greek company EODH SA showcased its version of the Leopard 2A4 main battle tank modernization at the DEFEA exhibition. The first photos of it did not allow a full assessment of the developers' solution. Despite the initial impression that it was only an installation of dynamic protection blocks, the vehicle's improvement turned out to be more comprehensive.
According to Doureios, in addition to the ASPIS dynamic protection blocks, NERA elements, and anti-cumulative grids, EODH SA suggests the installation of active protection elements on the turret. Overall, this complex solution has been named ASPIS Modular NG-MBT.
Read more: Why T-72M1 and T-80U Tanks Lost to Leopard 2A4 during 1994 Tests in Sweden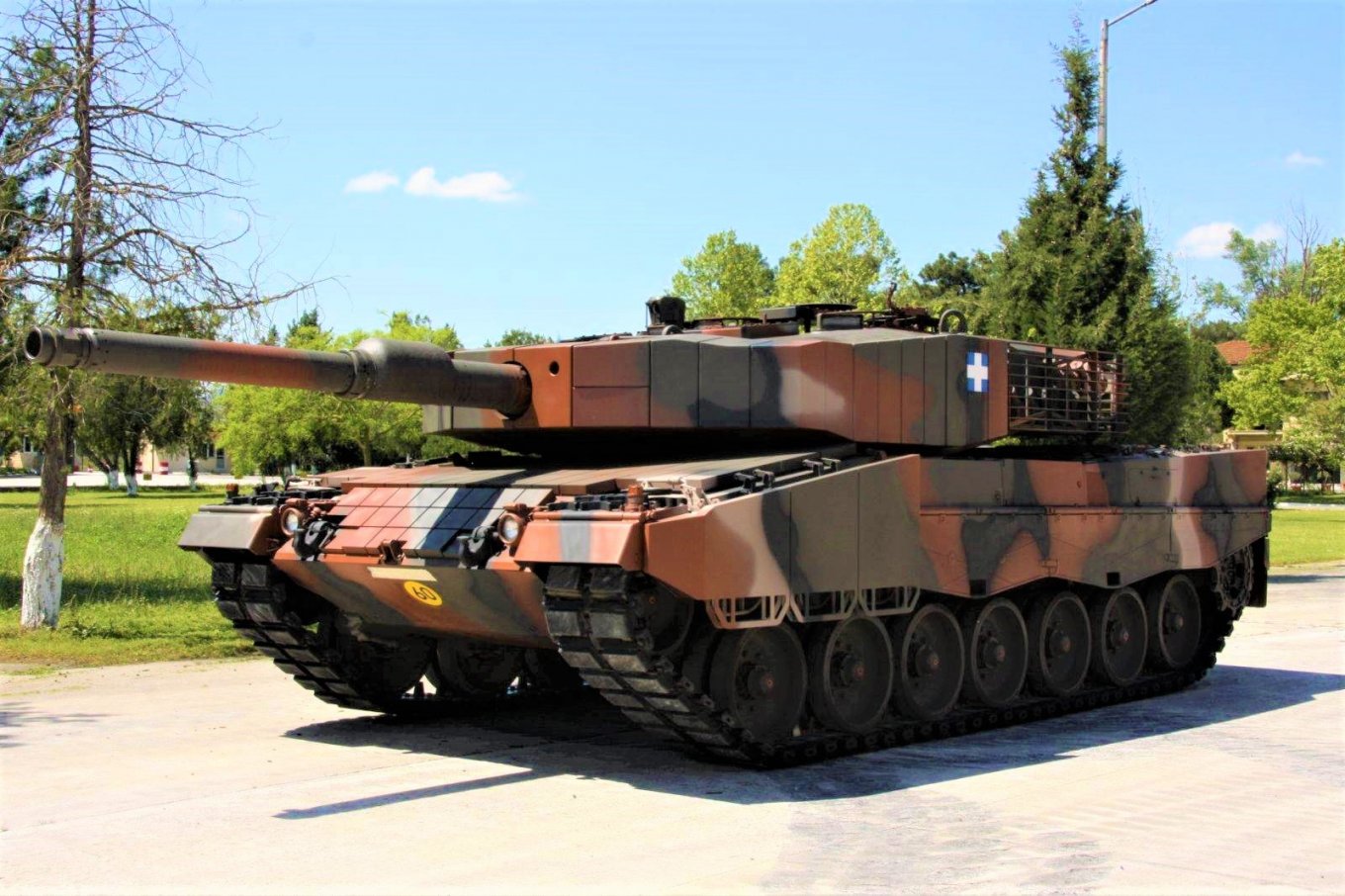 Instead of attempting to replicate the Israeli Trophy active protection system, which intercepts all threats from all angles, the Greeks focused on protecting the upper hemisphere.
The millimeter-wave radar sensors are used to achieve this. They provide the command to detonate explosive elements in the required direction, destroying threats approaching at significant attack angles. Limiting the area of responsibility of the active protection system has enormous significance.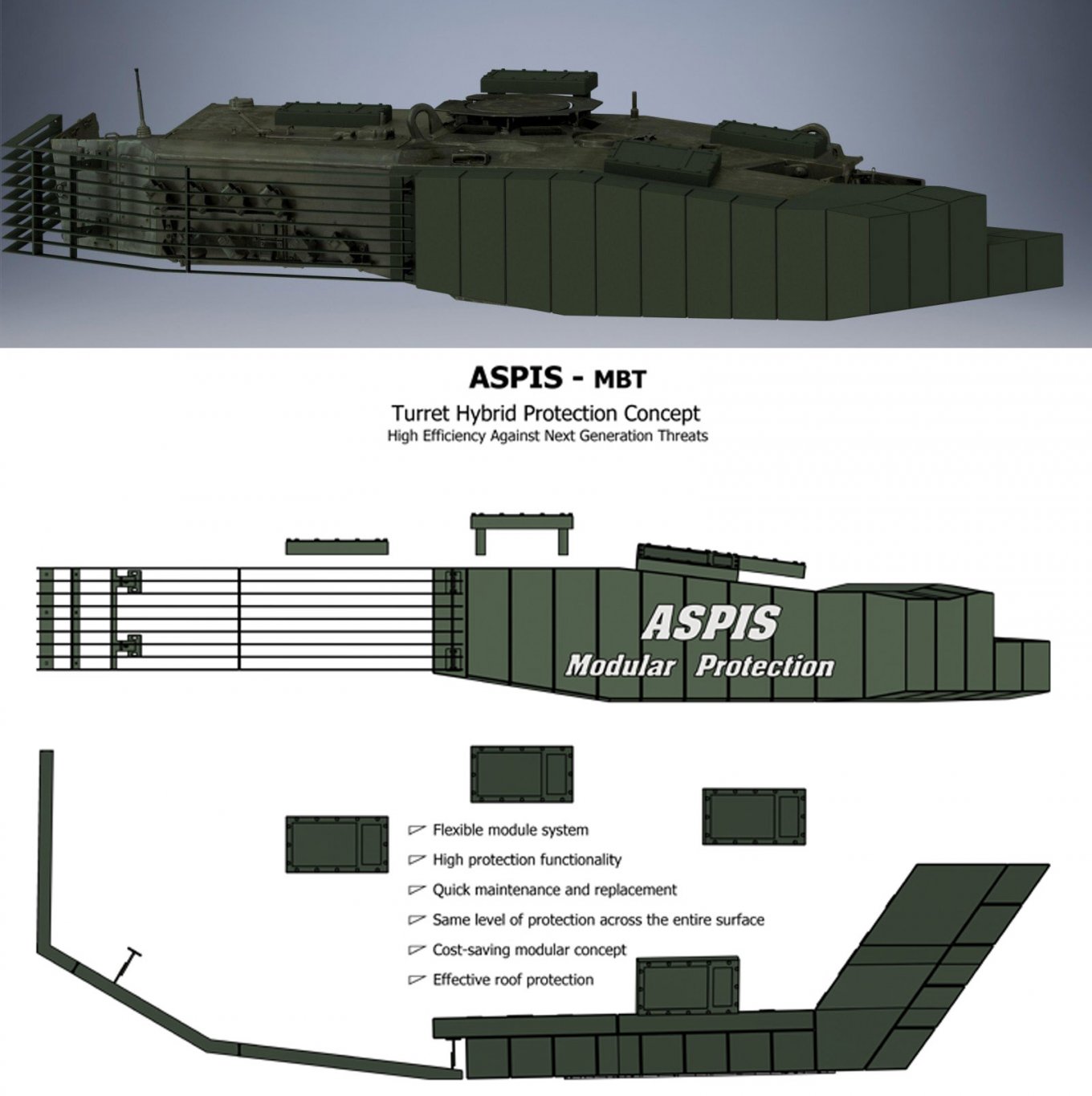 EODH SA has solved a number of problems with this solution. Firstly, the selection of threats, because in case of the need to use an all-round active defense complex, it is necessary to select targets and distinguish objects that do not pose a threat. Secondly, ensuring the safety of accompanying infantry so that they are not hit by the active defense system. Finally, active defense against anti-tank missiles and kamikaze drones is much simpler than intercepting sub-caliber ammunition flying at a speed of 1.5 km/s.
In the case of protecting only the upper hemisphere, these issues are resolved. Moreover, the anti-tank missiles attacking from above, as well as kamikaze drones, which are a new threat on the battlefield are not a problem as well. The dynamic protection, NERA elements and anti-cumulative grids are creating a complex solution that significantly enhances the protection of the Leopard 2A4 tank.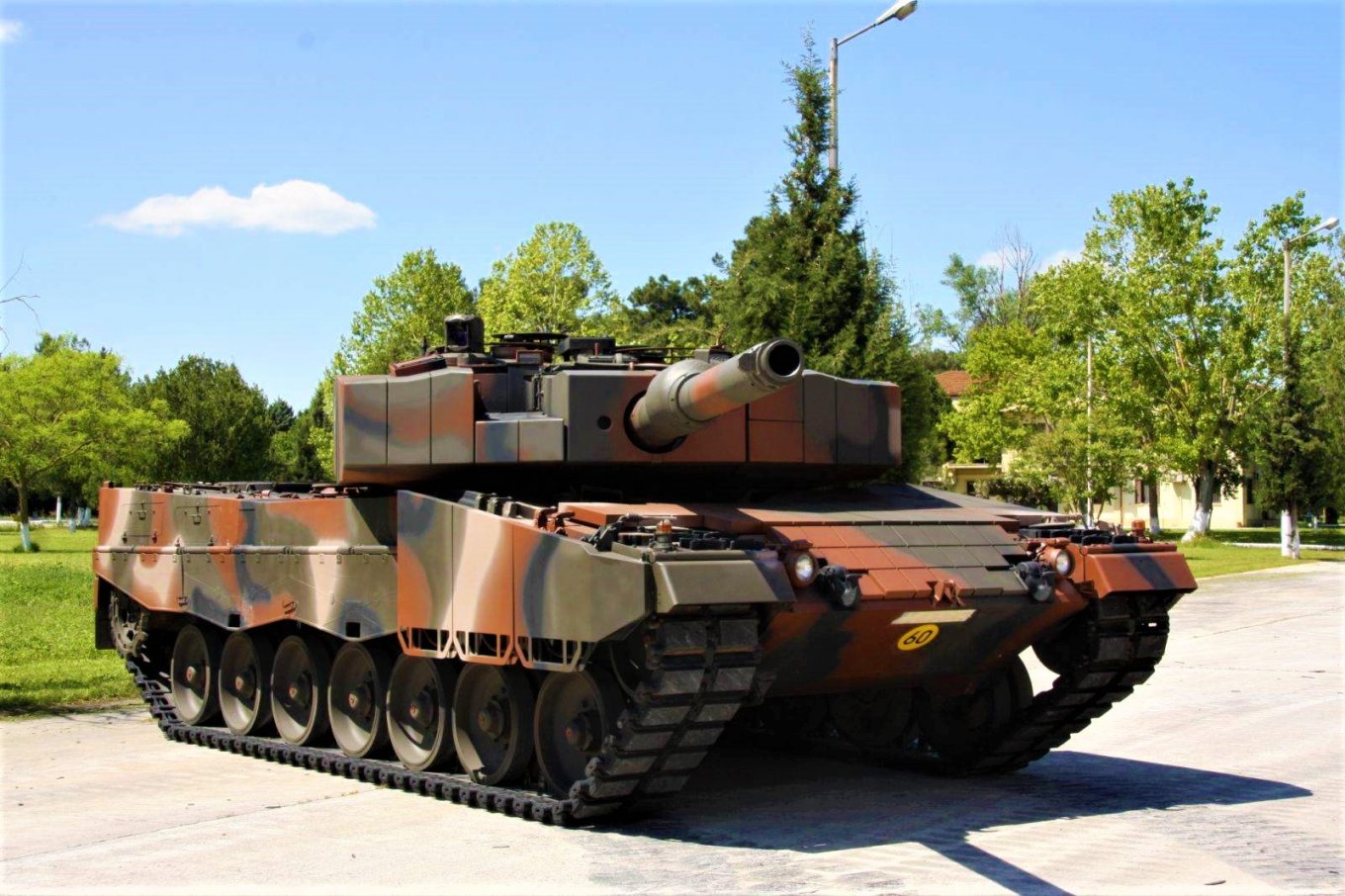 Despite its advantages, the weight of the system remains a concern, as the Leopard 2A4 chassis is designed to support a weight of up to 59 tons without significant modifications, leaving only a 4-ton weight reserve. For example, the Polish version of the Leopard 2PL tank stayed within this weight range, while the Turkish modernization version increased the weight to 61.3 tons.
However, EODH SA's solution is noteworthy for its use of active protection in the upper hemisphere, since there are similar developments in Ukraine.
Read more: In Poland Ukrainian Tankers Completed Training to Operate the Leopard 2A4 Tanks (Photo)
---
---