Baykar's Akıncı took off with a 6.049 kg take-off weight; it stayed airborne for 13 hours 24 minutes with 3000 lb (1.360 kg) payload and reached its operational ceiling of 30.000 feet (9.144 meters) on July 9.
The payload carried included TÜBİTAK Defence Industries Research and Development Institute's (SAGE) 2000 lb NEB Penetrator Bomb, in addition to 1000 lb extra weight on board besides the NEB.
Read more: Ukrainian Engine Powered Turkish Drone Akinci Sets Records for Flight Time, Altitude
The NEB is the first concrete penetrator system developed in Turkey. Utilizing Multiple War Head Systems (MWS) technology, it is designed for use against hard surface and underground targets.

Compared to its counterparts in the market, the NEB weighs like 1 ton, and it can penetrate to a Minimum of 2.1 m 35 MPa reinforced concrete. NEB can be used with High Precision Guidance Kit (Turkish abb. HGK) and GBU -10E/B Laser Guidance Kit and can potentially be used with all guidance kits which are compatible with MK-84 (2000 lb) GPB.
Featuring a programmable delay fuze and packed with pre-formed fragments utilizing Augmenting Charge technology, the bomb boasts high penetration capability even at low impact velocities and angles and provides a high fragmentation effect against secondary surface targets.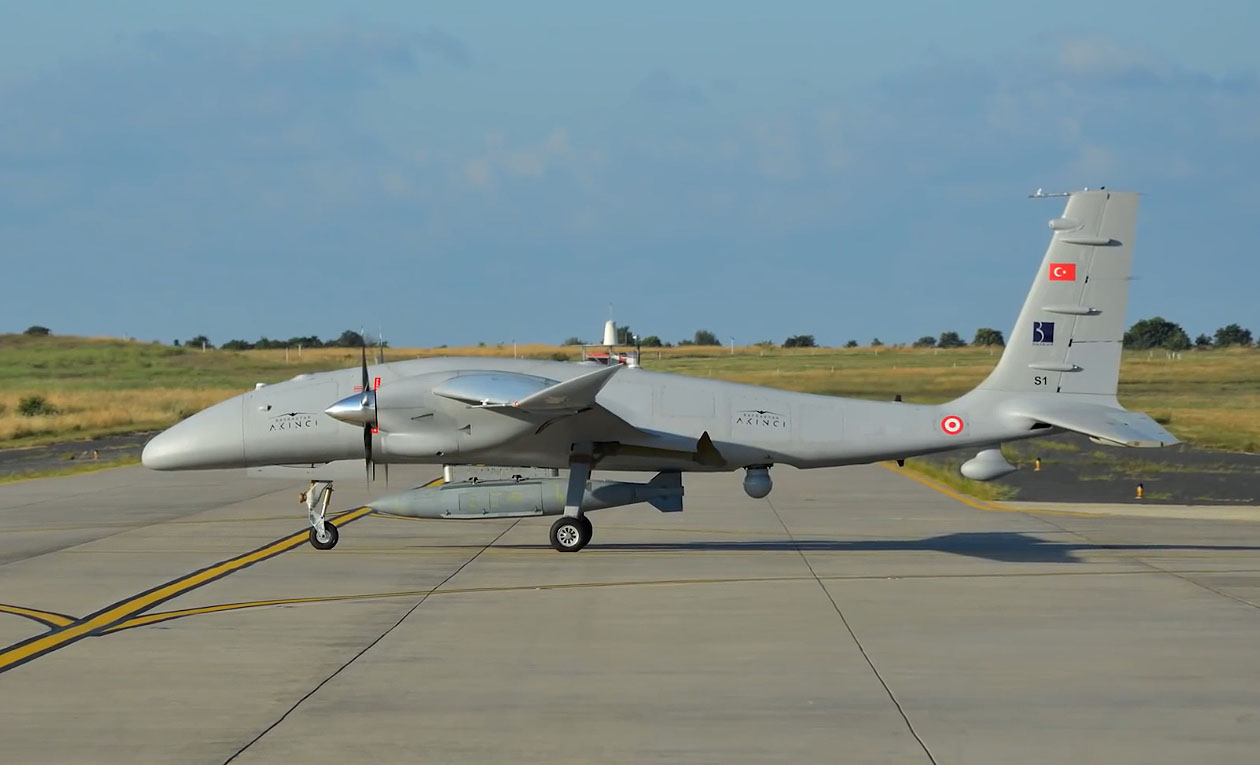 The test flight, performed at the Akinci Flight Training and Test Center in the Çorlu district in northwestern Turkey as part of the UAV's design verification test program, was witnessed by an official team of Turkey's Defense Industries Presidency (SSB).
Akıncı has logged 874 sorties in test and training flights to date.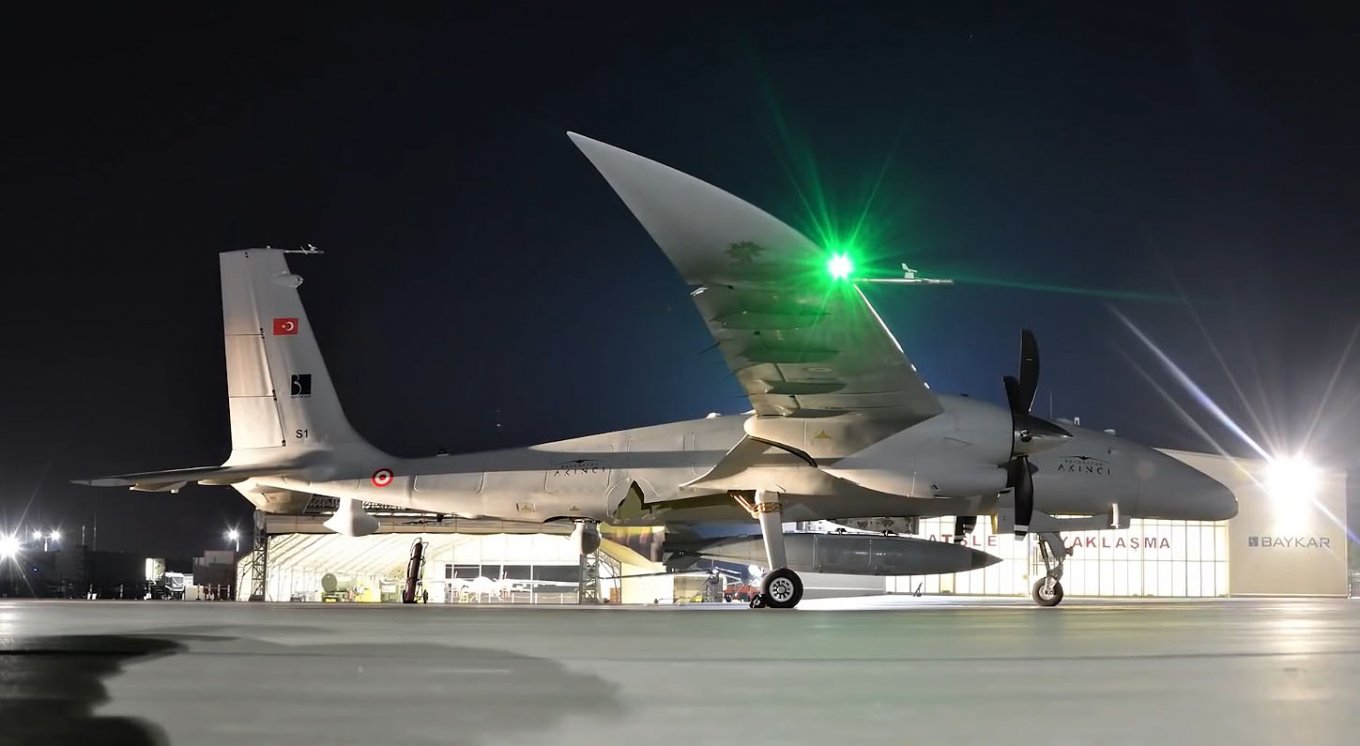 To reiterate, Turkey's new unmanned combat aerial vehicle Akinci powered by Ukrainian Ivchenko-Progress AI-450T turboshaft has recently set new records in Turkish aircraft industry as it was able to fly at an altitude of 38,039 feet (11,594 meters) and stay aloft for 25 hours and 46 minutes, having traveled 7,507 kilometers (4,660 miles) in the air during flight tests carried out at the Akinci Flight Training and Test Center.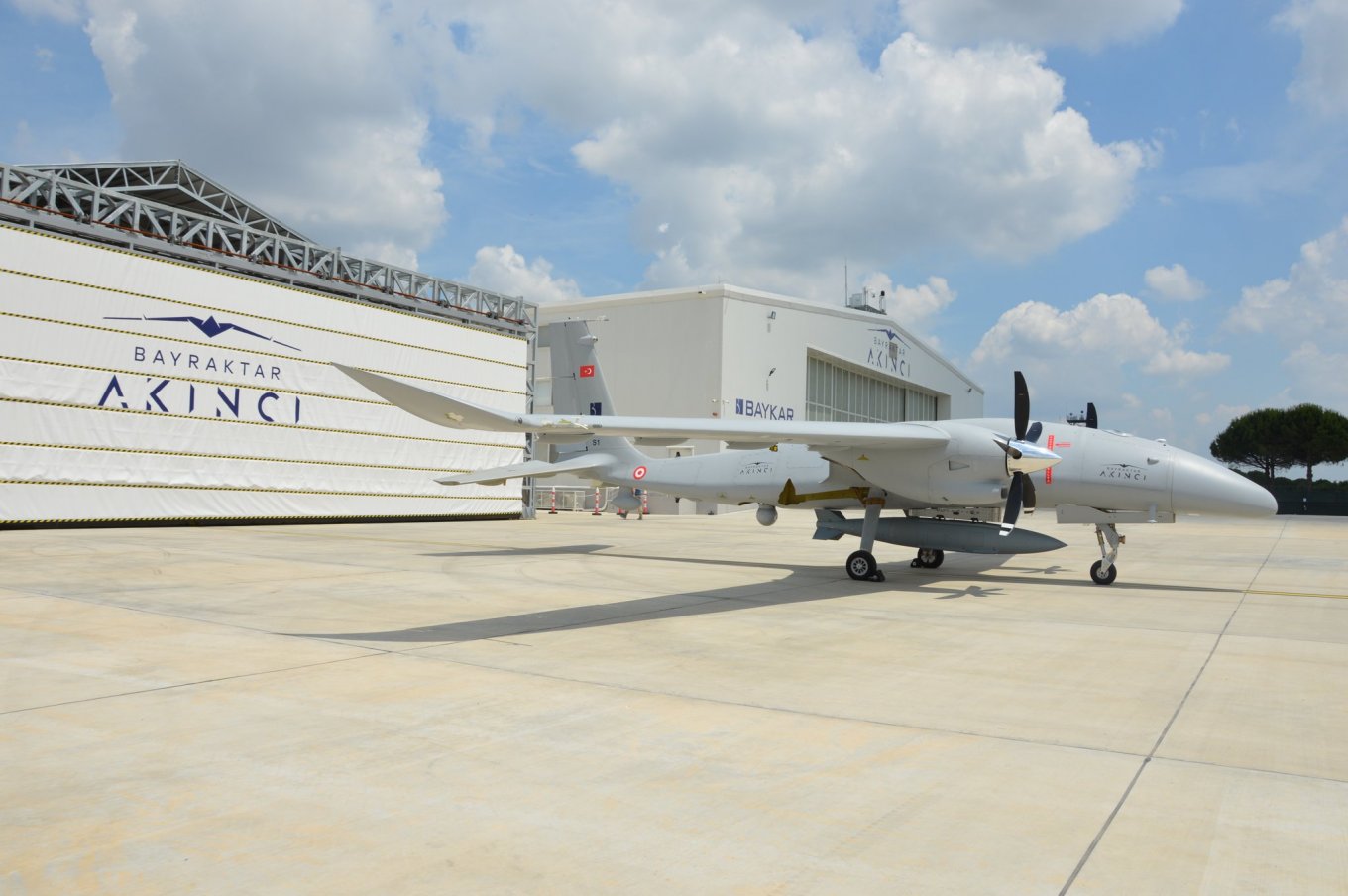 Combat drone Akinci seen carrying the 870-kg NEB Penetrator Bomb developed by the Defence Industries Research and Development Institute
Akinci underwent its initial firing tests in April using the latest smart munitions produced locally by Roketsan.
The munitions fired were MAM-T, MAM-C and MAM-L smart micro munitions (MAM).
Read more: Ramzay Developing Laser Homing Missiles for Use with its New Armed Rotor Drone
---
---