On Friday, November 10, the Defense Intelligence of the Ministry of Defense of Ukraine released a video of how Ukrainian kamikaze boats in the area of Vuzka Bay in the temporarily occupied Crimea attacked ships of the Black Sea Fleet of the russian occupation forces.
Later the Defense Intelligence of Ukraine, based on the results of preliminary intelligence, confirmed the information about this truly extremely successful special operation, as a result of which the occupiers lost two more of their ships.
Read more: ​russia Hit Foreign Civilian Vessel in the Black Sea with a Missile, One Person Killed, Several Injured
Thus, the department released a satellite image showing the affected landing craft, in particular one with an armored personnel carrier on board, as well as a jetty charred by impacts.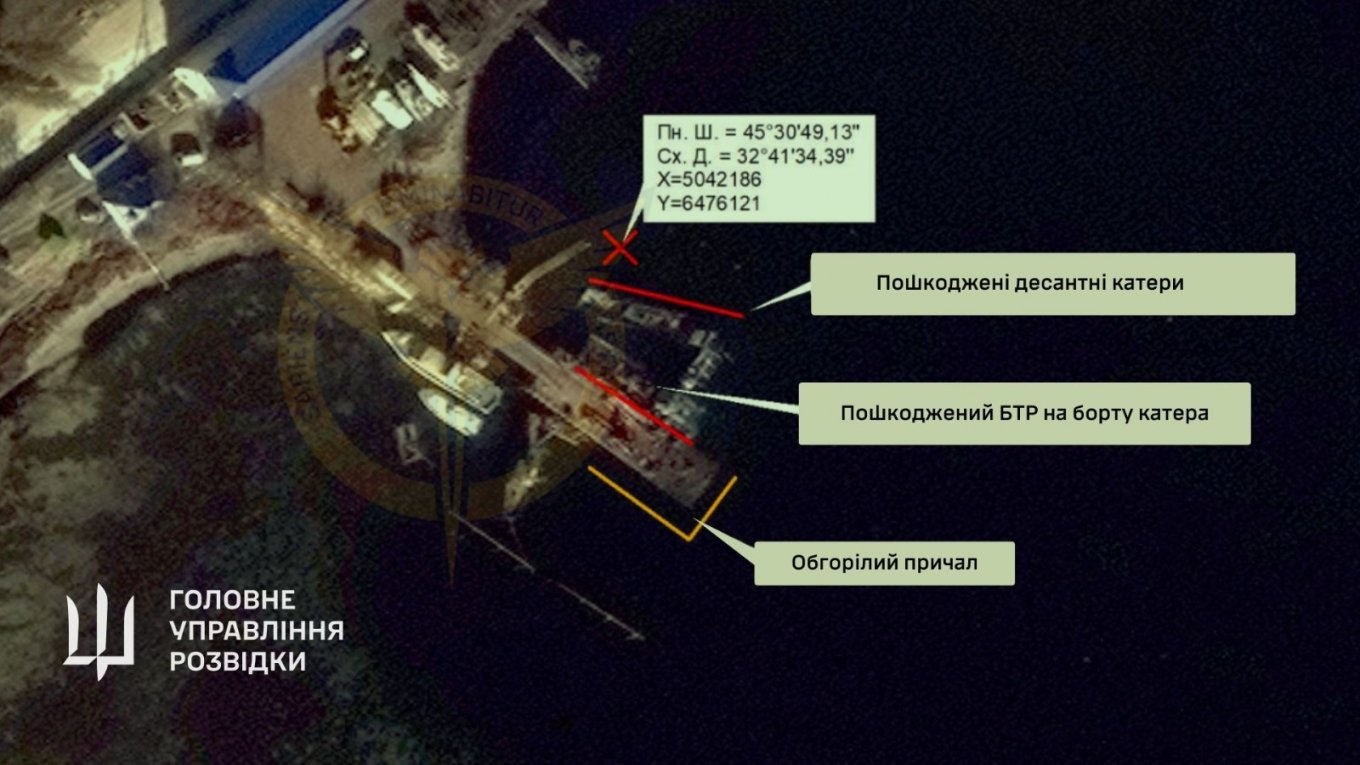 Although at first Ukrainian intelligence spoke of two damaged landing craft of project 11770 Serna class, according to the results of preliminary intelligence it was established that one of the ships attacked by Ukrainian kamikaze boats was a landing craft of project 1176 Akula class.
The most important thing is that according to Ukraine's Defense Intelligence, both russian ships went to the bottom as a result of an attack by Ukrainian surface weapons - and this is the first time that two ships were finally destroyed at once as a result of the use of kamikaze boats.
Earlier Defense Express reported, that Andrii Yusov, a representative of the Defense Intelligence of Ukraine, had announced that the service was preparing for a whole series of operations similar to the events in Kerch where russia's Project 22800 Karakurt-class latest missile corvette Askold was hit directly at shipyard.
That time Ukraine destroyed an enemy missile ship that had not even left shipyard and this was the first such a case in history. We also wrote, that Ukraine's attack on Askold highlighted an important detail about russian air defense of Crimea too.
Read more: The Transformation of Naval Warfare: Ukraine's Struggle Against russia in the Black Sea
---
---