This was reported by the gauleiter of the temporarily occupied Crimea Sergey Aksyonov on his Telegram channel.
Crimean Telegram channels report that a shipyard in Kerch was hit.
Read more: ​The Second Ship of russia's Black Sea Fleet Exploded On a Naval Mine in the Sevastopol Raid in Three Days
Meanwhile, the gauleiter claims that debris of downed missiles fell on the dockyard's territory.
"Air defense system worked in the area of the shipyard in Kerch, and some of the fragments of the destroyed missiles fell on the territory of one of the dry docks. There were no wounded," Aksyonov said.

Local media reported that smoke was rising above the plant. Some fire trucks, ambulances and trucks with russian militaries were heading that way.
Currently, information is spread online that Ukrainian long-range strike capabilities may have hit the Project 22800 Karakurt-class latest missile corvette Askold.
The Karakurt class, Russian designation Project 22800 Karakurt (Russian: Каракурт, lit. 'Latrodectus tredecimguttatus' European Black Widow), is a new class of Russian corvettes (small missile ships in Russian classification) which have been entering service with the Russian Navy since 2018.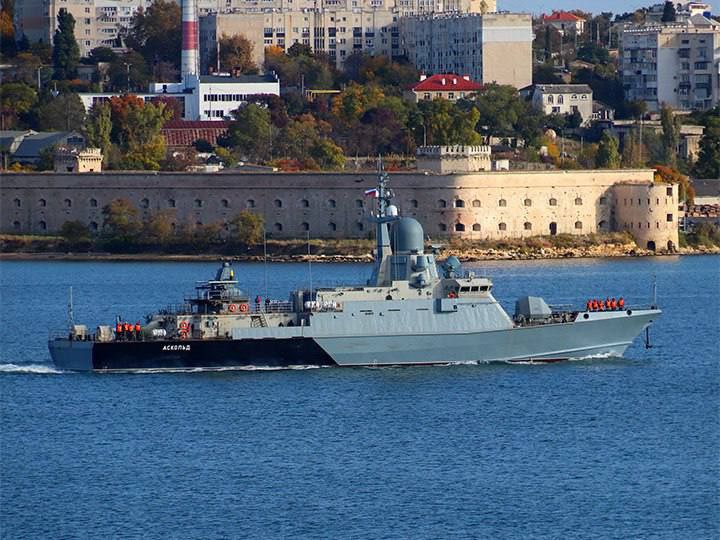 According to hromadske, Ukrainian intelligence has already commented on this event. "There are hits, the information is being clarified," a source in the Defense Intelligence of the Ministry of Defense of Ukraine confirmed.
Currently, the Strategic Communications Directorate of the Armed Forces of Ukraine has officially confirmed the attack on the shipyard in Kerch.
"On the evening of November 4, 2023, the Armed Forces of Ukraine launched successful strikes on the maritime and port infrastructure of Zalyv Shipyard in the temporarily occupied city of Kerch," the statement of StratCom reads.
russians had been using Crimea to prepare a large-scale offensive since the occupation in 2014. Currently, the occupiers continue to use the peninsula to transfer weapons, equipment and personnel to the front line.
Defense Express earlier reported about Ukraine's Defense Intelligence Special Forces Team Lands in Crimea, Inflicts Significant Losses on Russians.
Read more: The Transformation of Naval Warfare: Ukraine's Struggle Against russia in the Black Sea
---
---