The Armed Forces of Ukraine destroyed another pontoon crossing of the enemy, which was aimed to help the trapped russia's paratroopers, according to the InformNapalm community.
It was noted yesterday, May 12, that russian servicemen made an attempt to evacuate the paratroopers, who two days before had managed to cross the Siverskyi Donets, but came under attack by artillery of the Armed Forces of Ukraine.
Read more: ​"Fight Through Tank's Eyes" – Warriors of Ukraine's Mechanized Brigade Showed How They Fight the Occupiers (Video)
However, the Armed Forces of Ukraine was able to destroy the enemy pontoon crossing which was aimed to help to evacuate the invaders, so they simply abandoned all their vehicles and swam across the river themselves.
Overall, russian army units, after all conducted attempts to cross Siverskyi Donets, suffered literally catastrophic losses. Twitter users counted that russian occupiers had lost there 73 units of differend military vehicles.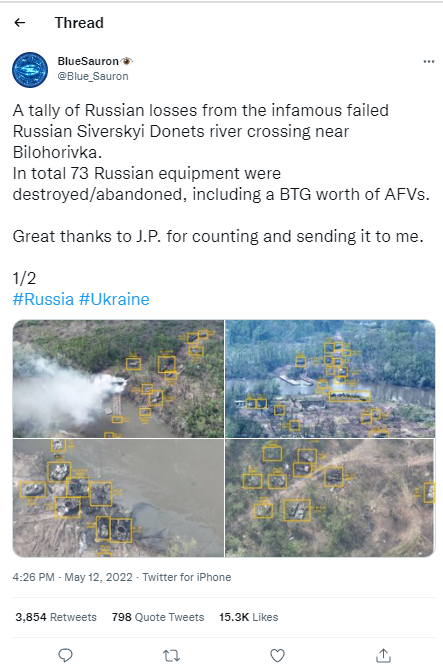 Defense Express notes that among the destroyed vehicles both BMD (amphibious infantry fighting vehicles) and BTR-D (armored personnel carriers) units can be seen, which means that infantry units were thrown across the Siverskyi Donets mixed with paratroopers.
Which, in turn, suggests that Russia has thrown in that direction their "mixed" battalion tactical group, which apparently was formed from remnants of those battalion-tactical groups that had already taken part in combat, but were defeated on the battlefield and lost significant amount of manpower and armament.
Read more: RM-70 MLRS is Already in Ukraine
---
---