Russia's invasion into Ukraine can be considered as Kremlin's gamble for blazing fast seizure Ukraine within if not days, than weeks.
This whole plan collapsed back in March, and the war has been going on for six months, having completely changed its outline several times already. And now on russia's agenda is the possibility of their defense industry to support the war. Consideration of this issue must be approached without bravado, realistically assessing the capabilities of the enemy with a full-time million-strong army and spending on defense industry the equivalent of Ukraine's budget.
Read more: ​Elite russian Tamanskaya Division Abandoned their T-90M 'Proryv' Which Became the First Such Trophy for Ukrainian Military (Photo)
But also without any fear to the enemy, realizing that russia was not preparing for a protracted war, which is a huge test for any state, and now the country is also under sanctions.
russia's defense industry condition before the invasion
To begin with, it is necessary to recall the initial data. The fact is that the Kremlin began a significant increase in the defense budget in the 2000s. the chart below by the World Bank combines the dollar equivalent of military expenditures and percentage of GDP from 2000 to 2020 in the russian federation.
The main conclusion from these data is that since 2018, in order to maintain the current level of funding for the army, the Kremlin has already "cut off" increasingly large pieces from other areas.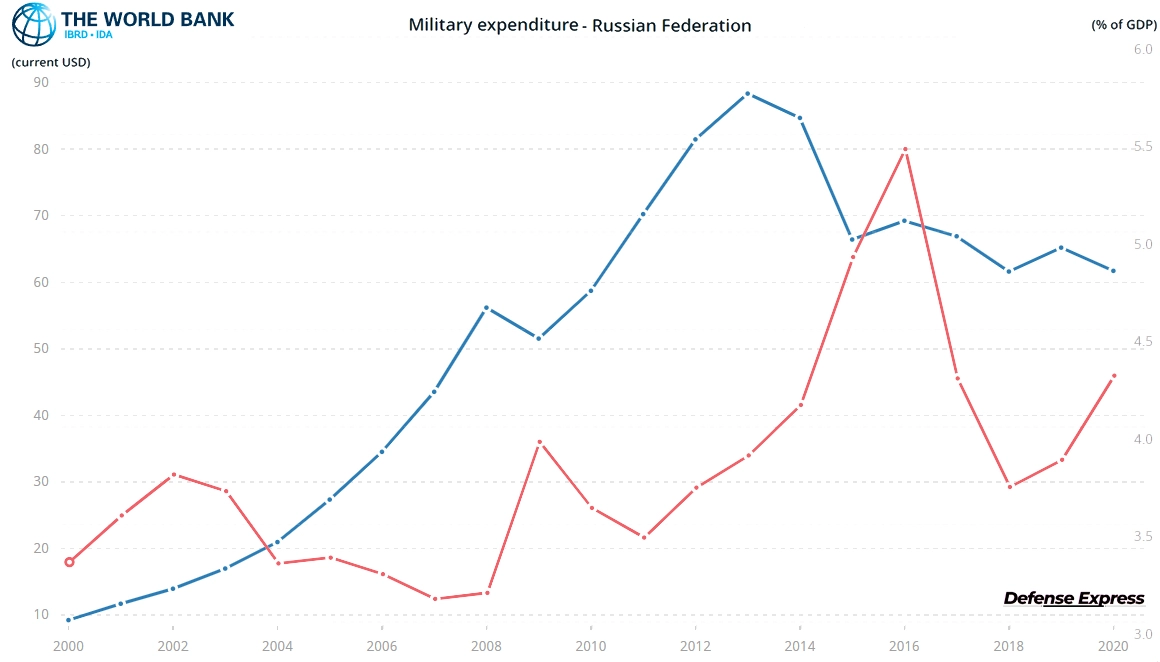 Another aspect is extremely important. In the 2000s, russia's Ministry of Defense planned a powerful and massive rearmament of all armed forces. It was about a total transition to new models and the formation of a new outline of the armed forces. Right from this period begins the development of the Armata tank, the Kurganets BMP, the Koalitsiya self-propelled gun, the Su-57 fighter jet, a whole series of Kalibr-type missiles and hundreds of others in all fields, including the AK-12 and the Ratnik individual equipment for the infantry.
At the same time, a significant part of these projects was not implemented, remaining mock-ups, experimental samples or limited to small-scale production. Others, like the AK-12, turned out to be completely different from what was declared, and sometimes had conceptual flaws, for example, the BMP-3, in the production of which huge amounts of money were invested. It is important that the process of rearmament was launched, and considerable efforts, time and funds, as it turned out, were spent in vain.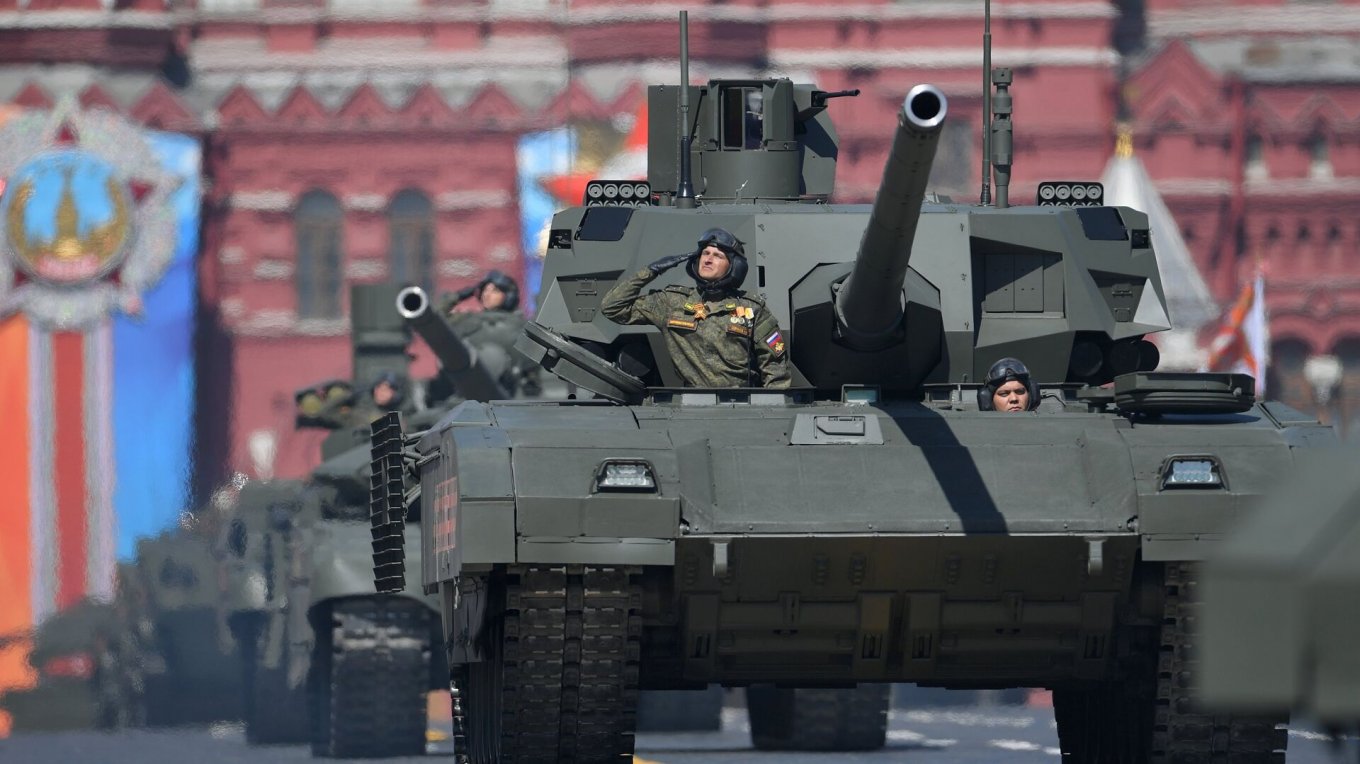 Thus, all that the russian federation was able to do, spending an average of 65 billion dollars a year in the army, was to update Soviet weapons and obtain a modernized Soviet army by 2021 with a segmental transition to new models with far from the declared characteristics.
Current capabilities of russia's defense industry
The entire military-industrial complex of the russian federation for two decades, having practically unlimited funds and direct tasks in the form of state programs, failed to rearm russia's armed forces. And now, being under sanctions, defense industry has to satisfy the needs of own army, which has been demonstrating "acts of goodwill" and "regrouping" for more than half a year, having an advantage in all types of weapons and manpower.
And one of the main tasks for russia's defense industry in this regard is, first of all, the repair and restoration of damaged equipment. Secondly, the replenishment of ammunition stocks, which is impossible to increase immediately. Even the US, with its industrial base, needs three years to triple production of simple 155 mm ammunition.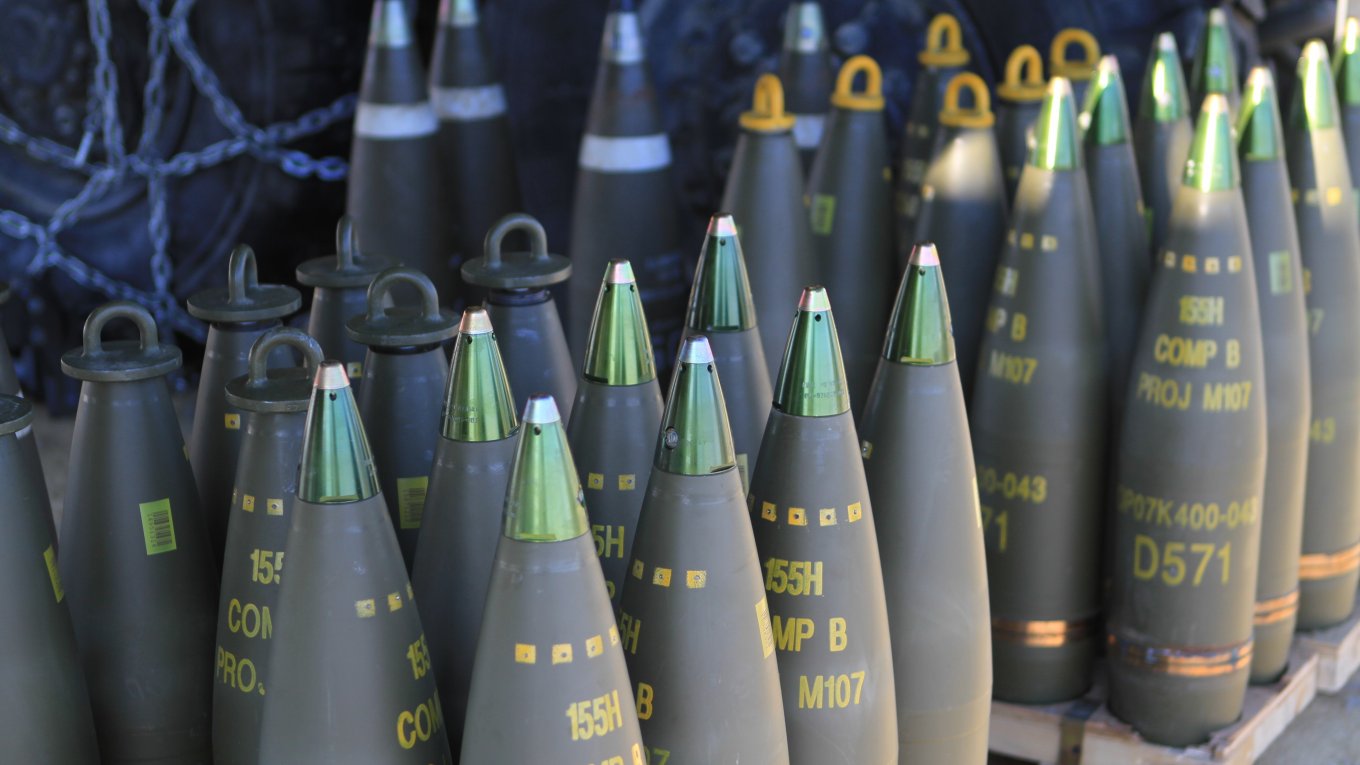 Similarly, with repair and restoration, which obviously needs finding spare parts and expanding the throughput of repair enterprises. And this requires both an increase in specialists and the production base.
The look of russia's repair battalion in the liberated Izium is extremely indicative of the real state of the restoration and repair capacities of the russian federation. According to their condition, some of these vehicles had been there for more than a few days. That is, rusians did not have time or could not repair or send them to the repair plant.
And to the question of whether the russian federation can compensate for losses with current production, even with a vague prospect of expansion, it is possible to confidently answer – no. Here we are talking about all types of weapons, ammunition and military equipment.
Future capabilities of russia's defense industry
It is necessary to understand that now the russian army is fighting with what has been in warehouses since the time of the USSR. Some types of weapons can be sent to the frontlines immediately, others require restorative repair.
What steps has already been taken by the Kremlin: attempts to "flood" with money and methods of the times of "war communism" have been introduced. We are talking about placing an additional 9.6-11.2 billion dollars in the state defense order of the russian federation and the actual mobilization of the military industry with the absolute right to dictate from russia's Ministry of Defense.
Whether it will allow to radically expand production can be demonstrated on the most simplified example. For example, a batch of BMP-1 is being removed from storage and they need to replace the UTD-20 engine.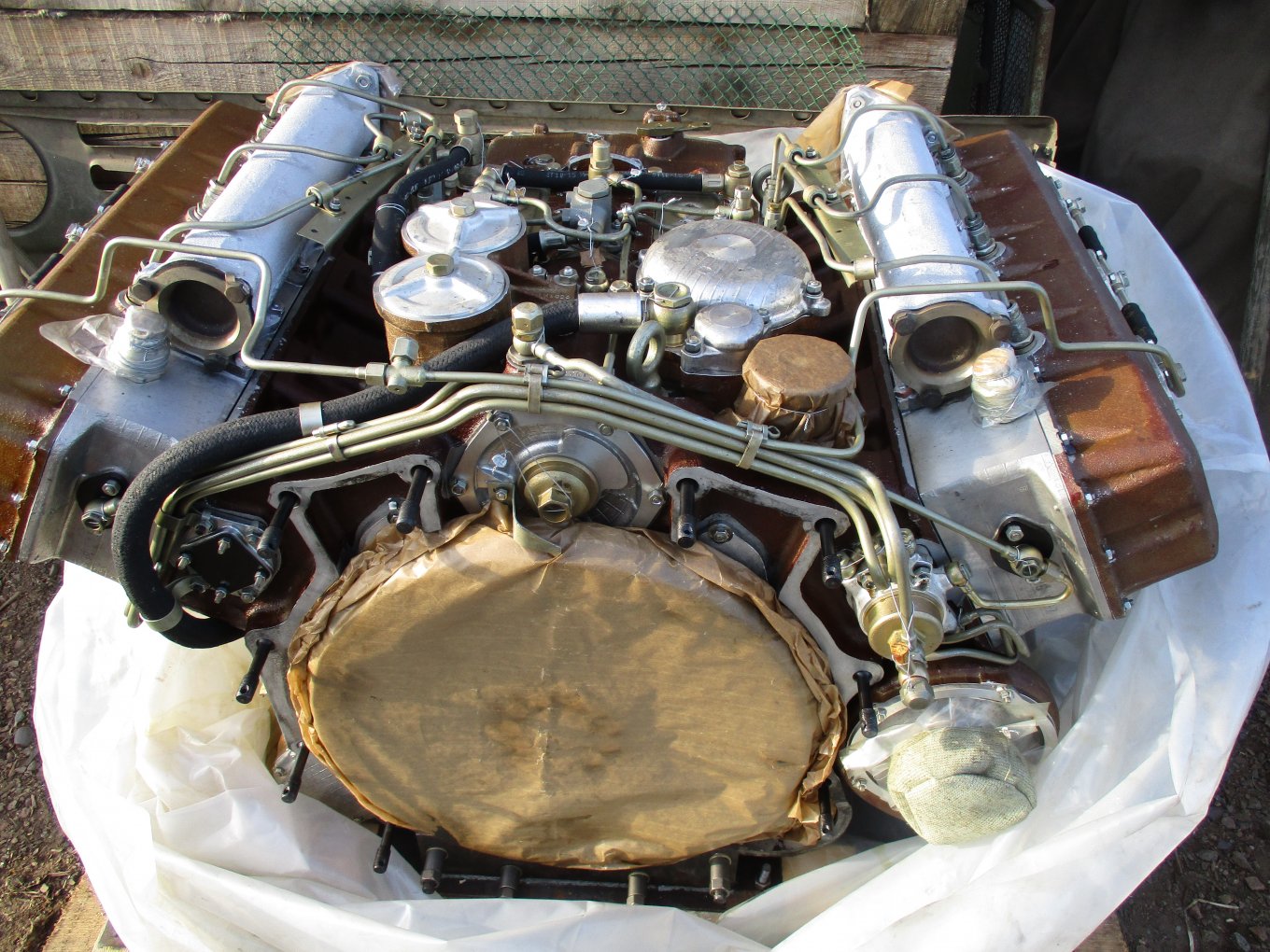 There is a plant where 100 workers restore 10 engines in one shift, it is switched to a three-shift work schedule and logically, they should already restore 30 engines per day. To do so, it is necessary to equip two more work shifts, that is, to find 200 specialists, and to prepare the production base for three times faster wear.
However, to restore the engine, components are needed, which were conditionally produced at another 10 factories, and they also have to switch to a three-shift mode of operation, and this is already a need for 2000 specialists. But these 10 component manufacturers also ordered metal, rubber, plastic, wires and other materials from another 10 manufacturers each, who also have to switch to 24/7 mode and need new workers, but now the number is 20,000.
That is, for a certain period of time, as long as there are stocks of components, it is theoretically possible to increase the restoration of engines by three times. But as soon as the stocks run out, the whole process will stop if the entire industry is not expanded. Of course, this only applies to closed systems, as in the modern world there is an opportunity to buy scarce positions abroad. But it works if the country is not under sanctions.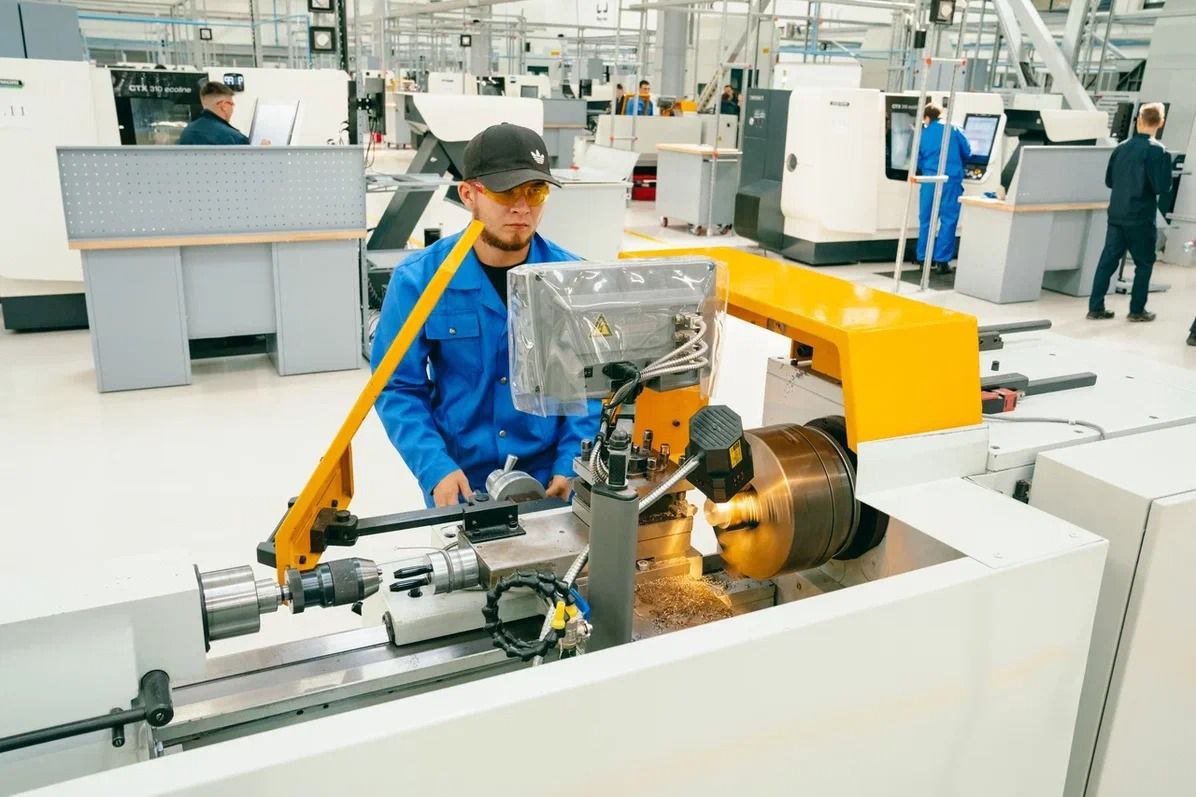 In this way, the Kremlin can flood its own military-industrial complex with money and even leave only two items in the budget - "for Putin" and "for war". But even under these conditions, the Russian Federation will not have new real production opportunities that require total changes like Stalin's industrialization.
For two decades in a row, Putin has showered the army and the military-industrial complex with money. Since 2000, we are talking about more than 1 trillion dollars (according to the World Bank) allocated for defense industry. As a result, the Kremlin is now recruiting prisoners, Putin personally goes to Tehran to beg for drones, and not only T-62s, but even anti-aircraft guns from Stalin's era are returning from storage bases.
Of course, the material will not be complete if we do not ask similar questions regarding Ukraine. But the fact is that now Ukraine is supported by over fifty countries that are directly interested in the demilitarization of the russian federation and no one is going to stop.
Read more: ​Without ATACMS: What are the Analogs to the American Far-Reaching Missile
---
---