Development of unmanned ground vehicles in Ukraine continues in the wartime, and projects initiated before the russian full-scale invasion are now helping the Ukrainian soldiers on the frontline. For example, the Ironclad drone from Roboneers.
Minister of Digital Transformation Mykhailo Fedorov said this combat robot is on a trial service with the Ukrainian Defense Forces. Among other duties, Ironclad takes part in assault on enemy positions, goes on reconnaissance sorties and provides fire support.
Read more: ​Ukrainians Use Ground Kamikaze Robots to Attack russians (Video)
"This is a revolutionary product from Ukrainian engineers from Roboneers that is changing the ways of waging war and helps to save the most precious – the lives of our soldiers," minister Fedorov wrote.
The post also had a photo attached. It shows the current latest version of the Ironclad, and we can see some design aspects have changed since the last presentation. For instance, the antenna now looks different and the turret was refined.
The main feature, though, remained the same: hinge connecting the two platforms. This layout is usually used in heavy vehicles that require high mobility. Thanks to this configuration, the drone is able to carry armor protecting it against 7.65х54mm bullet fire.
Thus the drone without payload has a weight of 1,800 kg. Plus 400 kg on top is the ShaBlia M2 (Sabre) weapon station armed with a heavy machine gun.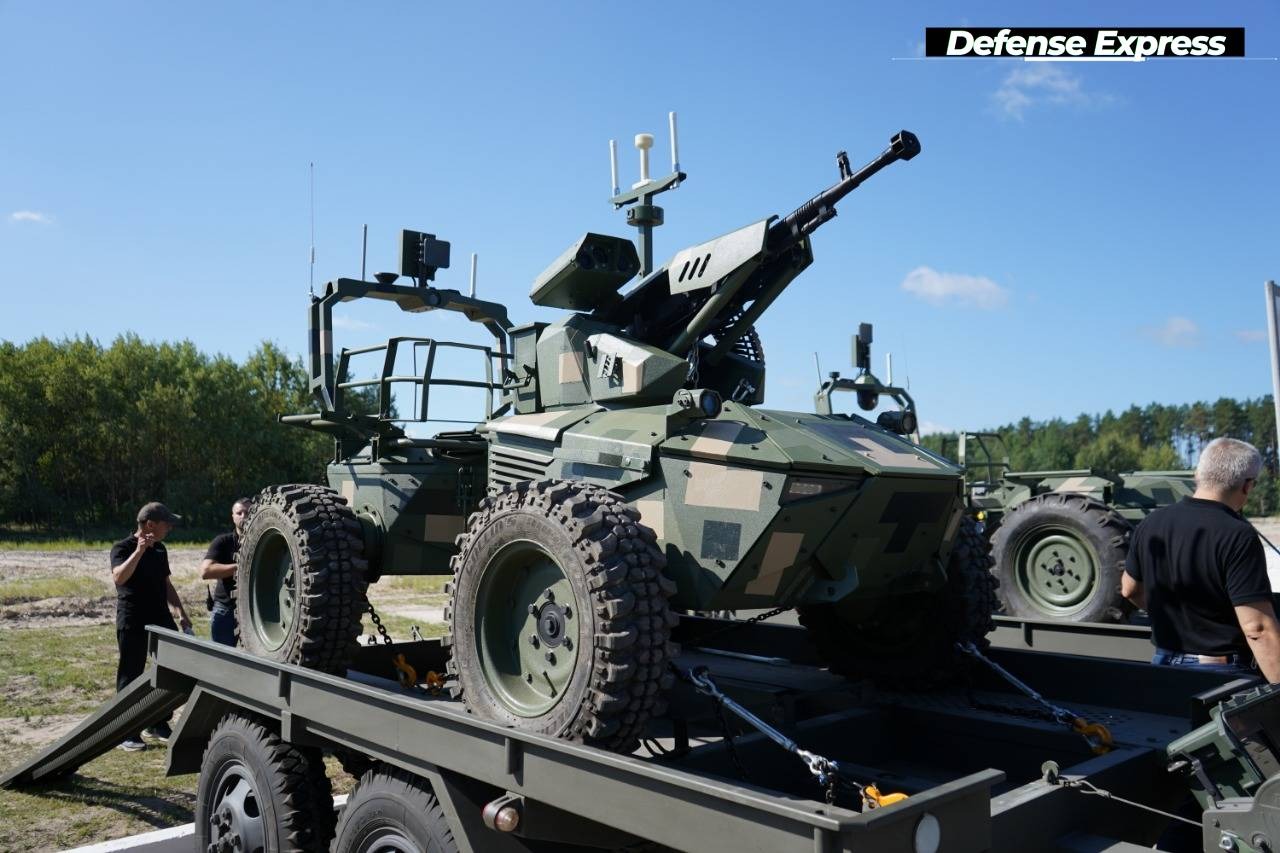 Worth noting, as a project Ironclad has existed for a while now. Starting 2018, the drone has been a regular participant in the Arms and Security annual forums as an exhibit. Multiple versions were created and pitched for service with the Armed Forces of Ukraine.
In May 2021, the Air Assault Forces Command had a preliminary assessment of the most advanced ground drones, Ironclad was among them. Later in August, comparative testing of the unmanned platforms took place under the auspices of the Ministry of Defense.
Nowadays, Ukraine is making a big bet on domestic drone systems projects. So we can see that besides own-made aerial vehicles, used for strikes on russian military facilities systematically at this point; and naval drones that managed to destroy or damage multiple ships of the russian fleet and even the so-called Crimean Bridge, there is also a blooming field of UGV development.
Read more: ​The Ministry of Defense Has Put into Operation the First Shablia Remotely Controlled Combat Module
---
---