Cost of military equipment is always an interesting topic because it allows one to evaluate the real cost of safety of their own country. Usually, the relevant prices are estimated based on contracts for "big weapons" like self-propelled howitzers, tanks or aircraft.
But even a single small arms round has its price. In Ukraine, producing one magazine for an AK rifle would cost you around $11 at current exchange rate. Now we have an opportunity to find out the price of a machine gun as well. The Come Back Alive Foundation has reported the delivery of a large batch of PKM machine guns to the Armed Forces of Ukraine. All 1,460 weapons in caliber 7.62mm cost €6.75 million.
Read more: ​India Continues Arms Cooperation With russia: Plant Producing AK-203 Has Released Its First Batch
Although the version of the gun is not specified, the details shown in the video report point to the MG-1MS from Bulgarian Arsenal. It has a characteristic barrel that is supposed to facilitate better cooling.

The manufacturer states that while all the specs of the original PKM were preserved, their variant has a 30% increased barrel life. The caliber is 7.52x54, other than the barrel, the gun has no design distinctions from the Soviet version.
Based on the total sum, a single PKM gun costs around €4,500 (or about $5,000).
On a side note, Bulgaria although doesn't talk about military aid to Ukraine, still helps a lot and sells Soviet-caliber weapons of modern making to Ukraine. It amounts to over $27 billion worth of military equipment only in the first 164 days of the russian all-out invasion, and the figure keeps growing.
According to the volunteer foundation, the newly purchased guns have been already distributed among 21 brigades and 9 reserve units by the Commander-in-Chief and the Logistics Forces Command of the Armed Forces of Ukraine.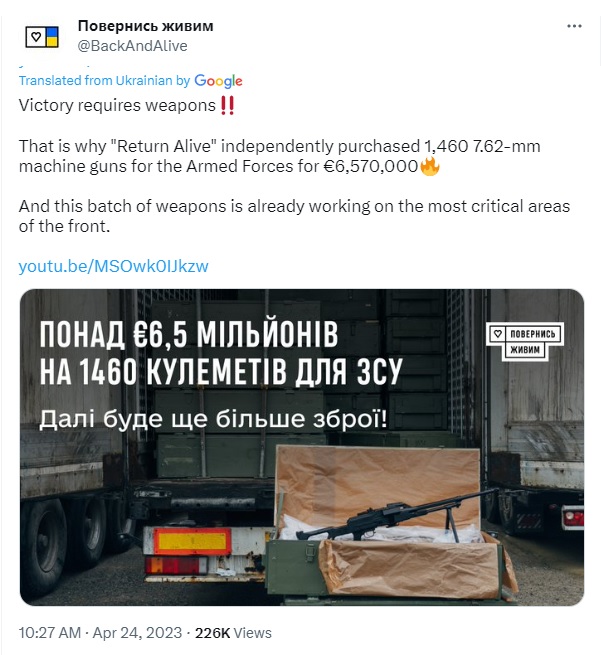 Read more: ​russian Mobilized Troops Received 'Demodernized' AK-12 Rifles as They Arrived in Ukraine
---
---