That is according to the Ukrainian Defense Ministry statement, Ukrinform reports.
"A 155mm self-propelled gun Panzerhaubitze 2000 has already 'worked' against Russian invaders on the eastern borders. Rapid fire. Precision. Effective use of ammunition. Minimum time for hitting a target and leaving a combat position. The PzH 2000 is a German combat vehicle weighing over 55 tonnes and already 'registered' with the Ukrainian Armed Forces," the Defense Ministry of Ukraine stated on its official page on Facebook. The post is accompanied with a respective video.
Read more: PzH 2000 Self-propelled Howitzers Arrived at the Frontline in Ukraine
The Panzerhaubitze 2000 ("tank howitzer 2000"), abbreviated PzH 2000, is a German 155 mm self-propelled howitzer developed by Krauss-Maffei Wegmann (KMW) and Rheinmetall for the German Army. The PzH 2000 is one of the most powerful conventional artillery systems deployed in modern times. It is capable of a very high rate of fire; in burst mode it can fire three rounds in nine seconds, ten rounds in 56 seconds, and can – depending on barrel heating – fire between 10 and 13 rounds per minute continuously. The PzH 2000 has automatic support for up to 5 rounds of Multiple Rounds Simultaneous Impact (MRSI). The replenishment of shells is automated. Two operators can load 60 shells and propelling charges in less than 12 minutes.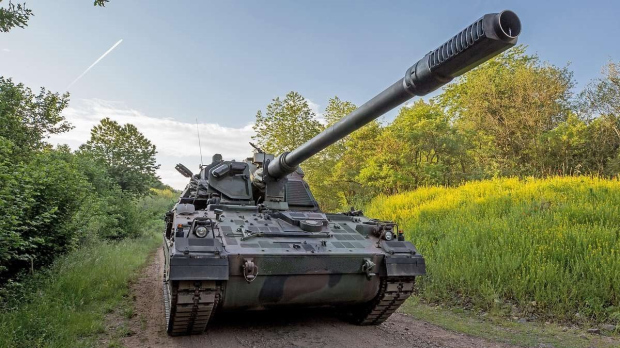 As Defense Express reported, Ukraine receives 12 PzH 2000 howitzers from Germany, Netherlands. The training of Ukrainian soldiers on Panzerhaubitze 2000s has been completed and Germany and the Netherlands are planning to donate 12 Panzerhaubitze 2000 self-propelled howitzers to Ukraine.
Read more: ​Ukraine Got State of Art Polish AHS Krab 155mm Self-Propelled Howitzers
---
---