The Washington Post reported Saturday, Oct. 30, that a "renewed buildup of Russian troops near the Ukrainian border has raised concern among some officials in the United States and Europe."
The renewed movements of Russian forces in the area come as the Kremlin embraces a harder line on Ukraine. Russian officials have escalated their rhetoric in recent months, attacking Kyiv's Western ties and even questioning its sovereignty. Putin has warned that any expansion of NATO military infrastructure on Ukrainian territory represents a "red line" for Moscow.
Read more: Ukraine's Bayraktart TB2 Drone has Seen its First Combat Mission on the Donbas Battlefield
Foreign Policy adds: Tensions between Russia and NATO have flared in recent weeks after the alliance withdrew the accreditation of eight Russian officials posted to its headquarters in Brussels, accusing them of espionage. In response, Russia closed the alliance's information office in Moscow and suspended its mission to NATO, which was first opened in the wake of the Cold War as a trust-building exercise.
Russia also rebuked Ukraine last week for using a Turkish-made drone against militant separatists in the Donbass region on October 26th. Russia has supported the separatist movement for nearly 7 and a half years and the drone strike destroyed a Russian-made piece of artillery equipment.
Following the drone strike, there's been an uptick in combat activity. Bloomberg explains: There were almost 1,000 violations of the agreement to cease hostilities in Ukraine's Donetsk region between the evenings of Oct. 29 and Oct. 31, according to the Organization for Security and Cooperation in Europe, which monitors the situation under peace accords signed in 2015.
"The new images taken by Maxar Technologies and shared with POLITICO show a buildup of armored units, tanks and self-propelled artillery along with ground troops massing near the Russian town of Yelnya close to the border of Belarus. The units, which began moving in late September from other areas of Russia where they are normally based, include the elite 1st Guards Tank Army," reports POLITICO.
The outlet adds: Meanwhile, a new analysis by Jane's on Monday reveals that equipment from Russia's 4th Tank Division has been moved to areas around Bryansk and Kursk close to Ukraine's northern border. The units are equipped with T-80U main battle tanks and self-propelled artillery.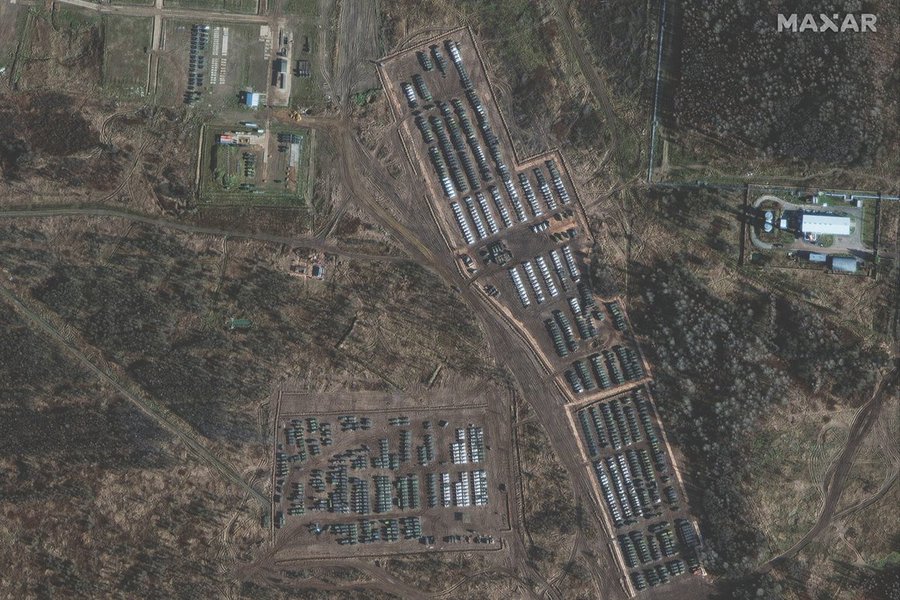 Russian snipers have also been seen taking part in a shooting contest in the Krasnodar region bordering Ukraine.
A Russian sniper took part in a shooting contest in the Krasnodar region bordering Ukraine
On Monday, Ukraine's Defense Ministry denied that there was a Russian military buildup on the border, but POLITICO subsequently published satellite images showing a clear uptick in troop and equipment movement.
The Main Intelligence Directorate of the Ministry of Defense of Ukraine said in a Monday Facebook post that the recent Russian military movements cited in American news reports are "essentially planned measures in the framework of troop movements after training."
"We are aware of public reports of unusual Russian military activity near Ukraine but cannot speak to Russian intentions," said Pentagon spokesperson Lt. Col. Anton Semelroth. "We continue to support de-escalation in the region and a diplomatic resolution to the conflict in eastern Ukraine. As we've said, our support for Ukraine's sovereignty and territorial integrity is unwavering."
Read more: Russian Military Vehicles with 'Invasion Stripes' Spotted on Ukraine's Border
---
---