Brief facts:
NATO Secretary General Jens Stoltenberg assured that NATO countries would strengthen and sustain military support to Ukraine.
Russia's right to membership in the UN Human Rights Council has been suspended.
G7 countries, EU ready to provide Ukraine with further assistance, including military equipment and financial means.
US Parliament has unonymously passed the Lend-Lease program to more efficiently send weapons and other supplies to Ukraine, for the first time since WWII
Pentagon confirmed the full withdrawal of Russian troops from Kyiv and Chernihiv regions; Press Secretary John F. Kirby said, that Ukraine "absolutely can win".
Sources
Read more: The 42th Day of the War: Russia Has Lost 18 600 Personnel, 684 Tanks and 150 Aircraft
Latest news:
Thank you for your attention! This feed is closed. But Defense Express has already started a new one. Find the latest news on Day 44th of the Russian invasion of Ukraine here.
00:20 ThePresident of UkraineVolodymyr Zelensky: If the world wants war to end, we must be given heavy weapons very quickly.
The world must provide Ukraine with heavy weaponry very quickly if it wants the war to end, otherwise it will drag on for a long time.
This was emphasized by President of Ukraine Volodymyr Zelensky in an interview with India's Republic Media Network, - Ukrinform reports.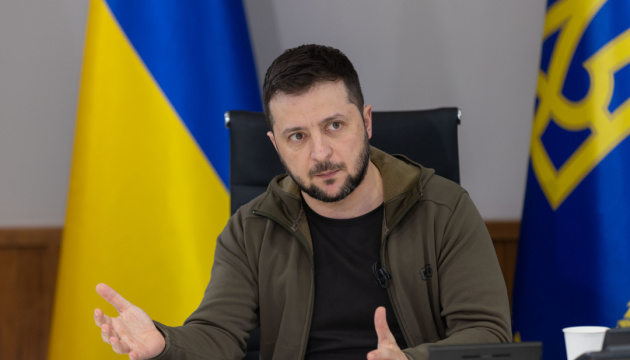 "The fact that we are not being given weapons by certain world leaders or world actors, this may prolong the war. Because we are not going to give up. And without heavy weapons, it will be a longer process of war. We will fight back, they then they can withdraw again, get new equipment, accumulate more forces and attack us again, they will occupy new cities, and we will fight again, so as long as our country remains without heavy weapons, this war will continue for a longer period ... If the world wants this war to be over, we need to be given heavy weapons very quickly. And we will be strong," said the president.
He noted that the issue of transferring heavy weaponry to Ukraine is currently being agreed upon, which means that the Ukrainian Army does not have these weapons yet.
"We have weapons only once they are on our territory. And anything prior to that is just a process, not a result. So now we are in the process. And in this process it is impossible to fight. You can be powerful when you have weapons," said Zelensky.
At the same time, the president assured that Ukraine does not intend and never intended to seize the territory of the Russian Federation, which perhaps is what the West fears.
"We never considered this, we don't need any Russian towns, any of their people. We only fight for our land. Therefore, when these weapons arrive, we will be able to push the enemy out of our land. We only need what's ours," the president emphasized.
23:45 The President of Ukraine Volodymyr Zelensky: Ukraine to fight for all cities currently under enemy control.
President Volodymyr Zelensky states that Ukraine will not agree to the status quo regarding the territories now occupied by the enemy, and will fight for all its cities, currently controlled by the Russians.
He said this in an interview with India's Republic Media Network, - Ukrinform reports.
"In any case, we will fight for all these cities. Today, Odesa is completely Ukrainian, it's not occupied. The most difficult situation is in Mariupol. But we will fight for all our cities until we restore our territorial integrity... We are ready to say today that the Russians must withdraw to the borders from which they began their full-scale invasion on February 24. This status quo that we're seeing today, the occupied cities – we won't abandon them to the Russian Federation," - the president stressed.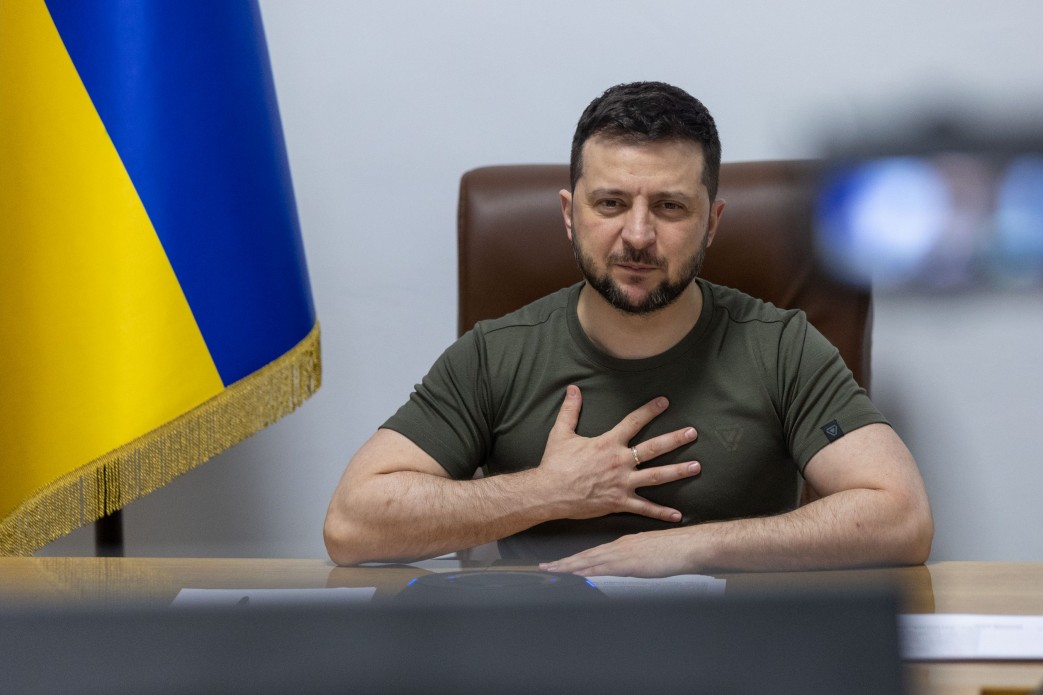 He recalled that the most difficult situation today is in the south and east of the country. In the south of Ukraine, where the invaders have moved in, the enemies have been killing local officials, while the locals categorically oppose any other officials being imposed on them by the Russians.
"We have already lost many mayors: they are being abducted, tortured, and killed. And these are the people who are elected by people, not appointed by President. That's why the people are reacting this way, defending their officials, because they elected them, while the Russian forces are trying to plant their people there," - he said.
23:25 Chairman of the Joint Chiefs of Staff Gen. Mark Milley: Russia's war in Ukraine "going to be a long slog"
The top of the US military top brass testified in Congress earlier on Thursday and the head figure of General Mark Milley, chairman of the joint chiefs of staff, had grim warnings for the millions desperately hoping Russian president Vladimir Putin sees sense and stop the attack on Ukraine, - The Guardian reports.
"Ideally, Putin decides to cease fire, stops his aggression, and there's some sort of diplomatic intervention, but right now that doesn't look like it's on the immediate horizon. It's going to be a long slog," Milley told the US Senate armed services committee in a hearing in Washington, DC.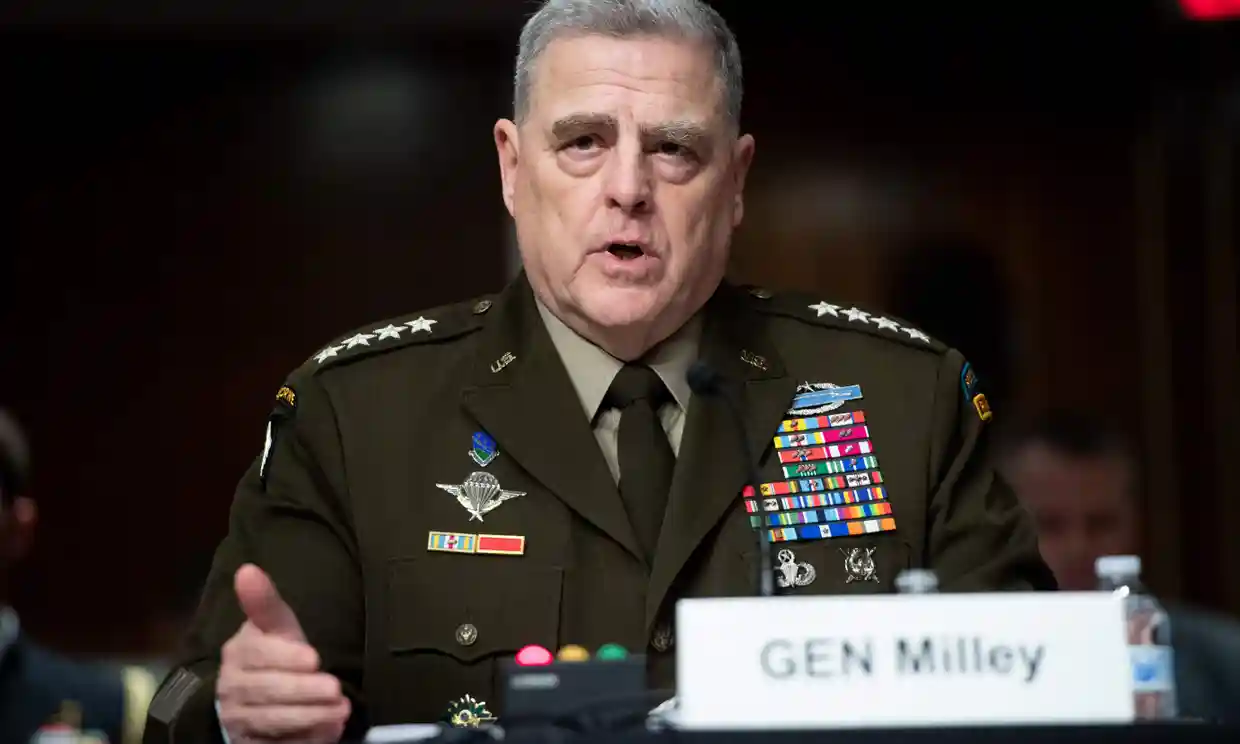 Bearing in mind that regional leaders are begging remaining residents in the eastern Donbas region of Ukraine to leave while they have a "last chance" before an expected renewed Russian offensive, Milley added his voice to warnings.
"There's a significant battle yet ahead down in the south-east, down around the Donbas region where the Russians intend to amass forces and continue their assault," he told the panel.
The US and NATO did not agree to supply fighter jets to Ukraine or other heavy weaponry, and did not step in to establish a no-fly zone over Ukraine because of the stated risk that the west could be drawn into a direct war with Russia in that situation.
But Milley said the US and its allies have delivered around 25,000 anti-aircraft weapons systems and 60,000 anti-tank systems. This has helped Ukraine prevent Putin's forces from achieving air superiority, despite Russia's devastating bombardment of parts of the country.
23:00 The Ministry of Defense of Ukraine published address by the Minister of Defense of Ukraine Oleksii Reznikov to the partnering states.
Ukraine's Defense Minister said that Ukrainians want to liberate the enemy-occupied territories as soon as possible to save people from genocide.
Oleksii Reznikov said that Ukraine need extra weapons to do this. He named next weaponry:
- air defense systems and combat;
- long-range weapons: Long-Range Artillery Missile complexes, MLRS and heavy artillery; - tanks and armoured vehicles;
- anti-ship missiles;
- reconnaissance and strike drones.
The Ministry of Defense of Ukraine sressed that it should by modern weaponry used by NATO countries.
"Ukraine needs to get the weapons used by NATO countries as soon as possible. This is the best solution for many reasons," – Oleksii Reznikov said.
22:15 Ukraine's military say they to down Russian military aircraft flying to Transnistria.
If Russia intends to transfer its military aircraft to the territory of the Transnistrian Moldovan Republic, Ukrainian air defense forces will shoot down such air targets.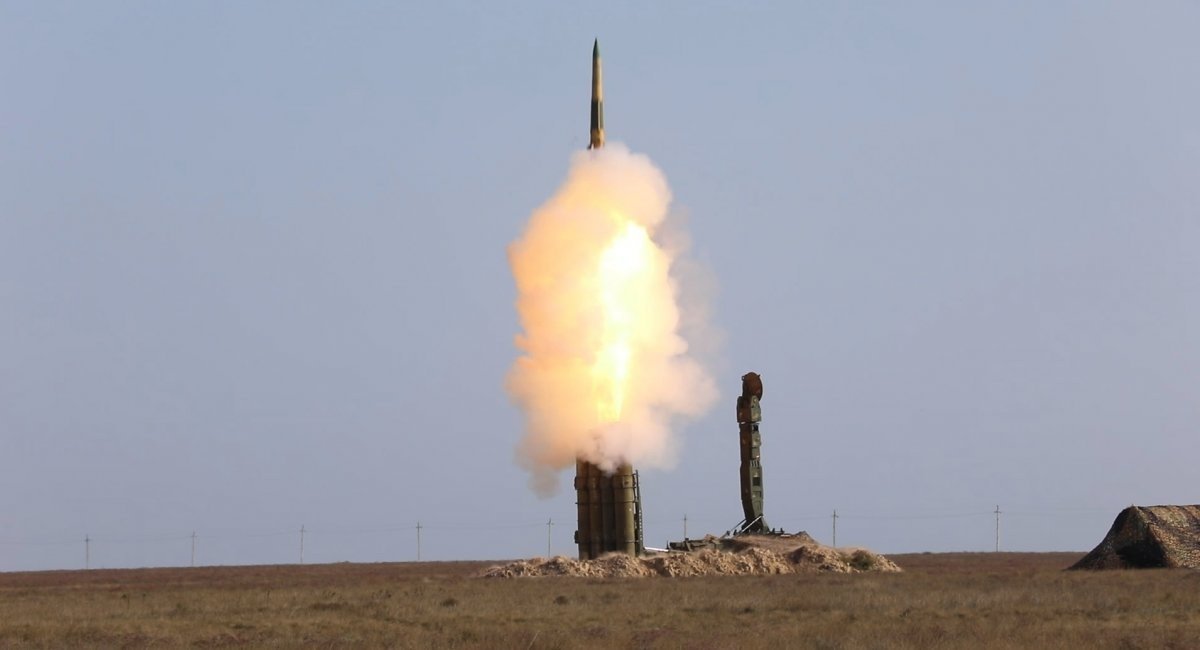 This was reported to Ukrinform by the head of the Public Relations Department of the Armed Forces of Ukraine, Colonel Bohdan Senyk.
"Ukrainian air defense forces will shoot down Russian warplanes and military cargo planes over the territory of Ukraine in case of any attempts to deploy them in Tiraspol," the official stressed.
21:30 Polish Prime Minister Mateusz Morawiecki: Poland demands creation of intl commission to investigate Russian war crimes in Ukraine.
Poland welcomes the adoption by the UN General Assembly of a resolution that stops Russia's membership in the UN Human Rights Council and requires the creation of an international commission to investigate Russia's war crimes in Ukraine, Polish Prime Minister Mateusz Morawiecki has said.
"In the face of the horror in Ukraine, there was no other option. But this is not enough. Russia must be held accountable for its monstrous and massive crimes against civilians. We demand the creation of an International Commission for the Investigation of Russian War Crimes in Ukraine," Morawiecki said on Twitter on Thursday, April 7.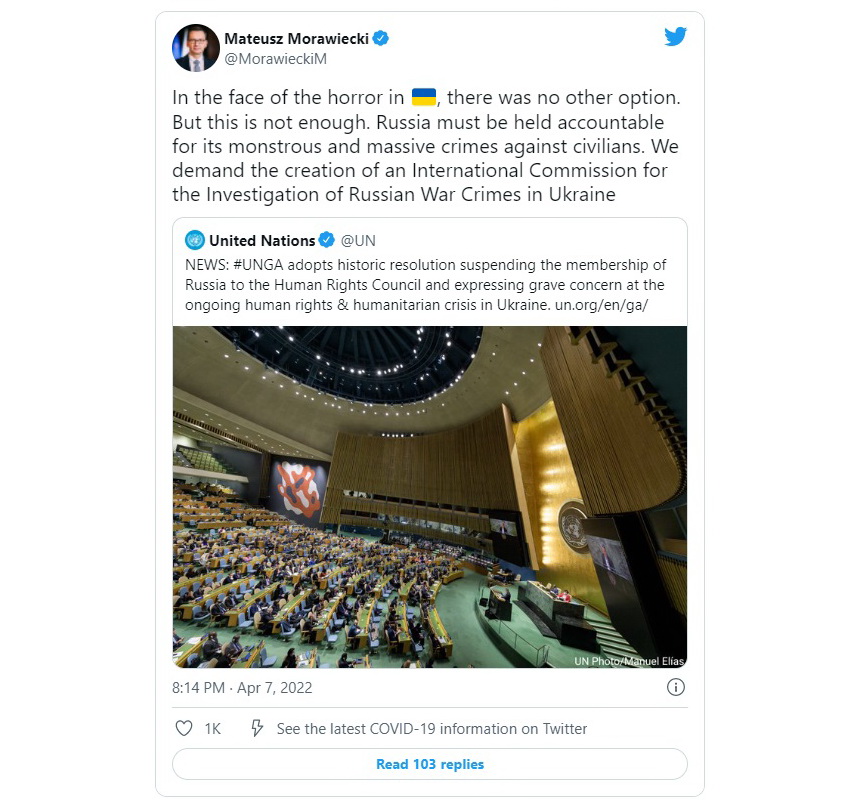 20:55 The President of Ukraine Volodymyr Zelensky tells Cyprus about bloody 'fun' of Russian troops in Ukraine.
Russian troops are murdering Ukrainian civilians simply for fun.
The relevant statement was made by Ukrainian President Volodymyr Zelensky during his speech in the Parliament of the Republic of Cyprus, - Ukrinform reports.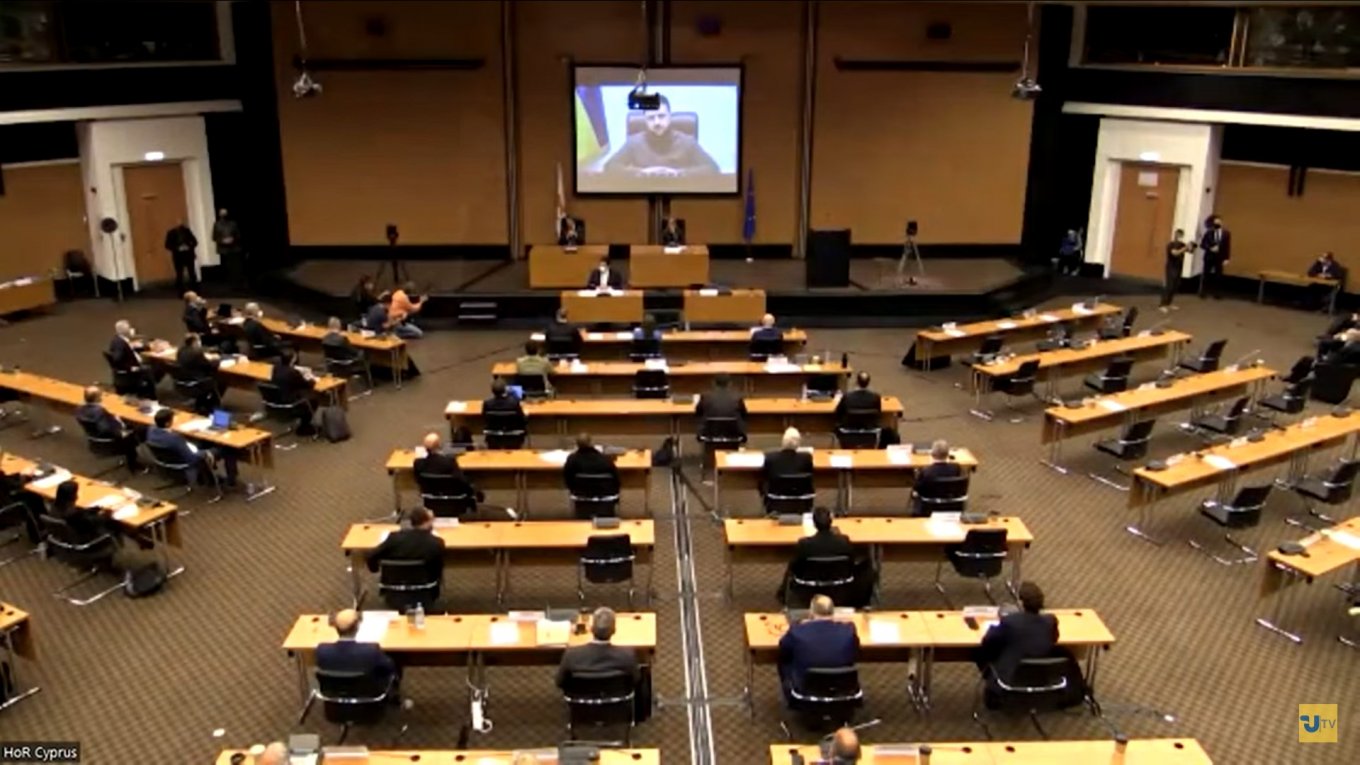 "In Bucha, Russian soldiers were killing people just on the roads for fun. In Irpin, they were raping underage girls, and then strangled them like experienced murderers. In Mariupol, they were shooting at a little girl, making her run down the street, because it is permissible for them to hunt for people. It is fun for them. In Kharkiv, they were killing dozens of ordinary, peaceful residents in a moment, shelling high-rise residential buildings with multiple rocket launcher systems," Zelensky told.
In his words, within the areas temporarily occupied by Russian troops, there can be far more children killed than we are currently aware of.
The President of Ukraine told a story of Sashko, a little Ukrainian boy who died together with his grandmother when evacuating along the river in Kyiv Region.
"He is one of 167 children, who have died since the Russian invasion started. And these are only those children we have been known for sure of. Within the occupied districts and the cities near which hostilities are raging, there can be far more children killed. Children whose lives were taken by this war. Russia's war against Ukraine," Zelensky stressed.
20:30 Foreign Minister of Ukraine Dmytro Kuleba: Russia's membership in UN Human Rights Council suspended.
Russia's right to membership in the UN Human Rights Council has been suspended, Ukrainian Foreign Minister Dmytro Kuleba said.
"Russia's rights of membership in the UN Human Rights Council has just been suspended. War criminals have no place in UN bodies aimed at protecting human rights. Grateful to all member states which supported the relevant UNGA resolution and chose the right side of history," he said on Twitter.
"The resolution has been approved," the UN General Assembly announced after the vote count. Some 93 countries voted in favor of the suspension, 24 voted against, and 58 abstained.
Consideration of this issue was initiated by the United States and a number of other countries. U.S. Ambassador to the UN Linda Thomas-Greenfield, in an interview with NPR, expressed the opinion that the exclusion of Russia from the membership of the HRC "would be symbolic," since, according to her, the Russian Federation "did everything possible to, in my opinion, damage the international order and put under threat the values of the UN."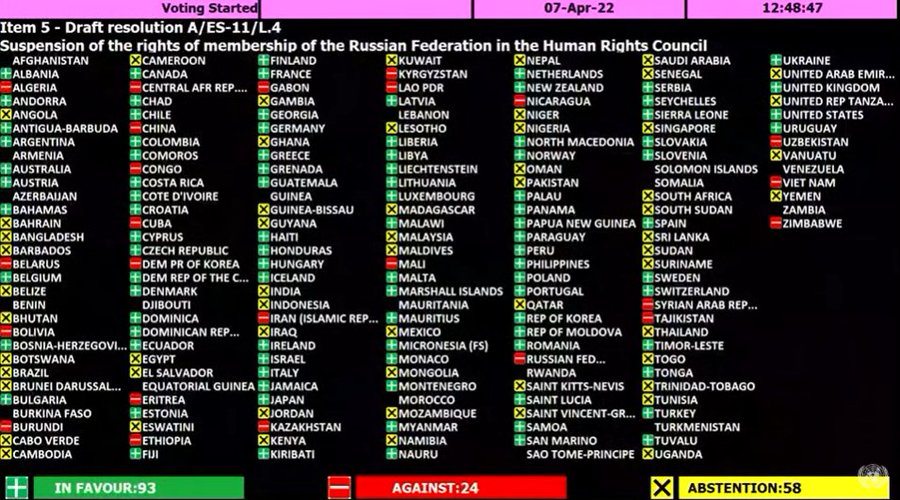 The United States supported this initiative, in particular, in Great Britain. UK Foreign Minister Liz Truss said that Russia "cannot remain a member" of the UN human rights body after the atrocities in Bucha near Kyiv.
19:45 NATO Secretary General Jens Stoltenberg: NATO countries to strengthen and sustain military support to Ukraine.
During a ministerial meeting in Brussels on Thursday, April 7, NATO Allies agreed to further strengthen and sustain support to Ukraine, namely military support.
The relevant statement was made by NATO Secretary General Jens Stoltenberg at a press conference, - Ukrinform reports.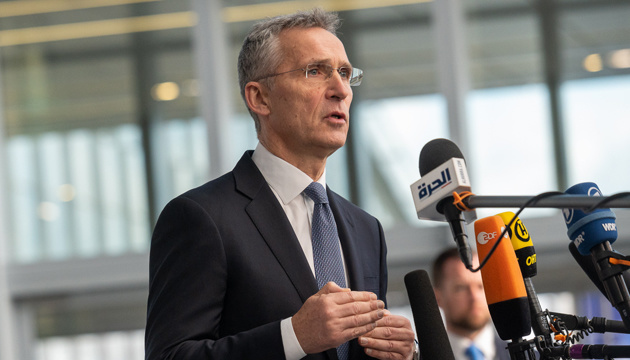 "And it was a clear message from the meeting today that Allies should do more, and are ready to do more, to provide more equipment, and they realise and recognise the urgency," Stoltenberg said, adding that Allies are ready to do more when it comes to military support.
In his words, in the course of the meeting, the ministers agreed that "we must further strengthen and sustain our support to Ukraine. So that Ukraine prevails in the face of Russia's invasion".
According to Stoltenberg, Allies "are determined to do more. Now, and for the medium and longer term. To help the brave Ukrainians defend their homes and their country, and push back the invading forces".
19:20 The Office of the UN High Commissioner for Human Rights: War in Ukraine kills at least 1,611 civilians, 2,227 injured.
Civilian casualties from February 24, when Russia started the war against Ukraine, to 24:00 on April 6 amounted to 3,838 civilians (3,776 in the report a day earlier), including 1,611 dead (1,563), reports the Office of the UN High Commissioner for Human Rights.
"OHCHR believes that the actual figures are much higher as information is delayed from some areas of intense fighting and many reports are still awaiting confirmation," the document says.
According to him, this applies, for example, to Mariupol and Volnovakha (Donetsk region), Izium (Kharkiv region), Popasna (Luhansk region), Borodianka (Kyiv region), where there are reports of numerous civilian casualties. They are subject to further verification and are not included in the above statistics.
"The majority of civilian deaths or injuries were caused by the use of explosive devices with a wide area of effect, including shelling from heavy artillery and multiple launch rocket systems, as well as rocket and air strikes," the report says.
According to confirmed UN data, 409 men, 240 women, 43 boys and 25 girls died, while the sex of 63 children and 831 adults has not yet been determined.
Among the 2,227 injured there were 45 girls and 42 boys, as well as 104 children whose gender has not yet been determined.
Compared with the previous day, according to the UN, one child died and three more were injured.
OHCHR indicates that in Donetsk and Luhansk regions, as of midnight on April 7, there were 425 (420) dead and 833 (821) injured in government-controlled territories, and 67 (67) dead and 259 (259) injured in the territory controlled by the self-proclaimed "republics."
18:50 General Staff of the Armed Forces of Ukraine posted the operational update regarding the russian invasion as of 18.00 on April 7, 2022. Key facts.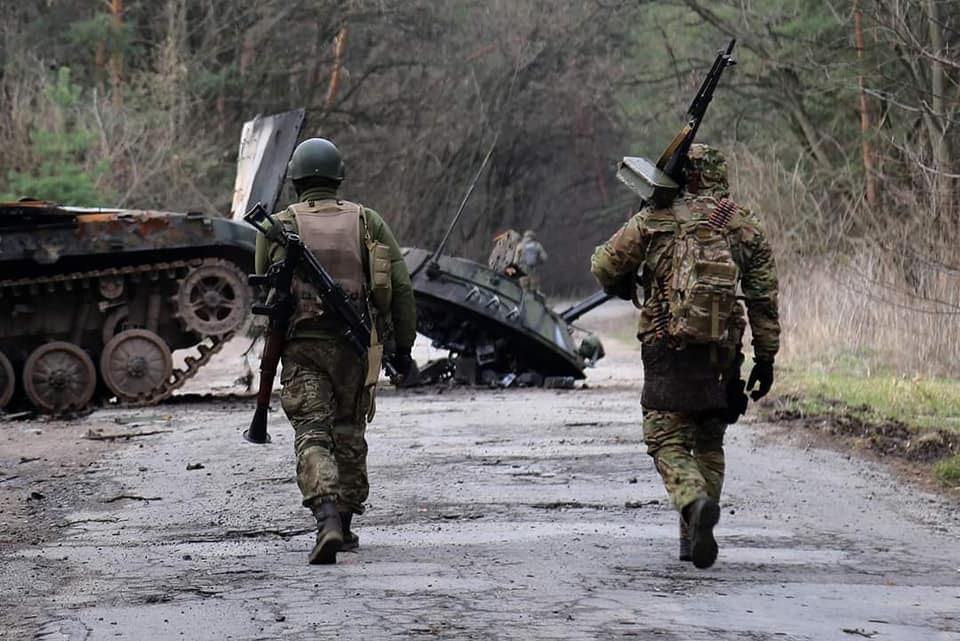 The enemy continues to prepare for the offensive in eastern Ukraine. The russian occupiers are regrouping troops in order to complete the formation of the offensive group.
The russian occupying power continues to restrict the rights of Ukrainian citizens in the temporarily occupied territories. Thus, in the Zaporizhzhia region, the russian occupiers banned men from leaving for the territory controlled by the Ukrainian authorities. There is also a growing shortage of basic necessities, especially food, which could further complicate the humanitarian situation in the region occupied by the russian occupiers.
Enemy's main efforts are focused on capturing the city of Mariupol, conducting an offensive near the city of Izyum and trying to break through the defences in the Donetsk direction.
In the Volyn direction, there is a possibility of missile strikes on military and civilian infrastructure from the territory of the republic of belarus.
In the Kharkiv oblast, up to five battalion tactical groups of the russia continue to blockade the city and fire at it from multiple rocket launchers, artillery and mortars.
The russian occupiers held the city of Izyum, trying to continue the offensive in the direction of Slоvyansk and Barvinkove.
The russian enemy also tried to launch an offensive in the areas of Marinka, Borivske and Solodke, where attempts to attack were unsuccessful.
It is likely that the russian occupiers will soon try to break through the defence of our troops in the Severodonetsk, Avdiivka and Kurakhov districts.
The enemy naval groups in the Black and Azov Seas continue to carry out missile strikes on the territory of Ukraine, isolate the area of hostilities and conduct reconnaissance.
18:30 NATO Secretary General Jens Stoltenberg: Allies ready to provide Ukraine with more military support.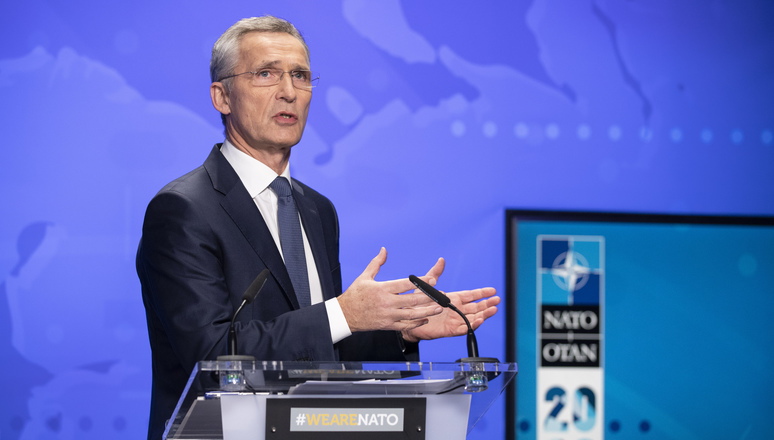 NATO allies are ready to provide Ukraine with more military support and understand the urgency, NATO Secretary General Jens Stoltenberg said.
He said there was a clear signal at the meeting that the allies must and are willing to do more, provide more equipment, and that they understand and recognize the urgency.
18:05 An adviser to the Minister of Internal Affairs of Ukraine Anton Gerashchenko: More than 400 civilians killed in Kyiv region currently known.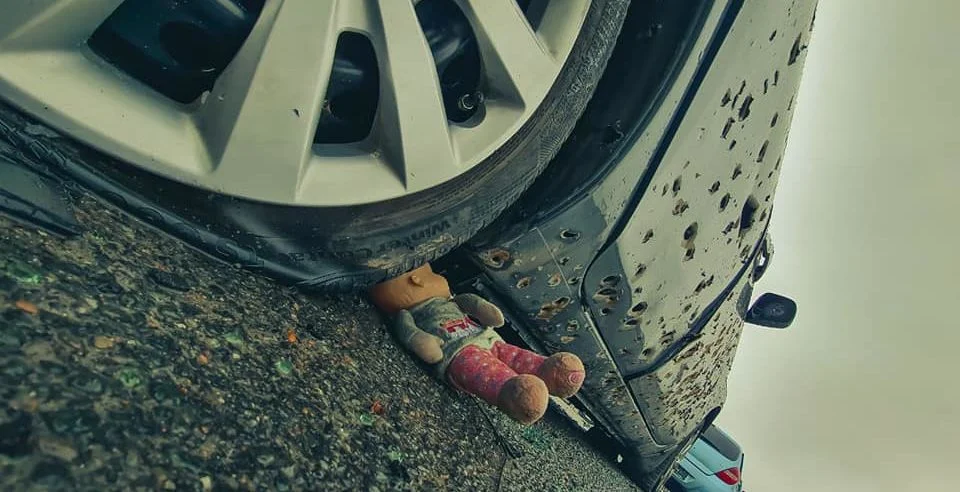 "Currently, there is information on more than 400 civilians killed in Kyiv region. But the death toll will keep rising," Anton Gerashchenko, adviser to the Minister of Internal Affairs of Ukraine, said at a briefing, Ukrinform reports.
In Bucha, 28 bodies were found on the streets after the liberation. The occupiers shot people, who did not pose any threat to them, from armored vehicles.
The adviser to the minister also noted that the place of mass murder of Ukrainians had been found in the village of Motyzhyn. In particular, the invaders killed Motyzhyn village head Olha Sukhenko, her husband, and her son. "And we still can't find her daughter," Gerashchenko said.
17:45 European Parliament demands total embargo on import of oil, coal, nuclear fuel, gas from russia.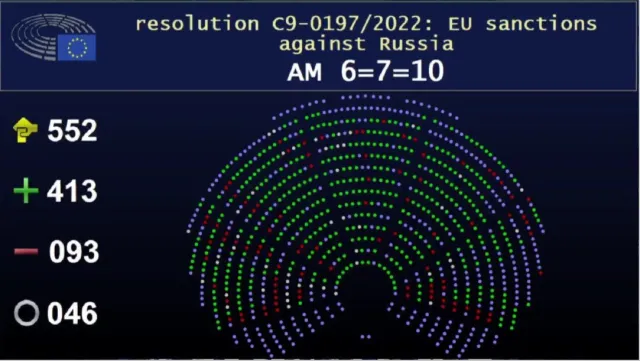 In a resolution adopted on Thursday at the plenary session of the European Parliament in Strasbourg, the European parliamentarians demanded additional sanctions against russia in response to the actions of the russian military in Ukraine, in particular, including a complete embargo on gas imported from russia.
The resolution, adopted by 513 votes in favor, 22 against, with 19 abstentions, contains a demand "to introduce total embargo on russian imports of oil, coal, nuclear fuel and gas."
The document notes that such a decision should be accompanied by an action plan aimed at guaranteeing the security of the EU energy supply, as well as a strategy to lift sanctions if russia takes steps "to restore the independence, sovereignty, territorial integrity of Ukraine within its internationally recognized borders and completely withdraws its troops from the territory of Ukraine."
16:50 Deputy Chief of Staff of the Command of the Ground Forces of the Armed Forces of Ukraine, Brigadier General Oleksandr Hruzevych: For two days, 16 sabotage, reconnaissance groups identified in Kyiv.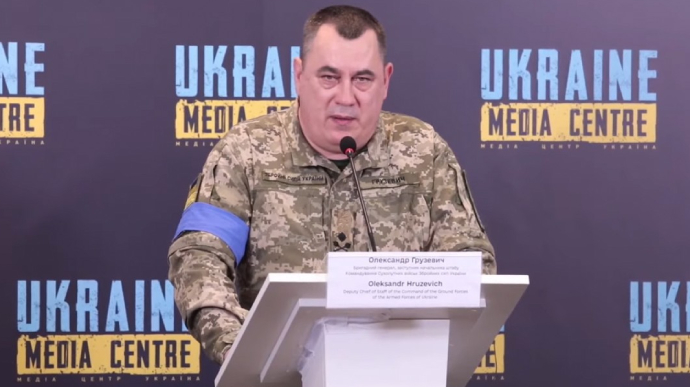 Over the past two days, some 16 sabotage and reconnaissance groups have been identified in Kyiv, Deputy Chief of Staff of the Command of the Ground Forces of the Armed Forces of Ukraine Oleksandr Hruzevych has said.
"For two days in Kyiv itself, some 16 sabotage and reconnaissance groups were caught by joint actions. We thought it was quiet, but there is an enemy here. Only yesterday we carried out a sweep of one area, caught one group: squeezing sensors on which missiles are aimed. That is, neglect air safety rules are not worth it," Hruzevych said at a briefing at the Ukrainian media center on Thursday.
16:30 The Head of the Donetsk Regional Military Administration Pavlo Kyrylenko: Enemy firing heavy artillery on contact line, battles ongoing in Vuhledar and Marinka in Donetsk region.

In Donetsk region, the Russian aggressor is firing heavy artillery along the contact line. All measures are being taken in the region to evacuate the population.
"The shelling continues now along the entire contact line. The battles are ongoing in Vuhledar, Marinka. Toretsk is under heavy artillery and mortar fire at this very moment. All measures are being taken to evacuate the population," Head of the Donetsk Regional Military Administration Pavlo Kyrylenko said during the nationwide telethon, Ukrinform reports.
16:00 The President of Ukraine Volodymyr Zelenskyy calls on Greece to help send humanitarian mission to Mariupol.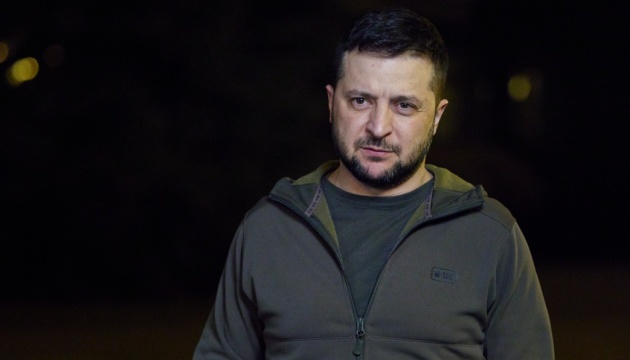 President of Ukraine Volodymyr Zelenskyy has called on Greece to help send a humanitarian mission to Mariupol.
"I urge you now, openly, to create such a new union of friends, which will be able to save the Ukrainians and Greeks of the south of our state. Which will be able to help Mariupol. The city needs humanitarian aid! The city needs its people - survivors and wounded - to be saved. Russia has been blocking Mariupol since the beginning of March, blocking on land and at sea. It does not allow even basic humanitarian cargo into the city. I am convinced that the strength of Greece can help carry out this mission. Days are numbered," Zelenskyy said in his address to the Parliament of Greece.
15:30 The Security Service of Ukraine to identify everyone involved in atrocities in Bucha, other cities of Kyiv region.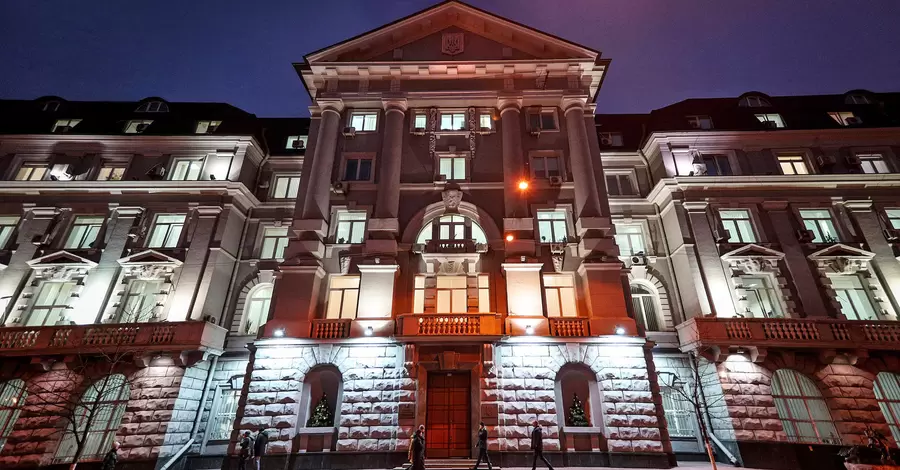 The Security Service of Ukraine (SBU) is collecting evidence and identifying all those involved in the crimes committed in Kyiv region by Russian occupiers and Ukrainian collaborators, SBU speaker Artem Dekhtiarenko has said.
"The SBU investigative and operational teams are working in more than 20 settlements of the region, which accounted for the bulk of the war crimes of the Russian Federation. Evidence is being collected and the entire chain of those involved is being established: both from the Russian invaders and Ukrainian collaborators," the SBU spokesman said in a video message posted on the Telegram channel on Thursday.
14:30 G7 countries, EU ready to provide Ukraine with further assistance, including military equipment and financial means.
The G7 countries and the EU are ready to provide Ukraine with further assistance, including military equipment and financial means, so that it can protect itself from Russian aggression and restore Ukraine, the G7 foreign ministers and the European Union High Representative have said. Read more.
14:15 The enemy is forced to retreat from Kreminna in Luhansk region thanks to the Armed Forces of Ukraine.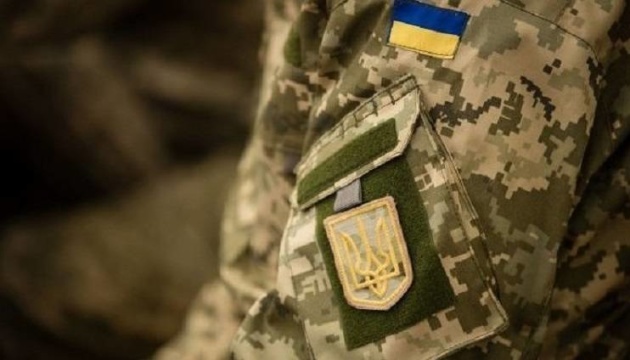 Soldiers of the 128th Separate Mountain Zakarpattia Brigade have conducted a successful attack and pushed the enemy 6-10 km back from the town of Kreminna in the Luhansk region.
The 128th Separate Mountain Zakarpattia Brigade reported this on its Facebook page, Ukrinform reports.
13:45 Air Force Command of Ukraine posted new footage of another russia's "Buk" missile system destruction. More photos here.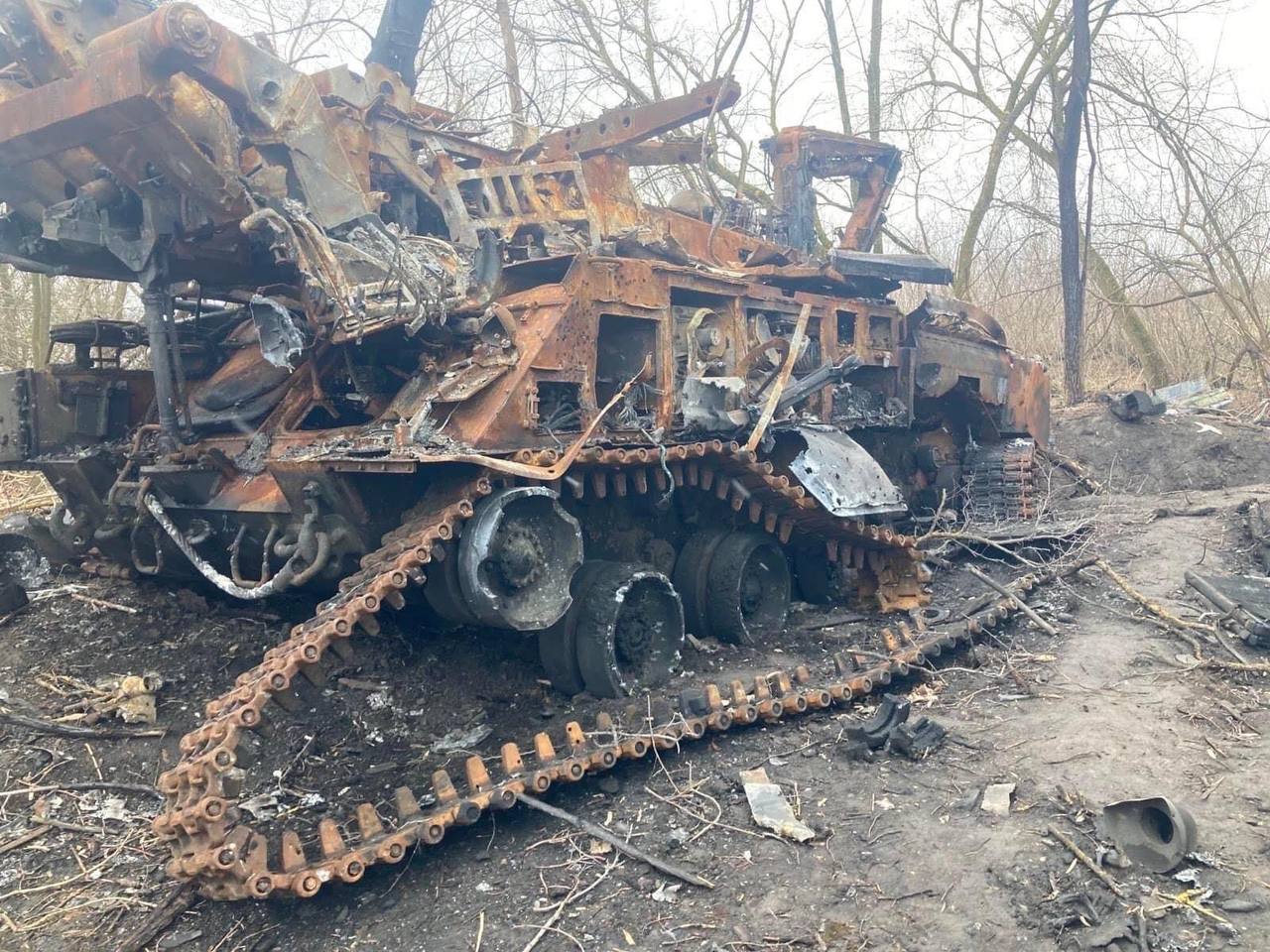 13:15 An adviser to the head of the Ukrainian President's Office Oleksiy Arestovych: Enemy trying to encircle Ukrainian forces in eastern Ukraine.
Russian troops have increased the use of UAVs as they are afraid of using their aircraft.
Oleksiy Arestovych, an adviser to the head of the Ukrainian President's Office, said this at a briefing on Thursday, Ukrinform reports.
"A significant increase in the use of UAVs shows that the enemy is afraid of using aircraft, especially army aircraft, i.e. helicopters to directly support their troops on the battlefield. They concentrated the main efforts of their aircraft mainly in the area of the Joint Forces Operation, because in the rest of Ukraine they are shot down by our Air Force," Arestovych said.
12:53 Special Operations Forces Command: a special operations unit has seized Russian "Buk" air defense systems
"Several units" of Russian "Buk" SAM air defense systems were captured, namely the "Buk-M1" launch unit and the whole "Buk-M2" system. Both vehicles are operational.
"Thus sometimes even the scariest beast should be taken alive!" the SOF Command wrote on Facebook.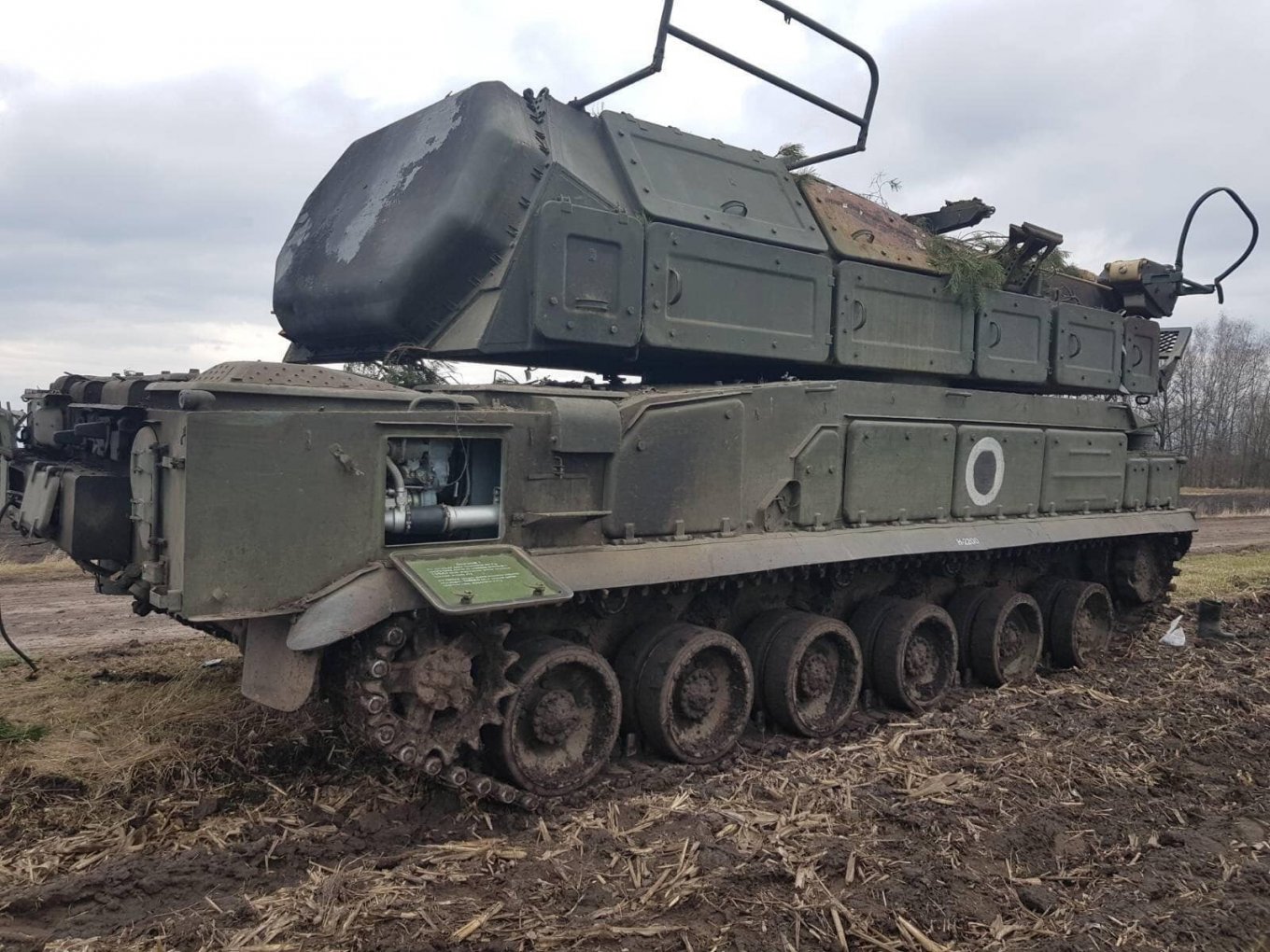 12:43 General Staff: Ukrainian military destroyed an invaders' artillery unit
As they noted, Russian artillery was preparing to shell Ukrainian settlements when it got struck. Russians began to flee. Here's the footage:
12:29 Stratcom Centre: over the past day, the occupiers shelled the Kharkiv region more than 48 times
Oleh Synyehubov, the Head of the local administration, said that Russian MLRS, artillery and grenade launchers have shelled the Kharkiv region 48 times throughout the last day. Three people were killed by the shelling, and many buildings were damaged. The official said, the occupiers concentrate forces to the east from Kharkiv and reassured the Ukrainian military know about every maneuver of Russians near the railroad.
11:58 UK Intelligence: Russia is focusing on an offensive in eastern Ukraine, with the support of artillery and airstrikes
British Defense Ministry has published an intelligence update on the situation in Ukraine as of April 7. As follows:
Progressing offensive operations in eastern Ukraine is the main focus of Russian military forces.
Russian artillery and air strikes continue along the Donbas line of control. Russian strikes against infrastructure targets within the Ukrainian interior are likely intended to degrade the ability of the Ukrainian military to resupply and increase pressure on the Ukrainian government.
Despite refocussing forces and logistics capabilities to support operations in the Donbas, Russian forces are likely to continue facing morale issues and shortages of supplies and personnel.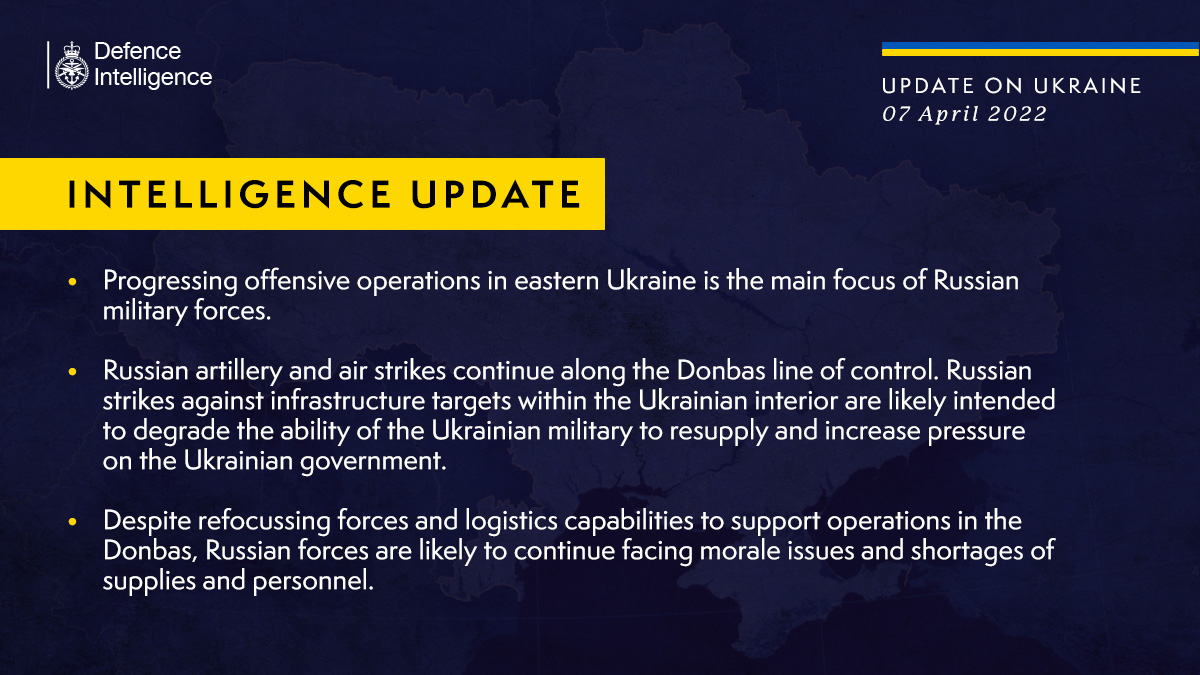 11:43 Security Service of Ukraine: Russian military sent cadets to war in Ukraine
The students of Moscow Higher Military Command School were sent to fight in Ukraine. The deployment was officially documented as an internship, according to the papers obtained by the Security Service of Ukraine. These include secret maps and lists of the servicemen who were destroyed by the Ukrainian military. Those lists featured many conscripts and cadets.
All the papers would be used in the international court as evidence of Russia's crimes, the SSU assured.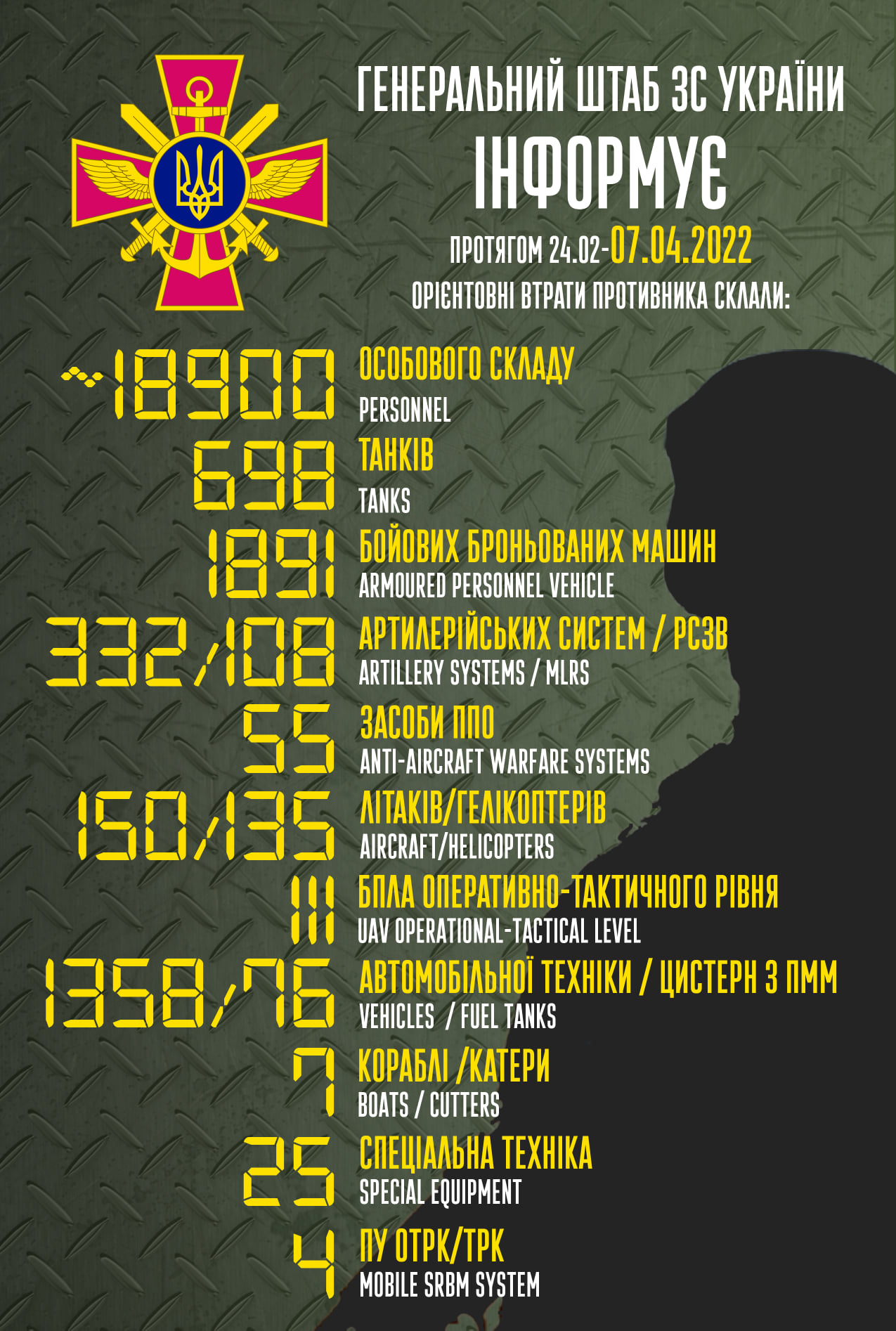 10:56 General Staff reports on total combat losses of the Russian army during the period 24.02 to 07.04 being approximately:
Personnel – about 18900 people;
tanks ‒ 698 units;
APVs ‒ 1891 units;
Artillery systems – 332 units;
Multiple Launch Rocket Systems – 108 units;
Anti-aircraft warfare systems – 55 units;
Aircraft – 150 units;
Helicopters – 135 units;
UAV operational-tactical level – 111 units;
Vehicles – 1358 units;
Fuel tanks – 76 units;
Boats & cutters – 7 units;
Special equipment – 25 units;
Mobile Short-Range Ballistic Missile system – 4 units.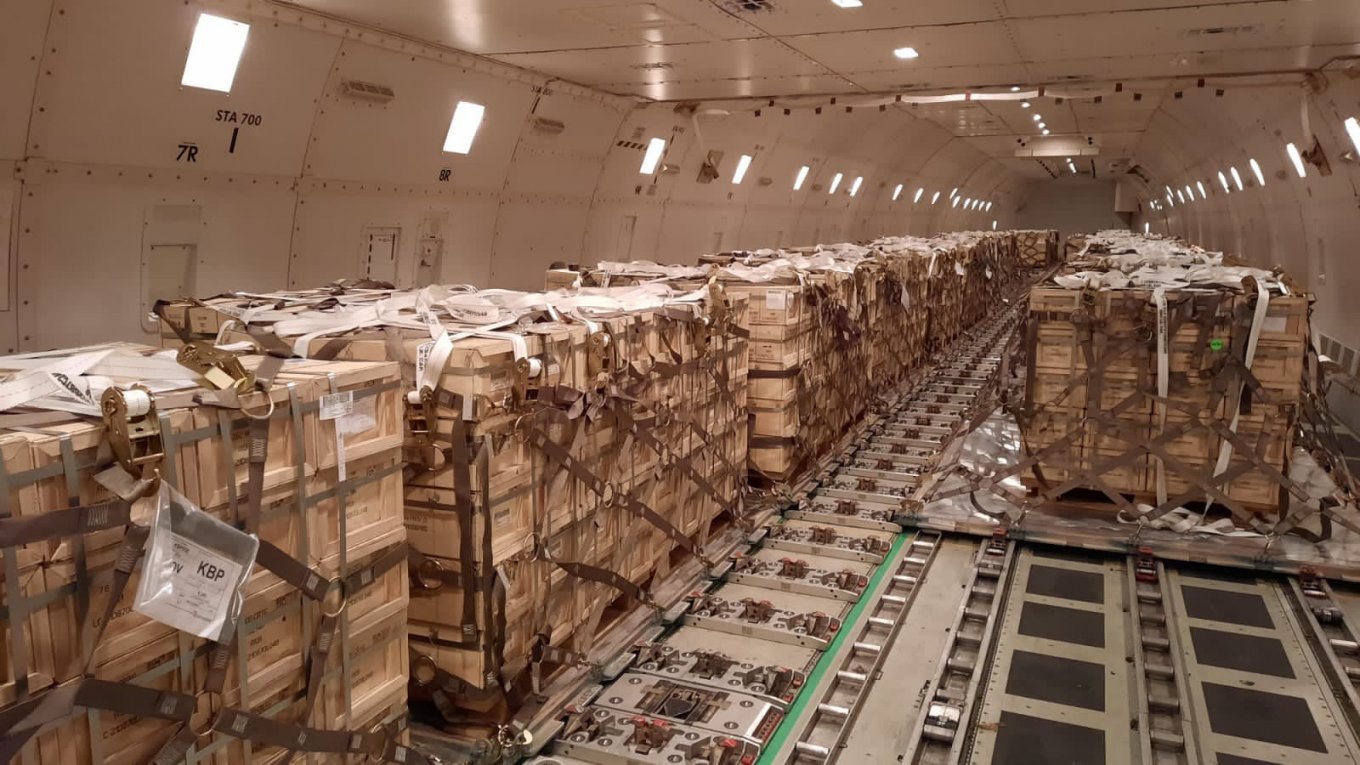 09:58 Stratcom Centre & Politico media: US Parliament has revived the Lend-Lease program to more efficiently send weapons and other supplies to Ukraine
US Senate unanimously passed major legislation late Wednesday, April 6 to revive a World War II-era program known as Lend-Lease. It will allow President Joe Biden to quickly provide supplies without time-consuming procedural hurdles, writes Politico.
The Ukraine Democracy Defense Lend-Lease Act of 2022, as it's known, would expedite the transfer of critical military equipment and other critical supplies to Ukraine by cutting bureaucratic red tape. It allows for the de facto gifting of equipment, with provisions stipulating that recipient countries would repay the U.S. at a later date.
"This bill temporarily waives certain requirements related to the President's authority to lend or lease defense articles if the defense articles are intended for Ukraine's government and necessary to protect civilians in Ukraine from Russian military invasion," written in the description of the legislation on the Congress website.
Politico considers the decision to be "another sign that the U.S. and its allies in Europe believe Russia's invasion presents an existential threat to liberal order."
It's also an indication that the Western world believes Ukraine can now win the fight against the Russian invaders"
09:10 The Pentagon: Russian troops have fully withdrawn from Kyiv and Chernihiv regions.
"We would assess that Russian forces near Kyiv and Chernihiv have completed their withdrawal from the area to re-consolidate and refit in Belarus and in Russia. We are not showing Russian forces in or around Kyiv or to the north Kyiv, and we're not showing Russian forces in or around Chernihiv," confirmed a senior defense official at the Pentagon, who spoke under condition of anonymity. He also mentioned that Mariupol remains isolated, but it has not been secured by Russia.
Later at a briefing Press Secretary John F. Kirby said, Russian president Putin has achieved "exactly zero of his strategic objectives inside Ukraine". He underlined that Russians have taken control of only a small number of big cities, and even these ones weren't of strategic importance. They failed to capture the already mentioned Kyiv and Chernihiv, but also Kharkiv and Mykolaiv, even Mariupol is still not taken despite being under blockade.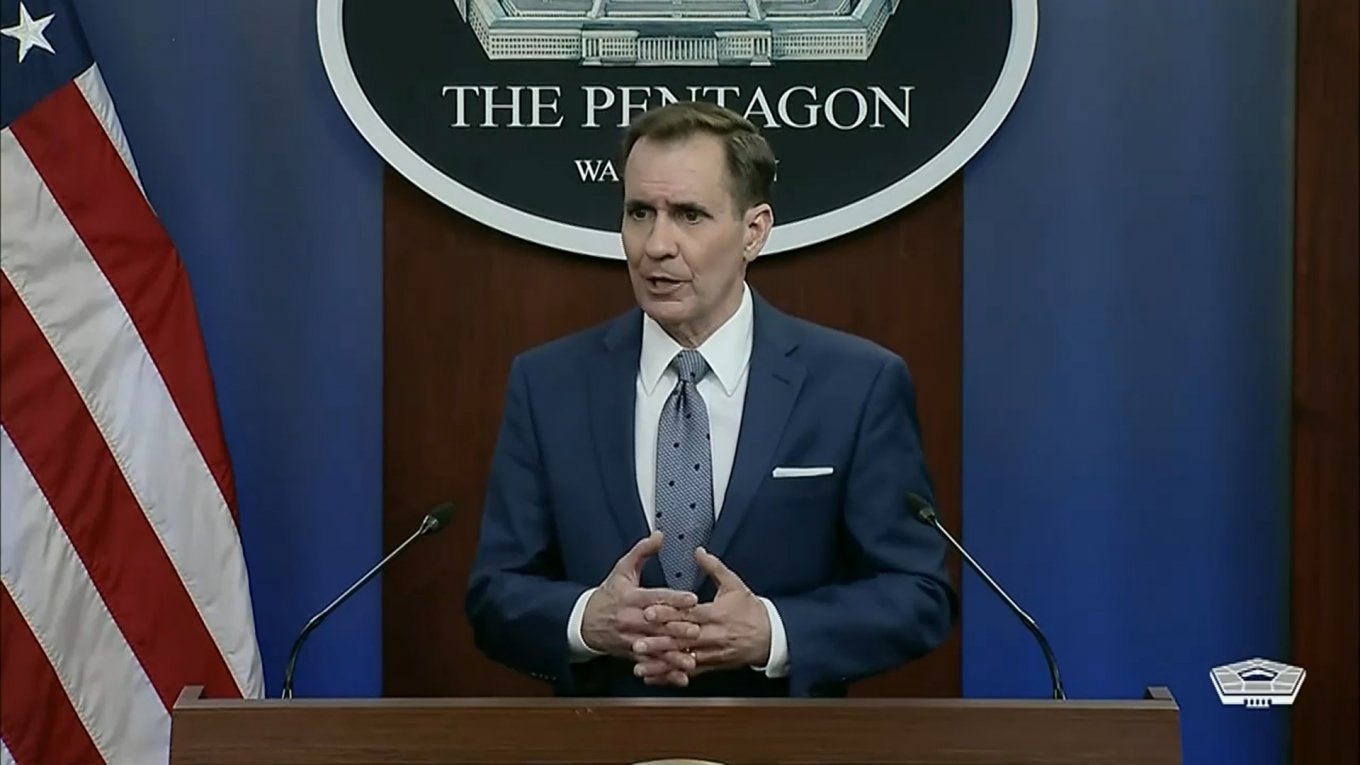 08:28 CNN media: identification of those responsible for killings of civilians in Bucha is a priority for the US intelligence.
US official told CNN that American intel "will be able to identify the Russian units" that carried out the atrocities in Bucha, Kyiv region. This official also said it "is an extremely high priority now". All available tools and assets are used to find the accountable ones. The United States might announce its findings publicly or leave it to Ukraine.
There is a possibility that more than one unit was involved in the war crimes, also some of those may have happened as one Russian unit was withdrawing and another came in, the official noted.
08:03 Air Force: over the last day, Ukrainian Air Force has destroyed three air targets
On April 6, anti-aircraft defense units shot down a cruise missile, a UAV, and a plane. According to preliminary data, the latter was a Su-34 fighter jet, it was caught during an air raid in the south operational direction.
07:33 General Staff: operational information as of 06:00, 07.04.2022 regarding the Russian invasion. Key points:
In the east, Russians continue to concentrate their forces for an offensive, which aims to take control over the whole territory of the Donetsk and Luhansk regions. Use artillery to break through the defense and continue the advance.
In the south, in the Kherson region, they continue to defend previously gained positions. The invaders carry out "rough filtration measures" against the civilians in the occupation, use violence, and forcibly displace citizens of Mariupol deeper into the occupied territories.
Some units of the Russian army, brought back from Ukraine, are stationed in the bordering areas of Russia. Those refuse to go back to the frontline and suffer low morale. Russian enlistment points have intensified their work in order to find a solution to the problematic issue of the units' replenishment. They are looking for drivers, engineers, scouts and junior officers. Officially, they are offered to partake a training for three months. At the same time, the army is conducting propaganda work with Russian citizens in so-called Transnistria in Moldova.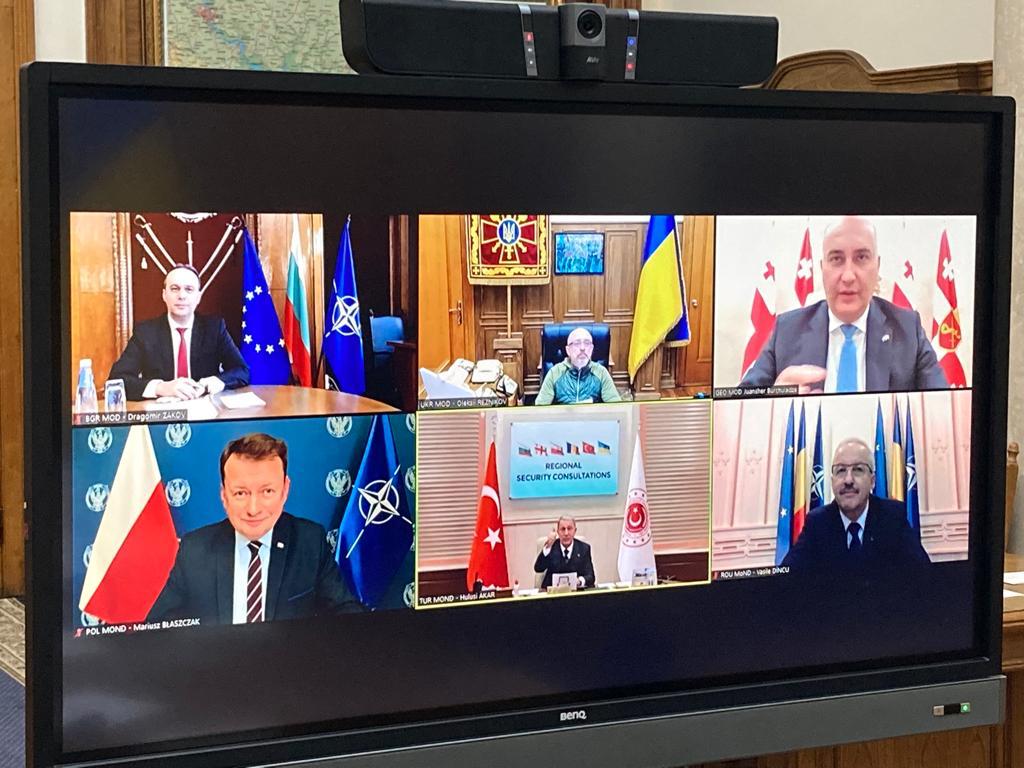 07:13 Ministry of Defense: the Russian Navy throws mines into the sea creating a threat to civilian vessels.
Russians use mines seized in the Crimean city of Sevastopol. Those explosives belonged to the Ukrainian Navy until 2014 when the peninsula was occupied by Russia, said Ukrainian Minister of Defense Oleksii Reznikov during an online meeting with his colleagues, the defense ministers of Turkiye, Bulgaria, Geogia, Romania – those countries who have access to the Black Sea – and also Poland.
Ukrainian minister described the situation on the sea as "terrorist acts against civilian vessels". The official stressed, that Russia's invasion of Ukraine not only caused a humanitarian crisis, but as well created direct security threats to all states in the Black Sea region:
"Safety of international navigation is undermined. Russia is creating provocations against civilian vessels. Some of them are blocked in Ukrainian ports and have already been attacked by Russia, there are victims."
00:55 NATO Secretary General Jens Stoltenberg: NATO head predicts Ukraine conflict could continue "for a long time": Although Russia is now concentrating its assault on eastern Ukraine, NATO has seen "no indication" that Putin's aim of controlling the whole country has changed.
"We have seen no indication that President Putin has changed his ambition to control the whole of Ukraine and also to rewrite the international order, so we need to be prepared for the long haul," he said. "We have to be realistic and realize that this may last for a long time, for many months or even years."
00:40 The opposition news site Pskovskaya Guberniya reported that about 60 Pskov paratroopers have refused to take part in hostilities in Ukraine.
"About 60 servicemen from Pskov refused to go to war on Ukrainian territory, according to our sources. After the first days of the war, they were first brought to the territory of the Republic of Belarus, and then they returned to their base in Pskov. Most of them are currently being dismissed, but some of them are threatened with criminal cases," the statement reads.
00:21 The President of Ukraine Volodymyr Zelenskyy addressed the nation on the results of the 42nd day of the war: "If there won't be a really painful package of sanctions against Russia, if we won't get a desperately needed supply of weapons, which we have applied for many times, then Russia will consider it as a permission. A permission to go further. A permission to attack. A permission to start a new bloody wave in Donbas."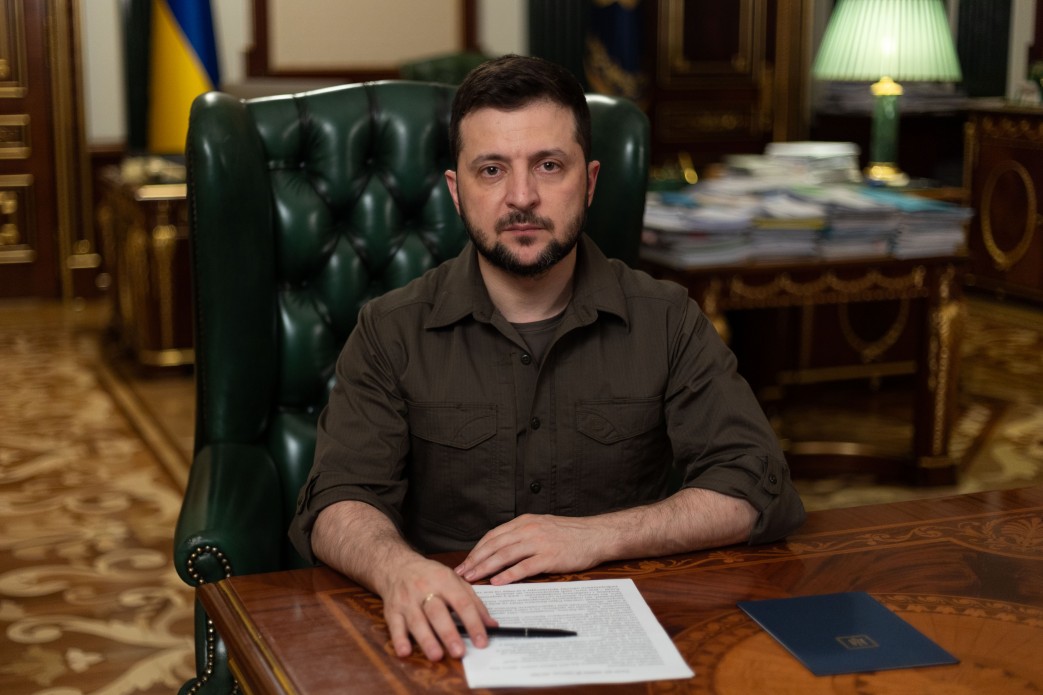 Key points regarding the current state of warfare:
- Ukraine managed to establish the defense, the Russian offense has stalled, in some directions Ukrainian military intensively push back the invaders, numerous villages and small cities were liberated, horrific facts of henocide conducted by russians are revealed.
- Russia uses terroristic methods of war, shelling civilian facilities where there are no military facilities nearby, keeping cities in a full blockade, and sabotaging humanitarian corridors for evacuation and convoys with humanitarian aid.
- Russian army targets nuclear power plants; Zaporizhzhia NPP is currently seized by the invaders; Russian troops, poisoned by radiation, have left the Chornobyl NPP; military activities by Russian forces near the power plants were described by Ukraine as nuclear terrorism
- Ukraine offered the United Nations Security Council a platform for an updated security system – the "Kyiv U-24 Office" similar to the human rights Geneva office or the environmental protection Nairobi office. Or at least prevent from Russia abusing its veto power to continue war in Ukraine.
- Ukraine is willing to join the European Union, have sent an application which is being considered; during her visit to Kyiv, EU Parliament President Roberta Metsola stated EU would look for ways to facilitate the membership process for Ukraine
- Ukrainian citizens in the occupied cities rally against the Russians; on their part, the occupiers began to kidnap activists and authorities; locals are being forcibly "evacuated" to Russia with the following deportation to the depressed areas and appointment of jobs
- thousands of civilian volunteers join the Territorial Defense of the Armed Forces of Ukraine; Ukraine has established an International Legion for foreign volunteers willing to fight for Ukraine, thousands have joined already
- Ukraine has had several rounds of negotiations with Russia; still, no significant progress towards ceasefire and peace, the main question, for now, is establishing humanitarian corridors for the supply of aid and evacuation of civilians; the negotiations continue "non-stop" in an online format; President Zelenskyy expressed readiness to directly talk with Putin.
Read more: Day 42nd of War Between Ukraine and Russian Federation (Live Updates)
---
---