The urgent need to end reliance on Russia has motivated Ukrainian industries to pursue some initiatives that have already brought about certain positive results. Ukraine's helicopter industry, having suffered a major blow after a break-up of traditional economic ties with Russian counterparts, has over the past five years not only been able to keep on its feet, but to grow further and to expand its business frontiers.
In Ukraine, several industries, both Government-run and privately-owned, are proposing initiatives pursuing comprehensive modernization of the country's existing helicopter fleet while promoting own products for marketing on markets in Ukraine and beyond. This could open up new opportunities for these industries, especially in the light of the urgent need for Ukraine to have aviation fleets of its Armed Forces and other national security services modernized up-to-date at the time of Russia's continued military intervention in eastern Ukraine.
Read more: SE Plant 410 CA: one more step into the future
JSC 'Motor-Sich'
Motor-Sich was one of the first to come with initiatives on indigenous development of helicopters for the country's Armed Forces and public security services.
In the helicopter modernization area, Motor-Sich has pursued the following avenues:
Comprehensive, MSB/MSB-V upgrade to the Mi-8 helicopter
Mi-2 helicopter's refurbishment, overhaul, and upgrade to the MSB/MSB-V standard
Development and manufacture of the new helicopters 'Nadiya' and MSB-2.
Development of the new MSB-6 'Otaman' helicopter in a collaboration with international partners.
The MSB/MSB-V upgrade package includes a new engine, avionics and self-protection systems developed through collaborations with top leading domestic manufacturers.
The MSB/MSB-V will be powered by new, 2 x TV3-117VMA-SBM1V Series 5 electrically started engines rated for 2,500 horsepower each. The engine provides more power while consuming less fuel. It enables a cruising speed of 270 km/h and the maximum usable altitude of 7,500 m. The MSB/MSB-V will be able to carry payloads of 5 to 6 tons depending on the type and layout of the cargo carried.
For the Mi-2, the upgrade is proposed with 2 x AI450M, 465 hp engines enabling a maximum takeoff mass of 3,700 kg, a maximum speed of 220 km/h, and a maximum usable altitude of 5,000 m.
Re-engining is only one of the Motor-Sich' proposed improvements to the Mi-8 and Mi-2 helicopters, to be followed by the replacement of the avionics kit and other mission systems as requested by the Customer. Ukrainian-manufactured systems or foreign brand alternatives can be used depending on the Customer's needs and budget.
In a configuration tailored for the operational needs of Ukraine's Armed Forces, the Mi-8MSB/MSB-V is fitted with an Adron's self-protection system and Photoprylad's PM-LKT podded, integrated target detection and aiming system. Both systems are suitable for use also on the Mi-2 helicopter.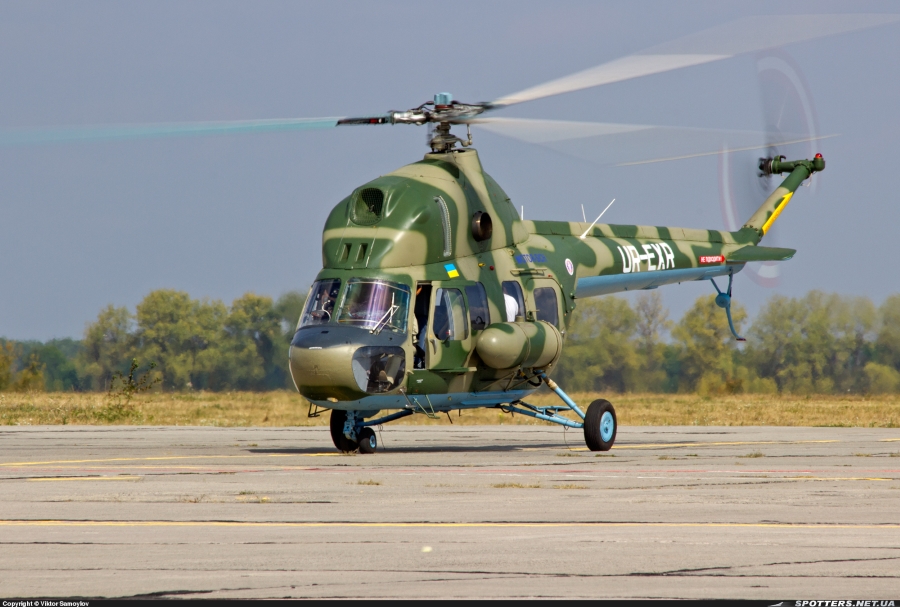 It is worth noting that both the Mi-8 and Mi-2, if upgraded, can be configured for roles and missions that include air-to-ground attacks, emergency air ambulance, cargo transport and search & rescue.
Given the proposed upgrade options and the number of the design changes packaged into the upgrade and refit packages, Motor-Sich has worked on relevant certification programs and on launching production of the helicopters it developed under the brand MSB (MSB-8 and MSB-2 'Nadiya').
It was reported in May 2018 that Motor-Sich had been awarded an order from Ukraine's Ministry of Defense to upgrade a quantity of Mi-8 helicopters to the MSB-V configuration. Today, the Company has several running contracts from the Ministry of Defense. One of them -- for re-engining Mi-8 helicopters under the Government Defense Procurement Plan 2018 – has been completed and the helicopters delivered to the Customer. New contracts awarded to the Company for 2019 will upgrade Mi-8 and Mi-2 helicopters to the Mi-8MSB-V and Mi-2MSB standards, respectively.
Also, Motor-Sich has in the past few years been extensively working with international partners pursuing a collaborative helicopter development project that would help Ukraine get a new helicopter developed sooner. This effort has produced the MSB-6 'Otaman' – a helicopter developed bi-nationally by Ukraine and Poland out of the Polish-designed multipurpose combat helicopter W-3 Sokol. As things stand now, however, the Otaman project has been kept on hold due to a lack of support from the Polish partners who are looking more at the EU and US brand helicopters already being assembled semi-knocked-down in Poland.
Aircraft Repair Plant Aviacon
The Konotop-based Aircraft Repair Plant Aviacon (an affiliate of the Ukroboronprom Defense Industries Group) has developed the PU-1 upgrade to the Mi-24 'Hind' gunship and attack helicopter. The PU-1 package includes re-engining the chopper with the Motor-Sich TV3-11VMA-SBM1 turboshaft engine that enables payloads of up to 1,000 kg and a maximum ceiling of 1,500 m. Other major upgrades include a foreign brand electronic-optical system to support targeting of precision-guided weapons as well as navigation tasks and night-time missions.
The first Mi-24 PU-1 prototype was fitted with French-supplied Sagem Euroflir 410 optronic system. In further prototypes this was replaced with a domestic alternative – the electro-optical/infrared system PM-LKT manufactured by the R&D and Production Company 'NVK Photoprylad'.
The PU-1 upgrade incorporates state-of-the-art mission systems such as laser crosshair line generator (manufactured by Adron), LKK-V guided missile control system (Izium Instrument & Apparatus Factory), ASP-17VPM-V enhanced-capability sighting system (TsKB Arsenal) and improved communications.
In 2016, the PU-2 upgrade to the Mi-24 was announced and tested. Packaged into the PU-2 upgrade is a night-vision system (ТНL-5NV hard helmet with PNL-3 night vision goggles) developed by the Polish company PCO S.A. for PNL 3 'Bielik' helicopter pilots.
These improvements are aimed to achieve a higher performance and to add a night attack and precision-guided weapon capability.
The Mi-24 PU-1 has been adopted by Ukraine's Armed Forces, with three such helicopters fielded with Army aviation units in October 2016.
Softex Aero
Softex Aero, a privately-owned firm based in Brovary, outside Kyiv, is focusing on the development and manufacture of multipurpose helicopters and business jets. Prior to the onset of the military conflict in eastern Ukraine, Softex Aero was specializing in the manufacture of the multipurpose business jet V-24.
The firm has since 2015 had three running programs focusing on the development of light multipurpose helicopters, two of which might be of interest to the military and public security customers in Ukraine.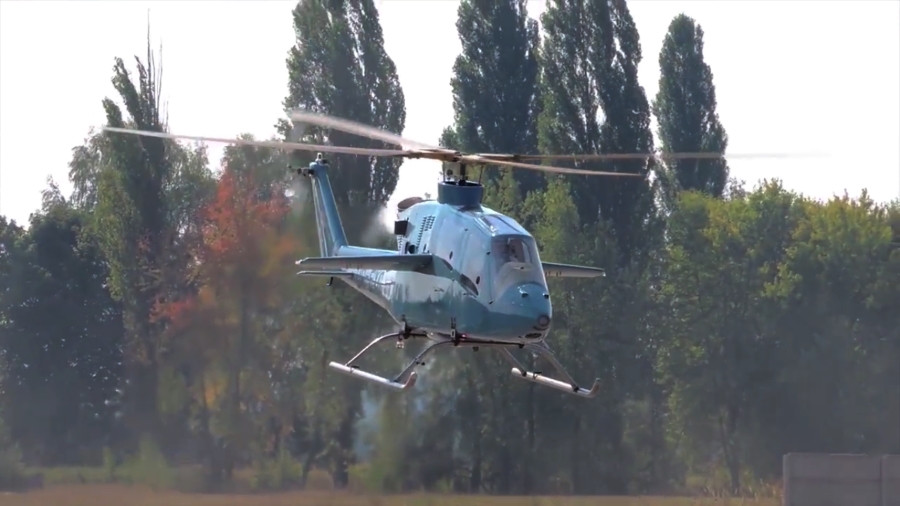 Unveiled in 2016, the helicopter VV-2, due to its resemblance to the U.S.-manufactured Bell AH-12 Viper, has been regarded a future strike helicopter of Ukraine's Armed Forces.
The VV-2 has an airframe built out of composite materials and incorporates assemblies and mission systems sourced out from foreign suppliers. In particular, it is powered by the Czech-manufactured, ~245 hp engine PBS Velká Bíteš TS 100 ZA. With its composite material airframe and relatively low mass and size, the copter can carry payloads up to 380 kg. It can be equipped with avionics systems of varying types and brands requested by the Customer.
The VV-2 sits two, with the pilot and passenger sitting in tandem.
This helicopter is suitable to be converted to remote controlled operation. This therefore makes it a versatile platform on which to develop a varying range of aerial vehicles with mission-specific capabilities.
Another multipurpose helicopter being produced by Softex Aero is the V-22 that is powered by a 110 hp Viking Air Engines automotive engine modified specifically for this application. As with the VV-2, the type of the avionics system on the V-22 is Customer selectable.
Softex Aero describes its VV-2 and V-22 light multipurpose helicopters as suitable platforms for roles and missions such as intelligence, surveillance and reconnaissance (ISR), emergency air ambulance, air-to-ground attacks, and pilot training, and they could also find commercial applications in industries such as agriculture and energy among many more others.
Both helicopters are designed such as to allow the incorporation of additional equipment specific to the types of missions to be flown.
Given that Softex Aero is open to adopting into its products varying aviation technology solutions developed by entities external to itself, its joint work and collaborations with the leading Aeronautical companies in Ukraine could produce awesome results that could help resolve more than one challenge associated with equipping the country's military and national security services with modern manned and unmanned aviation capabilities.
KB Aerocopter, NTK Horisont
Design & Development Company 'KB Aerocopter', Poltava, and R&D and Production Complex 'NTK Horisont', a company based outside Kyiv, are both privately-owned specialists in helicopter development and production.
Light Aerocopter-brand helicopters meet strong demand in major EU markets and some Middle East markets. Iran has been reported to have expressed an interest in localizing production of Aerocopter helicopters.
The centerpiece of Aerocopter's portfolio is AK1-3 'Slava' -- a light multipurpose helicopter powered by an automotive Subaru engine that is powerful enough to allow the aircraft to stay aloft during 2.5 hours, covering ranges up to about 350 km, with payloads weighing up to 250 kg. Its composite material cockpit has seats for two, and rotor blades are made out of composite materials, too.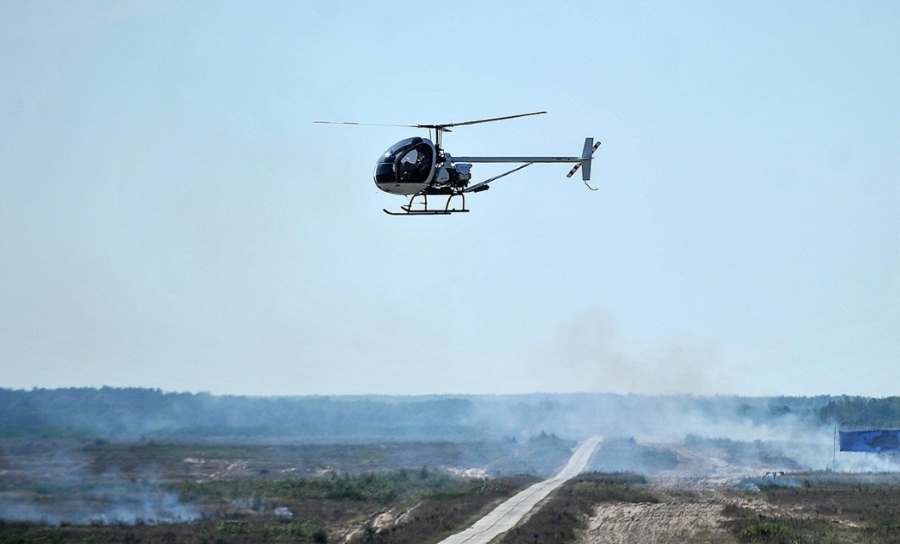 NTK Horizont, another Ukrainian specialist in production of light multipurpose helicopters, has developed its Skyline SL-231 SCOUT – a three seat helicopter that has a cockpit built out of composite materials and is equipped with an avionics kit sourced out from the Slovenian company Knardia. Its design allows for integration of mission systems from Dynon SkyView, Advanced Flight Systems, and MGL. The Skyline SL-231 SCOUT is powered by the US-built Lycoming IO-390 engine rated for 210 horsepower. Weighing just 450 kg empty, the SCOUT can carry payloads of up to 400 kg to a maximum range of 600 km, cruising at approximately 190 km/h.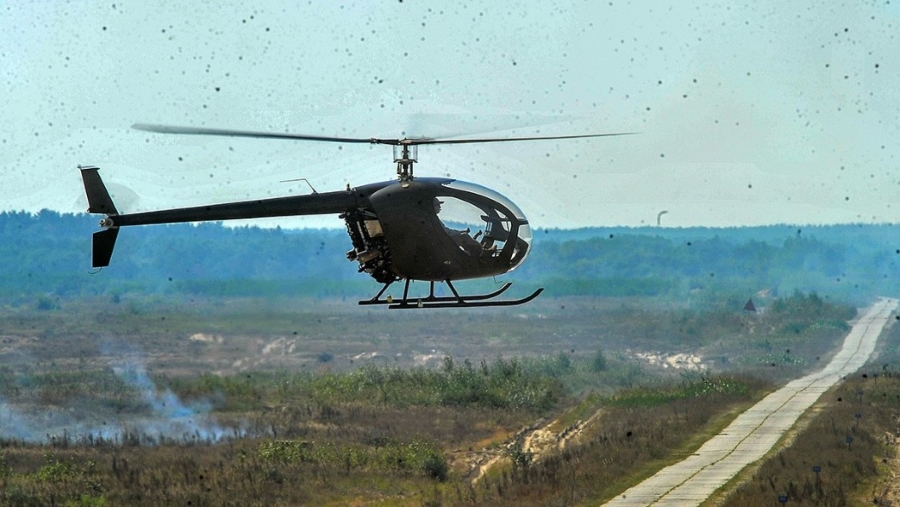 In September 2018, the SCOUT and Slava both underwent successful flight testing and demonstration at the Armed Forces' training and proving range outside Chernihiv, attended by Oleksandr Turchynov, Ukraine's National Security and Defense Council Secretary.
Speaking to the media immediately upon completion of the test missions, Turchynov said the Ukrainian helicopters are able to fly ISR missions, maintain liaison with troops on the ground, perform border security surveillance, and, if armed with modern weaponry, perform complex combat tasks. He specifically said that the helicopters 'come equipped with day/night capabilities and, which is even more importantly, can be operated without humans on board'.
Studies of the current situation in Ukraine's aeronautical industry, and specifically in its helicopter sector, show the presence of a substantially broad range of initiatives and promising projects that could form a basis for a multi-year national program on equipping the country's defense and policing agencies with new, indigenously manufactured helicopters and their respective remote-controlled derivatives. The technical solutions proposed by Ukrainian industries (both government-run and privately-owned) are competitive and have generated a substantial amount of interest among international partners. This could be a major contributing factor in the growth and development of the Ukrainian industries involved with the development, production and MRO of helicopters, and could also motivate them to create new current-generation products for marketing in and outside of Ukraine.
Grygoriy KUSHCHELEP
Read more: Ukraine and Turkey: mutually beneficial cooperation
---
---