Today company "Antonov" actively seeks to forge international cooperation and promotes its most recent projects An-178 and An-132 airplanes, which have already found potential customers.
An-132 – prospect in cooperation
An-132 is a light multi-purpose turboprop cargo air-craft developed by Antonov to replace the An-32, which is renowned for its unique operating capabilities in high temperature/high altitude environments.
Read more: Ukraine reportedly looks to buy 48 Turkish Bayraktar TB2 armed drones
The An-132 is Ukraine's first indigenous aircraft to have been built without the use of Russian-supplied components. It is features Pratt & Whitney Canada PW-150A engines and avionics equipment from suppliers in Canada, USA and the European Union. With cargo carrying capacity of 9.2 tons, the An-132 will be able to deliver payloads to a max range twice as long as that of the An-32.
In May 2015 Antonov and Taqnia Aeronautics signed partnership agreement on the development and production of the An-132 transport airplane.
AN-132 - comparison with competitors
| | | | |
| --- | --- | --- | --- |
| | An-132 | C-295 | C-27J |
| Max. payload, t | 19,2 | 6,8 | 11,5 |
| Max. cruising speed, km/h | 550 | 480 | 590 |
| Max. cruising altitude, m | 8230 | 7600 | 9145 |
| Max flight range with max payload, km | 1270 | 1420 | 1760 |
Under the terms of the agreement, King Abdulaziz City for Science and Technology (KACST), Taqnia Aeronautics Company and Antonov will redevelop the existing An-32 aircraft to produce a new variant with improved payload, range and takeoff characteristics. The program will also encompass the development of a new cockpit with state-of-the-art US- and EU-made navigation systems, which will allow the crew to efficiently operate the aircraft in adverse conditions. The Kingdom owns a 50% share of the intellectual property invested in the design of the An-132.
The DEMO airplane - An-132D, was unveiled to the public in a ceremony on December 20, 2016. It is designed with capabilities to operate in different climatic conditions and especially from high-temperature/high-altitude airfields and from improvised runways. The An-132 is advantageous for its capability to operate from sand runways.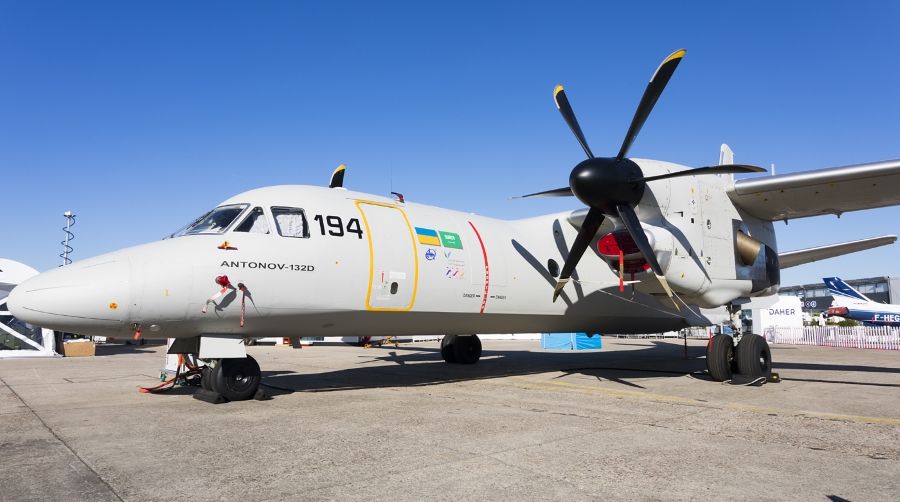 The An-132D is Ukraine's first indigenous aircraft to have been built without the use of Russian-supplied components.
In 2018 Ukraine and Saudi Arabia have been finalizing an agreement on production of the Antonov An-132 at a facility in the city of Taif, Western Region, KSA.
"In order to assess commercial prospects of the An-132 series production project at a facility in Taif, our Saudi partner, TAQNIA Aeronautics has commissioned a feasibility study from a reputed European engineering firm. The Saudi partner estimates that the project feasibility study being carried out by the Spanish subcontractor is 80-85 percent completed so far, with full completion expected in July", Antonov's Press Office said.
The An-132 aircraft production localization in Saudi Arabia will proceed incrementally, with workshare allocated to the Saudi side not exceeding 10 percent at the initial stage of collaboration, while the remainder 90 percent will be allocated to the Ukrainian side. As the project proceeds, the workshare ratio will reverse to 80:20 percent in favor of the Saudi side.
The deal also includes construction of an An-132 production line at an Antonov' facility in Kyiv, which will used for assembling a preproduction batch of the aircraft. "The level of this preproduction batch will be decided based on the Feasibility Study findings. Being the Design Authority for the An-132 aircraft, Antonov will be eligible to receive royalties for each aircraft sold," the Press Office said.
In Saudi Arabia, An-132 airplanes will be manufactured at a facility to be constructed by Antonov as part of a science and technology development program for the city of Taif. The Taif Technology Park will be a collaboration with the King Abdulaziz Science and Technology Center – a key partner in the An-132 program. The Park will include an airfield, a solar panel factory, and a solar thermal power station alongside the An-132 production facility.
Construction is scheduled to begin in 2019 and to be completed nine months later so that production could start in 2021.
An-178 - expanding capabilities
The An-178 military transport is another program of key priority for Antonov. It was unveiled on 16th April 2015, and made its maiden flight on 7th May the same year. Inauguration ceremony for the An-178 took place at Gostomel airfield, near Kiev; after about an hour in the sky, the airplane made a successful landing.
The An-178 is designed for transportation of medium to maximum payloads from 15 to 18 tons. This segment of the marketplace is virtually vacant thus far, except for aging or obsolete An-12 and C-160 airlifters which all need a replacement. The new aircraft can find itself in the heavier payload category than the An-74 or Europe's C-27J and C-295.
The cargo compartment floor area of An-178 is amounted to 40 sq. m with loading ramp or 33 sq. m without it. In its cross section, the cargo bay in the An-178 is 2,746mm wide and 2,750mm high, which is clearly optimized for standard 2,440 x 2,440 mm shipping containers. If compared to the An-158 on which basis the An-178 was designed, the latter will have its center wing section enlarged and expanded.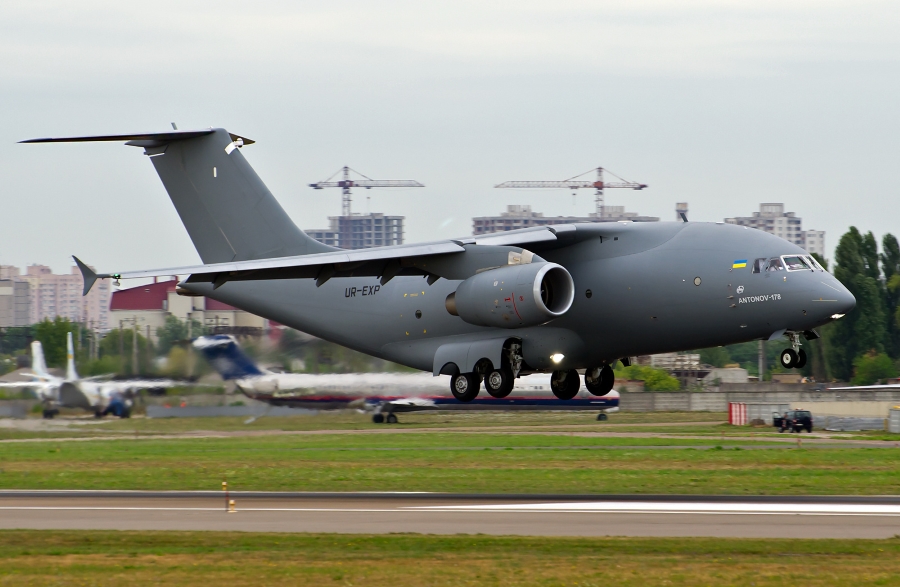 The cockpit is designed for a crew of two pilots. The An-178, like each and all of Antonov-series military transport aircraft, can operate both on unpaved and concrete runways no shorter than 915 meters
As part of its flight testing program, the An-178, in 2016, successfully completed type certification tests at high angles of attack (HAA), including stall tests at different altitudes and with different positions of flap extension and landing gear.
During Q3 and Q4 2016, and Q1 2017, the An-178 was successfully tested with respect to loading/unloading of various cargo types. Three М1097А2 military HMMWVs (High Mobility Multipurpose Wheeled Vehicle) were used in the tests in August 2016, and shipping containers and pallets in February 2017. The tests verified compliance with the specs in terms of loading/unloading, vehicle ingress/egress, and arrangement/fastening of shipping containers and pallets.
To present time, the An-178 has made more than two hundred flights. Production preparations for the An-178 began in the middle of 2016 at Antonov.
There is a firm order in place for ten An-178 aircraft from Azerbaijan's Silk Way Airlines, and preliminary agreements have been reached to supply 25 airplanes to China's Beijing A-Star Aerospace Technology Co, 30 to Saudi Arabia's Тaqnia Aeronautics, and one to an Iraqi customer.
Ukrainian experts estimate the market for the An-178 at about 800 airplanes within the next 10 to 12 years.
AN-178 - comparison with competitors
| | | | | |
| --- | --- | --- | --- | --- |
| | An-178 | С-130J-30 | C-160 | КС-390 |
| Max. payload, t | 18 | 19,9 | 16 | 26.0 |
| Cruising speed, km/h | 825 | 643 | 513-593 | 600 |
| Max altitude, m | 12200 | 12310 | 8535 | ~ 11000 |
| Practical range with max payload, km | 1000 | ~ 2200 | 1180 | 2110 |
It should be noted, at Farnborough Airshow 2018, Ukroboronprom defense industries group's Antonov Company and a division of Boeing – Aviall Services, Inc. – signed a general terms agreement on cooperation in the production of the upgraded An-148, An-158, An-178 families.
Within this cooperation, Aviall Services, Inc. will support supply chain, procurement and delivery of vendor items on behalf of Antonov to support the production of the mentioned newest aircraft and to provide further after-sale support. So now, Antonov customers all over the world will get new level of service of Ukrainian aircraft of these three types, including An-178.
The aircraft made its debut at the 2015 Paris Air Show. After that it also took part in DefExpo-2016 (India), ILA Berlin Air Show-2016 (Germany), Farnborough Air Show 2018 (Great Britain) and Eurasia-2018 (Turkey).
Indeed, the Antonov aircraft can successfully compete with currently known similar class aircrafts. Besides, they became more attractive for potential buyers after integration of components from well-known world manufacturers.
Oleksiy SERDYUK
Read more: UK destroyer Dragon enters port of Odesa
---
---