That is according to a latest the U.K. Defense Ministry's Defense Intelligence update on the situation in Ukraine.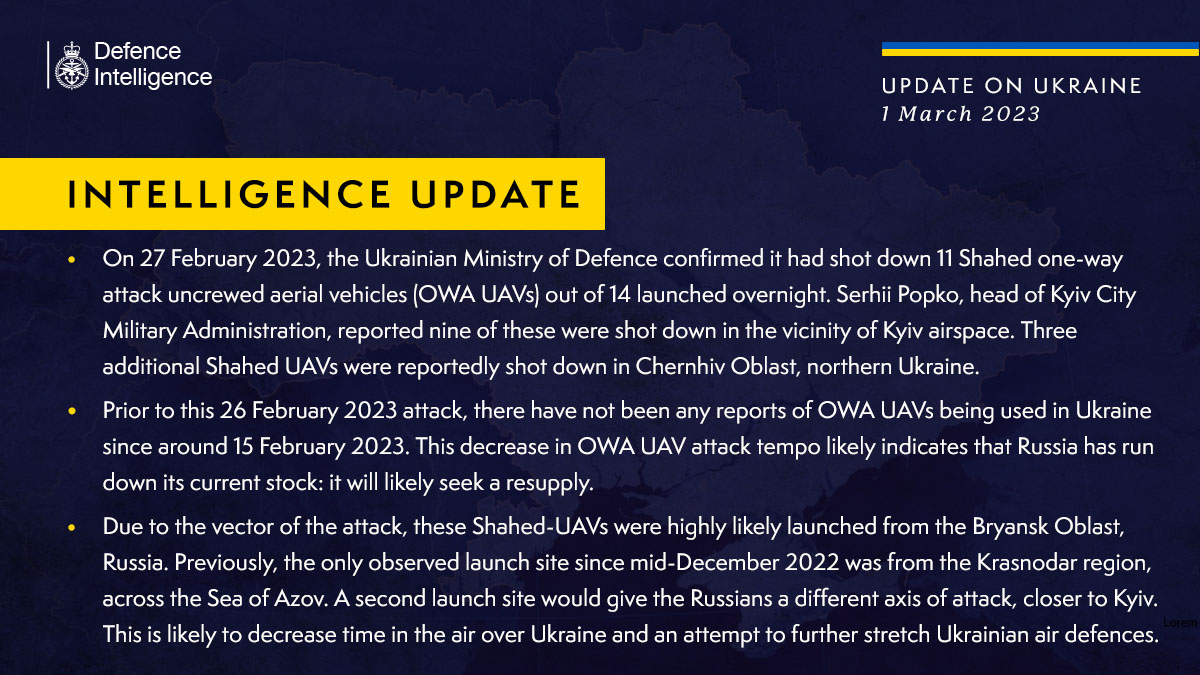 As the update states, "on 27 February 2023, the Ukrainian Ministry of Defense confirmed it had shot down 11 Shahed one-way attack uncrewed aerial vehicles (OWA UAVs) out of 14 launched overnight. Serhii Popko, head of Kyiv City Military Administration, reported nine of these were shot down in the vicinity of Kyiv airspace. Three additional Shahed UAVs were reportedly shot down in Chernhiv Oblast, northern Ukraine."
Read more: ​8 russian Vehicles Destroyed by the 79th Air Assault Brigade with the Javelin System in Maryinka (video)
As Andrii Nebytov, head of the National Police Department in the Kyiv region, reported in Telegram, during the night attack of the occupiers on February 27, the Air Defense Forces shot down enemy drones – parts of enemy UAVs were found in the field.
As the U.K. Defense Ministry's Defense Intelligence ascertain, "prior to this 26 February 2023 attack, there have not been any reports of OWA UAVs being used in Ukraine since around 15 February 2023. This decrease in OWA UAV attack tempo likely indicates that Russia has run down its current stock: it will likely seek a resupply."
Taking in account the vector of the attack, the U.K. Defense Ministry's Defense Intelligence estimates that these Shahed-UAVs "were highly likely launched from the Bryansk Oblast, Russia" and this launch site "would give the Russians a different axis of attack, closer to Kyiv". The update also remind that "previously, the only observed launch site since mid-December 2022 was from the Krasnodar region, across the Sea of Azov."
The U.K. Defense Ministry's Defense Intelligence concludes that the changing of the place of Iranian-made Shahed-type kamikaze drones' launching could help russians "to decrease time in the air over Ukraine and an to stretch Ukrainian air defences."
As Defense Express reported, that earlier The UK Defense Intelligence Said Russia to Be Concerned About Threat for its Key Logistics Route Via Mariupol. We also wrote, that Ukraine's Defense Intelligence stated that russia preparing for long war.
Read more: ​Australian Military Showed How They Are Training Ukraine's Recruits in Great Britain (Video)
---
---