Russian media reported the transfer of TOS-1A thermobaric multiple launch rocket systems (MLRSs) to the russian Airborne Forces (VDV), as of April 3, 2023.
The highly destructive TOS-1A, which russia designates as a "heavy flamethrower", is typically operated by the russian Nuclear, Biological and Chemical Protection Troops in Ukraine, and has not previously been formally associated with the VDV, the UK Defense Intelligence reports.
Read more: ​The UK Defense Intelligence Says russia Continues to Spend Significant Resources for Little Success
The transfer presumably indicates a future role for the VDV in offensive operations in Ukraine. It is likely part of efforts to reconstitute the VDV after it has suffered heavy casualties in the first nine months of the war.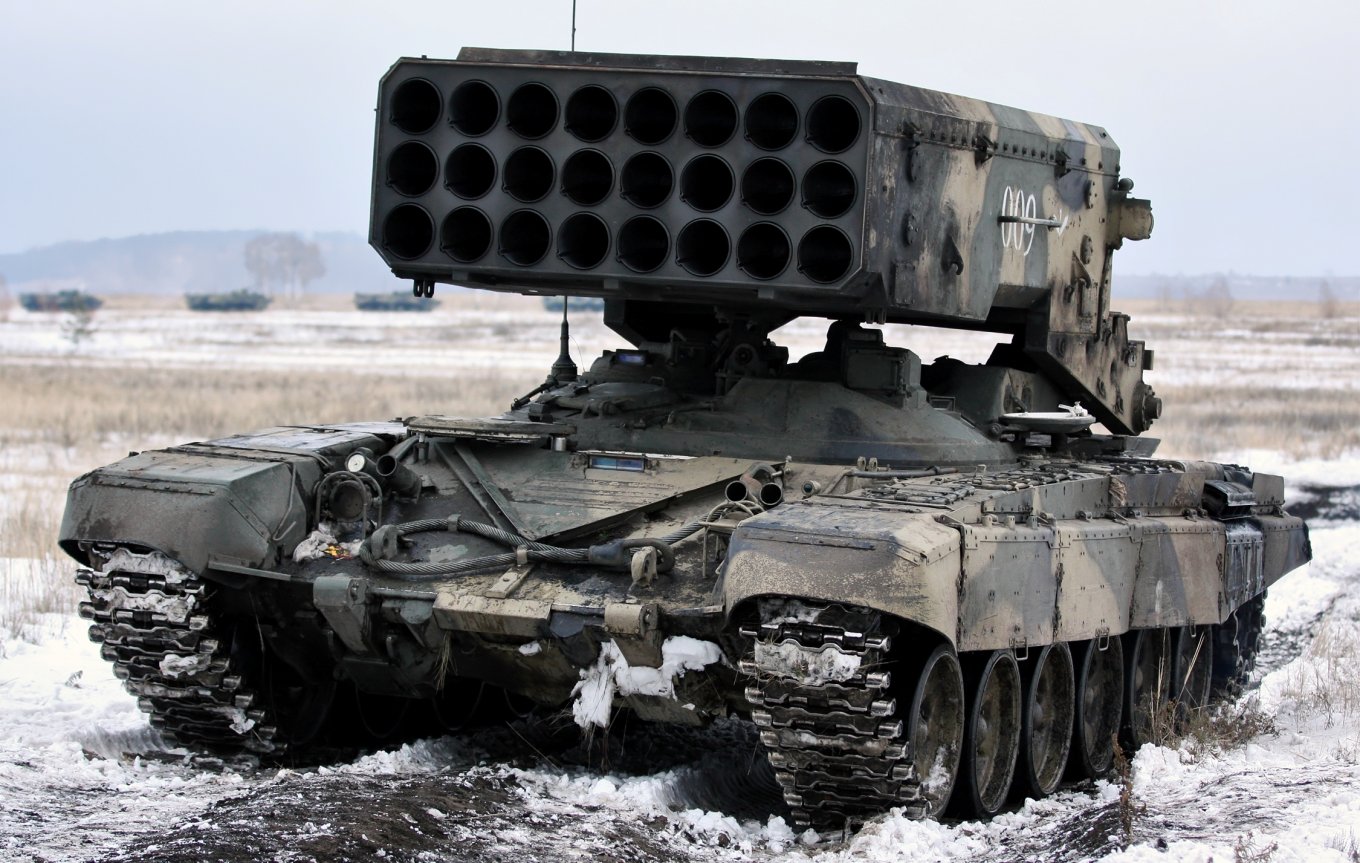 The TOS-1 was developed in the early 1980s and was successfully used by the Soviet Army in Afghanistan and later by the russian forces in Chechnya. The original TOS-1 heavy flamethrower system was used only for trials and evaluation. It was never produced in quantity. Also the original TOS-1 was never exported.
The TOS-1 fires 220 mm rockets. There are two types of warheads – incendiary and fuel-air explosive. The fuel-air explosive weapons are also called as vacuum or thermobaric. This type of munitions releases a large cloud of flammable gas and causes massive explosions. It is used to clear out bunkers and other fortifications.
The system has a relatively short maximum firing range of only 3.5 km. A minimum range is 400 meters. This heavy flamethrower system launches a single rocket or a pair of two rockets within 0.5 s. A full salvo duration is 7.5 or 15 seconds. It covers an area of 200-400 meters.
The system is mounted on the modified T-72 main battle tank chassis. It is powered by the V-84-1 diesel engine, developing 840 horsepower. The vehicle is fitted with a self-entrenching blade. Its armor protection is similar to the T-72 MBT's protection.
Read more: ​The UK Defense Intelligence Says Actions of russians in Bakhmut Area Become More Intense
---
---