Russian invaders, getting away from Kyiv, are leaving a variety of military equipment and weapons en masse. Retreating enemy columns do not go unnoticed by the Ukrainian military.
In particular, photos and videos of destroyed and captured by the Armed Forces of Ukraine TOS-1A Solntsepyok 220 mm heavy flamethrower systems (heavy short-range MLRS) are spreading through the network. At one time, russian propagandists promoted Solnetsepyok as a "wonder-weapon".
Read more: Ukrainian Troops Captured a New Interesting Trophy - Satellite Communication System "Auriga-1.2B"

TOS-1A Solntsepyok is a modernization of the soviet TOS-1 Buratino heavy flamethrower system. TOS-1A has been in the service of the russian army since 2001.The system consists of the following items: the "combat vehicle" BM-1 (Object 634B) based on a modified T-72A chassis and fitted with a rotating launch system for 24 unguided thermobaric rockets; two TZM-T (Object 563) re-supply vehicles, each carries 2x12 spare rockets and 400 litres of fuel for the BM-1. The original rocket for the TOS-1A had a range of only 2,700 m, but the improved version extends the range to 6,000 m.
It is noted that on April 1, 2022, during the retreat from the Capital of Ukraine, the occupiers lost at least three BM-1 launchers (object 634B) of the flamethrower system.Two of them were destroyed by the Ukrainian Stugna-P anti-tank missile system and another captured by the Ukrainian military.
There was also recorded a loss of two TZM-T(object 563) in Kyiv region, which are part of the TOS-1A Solntsepyok system.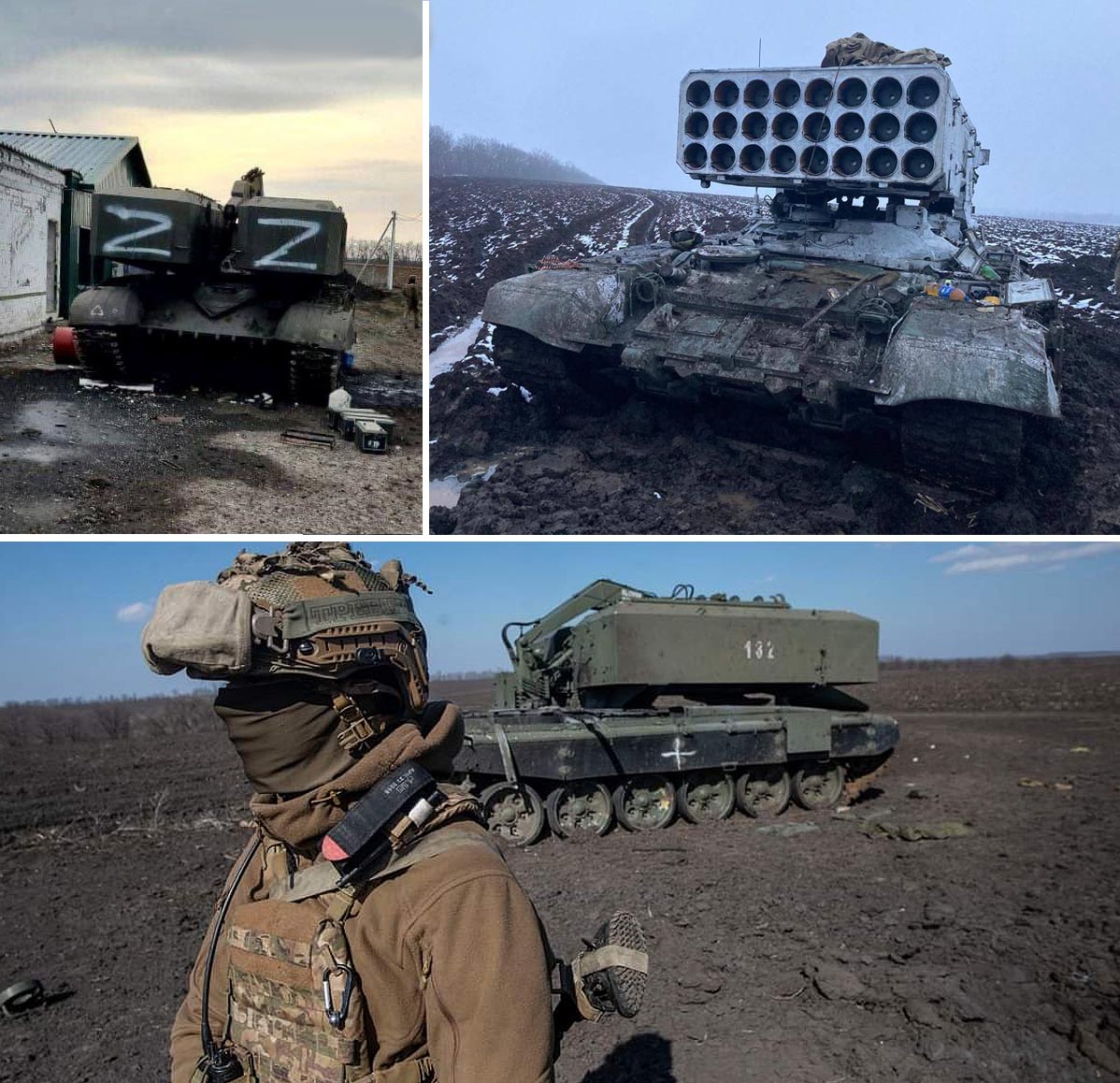 Several days ago, Defense Express reported that Ukrainian military eliminated russian TOS-1 Buratino heavy flamethrower system.
In total, since the beginning of the full-scape invasion on February 24, the russian army has lost five combat vehicles with a BM-1 launcher and six TZM-T from the TOC-1A system.
Read more: The Newest Russian Helicopter Ka-52 Could be Shot Down by a Rifle
---
---