Despite ordinary and satellite photos confirming multiple holes gaping in the hull of the Rostov Na Donu submarine after it got hit in a dry dock by a Ukrainian missile strike on September 13th, russian media reported only "minor damage" was inflicted.
State-affiliated media outlet TASS writes citing own sources that "the submarine suffered minor damage which has not affected its sturdy hull. Fixing it can only insignificantly increase the time this submarine will spend in maintenance."
Read more: Photos That Appeared on Network Show That the Rostov-na-Donu Submarine Damaged by the Ukrainians is Unlikely to Be Restored
At the same time, just two photos that appeared on the web give us the following impression. One of the missiles hit the Rostov Na Donu in its nose, more specifically the first torpedo bay, destroying the torpedo tubes with all reloading mechanisms.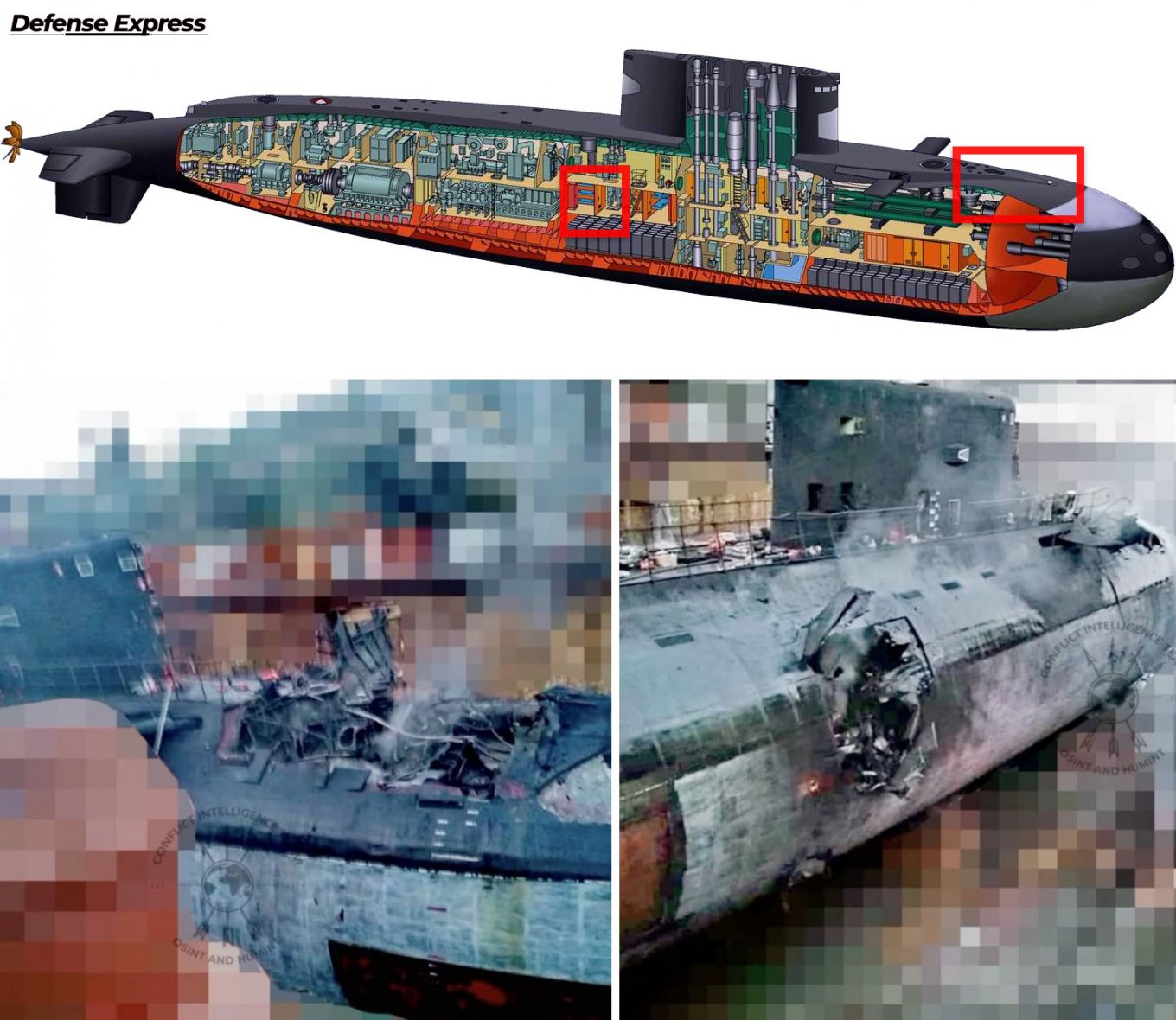 Given that Ukraine's Air Force said the weapon used in this strike was Storm Shadow/SCALP missiles, we can explain why the gaps in the hull look turned inside out. These missiles, identical in design, have a tandem-charge warhead that explodes twice: first, it penetrates the surface, then gets inside the target and triggers the second charge.
Thus we may expect the crew quarters beneath the torpedo bay, front power batteries, or even elements of the Rubikon-M sonar to be caught in the second explosion as well.
The other missile hit the middle of the hull, close to the third residential compartment, fourth diesel power generator and the stern group of power batteries. Each of them have been pried open with the hull visually penetrated. Moreover, the explosions were from inside here, too.
There are some questions left though. One is whether a fire broke out, which could have burnt out communication cables. Also, we don't have any photos from the other side for analysis.
Apparently, this is what the russian state media call "minor damage."
Read more: Rifles Now Intercept Storm Shadow and HIMARS Missiles, or so Defense Ministry of russia Says
---
---