Ukraine's state defense company Ukroboronprom announced and held about 16,000 tenders with a total value of more than UAH 5.5 billion in the first three quarters of this year and saved more than UAH 524 million, the company's press service has said.
"Due to the transition to the ProZorro [electronic procurement] system, Ukroboronprom's enterprises saved more than 524 million hryvnias in the first nine months of 2020," the statement reads.
Read more: Ukraine to supply engines for turkish next-generation cruise missile
It says that UAH 166 million was saved on aggregate procurement: when goods or services were purchased jointly within one tender for all or several enterprises of the company. Ukroboronprom saved UAH 52.5 million on the centralized purchase of machines, UAH 50 million – natural gas, UAH 33 million – electricity, UAH 21.6 million - cargo insurance, UAH 5.67 million - audit services, UAH 2 million - hotel booking, and UAH 1.3 million on the purchase of fuel coupons.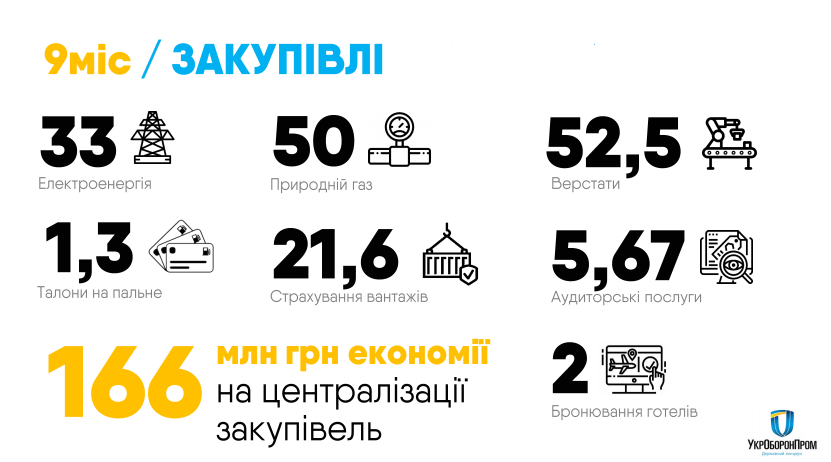 According to the press service, Ukroboronprom's enterprises mostly purchased electricity and natural gas, production equipment and components, lubricating oil and coolants, and spare parts.
Thanks to open and transparent procurement procedures, more than 5,000 suppliers participated in tenders, with an average of 2.2 suppliers competing to win each of them.
Ukroboronprom recalled that it earlier conducted procurement on a closed platform - only registered suppliers could take part in tenders. However, given that the vast majority of purchases are not military secrets, and the law of Ukraine "On Public Procurement" does not apply to Ukroboronprom, the company's new team obliged all its enterprises to voluntarily switch to the Prozorro electronic procurement system from January 1, 2020.
"The transition to Prozorro has solved systemic problems in procurement, which have remained 'untouched' for years," the press service quoted Nadiia Bihun, the company's procurement director, as saying.
Read more: With artificial intelligence, every soldier is a counter-drone operator
---
---