According to a graphic drawing published on the Telegram chanel "RYBAR" on May 27, 2022, France would have delivered 28 Spy'Ranger drones to Ukraine. At the same time, jornalists from the Army Recognition have not found any information concerning this possible delivery of drones by France, but the graph does mention other confirmed deliveries of military equipment.
Since 2014, France is one of the largest exporters of military equipment and weapons to Ukraine. Between 2014 and 2020, France has provided over €1.6 billion of weapons to Ukraine including helicopters, drones, targeting systems, ammunition, and fire control systems.
Read more: France Send CAESAR SP howitzers and Milan ATGMs to Ukraine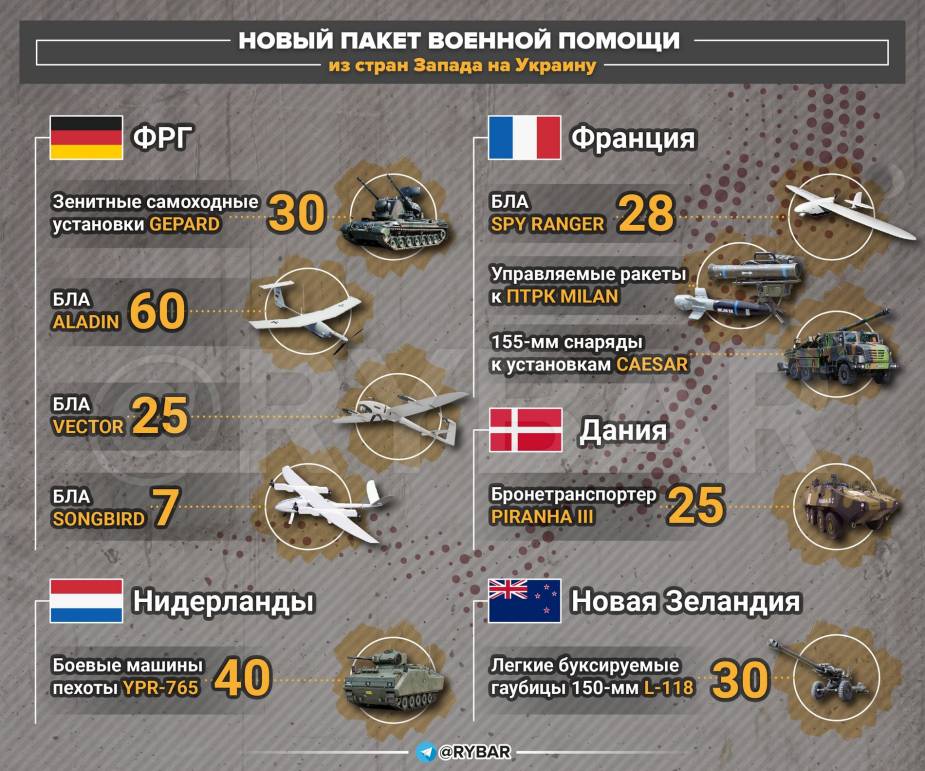 Since the beginning of the war in Ukraine, France has already delivered protective equipment, fuel, MILAN and Javelin anti-tank missiles, MISTRAL MANPADS man-portable air defense missile weapons as well as CAESAR 155mm wheeled self-propelled howitzers.
The Spy'Ranger is a family of mini UAV (Unmanned Aerial Vehicle) systems designed and manufactured by Thales to conduct reconnaissance and intelligence missions. The Spy'Ranger mini-UAV system brings front-line units an autonomous intelligence gathering and offensive reconnaissance capability, making them much more versatile, better protected and more connected than ever.
The Spy'Ranger family includes two versions, the Spy'Ranger 330 and Spy'Ranger 550. Although the airframes are optimized for different mission profiles, both systems use the same day/night high-definition payload, secure datalink and power chain. In addition, the ground control station and its user interface are identical to help operational users to switch effortlessly from one system to another.
The Spy'Ranger 330 has a wingspan of 4 m and a weight of 15 kg. It has an autonomy of up to 3 hours with a maximum range of 30 km.
The Spy'Ranger 530 has a wingspan of 5.2 m and a weight of 25 kg. It has an autonomy of up to 5 hours and has a maximum flying range of 50 km. Both drones can be deployed in less than 20 minutes by two operators and can fly at a speed from 65 to 90 km/h.
Read more: French CAESAR SPG Effective Harvesting Day in Ukraine (Photo Compilation)
---
---