The blow was dealt to a cluster of mobilized russians, who were located in the building of vocational school No. 19 (Kremlevskaya Street, 48).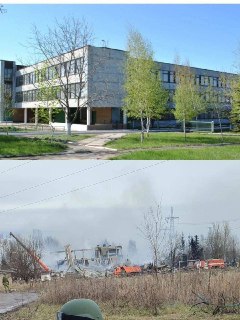 "Hello and greetings to Vata (Engl. - Cotton wool - an Internet meme that disparagingly refers to people who have pro-russian views, Defense Express note) and ChMObikes (Internet meme that refers to those who were conscripted duringso caller partiall mobilization that was declared in russia to wage a war wih Ukraine, Defense Express note) who were driven to the occupied Makiivka and stuffed into the PTU-19 building. As a result of "careless handling of heating devices", neglect of security measures, smoking in an unspecified place, Santa packed about 400 corpses of pig-dogs (Internet meme that refers to those russians who wage a war against Ukraine, Defense Express note) into bags. Also about 300 were injured of varying degrees of severity. It is interesting that all this happened on New Year's Eve," StratCom of the Armed Forces of Ukraine states on its official channal on Telegram.
Read more: 313 Days of russia-Ukraine War – russian Casualties In Ukraine
In its turn The Guardian reports that without claiming the strike, Ukraine's military command announced up to 400 Russian soldiers were killed in the incident in Makiivka, a city in the Moscow-controlled parts of the Donetsk region.
According to The Guardian, pro-russian authorities late on Sunday acknowledged that there were casualties, but did not comment on the Ukrainian figures.
Daniil Bezsonov, a senior Moscow proxy official in the Russian-occupied Donetsk region, said a Ukrainian missile struck a vocational school in Makiivka that housed soldiers two minutes after midnight on New Year's Day.
"A massive blow was dealt to the vocational school from American MLRS Himars," Bezsonov wrote in a post on the Telegram messaging app, referring to US-provided missiles.
"There were dead and wounded, the exact number is still unknown," Bezsonov added, The Guardian reports.
Photographs circulating on social media show what appears to be the ruins of the building in Makiivka used by the Russian army as barracks.
More than a day after this incident, the Russian Ministry of Defense confirmed the destruction of several dozen occupiers in Makiivka, Ukrainian journalist Andrii Tsaplienko reports, referring to the Russian news agency RIA Novosti
Defense Express reported earlier on How Many Air Tagets Ukrainain Air Defense Forces Shot Down Over the Kyiv On New Year's Eve.
Read more: ​The UK Defense Intelligence Finds That russians are Concerned About Vulnerability of Crimea
---
---