Recently, russia had reinstated a whole echelon of the T-54 and the T-55 main battle tanks (MBTs). There were plenty of assumptions about the next vehicles russia would take from the dumps. One of the candidates were the T-10 (IS-8) heavy tank. It had been produced in 1954-1966 and decommissioned in 1993 (7 years before the T-54 MBT).
But the photos appeared on the network show the IS-3 heavy tank. It was produced in 1945-1946 and decommissioned in 1973.
Read more: ​The Receiving Days: Portuguese Leopard 2A6 MBTs Are In Ukraine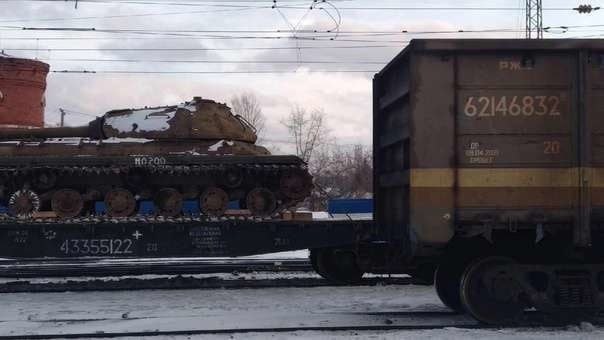 There are no official announcement or confirmed cases of the IS-3 tank restoration. And one photo of one vehicle isn't an echelon. So it's better not to jump to conclusions.
Another video appeared on the network showing the BM-8 Katyusha MLRSs on March 26, 2023.
It is said that these MLRSs are headed to the frontline. But the license plate indicate that systems are probably going to be used on parade or in filmmaking. Moreover, these vehicle has the Studebaker US6 chassis that the U.S. has been providing to the Soviet Union.
Read more: ​In the UK Ukrainian Tankmen Completed to Master Challenger 2 Tanks, Artillerymen AS90 Howitzers as Well
---
---