Russia has caused an ecological disaster: a major oil processing and storage facility is in flames after the Russian missile attack; Russian occupiers blew up a gas pipeline
Peaceful demonstrations in support of Ukraine are held across the world
20 countries have already closed their skies for Russia
civilians fight against Russian occupiers side by side with Ukrainian Army
Ukrainian delegation will meet with Russian delegation on Ukraine-Belarus border
Sources:
Side note: news are marked in accordance with the Kyiv time zone: Eastern European Time (EET), GMT/UTC+2
Read more: Day Three: Ukraine Dictating Own Terms in Negotiations with Russia Defeating Aggressor – Live Updates
Latest news:
2:49 General Staff: operational information on 00:00, February 27 regarding the Russian invasion. Russia continues the air-to-ground offensive operation against Ukraine – inflicts fire on military and civilian airfields, military control points (forces), air defense facilities, important critical infrastructure, settlements, and units in defense areas.
Another attempt by the occupier to capture the city of Irpin was unsuccessful. Ukrainian defense forces destroyed new enemy equipment. Kyiv has deployed a dense and multilevel system of defense of the capital.
There is a systematic struggle against a small number of Russian sabotage-reconnaissance groups (SRG) numbering 3-15 people with weapons, in the uniform of the Armed Forces of Ukraine, but in bulletproof vests of the Russian Federation.
00:20 11 landing ships set sail from the sea base of the occupied Crimea for landing operation in Odesa. This was announced during a briefing by Oleksiy Arestovych, Adviser to the Head of the President's Office. At the same time, he emphasized that the Armed Forces of Ukraine are ready to fight back.
23:30 European Union foreign ministers agreed to send 450 million euros ($500 million) in military aid to Ukraine for lethal weapons, according to Josep Borrell, the bloc's foreign policy chief.
The aid will be financed by the EU's European Peace Facility and will see the bloc supply arms to a country at war for the first time in its history. Another 50 million euros will be provided for non-lethal purposes, Borrell said at a press conference in Brussels Sunday.
23:30 Turkish Foreign Minister Mevlut Cavusoglu has announced the implementation of the Montreux Convention due to Russia's full-scale invasion of Ukraine. The pact regulates the passage of naval warships through the Dardanelles and Bosphorus straits.
22:40 Ukrainian President Volodymyr Zelensky has a conversation with Belarusian President Aleksandr Lukashenko. "I had a telephone conversation with Aleksandr Lukashenko. We have not talked to each other for two years. And I spoke with him today in much detail. I explained to him in detail that a clash between us is impossible. I do not want missiles, aircraft, and helicopters fly to Ukraine from Belarus. I do not want troops to go to Ukraine from Belarus. And he gave me assurances of that," Zelensky said at a briefing on Sunday.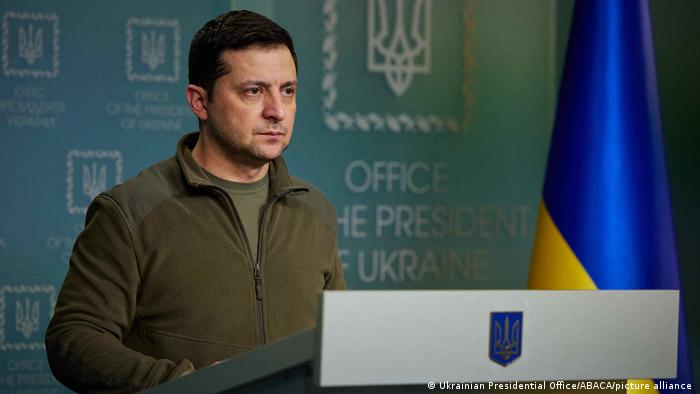 22:10 Kyiv Mayor Vitali Klitschko called on the residents of the capital to spend the night in shelters. "Tonight will be difficult again. Therefore, our defenders are preparing to defend the capital. And I urge the residents of Kyiv to spend this night in shelters. Because the enemy is getting mad. They are shooting at peaceful houses. They continue to destroy our infrastructure. Although they themselves suffer heavy losses - both human and military. Because, it seems, the Russians did not expect such a rebuff and such a spirit from the Ukrainian people, both military and civilian," Klitschko wrote on his Telegram channel on Sunday.
21:47 Denmark is handing up to 2,700 anti-tank weapons to Ukraine to fight the Russian army. Prime Minister Mette Frederiksen told at a brief press conference that a majority in parliament agreed with the decision.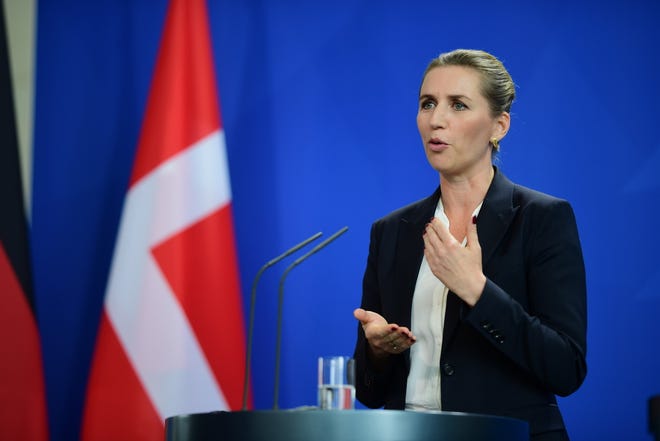 21:47 The General Staff of the Armed Forces of Ukraine gave operational information on 18:00, February 27 regarding the Russian invasion
"The Russian Federation continues to accumulate aviation equipment and intensify special forces on the territory of the Republic of Belarus. More than 50 planes, 10 helicopters and 2 An-124 planes are concentrated at Machulishchi airfield. Transport planes are constantly taking off from Baranovichi and Machulishchi airfields in the direction of Ukraine. The Belarusian command has brought some of its units into combat readiness.
Conducting an offensive operation in Ukraine, the Russian occupiers use methods of war prohibited by international humanitarian law: seize social infrastructure, wear the uniform of the Ukrainian military, police and State emergency Service, sabotage special forces use ambulances and police cars stolen from hospitals and ambulance car stations; terrorists occupy children's camps and schools, enemy artillery and MLRS are deployed on sports grounds.
Three ambulances with conditional markings of invaders were recently spotted in Kyiv. In the Genichesk district of the Kherson region, the Russian occupiers deployed MSTA-C artillery units in residential buildings.
A line is moving in the direction of Makariv - Kyiv, and the enemy has placed children and women on the armored vehicles to cover them.
However, the moral and psychological condition of the occupying forces is low. Near Koryukivka in the Chernihiv region, conscripts of the Russian Armed Forces are ready to lay down their arms and surrender.
Hundreds of disabled armored vehicles and tanks have been abandoned all over Ukraine.
As of 18:00, the loss of enemy personnel amounted to about 4,500 people. Destroyed and damaged aircraft - 27 units (to be specified), helicopters - 26 units, tanks - about 150, CAC - more than 700 units, guns - about 50, one SAM BUK, MLRS BM-21 Grad - 4, 60 fuel tanks, 2 UAVs operational-tactical level, ships, boats - 2 units".
21.05 The Armed Forces of Ukraine used Bayraktar UAV against the Russian anti-aircraft missile systems Buk near Zhytomyr.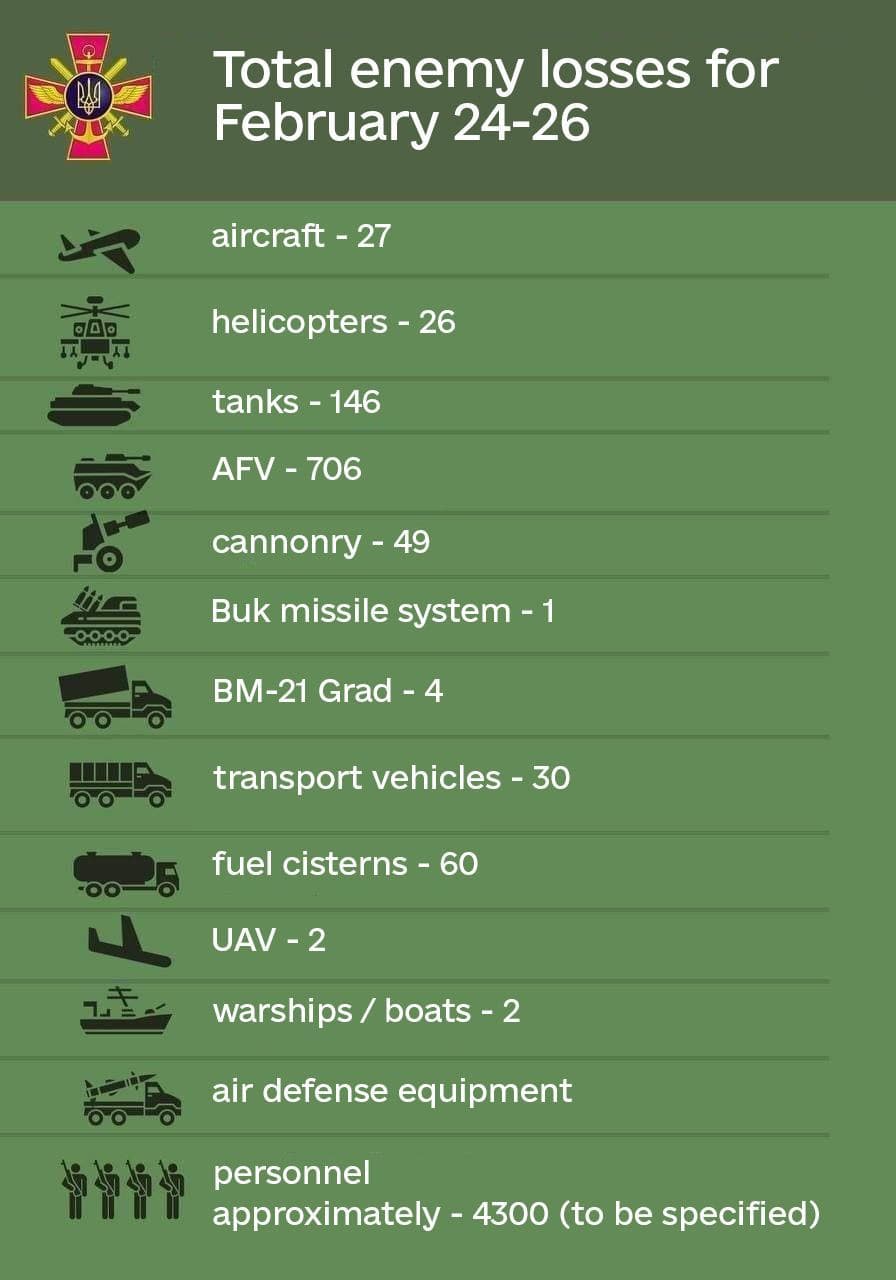 20:51 Special Communications Service: Hungary adopted another batch of military aid to Ukraine – 100,000 liters of fuel and 28 tons of food supplies.
20:32Verkhovna Rada of Ukraine has published a summary of the casualties of the Russian occupation army as of February 24-26th: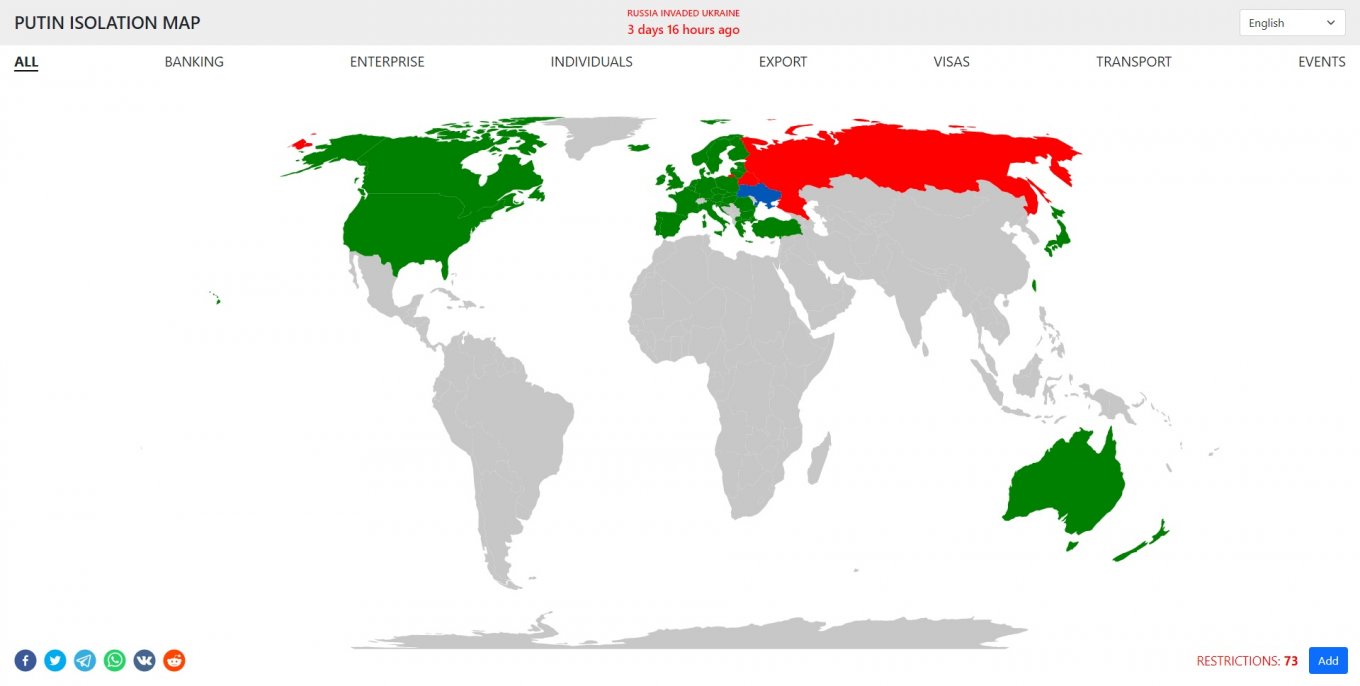 20:20 Verkhovna Rada has published the "Putin isolation map". The infographics show the amount of restrictions put upon Russia and its President. The map is available here.
20:14 Filippo Grandi, the High Commissioner for the UN Refugee Agency: Over 368,000 refugees from Ukraine have crossed to Poland, Hungary, Romania, Moldova, and other countries. Numbers continue to grow:
19:53 Verkhovna Rada: EU announced another package on sanctions upon Russia. European Commission approved to:
shut down the EU airspace for Russian-owned, Russian-registered, or Russian-controlled aircraft – they won't be able to land in, take off or overfly the territory of the EU. Including the private jets of oligarchs
ban of the Kremlin's state-owned media: Russia Today and Sputnik, and their subsidiaries. They will no longer be able to spread their lies to justify Putin's war.
target the other aggressor in this war, Lukashenko's regime, with a new package of sanctions, hitting their most important sectors
Also, according to the EU Commission President Ursula von der Leyen, "for the first time, the EU will finance the purchase and delivery of weapons and equipment to a country under attack." She wrote that on her Twitter.
16:45 Presidential Office: Oleksii Arestovych, the Adviser to the Head of the Office of the President of Ukraine addressed Belarussian Armed Forces. He asked them not to participate in any military operations in Ukraine. The official also stressed that this protest would be an act of courage and military honor. More details soon.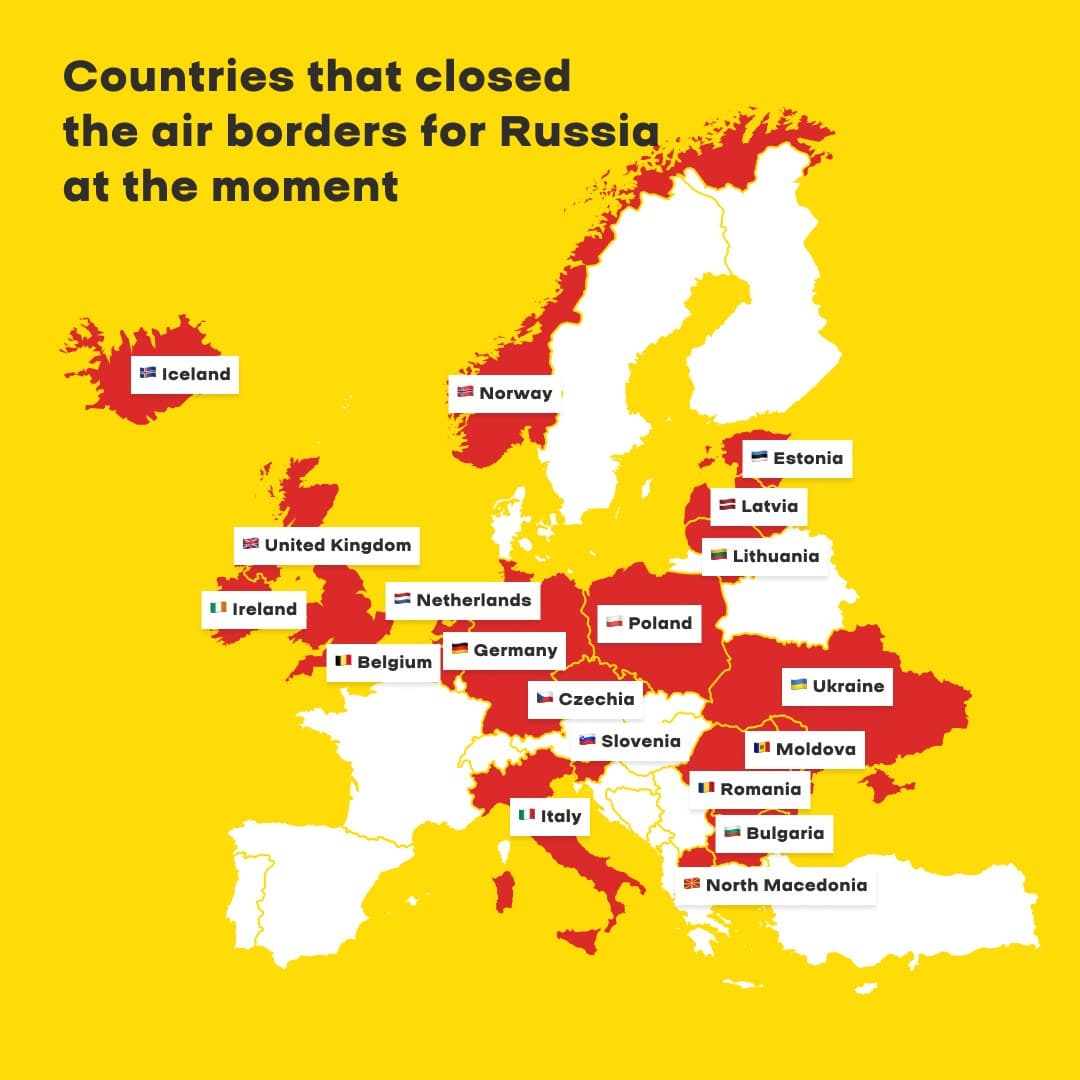 16:42 Ukraine NOW: more countries join the sky blockade of Russia: Canada joined the list of countries that closed their skies. Air France airlines company stopped flights over Russia.
16:29 General Staff: since 00:00 of February 27, the Russian invaders fired 5 air strikes and 16 missiles. Russian forces concentrated in Belarus. They transferred to the Machulyshchi airfield 10 helicopters from the 15th Army Aviation Brigade (15 Br AA) storage, which is based in the village of Ostrov, Pskov region, as well as 2 An-124 aircraft of the Air and Space Forces. Also, four Su-34 fighter-bombers were deployed to the Baranovychy airfield.
Russian occupiers attempted to land a naval landing party in the Black Sea area (Southern Ukraine). Enemy landings were destroyed. Units of the Pacific Fleet of the Russian Armed Forces are also involved in fightings.
16:24 Ukraine NOW: Russian oligarchs Mikhail Fridman and Oleg Deripaska condemned Russian aggression in Ukraine.
"Peace is very important! We need to start the negotiation as soon as possible!" – the Russian billionaire Deripaska announced."
16:22 Verkhovna Rada: Australia will provide Ukraine with lethal military assistance to combat the invasion of Russian occupation forces.
General Staff: "Australia will contribute to the armament of Ukraine. We try to provide every support for the summer through our partners with the help of NATO, in particular, the United States and the United Kingdom. We will work through these channels, because this is the most effective way to do it," Prime Minister of Australia Scott Morrison said.
16:16 Ministry of Defense of Ukraine: the Romanian Government Internship Guvernul Romaniei has decided to send ammunition and military equipment to Ukraine, and has expressed readiness to receive the wounded from the neighboring country.
Romanian government spokesman Dan Kerbunaru said that in addition to ammunition and military equipment (body armor, helmets), Romania would also help Ukraine with fuel and the second tranche of medical equipment and medicines worth more than 3m euros. The Romanian government has also expressed readiness to accept wounded Ukrainians in military hospitals.
"The Armed Forces of Ukraine are grateful to the People, the President, the Parliament, the Government, the Ministry of Defense and the Romanian Armed Forces for their military assistance and support for Ukraine's sovereignty and territorial integrity within its internationally recognized borders, including Crimea," written in the Ministry's statement.
16:06 Antony Blinken, the US Secretary of State:
"The U.S. is providing nearly $54 million in additional humanitarian assistance to the people of Ukraine. This assistance enables humanitarian organizations to support citizens of Ukraine already in need and those newly affected by Russia's unprovoked and unjustified attack," the official wrote on Twitter.
15:53 Verkhovna Rada: Ukrainian delegation will meet with the Russian delegation on the Ukraine-Belarus border
The politicians have agreed that the Ukrainian delegation will meet with the Russian delegation, without preconditions, on the Ukrainian-Belarusian border, near the Pripyat River.
The President of Belarus Aleksandr Lukashenko had a call with Ukrainian President Volodymyr Zelensky. The politicians have agreed that the Ukrainian delegation will meet with the Russian delegation, without preconditions, on the Ukrainian-Belarusian border, near the Pripyat River.
Alexander Lukashenko has taken responsibility for ensuring that all planes, helicopters, and missiles stationed on Belarusian territory remain on the ground during the Ukrainian delegation's travel, talks, and return.
15:27 Ukrainian MFA: President Zelenskyy announced the formation of a new unit – the International Legion of Territorial Defense of Ukraine. He appealed to foreigners who want to help Ukraine to stop Russian aggression
MFA Minister Dmytro Kuleba invited foreigners to join the Legion: "Foreigners willing to defend Ukraine and world order as part of the International Legion of Territorial Defense of Ukraine, I invite you to contact foreign diplomatic missions of Ukraine in your respective countries. Together we defeated Hitler, and we will defeat Putin, too."
Verkhovna Rada: Minister of Foreign Affairs of Great Britain, Elizabeth Truss, claimed that she will definitely support British people who decide to come to Ukraine and fight against the Russian forces.
15:24 Ukraine NOW: a column of Belarusians is walking through Minsk and chanting "No more war!"
15:16 President Zelenskyy appealed to the Belarusian people. He called on them to not participate in Russian aggression against Ukraine:
"We ask you: do not participate in fratricide! Furthermore, we have always been, are, and will be your friends. We supported the Belarusians when your dictator rebelled against his people. Ukraine has become home to many, who fled the Lukashenko regime. Do not believe the propaganda, do not believe that we are killing ourselves, and Russia has come to "save" us. They came to kill us. And ask you to participate in it," the President said during a briefing.
14:52 Mykhailo Fedorov, the Minister of Digital Transformation of Ukraine: the official addressed Visa and Mastercard multinational financial services corporations to block their services on all cards issued within the Russian Federation:
"We [the Presidential Office] are confident that such an action, taken by you, will be decisive in the victory of the democratic free world over bloody and senseless authoritarianism that we are now witnessing," written in the appeal published on Twitter.
14:37 Ukrainian State Emergency Service via Ukraine NOW: Russian occupiers shelled a nuclear waste disposal site near Kyiv. A missile hit in the vicinity of the facility. Luckily, the nuclear waste storage is intact.
State Nuclear Regulatory Committee of Ukraine:
"Russia bombed Kyiv with all types of ground-to-air and missile weapons available to the aggressor. Shells hit the radioactive waste disposal site of the Kyiv branch of the State Specialized Enterprise Association RADON"
State Emergency Service of Ukraine: "The fence was hit. Both the building and the containers are intact."
14:23 Vitalii Klychko, Mayor of Kyiv and the Head of the State Kyiv City Administration: "in Kyiv, since the beginning of the attack, February 24th, 9 citizens have been killed, including 1 child, 4 unidentified people, and 18 soldiers. 106 people are injured, including 47 civilians, 3 children, and a 17-year-old student."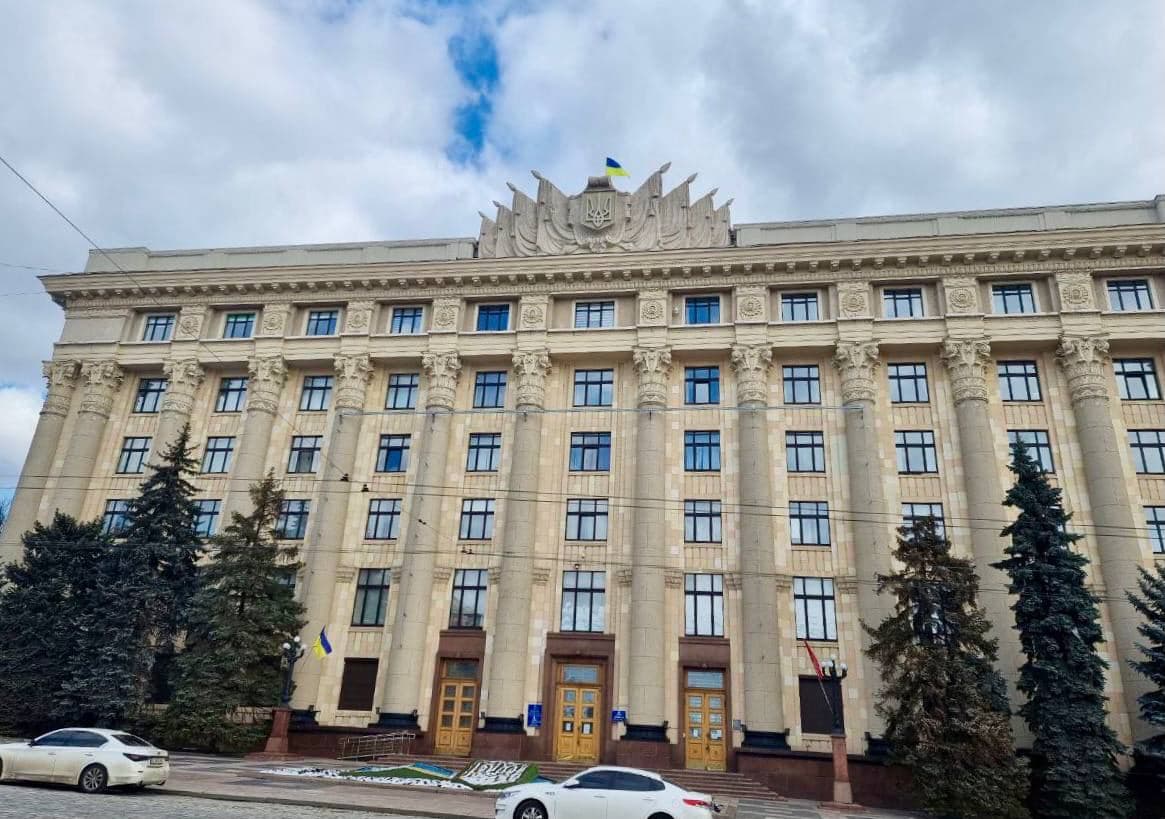 14:10 Ukraine has regained full control in Kharkiv after some Russian light vehicles managed to get into the city. Ukrainian Armed Forces are working on elimination of the enemy forces from the city:
"Russian forces are absolutely demoralized. Especially in Kharkiv, they leave their technic [vehicles] and surrender to the Ukrainian forces in groups of 5–10 people. They surrender right after seeing a soldier of the Armed Forces of Ukraine," written in the statement.
Kharkiv. 12:45. Photo: media group "Lens
14:05 Ukraine NOW: Ukrainian police, together with the population, stopped Russian tanks. People stood side by side on the road, preventing the enemy from passing. Where: Koriukivka, Chernihiv region (Northern Ukraine).
13:55 President Zelenskyy: Ukraine has submitted its application against Russia to the ICJ (International Court of Justice):
13:48 Ukrainian President Volodymyr Zelenskyy had a conversation with the President of the Republic of Belarus Alexander Lukashenko. Update: they agreed on the meeting of Ukrainian and Russian delegations on the Ukraine's border with Belarus.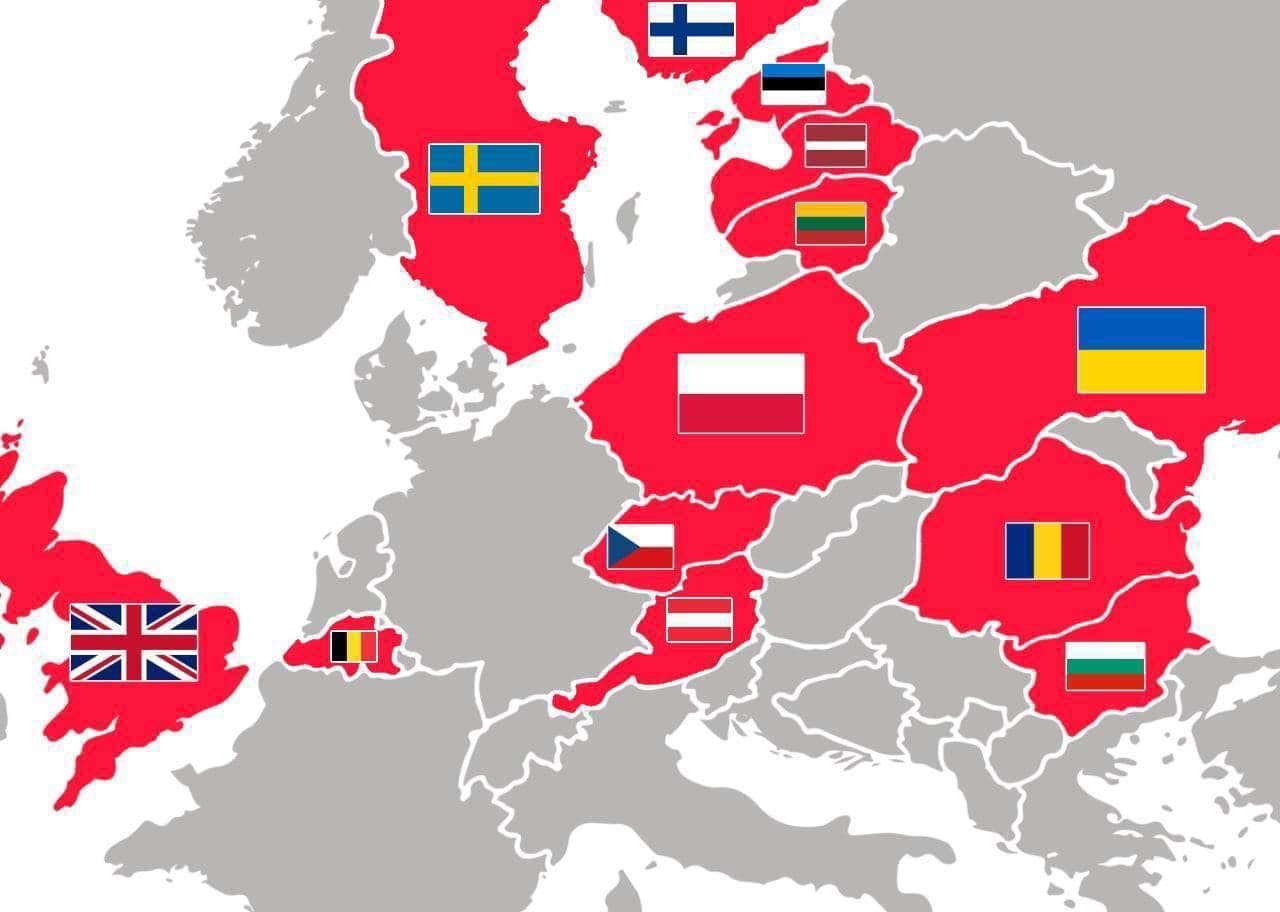 13:45 Ukraine NOW: more and more countries are closing their air space for Russian Federation. Lithuania, Germany, Ireland, Slovenia, Finland, United Kingdom, Poland, Bulgaria, Czech Republic, Estonia, Romania have already closed their skies.
13:40 Kyiv Cty State Administration: another attack on civilians – a missile hit a courtyard of a 16-story building in Kyiv: 7 private cars caught fire. According to preliminary data, no dead were found, the victims have minor injuries.
11:10 - The General Staff of the Armed Forces of Ukraine gave updated information on the aggressor's losses (24,25,26.02). Approximate data (updated):
146 tanks,
706 armored combat vehicles of various types,
27 aircraft,
26 helicopters
30 motor vehicles
60 fuel tanks
49 artillery gun systems
1 Buk surface-to-air missile (SAM) system
4 MLRS Grad
2 UAV
2 ships/boats
Over 4,300 manpower (preliminary estimated data)
More details here.
10:30 The Commander-in-Chief of the Armed Forces of Ukraine Lieutenant General Valerii Zaluzhnyi spread a video Bayraktar UAV in action
9:55 The Ukrainian Air Force shot down a cruise missile fired at Kyiv from Belarus, Commander of the Armed Forces of Ukraine Valery Zaluzhny has said.
"The Air Force of the Ukrainian Armed Forces a few minutes ago shot down a cruise missile fired at the capital of Ukraine from the territory of the Republic of Belarus by a Tu-22 aircraft," Zaluzhny wrote on Facebook on Sunday.
He said that "this is another war crime of the Republic of Belarus and the Russian Federation."
09:40 On the morning of February 27, explosions were heard in Troieshchyna (bedroom community for Kyiv), after that photos and videos of the fire from various angles began to be published on the social network.
08:20 The Office of the President of Ukraine spread the appeal to foreign citizens to help Ukraine in fighting against Russia's aggression. According to it, the President of Ukraine Volodymyr Zelenskyy is addressing all citizens of the world, friends of Ukraine, peace and democracy. Anyone who wants to join the defense of Ukraine, Europe and the world can come and fight side by side with the Ukrainians against the Russian war criminals.
07:30 Defense Minister Oleksii Reznikov praises Ukraine's military effort in defending the country. "As each hour passes, more and more people understand that none of the European countries have such an army. None. Without this army and our people, Europe will never be safe. There will be no Europe without us," Reznikov says, adding that the country still has many obstacles ahead, but "we are not the only ones who believe in our victory."
03:00 In Gostomel area Ukrainian troops defeated a special unit of the Russian Guard of Chechnya. This information was confirmed to Interfax-Ukraine by the Ministry of Defense of Ukraine. It is reported that during the defeat of the unit, General Magomed Tushaev, commander of the 141st motorized regiment of the Chechen National Guard, was killed. This was confirmed by a captured fighter from this unit.
02:34 Ukraine NOW: in Kharkiv, the Russian occupiers blew up a gas pipeline. The media warned: "This is NOT a nuclear strike, although the explosion is visually similar to it."
01:55 Verkhovna Rada: Russian occupiers have caused an ecological disaster:
"Warning! The smoke and toxic fumes coming from the oil fire in Vasylkiv can blow in any direction; the wind patterns are inconsistent. Close your windows," the Government wrote on Telegram.
01:24 TSN.ua via Verkhovna Rada: oil depot in Vasylkiv (near Kyiv) has been shelled, is on fire.
01:08 Ukraine NOW: more rallies in support of peace in Ukraine to be held in the largest cities of the world – London, Berlin, New York, Mexico City, Paris, Milan, Brussels.
00:55 Verkhovna Rada: Google has deleted hundreds of channels and thousands of videos by Russian propagandists in the last several days against the backdrop of events in Ukraine.
00:33 Elon Musk via Verkhovna Rada: Elon Musk has opened Starlink service in Ukraine. Starlink uses low-Earth orbit satellites to provide faster speeds, more data, and lower latency broadband service to underserved rural and remote areas worldwide.
Defense Express memo: Elon Musk is the founder, CEO, and Chief Engineer at SpaceX company. The decision to open Starlink service was announced after Mykhailo Fedorov, the Vice Prime Minister of Ukraine and Minister of Digital Transformation of Ukraine addressed the businessman asking to provide Ukraine with Starlink stations.
00:12 Ursula von der Leyen, the President of the European Commission: European Commission imposed new sanctions on Russia:
"a certain number" of Russian banks are removed from SWIFT
the Commission paralyzes the assets of Russia's central bank
the Commission will work to prohibit Russian oligarchs from using their financial assets on our markets.
"Putin embarked on a path aiming to destroy Ukraine. But what he is also doing, in fact, is destroying the future of his own country," stressed the official.
Read more: The 'Gost of Kyiv' – Ukrainian Jet Pilot has Downed Six Russian Enemy Planes through February 24
---
---