Sources:
Side note: news are marked in accordance with the Kyiv time zone: Eastern European Time (EET), GMT/UTC+2
Read more: Nuclear Threat: Putin Ordered to Put Deterrence Forces on Alert
Latest news:
In the city of Brovary, Kyiv region, as a result of an air attack by Russian military on Monday, according to preliminary data, one person killed and five were wounded, head of Kyiv regional state administration Oleksiy Kuleba said on Facebook.
According to his information, there was a missile strike in Vasylkiv, data on the victims are being specified.
"Bila Tserkva - hit by rockets, Konovaltsia Street. The hostel was destroyed. People can be under the rubble," Kuleba said. He added that the search and rescue operation continues, two people have already been rescued.
In Fastiv, at the checkpoint of Kadlubytsia, a battle is going on. "Probably with a sabotage group," the head of the region said.
He appealed to residents with a request to stay in the most protected places, in shelters.
23:08 Ukrinform: Presidents of numerous EU countries have approved Ukraine's swift accession perspective.
"We, the Presidents of the EU member states: the Republic of Bulgaria, the Czech Republic, the Republic of Estonia, the Republic of Latvia, the Republic of Lithuania, the Republic of Poland, the Slovak Republic, and the Republic of Slovenia strongly believe that Ukraine deserves receiving an immediate EU accession perspective," written in the Open Letter, published on the websites of the signatory Presidents.
22:40 Verkhovna Rada: Russian occupiers' BM-21 "Grad" multiple rocket launchers have killed 3 children in Kharkiv. They killed 9 civilians during the day, including 3 children, destroyed 87 houses, and injured 37 people.
"It's not just a war, it's the slaughter of Ukrainian people," said Mayor of Kharkiv Igor Terekhov
22:30 Shell plc: a major oil and gas company withdrawn its contract with Gazprom:
"The Board of Shell plc ("Shell") today announced its intention to exit its joint ventures with Gazprom and related entities, including its 27.5 percent stake in the Sakhalin-II liquefied natural gas facility, its 50 percent stake in the Salym Petroleum Development, and the Gydan energy venture. Shell also intends to end its involvement in the Nord Stream 2 pipeline project," written in a statement, published on the company's website.
22:01 Ministry of Defense: Ukraine offered Russian soldiers full amnesty and financial compensation if they lay down their arms and surrender voluntarily, the Minister of Defense of Ukraine Oleksii Reznikov announced on Facebook. Funds to support this campaign were raised by leaders of the global IT industry. The Minister addressed Russian occupiers:
"You were thrown to our land to murder and be murdered. Those of you who doesn't want to become a murderer or be murdered, can be saved. Do not follow the criminal orders of those who have lied to you for years about Ukraine and Ukrainian people."
21:29 Minister of Digital Transformation: Google Maps disabled some Google Maps functions in Ukraine, Minister Mykhailo Fedorov wrote. The disabled functions are:
live traffic overlay, that was used for observing the Ukrainian territory from a distance
Live Busyness – a feature that displays how popular a location may be at a given time.
21:07 US Department of State: the United States have conducted a new package of sanctions against Russia:
The U.S. Department of the Treasury's Office of Foreign Assets Control (OFAC) has prohibited any U.S. person from conducting any transaction involving the Central Bank of the Russian Federation, the National Wealth Fund of the Russian Federation, or the Ministry of Finance of the Russian Federation.
In addition, OFAC imposed blocking sanctions on the Russian Direct Investment Fund, a known slush fund for President Putin and his inner circle, two of its subsidiaries, and CEO Kirill Dmitriev.
"We took today's actions to impair Russia's ability to use its international reserves in ways that undermine the impact of our sanctions, as well as to prevent Russia from accessing its wealth fund for use in its ongoing war against Ukraine," written in the statement by Antony J. Blinken, the US Secretary of State.
He also noted that the US would continue to impose severe consequences on Russia for its war against Ukraine.
20:48 US Embassy Kyiv: The United States is taking further measures today against the Russian financial system in response to Russia's continuing premeditated war against Ukraine.
20:09 The first round of the Ukrainian-Russian negotiations has been completed. No decisions were made yet, the delegations went back to their capitals.
Presidential Office via Ukraine NOW: the official statement after completion of the Ukrainian-Russian talks on the Belarusian border:
"The Ukrainian and Russian delegations have completed the first round of talks, the main purpose of which was to cease fire and hostilities on the territory of Ukraine. The parties identified a number of priority topics on which certain decisions were outlined. The parties are going back to their capitals to enable the implementation of these decisions in logistics solutions. And the parties discussed the possibility of holding a second round of talks in the near future, in which these topics will receive concrete development practices," said Mykhailo Podoliak, the Adviser to the Head of the President's Office.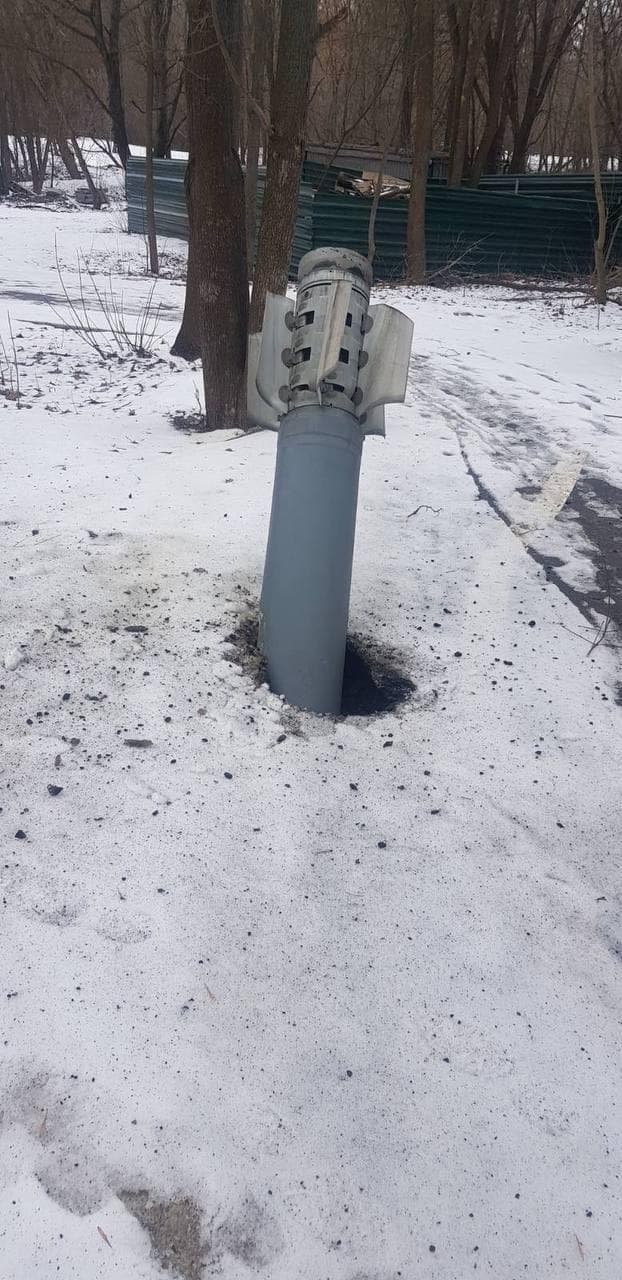 20:00 Verkhovna Rada citing the Government of Finland: Finland will deliver 2,500 assault rifles, 150,000 cartridges for the attack rifles, 1,500 single-shot anti-tank weapons, and 70,000 combat ration packages to Ukraine as material aid.
The Finnish Government: on 27 February, as part of international aid, the President of the Republic decided that bulletproof vests, composite helmets, and emergency medical service (EMS) units would be delivered to Ukraine. The Government also decided to authorize the re-transfer of artillery from Estonia to Ukraine.
18:10 Censor.net media via Verkhovna Rada: for the second time in a day, Russians have shelled civilian neighborhoods in Kharkiv using multiple rocket launchers. Russian rockets are hit civilian houses.
According to Censor.net, after the last shelling of Kharkiv, 15 soldiers and 16 civilians were injured. The data is approximate, the rescue operations are still conducted. As of 16:47, 11 people had been killed by the Russian occupation forces.
Over the last day, Kharkiv hospitals have treated 44 injured people; only 20 of them were soldiers. Among all hospitalized, two soldiers and five civilians died.
17:54 Verkhovna Rada: President Volodymyr Zelenskyy signed the Ukrainian Government's application for the membership of Ukraine in the European Union.
"This is a historic moment," written in the statement.
The document was signed by the Chairman of the Parliament of Ukraine Ruslan Stefanchuk and the Prime Minister of Ukraine Denys Shmyhal.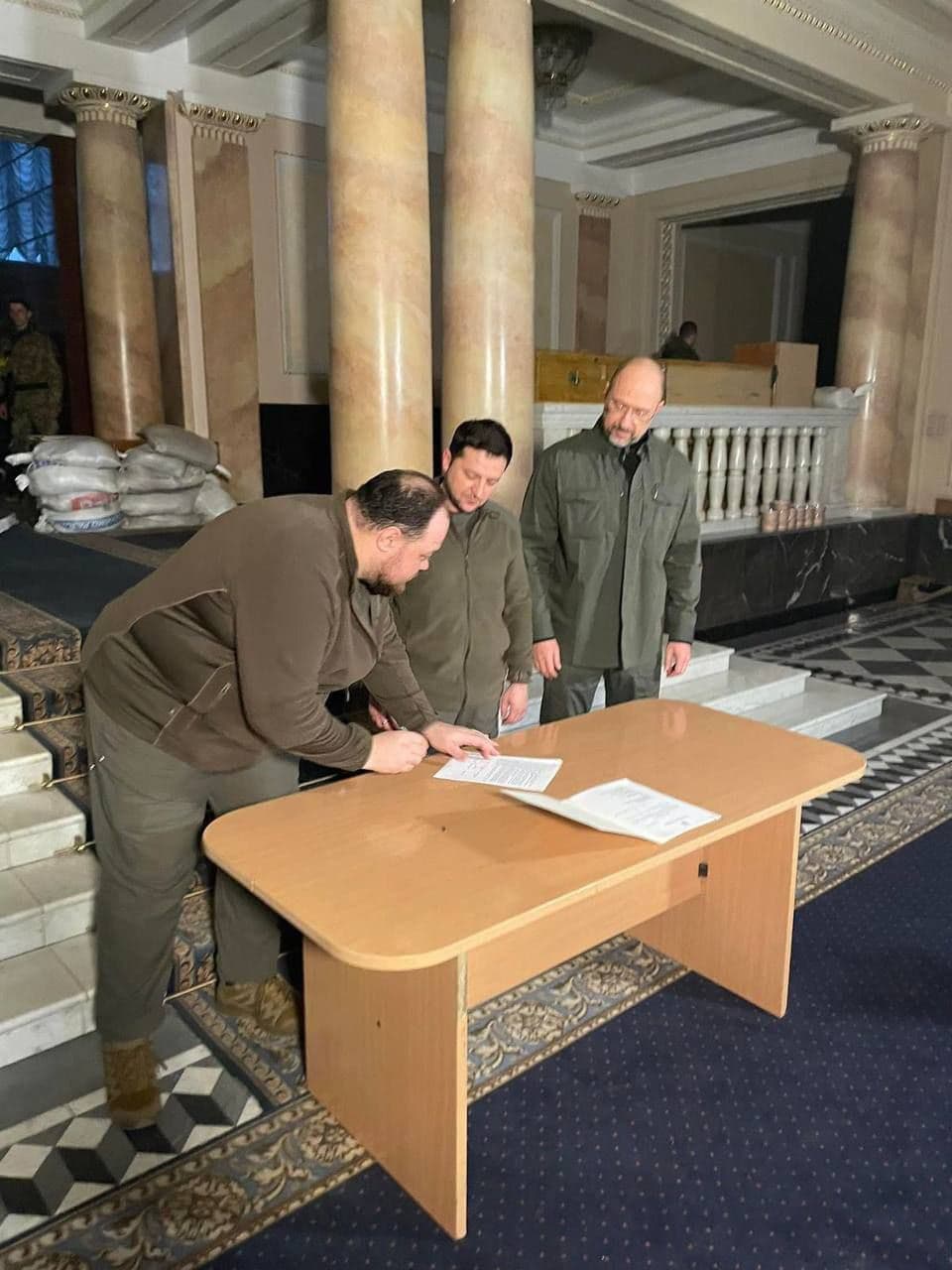 17:28 Minister of Digital Transformation: total donations in cryptocurrency to the Armed Forces of Ukraine have grown to $12.7 million in just two days, wrote Mykhailo Fedorov, the Minister of Digital Transformation of Ukraine.
Most donations are coming from:
Ethereum - $ 5.5 million
Bitcoin - $ 4.4 million
Tether - $ 2.1 million
17:06 Ukraine NOW published data on the military aid provided to Ukraine over the last 24 hours:
EU — lethal weapons worth 450 million euros;
Norway — 230 million dollars worth of humanitarian aid;
Italy — 110 million euros;
Australia — lethal military aid;
Belgium — 3 thousand automatic rifles and 200 anti-tank weapons;
Germany — antitank weapons and 500 Stinger anti-aircraft missiles;
Czech Republic — weapons and equipment worth 18 million dollars;
Sweden — 5 thousand anti-tank weapons.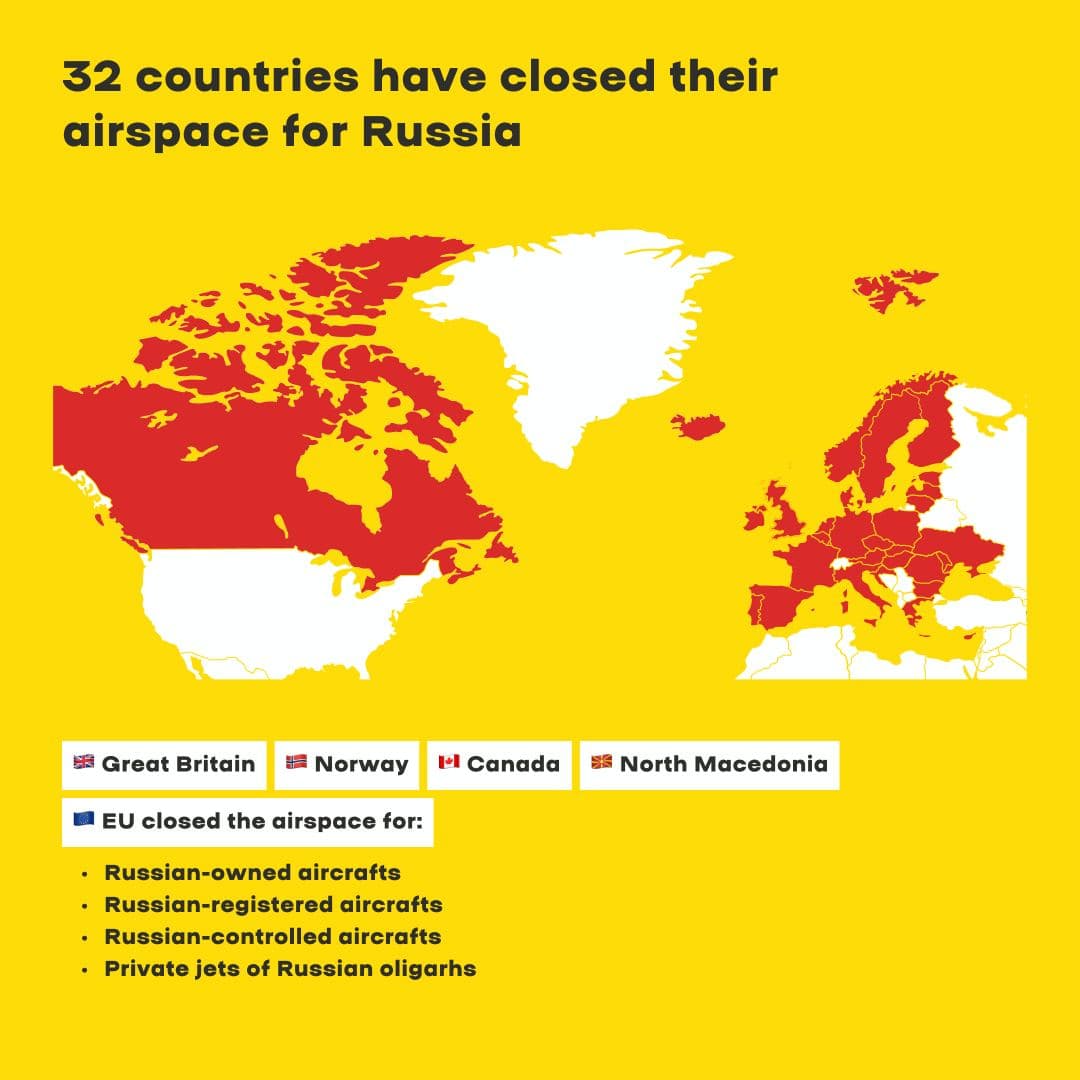 16:29 Verkhovna Rada: a total of 32 countries have closed their skies to the Russian aircraft. This is only part of the diplomatic successes of Ukraine on the diplomatic frontline. The anti-Putin coalition initiated by Ukraine is developing the fourth package of sanctions against Russia. More details here.
16:24 Ukraine NOW: on the 27th of February, a sabotage and reconnaissance group of the Russian Federation armed forces opened fire on a family with three children in Kyiv. Parents and one of the girls, Polina, died immediately. Two other children are in the hospital.
In total, 16 children died, as a result of Russian aggression. Due to very severe injuries, doctors were unable to save them, Ukraine NOW informs.
15:30 Negotiations between Ukraine and Russia have ended. The immediate ceasefire and the withdrawal of Russian troops were the key things that were discussed. Details are expected later.
14:40 Several thousand foreigners have already expressed their willingness to join the International Legion.
"We are creating an international legion. President Zelensky has announced the formation of a new unit, the International Legion. We have already received several thousand applications from foreign nationals who want to join the resistance to the Russian occupiers and protect world security from the Putin regime," Deputy Minister of Defense of Ukraine Hanna Maliar posted on Facebook.
14:30 Enemies dropped bombs on oil depot near the Okhtyrka in the Sumy region - probably vacuum. This was announced on Facebook by the mayor of Okhtyrka Pavlo Kuzmenko.
13:30 Dmytro Zhyvitsky, Head of the Sumy Regional State Administration, has reported explosions at an oil depot on Okhtyrka. He wrote on his Telegram channel "Okhtyrka. The oil depot has been hit. 12:30. There is a danger of street fighting! Be in a safe place at home, stay away from the windows," he said.
13:21 "Russian Army attacks Kharkiv with MLRS GRAD. dozens of people died, hundreds wounded". - Adviser to the Minister of the Interior A. Gerashenko spread a video of Founder & CEO у Biosphere Corporation Andrey Zdesenko of this attack on Facebook. 'This horror must see the whole world! Death to the occupiers!" - added Anton Gerashenko
12:01 In Volnovakha, Donetsk region, all civilian infrastructure was destroyed by Russian troops. Dmytro Lubinets, a Deputy from the "For the Future" party, stated this in a comment to Ukrayinska Pravda. "We have three days of demolition of Volnovakha - there is no light or water. I work with Denisova (Ukrainian Parliament Commissioner for Human Rights), we appealed to all international organizations. We asked that side to agree to make a green corridor - no reaction. That's why we made a decision, we did everything. But now I told people go to by car make white flags. Those who don't have cars go out by foot. In the town of Volnovakha, genocide has been committed. All civilian infrastructure has been destroyed."
11:50 Ukrainian delegation arrives at Belarusian border for talks, president's office says
10:23 The information spreaded by the Ministry of Defense of the Russian Federation about the seizure of the Zaporizhzhia Nuclear Power Plant (ZNPP) by the Russian military is a fake, Energoatom, National Nuclear Energy Generating Company of Ukraine reported. "This is an absolute lie," the company's communications department commented this information. Earlier, the Russian Defense Ministry said that the Russian military took control of ZNPP.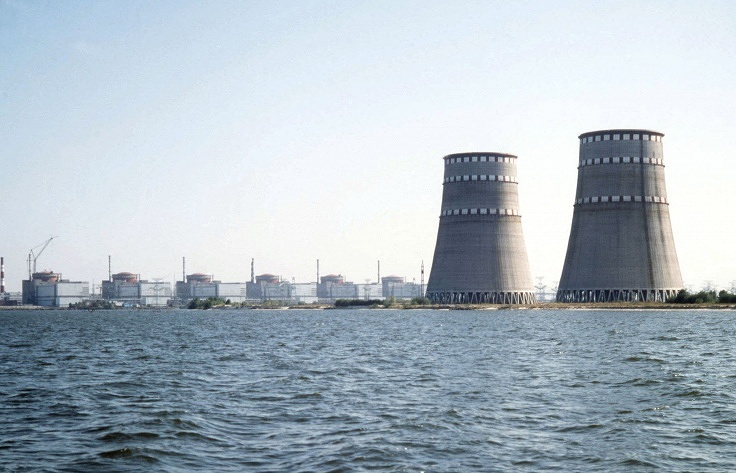 9:30 A column of Russian military vehicles near Makarov (Kyiv region) was defeated by the defenders of Ukraine. Advisor to the Minister of Internal Affairs Vadym Denisenko was stated on the air of Ukraine 24. "A column of military vehicles near Makarov was destructed at night, but, unfortunately, this is not all the Russian troops that are on our territory," he said.
8:54 The General Staff of the Armed Forces of Ukraine gave updated information on the aggressor's losses (24-28.02). Approximate data (updated):
191 tanks,
816 armored combat vehicles of various types,
291 motor vehicles.
29 aircraft,
29 helicopters
30 motor vehicles
60 fuel tanks
74 artillery gun systems
1 Buk surface-to-air missile (SAM) system
21 MLRS Grad
3 UAV
5 air defense system
2 ships/boats
Over 5,300 manpower (preliminary estimated data)
More details here.
08:16 Ukraine NOW: air sirens sounded in multiple cities of Ukraine almost simultaneously. Luhansk, Kharkiv, Dnipro, Cherkasy, and Zhytomyr regions were endangered around 07:30. According to TSN.ua media, this list also includes four more major cities across the country.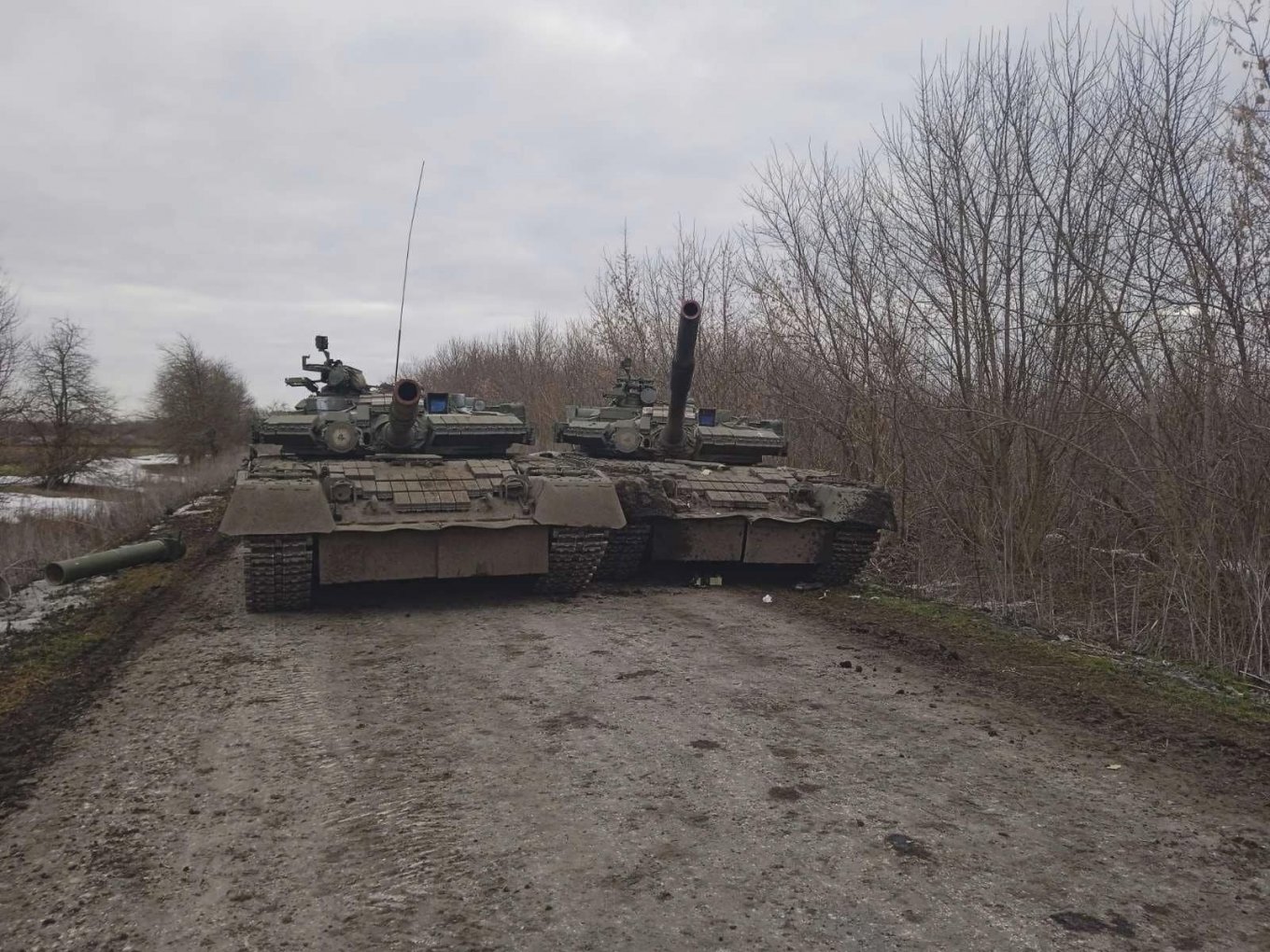 04:53 BBC: Ukrainian President Volodymyr Zelenskyy said he believes the next 24 hours will be a crucial period for Ukraine in a phone call with UK Prime Minister Boris Johnson. During the call, Johnson praised Zelenskyy's leadership since Russia's invasion, according to a UK government spokesperson. Boris Johnson added the UK would do all it can to make sure defensive aid from the UK and its allies reaches Ukraine.
03:43 Euronews had an interview with Ursula von der Leyen, the President of the European Commission. She backed Ukraine for EU membership. She said, some processes happening only facilitate the integration. These include, for example, integrating their markets into a single one and cooperation on the energy grid:
"So many topics where we work very closely together and indeed over time, they belong to us. They are one of us and we want them in," Ursula von der Leyen said.
But the official gave no indication it would be the rapid accession demanded by Ukrainian President Volodymyr Zelenskyy on Saturday. As a reminder, the Ukrainian President stated: "It is a crucial moment to close the long-standing discussion once and for all and decide on Ukraine's membership in the EU". During the last few hours he also held discussions on this topic recently with Ursula von der Leyen and Lithuanian President Gitanas Nauseda, as well as Polish President Andrzej Duda on Saturday.
02:49 General Staff: operational information on 00:00, February 27 regarding the Russian invasion. Russia continues the air-to-ground offensive operation against Ukraine – inflicts fire on military and civilian airfields, military control points (forces), air defense facilities, important critical infrastructure, settlements, and units in defense areas.
Another attempt by the occupier to capture the city of Irpin was unsuccessful. Ukrainian defense forces destroyed new enemy equipment. Kyiv has deployed a dense and multilevel system of defense of the capital.
There is a systematic struggle against a small number of Russian sabotage-reconnaissance groups (SRG) numbering 3-15 people with weapons, in the uniform of the Armed Forces of Ukraine, but in bulletproof vests of the Russian Federation.
00:20 11 landing ships set sail from the sea base of the occupied Crimea for landing operation in Odesa. This was announced during a briefing by Oleksiy Arestovych, Adviser to the Head of the President's Office. At the same time, he emphasized that the Armed Forces of Ukraine are ready to fight back.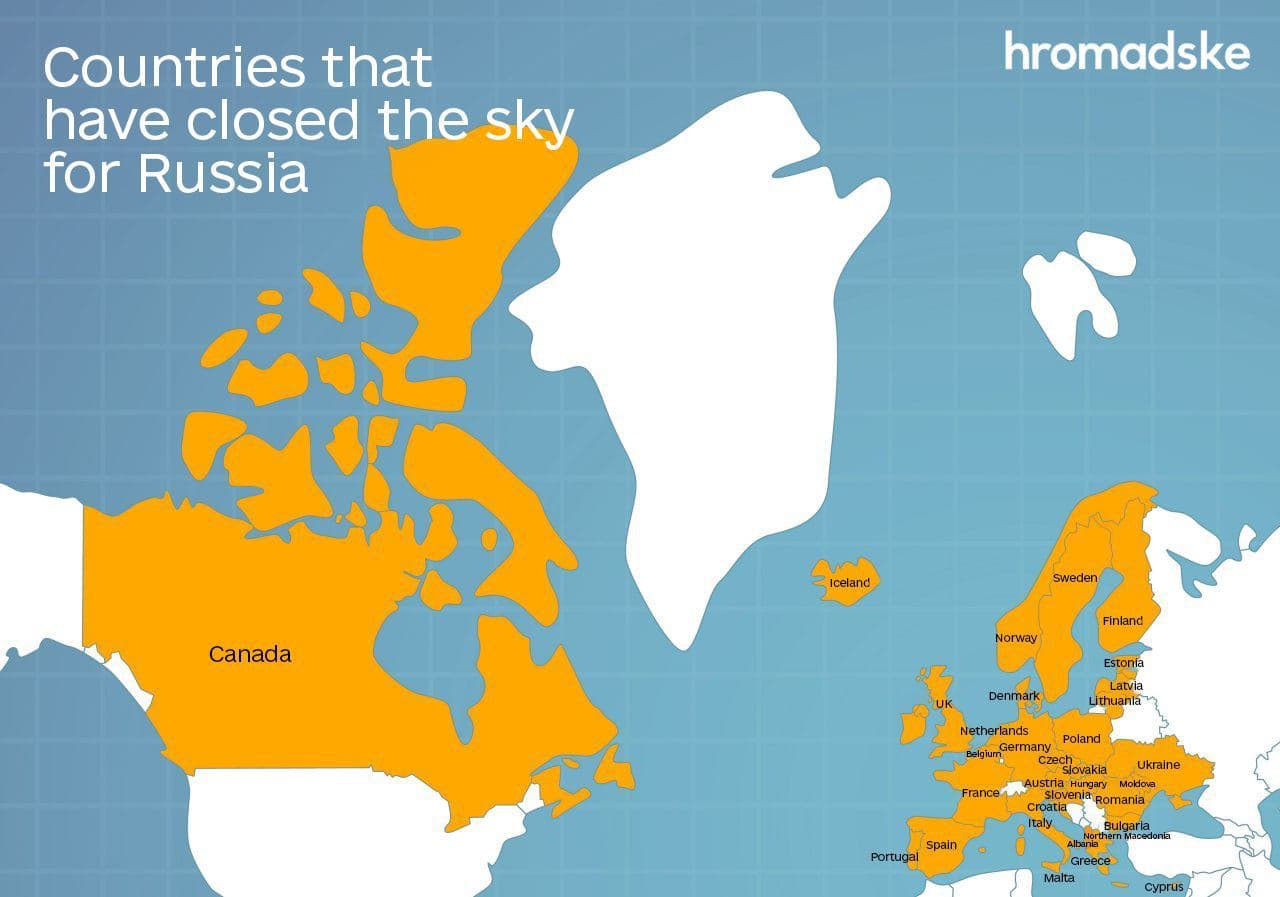 Read more: Russian Invasion Day Four: Putin is Desperate in Attempts to have any Advance – Live Updates
---
---