That is according to a latest the U.K. Defense Ministry's Defense Intelligence update on the situation in Ukraine.
"In recent days, Russian and Wagner Group forces have obtained footholds west of the Bakhmutka River in the centre of the contested Donbas town of Bakhmut. Over the preceding week, the river had marked the front line. Ukrainian Armed Forces continue to defend the west of the town," the update reads.
Read more: ​The UK Defense Intelligence Says russia Resorted to Issuing Old Munitions Stock Previously Categorised as Unfit for Use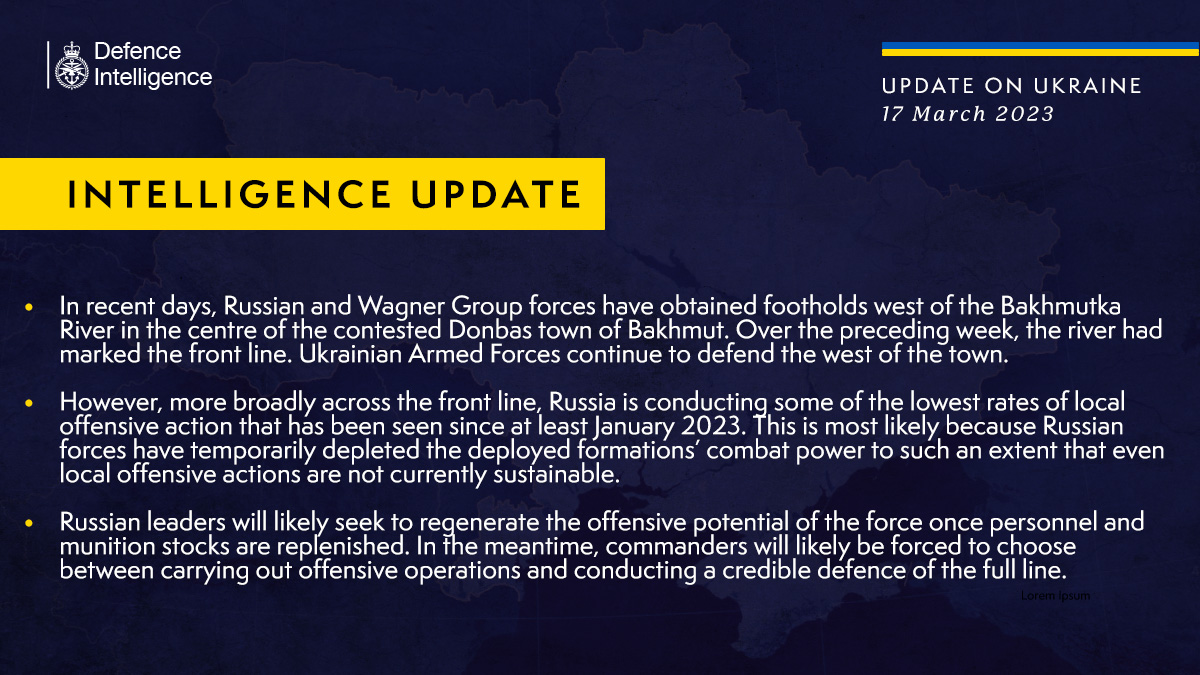 As the U.K. Defense Intelligence estimates, "across the front line, Russia is conducting some of the lowest rates of local offensive action that has been seen since at least January 2023. This is most likely because Russian forces have temporarily depleted the deployed formations' combat power to such an extent that even local offensive actions are not currently sustainable."
The 53 separate mechanized brigade named after Prince Volodymyr Monomakh continues to clean up various junk from Ukrainian land, Ukraine's Land Forces reports on their official account on Facebook.
The U.K. Defense Intelligence notes that russian leaders are likely to seek to restore the offensive potential of the force once supplies of personnel and ammunition are replenished. "In the meantime, commanders will likely be forced to choose between carrying out offensive operations and conducting a credible defence of the full line," the intelligence update concludes.
Fighters of the 1st assault battalion, 3rd separate assault brigade showed the shattered outskirts of Bakhmut, Ukraine's Land Forces reports.
As Defense Express reported, US Intelligence said Russia Lacked the Forces to Make Major Gains and Could Shift a Defense Strategy. We also wrote that Ukrainian Ground Forces' Commander Said Enemy Continued to Unsuccessfully Try to Surround Bakhmut While Defenders of Ukraine Prevented the Attempts.
Read more: ​Chinese Drone With Western Electronic Components Shot Down Over Ukraine's East
---
---