The russian army command changed the tactics of assault operations and began to use the so-called "assault detachments", which are reinforced battalions with an emphasis on artillery.
As the Tatarigami_UA Twitter account suggests, this tactics is actually a copy of the one that PMC "Wagner" uses.
Read more: Ukrainian Warriors in the Bakhmut Get OGi-7MA Rounds for Grenade Launchers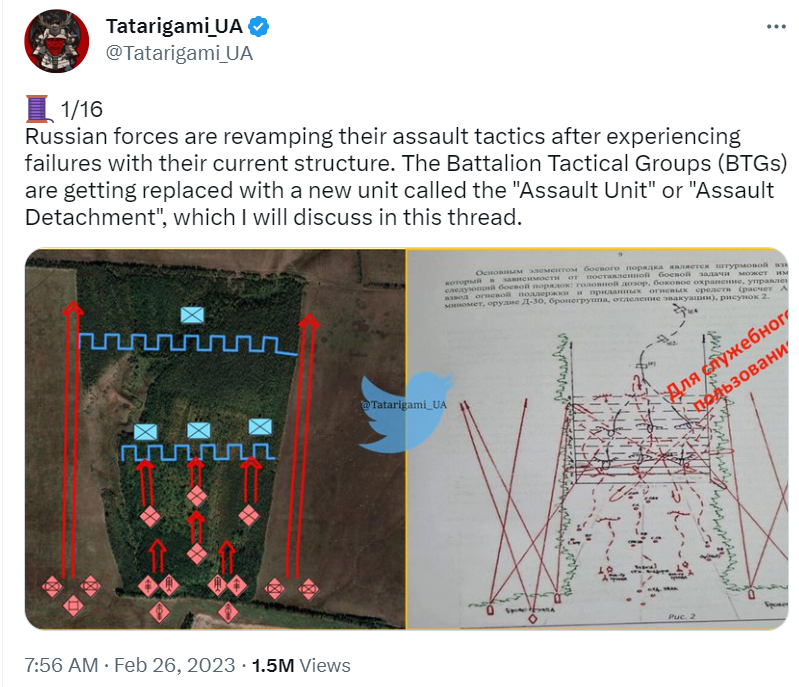 According to this material, an assault squad is formed from 2-3 companies, command and artillery support units, as well as groups of tanks, reconnaissance, EW, air defense, fire support, UAVs, medical evacuation, flamethrower, engineering-assault, and reserve.
The main element is an assault platoon, which consists of 12-15 "assaultmen", which additionally fights in groups of 3 people. Fire means in the form of AGS, a mortar, or a separate D-30 gun, one unit of BMP or BMD armored vehicles, as well as an evacuation department are added to it.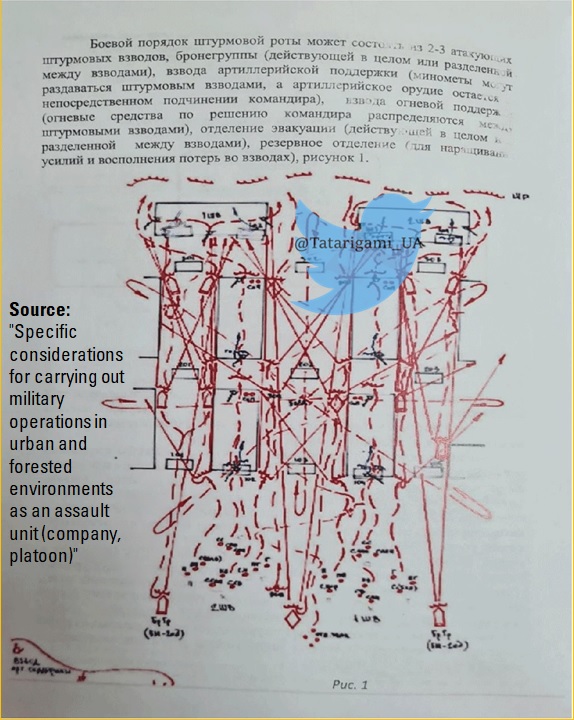 Several such platoons form an "assault company", which generally has:
1 tank;
4 IFV/APCs;
1 D-30 howitzer or 2S9 Nona SPG;
2 mortars of 82-mm or 120-mm caliber;
2 AGS-17;
2 Kord large-caliber machine guns;
2 ATGMs;
2 sniper pairs;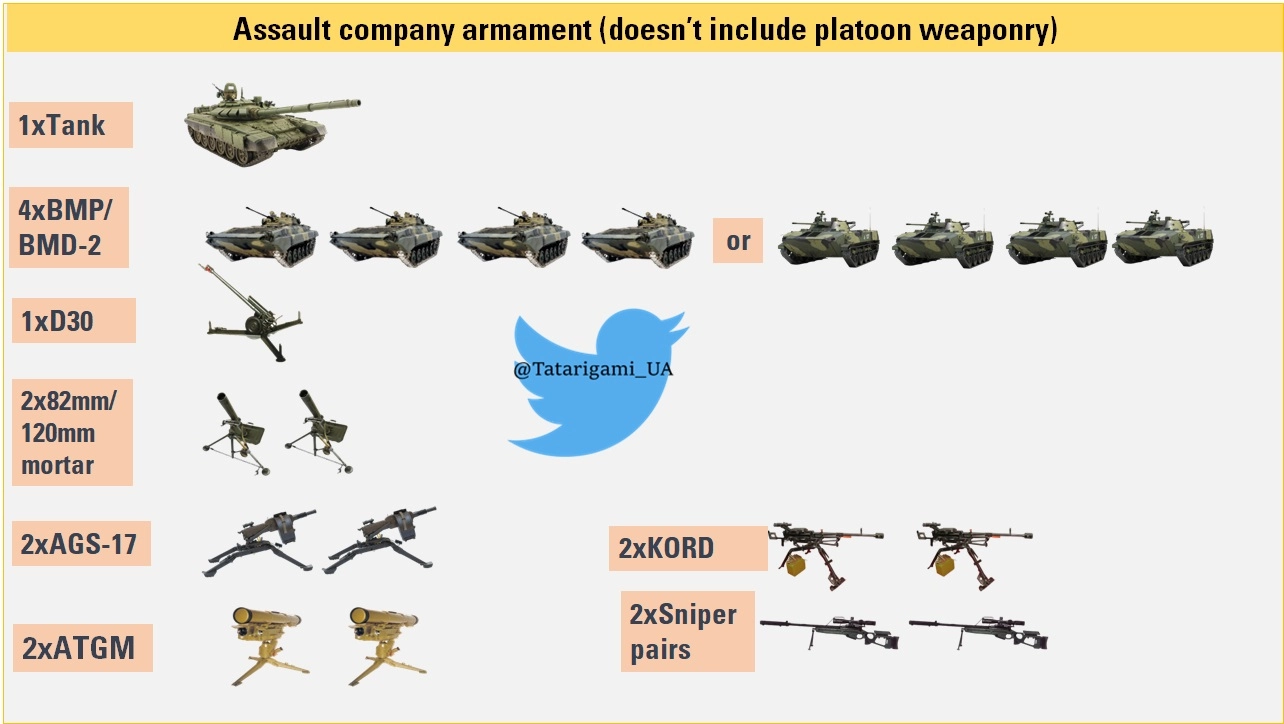 Several companies form this "assault battalion", which in turn has additional artillery (six self-propelled guns and six towed howitzers), an armored group (three more tanks), as well as a set of lighter equipment and forces that can be used to strengthen a company, or involve separately, such as units with jet flamethrowers. Also provides air defense with several ZU-23-2 and MANPADS.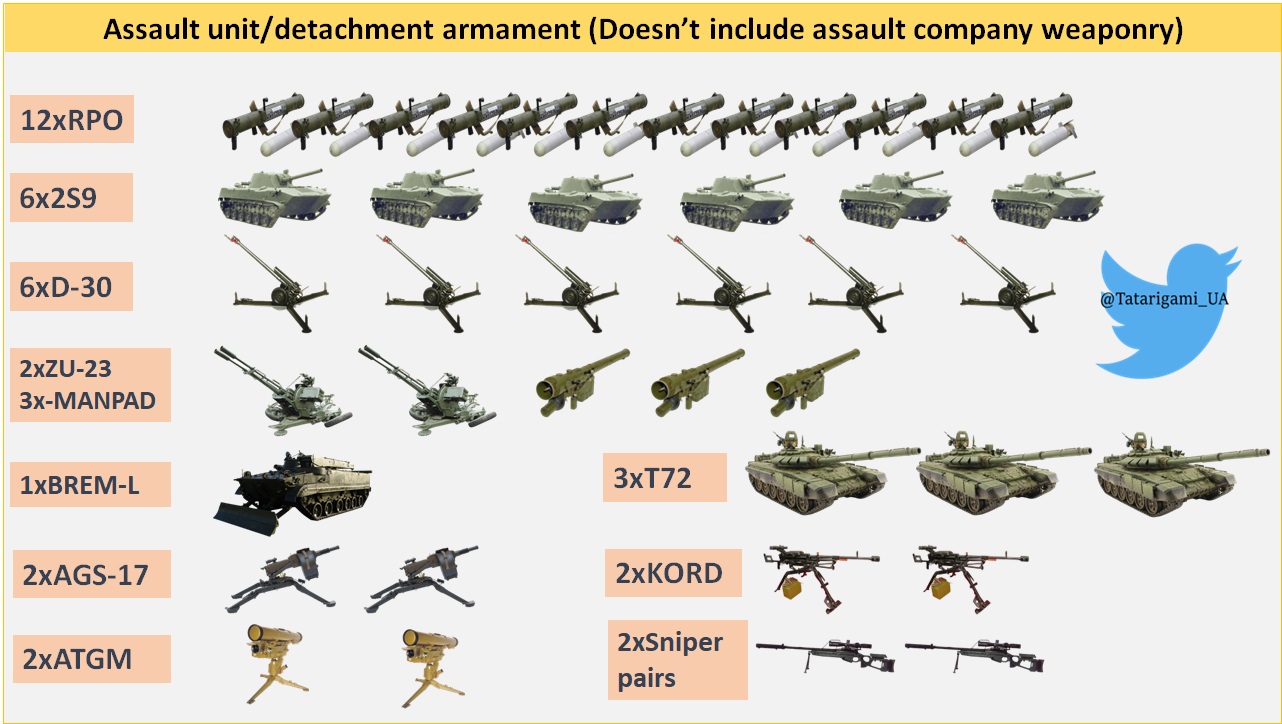 Structurally, it looks as follows, and in fact it's a flexible "constructor", when additional forces can be added to each "assault platoon", which are allocated either from the "company" level or from the "battalion" level.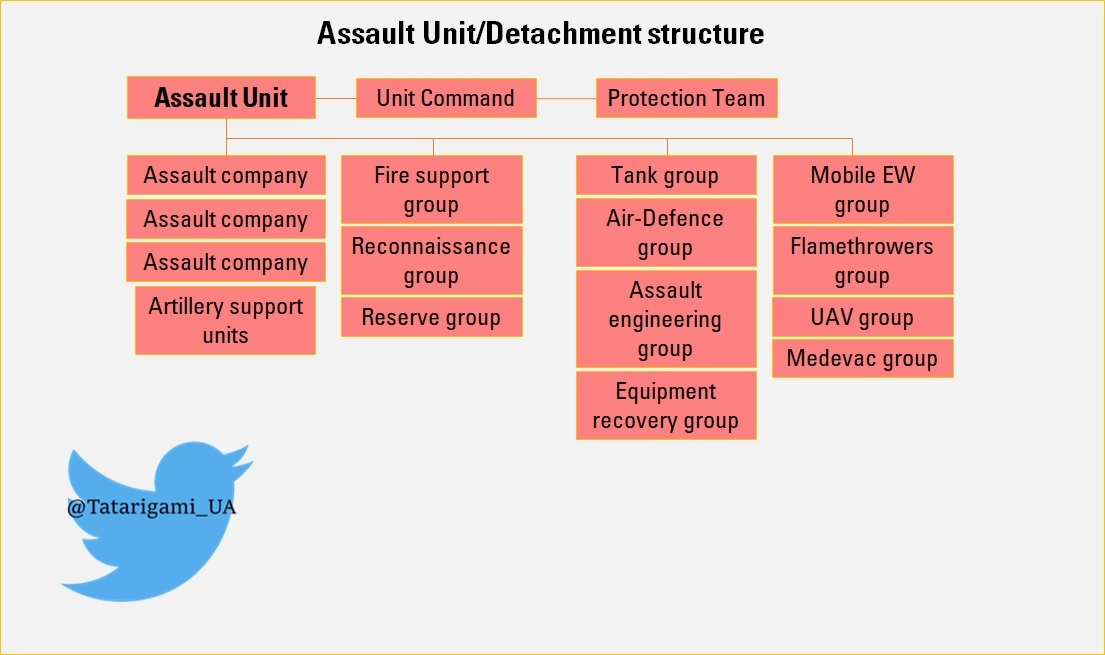 The manual also contains the main aspects of conducting assault operations in terms of organization and management. In particular, fire control of one's own artillery is "downgraded" to the level of a company or even a platoon commander. An important role is assigned to the use of additional means of fire influence, such as AGS-17, which should fire from closed positions from a depth of 600-1700 meters.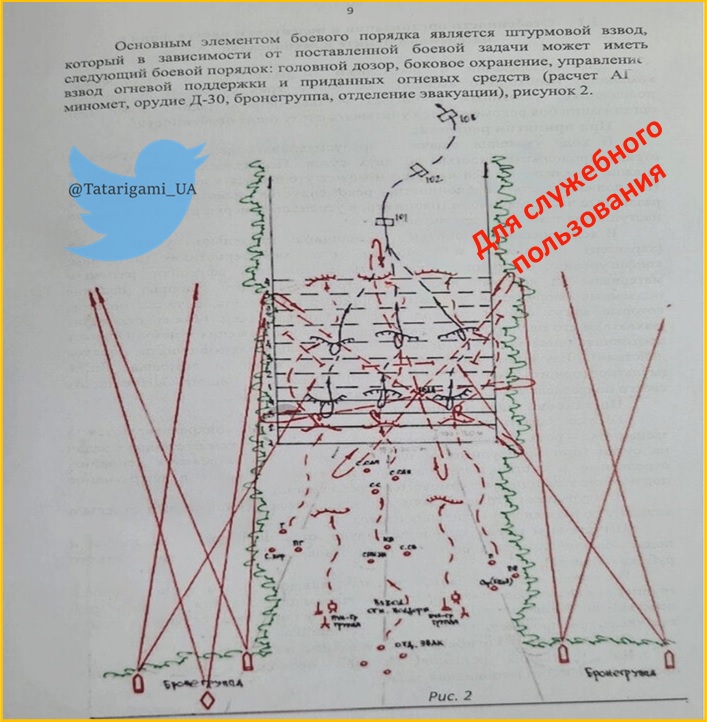 It is highlighted that the pause between the end of the artillery shelling and the assault of the positions should be less than one minute. A separate clause is devoted to the fact that the assault group does not have the right to evacuate the wounded, but only transmits information about their location.
It is noted that UAVs are not recommended to use while monitoring assault operations due to the high probability of losing the drone. But its use for intelligence is desirable. The instruction also prohibits the occupation of the new positions due to the risk of being struck by artillery.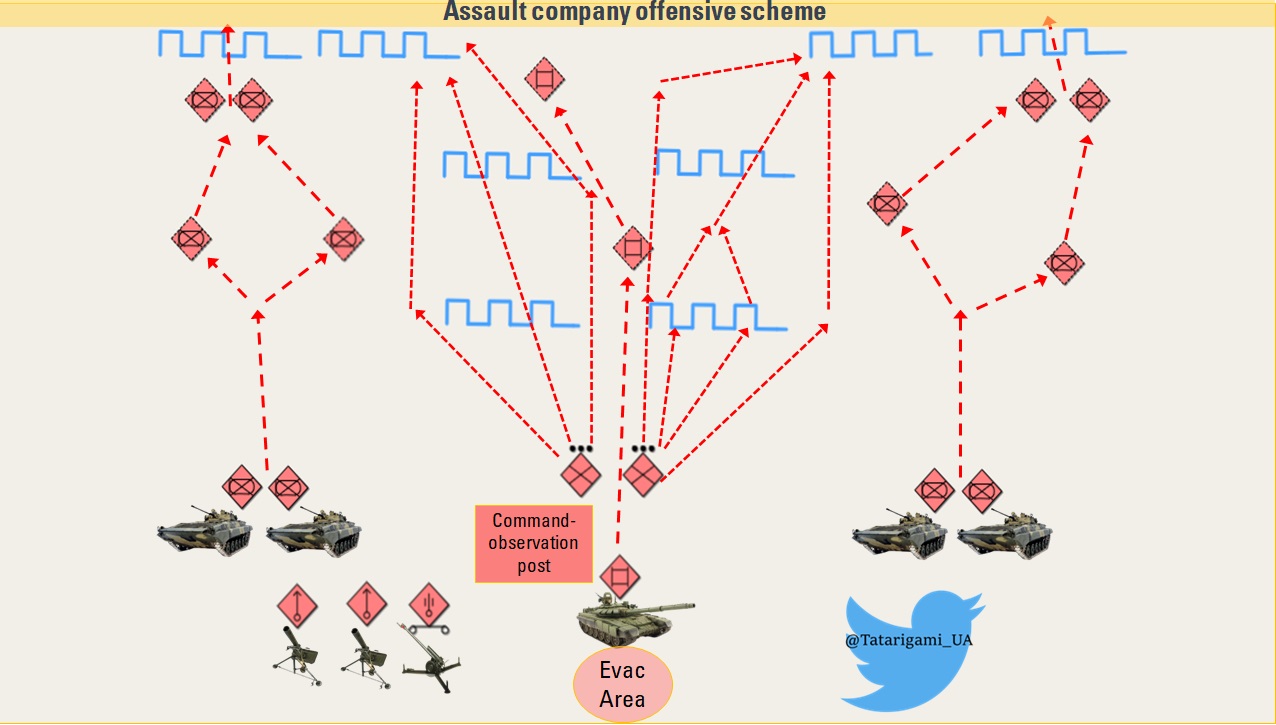 The armored group can be divided into platoons or act together, and the fire control of the main artillery of the "assault battalion" is entrusted to its commander. Recommendations for actions in forest areas are also highlighted: it is forbidden to move outside the forest massif, and the "assault platoon" must move in a diamond-shaped pattern.
Overall, it can be seen that this tactic is related to the economy of armored vehicles, but it still keeps the emphasis on artillery fire and, when the management is shifted to the very bottom. At the same time, such an "assault battalion" does not have a developed rear support and concentrates only directly on offensive actions.
Read more: ​Intelligence Says Ukraine's Defense Forces to Launch a Counteroffensive in the Spring of 2023
---
---