The russians keep preparing for defense and carry it out in the relatively deep rear of the occupied territories. In particular, at the airport of captured Berdyansk, which is located almost 100 km from the current front line.
This abandoned airfield has been converted by russians into a base for helicopters. This is evidenced by the images of Planet Labs, which were processed by Defense Express.
Read more: Concrete "Wagner Pyramids" Specifications And Their Production Scale Revealed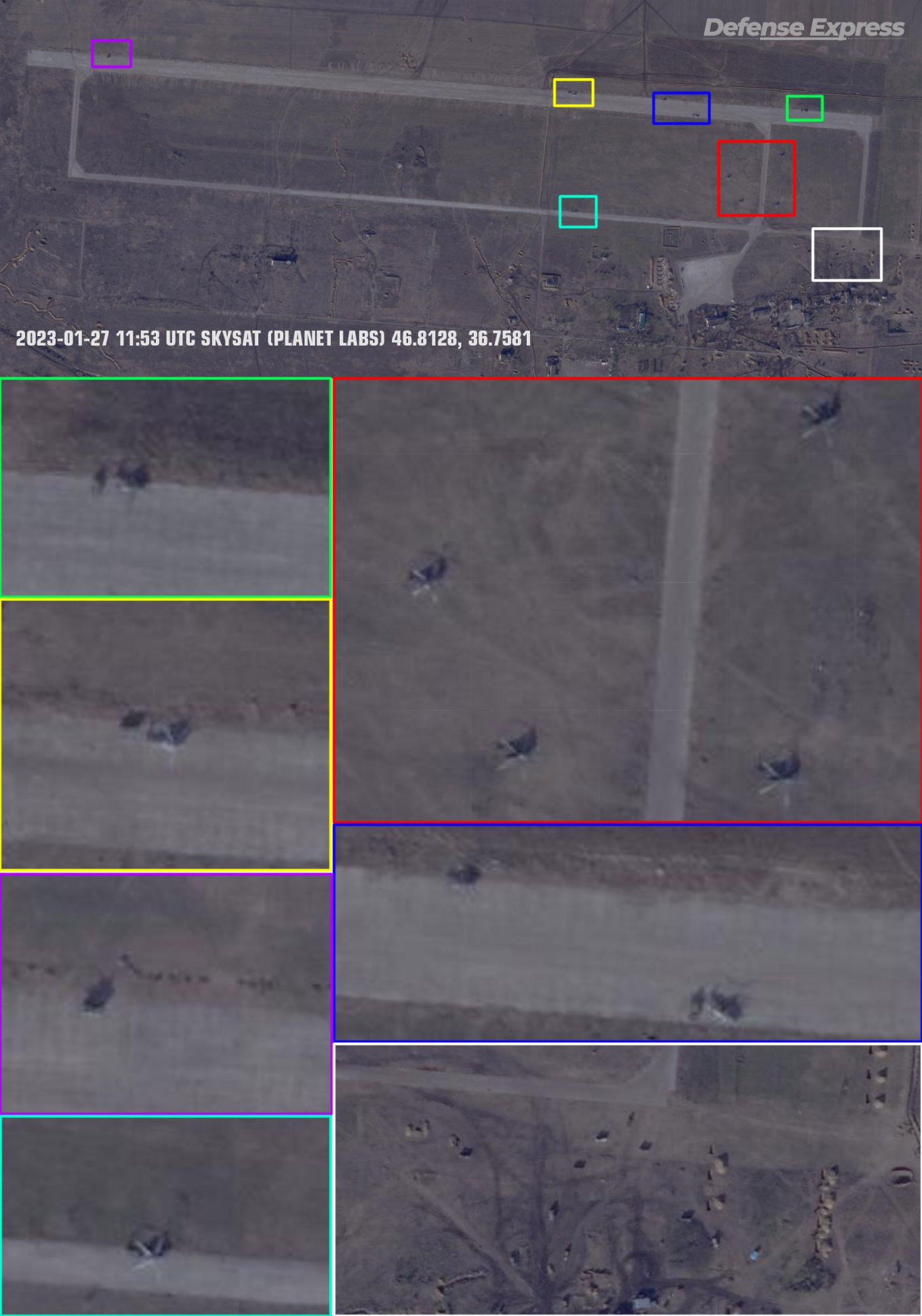 In the airfield footage, which was taken on January 27, 9 aircraft are seen, of them 8 can be identified as helicopters, and one (highlighted in green) is quite similar to the Forpost UAV. Also, the activity of ground personnel and equipment was noticed at the airfield as well.
However, during the analysis of the images, another extremely important enemy activity was noticed: the transformation of the airfield into a defense node with the creation of a full-fledged perimeter of fortifications. The general picture is below: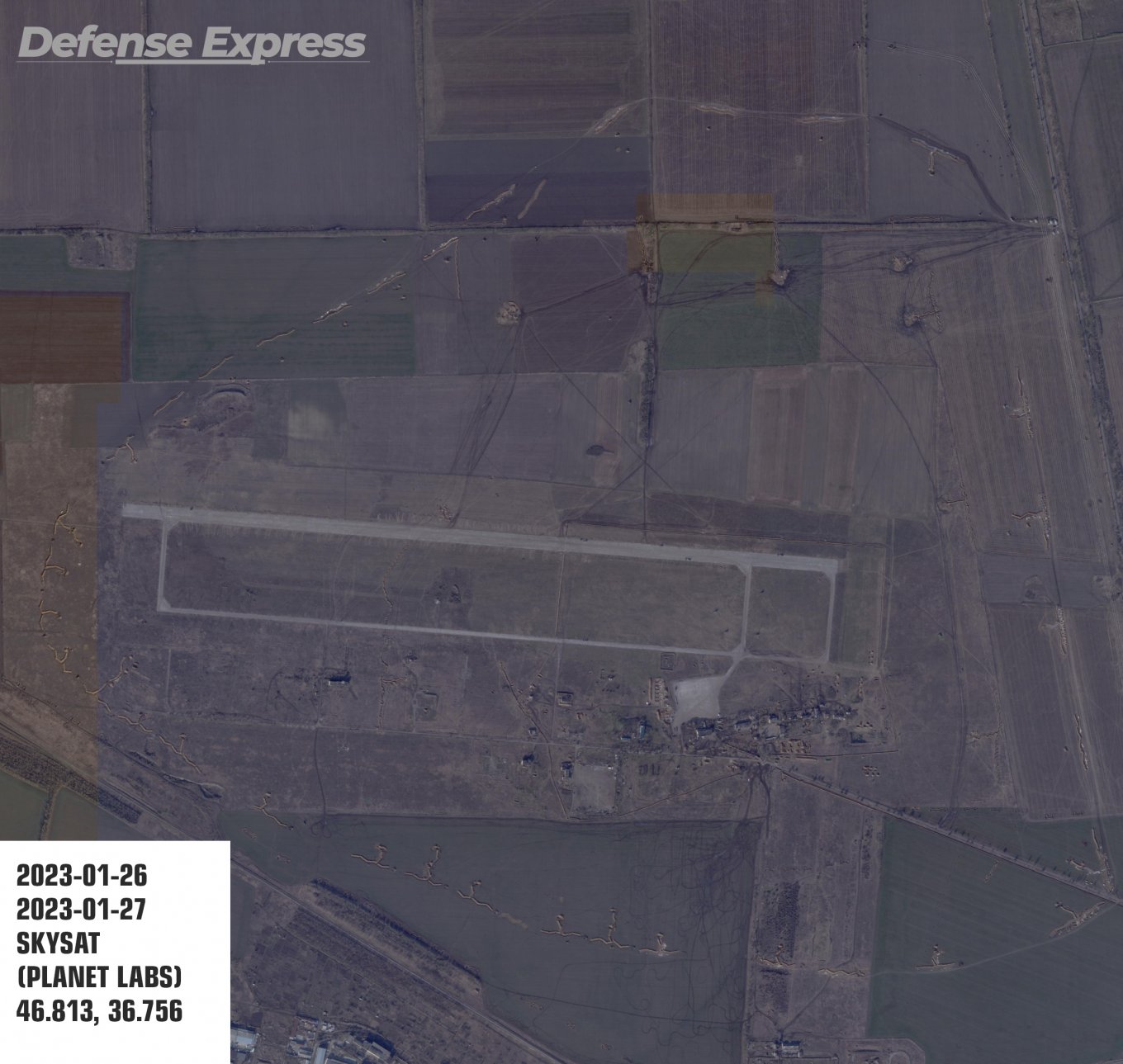 The entire airfield along the 15-km perimeter got defense lines consisting of trenches and individual positions, including shelters for equipment. Moreover, anti-tank fortifications (the famous Wagner pyramids) are installed in front of the line of trenches.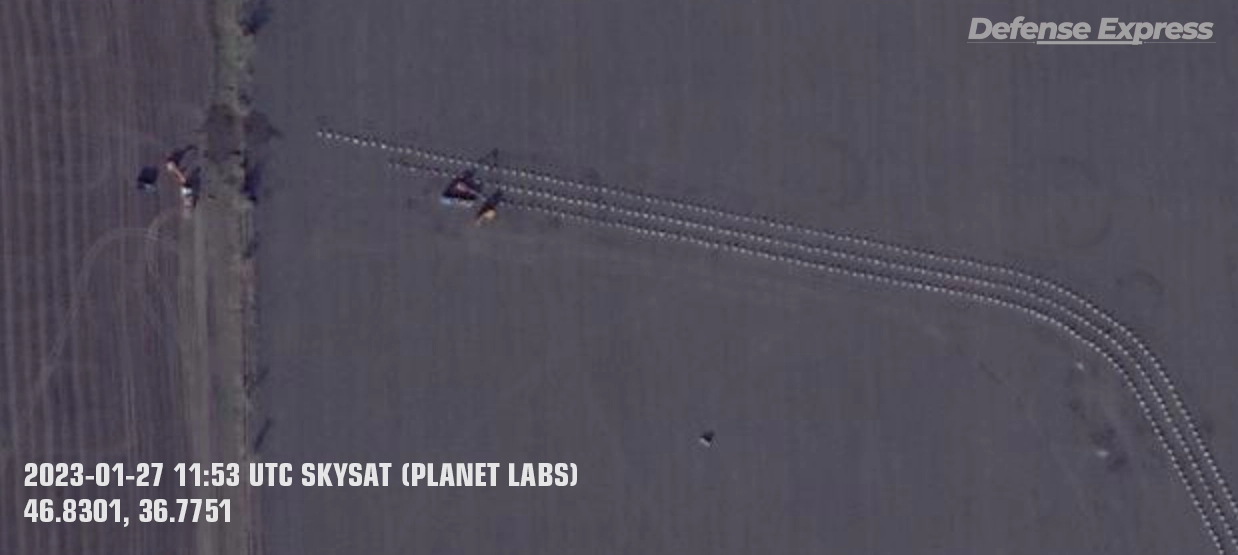 For convenience, here is the general plan shown once again, it is compiled from pictures taken on January 26 and 27. Elements of the main line of defense are marked in red, in blue are anti-tank fortifications that are being installed, in yellow is the inner perimeter of the defense that was created earlier.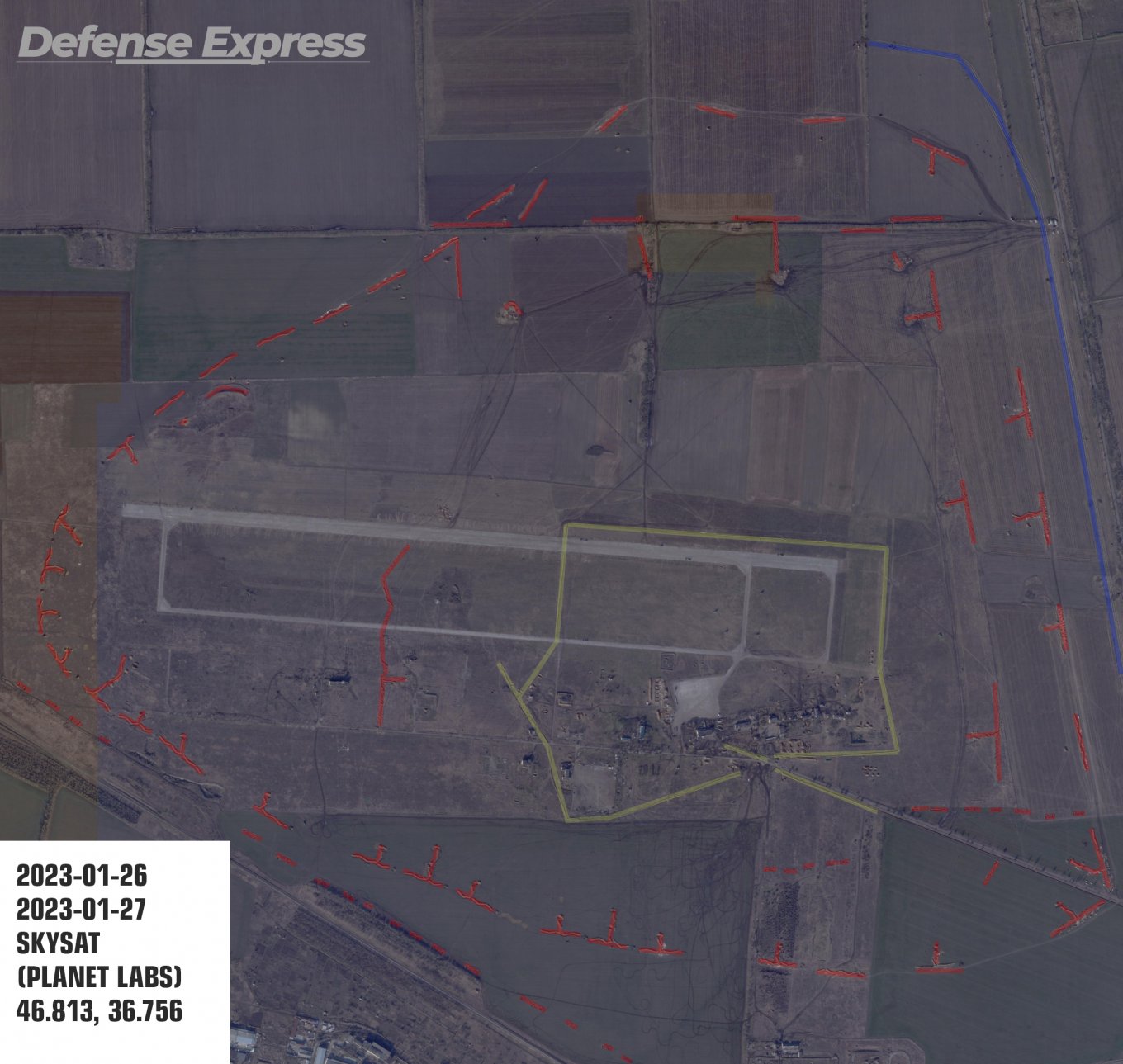 Defense Express notes that the Wagner pyramids themselves are installed in three rows. As of January 27, they had already surrounded approximately 30% of the airfield.
It was also possible to approximately establish the terms of completion of these works, which is after January 10. That is, it took only about two weeks to carry out a large-scale part of the work.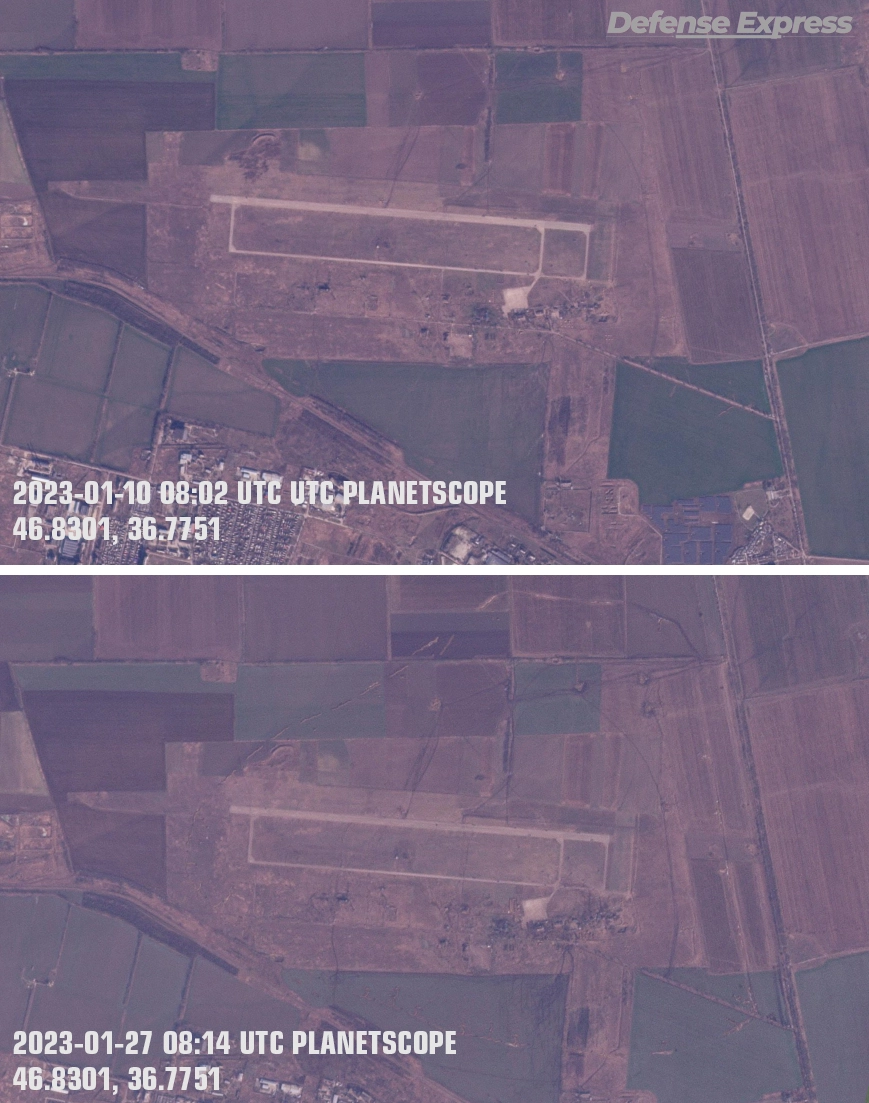 The trenches themselves, according to the satellite image, were dug with heavy equipment, in particular excavators, along with some fortifications, since the arrangement of work digging trenches was observed.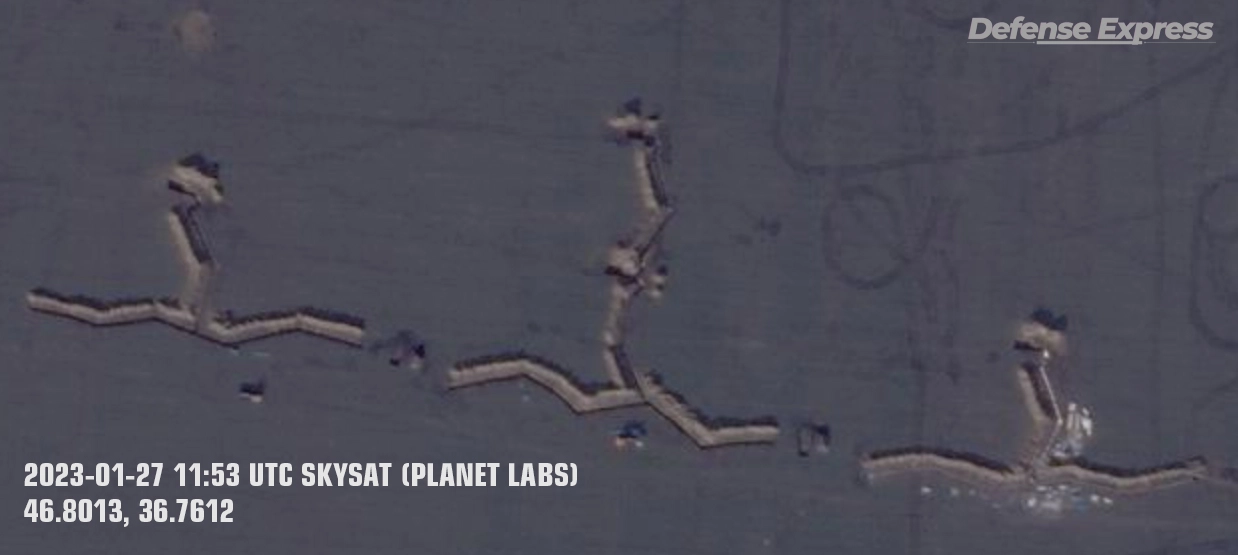 The defense preparation of the airfield in Berdyansk with such a scale is really interesting in terms of the pace of work, as well as the choice of this place for the creation of a fortified area with circular defense.
Read more: The Challenger 2 Tanks Supply to Start In May-June: London Explained the Reason For the Delay
---
---