Ladies and Gentlemen! In my speech to the "Security Dialogues" of the OSCE Forum for Security Co-operation, I would like to take this opportunity to inform you in detail about the implementation of the Vienna Document 2011 (VD-2011) by Ukraine and, at the same time, to familiarize you with the situation where my country has found itself due to the occupation of a part of its territory and illegal annexation of the Autonomous Republic of Crimea and Sevastopol by a foreign country, as well as foreign military build-up in eastern Ukraine.
We live in difficult times. The modern world has run into another period of turbulence, which is characterized by the presence of both traditional and a number of emerging threats and challenges. The international security crisis is assuming systemic proportions.
Read more: Ukraine expects issue of its membership to be included in NATO 2030 strategy
In this context, it is indisputable that the armed conflict launched by the Russian Federation in the Donbas and Russia's occupation of a part of Ukraine's territory has resulted in the significant deterioration of the security situation in the OSCE area. Russia's armed aggression in Ukraine has, in essence, become an unprecedented challenge to current security in Europe and globally.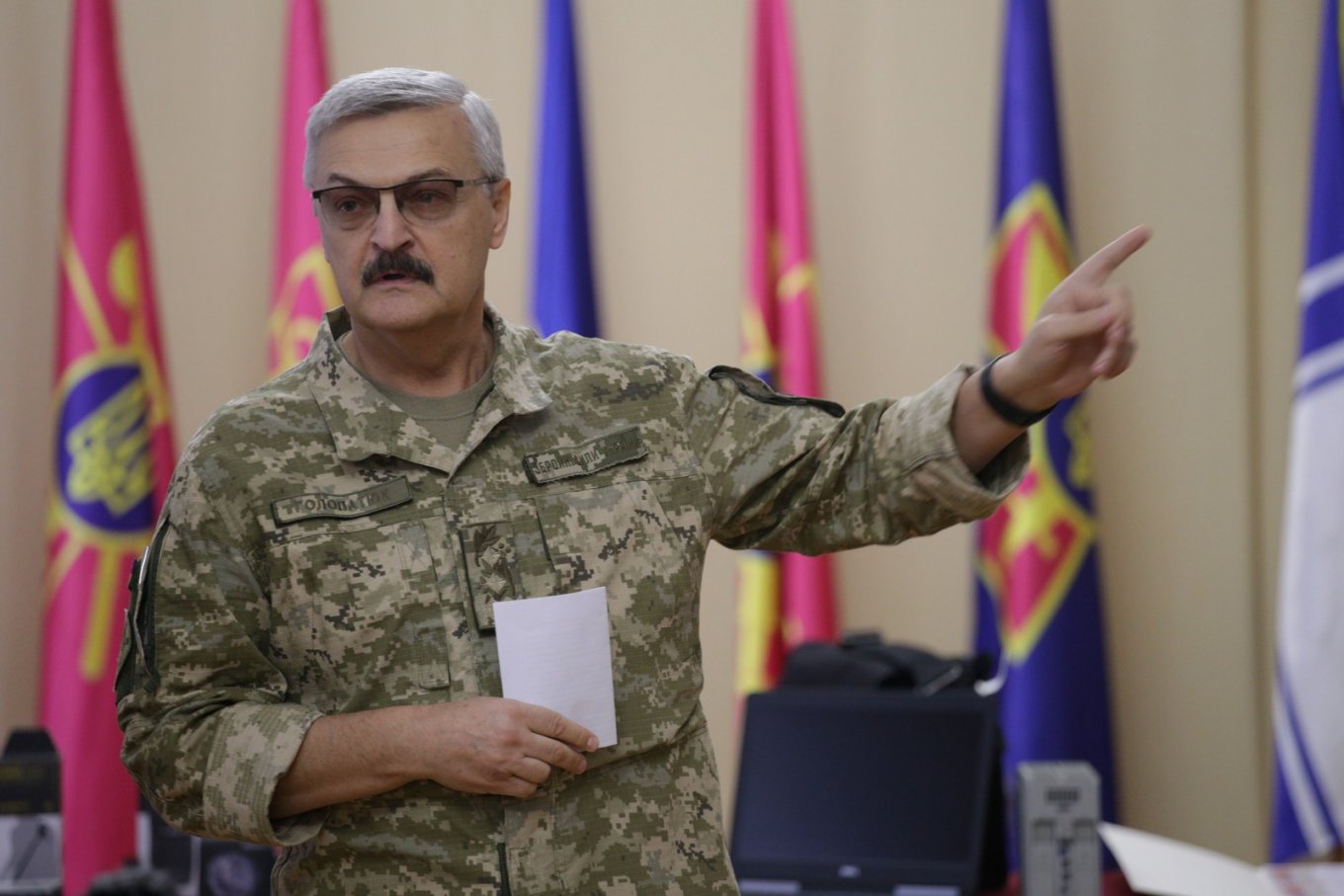 For the first time since the World War II, an attempt has been made to change the long-lasting world order in Europe, including by the use of military force.
Especially pertinent among the actions taken by the European Community to ensure stability and peace are those aimed at appropriately enforcing arms control regime and confidence/security-building measures (CSBM).
An important aspect in this context is not just the conscientious and strict implementation of the Vienna Document by all participating Parties, but also updating the document to current realities to take into account emerging challenges to the European security system.
Being aware of the importance of these processes Ukraine, being one of 34 OSCE participating States, takes the appropriate steps in this direction. However, we face the reluctance of some of the participating States to support these changes. We also face blocking, by the Russian Federation, of the modernization of the VD and CSBM adaptation to the current realities.
Moreover, the Russian Federation's activities have already dealt a blow to Ukraine's territorial integrity and resulted in the creation of the so called "grey zones" in our territory. At the same time, military build-up in close proximity to our State border continues to foster more destabilizing factors.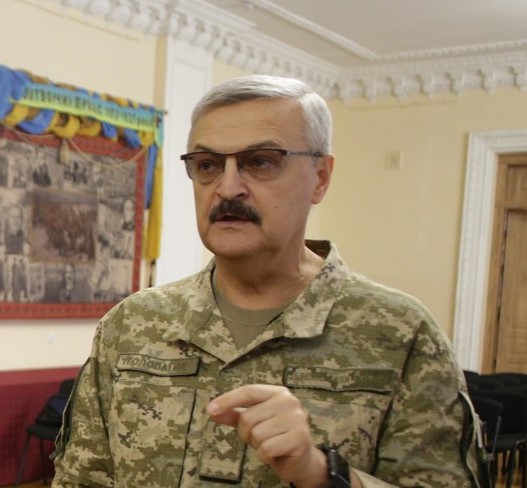 Donetsk and Luhansk Regions
As has been repeatedly noted, deployment of the Russian-occupying force to temporarily occupied areas of Donetsk and Luhansk regions, consisting of the 1st and the 2nd Army Corps, has brought a lot of weapons and military equipment to the east of our country. By the way, the strength of these formations exceeds that of some of European countries.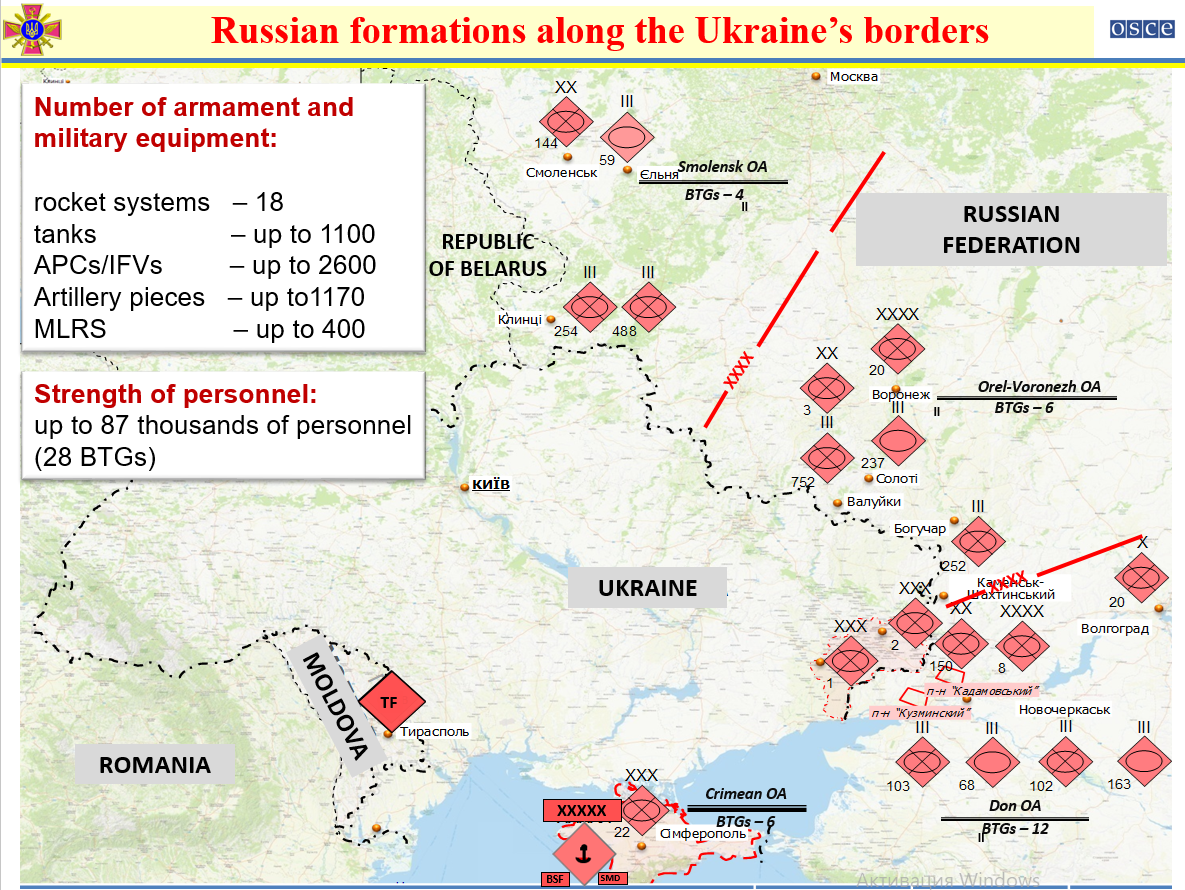 For your information: tactical elements of the 1st AC include:5 brigades(1st, 3rd, 5th dmbde, 100th dmbde, dartbde); 3 detached regiments (11thdmreg, 9thdmreg, detached commandant reg.); 10 detached battalions (divisions).
Tactical elements of the 2nd AC include: 4 brigades (2, 4, 7 dmbde, dartbde); 2 regiments (6 dmreg, detached commandant reg); 6 detached battalions (artillery battalions).
The 1st and 2nd ACs have a combined strength of some 35,000 military personnel and possess a complement of equipment that includes 481 battle tanks, 914 armored fighting vehicles, 720 artillery gun systems, and 202 MLRS deployed in the Donbas areas outside government control.
About 650 Russian career servicemen occupy command and staff posts, requiring critical skills, in the 1st and 2nd ACs. In addition to this, Russia has deployed operational/combat support units as well as logistics units, military advisers and instructors to temporarily occupied areas in Donetsk and Luhansk Regions, bringing its military presence up to 2,100 troops.
In order to sustain the operation of its 1st and 2nd ACs, the Russian Federation continues supplying ammunition and POL (petroleum, oil and lubricants) from its territory.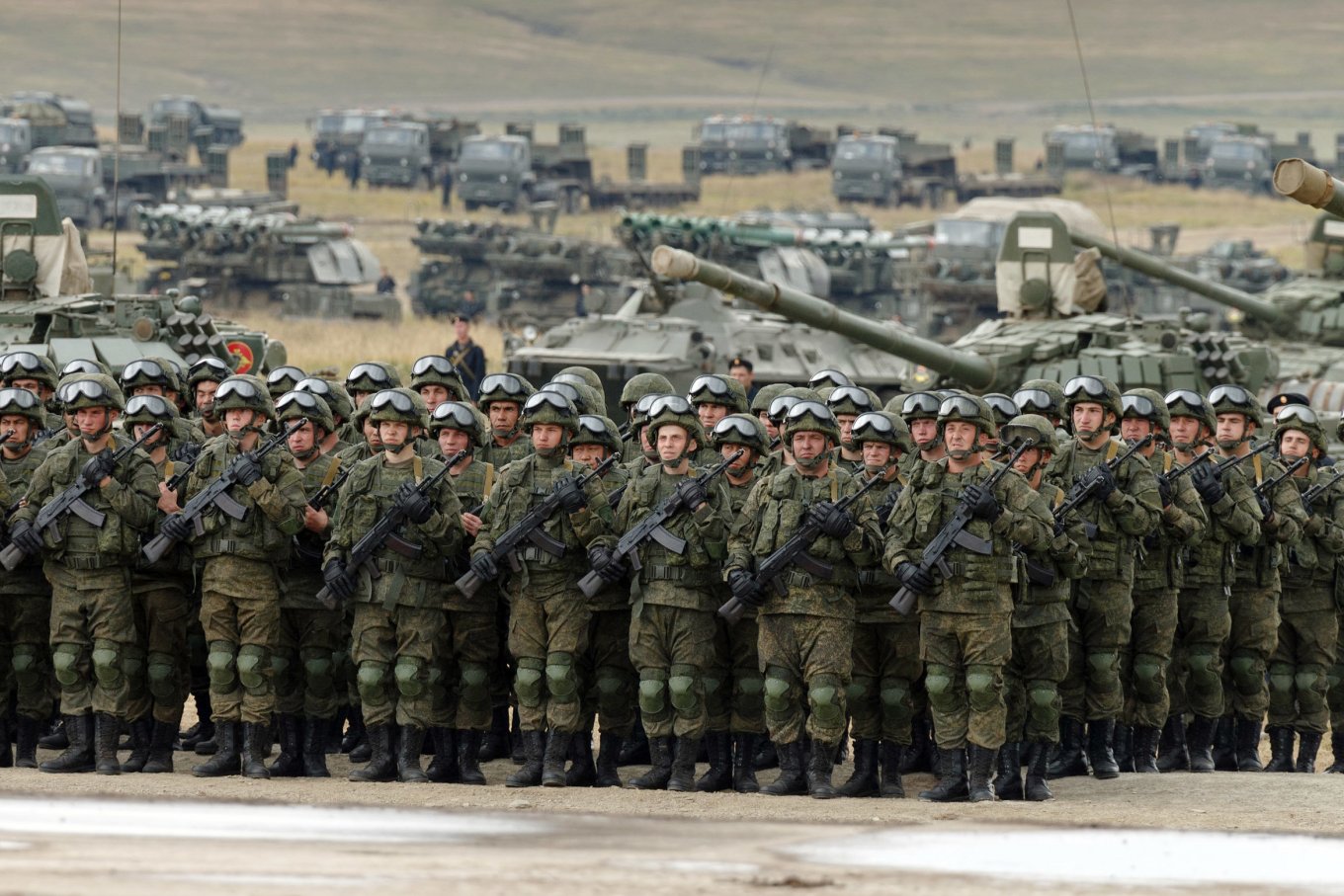 Crimeа
Militarization of Crimeа remains another destabilizing factor. Today, a powerful joint task force has been established in Crimea, comprised of ground, air and sea components with a combined strength of about 32,500 servicemen. Add to that, units of Russian Coast Defense Forces, National Guard (up to two brigades) as well as the FSB Border Guard Service have been deployed.
This indicates an active increase in strike power of the Russian Armed Forces units illegally deployed to the peninsula, achieved by means of increasing the number of deployed troops (forces) equipped with latest weapons and military technologies.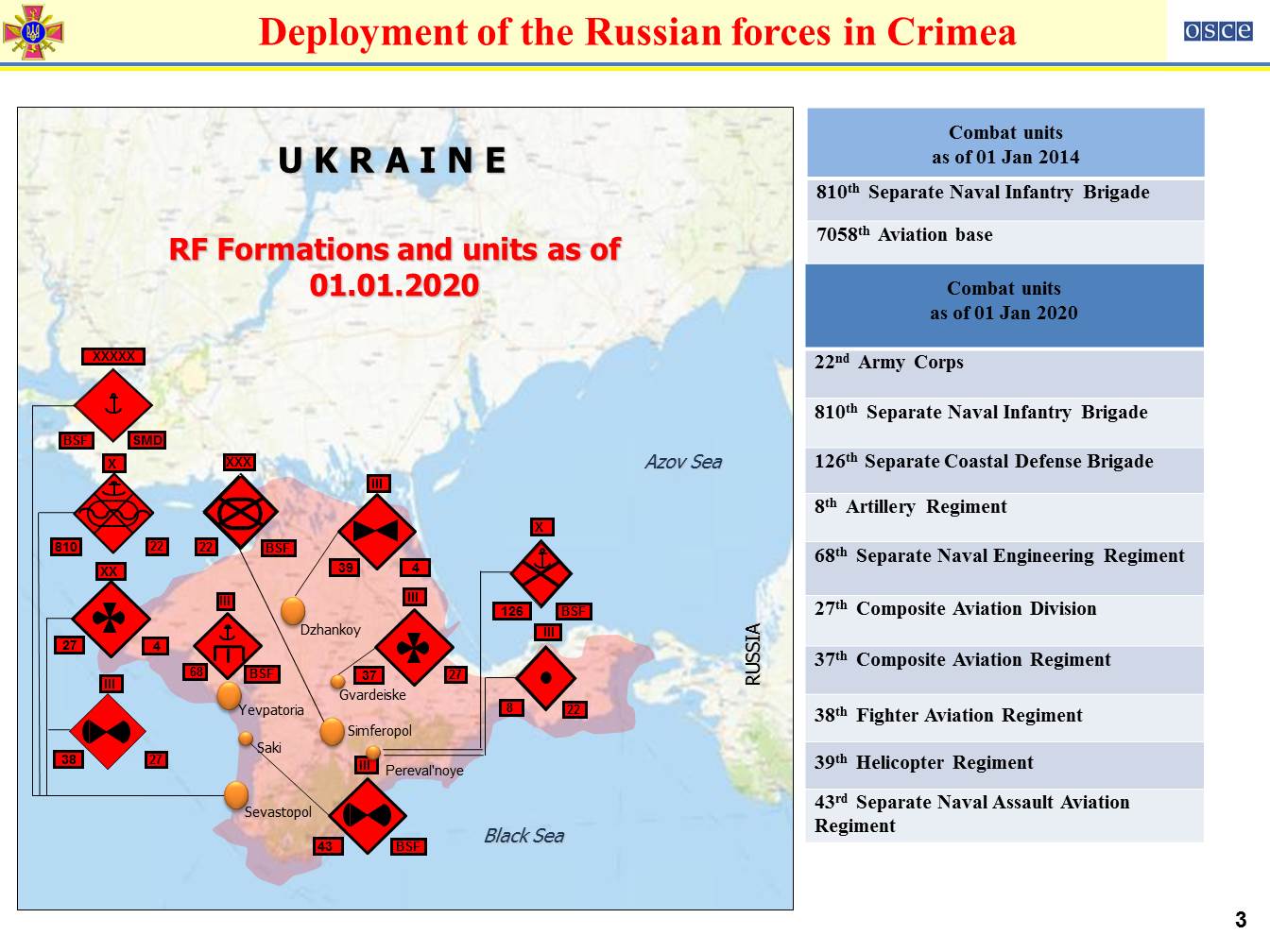 For your information: the 22nd Army Corps and the 810th detached Naval Infantry Brigade comprise the core of the ground component, which is planned to be organized into a new combined arms army. Currently, 6 battalion tactical groups are ready for deployment.
The air component has been reinforced by deployment to the peninsula of units of bomber, assault, fighter and army aviation. By the way, the aircraft Su-30SM, Su-30M2, Su-34 and helicopters Mi-28, Ka-52 that Russia has deployed to the peninsula are not found in the country's annual Military Information Exchanges.
Belbek and Hvardiyske airfields have been rebuilt to allow Russian long-range bombers to be deployed to the peninsula, and Crimea's infrastructure has been prepared for nuclear weapons deployment.
The combat capabilities of the naval component have been increased by adding the latest warships and submarines armed with Kalibr cruise missiles (up to 70 surface ships/gunboats, 6 submarines with a combined salvo of 84 missiles).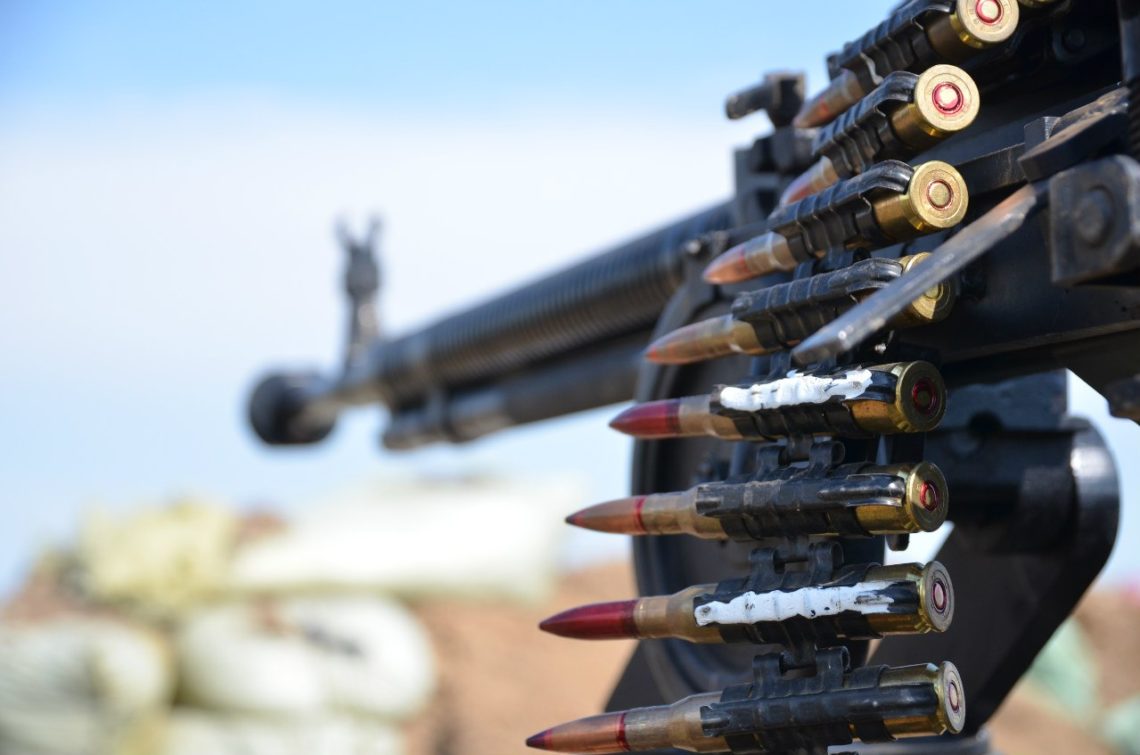 I would like to draw your attention to the fact that the Russian Federation has over the past six years substantially increased the amount of weapons and military equipment deployed in the Autonomous Republic of Crimea. By the way, we are still missing information about the Su-30SM, Su-30M2, Su-34 combat aircraft as well as the Mi-28 and Ka-52 helicopters that Russia has deployed to Crimea.
Major Weapon & Equipment Systems (MW&ES) deployed by the Russian Federation to Crimea, as reported by the Annual Exchange of Military Information under the Vienna Document 2011
| | | | |
| --- | --- | --- | --- |
| Major Weapon & Equipment Systems | 01.01.2014 | 01.01.2020 | Difference |
| Battle tanks | 0 | 31 | +31 |
| Armored combat vehicles | 117 | 305 | +188 |
| Armored combat vehicles look-alikes | 53 | 62 | +9 |
| Artillerygun systems | 30 | 128 | +98 |
| Combat aircrafts | 22 | 85 | +63 |
| Helicopters | 0 | 34 | +34 |
| Anti-tank guided missile launchers permanently/ integrally mounted on armored vehicles | 9 | 39 | +30 |
| TOTAL | 231 | 684 | +453 |
* The number of MW&ES increased almost 3 times
Guided by the provisions of the Global Exchange of Military Information, specifically paragraph 4.4, which states that a State Party must report up-to-date information on troops (forces) stationed in a foreign state, Ukraine insists that the Russian Federation has to report, within the Global Exchange of Military Information, data on the number of troops and weapons it had deployed to Ukraine.
In addition to the situation in occupied Crimea, the tense security situation in the Azov-Black Sea region also raises concerns.
This region, given the geopolitical and economic factors, is of particular interest to the Russian Federation. To achieve its own goals in the Azov-Black Sea region, Moscow is implementing a strategy, the main elements of which are:
increasing the deployment of warships and gunboats in the Black and Azov Seas;
conducting 'show of force' exercises involving the imposition of restricted access to certain areas in the Black and Azov Seas;
restriction of freedom of navigation in the Sea of Azov in order to cause economic damage to our state;
denying the passage of Ukrainian Navy ships and boats through the Kerch Strait.]
Under the guise of fighting 'terrorist' threats, Russia has been tightening control over navigation in the Sea of Azov and displayed its ability to place our country under a blockade.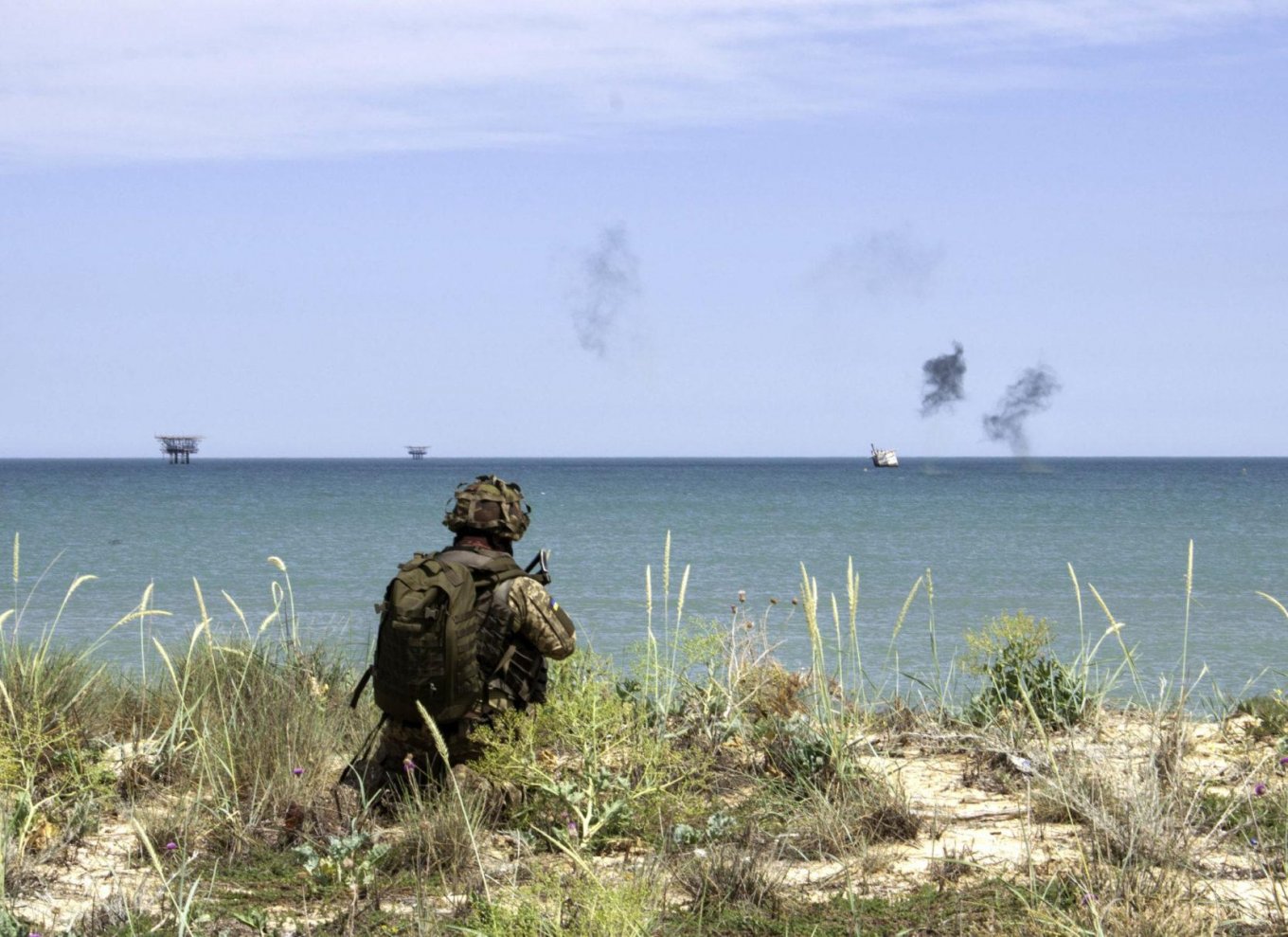 In fact, the airspace and waters of the Sea of Azov have been patrolled on a regular basis by maritime patrol aircraft of the Black Sea Fleet. The practice of closing areas in the Sea of Azov is being introduced, ostensibly under the pretext of conducting combat training activities. Under the 'anti-terrorist' pretext, Ukrainian and foreign civilian vessels bound for / from Ukrainian ports are detained and searched by the FSB Coast Defense Forces.
Eastern border
The Russian Federation continues its military build-up along Ukraine's border. In particular, new military units have been set up and existing military formations reorganized in order to enhance their ability to fight. Currently, 28 battalion tactical groups are deployed along Ukraine's border.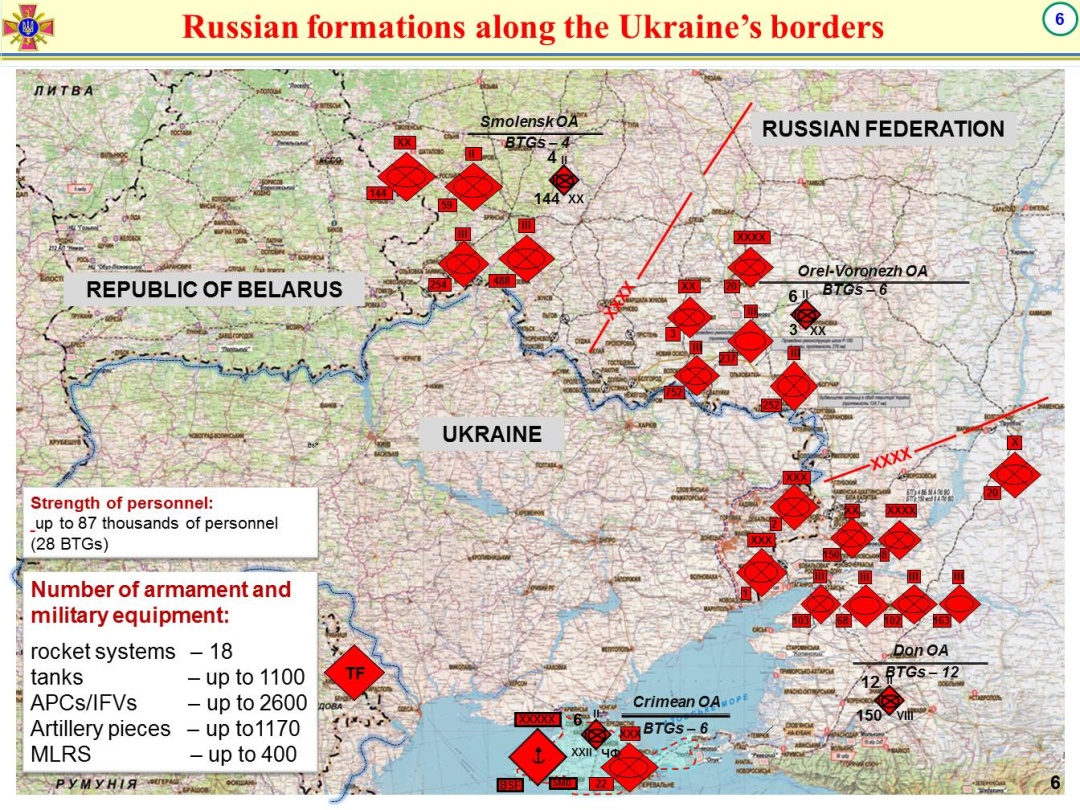 Today, work is being completed to set up three new formations – two Armies and an Army Corps, which are envisioned to reach full operational capability in 2020-2021.
In Russia's Western strategic area, the 20th Combined Arms Army consisting of the 3rd Motorized Division and the 144th Motorized Division has been organized to empower the Ground Component.
The 448th Missile Brigade of the 20th Army has been equipped with mobile short-range ballistic missile systems "Iskander".
In the South-Western strategic area, the 8th Combined Arms Army consisting of the 150th Motorized Division, the 20th detached Motorized Rifle Brigade, and the 1st and 2nd ACs has been organized.
The "Iskander" missile brigades will be established within the military district and the Army. Overall, the strength of Russia's ground task force deployed along Ukraine's border amounts to about 87,000 military personnel, up to 1,100 tanks; up to 2,600 armored fighting vehicles; up to 1,100 artillery gun systems; up to 360 MLRS, and 8 mobile short-range ballistic missile systems.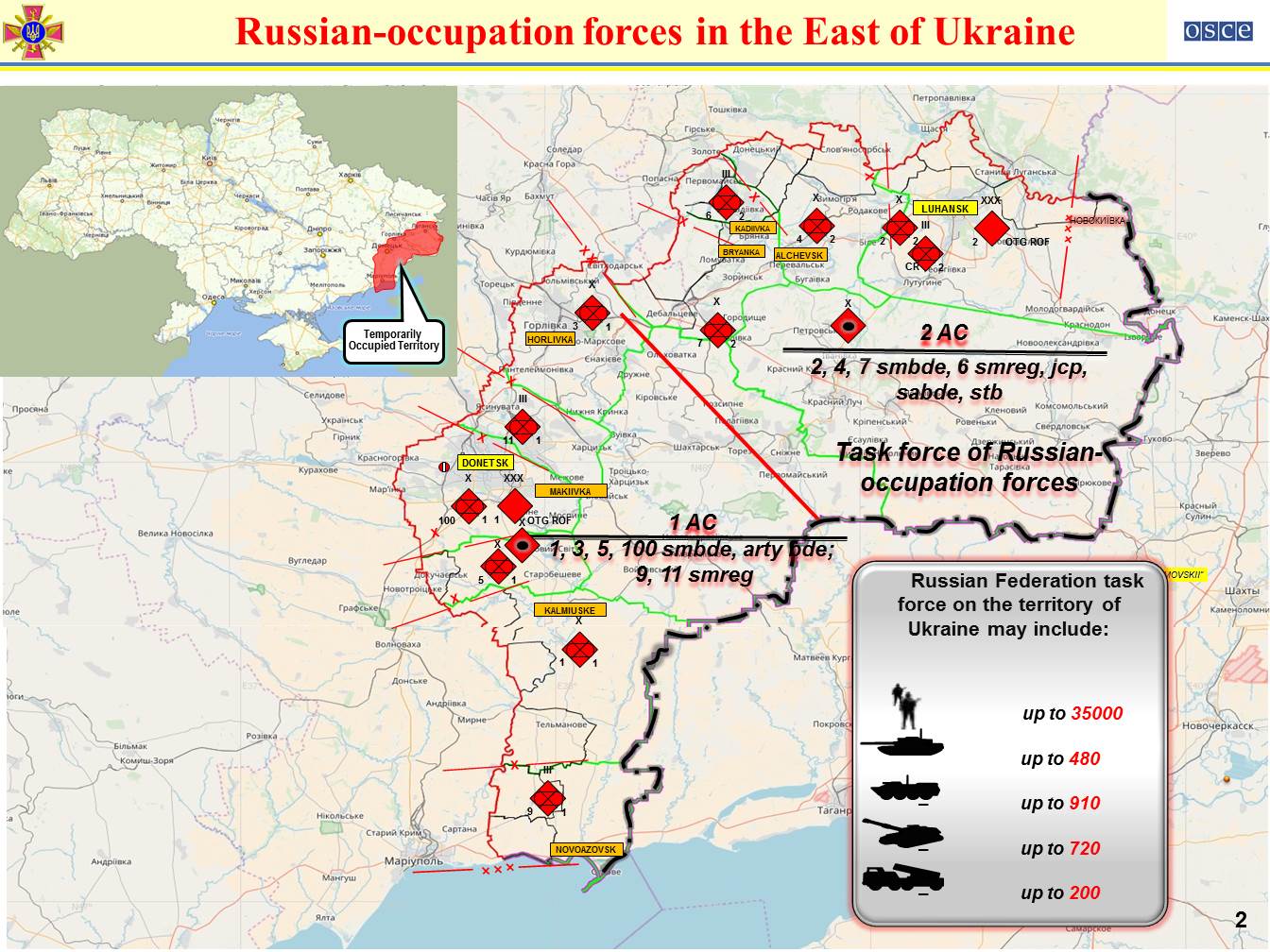 The Air Component continues to be modernized with newly-built and upgraded aircraft (Su-30SM, Su-35S, Su-34, Su-25SM3, MiG-31K with hypersonic "Kinzhal" system as well as helicopters of various modifications). In total, about 330 combat airplanes and 230 helicopters are deployed at base airfields near the Ukrainian border.
The formation of mobilization deployment support centers continues, which can allow for the establishment of up to 4 combined arms divisions (Boguchar, Kamensk-Shakhtinsky, Novoozerne / temporary occupied territory of AR Crimea).
Thus, as of today, in the vicinity of the Ukrainian border there have been set up three joint task forces capable of carrying out surprise offensives in Ukraine's territory, pursuing limited goals without declaring a state of mobilization and with minimum preparations being made.
Miscellaneous security aspects
Over the past 6 years, we have witnessed the Russian Armed Forces increase the intensity and extent of its operational and combat training, which does not imply any additional security guarantees to neighboring states.
Special attention should be devoted to issues such as unforeseen military activities involving snap (unannounced) exercises and exercises held at lower than threshold level.
The possibility is not excluded that, during these exercises, Russia hides the actual number of personnel and weapons involved, including the number of airplane and helicopter sorties and the use of so called 'fragmentation'.
The non-transparent nature of unscheduled (snap) exercises increases distrust and military-political tensions in the OSCE area of responsibility.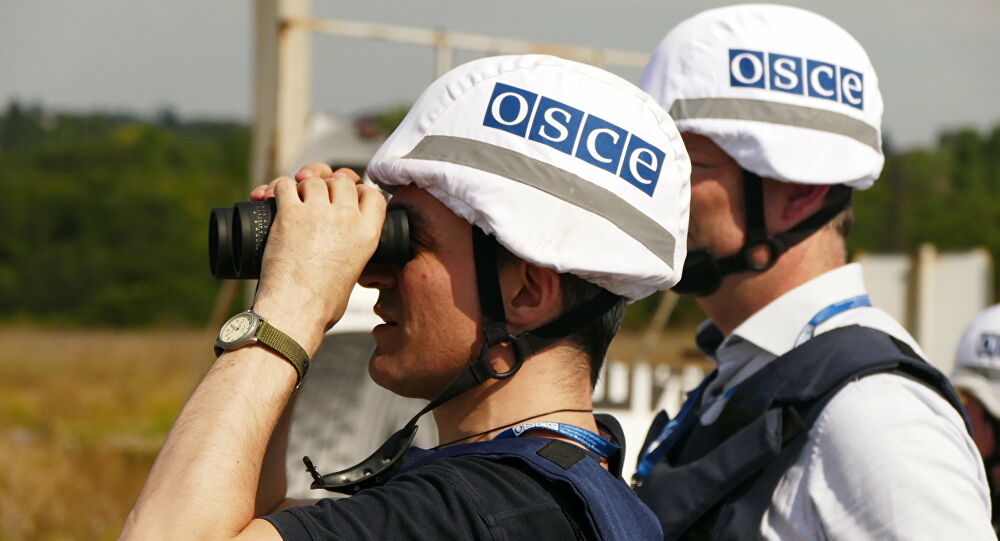 Meanwhile Ukraine is forced to fight, repelling military aggression; it strictly adheres to the requirements of international treaties and agreements and fulfills all its international commitments while showing a high degree of openness and transparency. Ukraine has currently been one of the Member States that have been most active in implementing VD-2011. Out of a total of 199 activities conducted by the participating States, Ukraine has done 29 (or 15 percent) of all the activities conducted in the territory of participating States, including 19 inspections and 10 evaluations, and hosted 18 activities (12 inspections and 6 evaluations) in its own territory, which is equal to almost 10 percent of all the activities done.
Beyond that, in order to improve regional confidence and security, Ukraine has consistently abided by its obligations under bilateral agreements with neighboring countries (Hungary, Slovak Republic, Republics of Poland, Belarus and Romania), established under Chapter X "Regional Measures" of the Vienna Document.
Conclusion notes
Firstly, I would like to assure you that Ukraine is consistent in its policy of strict compliance with its obligations under international treaties and agreements in the field of conventional arms control.
Secondly, Ukraine will continue its contribution to the process of the VD-2011 modernization regarding confidence- and security-building measures and other tools for OSCE influence for promoting military stability, transparency and predictability in all participating States, and calls on all participating States to join this process.
Thirdly and finally, I would like to draw your attention to the need for developing effective mechanisms of international supervision over military activities conducted by Russian-occupying forces in temporarily occupied areas of eastern Ukraine and in the Autonomous Republic of Crimea.
Read more: Ukraine-Germany consultations on defence cooperation development held in Berlin
---
---