Ukraine's Armed Forces are actively tracking and destroying Russian 203-mm self-propelled guns in the Kherson region. In particular, recently it became known about the destruction of at least two such systems in this direction.
The other day, a photo of the russian 2S7 Pion/2S7M Malka self-propelled gun appeared online, which, according to sources, was "demilitarized" in the Beryslav direction in the Kherson region.
Read more: Ukrainian Artillerymen Show High-Precision 'Excalibur' Used With Ordinary M777 Without Additional Digital Units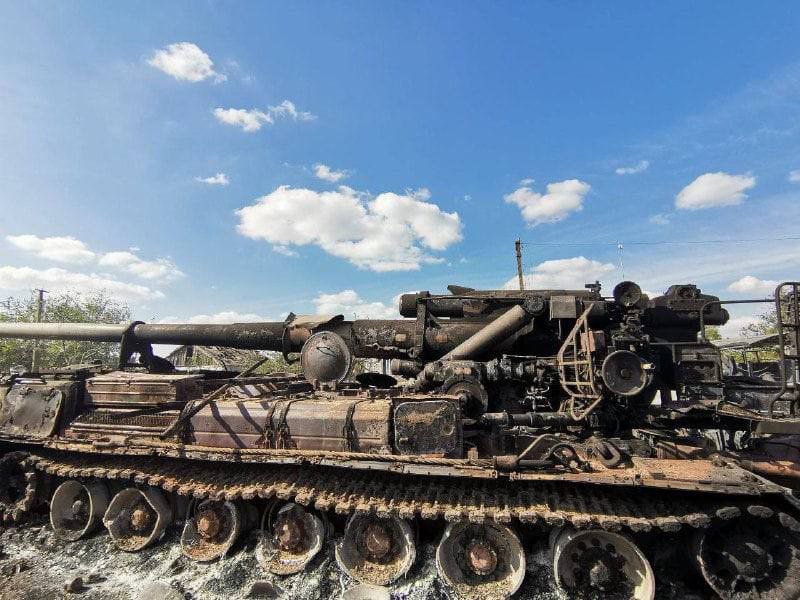 In addition, a video of the operation of high-precision weapons against another 203-mm self-propelled gun of the occupiers also appeared. At the same time, in the accompanying caption to the video, it is noted that the 2C7 Pion/2C7M Malka was hit in the Kherson region in the direction of Novopetrivsk, probably by a high-precision M982 Excalibur projectile.
It will be recalled that since the beginning of the full-scale invasion of Ukraine, the russian army has lost at least five of its 203-mm self-propelled guns, three of them were destroyed, and one more was damaged as a result of intense firing. Another self-propelled artillery gun of this type was captured by the Ukrainian military as a trophy.
Defense Express reported earlier, that Excalibur strike put a russian 'Tor' anti-aircraft system out of order as well as published a corresponding video. We also published the first footage of the 'Excalibur' ammunition strike in Ukraine.
Read more: SMArt 155 in Action: Use of High-Precision Munitions to Eliminate russians is Geting Large-Scale (Video)
---
---