During the visit of the Polish government delegation to Korea, two examples of weaponry that Warsaw had purchased were showcased, with a remarkably short turnaround time for their deployment. These include the FA-50 light fighter aircraft and the K239 Chunmoo missile system.
Out of a total order of 12 aircraft, the first two FA-50 jets have already been manufactured and are scheduled to participate in an aviation show in Radom starting on August 27. It is worth noting that a group of Polish pilots is already undergoing training for these aircraft. The swift delivery of these machines is quite impressive, considering that the order was placed as recently as September 2022. In comparison, the queue for new F-16 aircraft is currently being formed for delivery after 2027.
Read more: There Is Slight Hope That Ukraine May Get Australian F/A-18 Hornet Fighter Jets
It should be noted that Poland has spent $700 million on the acquisition of these 12 FA-50 light fighter jets in the Block 10 version, which have limited combat capabilities. The FA-50 Block 10 aircraft can utilize AIM-9 missiles for air-to-air combat and employs rockets and bombs, including high-precision ones, for hitting ground targets.
The main contract, worth $2.3 billion, includes the joint production of 36 aircraft in the FA-50PL version, which is identical to the Block 20. Only this version will be equipped with a full range of weaponry, including AIM-120 missiles for air-to-air combat and Joint Strike Missiles, making it a fully functional and versatile aircraft.
In addition to the fighter jets, the Koreans also showcased the K239 Chunmoo missile system, which is mounted on Polish Jelcz chassis and is intended to be integrated into the Polish Topaz combat management system. Warsaw placed an order for 218 of these vehicles in November 2022 at an undisclosed price.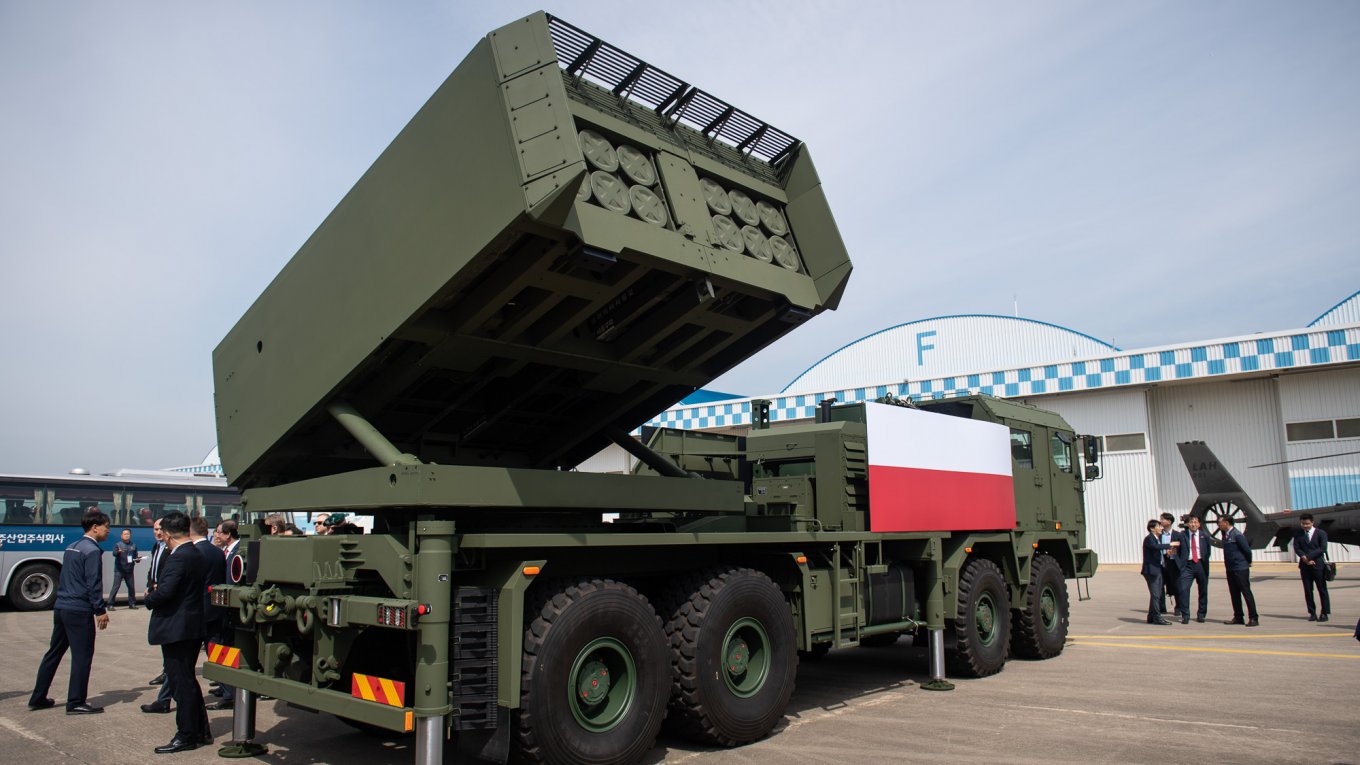 The K239 Chunmoo missile system is conceptually similar to the HIMARS system but accommodates two packages. It enables the launch of 130 mm unguided rockets, 227 mm American GMLRS rockets or unguided M26 rockets, along with their Korean 239 mm counterparts. Additionally, it has the capability to launch 400 mm Korean ballistic missiles or ATACMS missiles. Poland also has plans to localize the production of the K239 Chunmoo system and its munitions in the future.
Moreover, Poland is adding 486 Korean K239 Chunmoo systems to its existing inventory of 486 American HIMARS systems, out of which 18 will be in their original configuration, while the remaining 468 will be mounted on Jelcz chassis. The contract for these launchers, which includes nearly 1,000 GMLRS rockets, over 500 GMLRS-ER rockets and around 50 ATACMS missiles, amounts to a total cost of $10 billion for the country.
Read more: Germany Reconsiders Aircraft for Ukraine: Eurofighter or Tornado Still Not Ruled Out
---
---