On the night of Tuesday, May 16, during another missile attack by the occupiers, the air defense of the Air Force of the Armed Forces of Ukraine demonstrated impressive results, shooting down 100% of the missiles launched by the russians, including six the Kh-47M2 Kinzhal air-launched nuclear-capable hypersonic air-launched ballistic missile (NATO reporting name Killjoy), as well as three missiles fired from the S-400 Triumf SAM system (NATO reporting name: SA-21 Growler) on a ground target or from the 9K720 Iskander mobile short-range ballistic missile system (NATO reporting name SS-26 Stone). The effective operation of the Patriot anti-aircraft missile system helped achieve this result.
At the same time, a photo of one of the American missiles found on one of the streets of Kyiv appeared online. This photo can serve as confirmation that the Ukrainian military uses PAC-3 CRI (Cost Reduction Initiative) interceptor missiles to repel Russian missile attacks from MIM-104F Patriot PAC-3 anti-aircraft missile systems received from partner countries.
Read more: "Patriot System Destroyed," Says russia After Ukraine Manages to Take Down All russian Missiles
For comparison, below are graphic images of the PAC-3 CRI missile along with the PAC-3 MSE (Missile Segment Enhancement) and PAC-2 GEM (Guidance Enhanced Missile).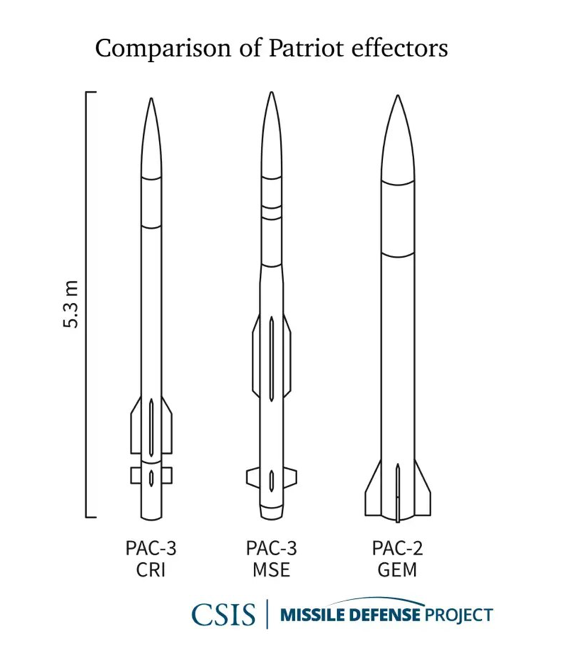 The PAC-3 CRI missile is the predecessor of the most advanced version of the Patriot PAC-3 MSE anti-aircraft missile. It is worth reminding that both missiles are primarily designed to defeat enemy ballistic missiles and, unlike the PAC-2, work according to Hit-to-Kill technology, when an anti-missile at high speed crashes into a ballistic missile and, thanks to its kinetic energy, is guaranteed to destroy its warhead.
Demonstration of PAC-3 missiles:
No clear information is provided in open sources Regarding the range of the PAC-3 CRI missile. However, taking into account reports that missiles in the MSE version have a strike zone one and a half times larger than the previous version (declared at 60 km), it can be determined that for the PAC-3 CRI the range of hitting ballistic targets can be 40 km.
Although the PAC-3 CRI is an older version of the missile compared to the PAC-3 MSE, so far everyone could see that this missile is showing effective results against Russian cruise missiles, intercepting in particular 7 out of 7 russian missiles of Kh-47 Kinzhal type, as well as it intercepted three ballistic missiles that were launched from the S-400 SAM system or the Iskander missile ballistic missile system during the last missile attack of the russian federation too.
Read more: Confirmed: Ukrainian Air Force Shoots Down Kh-47 Kinzhal Missile, Ruining the Myth About the russian "Unparalleled" Hypersonic Weapon
---
---