The need for timely detection and location finding of radio emission sources, real-time analysis of the data obtained, and prompt decision making comes to the foreground and requires the availability of modern radio monitoring and direction finding equipment. In Ukraine, the R&D and Production Company Infozahyst Center is actively engaged in the domain of products for radio monitoring, direction finding, and electronic warfare.
Having been on Ukraine' defense and security market since 2001, this private company is a specialist in development and production of equipment for radio monitoring, direction finding, signal and technical intelligence; development and uses of information security equipment; services for the search and pinpointing the location of data-theft equipment; electronic counteraction, and implementation of solutions for data collection, processing, and analysis.
Read more: RAM UAV – fly to kill
The Company's extensive product portfolio includes radio monitoring equipment (searching software/hardware systems PLASTUN 3D 40L, PLASTUN 3D), direction finding equipment (VHF locators RP-525, RP-525-NM), tactical COMINT equipment (RP-3000-М, RP-3000-SM, RP-3000-АМ), as well as the mobile SIGINT system Hortyca-M. The Company has developed the VHF communications and drone jammers Banshee-UAV and Hortyca-R. Infozahyst offers the domestic market a range of military-grade VHF devices that had never been produced in Ukraine previously.
Over its 17 years in business, Infozahyst has implemented dozens of devices and systems, and a plethora of software/hardware solutions for government, commercial and private customers in and outside of Ukraine, including the Ukrainian Presidential Administration, Security Service, Ministry of Defense, State Border Guard Service and other national security organizations. Moreover, the Company's products -- battle tested and deployed with success in eastern Ukraine's Donbas Theater of operations -- have become a force multiplier for Ukraine's Joint Forces Operation.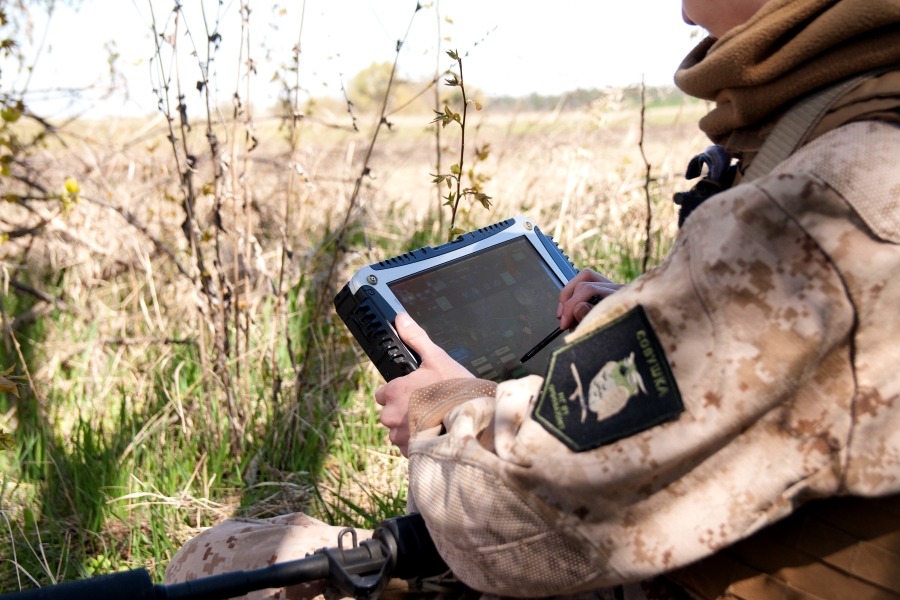 One of the Company's best known products that has found military applications in the Ukrainian Armed Forces, especially following the onset of Russian military aggression in eastern Ukraine is the compact tactical signal intelligence (SIGINT) system Plastun RP-525. This system offers the capabilities for determining the source and location of hostile communications, automatic real-time radio monitoring, and SIGINT data processing and recording. It would perform real-time data communication on the location and characteristics of hostile radio emissions to create a common intelligence picture. The Plastun RP-525 would be able to search and detect wireless battlefield (VHF) and in-theater (HF) networks and operating frequencies, and voice/data communication networks employed by small subversion and recon groups; record analogue/digital data communications; search and pinpoint the location of Frequency Hopping Spread Spectrum signal sources; synchronously locate and demodulate frequency-modulated signals; detect digital control and data communication links to target aircrafts, manned or unmanned; pinpoint the location of electronic warfare equipment and counter-battery radar data transmitters.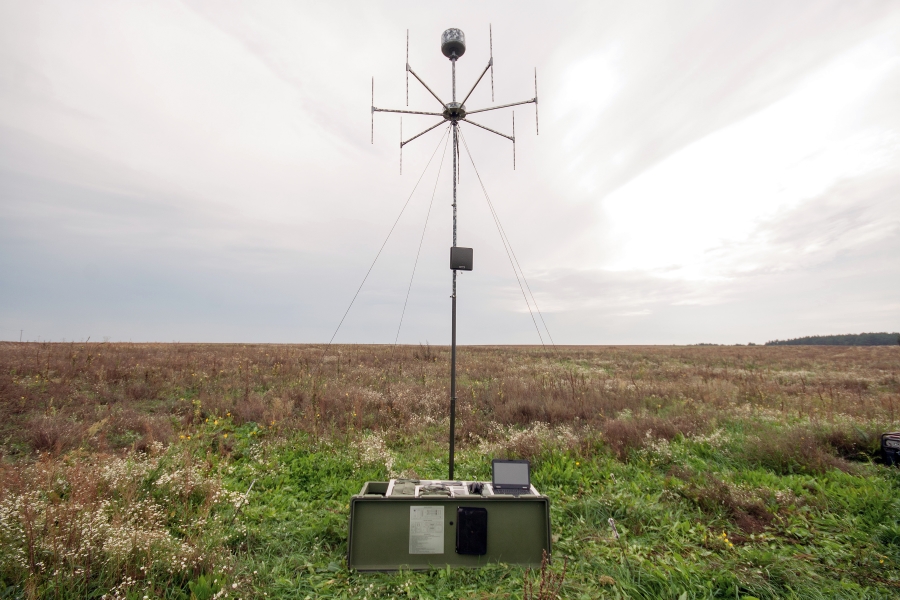 Developed as a next-generation evolution to the Company's Plastun RP-525 technology, the Plastun RP-3000 incorporates improvements based on lessons learnt from real-world combat deployments.
Infozahyst is working on a range of advanced technology projects that include Hortyca-M - a mobile COMINT/SIGINT system mounted on a highly autonomous, all-terrain wheeled vehicle platform. It offers the capabilities for electromagnetic environment analysis; search, detection, and real-time analysis of radio emissions; detection of source and location of VHF/HF emissions in cooperation with similar mobile COMINT/SIGINT assets; automated detection, location, and analysis of command and control data links and radio emission sources, as well as real-time transmission of data on the radio emission sources found.
The Hortyca-M is capable of decoding digital radio networks of DMR, DPMR, NDXN, FLEX, P25, A25, and other standards; automatic self location and spatial orientation; automated coordinate measurement of radio emission sources; establishing secure datalinks with other similar systems, and establishing wired communications with the Dnipro data communication network.
Since its announcement in 2017, the Hortyca-M technology has been improved and successfully subjected to departmental trials so far. Future improvements being developed include a capability for integration with a spy and attack unmanned aerial system.
The Company's portfolio of electronic warfare solutions includes the counter-UAV system Hortyca-R. This is designed to disrupt and neutralize unmanned drones that use commercial (civilian) as well as military-grade data communication techniques, including shimmering signals and pseudorandom frequency hopping signals with any kind of modulation. Unlike similar counterparts, the Hortyca-R doesn't use barrage jamming but instead employs intellectual, "follower" jamming technique combined with GPS/GLONASS coordinate spoofing. The Hortyca-R system is carried on an all-terrain wheeled vehicle.
With the widespread use of the Internet and social networks, analysis of data collected from publicly available sources (commonly known as Open Source Intelligence/OSINT) is gaining an ever increasing interest. Infozahyst has developed a technology it calls Spectrum, which can collect data from open sources and offers the capability for computerized processing of data collected from social networks, online media publications, and open access databanks. Equipped with a high capacity search engine, the Spectrum uses machine learning algorithms to speed up and simplify data collection on individual persons or groups of persons and, having analyzed the content of their Social Network and Internet accounts, to select the most relevant search results.
With a test analysis module embedded in its software, the Spectrum is able to search and collect the identifying data (full name, position, organization, phone numbers, geographical name, etc.), screen texts, automatically compile topical dictionaries, and do text sentiment analysis.
The products described above are just a few of the high-tech solutions that are available from Infozahyst. But this is enough to argue that Ukraine has developed and produced advanced, special-purpose products for data collection, analysis and security. These products have already proved their worth in real-world combat situations, helping Ukrainian forces effectively perform their assigned missions while countering the most advanced communication threats from the adversary.
Founder & CEO
Kostiantyn Signaievskyi
Read more: The future through the prism of the past
---
---