Year 2018 was rich in international developments that contributed to atmosphere conducive to tense but stable situation. In Europe, the year was influenced by the unpredictable policies of US President Donald Trump, Russia's hybrid aggression policy, the continued migration crisis caused by civil war in Syria, growing influence of populist parties in Europe, and the continued threat of Russian military incursion in Ukraine. These developments and trends are going to continue into and make an impact on 2019.
Harsh Realities
A substantial part of the expert community noted in early 2018 that "the year began in an atmosphere of growing confrontation in West-Russia relations". Lots of statements were made indicating that "the world has come close, too close to the brink of a global conflict." It would seem that the growing migration crisis in Europe, ongoing Syrian civil war with Russian involvement, the Korean peninsula conflict, proliferation of terrorism and Ukraine-Russia stand-off over Donbas are all markers of an impending crisis of global proportions. But the Rubicon, however, has not been crossed. The escalation continued from 2017 and into 2018. But this was not by the behest of the West who responded – although in a less aggressive and unpredictable manner than Russia did -- to growing challenges and threats by boosting defense budgets, strengthening NATO's posture in the Baltics, Poland, and Romania, and keeping in place sanctions against Russia over its actions in Eastern Ukraine.
Read more: Hermes-C2 – Ukraine's new indigenous combat vehicle c2 system
During all of 2018, the Russian government continued with its policy of provocations. Moscow's destabilizing policy in Ukraine and Europe remained largely unchanged. Instead of coming back into the legal fold, Moscow was acting to the contrary by escalating the situation further still.
President Putin, in the run up to his re-election, delivered his State of the Nation report to the Russian Parliament on March 1, 2018. His speech contained a message aimed to make the West take Russia's interests into account and return to Yalta-2-style concept of spheres of influence. But this message had missed its goal. A presentation of 'breakthrough" military technologies mentioned in the report only reinforced the civilized world's perception of Russia as an unpredictable, aggressive neighbor that needs to be treated with special attention.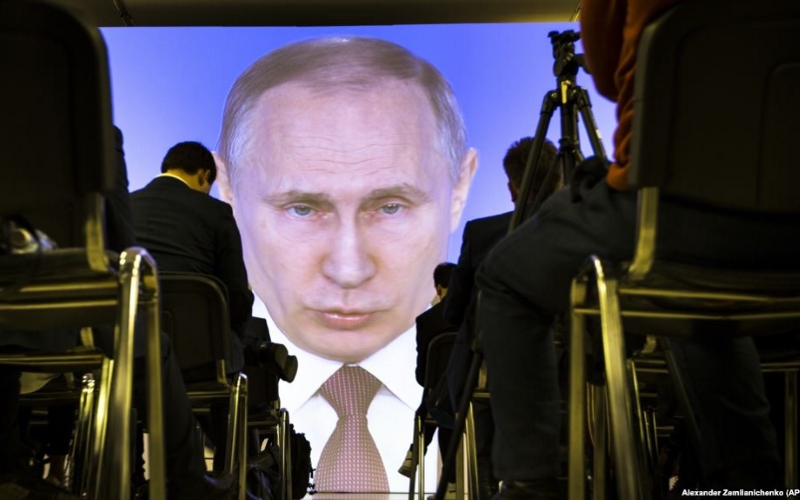 Tensions in Russo-Western relations have been fueled further by the poisoning, on March 4, 2018, of a former Russian spy, Sergei Skripal and his daughter in London. The British finding strongly implies that the Skripals were poisoned by the "Novichok" nerve agent that had been developed in the USSR and now used in a foreign state. Britain has pinned the blame squarely on the Russian government. In an unusually coordinated response to the nerve-agent attack in Salisbury, twenty-seven countries around the world, including the USA, UK and Ukraine, tossed out Russian diplomats they believed were actually undercover intelligence agents, and NATO kicked out seven diplomats from the Russian mission to the alliance.
Last year saw continuing investigation into Malaysia Airlines flight MH17 downing over eastern Ukraine. The Joint Investigation Team (JIT) probing the 2014 downing said they had found that the Buk missile that shot down MH17 was fired from a launcher belonging to a Russian military brigade. The investigators provided evidence of Russia's involvement, while Australia and the Netherlands said in response to the findings that they held Russia responsible for the downing of the passenger plane. Moscow, for its part, has continued denying any involvement in, and responsibility for the downing of MH17, saying the investigation did not include any Russian participation, and its findings therefore cannot be trusted. In actual fact, however, Russia was the one who refused to cooperate; it left unanswered JIT's request to provide all relevant information in 2014 and a specific request for details about recovered missile parts in 2017.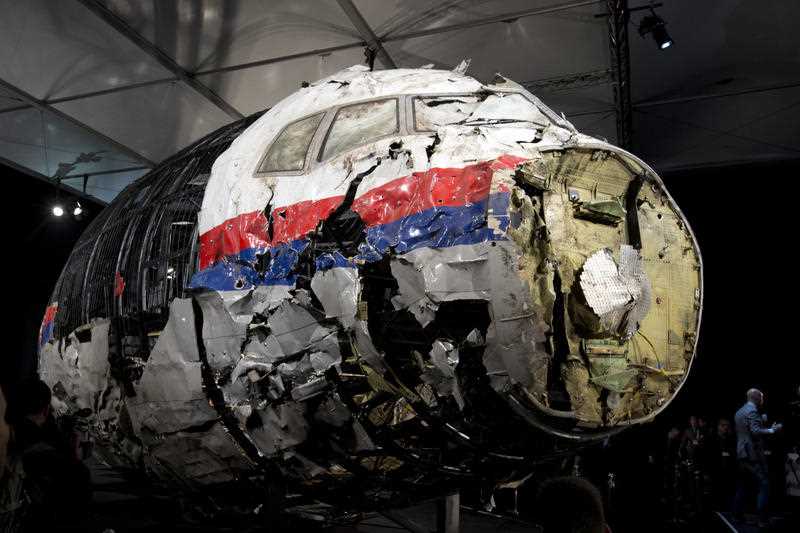 2018 also saw a series of spy scandals involving Russia. In July, Greece expelled two Russian diplomats after accusing them of funding protests against a deal that would put an end to a 27-year long dispute between Greece and neighboring Macedonia over the name Macedonia in a new composite for the Former Yugoslav Republic of Macedonia (FYROM). In October, several Russians were tossed out from the Netherlands over suspicions of spying and attempted cyber attacks on the Organization for the Prohibition of Chemical Weapons (OPCW). They were also charged with an attempt to hack the investigation into flight MH17 downing. In November, a high ranking Russian military officer was arrested in Austria on suspicion of spying for the GRU during two decades, and Slovakia kicked out a Russian diplomat on spying charges in late 2018. These are just a few of such facts that have become known to the public.
One of the key developments of the summer of 2018 was the 29th NATO Summit held in Brussels from July 11 to 12. NATO members agreed to increase their respective defense expenditures to a level "never seen before". As stated by US President Donald Trump, the Allies had "really stepped up their commitment, stepped it up an additional 33 billion". The summit's agenda and consensus decisions clearly identify Russia as a major, well prepared opponent, and signify an end to internal strife in the face of the common threats and challenges posed by Russia.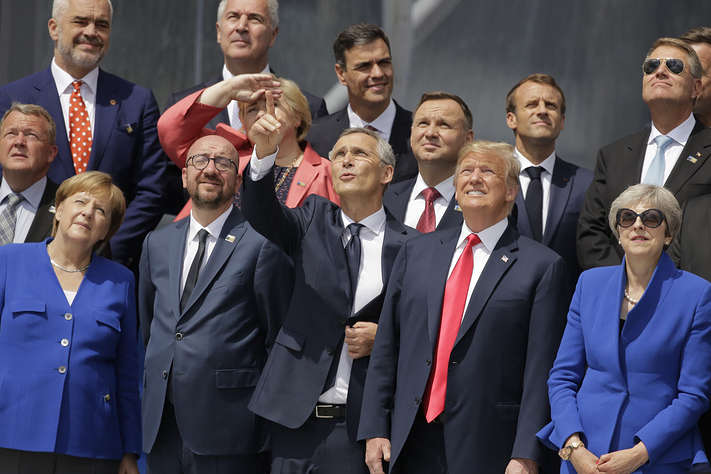 In Europe, radical-right parties stepped up their activities against the background of migrant crisis. Under the slogans of opposition to government migration policies and of support for national identities, populist parties enjoy growing electoral success while simultaneously increasing their presence in European governments. Most successful in this endeavor have been parties in Germany, Hungary, Spain, France, Finland, and Greece. With their unattainable election pledges, these parties will last so long as crises of all kinds would last in Europe; otherwise they are going to disappear within larger, more conventional parties or will fall apart as did the populist, nationalist-oriented Finnish party Finns.
These populist parties are often sponsored by Russian special services. Evidences of radical and extremist organizations in Europe collaborating with Russian spy agencies are Russia-friendly statements made by leaders of Catalonian separatists. The "yellow vest" rallies in Paris, which originally grew out of peaceful protest against rising gasoline prices, ended up in severe clashes between the protesters and police forces in late 2018. French law enforcement officials held Russia responsible for this peaceful-to-violent transformation of the protest.
At the same time, the United States and Russia were probing opportunities for a bilateral summit where to discuss issues of common concern. At long last, the US and Russian presidents met in Helsinki (Finland), in July 2018. The Trump-Putin summit ended up with no consensus or agreements reached. A new meeting was definitely needed to alleviate bilateral tensions to some extent. But the two presidents never met in Paris nor in Singapore. Finally, President Trump canceled a meeting with Putin originally scheduled to take place at the G-20 summit in Buenos Aires in early December, citing a Russian armed attack on Ukrainian naval vessels bound to pass through the Kerch Strait en route to Sea of Azov in late November 2018.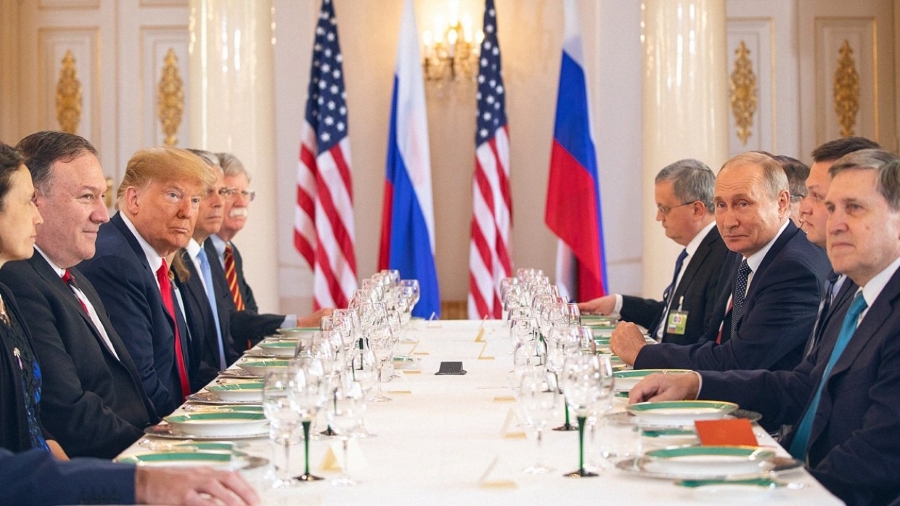 The US and Russian presidents met in Helsinki (Finland), in July 2018, but the Trump-Putin summit ended up with no consensus or agreements reached
Russia's refusal to heed calls from Washington to abide by its commitments under the Intermediate-Range Nuclear Forces Treaty (INF Treaty) dealt another severe blow to the already weakened relations between the two powers. For at the time when the American and North Korean leaders were searching for compromises on North Korean nuclear program, the Kremlin was advertising new missile and nuclear programs with potentially global implications. As a result, the US embassy in Moscow, on December 4, sent a note to the Russian Foreign Ministry, in which it warned the US would pull out of the INF treaty if Russia does not comply within 60 days. Moscow said in response it was honoring its INF obligations and all the accusation against it are 'faked' and 'destructive'.
Along with official statements and diplomatic measures taken during the year, Russia's continuous display of its military muscle contributed to further aggravation of tensions in West-Russia relations and motivated other countries to seek solutions in response. From 11 to 17 September, the Russian armed forces conducted the active phase of the Vostok-2018 strategic-operational war game - the largest Russian military exercises held over the past four decades. These maneuvers weren't just aimed to yet again demonstrate Russia's military might and to test its forces' readiness status in expansive and extensive military operations. By conducting this exercises, Moscow sought to demonstrate its intention to once again position itself as a key player on the international arena. NATO responded symmetrically by conducting Trident Juncture 2018 – its largest exercise in decades.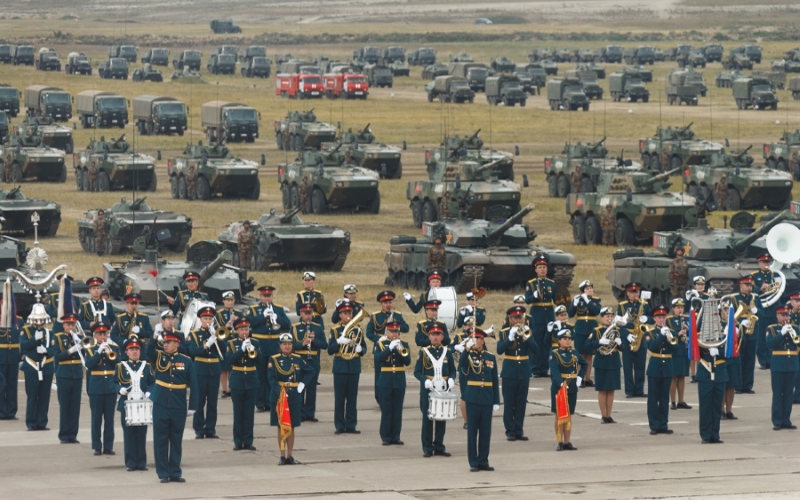 From 11 to 17 September, the Russian armed forces conducted the active phase of the Vostok-2018 strategic-operational war game - the largest Russian military exercises held over the past four decades
In 2018, Russia continued with its provocative airspace incursions all over the world. There were numerous reports of armed Russian airplanes flying very close to airspace borders of NATO countries. Thus, in late 2018, Russian strategic bomber Tu-160 was spotted overflying the Baltic Sea. In November, two Mig-29 and an An-26 airplanes were intercepted while overflying, again, the Baltic Sea. Later the same month, a Russian Navy's Tupolev TU-142 flew over the USS Mount Whitney, flagship of the US Navy's Six Fleet during the NATO-led military exercise Trident Juncture held in the Norwegian Sea. These are just a few of Russia's staged provocations that received media coverage.
Along with aggressive actions on the international arena, Russia was seeking to stuff up crisis-torn countries across the world with its military contingents guised as 'peacekeepers'. Russia, during 2018, continued beefing up its military presence and capabilities in Syria and eastern Ukraine, and facts were reported of Russian private military companies sending in their mercenaries to Africa and elsewhere across the world. By deliberately aggravating the situation in Syria (and the migrant crisis in Europe) and in Ukraine (especially in Donbas), the Kremlin is apparently seeking to show off its significance and to make the West realize the inevitability of cooperation with Russia.
These Russian objectives are too evident to the West, but the latter cannot let Moscow compromise international law and world order in favor of political gain, even if this requires some concessions. Thus, President Trump, in late 2018, ordered the Pentagon to pull out U.S. troops and equipment from Syria, thus raising concerns as to whether this would help Russia beef up its posture in that region.
Hopes and Expectations for 2019
As a result of the above considerations it can be predicted that the international situation will remain turbulent in 2019. Russia was involved in most of notorious scandals that occurred during 2018. Looking at how the Kremlin has treated these scandals so far, we can reasonably expect that this trend will run into 2019.
Europe will continue to be the target for regular Russian provocations in the information domain, this to be contributed by the increasingly visible presence of populist-oriented parties in Europe's political landscape. In addition to the already existing areas of conflict, one can expect that the current Ukraine-Russia standoff over the Sea of Azov and the Kerch Strait will worsen further (Ukraine has announced intention to send, again, its navy ships from the Black Sea into the Sea of Azov through the Kerch Strait). Moreover, Russian military buildup near Ukraine border is raising concerns about the possibility of an all-out military conflict breaking out in the center of Europe.
The situation in Syria does not give hope for a peaceful settlement any time soon. The Syrian conflict has long grown out from a civil war and into a multinational conflict where decisions are made by parties other than the directly warring parties. The buildup of Russian military infrastructure in Syria indicates that Russia is about to boost its regional posture and take control of the Syrian airspace in order to obtain an exclusive privilege of being in control of aircraft movements in that region of airspace. And the forthcoming U.S. military withdrawal will only contribute to this happening.
Moscow's refusal of the US proposal regarding the future of the INF Treaty, along with the conduct, in late 2018, of prototype technology demonstrator testing of Russia's most recent hypersonic missile system 'Avangard' that is allegedly capable of penetrating U.S. air defenses are both indicative of the Kremlin's willingness to 'raise the stakes' for 2019.
Experts are split on expectations for 2019. Some fear this can even outgrow into an all-out military confrontation, not only in Syria, but in Ukraine as well. Other analysts disagree, and say that Russia, in the near and medium term, will most likely refrain from conventional offensive operations because of the poor state of its economy and the high cost of such measures, and will instead opt for the hybrid warfare techniques it has already tested in Ukraine, Moldova and Georgia.
The bottom line is that tensions in Russo-Western relations remain in place and tend to mount. The world stands at the threshold of major changes that, regrettably, don't look too good.
Read more: Digitization of Ukrainian army: capacities of HERMES-C2 tactical control system
---
---