After a series of successful attacks by unmanned aerial vehicles on airfields on the territory of the russian federation, as a result of which a Tu-22M3 bomber was destroyed, as well as Il-76 military transport aircraft, the occupiers began to take measures to protect their aircraft.
This is evidenced by satellite images published by a Twitter user with the nickname Tatarigami_UA from the russian Engels air base, which is located more than 470 km from the border with Ukraine.
Read more: Slat Armor "Grills" on Top of Tu-22M3 Might Have Been Just Installed by russians (Photo)
Satellite images as of the morning of September 1 show that the Russians literally covered one of their Tu-95MS strategic bombers with a layer of car tires.
Judging by another satellite image, where the russians also began to cover another of their bombers with such "protection", this is not an isolated case, although it is currently unknown how many of their planes the occupiers want to protect in this way.
Apparently, with such an improvised defense, the occupiers are trying to protect their planes from further attacks by strike drones. At the same time, it should not be excluded that the russians can get the opposite effect, when the tires will only add "fire" in the event of another attack on the russian airfield with plastered tires by strategic bombers. Especially since Ukraine has already used its long-range weapons for strikes at a distance of 700 km.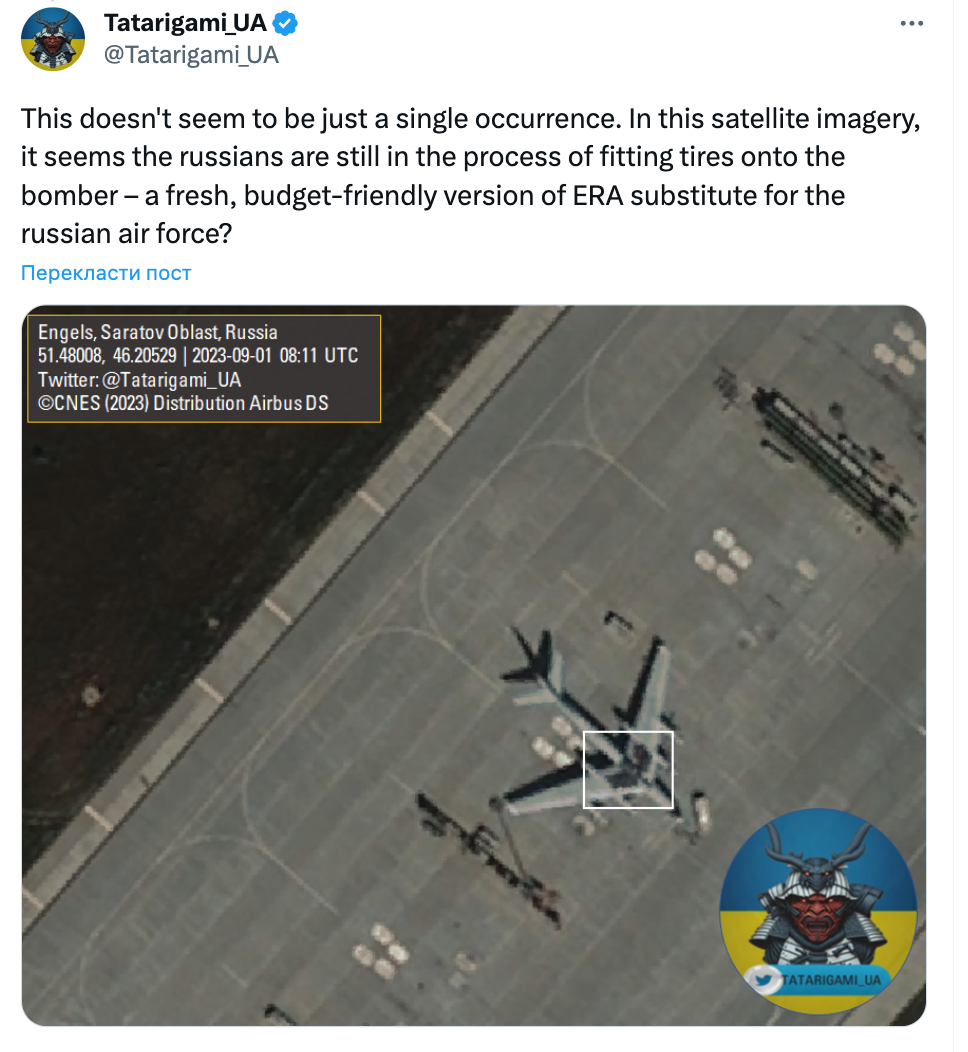 Also, if the occupiers decide to massively "install" tires on their planes, they will be forced to "dismantle" such protection every time, before the plane makes a training or combat sortie, because it is clear that the plane will not fly with tires on its wings .
As Defense Express reported, Slat Armor "Grills" on Top of Tu-22M Have Been Just Installed by russians.
Read more: Kyrylo Budanov: Attack on Pskov Air Base Was Launched from russia's Territory
---
---