The corresponding video was published on the Telegram chanel of editor-in-chief of Censor.NET Yuriy Butusov and in a Twitter of Clash Report
GCS-200 is a multi-purpose, unmanned EOD platform is a heavy-duty clearance tasks with maximum survivability in high-threat environments.
Read more: It Became Known the Common Cost of Weapons Which Germany Will Supply Ukraine Next 5 Years
The GCS-200 is the big-sized version of two platforms. The multi-purpose solution performs with a wide scope of applications in scenarios involving the clearance of explosive threats. Its capabilities include:
- Manipulator arm, dozer blade and forklift for IED and UXO clearance
- Effective clearance of AP and AT mines with tiller and flail
- Various attachments for the clearance of runways and hard surfaces
- Standard three-point hitch with a range of interchangeable custom-made or commercial off-the-shelf (COTS) attachments
- Remote controlled with integrated and protected camera systems for high-threat areas
- Easy to transport via 20ft ISO container
- State-of-the-art components to withstand the harshest climatic conditions
The GCS-200 incorporates an advanced and unique design based on the design concepts of the GCS-100 and GCS-300 product range.
The EOD vehicle measures 4.19m long without attachment, whereas the overall length of the platform with manipulator arm is 10.57m. The vehicle has a width of 1.92m and height of 2.02m. The weights of the vehicle with and without the manipulator arm are 10,500kg and 8,260kg respectively.
The GCS-200 can perform mine-clearance missions at a maximum rate of 12,000m² a day, at a speed between 0.8km/h and 2.3km/h. The manipulator arm can reach a maximum distance of 6.38m and lift a maximum weight of 1,000kg.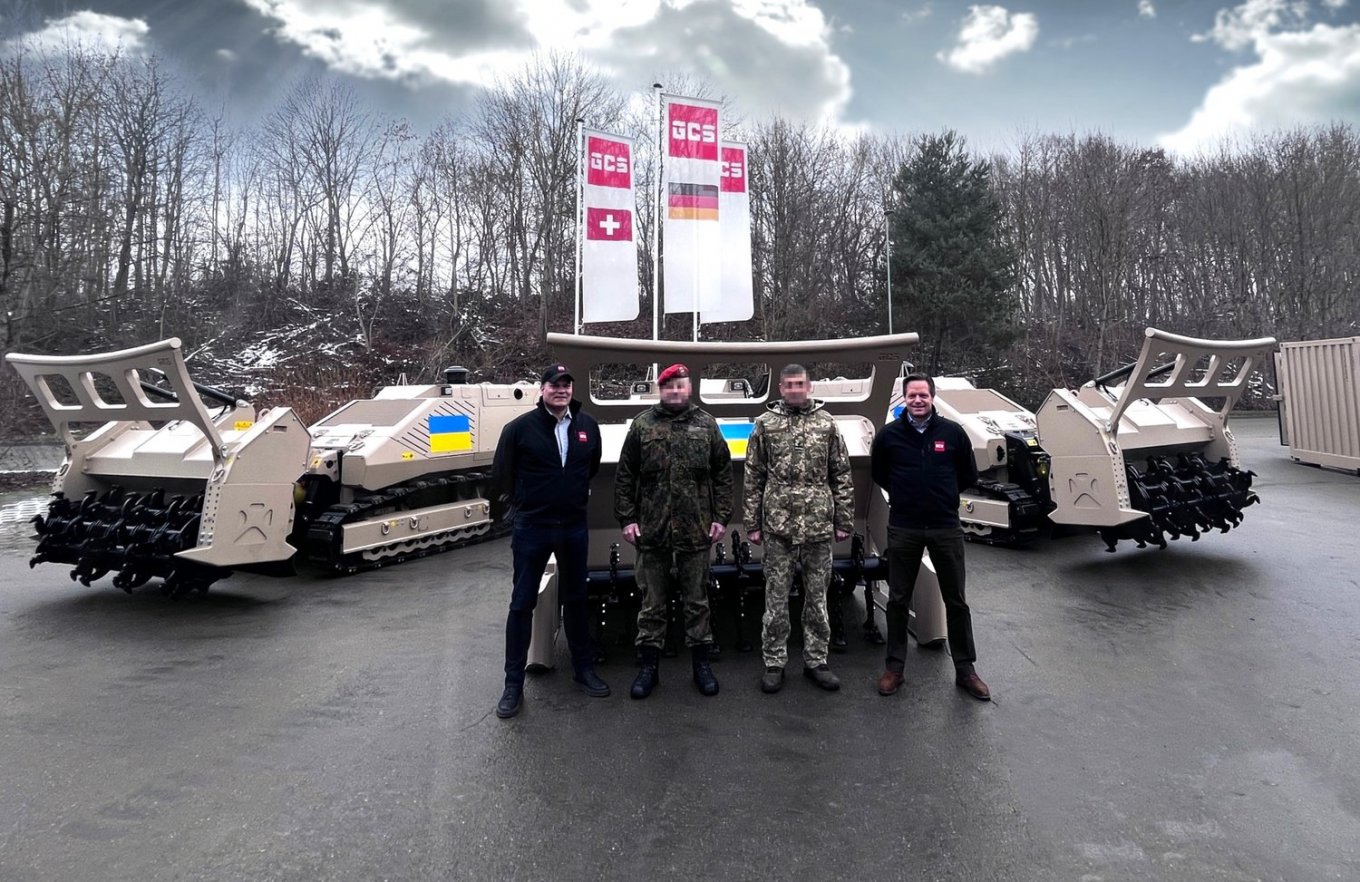 In December 2022 became known Army representatives from Ukraine and the German Bundeswehr signed off for three machines and a range of additional attachments.
Anti-tank and anti-personnel mines have been used extensively in the ongoing Russia-Ukraine war. As heavy combat continues, Explosive Threat Mitigation remains essential to clear contamination and render regions safe for civilian use.
Read more: ​Germany Delivered Another Package of Military Aid to Ukraine, Including 6 Gepard SPAAGs
---
---