After a daily meet-up with military generals and officials, President of Ukraine Volodymyr Zelenskyi informed the public about an offensive that russian forces launched in the Vuhledar operational axis on November 2nd. The Ukrainian Defense Forces stopped them in their tracks and inflicted significant losses.
More details can be seen in the footage published a bit earlier by Tysk NIP news media. The video shows that the attempt to go on the offensive near the city of Vuhledar in eastern Ukraine turned out to be a complete failure for the russian army.
Read more: Ukrainian Troops Hold Defense Steadfastly in the Avdiivka Direction
The footage above was provided by the soldiers of the 72nd Mechanized Brigade of the Ukrainian Armed Forces. The russians lost one T-80BV tank with a KMT-7 mine roller, two T-72B3 tanks, and an unspecified number of BMP-1/BMP-2 infantry fighting vehicles.
According to open-source data, russians could have lost at least 10 armored vehicles today. Some sources suggest as many as 18 pieces got hit by Ukrainian artillery.
The most remarkable is how quickly the Ukrainian forces spotted the russian movements and responded appropriately. Apparently, the plan was to repeat the plan they applied to on the Avdiivka axis, where they assaulted Ukrainian positions with large numbers of armored equipment. That operation backfired, too: more than 60 russian vehicles were eliminated in quite a small area.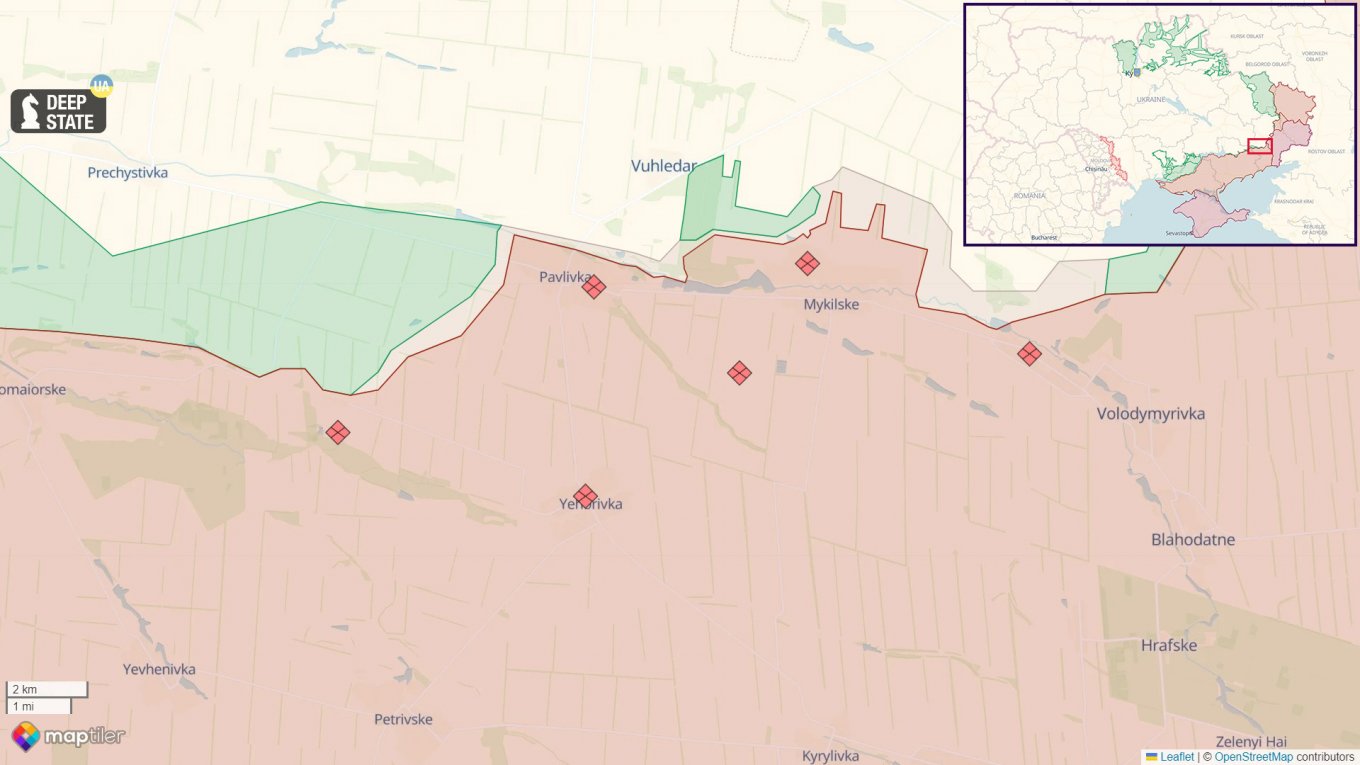 At the moment, it is not clear whether russians will continue to unfold the offensive near Vuhledar, or more precisely, whether they still have enough manpower and equipment for this. According to the DeepStateUA, russia currently has the following units deployed in this area:
the 40th separate brigade of marines,
the 123rd rifle regiment of the so-called DPR,
the 14th separate special purpose brigade (GRU, military unit 74854),
the 116th Rifle Regiment,
the 39th Separate Motorized Rifle Brigade, and
Storm-Z penal units.
For a reminder, the Defense Intelligence of Ukraine estimates that today russia has approximately 400,000 troops in Ukraine, about a quarter of them — up to 100,000 — are concentrated in the Lyman-Kupiansk front; another 40,000 are near Avdiivka, where they are actively trying to surround the city.
Read more: ​State Border Service of Ukraine Releases Video of Two russian Tanks Blown Up by Their Own Mines and Destroyed by Ukrainian Drone (Video)
---
---