Anomalous activity of flights of An-124 heavy transport aircraft and Il-76 of the russian company "Volga-Dnepr" to China turned out to be much more threatening than it was thought at first glance. If there were only three such flights in September, then in November there were at least 37. And the situation when several An-124s (each of them can transport up to 120 tons) arrive to Zhengzhou from Moscow at the same time, has become completely ordinary.
Meanwhile, in the comments to the video published by Chinese airports spotters, it is said that these planes are transporting military uniforms and other ammunition. A completely logical assumption is weaponry.
Read more: Russia Actively Supplies Something From China With the An-124 Cargo Planes: Flights Conducted Almost Every Day
Chinese version: civilian clothes and electronics
But quite quickly at Chinese mass media a refutation was issued. For example, one of the Chinese television companies reported in its story that "China is in a position of neutrality and will not provide any military aid to russia and Ukraine" and that this position corresponds to its national interests.
It is also stated that the cargo of these planes was "civilian winter clothing", because "the russian federation is experiencing a significant shortage of civilian household goods" and therefore the use of heavy An-124 for their transportation is fully justified. Also, in some other local mass media, it is reported that in addition to clothes, electronics were loaded into the planes.
At the same time, the activity of flights then indicates an extremely rapid shortage of "civilian goods" and "winter clothes" in russia starting from the end of October. Otherwise, if we consider the version from China, it is difficult to explain the activity of flights of the russian company "Volga-Dnepr" to Zhengzhou.
If we take only November, then we are talking about 34 flights, of which 22 were An-124 aircraft, and the other 12 were Il-76.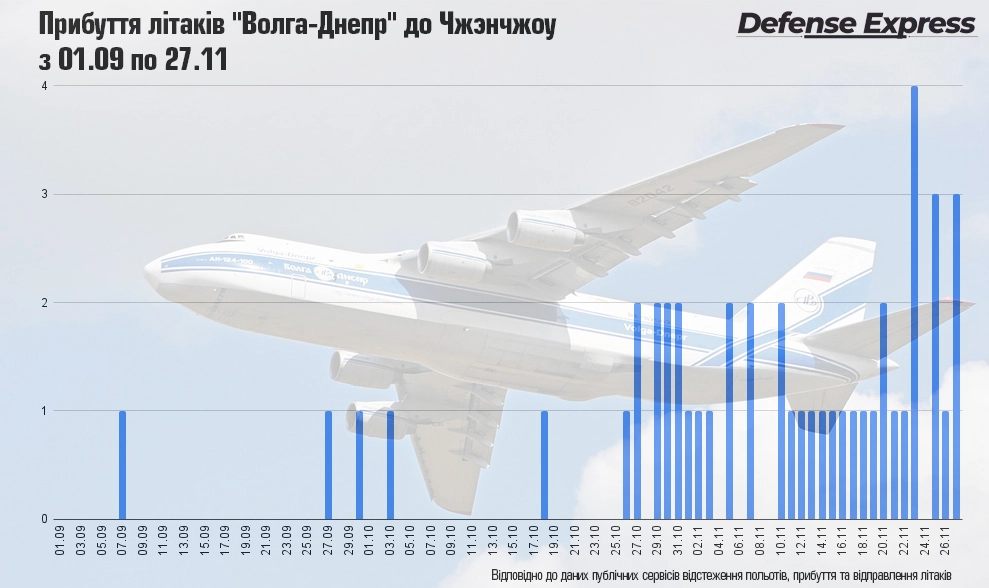 Even if we take only 50% of the maximum allowable weight of the cargo, it is approximately 1500 tons in just one month. The approximate weight of a winter jacket is 1 kg, that is, then the russian federation suddenly needed 1.5 million winter jackets for some reason. Of course, this is just a coincidence, but this is exactly the number of winter clothing shortages: 1.5 million winter sets that have disappeared somewhere in russia, as announced the deputy of the russian State Duma Andrei Gurulev in early October.
Also, one should not reject the option that the Chinese Zhengzhou may be just a transit point, because there is unconfirmed information that uniforms for the russian army have begun to be sewn in North Korea. But transporting uniforms by plane, especially when there ia a direct and fairly powerful railway connection between China and russia, looks rather strange.
Electronic components
There is also an active version that russia exports electronic components for its weapons from China. These may be household microcircuits, especially since the russian defense industry uses them on a permanent basis. In particular, even in the X-101 missile there were components found that can be bought on AliExpress, although the modular solution itself is from an American company. The similar situation, for example, with 9M544 missiles for Tornado-S.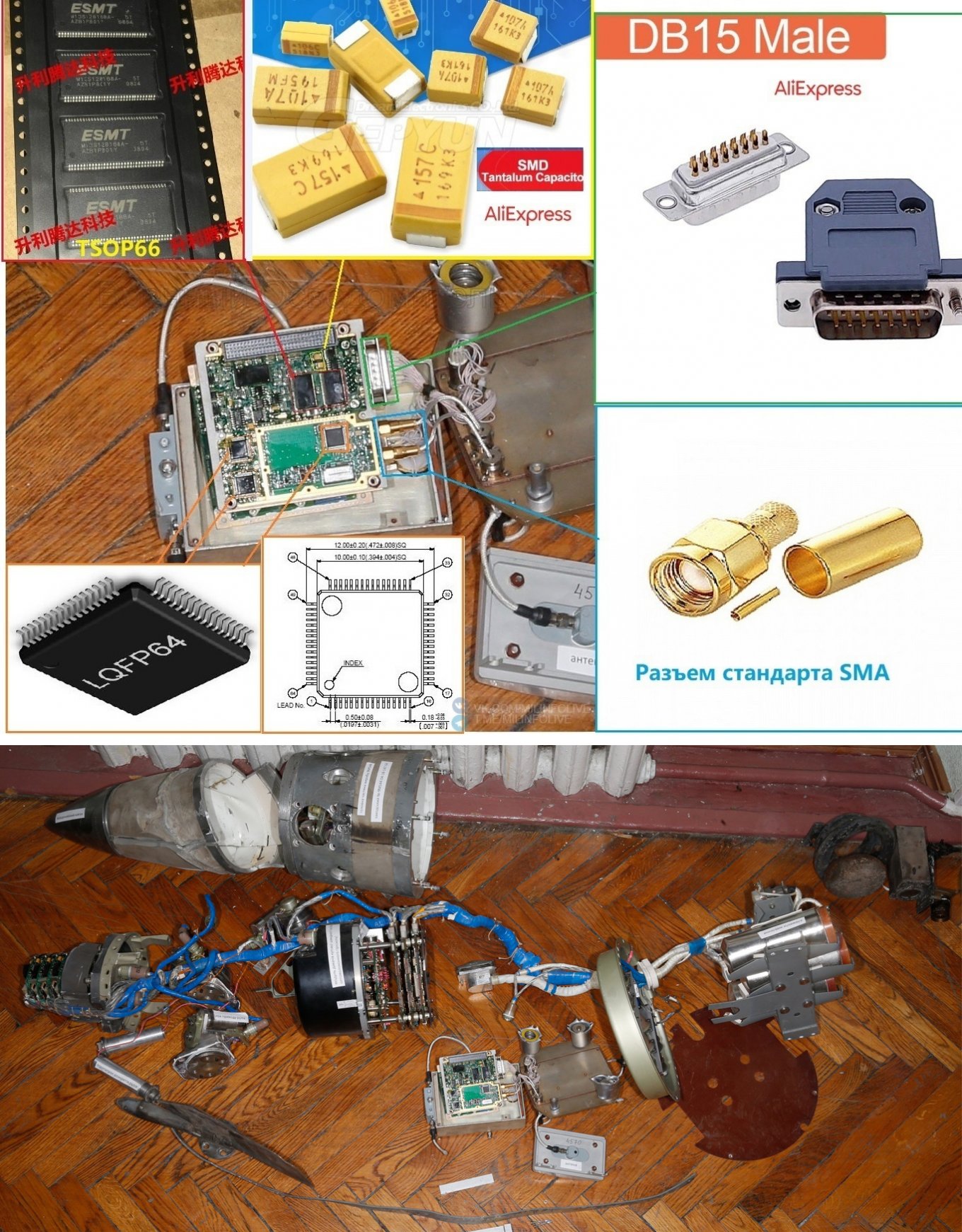 But the volume of cargo does not allow us to talk about the fact that these could be microcircuits. 1.5 thousand tons of chips per month looks more than a significant amount for the entire russian industry, not that for the russian defense industry.
It is another matter when not individual chips are brought to russia, but electronic equipment as a whole. Anomalies with the import of washing machines and refrigerators, which Kazakhstan and Armenia began to import many times more immediately after the introduction of sanctions against russia, may hint that these products then simply end up in the russian federation. There they are disassembled, the necessary components are soldered and used in weapons.
It's a rather bold assumption, if it were not for the requirements for the electronic units of the same washing machines: the ability to work in wet conditions, vibrations and elevated temperature. Of course, it is far from military electronics, but the reliability will definitely be higher than usual. At the same time, there is no additional export control.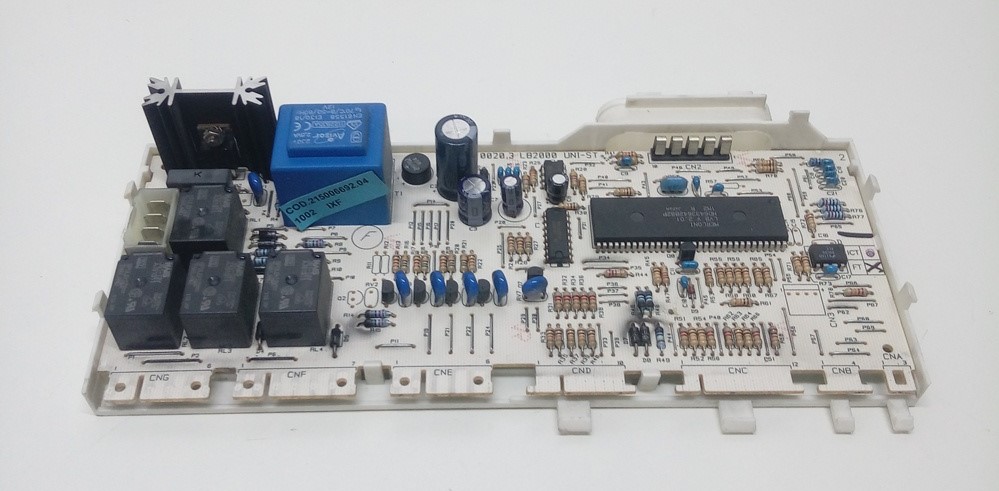 Moreover, many Chinese companies produce household appliances according to the drawings and schemes of the customer, who simply puts own label on them. And if he ordered products in exactly this configuration and with exactly these microcircuits, then why not.
Weapons from China
The main question is whether russia can export weapons from China. There is no way to hide the transfer of weapons. For example, it is possible to imagine a situation when russia ordered missiles from China, let it be the CJ-10K, a Chinese copy of the X-555, or its land-based version DF-10A.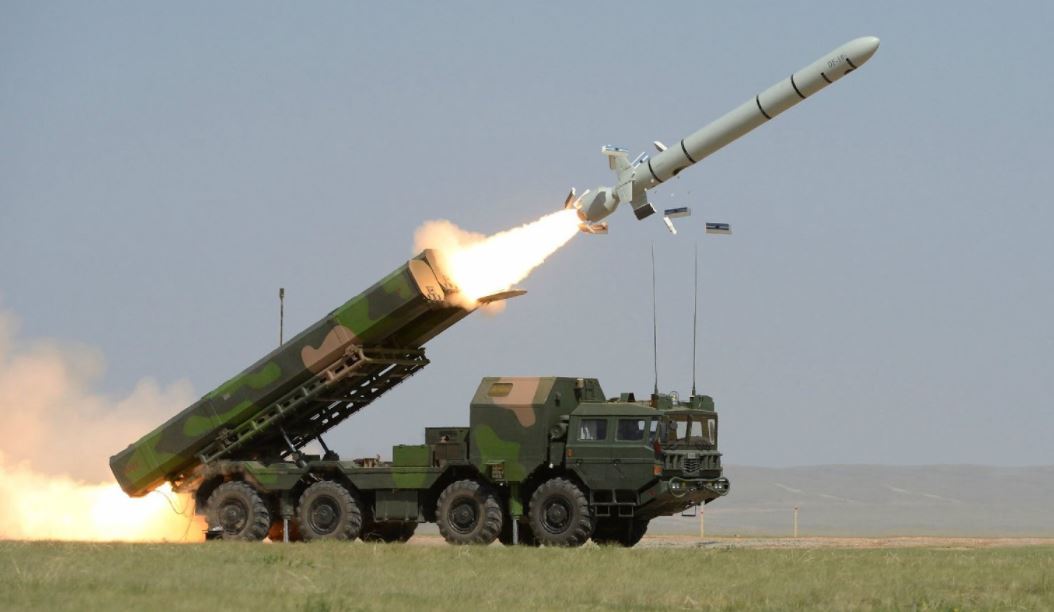 As soon as its wreckage is found, the whole world will learn about the use of Chinese weapons by the russian federation. For Beijing, which emphasizes its neutrality as much as possible and denies the transfer of any weapons and even ammunition, this will be little more than a reputational blow. Especially since Chinese-made mines have already been found on the abandoned positions of the russian army, which, of course, could have come to russia from third countries.
Moreover, if russia were transporting weapons from China, it is unlikely that the flights with them would end at the cargo terminals of the civilian airports of Vnukovo or Sheremetyevo. Rather, they would turn off the transponders somewhere on the approach to some military airfield where there are neither spotters nor random witnesses. That is, there are currently no special elements to argue that this can be ready-made weapons.
Worse than weapons
But there is another cargo that is not military, but is as close as possible to it: machine tools, in particular for the defense industry. The reason is quite logical: western machine-tool companies left russia due to sanctions, which means not only the termination of sales, but also the termination of service. And without modern machines, it is impossible to assemble any modern weapons. At the same time, the weight of modern high-precision machines, their cost and sensitivity to vibrations is what exactly requires the use of airplanes.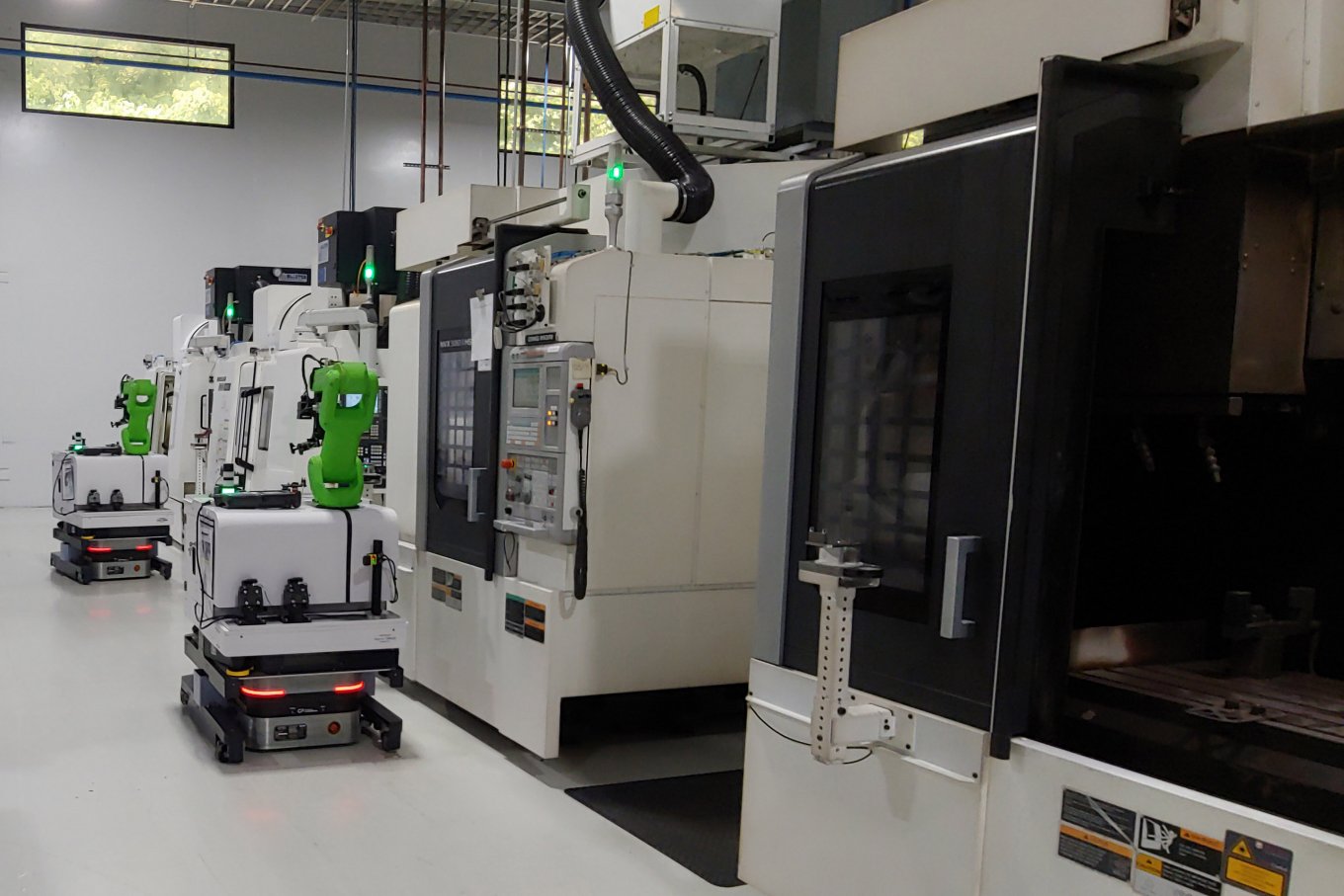 It can also be indicated by the main points of arrival of planes, including transit ones. Despite the fact that all flights end in Moscow, which is the most powerful logistics hub, russian planes on their way from China make an intermediate landing in one of the following cities: Novosibirsk, Barnaul and Krasnoyarsk. In each of them there are quite powerful defense enterprises.
For example, only from the most well-known: in Novosibirsk – the Sukhoi Aviation Plant, where the Su-34 is produced, as well as "NIY Elektronik Priborov", which is the main supplier of short-range missile defense systems, including the S-300 and Tor, also manufactures components for the Kinzhal missile, Kh-59, Iskander and many others.
In Krasnoyarsk: the main manufacturer of the 2/3 of all russian satellites, including Glonass and Gonets – Reshetnev Information Satellite Systems. And also the well-known Mining and Chemical Plant, a producer of plutonium for nuclear weapons.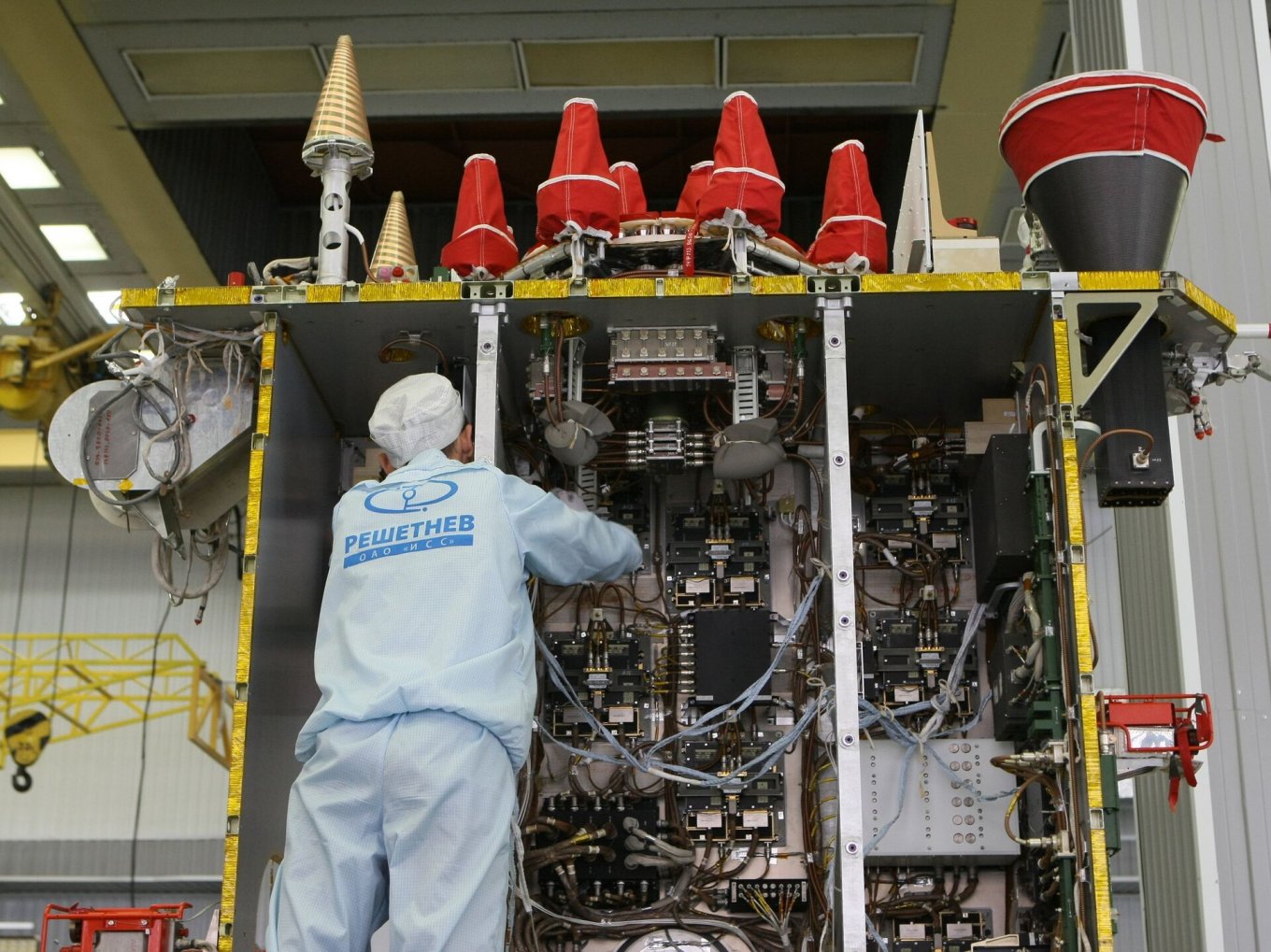 Even in Barnaul: "Rotor", which produces gyroscopes and precision instruments for nuclear submarines and ships, including for the only russian aircraft carrier Admiral Kuznetsov. A well-known cartridge factory is also located in this city. And the number of defense enterprises in Moscow and, in general, in the central part of the russian federation, is simply outrageous.
For China, the sale of machines is simply the sale of machines, not weapons, not components for them, not even military uniforms and ammunition. And for Russia – the possibility of producing weapons and expanding production capacities. Of course, neither Moscow nor Beijing will advertise such things, but even if such information does appear, the consequences will not be catastrophic at all.
The only question is why China should help the russian federation raise its own industry, and not put its northern neighbor on the "import needle" as firmly as possible.
Read more: 279 Days of russia-Ukraine War – russian Casualties In Ukraine
---
---