Flight tracking services record regular flights of the An-124 Ruslan heavy cargo transport aircraft of the russian company "Volga-Dnepr" to China. At the same time, russia's planes do not always turn on the transponder, which makes it difficult to track them. In general, we are talking about about ten flights over the last week.
The very activity drew attention in China itself, where local spotters posted a video of the russian company's An-124 Ruslan landing at Zhengzhou airport. The comments to the video also explain that the plane arrived to pick up "military aid, namely equipment, body armor, helmets, clothes, etc."
Read more: Russians Build Wagner Line In Luhansk Oblast, Which May Slow Ukraine's Tanks Down
Also, flight tracking services, in particular Radarbox, show nine An-124 flights to China and only three in the return direction over the past seven days, which directly indicates that the transponder was turned off during some of the flights. Airplanes of aircraft numbers RA-82074, RA-82044, RA-82081 are involved in transportation.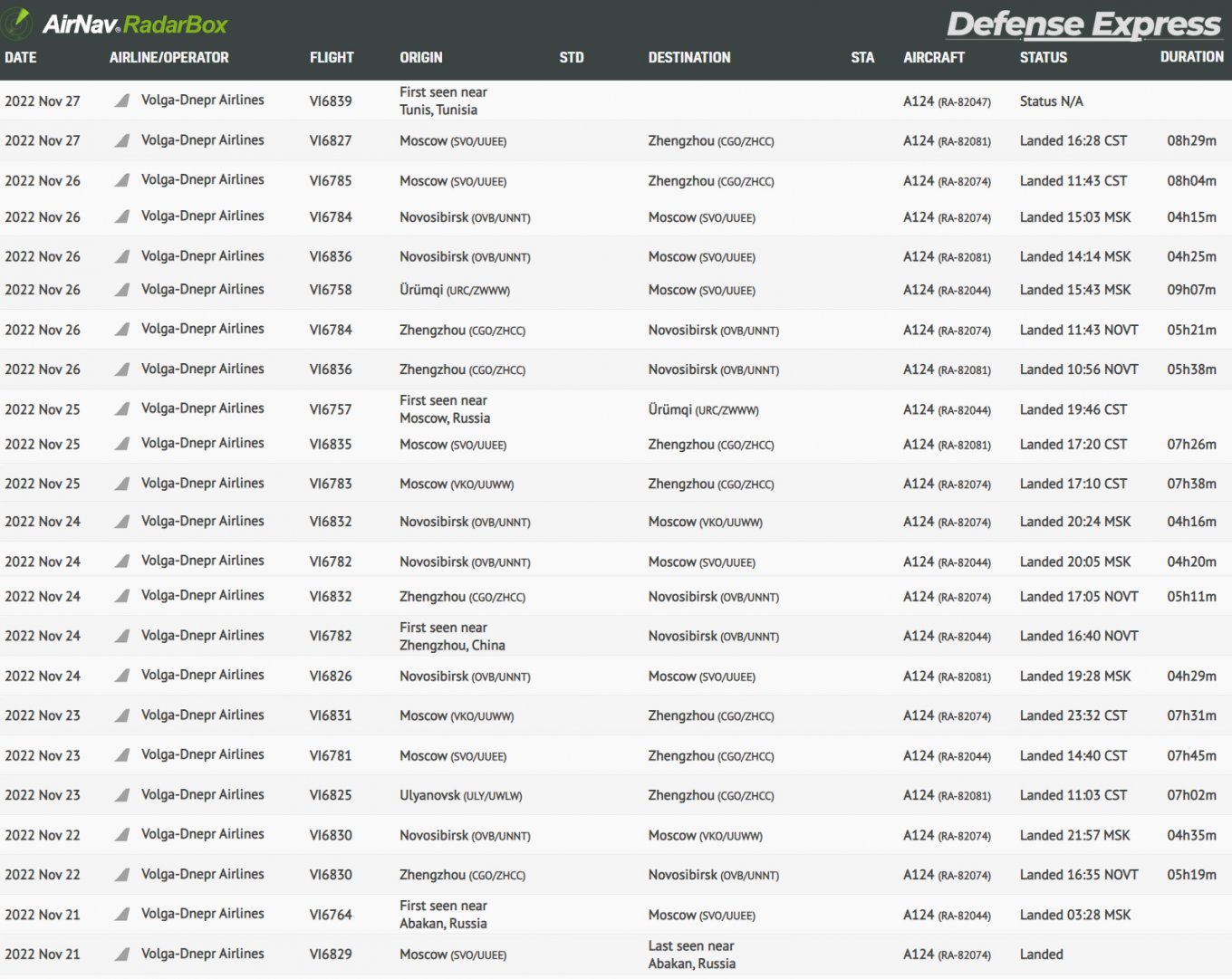 The standard flight runs along the route Moscow-Novosibirsk-Zhengzhou-Novosibirsk-Moscow. The final destination of one of the flights was Urumqi. Overall, Zhengzhou is a powerful logistics and industrial hub and a powerful industrial high-tech zone, including units of Chinese defense giant Norinco. Urumqi is also the production site for a number of industrial giants.
Such regular flights, especially with the An-124 Ruslan aircraft with transponders turned off, as well as posts on Chinese social networks lead to the conclusion that the russian federation is sending aircraft for military cargo. Moreover, for the one that is urgently needed right now and cannot wait for it to be delivered by rail.
It is also worth noting that the flights found are definitely not all that the russian federation made to China with a similar purpose. And only what got into the services of monitoring the flight of civil aircraft. We can only guess about the possible activity of the military transport aviation of the russian federation on similar routes.
Read more: ​The U.K. Defense Ministry Confirmed that Russia Uses Kh-55 Cruise Missiles with Nuclear Warhead Simulators
---
---