Over the years since 2014, Ukrainian industries have been challenged to provide domestic replacements for the components, assemblies, and products that had been sourced from Russian suppliers prior to the onset of Russian military aggression in Eastern Ukraine. Ukrainian Aviation Systems has met this challenge by producing indigenous replacements for aircraft deceleration chutes and airdrop systems. The Company has thus entered the export market with products that compete in quality and price with the ex-Soviet and Russian brands that used to dominate that marketplace previously.
Read more: Digitization of Ukrainian army: capacities of HERMES-C2 tactical control system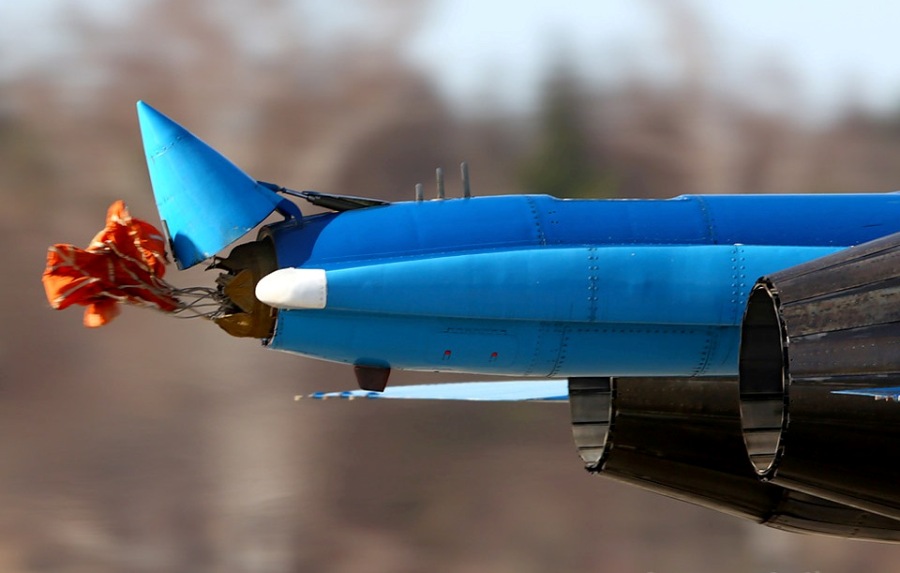 Founded in May 2006, the 'Ukrainian Aviation Systems' R&D and Production Company is focusing on design engineering, prototype production and industrial production of replacement and assembly parts for aircraft and related systems. Being a full-cycle company, UAS provides a complete design and production package, from concept design to product development, production and marketing. In 2017, the Company obtained certification verifying compliance with quality management requirements according to ISO 9001:2015, which guarantees that the in-house quality management system is committed to providing the highest quality of the products and services provided.
The extensive experience and expertise UAS has in the aviation industry enables it to remain aware of the latest technology and market development trends, to adequately prioritize its business activities, participate in global, future-oriented projects, and to respond, in a flexible and timely manner, to market needs. One of the Company's principal areas of expertise is in the development and production of braking parachute systems for fighter jet airplanes.
With a braking parachute, the landing run of an airplane is reduced by 1.5-2 times, resulting in a substantial reduction in the tire and brake wear and tear. Deceleration parachutes are advantageous in that the parachute produced drag force is unaffected by the runway's current status due to meteorological conditions: no matter whether it is icy or wet concrete runway, the parachute will do its job anyway. A deceleration parachute has a light weight and takes little space when packed.
UAS offers aircraft deceleration parachutes that are made from modern, high-quality foreign-brand fabrics based on high modulus para-aramid fibers (Kevlar®, Twaron®). UAS parachutes are reliable and easy to operate, and offer an increased service life compared to rival brands.
The UAS PTK-29SK parachute was developed to decelerate the MiG-29 fighter jet to 310…180 km/h during landing. With a mass of 8 kg, it is rated for 40 deployments during an estimated 8-year life.
For the Su-25 attack aircraft, the Company offers the PTK-25SK parachute that helps to reduce the landing speed to 285…160 km/h. Weighing no more than 20 kg, the parachute is rated for 50 deployments during 8 years of its operational lifespan.
The PTK-10SK parachute was developed to be used for deceleration of the Su-27 and Su-30 fighters to 300…180 km/h while landing. It weighs no more than 24 kg and is rated for 50 uses over a 5-year lifespan.
For the Su-24 strike aircraft, UAS offers the PTK-6M parachute that helps reduce the landing speed to 300…180 km/h. Weighing under 40 kg, it is rated for 60 unfoldings during an estimated 12-year service life.
The braking parachute system PTK-10240-65 Series 2 is designed to decelerate the landing speed of MiG-25 and MiG-31 fighter jets to 330…200 km/h. With a mass of under 52 kg, the system is rated for at least 30 openings over a 12-year lifespan.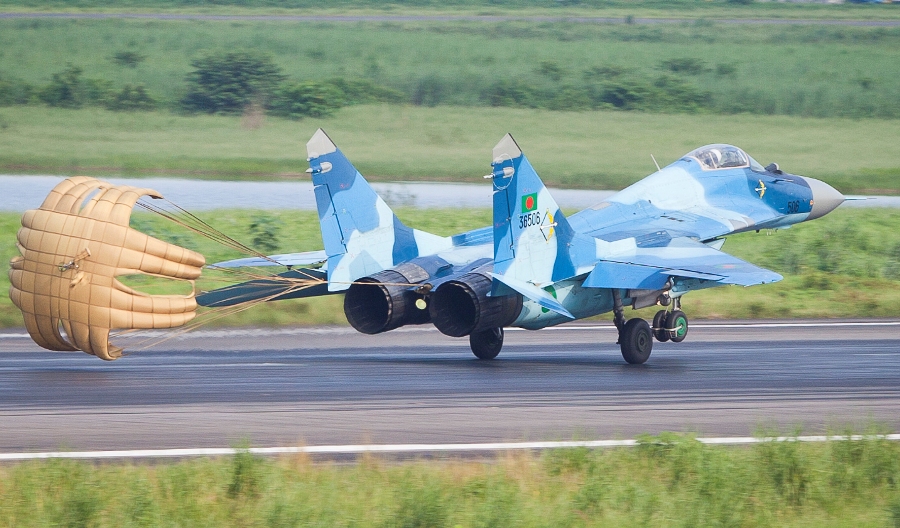 Aircraft braking chutes are based on a functional concept that is much the same for different types of airplanes. The parachute system is activated once the airplane touches a runway with its main wheels. A shutter in the parachute container is opened (or the container cap removed) to release a spring that causes parachute cupola to unfold. The inflated cupola produces aerodynamic drag that reduces landing speed and run of the airplane. Towards the end of landing run, before or just as the aircraft clears the runway, the chute is 'jettisoned' and left on the runway edge. It is collected later on and reused. Any type of parachute, regardless of its weight or size, can be packed in roughly 10 minutes using a packing press or 20 minutes without using a packing press. A packed parachute is transportable by any mode of transportation, to any distance, and at any suitable speed or altitude.
The PTK family of aircraft braking parachutes are designed to be operational with the MiG-25, MiG-29, MiG-31, Su-24, Su-25, Su-27, and Su-30 airplanes, at temperatures in the parachute container ranging from -60 ° C to + 80 °. It is recommended that the parachutes should be repacked at least every six months and stored in dry, well-ventilated areas, at air humidity of 30-80% and temperatures ranging between -30 °C and + 30 °C.
As well as aircraft deceleration chutes, UAS is also focusing on the development of MKS-350-9-type military cargo chutes rigged with 'Shelf' or P-7 shock absorbers. This method of cargo delivery was first employed by the U.S. Marines to supply their base at Khe Sanh, Vietnam, where more than 8,000 tons of supplies were delivered by parachuting from C-130 transports during 78 days in January-March of 1968. Since threats to modern military aircraft come mostly from surface-to-air missiles, cargoes can be airdropped from high altitudes, where aircraft can fly above SAM engagement envelopes. This technique allows the aircraft to fly through hostile skies without endangering itself and the load, and the cargo to travel safely to its destination. Military forces worldwide, and especially NATO are developing a growing interest in precision airdrop systems, and this is where UAS can showcase its capabilities, both to the Ukrainian and international marketplaces.
Read more: Ukraine to supply engines for turkish next-generation cruise missile
---
---